Every Ferrari, even the most modern examples, exists as a reflection of the prancing horse brand's proud history. Closely overseen by a team of passionate engineers, directors, and product planners, the Ferrari legacy is a veritable national treasure for Italy; guarding it is a massive responsibility given to a select few who understand the importance of continuing the traditions started by Enzo Ferrari in 1947. Limited-edition examples like this SA Aperta have been imbued with references to the past. The "SA" prefix, for instance, is a veritable hat tip to longtime Ferrari design partners Sergio and Andrea Pininfarina. The limited production figures make this example one of a mere eighty during the total build process.
Already an early star of RM Sotheby's newest international event, this 2011 Ferrari SA Aperta is certain to draw a crowd of interested bidders when it crosses the auction block in St. Moritz, Switzerland next month on 17 September. Held in conjunction with International Automobile Week and the highly regarded Bernina Gran Turismo events, this desirable modern Ferrari supercar will be one of a select group encompassing some of the greatest performance machines ever conceived: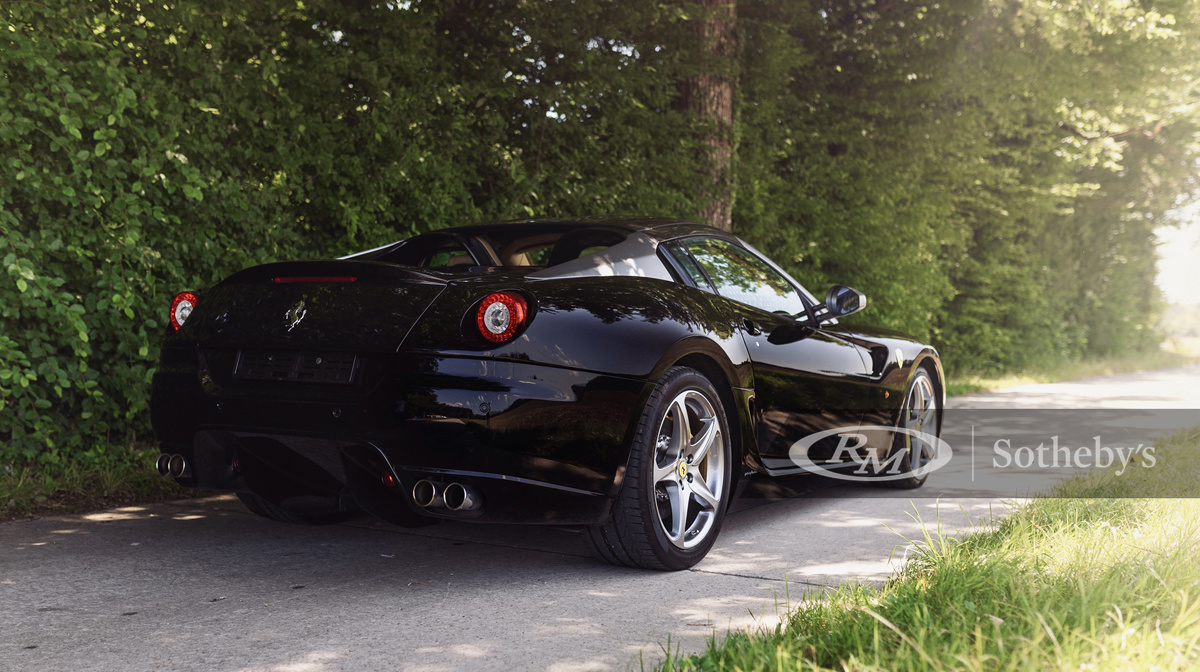 2011 Ferrari SA Aperta
Estimate: CHF1,200,000 - CHF1,600,000
We begin, perhaps not in an obvious manner, with the rear of this stunning design. From this angle, one can observe the iconic buttresses that add strength to the rear ¾ view of the sports car and support the SA Aperta's canvas soft top. "Aperta," naturally, is Italian for "open," and it was the intention of the Ferrari product planners that this modern super-sports car be enjoyed with the top down. However, this is one of an even more select group, believed to be only fourteen in total, which were specified from new with a rare factory hardtop.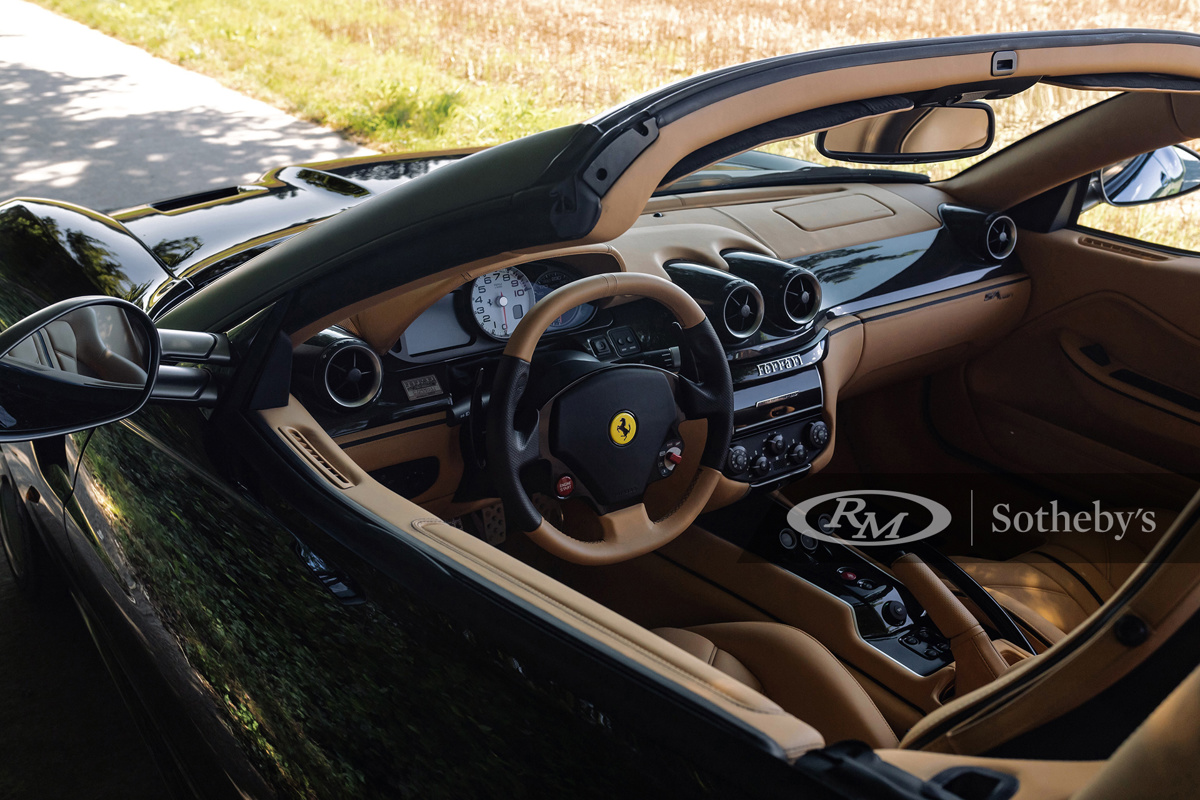 Hewn of carbon fiber, lightweight, and stowable, the specially made hardtop extends the usefulness of this open-air SA Aperta and only adds to its structural rigidity. Like all editions of this uncommon modern Ferrari, dropping the top reveals an inviting cabin with luxurious appointments and unpainted carbon fiber accents, all surrounding a plaque reminding the fortunate passengers that this example is one of only 80 built. This relatively small number for a modern production car was made to reference Pininfarina's 80th anniversary.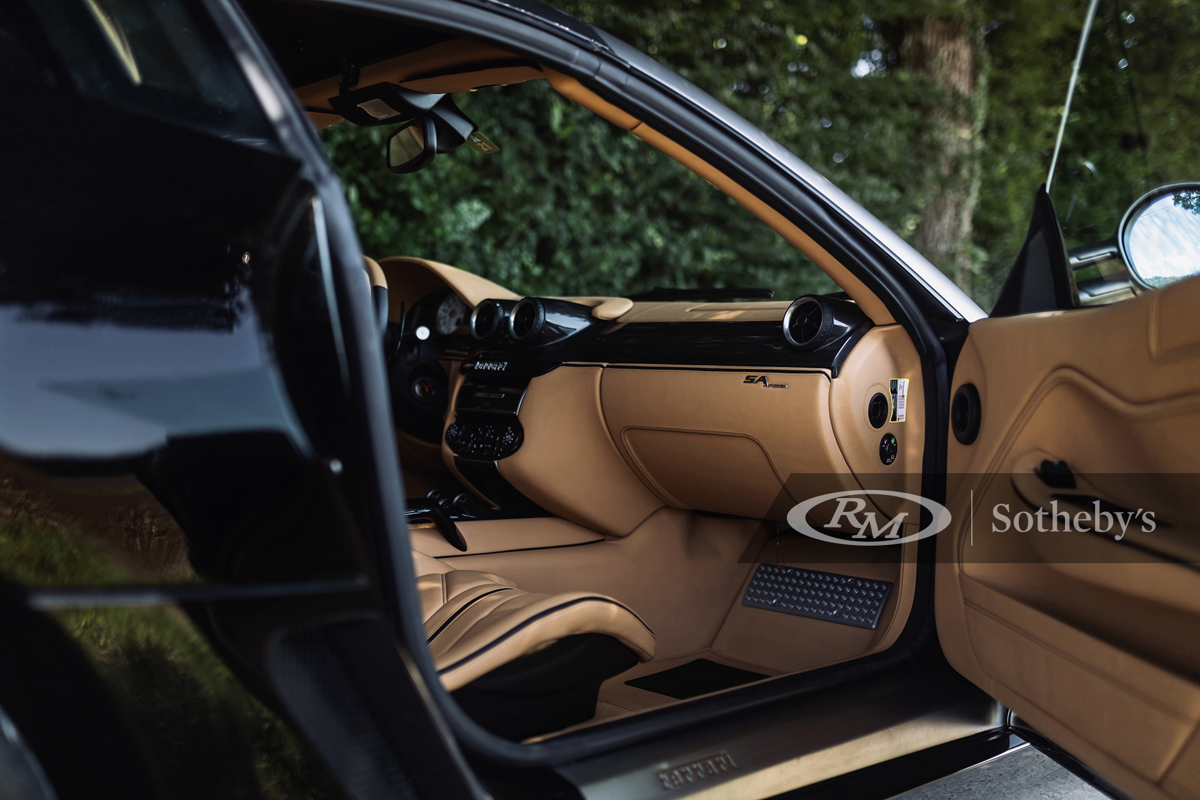 Clad in a tasteful color combination of Nero Stellato with a beige leather interior, the passengers in this fine Ferrari are granted a front-row seat to experiencing the 670 horsepower, 6.7-litre, DOHC V-12 engine, which was shared with the ultimate variant of the front-engine Ferrari 599, the GTO. With lightning-fast shifts courtesy of the six-speed automated manual transmission, also shared with the 599 GTO, the metal kick plate in the passenger footwell is not simply an aesthetic addition. Acceleration times of 3.6 seconds are achievable from a standstill to 62 mph; the stated top speed of 202 mph is impressive for any sports car, let alone an open-top example.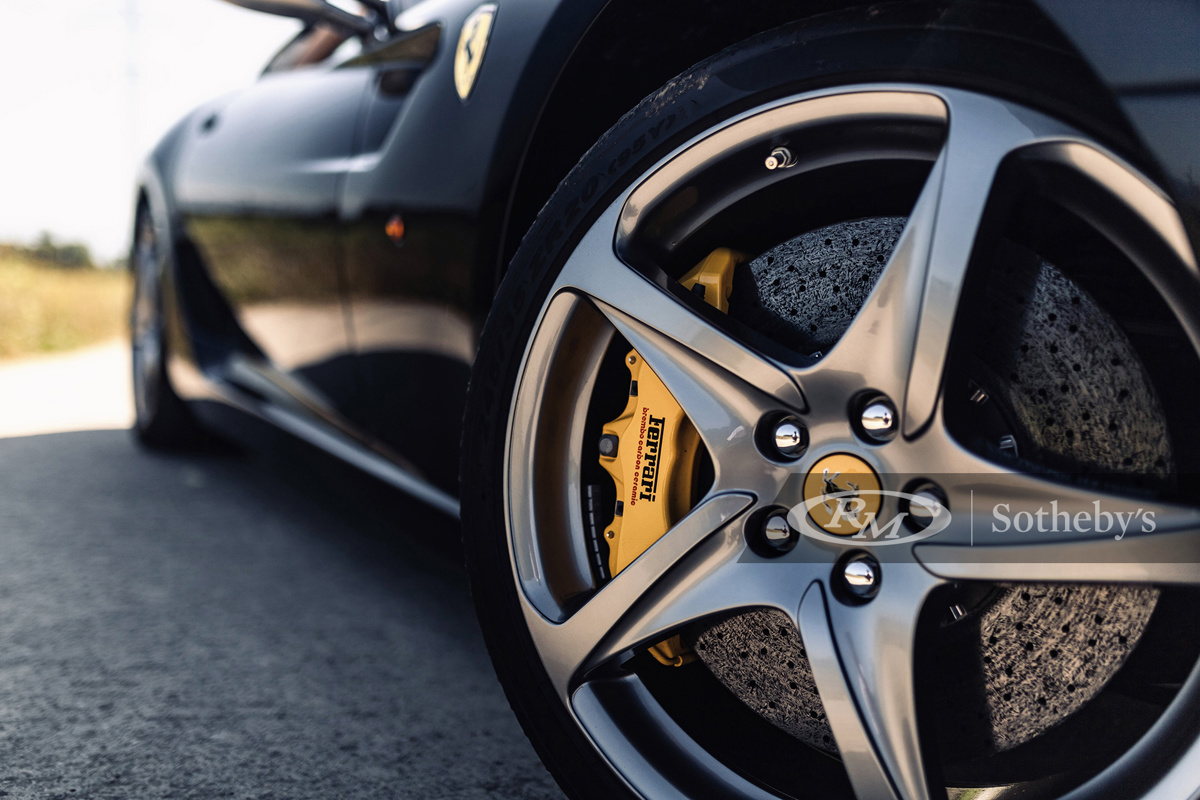 From the unique wheel and tire setup, one can observe the most significant difference of the SA Aperta, which encompasses a redesigned front end to maximize airflow to the CCM brakes. Silver-painted wheels perfectly match the silver sail panels on this SA Aperta. Watching the original launch video for the SA Aperta, which debuted at the Paris Auto Show in 2010, one can witness the pride that legendary Ferrari boss Luca di Montezemolo showed when the model went on display. True examples like this tasteful SA Aperta stood as evidence that the prancing horse brand had a promising future ahead of it.
For an extensive photo gallery and more information on this exclusive model, please click this link and be sure to tune in on 17 September 2021, as this thrilling example goes on sale at the world-famous Kempinski Hotel.