The saying "Good things come in small packages" rings especially true when referencing the subcompact cars produced from the late 1930s into the 1960s. While they may turn heads due to their diminutive size, they are sure to win the hearts of even the most seasoned automotive enthusiast with their charming styling and nimble handling. They were conceived to provide an economical alternative to the full-size sedans of the era, especially to commuters, who desired an efficient and affordable mode of transportation. For those who elected to drive one of these petite automobiles, the lack of heft and bulk offered ample smiles-per-miles and offered surprising performance from the simple, lightweight machines.
Scroll down to explore the charming world of compact cars offered from the vast selection of collectible cars slated to cross the auction block at RM Auctions' Auburn Fall sale.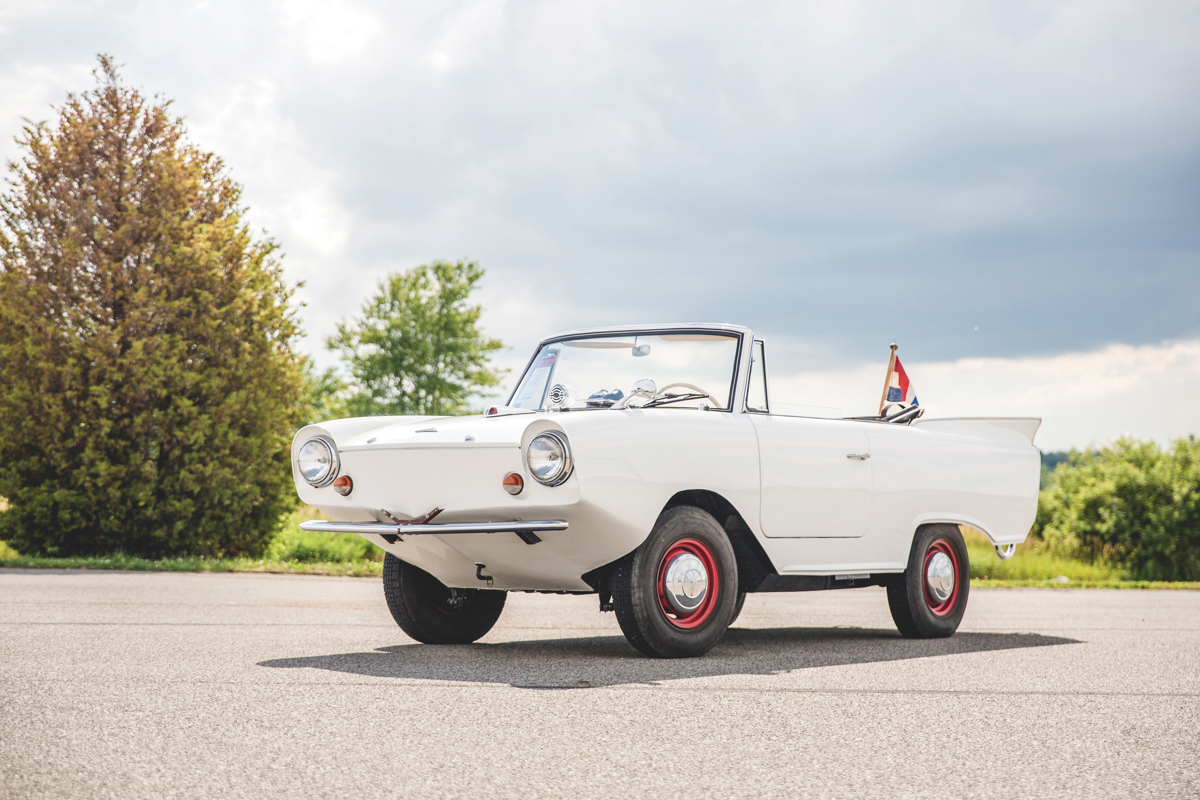 1966 Amphicar 770
Estimate: $50,000 - $60,000 USD
As its name implies, the Amphicar is the German road-going automobile that is as at-home on the tarmac as it is in the water. The "770" denotes its capabilities of 7 mph in water and 70 mph on land. This European-delivery example was found in Holland after long-term ownership with only 250 kilometers—today with only 4,750 miles from new. It presents today in good working order with a number of original components, including original Michelin tires, original spare, interior, and convertible top.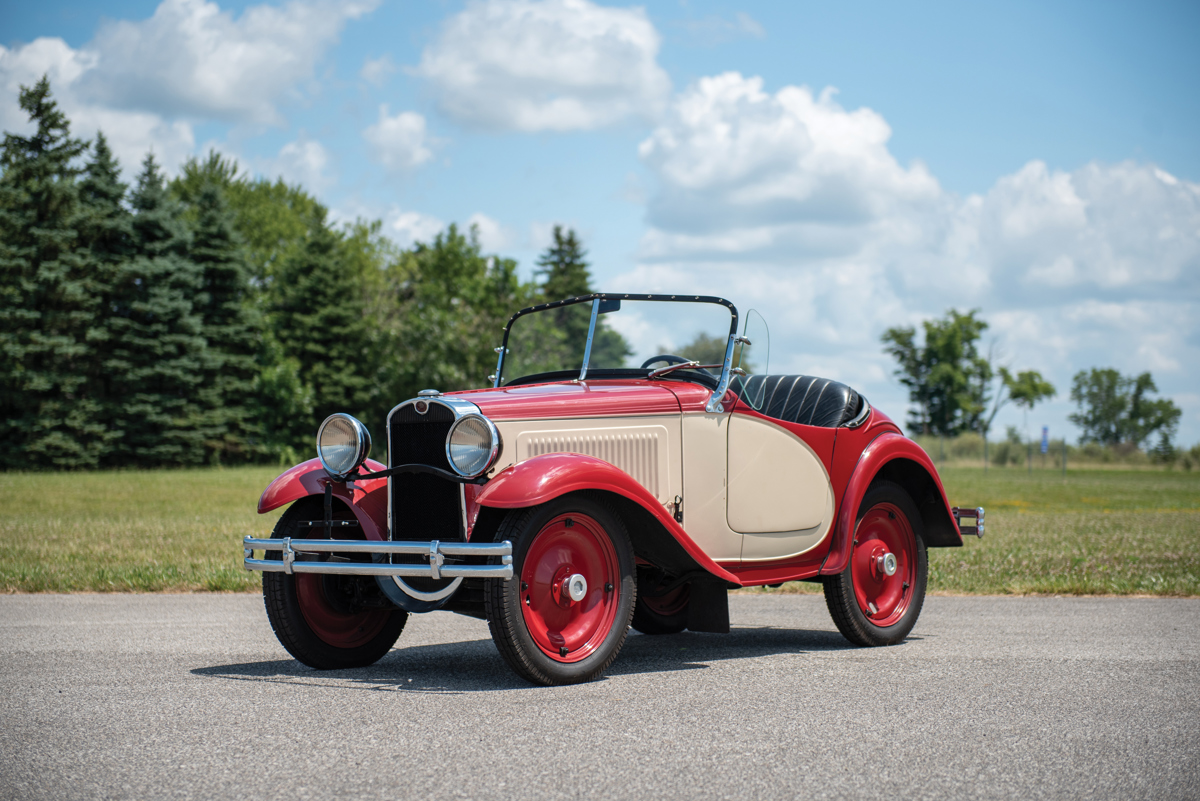 1937 American Austin Model 142
Estimate: $15,000 - $20,000 USD
The American Austin was created in hopes of prompting a market for small-car enthusiasts in the United States by producing an American-made version of the Austin 7. It was powered by a 747 cc inline four-cylinder engine, which enabled the tiny roadster to achieve over 40 miles per gallon at speeds up to 50 miles per hour.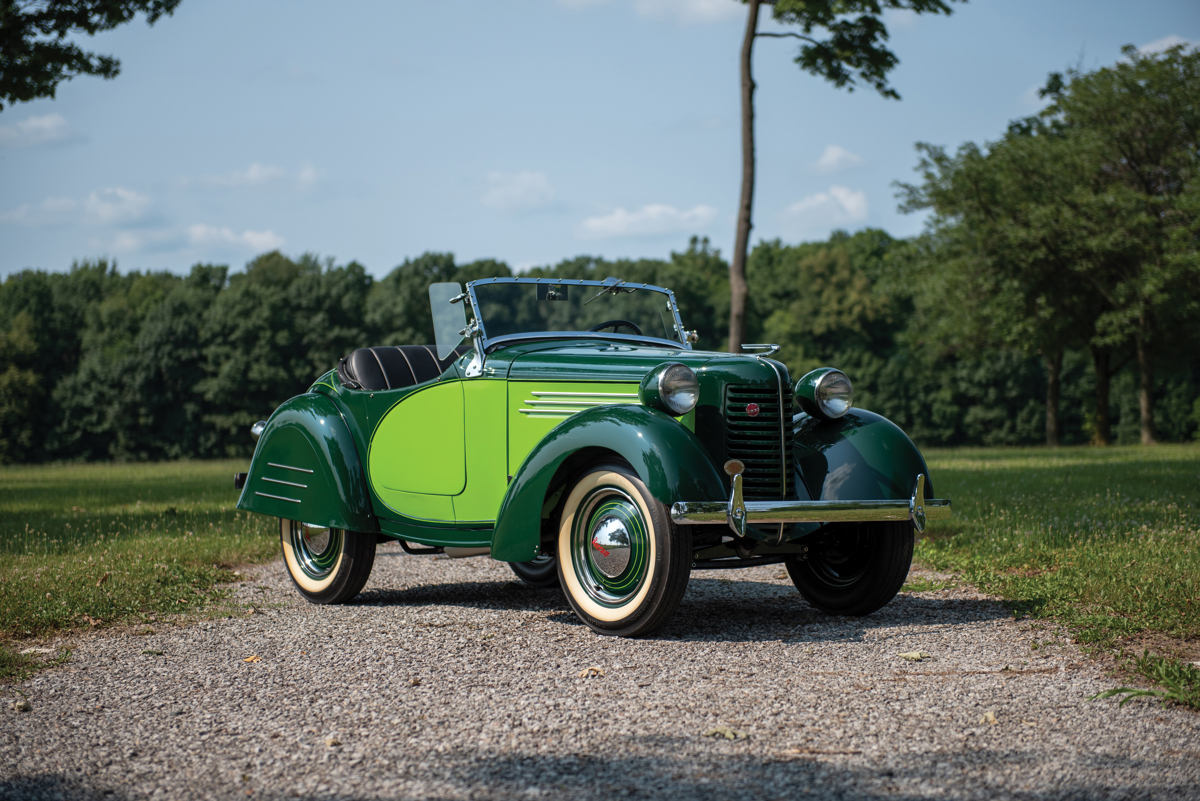 1938 Bantam Roadster
Estimate: $25,000 - $35,000 USD | Offered Without Reserve
Following the bankruptcy of the American Austin Car Company in 1938, Roy Evans purchased the company and reorganized it as American Bantam. A number of body styles were offered, from light truck bodies to woody station wagons. This roadster example is one of only 512 and is an AACA National First Prize winner, complete with a full set of weather gear, wind wings, and driver-side wiper.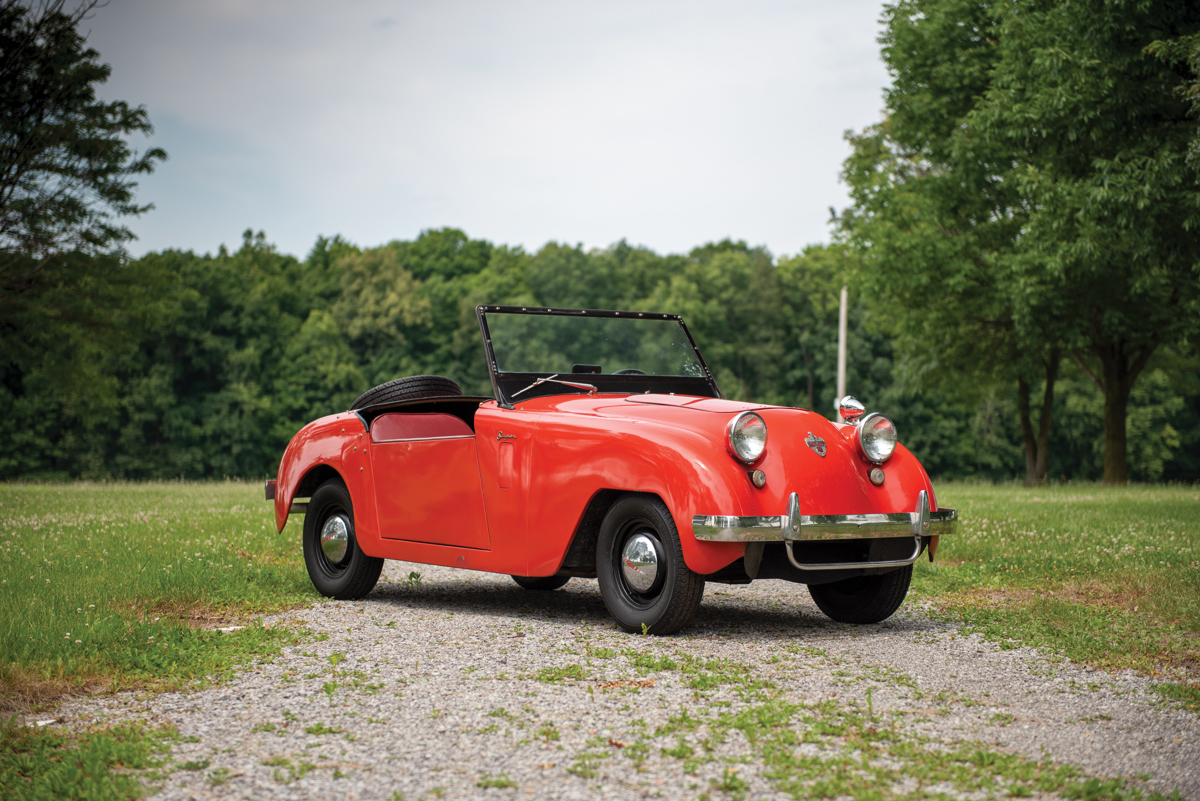 1951 Crosley Hot Shot
Estimate: $10,000 - $14,000 USD | Offered Without Reserve
America's first post-war sports car was unveiled during a New York City hotel reception the night before simultaneously being displayed at both Macy's and Fine Cars the following morning. It was inspired by cars that were imported overseas by many GIs returning from the war with sprightly engines and cozy open cockpits. A 26.5-horsepower, 44-cubic-inch cast-iron block powered the lightweight slab-sided roadster through a three-speed manual gearbox, while hydraulic brakes brought it to a halt.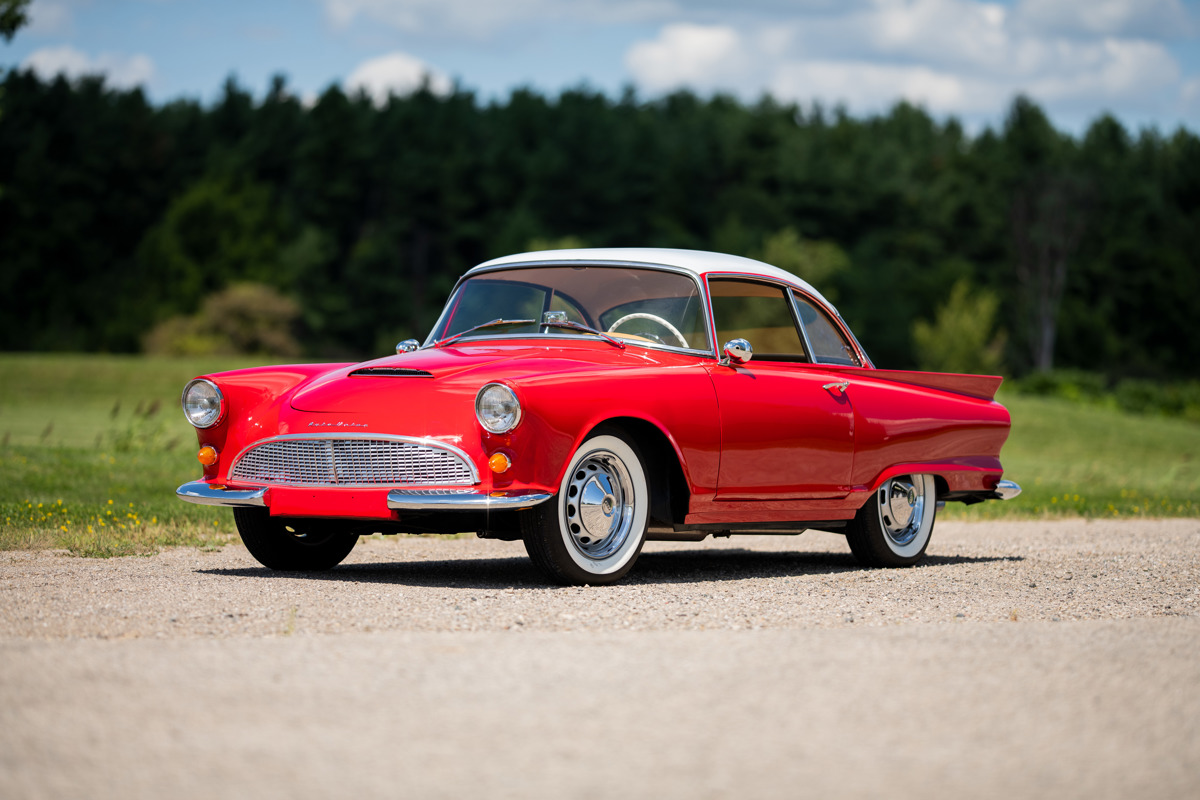 1960 Auto Union 1000 SP
Estimate: $30,000 - $40,000 USD
The Auto Union 1000 was a sleek two-seater sports car based on the Auto Union 1000, with modern styling cues and tail fins built in limited numbers. Only approximately 5,000 coupes and 1,640 cabriolets were produced, and even fewer are in existence to this day. This lovely red coupe features a contrasting white top with tan interior trimmed with red piping to match the exterior color. Restoration was completed in 2009, with photographs included to document the process. The front-mounted three-cylinder engine produces approximately 55 horsepower and powers the front wheels through a four-speed manual transmission.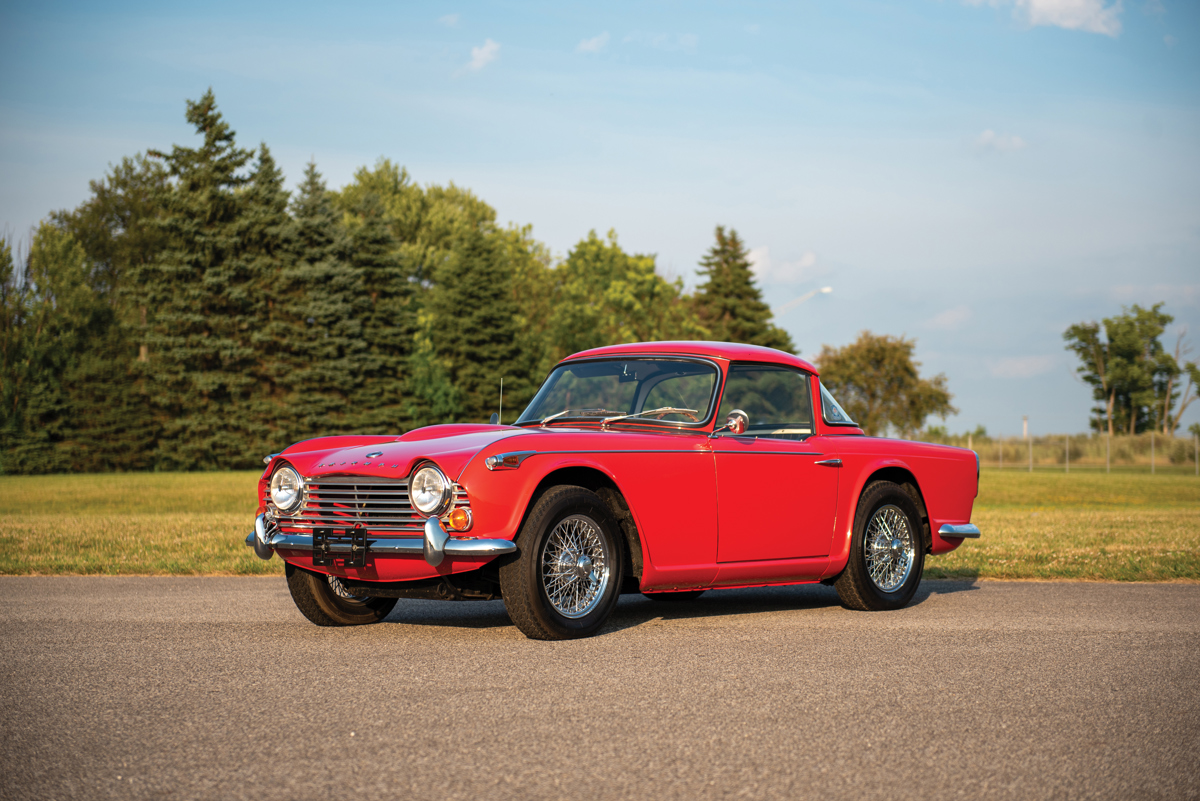 1966 Triumph TR4A
Estimate: $30,000 - $40,000 USD | Offered Without Reserve
Building upon the beloved TR3, the TR4A was given a more modern design by Giovanni Michelotti and benefitted from an additional 22 mm of width and a completely new independent rear suspension. This example was meticulously restored in 2012 and presents beautifully in Signal Red with the unique two-piece Surrey hardtop, which allows for a targa-like driving experience or as a full convertible when removed. The interior has been trimmed in black leather with white piping and has been outfitted with a Moto-Lita steering wheel, Jaeger instrumentation, Smiths clock, and a Triumph radio.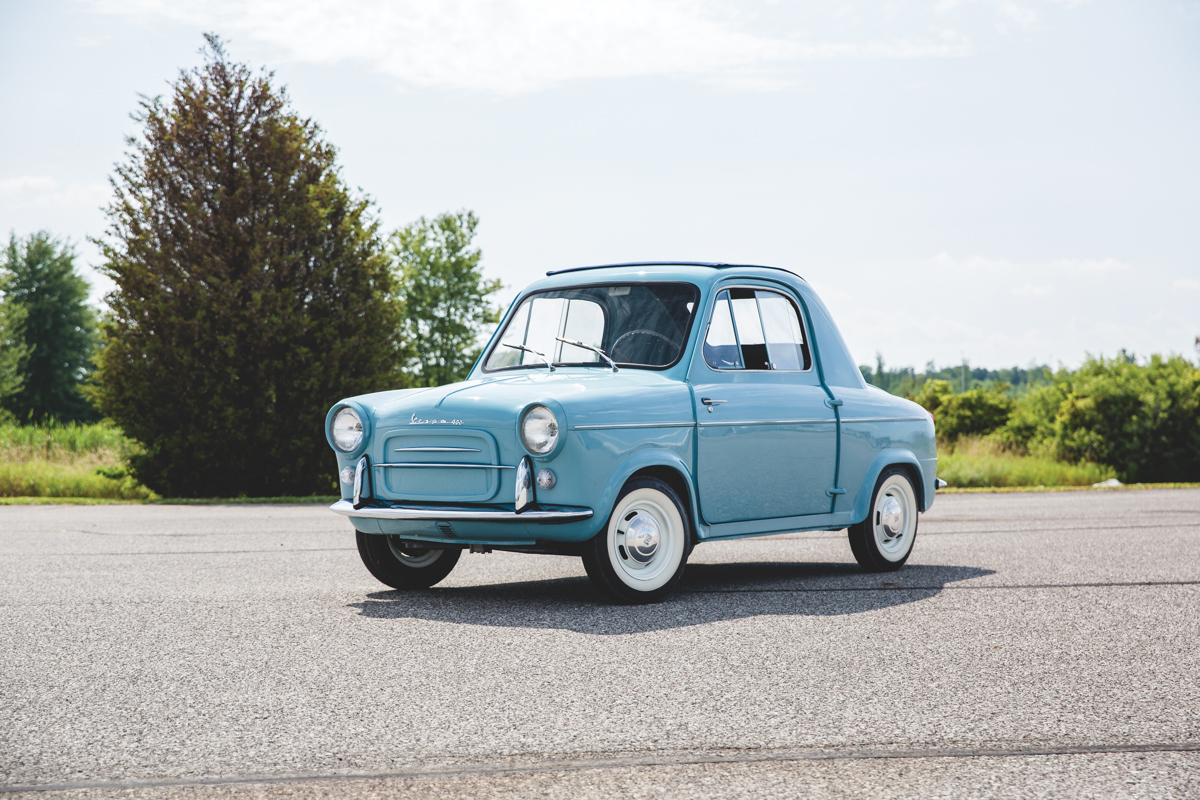 1959 Piaggio Vespa 400
Estimate: $23,000 - $28,000 USD
While the Vespa is synonymous with Italian style, the Vespa 400 is actually a French-built car. Its lovely sheet-metal bodywork is a true monocoque, making the Vespa 400's chassis light and strong despite the open roll-top roof design. It features independent suspension and coil springs at all four corners, with hydraulic drum brakes behind the 4.4x10-inch wheels. The 14-horsepower, 394 cc two-cylinder, two-stroke engine was rebuilt by Microcarlot, utilizing billet pistons and heavy-duty bearings.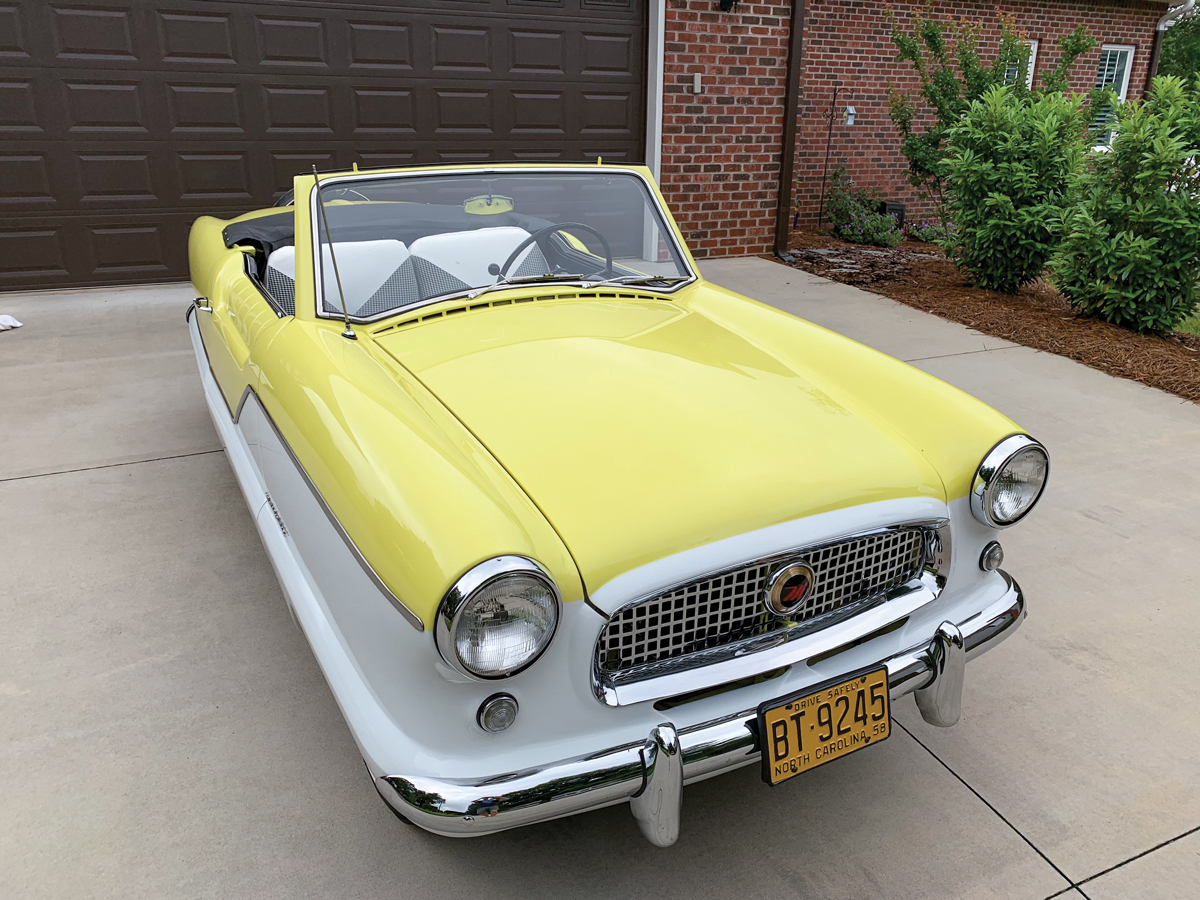 1958 Nash Metropolitan 1500 Series II Convertible
Estimate: $20,000 - $27,000 USD | Offered Without Reserve
In a time when the majority of automakers were following the "bigger is better" ideology, the Nash Motor Company was exploring the market for a small economy car as an alternative. The American-designed, British-built car rode on an 85-inch wheelbase and was powered by a 1,498 cc inline four-cylinder engine mated to a three-speed gearbox, which propelled the diminutive Metropolitan from 0–60 mph in 22.4 seconds—approximately half that of the VW Beetle. This example has undergone a full concours restoration and has been extensively documented throughout the process.