It is no secret that automotive journalists are highly protective of their occupations. The flip side of having a job everyone considers a dream means that the lucky few who are tasked with cataloging and categorizing automobiles are understandably guarded regarding the knowledge that they have acquired. Superlatives and compliments do not flow unwarranted among this crowd. For a well-respected automotive journalist of any period, let alone an institution like Autocar, to publish that a car is, "almost beyond criticism," one can expect that this qualification did not come lightly, nor was a mere opinion.
And yet, those words formed the conclusion of Autocar magazine's November, 1957 assessment of the 6th Series Lancia Aurelia B20 GT Coupe—not simply any example, but this exact chassis number and engine, the very same combination offered today from RM Sotheby's Private Sale department. Read on to find out why this Lancia stood among the world's best.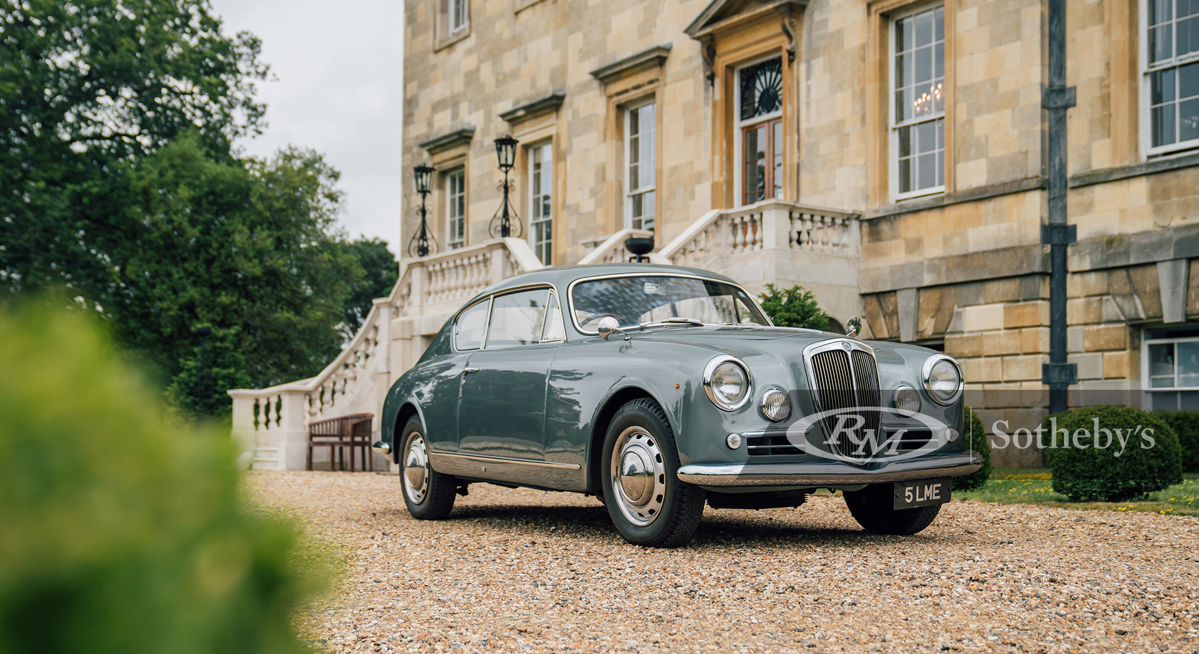 1957 Lancia Aurelia B20 GT 6th Series Coupe
£190,000 GBP | Asking
Lot Location: United Kingdom
One of a mere twenty in total B20 examples constructed in left-hand-drive, this example, chassis no. B20-3857, was imported to the U.K. by Lancia England Ltd. and retained by the division as a test demonstrator. Wearing the registration "5 LME" from as soon as 2 July, 1957, this already-rare example was delivered to only the most prestigious of automotive publications, like Autocar. The magazine opened their review with some improvisational Italian, "The Lancia Aurelia Gran Turismo 2500 is of wide academic interest, not only to the sporting fraternity, but also to all who can appreciate fine machinery and enterprising design, even when it may be priced beyond their grasp."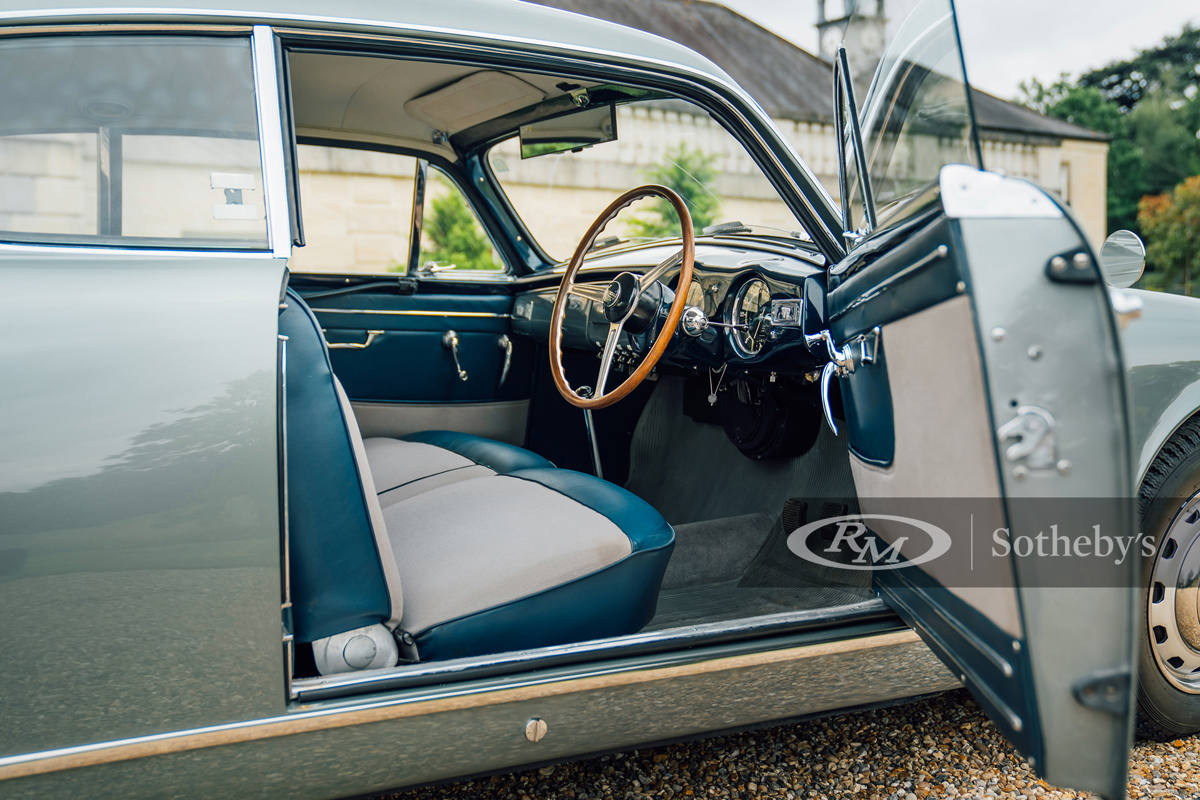 The reference to value in the period review, a copy of which is on file, reflects the extraordinary original price tag of the Lancia Aurelia B20's original price tag, which amounted to £3,346 after the U.K. taxes were added—over £1,000 more than a comparable Jaguar Drophead Coupe, and even pricier than an Aston Martin DB 2/4 Mark II. Though Aston Martin eventually turned to lightweight Italian construction with Carrozzeria Touring in their later efforts, this Lancia features strong, subtle coachwork executed with a masterful touch. But who was the coachbuilder?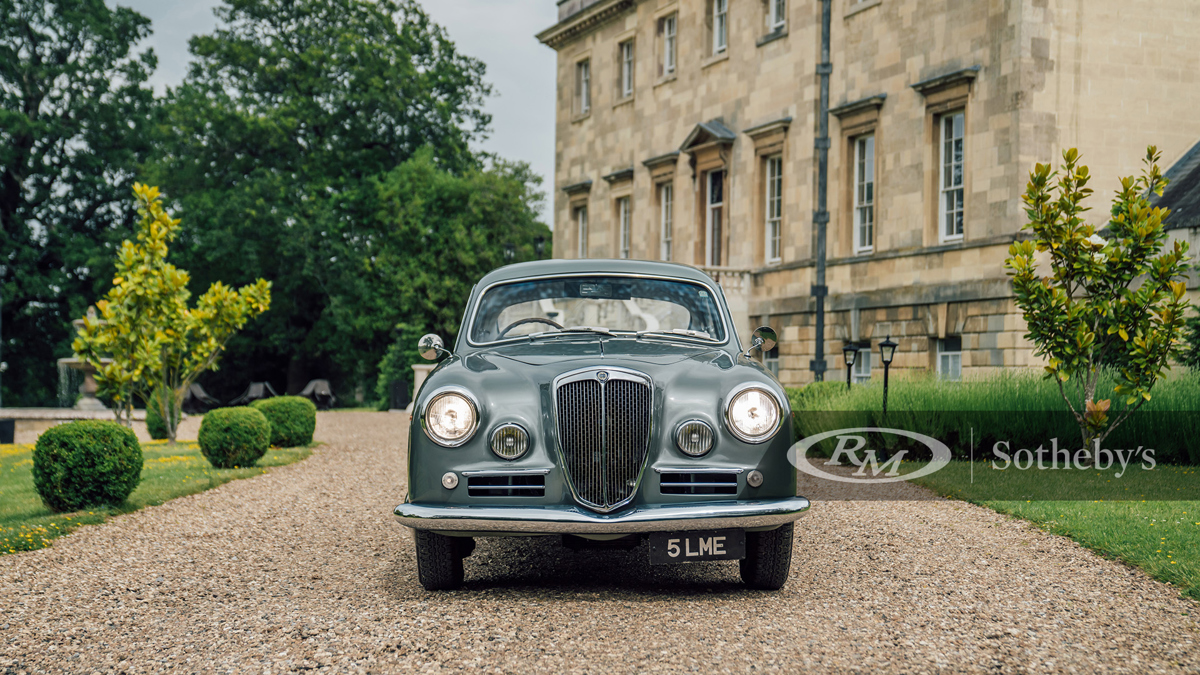 This lineage is tougher to trace than one might expect. Because early coachbuilders were essentially small-batch manufacturing plants, Lancia employed both Viotti and Pinin Farina to execute the finished Aurelia B20 coupes. But that still leaves the identity of the designer unknown. While some claim that the original first-series B20 was designed by Felice Boano of Ghia, the B20 bears neither the Ghia crest nor the Pinin Farina badge on its side. What some sources confirm is that, by the 6th series, like this example, Pinin Farina claimed two upgrades that maximize both the B20's aesthetics and practicality.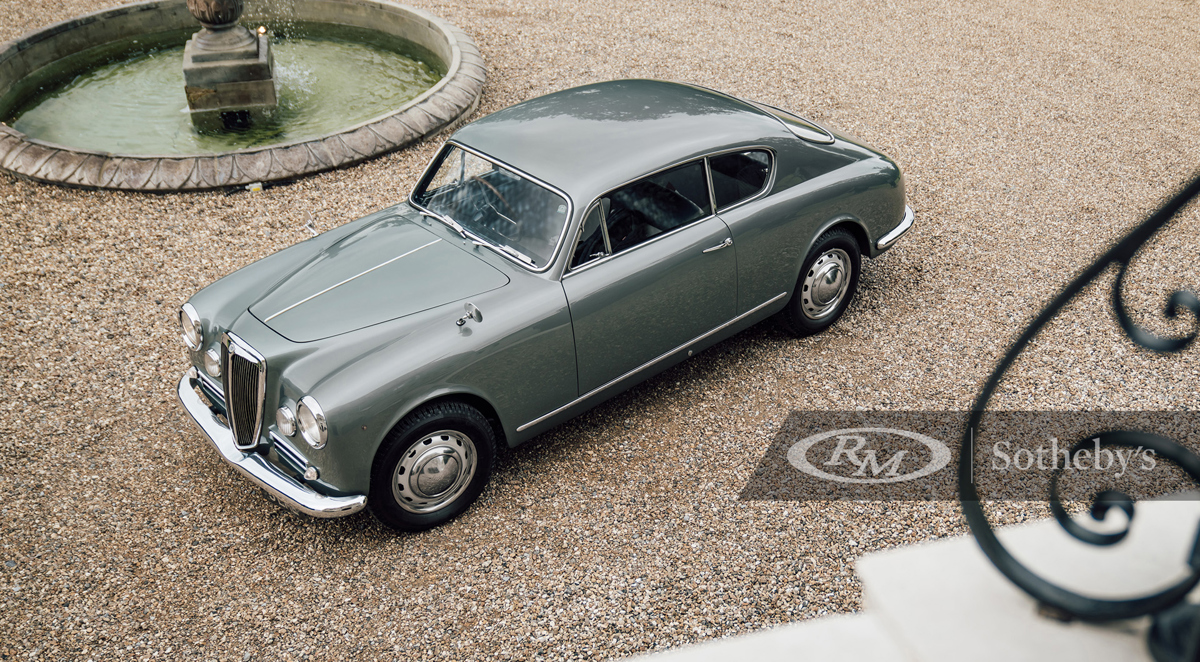 Both modifications were a nod to aerodynamics, a fascinating distinction when one compares this 1957 example with, say, any sedan-based Chevrolet coupe from the same year. The refined coupe profile of the B20, sloping gently rearward, was altered by Pinin Farina for the 6th series. The other, more practical, upgrade are the two vent windows, just aft of the side windows, designed to funnel cool air into the cabin.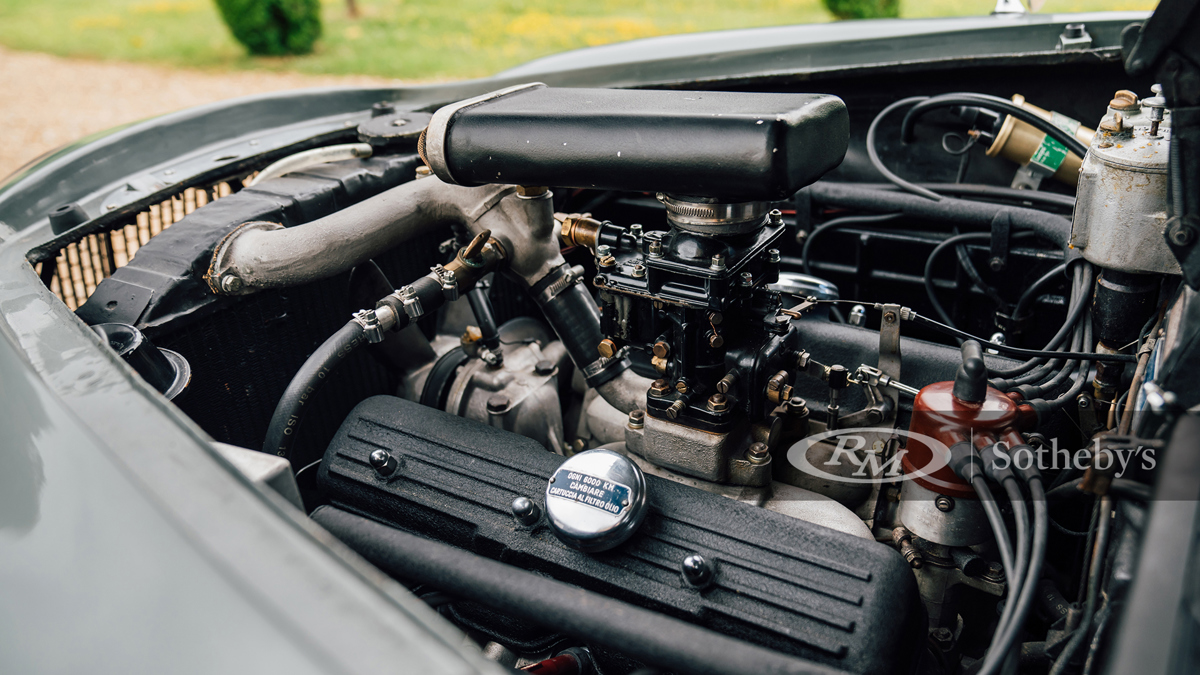 Of course, this being a Lancia, aesthetics were only part of the B20's alluring package. Crowned by a gem of a V-6 engine, the first-generation Aurelia was, in fact, the first production automobile to feature this type of powerplant. More than a typical overhead camshaft-driven unit, this all-aluminum, Francesco De Virgilio-designed engine featured overhead valves operated by comparatively tiny pushrods; in many ways an early echo of modern racing engines.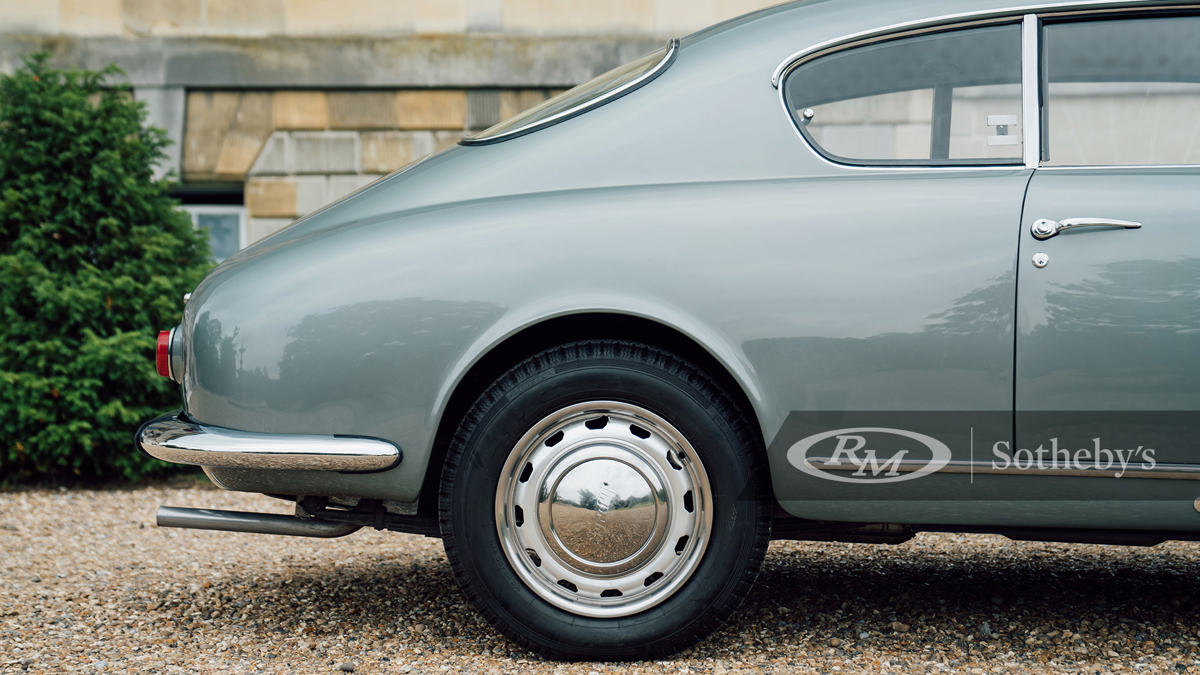 Though for a firm as dedicated to advancement as Lancia, the powerplant was not the end of the innovation. All Aurelias, for instance, transmitted their power to the road via transaxles with inboard brakes; the transaxle on sixth series, like this example, featured an upgraded, more robust transmission. The first through third series Aurelia models featured independent rear suspension with a semi-trailing link setup; the later variants, like this example, were fitted with a de Dion-style rear setup paired with leaf springs. The total package added up to a remarkably nimble, powerful coupe for the era.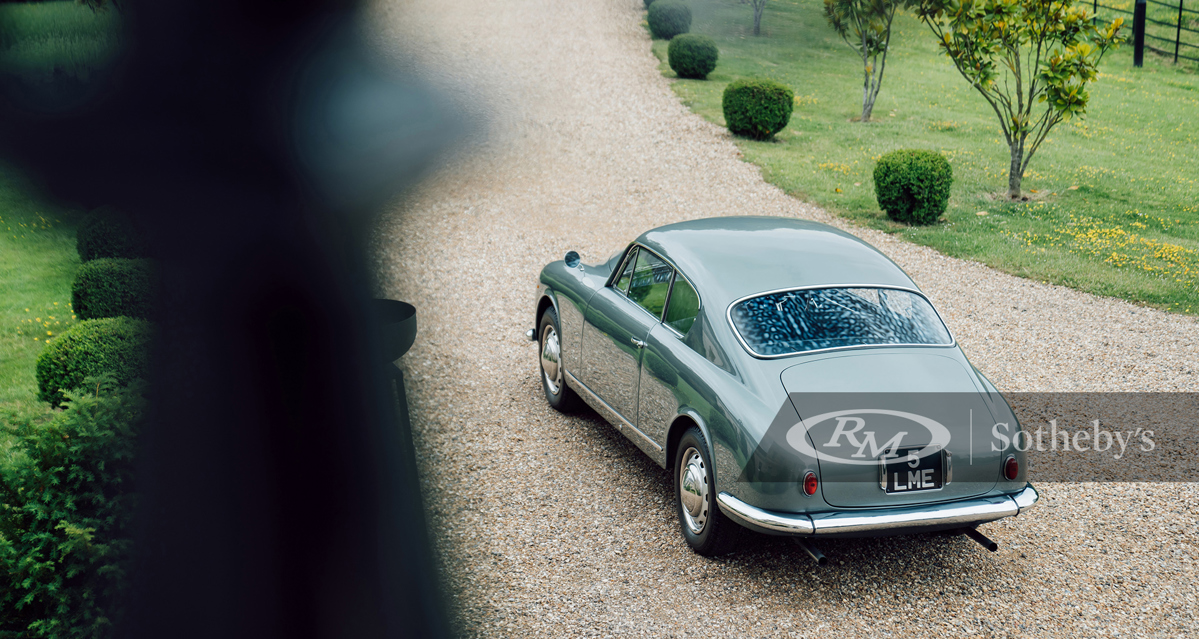 Perhaps the best summary of the 6th series Aurelia coupe's abilities was written in the original 8 November, 1957 Autocar review: "In appearance it is classically stylish without need of ornament, and the general standard of finish, of both bodywork and mechanical components, is almost beyond criticism; without doubt it is one of the most desirable sporting cars of the decade." With the weight of the in-period experience, no modern conclusion could come close.
For more fascinating details about the provenance of this example, as well as an extensive gallery of gorgeous photography by Alex Penfold, and detailed information about its recent restoration, please click here to view the lot listing and to register interest on the rest of our finest examples available for private sale.