Whether it was the winding country lanes or the out-of-service airstrips that provided the testbed for sports car development after WWII, the workshops of Britain tended to spawn a certain type of car: Lithe and light, with sharp handling and high-spirited motors. At the top end of the spectrum, race outfits like Cooper, Allard, and Jaguar brought advanced technology from the track to well-heeled customers. But to experience the best in British motoring, one did not need an Italian Job-sized score—here are some of the most sprightly cars ever created in the UK, available from RM Sotheby's upcoming Elkhart Collection auction, all with very reasonable estimates, and all offered without reserve:
1937 Morgan F4 3-Wheeler
Estimate: $35,000 - $45,000. Offered Without Reserve.
In our piece last week on genius British engineer, entrepreneur, and race driver Sydney Allard, this writer neglected to mention that Allard's first race car was a 3-wheeled Morgan, much like this one. Interestingly, that same Morgan also served as Allard's first foray into car construction, when he converted it from three wheels to four. In contrast, this 1937 Morgan appears mostly original, with an older restoration that holds up well, and only subtle modernizations—like an upgrade to 12V power.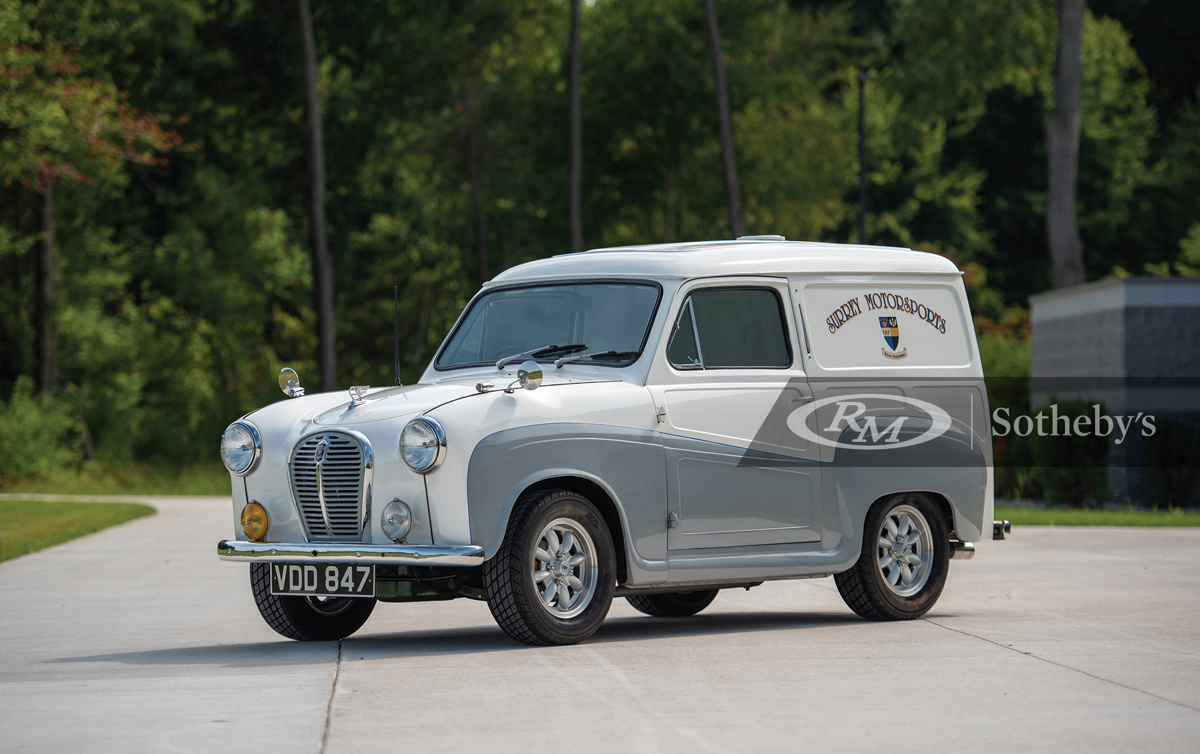 1958 Austin A35 "Surry Motorsports" Van
Estimate: $30,000 - $40,000. Offered Without Reserve.
If you are in search of a motorsports icon that could allow you access to the paddocks at some of the greatest events in vintage racing, but you don't want to spend six-figures, this might be your best bet. Not simply a tarted-up van with a retro livery, this Austin A35 has a legitimate racing connection, as it was the actual Surry Motorsports team van and the personal ride of team owner Alec Greaves. Whether the next owner uses this delightful van to shuttle parts for a more valuable vehicle or just enjoys it as a piece of history, imagine all the "thumbs-up" you'd receive while pulling up to the parking lot at the Prescott Speed Hill Climb.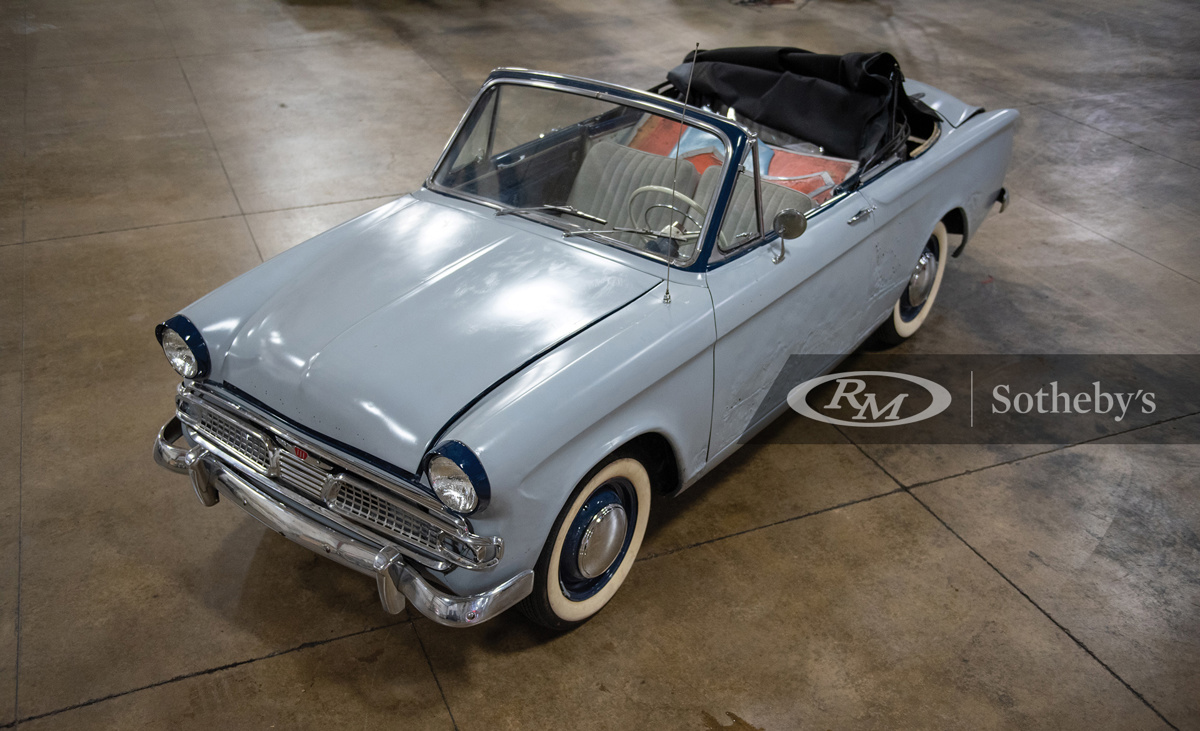 1961 Hillman Minx Convertible Project
Estimate: $3,000 - $5,000. Offered Without Reserve.
By far the most budget-friendly lot on our list, this Hillman Minx Convertible is a project car in search of a new owner. However, the hard work of searching out period-correct Minx accessories has already been done. We'll skip any jokes about British reliability—this car will require work to get running, no question. But the next owner will definitely appreciate this handsome Hillman once the work is done, and they get to exercise this uncommon open-top out on the road.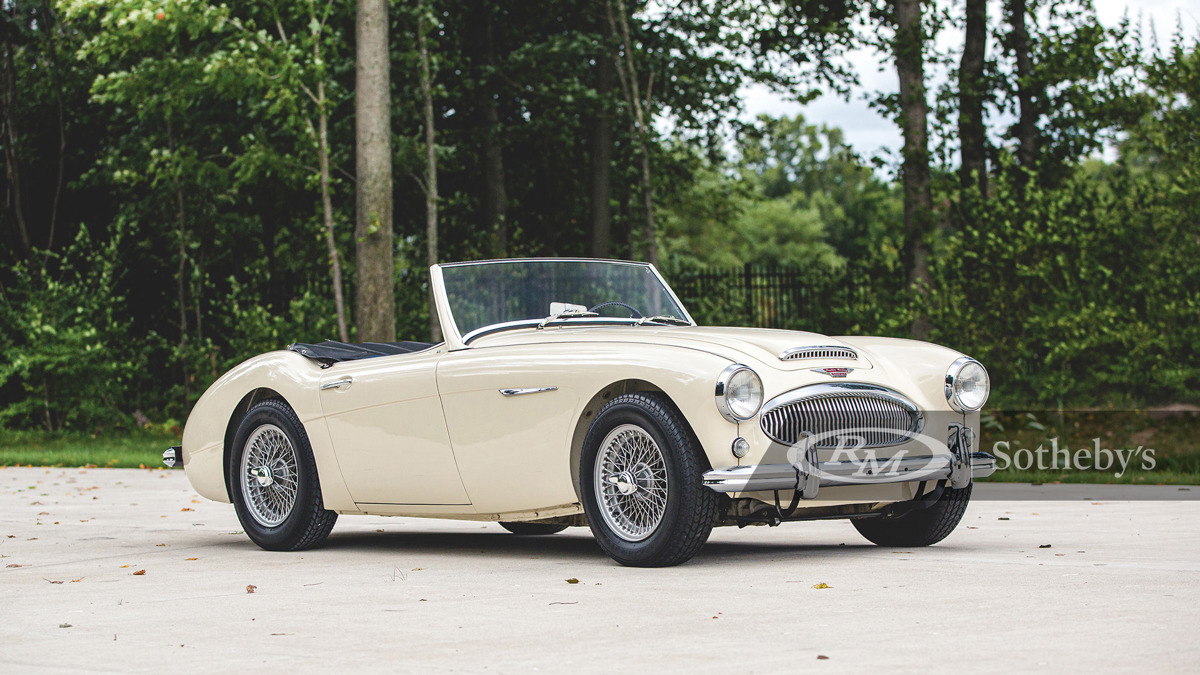 1962 Austin-Healey 3000 Mk II BT7
Estimate: $60,000 - $70,000. Offered Without Reserve.
While this lot estimate may seem much more than the Minx, this early 1960s Austin-Healey is in many ways, the quintessential British roadster. And the price reflects the value of an older, high-quality restoration which still presents well. Though the different "Big Healey" designations can get confusing, the two most important variables that changed over the generations were the number and type of carburetor and the quality of the interior. This BT7 comes fitted with the desirable triple SU carburetor setup, and its blue-on-blue interior and "2+2" configuration make it an ideal car for family touring. A living legend, well-cared for and lovingly restored.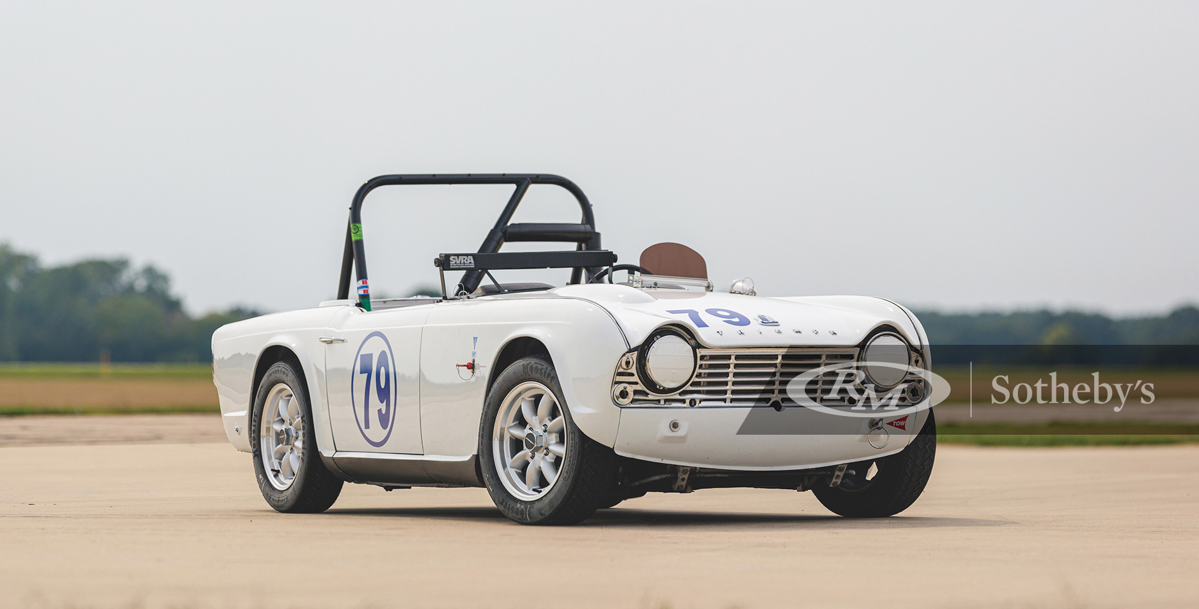 1962 Triumph TR4 Race Car
Estimate: $25,000 - $30,000. Offered Without Reserve.
Absolutely at the other end of the spectrum, this open-top race car shows the level of performance that can come from stripping-out and tuning one of Britain's already-sprightly sports cars. This TR4 has had its front windshield removed entirely, and a full roll cage fitted. Racing as many laps as possible before refueling is as important for any race car as consistent fuel delivery, so a fuel cell from Jaz Products was installed. In spite of all the noteworthy subtractions, this Triumph nonetheless remains a good-looking sports car, with a wooden dashboard, a recently reupholstered driver's seat, and a G-Force Racing Harness fitted. A Triumph for your next track day.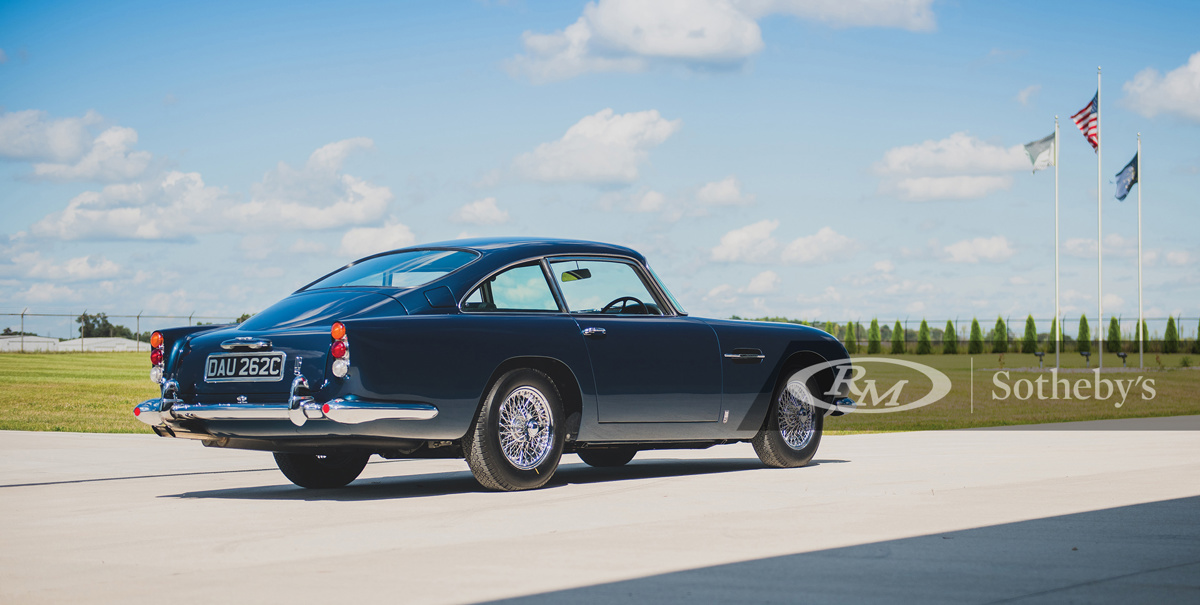 1964 Aston Martin DB5 'Vantage Specification'
Estimate: $750,000 - $850,000. Offered Without Reserve.
Hear me out before changing the channel—yes, this piece was supposed to represent the best British cars on a budget, and while the sub $1M estimate on this absolutely iconic Aston Martin DB5 'Vantage Specification' seems equally out-of-reach as an original, factory-prepped example, the truth is that the "real" DB5 Vantage was produced in such scant quantities that prices are comfortably double the estimate on this lot. What does 'Vantage Specification' actually entail? A bevy of engine upgrades, of course, the most important headlines being an in-period 0-60 mph time of 6.5 seconds and a stated horsepower output of 325 SAE. Not only has this already-rare DB5 been fully restored, during the restoration, it was also given the same engine upgrades as a factory Vantage, including uprated camshafts and triple Weber 45 DCOE carburetors. "Vantage" performance at a significant discount.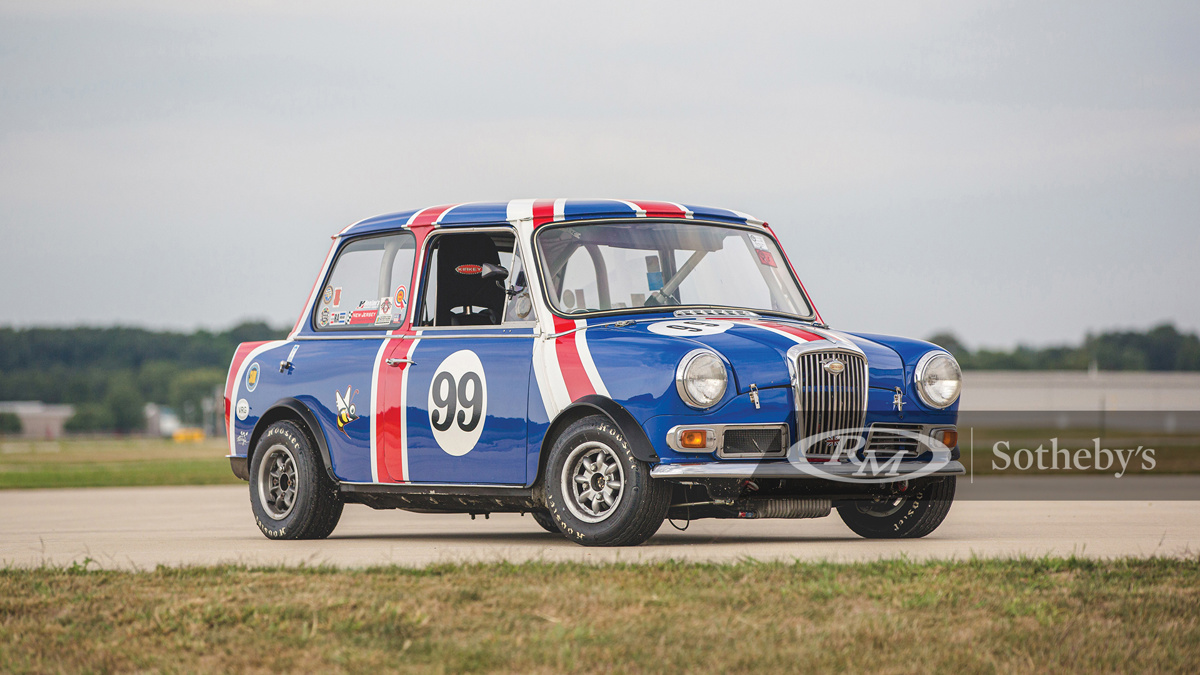 1967 Wolseley Hornet Mk III "Buzz Box"
Estimate: $25,000 - $30,000. Offered Without Reserve.
Our cover car for a reason—next to the entry for "reasonably-priced and cheerful" in the British English lexicon, there may as well be a full-color photo of this Wolseley Horney Mk III "Buzz Box" racer. Though the Union Jack livery is a modern addition, this thoroughly modified British race car certainly deserves to wear it. No doubt nicknamed "Buzz Box" for the characteristic exhaust note produced by the 1,293 cc inline four-cylinder engine, this example has been fully prepped for use in Group 1/CS competition at SVRA racing events. Pretty affordable for a race car and definitely cheerful.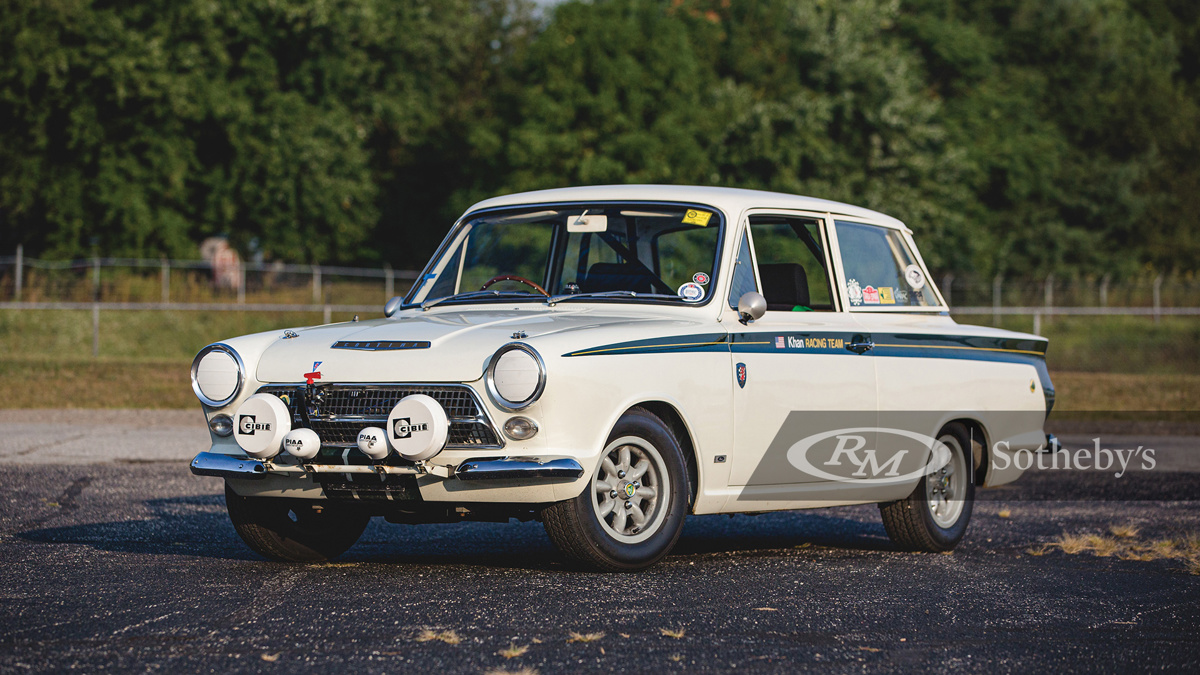 1967 Ford Cortina Lotus Mk I Rally Car
Estimate: $60,000 - $75,000. Offered Without Reserve.
Our last lot is one of a mini-collection of four Ford Cortina models. While the too-good-to-be-factory-correct 1965 Ford Cortina Lotus Mk 1 Estate Custom has been receiving the Lion's share of the attention, this rally car would be my choice. This Cortina combines the ultimate expression of lightweight Lotus engineering with the added safety of a closed cabin, a full roll cage, and racing bucket seats with four-point harnesses. Outside, front-mounted Cibié and PIAA driving lights are there to show the way forward during night driving. Vintage rally timing equipment in the cabin completes the package. Certain to make its next owner smile—the essence of a British rally car.