Though seemingly every article in our current moment of uncertainty needs to first announce the strange times we live in, some things never change: For many fans of American racing, the annual Summer tradition of 500 laps in Indianapolis is invariably the highlight of the year. Though the stands and infield were empty this year due to COVID-19 concerns, the running of the Indy 500 totaled the second-largest televised audience for a sporting event since the NFL Playoffs in January, proving the enduring popularity of this uniquely American endurance race.
Part of the tradition of the Indy 500 is carried on the iconic Borg-Warner Trophy, depicting the decades of heroic drivers who triumphed at "the Brickyard," tracing back all the way to 1909. The names of these courageous racers (and the marques that carried them to victory) are recognizable to any fan of racing, and can be surveyed in an exceptional collection of Indy 500-related memorabilia available at RM Auction's Auburn Fall event this year, from 3-5 September.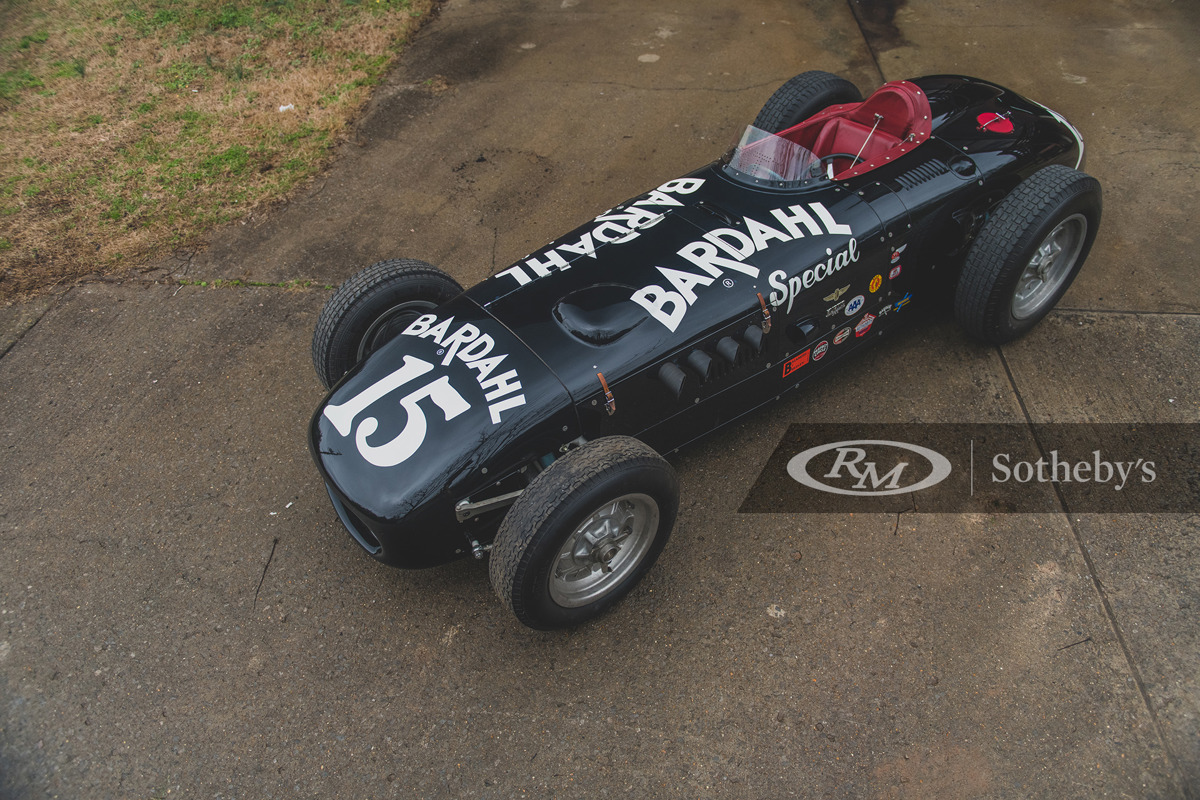 Curated and cared for by consummate Indy 500 aficionado Bill Akin, this comprehensive collection achieves on every level of ephemera – with multiple lots of original Indy racing parts, placards, and photographs, all the way up to complete racing cars, including an Indy 500-winning 1953 Kurtis 500 B Indianapolis fully restored by Akin himself.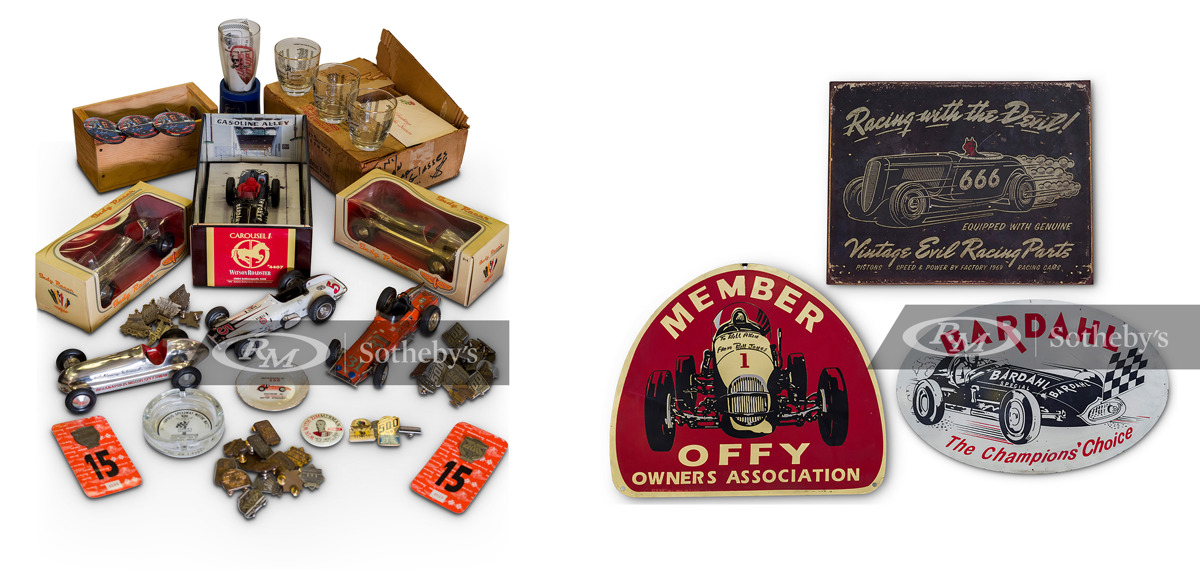 For the enthusiasts that have pre-registered to bid and attend the Auburn Auction Park this year in person, browsing the aisles of the Akin collection is a bit like the last scene of Raiders of the Lost Ark, with rows and rows of difficult-to-source parts arranged next to one another in neat boxes. Here is a box of Indianapolis models, including a scale replica of Akin's famous Kurtis restoration. Akin's prized Bardahl-liveried Kurtis is also immortalized on one of three racing-themed tin signs. Here is a set of four Halibrand Dished Wheels, which look massive, but are impossibly light due to the magnesium used to make them.

Surveying the whole collection, one can begin to appreciate the evolution in racing technology–from the days of the turbocharged Offenhauser to the modern era. The earlier the parts are, the more difficult they are to source, but they all tell a story. A large group of Offenhauser Valve Cups can trace their elegant functionality back to France, and early Peugeot designs. Peeking in the bottom of an original Offenhauser Gear Tower allows one to appreciate just how many functions were served by this one object – and when you zoom out to take in the whole 19-Degree Drake Turbocharged Offenhauser Complete Engine Assembly, it hammers home the minimalist beauty of an early Indy motor. When sitting next to Akin's 36-Degree Turbocharged Offenhauser Engine, it shows the urgency for period racing builders to innovate, or perish.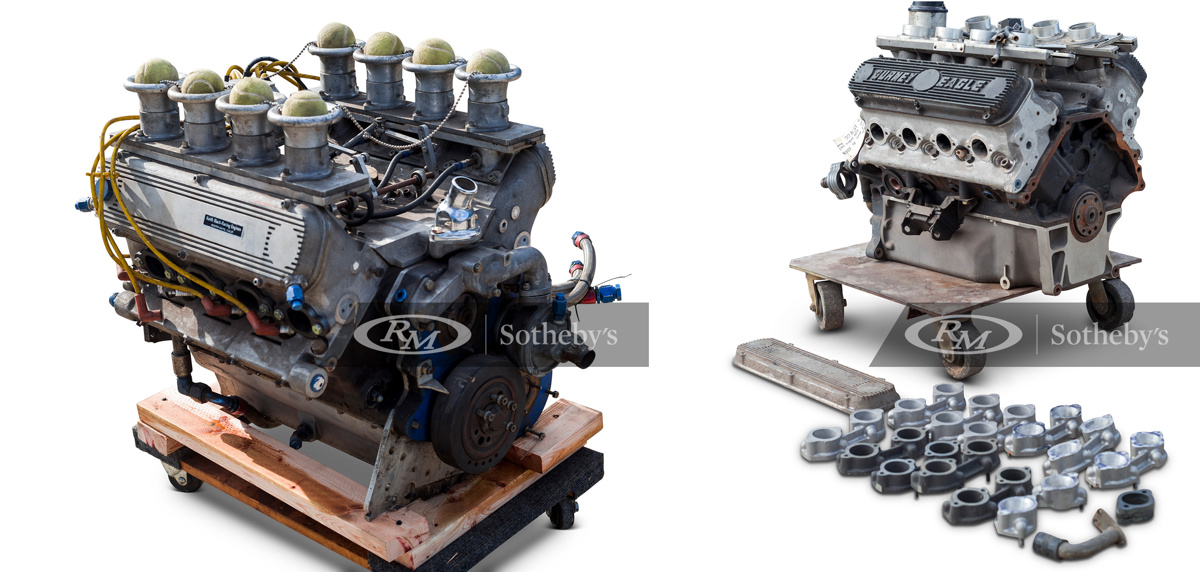 Akin's collection of full engines alone would be enough to populate a small exhibit at the Indianapolis Motor Speedway Museum. Along with the two Offenhausers, Akin also had a rare, complete Plymouth Weslake Indianapolis V-8 Racing Engine and a gorgeous Gurney-Eagle Indianapolis Racing Engine, which when standing next to the tiny, 19-Degree turbocharged Offenhauser, both look like they are competing from another century entirely.
Aside from using the period-correct racing engines to properly restore his period-correct race cars, Akin also liked to be a bit devious with his custom hot rod builds. This 1929 Ford Roadster Hot Rod holds a very rare four cam Ford racing engine underneath the hood – likely worth as much by itself as the current estimate on the whole car. For anyone purchasing this car, Akin also collected a few hard-to-find Ford Indianapolis Four Cam Engine Components and an official Ford manual that might be a good companion buy for the ultimate Ford motorsport fan.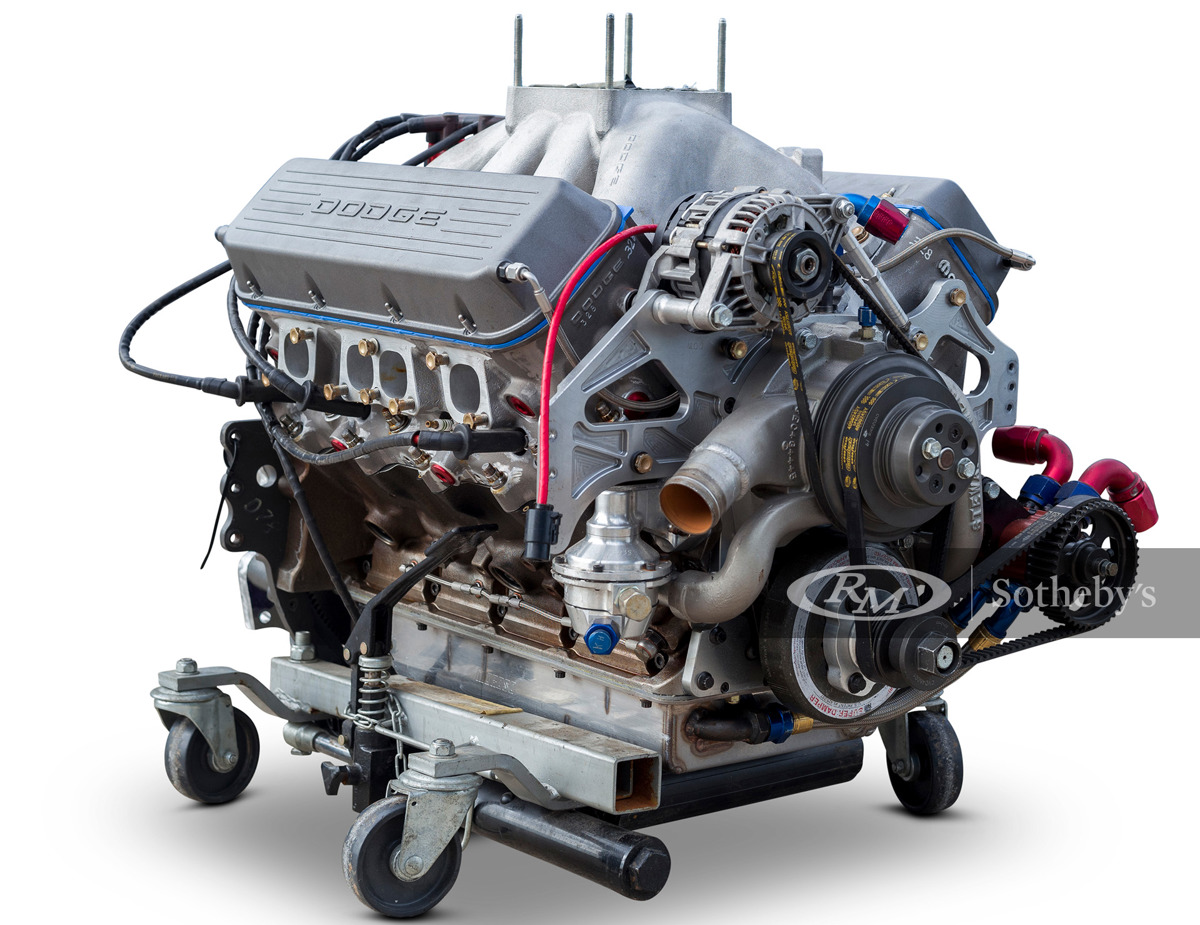 However, Akin wasn't only an afficionado of vintage racing – he intended this modern Penske Racing NASCAR dodge V-8 Engine to one day fit inside a Dodge Dart. A custom-made transmission plate was commissioned by Akin and was fitted to the engine, though the project was never finished. Sadly, Akin passed away in March 2019. An obituary befitting a true steward of motorsport history was issued by the Indianapolis Racing Museum. Certainly, Akin's work left a lasting legacy – this collection represents a lifetime of curation. And perhaps the best way to honor Akin's memory is to keep these parts moving; to keep the engine running.