An idea as eternal as artistic culture itself, the annual gathering known as Burning Man provides consistent proof that magical things can happen when people decide to come together in the name of radical creative freedom. If one were able to observe the occurrence from above, once per year, people from across the globe mobilize to transform a patch of sparse desert in Nevada to a thriving metropolis called "Black Rock City." Perhaps more importantly, in a matter of days, this transformation is reversed, and the flat landscape known to attendees as "the Playa" is returned to its natural state. For those of us familiar with traditional festivals such as Woodstock or Coachella, this sensitivity to the environment is unique. But then, Burning Man is no mere "festival."
Call it an event, or a gathering, either way, the once-in-a-lifetime qualities of each Burn attract attendees from every corner of the Earth, all seeking an otherworldly experience that cannot be equaled in any country. For the week encompassing Burning Man, the residents of Black Rock City live a life of pure artistic expression, existing in support of one another and the environment. Here, boundless space is more than simply a slogan, but a promise.
And what an extraordinary environment it is: With an expansive view of an ancient, prehistoric basin, the ground floor of the Playa offers attendees a nearly perfectly flat playground on which to experiment, innovate, and invent new ways of living. When night falls, Black Rock City metamorphosizes into a truly otherworldly environment, complete with glowing forms, moving gracefully underneath a blanket of stars. This space plays an ideal host to a list of extraordinary machines known as Mutant Vehicles. Granted access to drive on the Playa by a juried process held at Black Rock City's Department of Mutant Vehicles (or "DMV," for short), the strict selection rules ensure that the automobiles of Burning Man are unrecognizable from cars and trucks of the outside world.
Sotheby's and Burning Man are pleased to present on behalf of RM Sotheby's, the following extraordinary selection of vehicles at this month's Boundless Space: The Possibilities of Burning Man, opening on 30 September, with proceeds partially benefitting the nonprofit Burning Man Project. Without exaggeration, these automotive offerings are unlike any others on Planet Earth. From an ancient, electrified Trilobite-shaped motorcycle to a custom-built, stainless-steel sculpture made to survive any atmosphere, these vehicles are built to surprise and delight at Burning Man and beyond: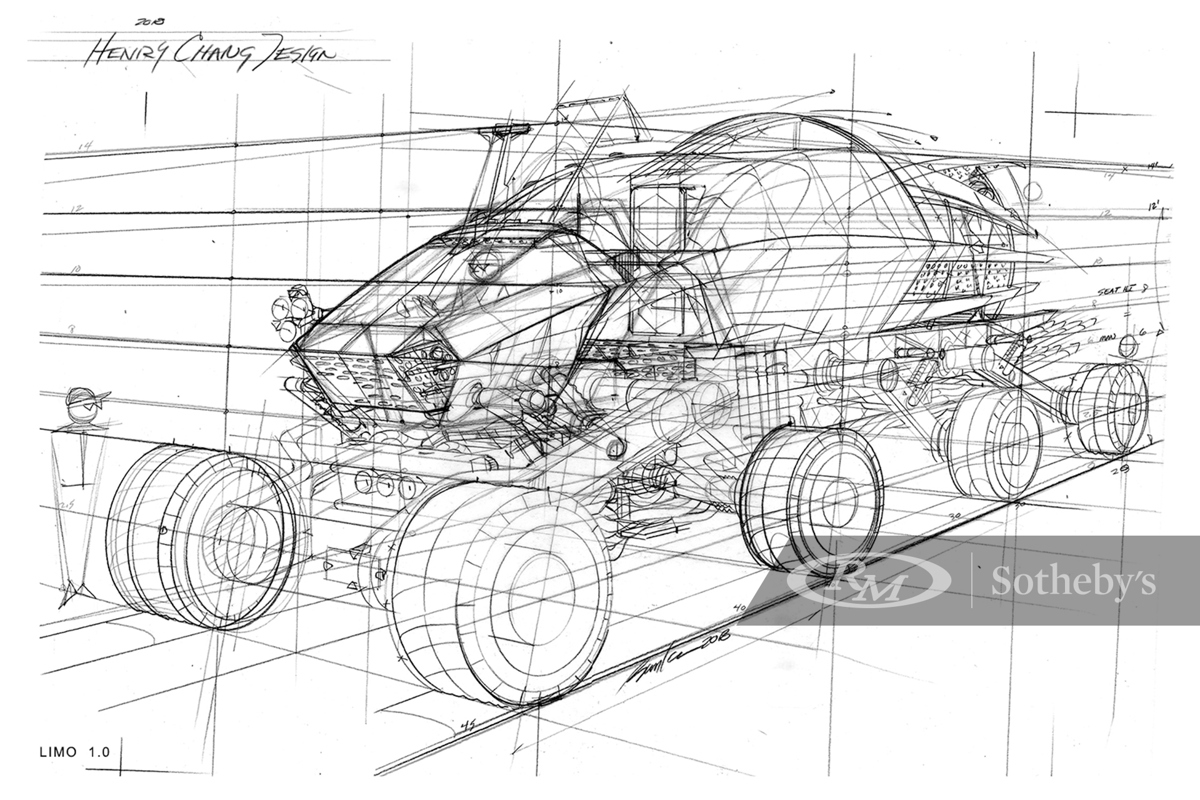 A Metal Mutant Masterpiece – A Custom Vehicle Build by Henry Chang
Estimate: $2,200,000 - $2,500,000
In terms of artists who both transform and have been transformed by the experience of Burning Man, there is likely no change more profound than designer Henry Chang. Leaving behind a life as a computer programmer around the turn of the millennium, Chang's first foray into product design was with a celebrated set of stainless steel furniture, making him the star of New York City's International Contemporary Furniture Fair in 2001. Chang then transitioned from static sculpture to kinetic art, constructing everything from intricate musical instruments to future-forward clothing, all displaying a similar style balancing technical expertise with outlandish execution. Chang's metal-crafted artistry on Mutant Vehicles such as Valyrian Steel has earned him the spotlight on Jay Leno's Garage as well as invitations to automotive design exhibitions across the globe. This thrilling lot will earn its new owner access to Chang's atelier, where he will create an all-new Mutant Vehicle in time for Burning Man 2023 with input from the winning bidder throughout the design process. And after the burn embers, the new owner will have a bespoke creation, a true example of sculpture in motion.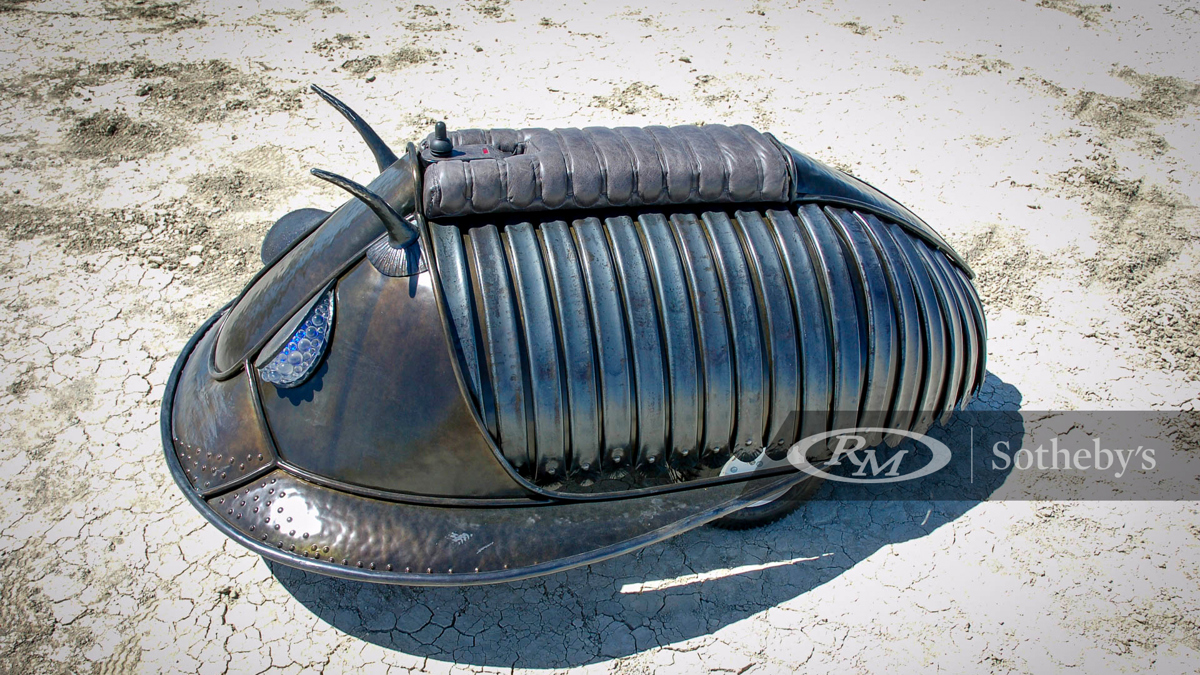 An Ancient Fossil, Powered by Electricity - A Custom Vehicle Build by Jon Sarriugarte and Kyrsten Mate
Estimate: $50,000 - $75,000
A nod to the prehistoric residents of the Playa, the horseshoe-shaped Sarriugarteis olenoides trilobite will be familiar to anyone who has studied the fossil record of the Cambrian period. However, seeing this ancient arthropod moving around Black Rock City in the modern era is enough to make any visitor feel as if they are traveling back in time. Built using old-world blacksmithing techniques over a modern electric-powered architecture, the finished product known as an Electrobite features glowing lighting underneath its hand-tooled metal exoskeleton and provides eco-friendly transportation for one passenger. Conceived and created by Bay Area-based husband-and-wife team Kyrsten Mate and Jon Sarriugarte, this lot encompasses an all-new build, in the style of the original Electrobite, made as another collaboration by the talented duo, still perfectly suited for midnight drives on the Playa.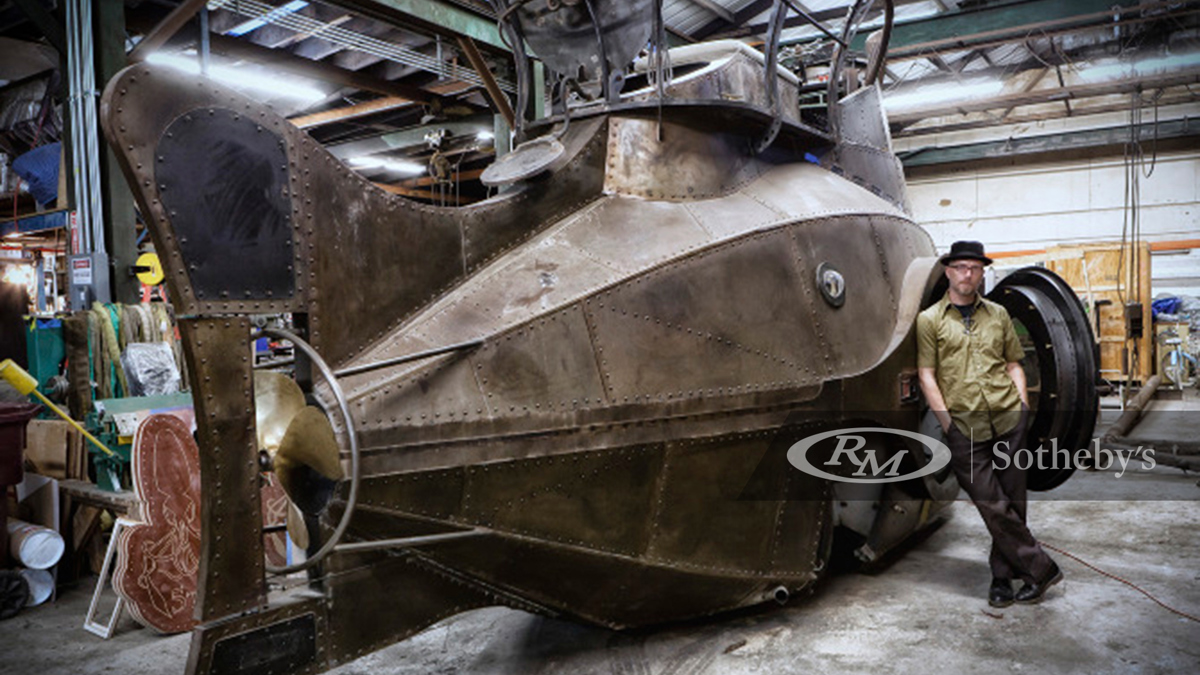 A Guide to Radical Self-Expression – A Consult Building Experience with Sean Orlando
Estimate: $25,000 - $50,000
Collaborate on the creation of a custom art car with Burning Man legend Sean Orlando. Your unique artistic vision becomes reality in the form of a mobile sculpture design implemented in partnership with Orlando and his Engineered Artworks studio, the West Coast's preeminent makers of sleek, intriguing sculptural vehicles and transcendent artistic experiences. 
Whether your dream ride is an Art Nouveau salon on wheels or a fierce beast roaming the desert floor, Orlando and the master technicians of Engineered Artworks will collaborate with you to ideate and generate a unique, build-ready design. Customization options include fire and laser effects; programmable LEDs for radical illumination; water/misters/hydro effects; pro-audio systems; enticing spaces for passengers; or your personalized special effects yet to be envisioned. With years of experience creating sublime spectacles on the Playa, Orlando and Engineered Artworks will hone your individual aesthetic vision in this one-of-a-kind sculptural adventure.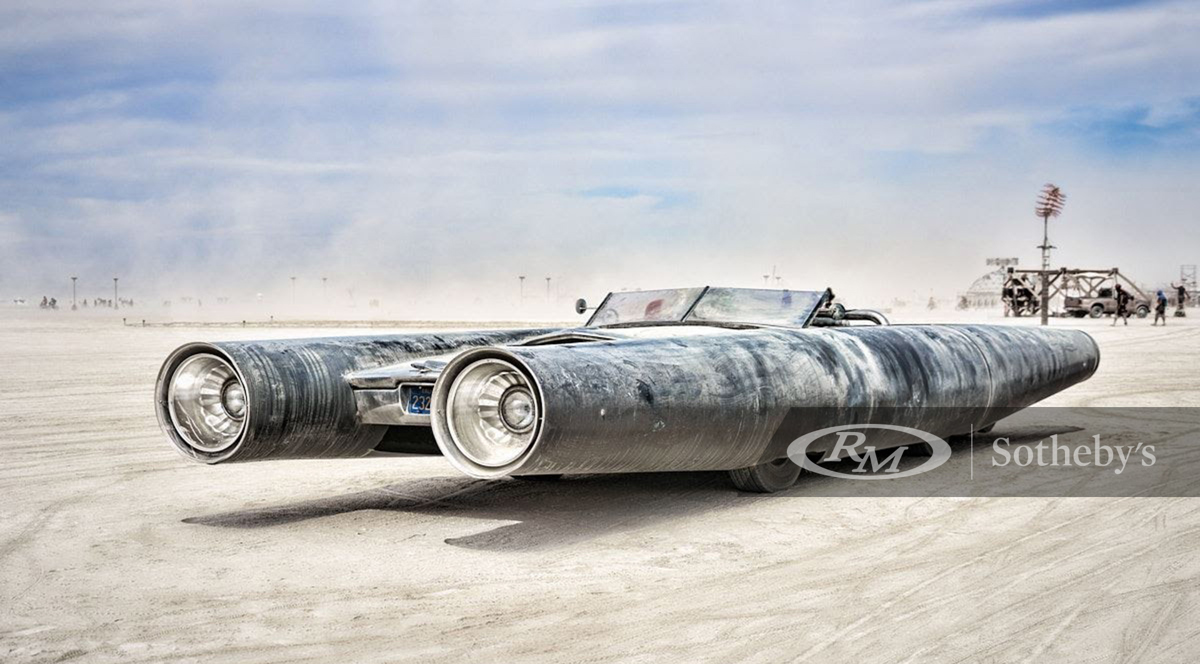 Rocket Car by David Best
Estimate: $30,000 - $50,000
While the typical requirements of Black Rock City's Department of Mutant Vehicles state that any car allowed to drive on the Playa must be completely unrecognizable from its regular production counterpart, the work of Petaluma, CA-based art car master David Best is so extraordinary that exceptions were made. Built with a talented team in 2003 from an original 1973 Cadillac Sedan DeVille, Best's finished art piece is like a concept car Detroit designers could only dream of. Measuring forty feet in length, this Cadillac Rocket Car appears to float down the road as easily as it does cruising the flat earth around Black Rock City. This finished piece of rolling sculpture has been documented by San Francisco's KQED Arts channel and has been a beloved guest of previous Burning Man gatherings, having been photographed with as many as sixteen passengers on board. With unmatched provenance among Mutant Vehicles, this rocket Cadillac is ready to roll.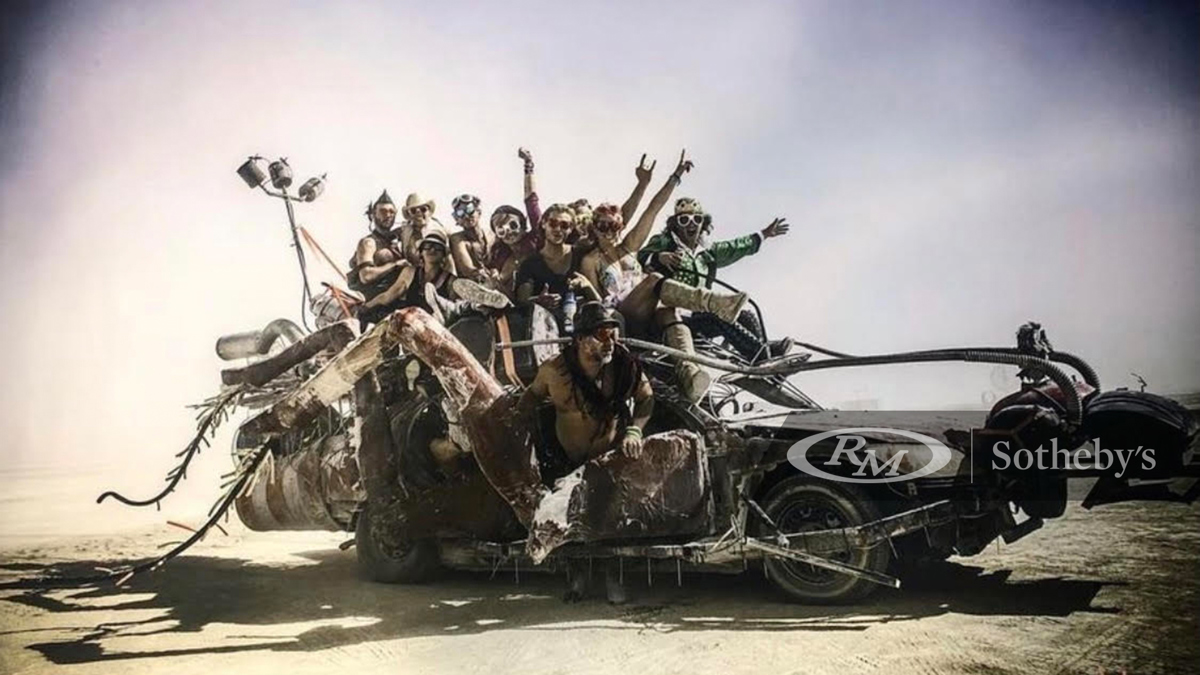 CarCroach: A Motor City Survivor, Built for Black Rock
Estimate: $30,000 - $60,000
Many automotive manufacturers purport to have iconic status, but few works of mobile art can credibly claim to be at the center of a genuine movement. Made famous in the wake of the protests in the tumultuous summer of 2019, this vehicle was captured rolling down an avenue in Detroit, a Bruno Furlan house track bumping out of concert-quality loudspeakers mounted on a road-registered and legal 2004 Honda Civic EX, surrounded by a diverse crowd all chanting a message as immediate as it was infectious.
As the fortunate early viewers first encountered this genuinely captivating vehicle in a viral Twitter post that has now been made private, the accompanying message was overwhelmingly positive: "Detroit is beautiful." A sentiment impossible to argue with, for this is another example of Detroit having a history of translating moments that should be painful into undeniable beauty. Motown is evidence of this. So, too, is Techno – a movement echoing the machine-like drum of the assembly line, now popular worldwide. From the found art origins of its "Detroitus" exoskeleton accessories, which earned this example its nickname of #Carcroach, and built in a modern studio located at the original Lincoln Motors facility in Detroit, this mutant vehicle has driven cross-country to several Burning Man events, and its creator, art car expert Ryan Doyle, attests it is "well-known to tow other Mutant Vehicles back to their camps in the harsh and dusty environment of Black Rock City." This is an example of Detroit-built history as salient as any vehicle shown in The Henry Ford Museum; perfectly suited to broadcast a loud message of peace on the Playa and beyond.