Every Bugatti, it would be easy to argue, is inherently a special automobile. Built with an eye for aesthetics and an intuitive understanding of aerodynamics and engineering, pre-war Bugatti motorcars are especially coveted today. Devotees of the brand recognize the driver engagement possible from a period Bugatti is unmatched among modern offerings. Piloting an open-air Bugatti is a pinnacle achievement for automotive fans of every age, leaving no doubt that the driver has earned the skills to exercise such a marvelous machine. The only problem for would-be Bugatti collectors is where to begin: Most auction offerings are strictly limited to a scant number of pre-war examples.
Thankfully, one of the greatest groupings of these prized pre-war Bugatti models has surfaced and is headed to auction this summer. Carefully curated, assembled, and maintained by the consummate gentleman and world-renowned enthusiast Oscar Davis, these coachbuilt examples reflect the core values of Davis' collecting strategy. Whether driven on cross-country rallies like the Colorado Grand or exhibited at some of the world's most prestigious concours d'elegance, Mr. Davis insisted that his Bugattis be used as intended. Having taken a lifetime to acquire these examples, scouring the world to source original components, and finally enjoying the just rewards of both driving and showing these cars, the Oscar Davis Collection is now available for public sale. The singular collection assembled by the late Mr. Davis stands as a testament to his dedication and taste. RM Sotheby's is pleased to present the first in a series of highlights from The Oscar Davis Collection: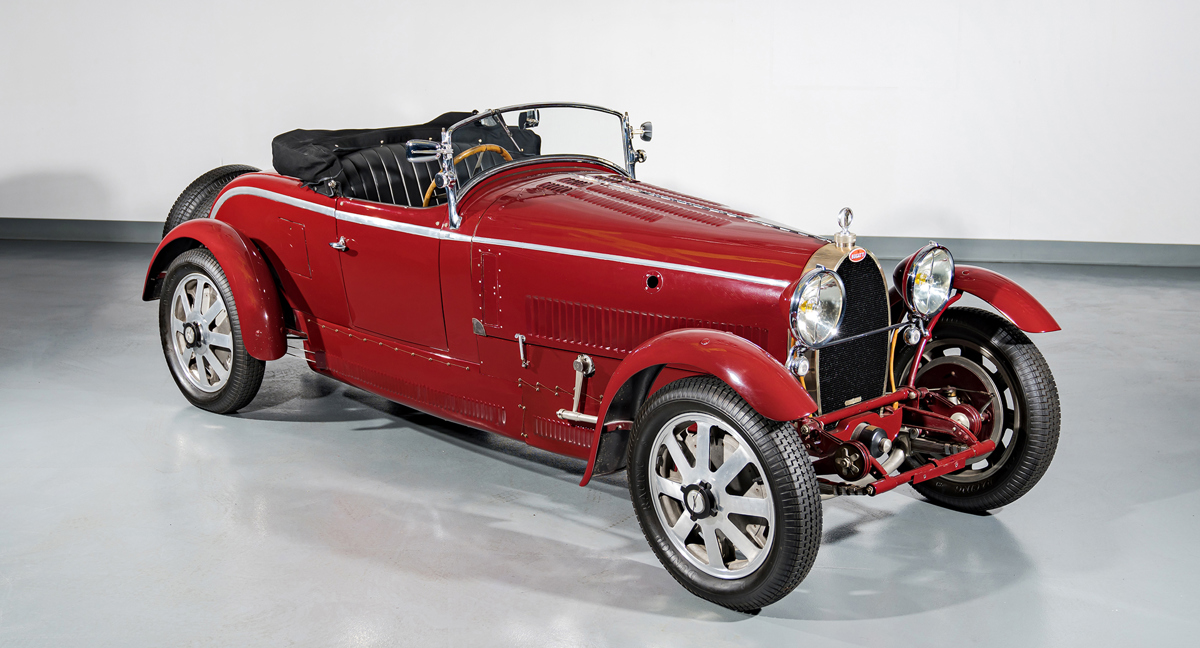 1928 Bugatti Type 43A Roadster by Lavocat et Marsaud
While many casual automotive fans are familiar with Bugatti's celebrated, Grand Prix-dominating Type 35 racer, the Alsace-based brand produced a more luxury-oriented model intended for road use. Debuting in 1927, Bugatti scholars point to the Type 43 as one of the earliest production sports cars capable of exceeding 100 miles per hour. Only one major alteration (a modified crankcase to allow for an extended wheelbase) stood between the Grand Prix-proven, supercharged, 2.3-litre eight-cylinder powerplant in the Type 35 and the one in this Type 43A. Pricier in-period than the Type 35B, the sporting potential of this Type 43A appealed in-period to one Robert Sénéchal, a French airman and test driver for another legendary European marque, Delage.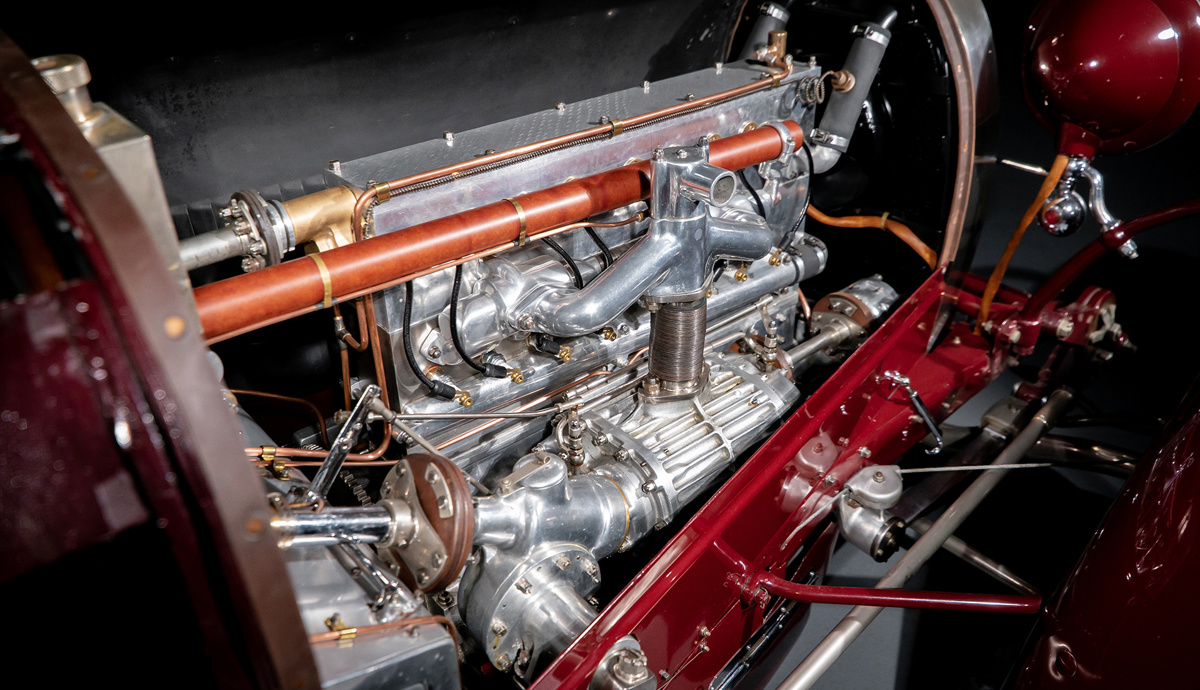 Sénéchal briefly attempted to found his own low-cost cyclecar company in the early 1920s, but decided to move into the dealership business, opening a storefront on the Champs Elysées the year before he acquired this Type 43A. Perhaps this example helped convince Sénéchal into offering Bugatti models as well; certainly, his overall win at the Rallye de Pau in 1928 in this very car served as good marketing for his new dealership. A fascinating example with period race history long before being acquired for the collection in 1996, this car proved so desirable that Mr. Davis purchased it twice, having sold it and then purchased it again in 2007. One of approximately 160, this Type 43A is an uncommon example of Bugatti's prowess.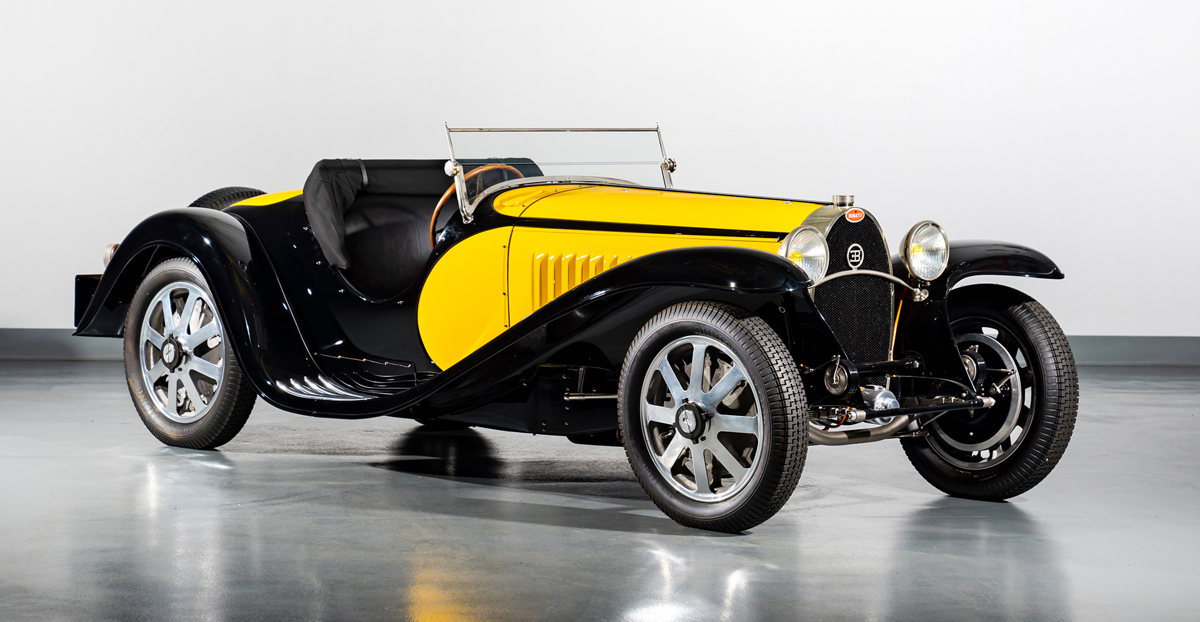 1932 Bugatti Type 55 Roadster in the style of Jean Bugatti
Another luxurious roadster with a solid connection to period competition cars, the Type 55 was derived from the epic twin-cam Type 51 racer. Initially purchased as a bare chassis and powerplant at Agent Bucar in Zurich, Switzerland, this example was actually raced in local Luxembourg events without coachwork by the son of the first owner before traveling to Pritchard & Demollin of Angluer, Belgium, for installation of a four-seat cabriolet body. After spending the war years in hiding, this chassis reemerged in 1945 before it was sold to a collector in America. By the 1970s, it was wearing perhaps the most famous shape applied to a Type 55, the low-slung roadster body style designed by Ettore's son, Jean.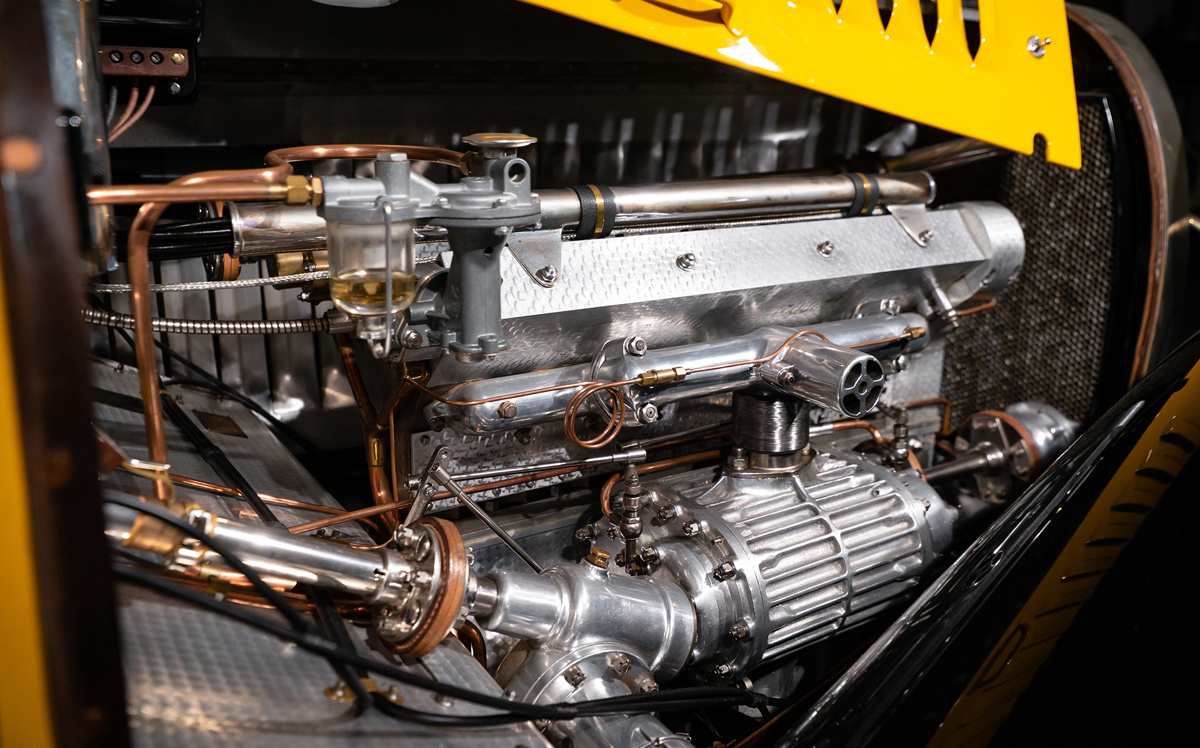 Better at low speeds and in traffic than the Type 43 due to its twin-overhead camshaft design, the engine turned eight-cylinder 2.3-litre engine is no doubt the showpiece part of a Type 55. Today, every Type 55 is appreciated for their exceptional rarity, with only 38 examples ever made. But when acquired by Mr. Davis in 1998, this example required some detective work to reconstruct. To secure essential powertrain components, a total of three Type 55 chassis were acquired by Mr. Davis. Painstaking detective work and restoration resulted in an official replacement chassis plate being granted by the Bugatti Owners Club in 1993. Of course, that was just the beginning for a meticulous collector like Mr. Davis, with a further restoration undertaken in 2008 by Leydon Restorations of Lahaska, Pennsylvania.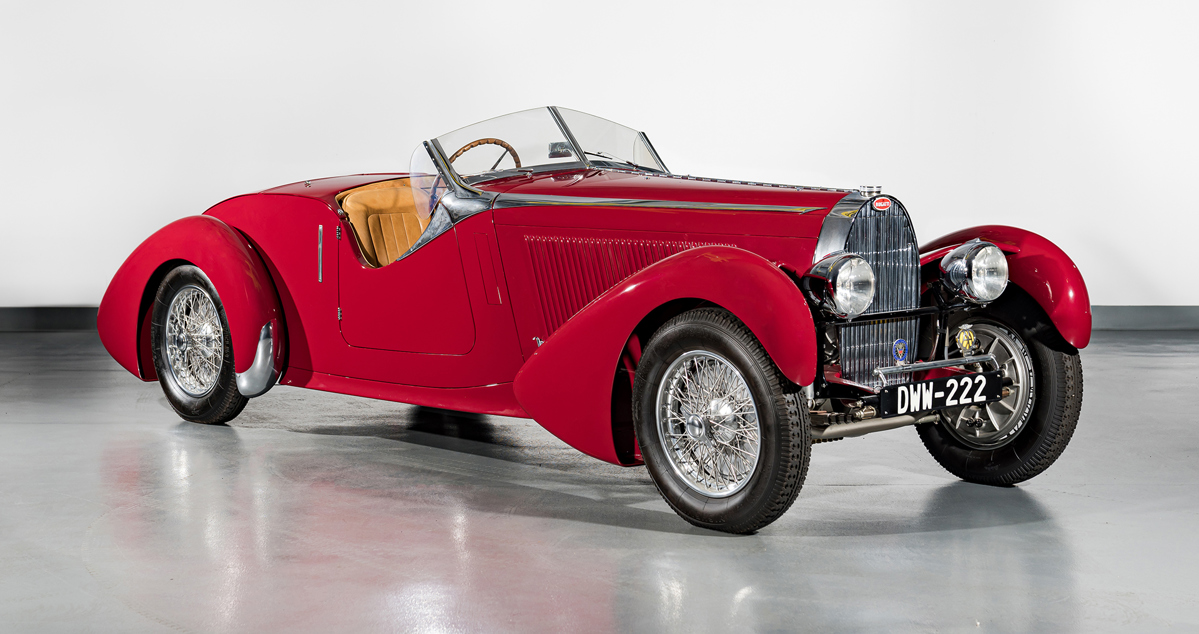 1939 Bugatti Type 57C Cabriolet in the style of Corsica
In many ways, the story of any pre-war Bugatti is essentially intertwined with the advent of worldwide war in Europe. Bugatti drove his engineers to continually develop their powerplants essentially up until the final weeks before the annexation of the Alcase on 30 November in 1940. Debuting first in 1934, by 1936 the second series of the Type 57 was available with 3.3-litres of straight-eight power, twin-overhead camshafts, as well as a redesigned radiator and gearbox. This chassis in particular could be considered one of the most-developed examples, as it is believed to be the very final Bugatti imported to London by local distributor Colonel W.L. Sorel and offered at their Brixton Road dealership.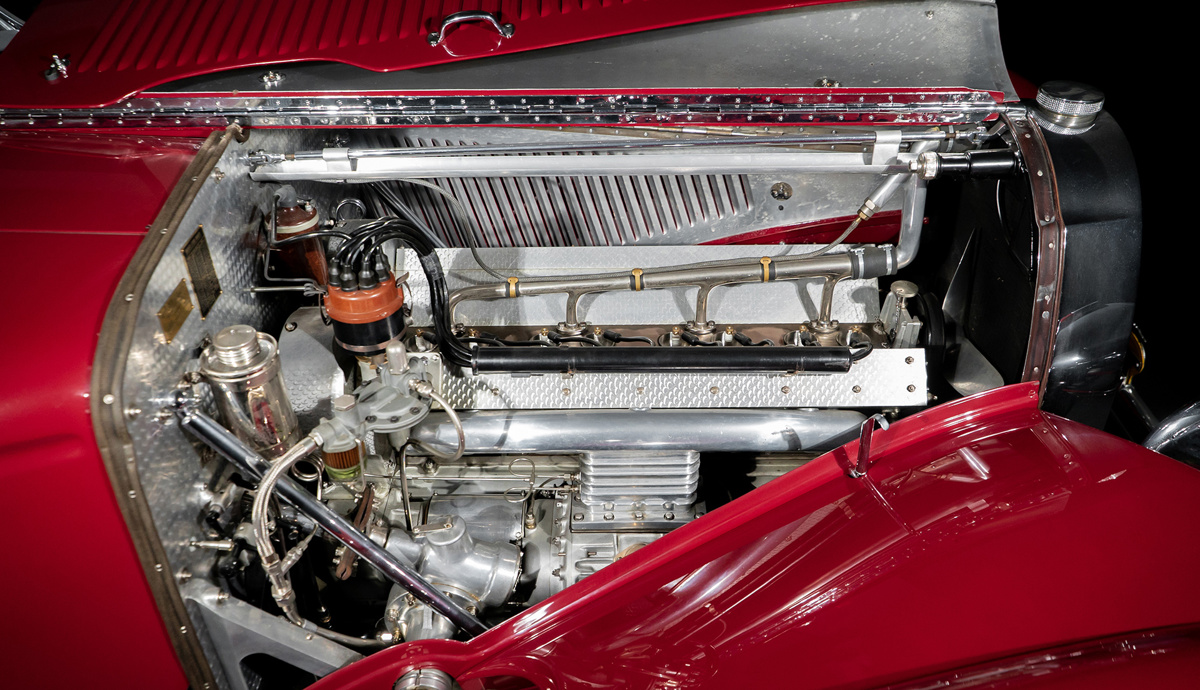 Originally delivered without coachwork, as many fine Bugatti chassis were ordered at the time, this example is made even more special than the typical Type 57 with the inclusion of a supercharger, making this Cabriolet a desirable Type 57C variant. The earliest known owner of this desirable Bugatti was esteemed collector Edward G. Thompson, perhaps best known as the sponsor of the Ecurie Ecosse racing outfit. Sold along with the rest of Thompson's collection in 1970, this example was acquired by Mr. Davis in 1989. By then, this chassis already had its Vanden Plas coachwork replaced with a roadster made in the style of Corsica. As with the Type 55 above, Mr. Davis set about properly restoring this example, complete with remade Corsica-style coachwork executed by the experts at D.L. George Historic Motorcars and a thorough, multi-year mechanical overhaul finished by Leydon Restorations. With its pontoon fenders and signature chopped-and-split windshield, this roadster would be an ideal way to share the wonder of Bugatti with the world.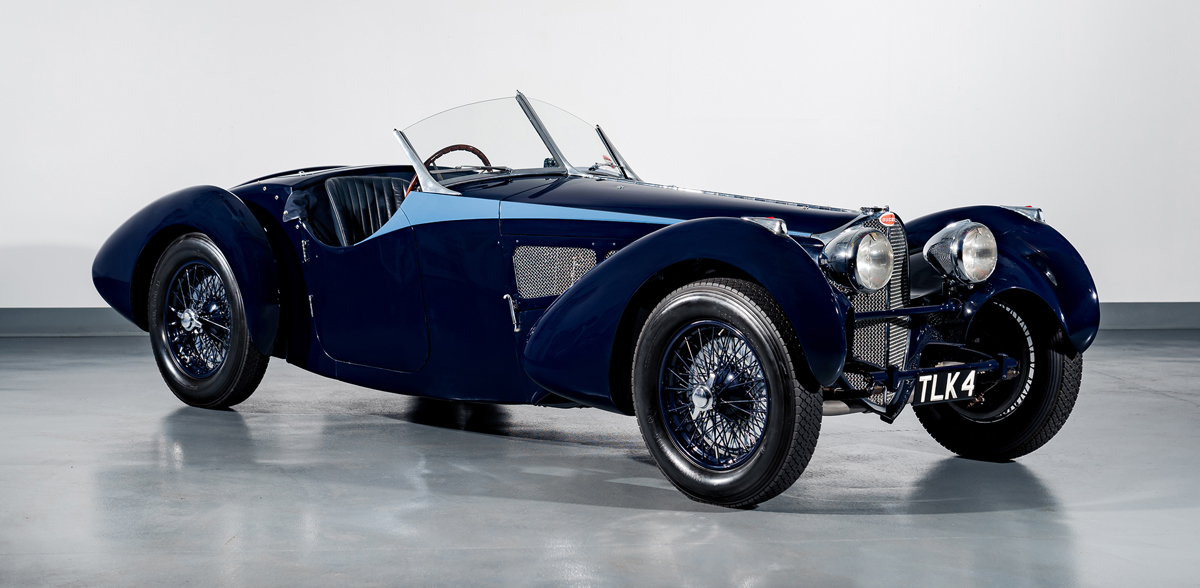 1938 Bugatti Type 57S Roadster in the style of Corsica
A quick look between this Roadster and the Cabriolet above reveals the difference in the Type 57C and Type 57S. An underslung, or Surbaissé, chassis provides the most notable difference, allowing the Corsica coachwork on this example to truly shine. Only eight Bugatti Type 57S chassis were ever clothed by Corsica. No doubt the best-known and universally acclaimed of all the Corsica designs is the one-of-a-kind roadster completed at the request of Eric Giles for his brother, Col. G.M. Giles, one of the most significant collectors of the marque in the pre-war era and the founder of the Bugatti Owner's Club. In a fascinating twist of fate, this example, which was originally bodied one of only two Corsica coupes, was given an entirely new shape in the 1980s courtesy of metal-shaping artist Jack Buddey. The result is this gorgeous, two-tone Type 57S Roadster built in the style of Corsica's famous work for Col. Giles, yet still sufficiently distinctive to present itself as a unique creation.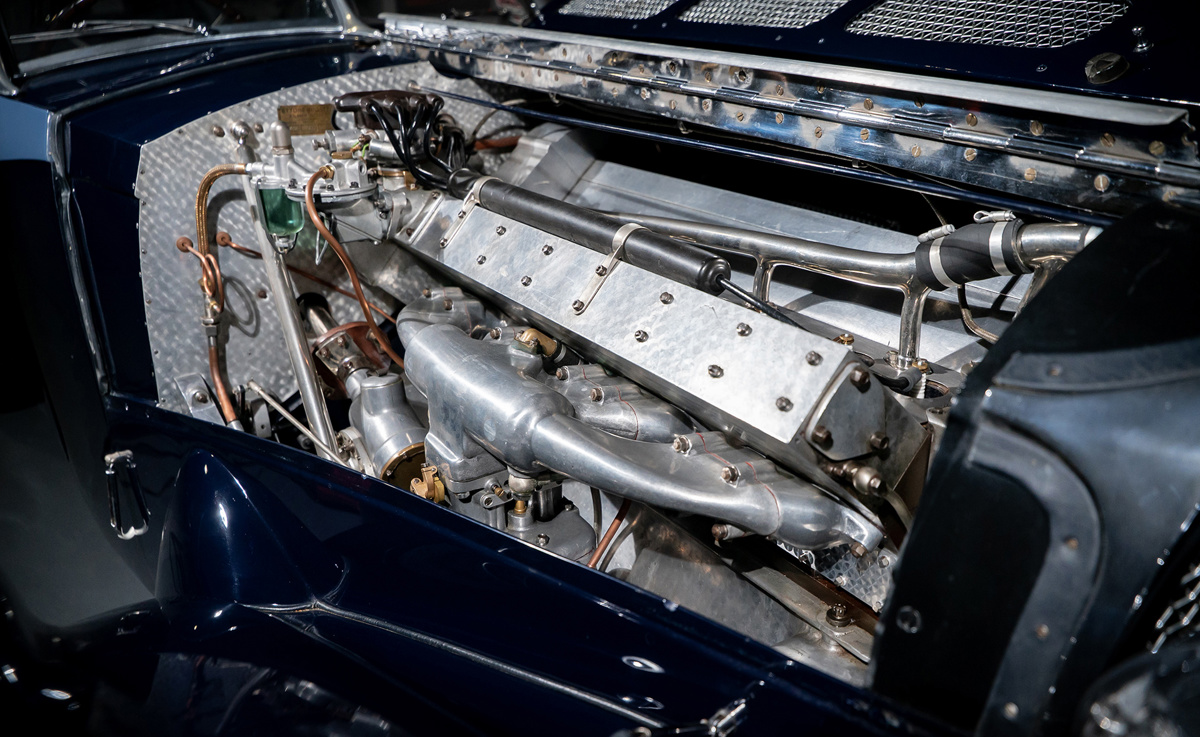 Though the exterior of this Type 57S is no doubt stunning, the engine bay is perhaps even more intriguing to Bugatti aficionados. The 3.3-liter dual-overhead cam inline-eight engine, the naturally aspirated variant found in all Type 57S models, is made even more complete with the fitment of a rare and original Bugatti-designed carburetor. This uncommon addition, when combined with a Le Mans-type crankshaft, upgraded Hepolite pistons, and a modern coil ignition system, creates a potent open-air motoring experience. Of course, as part of the Oscar Davis Collection since 1998, the search for further refinement did not cease there. Mr. Davis was searching for the rest of the parts to complete a numbers-matching spare engine shortly before he passed away; the incomplete motor, with its crankcase stamped "57601 42S," accompanies the sale. A showstopping example, inside and out.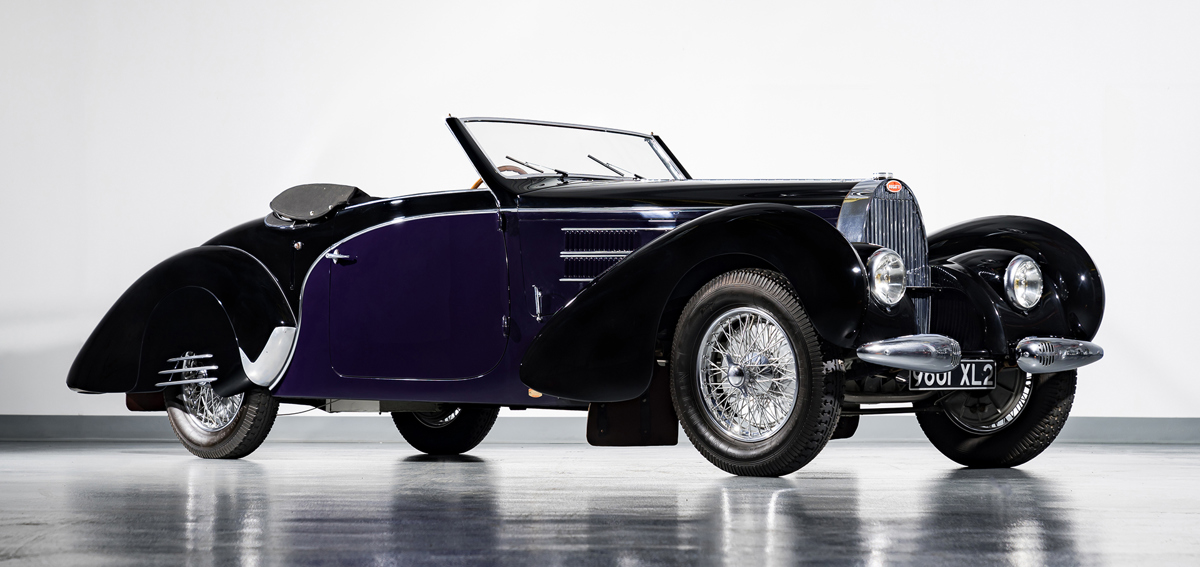 1939 Bugatti Type 57C Aravis Special Cabriolet by Gangloff
Ordered new before the outbreak of the war by Dr. André Charles Chauvenet, this stately, coachbuilt cabriolet was specified from new with a Stromberg carburetor and a supercharger, making it a Type 57C. Specified to be built through Bugatti's favored coachbuilder, Gangloff, this example sat atop the Alcase marque's lineup of open-air examples, and with its 2/3 seat configuration and elegantly folding fabric top, it certainly earned its formal moniker of "Special Cabriolet." A mere six Aravis examples were completed with Gangloff coachwork. The see-through-style slatted rear spats and elegantly arching chrome trim are telltale signs of this exclusive model.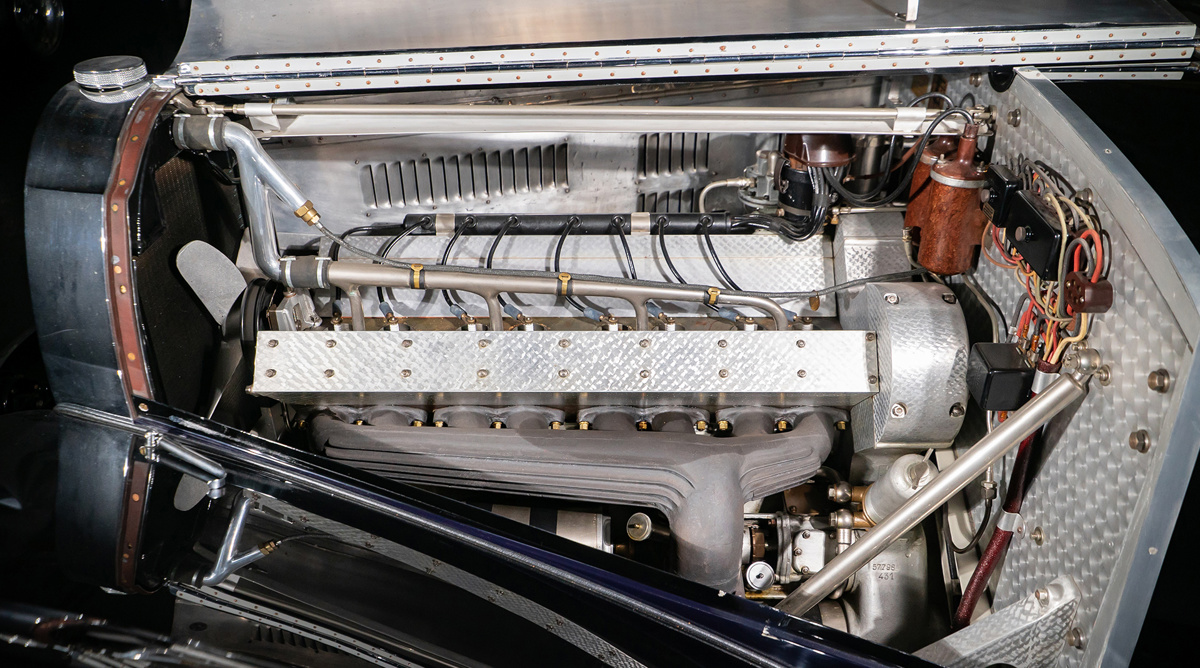 Of the six Aravis examples believed to be built by Gangloff, only two were specified with supercharged powerplants. Acquired in 1995 by Mr. Davis as a complete car with later Graber coachwork applied, work quickly began in Classic Coach Repair of Elizabeth, New Jersey, to return the bodywork on this example to more closely replicate its state when it left the Gangloff workshop. The extensive restoration even encompassed new wood framing; Leydon Restorations of Lahaska, Pennsylvania, was tasked with a full mechanical restoration on the chassis and drivetrain. Mr. Davis was rewarded with invitations to some of the world's preeminent automotive gatherings after the completion of this Aravis in 2001, including the Pebble Beach Concours d'Elegance (and Tour), Louis Vuitton Classic Concours, and the Greenwich Concours d'Elegance. Bugatti aficionados will be happy to see this car and the rest of the examples on the road one day again soon.
Be sure to check back soon to see the next installment of our full coverage of the Oscar Davis Collection, focusing on some of the fine pre-war Italian cars collected by Mr. Davis, and tune in when the entire collection crosses the block at RM Sotheby's signature auction in Monterey, California, on 19-20 August 2022.