Stopping traffic on Rodeo Drive is not advisable in a mere supercar, but when you are driving a hypercar, the rules go out the window. The same could be said for the contrarian spirit that inspired the original Pagani Zonda C12 just before the dawn of the new millennium. Barely more than a decade after the debut of their first effort, driven by the insatiable desire of visionary engineer and company founder Horacio Pagani, the formidable Zonda reached its final form, in the ultimate Zonda R Evolution, like this one-of-ten example—a surprise announcement at our most recent Monterey auction—now available from RM Sotheby's Private Sale division: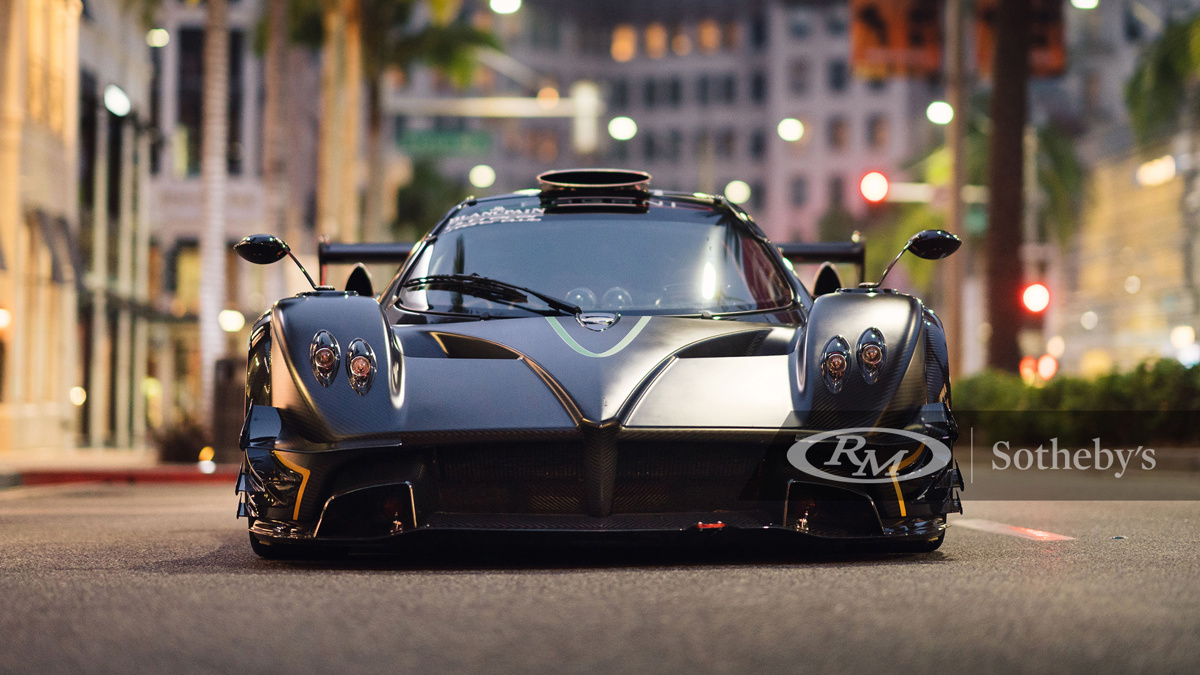 2010 Pagani Zonda R Evolution
Price Upon Request
Face-to-face with the Zonda R Evolution, one can immediately appreciate the degree of difference between this track-focused performance machine and the average supercar. The lightweight carbon-titanium material (also sometimes referred to as "Carbotanium") was developed by Pagani's research and development division known as Modena Design. The fully proprietary process has not been replicated by other manufacturers, in part because of its extreme expense. Manufacturing the futuristic material is a multi-step process involving a significant amount of platinum, which coats the titanium and aids in bonding to the carbon composite weave.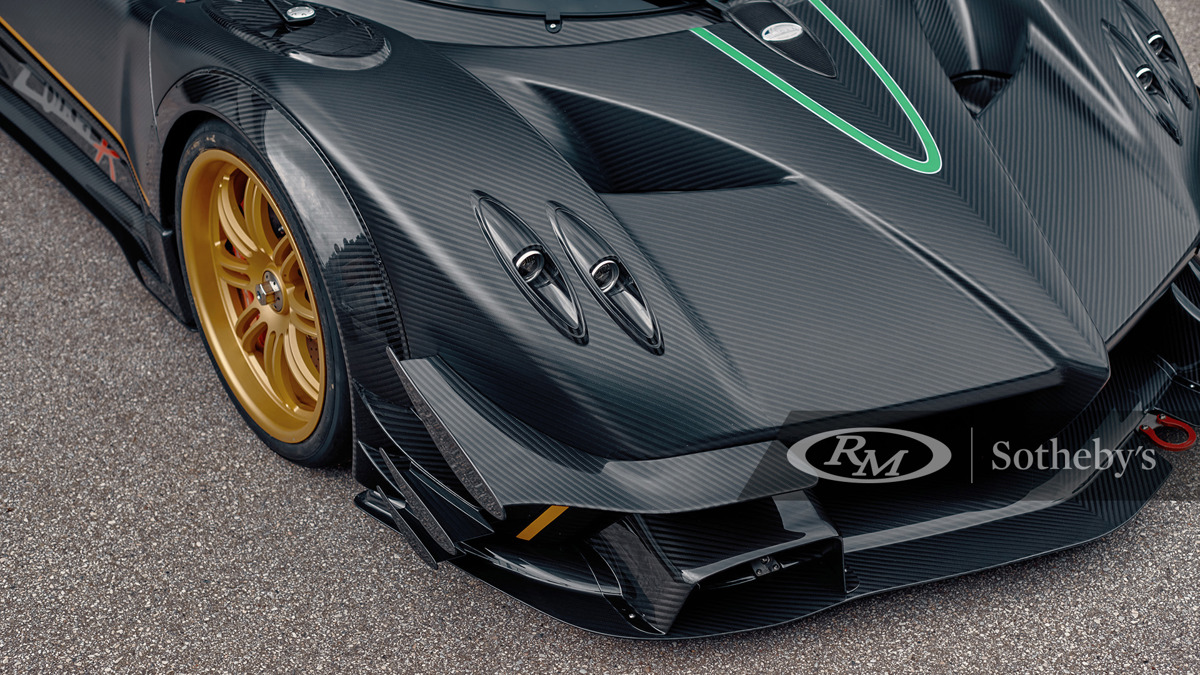 A closer inspection of the front clip of the Zonda R Evolution reveals a bevy of alterations from the original C12, including a redesigned front splitter, ultra-minimalist projector beam headlamps, center-lock magnesium wheels, and a purposeful tow hook. For those who have not seen the short film made to preview the Zonda R Evolution upon its debut, it is well worth three minutes of your time (definitely a good reason to #volumeup). All the advanced design from a decade's worth of development by Pagani adds up to a no-compromise track weapon, and that is even before we peer beneath the skin of this 1,070 kg work of automotive art.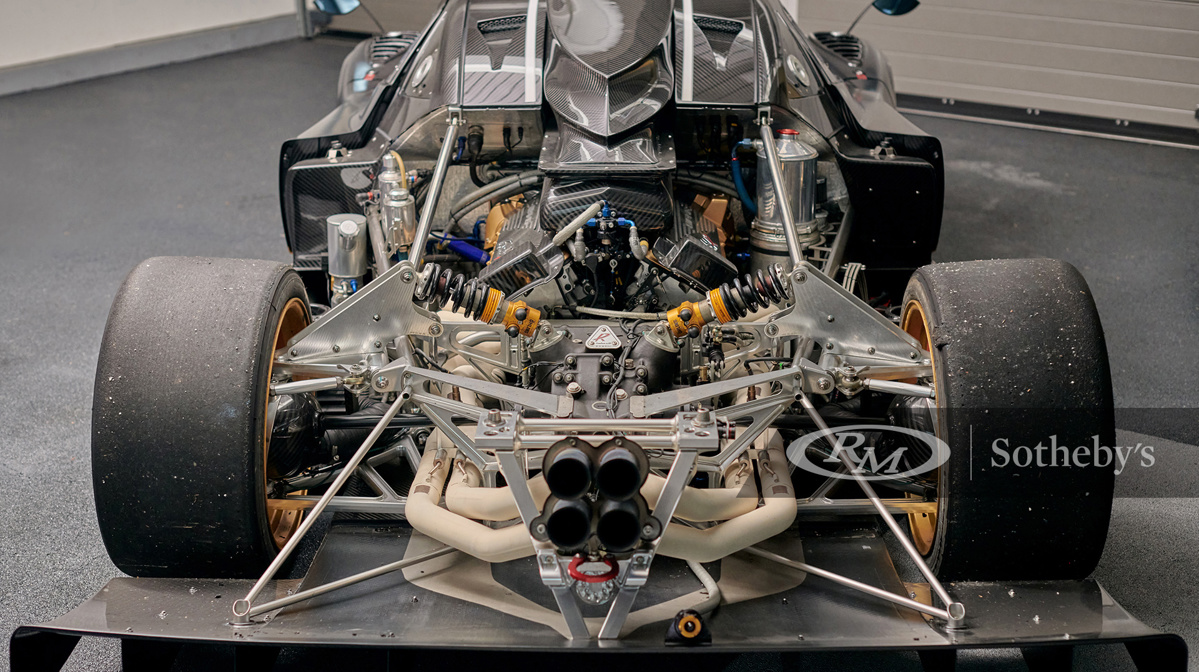 From the pushrod suspension to the monocoque chassis structure itself, the Zonda R Evolution was a bespoke design, created expressly for this model. This example, the fifth of ten total built, embodies advanced, motorsport-grade design elements at all levels, from its adjustable rear wing to its sinuous quad exhaust tips. All the associated technology creates a blistering 2.7-second 0-60 mph time and a top speed of 230 mph.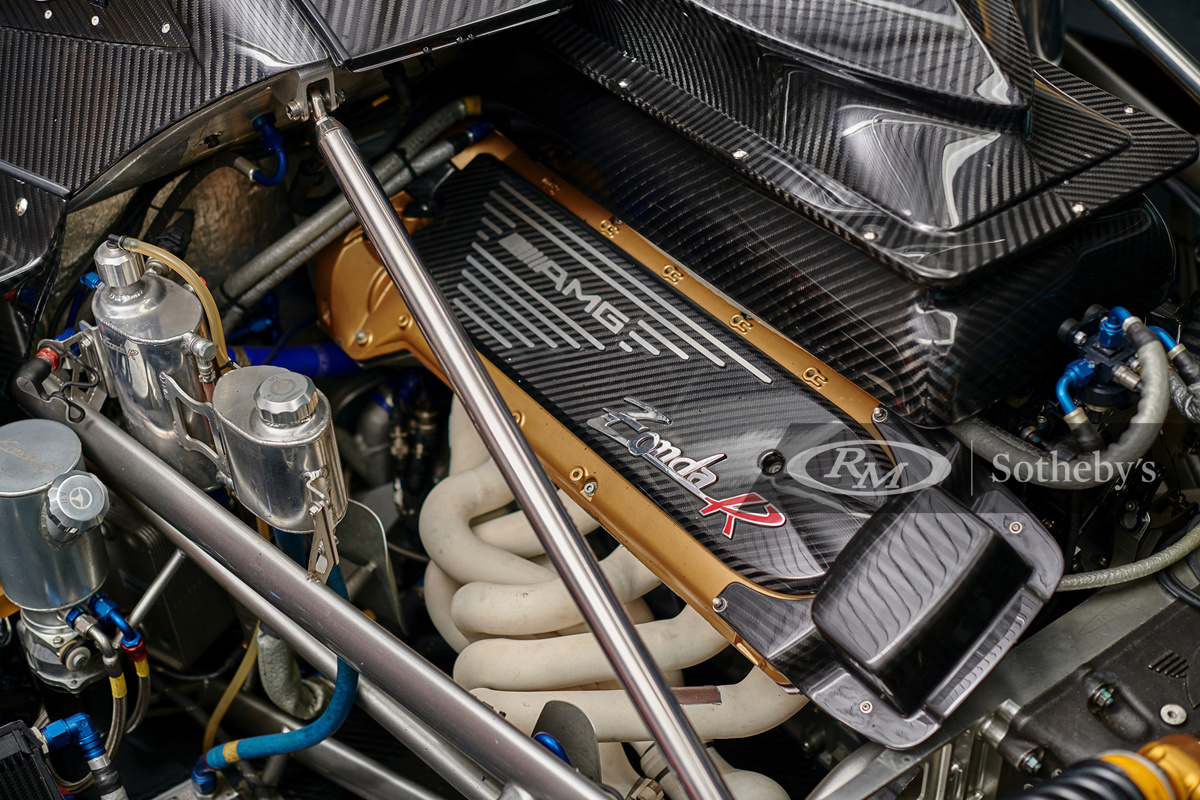 Following the exhaust tips forward in this purpose-built hypercar reveals what is arguably the centerpiece of this extreme example, the 6.0-liter naturally aspirated, 800-horsepower V-12 powerplant. Famously derived from the motorsport-spec Mercedes-Benz CLK GTR, the engineering wizards at AMG managed to produce approximately 200 additional horsepower from this high-revving engine, certainly no slouch in the CLK GTR, but made even more desirable in the Zonda R Evolution. Modern car influencers have created entire videos based simply around the exquisite sound generated by the twelve-cylinder engine in the Zonda R (even lacking the 50-horsepower boost of the Evolution model). Without exaggeration, this powerplant is a veritable musical instrument, which breathes in air from its roof-mounted carbon fiber intake, and fires it out of its ceramic-coated Inconel 625 exhaust headers—all expertly controlled by its driver via a six-speed sequential gearbox.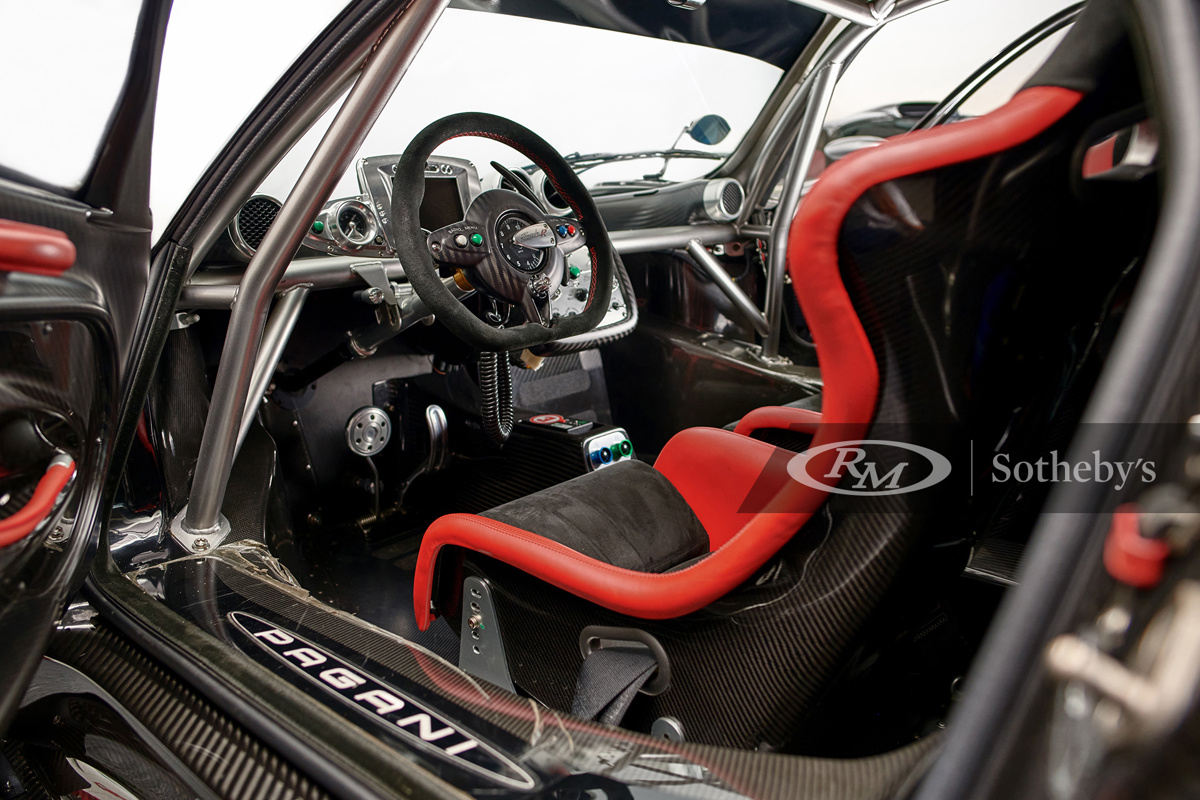 Inside, the cockpit reveals an entirely race-focused interior, with its integrated roll cage providing significant reassurance to any drivers brave enough to exercise this Zonda R Evolution on track. The spartan interior appointments also hint at how Pagani engineers were able to achieve such a featherweight total mass in this example. Befitting their no-compromise design brief, none of the ten Zonda R hypercars built by Pagani feature air conditioning. Sound deadening is also kept to a bare minimum, not that any occupants would complain about the twelve-cylinder symphony occurring behind them. This Zonda R is a car that was meant to be used.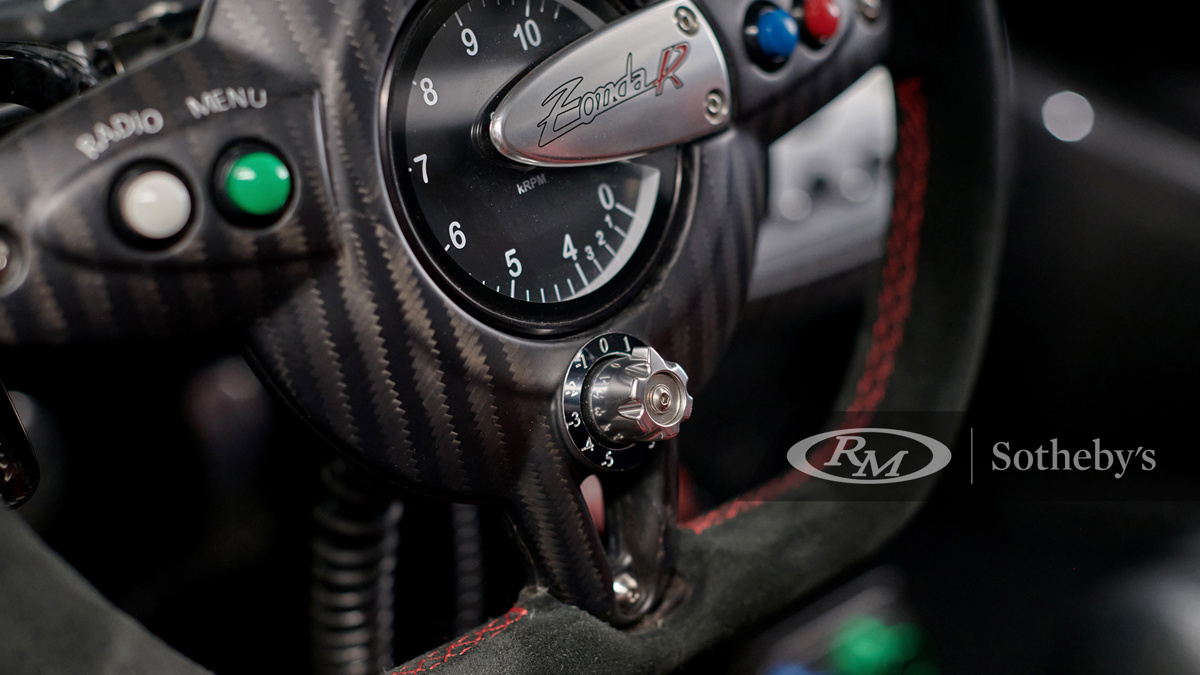 And yet, using the Zonda R Evolution is like no other car available today. No other car, for instance, features its tachometer in the center of its steering wheel; yet of course, few cars on sale today feature an engine worthy of such display. Behind the Alcantara steering wheel are the twin carbon composite paddle shifters, which control the six-speed sequential transaxle, which features a multi-disc racing clutch and lightweight magnesium casing. The potent combination was sufficient for Pagani factory driver Marc Basseng to set a new lap record at Germany's Nürburgring Nordschleife for a non-series production car in 2010—which is made even more impressive by the fact that it still stands today.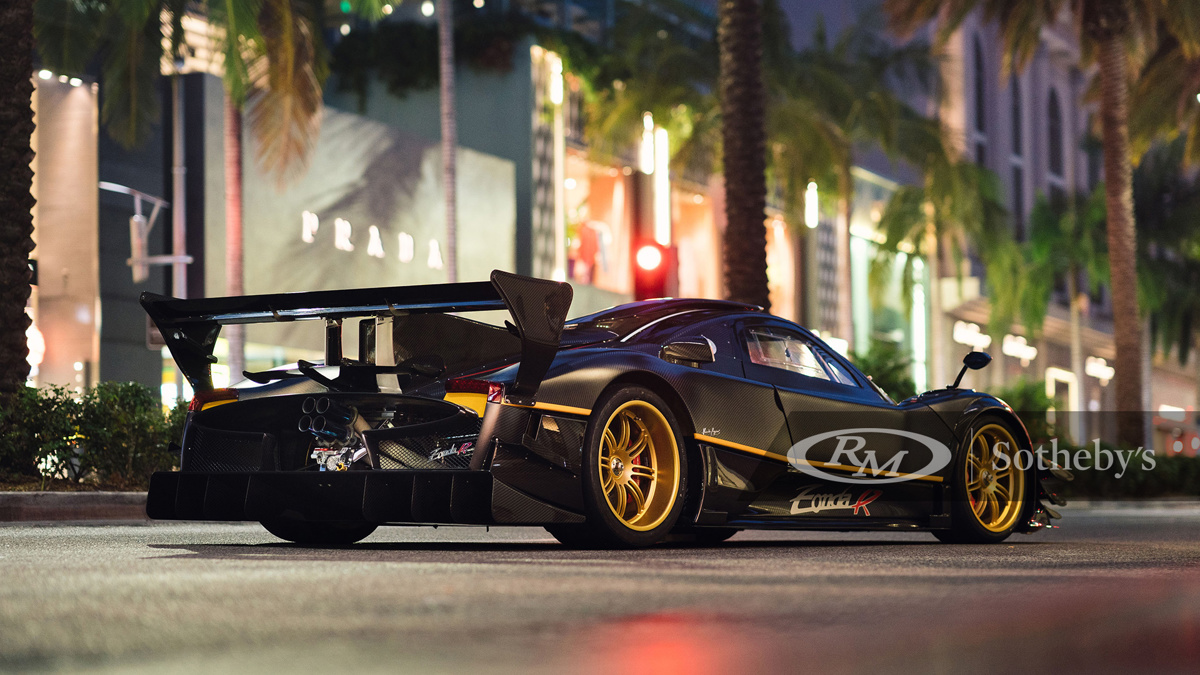 Considered as a whole, the Zonda R adds up to a package rarely seen in modern automotive history. An ultra-exclusive automobile built for all-out speed, constructed from extremely rare and expensive materials, all in aims of delivering the ultimate in driver engagement. This example is made even more significant, as it is the first Zonda R Evolution publicly offered for sale in the United States. With approximately 632 miles (1,016 km) showing on its odometer at the time of cataloging, this one-of-ten hypercar is ready for immediate acquisition for discerning drivers.
To register interest on this extremely rare example, and for further information, please call +1 781 424 1507.