Business histories can be complex and difficult to properly contextualize, but it is safe to say that the modern success of German brands like VW and Porsche would not be the same without the American market. From 1950s-era New York City-based importer Max Hoffman, who suggested Porsche build the now-legendary Speedster as well as the impetus behind the now-famous Stuttgart crest as a badge, to the legions of American clients who supported the upstart German brand as it earned its reputation as an advanced sports car manufacturer.
American performance parts suppliers were at least partially responsible for pushing VW to re-imagine their trusty Beetle platform as both a dune buggy and model-specific race car. The popularity of Southern California's EMPI aftermarket parts and accessories had to have gotten the attention of Volkswagen's product planners, as they launched their Formula Vee package in 1966. 
So, then, it is altogether fitting and proper that RM Sotheby's announces a new collection of significant Porsche and VW cars coming to our most American event. This year's rendition of Auburn Fall, set to run from 2-5 September, will feature thrilling examples from The King Collection, including a purposeful and planted Desert Rail Buggy, two Formula V-style examples, and five highly desirable Porsche 356 variants. Take a mini-European tour with us as we explore these Auburn-bound examples, no need to sprechen ze Deutsch:
1963 Porsche 356 B Cabriolet by Reutter
Estimate: $75,000 - $100,000 USD | Offered Without Reserve
As the 1960s dawned, Porsche moved from nascent automotive startup to experienced contender, and the years of revisions on their most popular 356-based sports car were starting to pay serious dividends. Itself representing an advancement on the one-year-only Convertible D model, the 356 B featured numerous refinements over the original Reutter-built examples. Featuring a facelift thanks to new fenders and revised headlight placement, many Porschephiles consider the 356 B models to be when the brand started hitting their sports car stride. This delightfully cheerful Cabriolet wears the handsome, period-correct color known as 6210 Smyrna Green over a Black leather interior and is powered by a 1.6-litre, 4-cylinder air-cooled engine.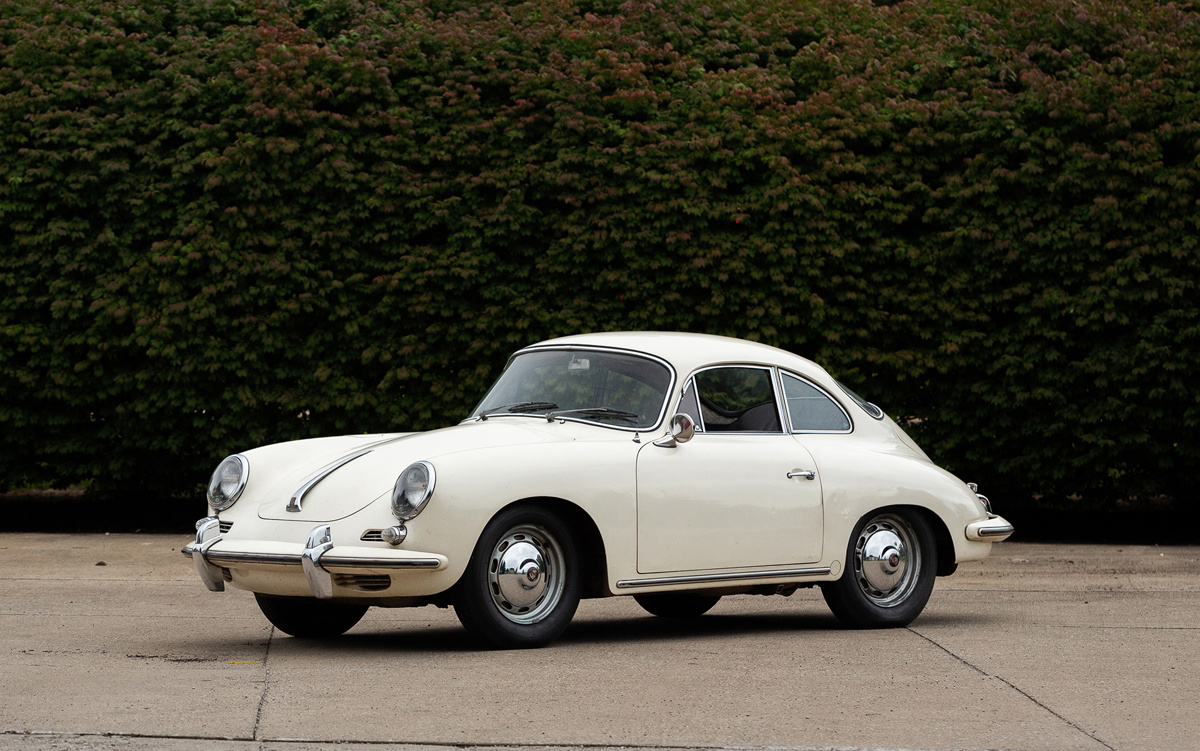 1963 Porsche 356 T6 Super 90 Coupe by Karmann
Estimate: $70,000 - $90,000 USD | Offered Without Reserve
Of course, the Porsche 356 also came as a coupe for those who wished for ultimate chassis rigidity from their German sports car. Notable for being the year before the debut of the production 911 that would come to define the company, 1963 also included this highly developed 356 T6 Super 90 variant, like this coupe example by Karmann. The T6 body style, which launched in 1962, sports a longer, more graceful shape than the previous 356-based examples and is easy to spot thanks to the "twin-grille" rear engine covers, which allows for greater ambient engine cooling. With its exterior still clad in its preserved original Ivory paint color with a contrasting black leather interior, the crown jewel of this example is its top-of-the-line Super 90 engine, which boasted a horsepower rating 50% stronger than the standard 356.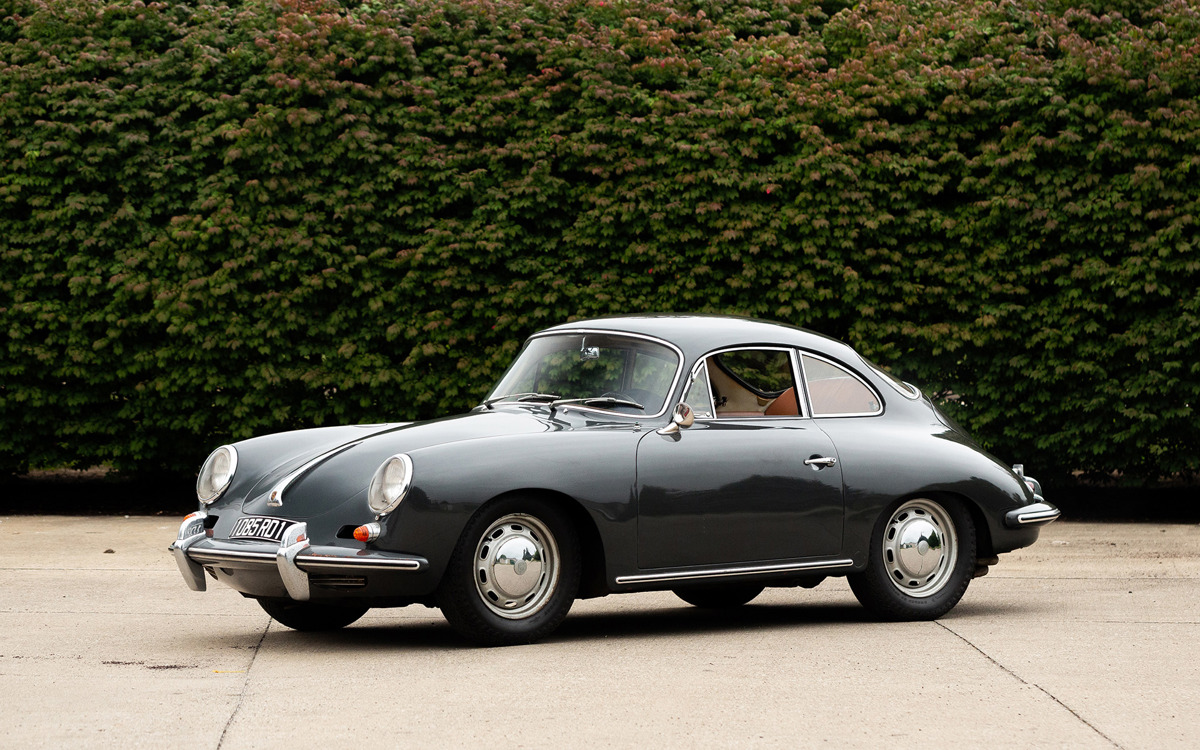 1964 Porsche 356 C Carrera 2 Coupe by Reutter
Estimate: $350,000 - $400,000 USD
Perhaps it took someone who was particularly stubborn (or courageous) to purchase a 356-based car from Porsche the same year that the iconic 911 sports car debuted, but for those true believers in the Prof. Dr. Ernst Fuhrmann-designed, quad-cam Carrera engine, the appreciation for race-proven engineering made the choice a little easier. Porschephiles will notice the estimate on this example is far more reasonable than a typical Carrera-powered 356, and that is in part because the engine powering this example is a factory-replacement, four-cam racing engine from Abarth. With this potent powerplant packing 2.0-litres of displacement, breathing through Weber carburetors, and paired with a four-speed transmission, this Carrera 2 is set up as perhaps the perfect driver's Porsche. Showing just under 82,000 miles at the time of cataloguing, the next owner of this handsome dark gray-over-tan leather example will get to drive the next chapter in the history of this Carrera 2.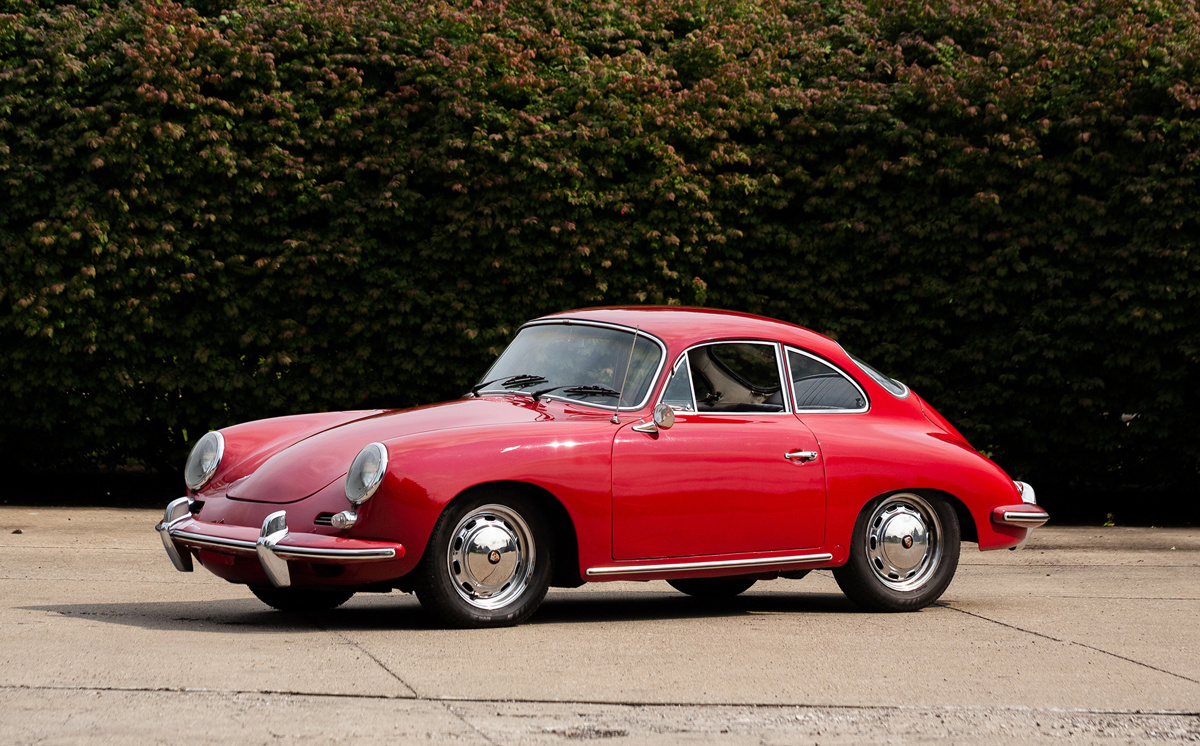 1965 Porsche 356 C Coupe by Karmann
Estimate: $70,000 - $90,000 USD
By 1965, Porsche engineers had developed the 356 platform to deliver an engaging driving experience at every price point. Bodybuilder Karmann was a pre-war coachbuilder established in 1901, perhaps most famous for producing the shapely Karmann-Ghia for Volkswagen, and known throughout the Porsche community for their "notchback"-style hardtop take on the 356 Coupe. Though the looks on the Karmann hardtop variant are polarizing, no Porsche aficionado could knock their work on this beautiful red-over-black example. Set up as a sports car with the intention of driving, the floor-mounted four-speed transmission in this example pairs perfectly with its 1.6-litre air-cooled engine. A Pioneer CD Super 3 stereo hidden in the glovebox adds a final touch of modernization to this classic Porsche example.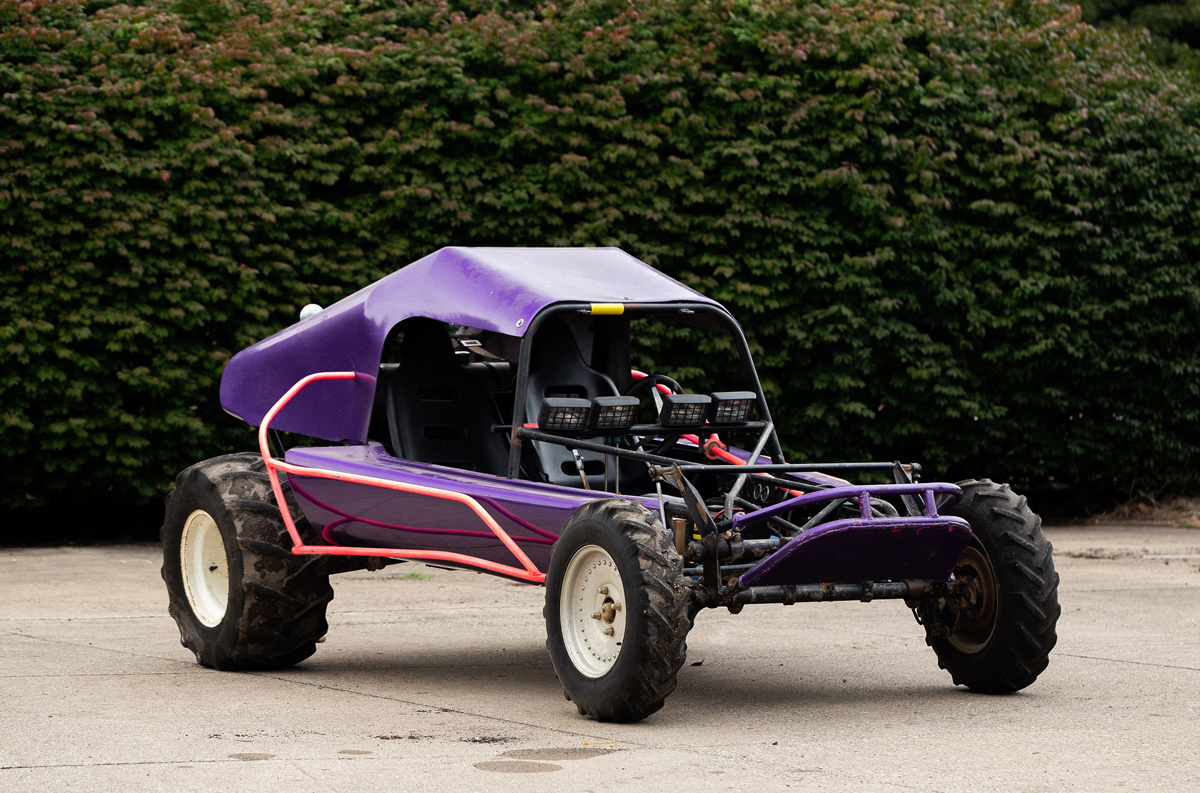 Desert Rail Buggy
Estimate: $12,000 - $15,000 USD | Offered Without Reserve
Like their German counterparts Porsche, Volkswagen was also experiencing the American influence on their products. Thanks to a robust aftermarket performance parts presence and experiments with fiberglass body shell construction in the early 1960s, Volkswagen's venerable Beetle became re-imagined as a performance machine, both on- and off-road. With its rear engine placement, lightweight tube frame-style architecture, and lack of a bulky radiator, the Dune Buggy ("Buggy" as slang for "Beetle") was an instant classic. This example, with its massive tires, tube frame exoskeleton, and impressive engine bay, represents the next stage in the evolution of the Beetle's off-road capabilities; Desert Rail Buggies like this one are made to traverse massive sand dunes with ease.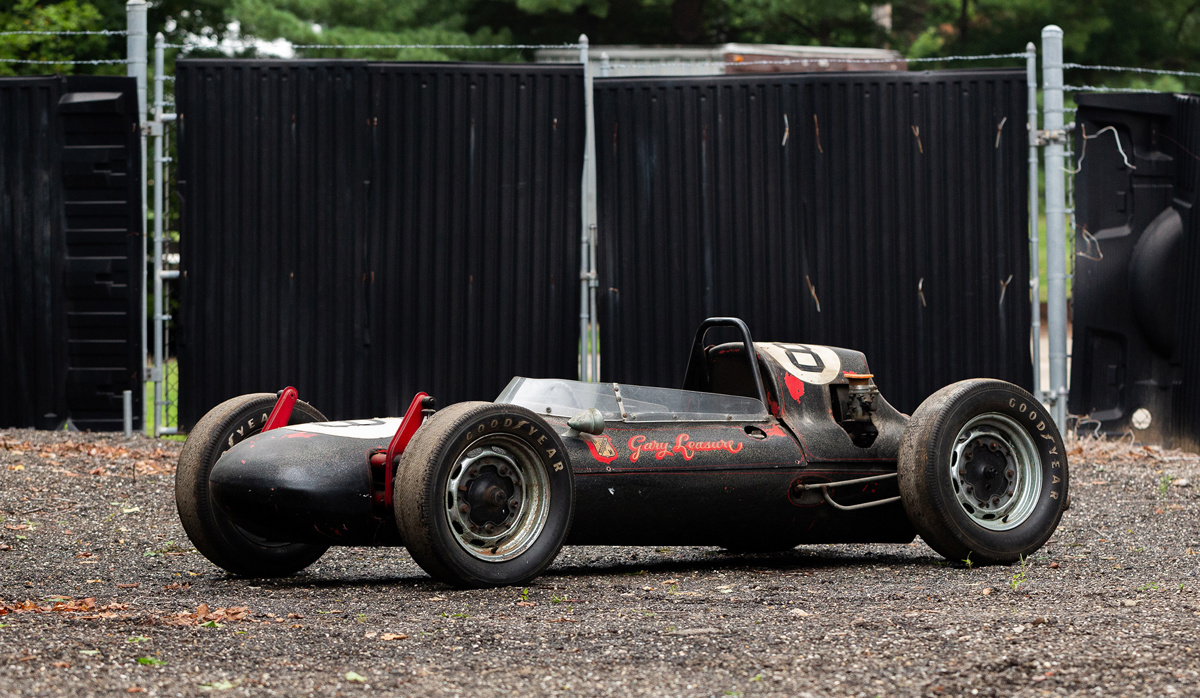 Volkswagen Formula Vee
Estimate: $8,000 - $12,000 USD | Offered Without Reserve
Another inspired take on the Volkswagen Beetle, the Formula V (mostly written as "Formula Vee") series was requested by VW of America's dealer network, who wished to prove that their popular people's car could produce surprising performance when unleashed fully. By 1963, the Sports Car Club of America recognized Formula Vee as an officially sanctioned race series. Perhaps more notably, this single-seat junior racing series is still running today. Because of the easy standardization of replacement parts and powerplants, the series has become a popular training ground for racers spanning the past five decades, as the rules require no rear wing and no traction control. And if you are more interested in the possibilities of current Formula V, The King Collection also includes this more modern variant. Offering both vintage and contemporary racing at its most pure form, balancing both German and American ingenuity, The King Collection is sure to draw a crowd from 2-5 September this year in Auburn.