For those with an appreciation for history, the glory days of American automaking were an artistic and technological renaissance not unlike those experienced in Italy or the Netherlands. Instead of ateliers packed with apprentices producing paintings, the pre-war artistic movement in America, with regards to the automobile, took place in coachbuilding workshops in well-heeled areas around the country. Even during the Great Depression, the most skilled of these artisans stayed in business, producing art deco and streamlined works on stout, capable American chassis.
Today, the cars from this era that are still around now have been sufficiently lucky to have survived several rounds of wartime scrap drives. Celebrated by groups of passionate enthusiasts like the Classic Car Club of America and the Horseless Carriage Club of America, these automobiles are all handcrafted examples of American art; rolling sculpture in every regard. Available for bidding at what has become the greatest annual gathering of noteworthy motorcars on the east coast—in Amelia Island, Florida, on 22 May 2021—RM Sotheby's is proud to offer the following American classics: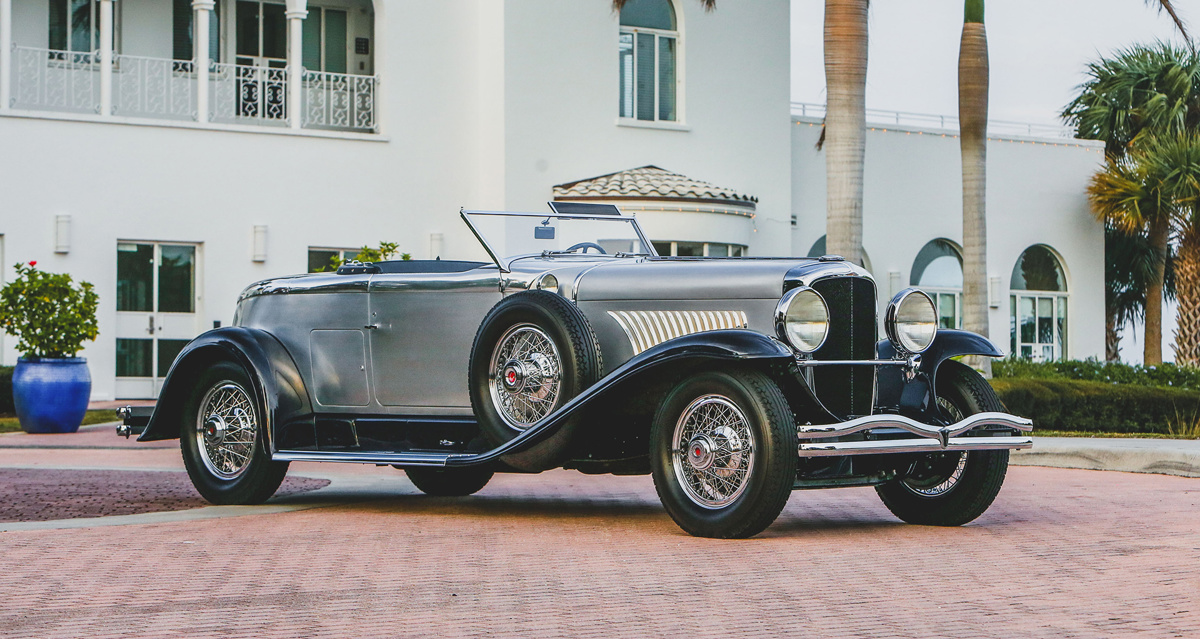 1929 Duesenberg Model J 'Disappearing Top' Torpedo by Murphy
Estimate: $3,500,000 - $4,000,000 USD
While the Duesenberg brand was built on a solid foundation of engineering excellence, it is in part due to the mostly (but not all) American coachbuilders who elevated the Duesenberg brothers' already spectacular chassis into the realm of fine art. Consider the elegant, tapered tail of this 'Disappearing Top' Duesenberg, which was conceived and executed by the craftsman at the Walter M. Murphy Company in Pasadena, CA, long before the existence of computers, robots, or 3-D printing. Murphy's clientele included many Hollywood stars and industrial titans; this Model J sported one of the most desirable features on any Duesenberg, a canvas convertible top which could be stowed in a compartment on the rear decklid, a feature shared with only 24 other Duesenberg chassis. As far as its striking, original finish—polished aluminum over brushed aluminum, meticulously restored by RM's award-winning in-house restoration department—this example is one of a kind.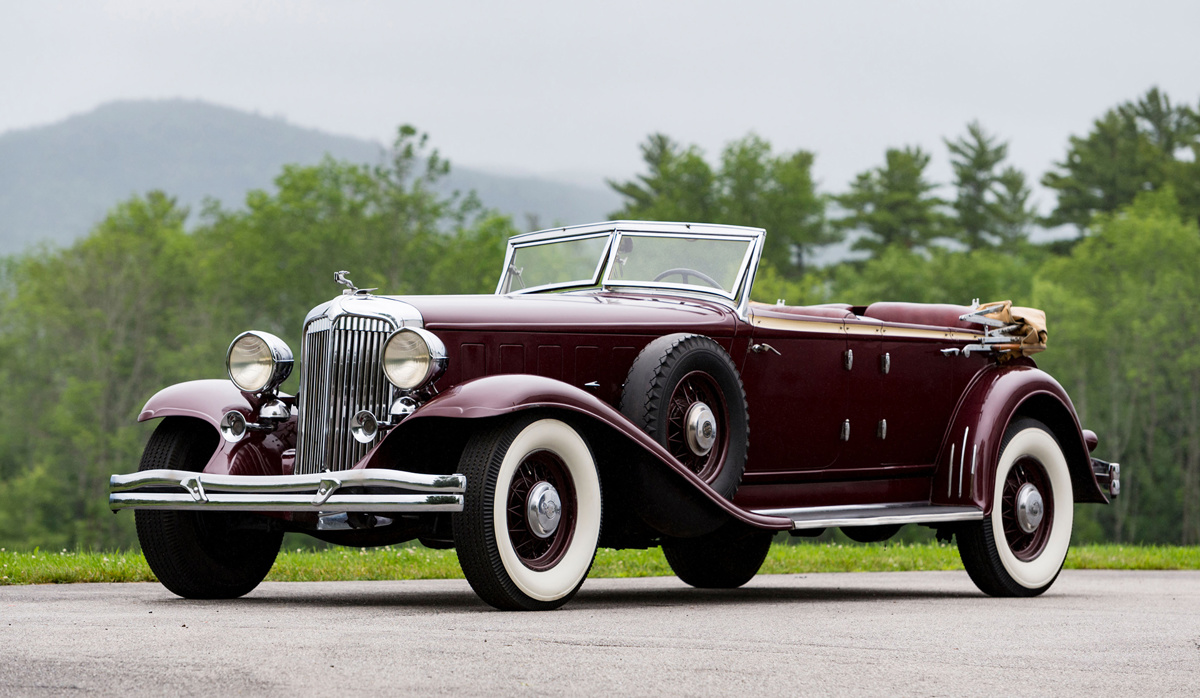 1932 Chrysler CL Imperial Dual-Windshield Phaeton by LeBaron
Estimate: $175,000 - $250,000 USD
Launched first as a flagship model, then deemed worthy enough to spin off into its own separate brand identity, Imperial meant quite a lot to company founder Walter P. Chrysler. We have covered Chrysler's ancestral journey from Chatham, ON, his rise through the railroad industry, and his ascent into automobile history in a prior post on a pre-Depression-era Chrysler coupe, but this CL Imperial Dual-Windshield Phaeton proved American art did not die completely during the early 1930s. Certified a "Full Classic" by the Antique Automobile Club of America—perhaps the ultimate acknowledgment of its premium quality—this LeBaron-bodied Phaeton features a two-tone paint scheme and engine-turned metal dashboard, an indication that Chrysler considered his cars a worthy competitor to the likes of Duesenberg, Packard, and Pierce-Arrow.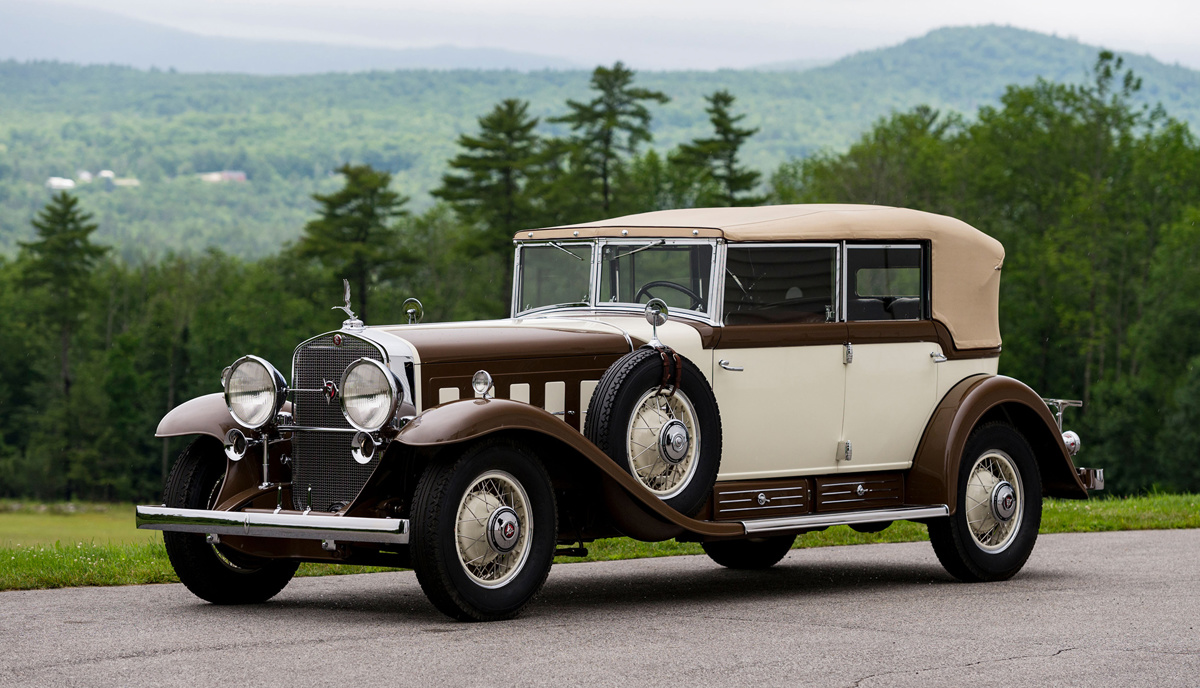 1930 Cadillac V-16 All-Weather Phaeton by Fleetwood
Estimate: $150,000 - $200,000 USD
Another open-top, Phaeton-style Full Classic, this V-16 Cadillac was another icon of Depression-era opulence. Powered by the first engine to itself be deemed worthy of styling (courtesy of Harley J. Earl, no less), by 1930, the pinnacle brand in the impressive portfolio of General Motors produced a product that they considered to set the standard not just in America, but in the world. The practicality of this All-Weather Phaeton was considered internally by Cadillac to be so impressive that they displayed this example to their clientele in the New Brunswick area. With a Wiese broadcloth interior and two-position folding top, this Cadillac was made to excel in any environment.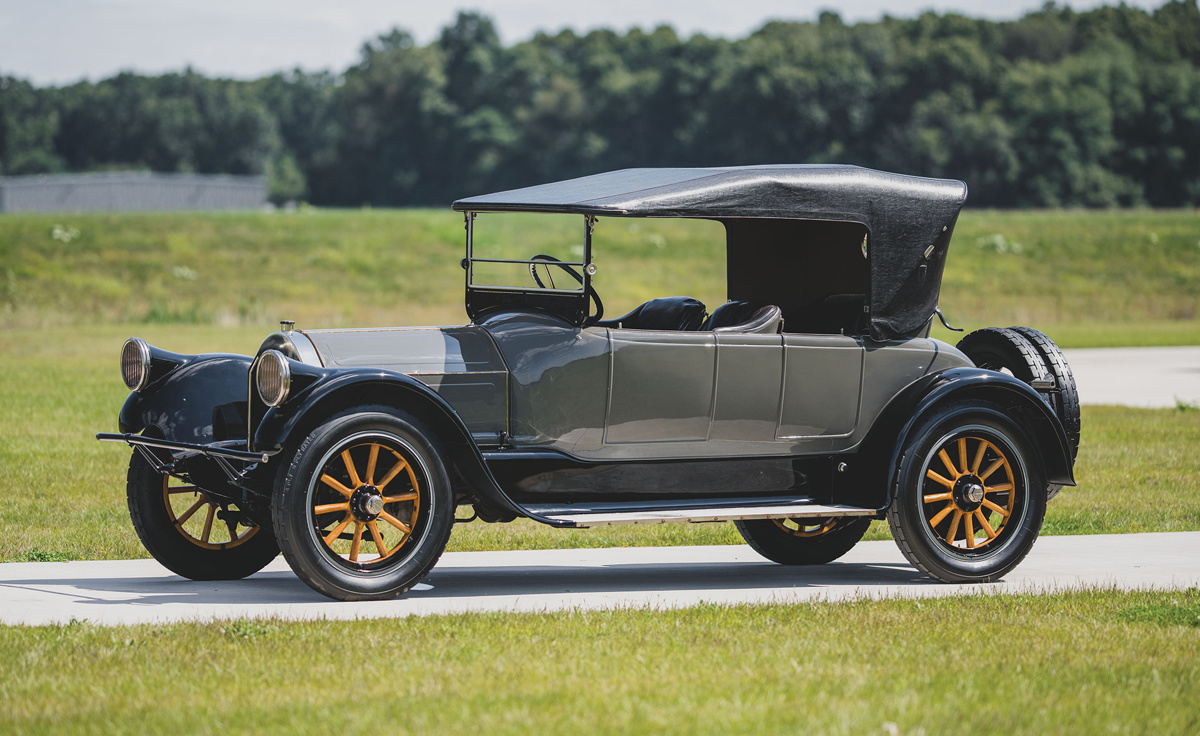 1919 Pierce-Arrow Series 31 Four-Passenger Roadster
Estimate: $200,000 - $250,000 USD

 

|

 

Offered Without Reserve

 

Another CCCA Full-Classic, the flowing lines of this 1919 Pierce-Arrow display an early appreciation of aerodynamics, rarely seen in-period. A tasteful brand for connoisseurs, then and now, a Pierce-Arrow automobile was ahead of its time underneath the skin as well, adopting aluminum in their body construction long before the material's lightweight strength made it the metal of choice for modern sports car manufacturers. This example was delivered first to an owner in Pasadena, CA, then purchased and displayed in a Southern California museum until 1978. Treasured by a series of considerate collectors thereafter, this dramatic roadster is an ideal candidate for classic car touring and showing at Pierce-Arrow Society meets today.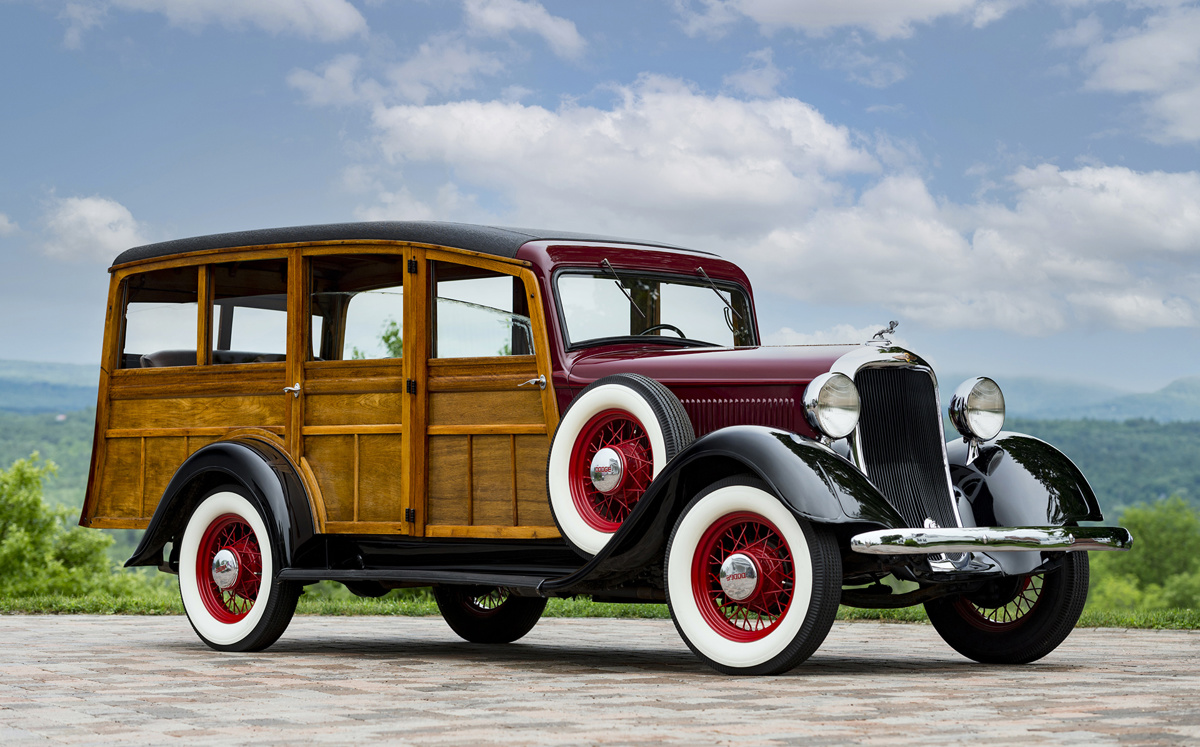 1934 Dodge KCL Westchester Suburban by Cantrell
Estimate: $30,000 - $40,000 USD 

|

 

Offered Without Reserve

 

A look on the list of the AACA's "Approved Classics" and Dodge is, sadly, nowhere to be found. And yet, the same club recognizes the importance that "Woodie Wagons" like this 1934 Dodge KCL Westchester Suburban by Cantrell have in American car culture. Accordingly, the AACA hosts a forum for the National Woodie Club on their website with 2,000,000 posts and counting—everyone, after all, loves a Woodie. Like the other examples on our list, this Dodge was assembled by hand in essentially the same methods used by coachbuilders in-period. J.T. Cantrell & Company, the New York-based company that executed this shapely body, were renowned for custom-made bodies, and the careful construction and quality materials used in this example are still evident today, with refinished original wood panels.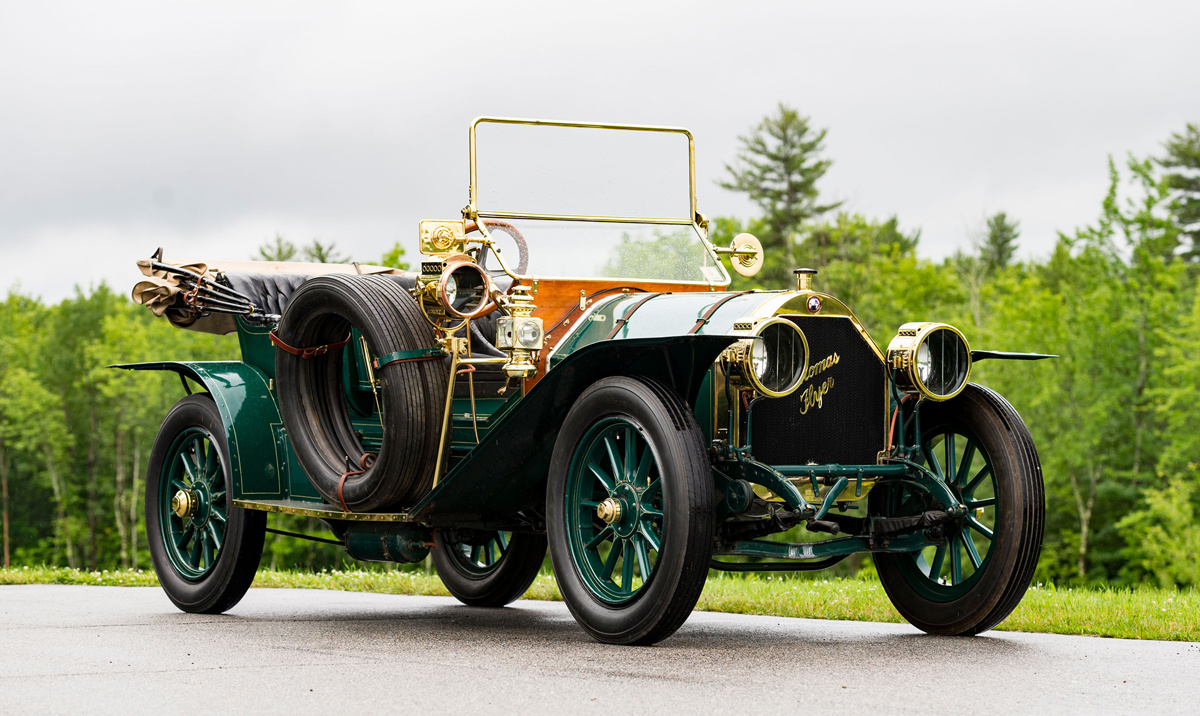 1910 Thomas Model M-6-40 Flyabout
Estimate: $175,000 - $225,000 USD
The final car on our exploration of exceptional American classics is also nowhere to be seen on the AACA's "Full Classic" list. The reason why is that it is outside their era of expertise—built in 1910, this Thomas Model M-6-40 is too early for inclusion in the AACA. Instead, this pre-WWI vehicle is considered by an entirely different club of enthusiasts, the Horseless Carriage Club of America, who (no judgment here) are a lot less uptight about what is and is not considered "classic." Instead, the ownership of Brass Era cars like this Flyabout-style Thomas is more about becoming part of a great history yourself; taking your Thomas on vintage car runs, showing it at concours, and cars and coffee events alike—all with the goal of introducing a new generation to the thoroughly artistic tradition of classic American automobiles.