What does it mean to create an American car? In today's global auto industry, this is a measurable concept, as anyone staring down a Monroney sticker at a dealership can attest. These days, we can track the global supply chain, find out the number of parts that were U.S.A.-built and calculate a percentage, showing just how American any individual car can claim to be. Perhaps the most cited study, calculated each year by prestigious American University in Washington D.C., is the Made in America Auto Index. Last year, thanks to a U.S.-built engine, the Ford Ranger topped the list with 85% domestic content.
This is commendable, of course, but for anyone who wishes for the days when American-made meant a bit more than that, RM Sotheby's latest Online Only, April auction is shaping up to provide quite a selection. Featuring some of the most legendary brands ever built in the U.S.A.—from the American Motors Corporation to Packard and Shelby—with plenty of classics from the "Big Three," the April edition of our Open Roads auction is shaping up to be a sincere tribute to the red, white, and blue: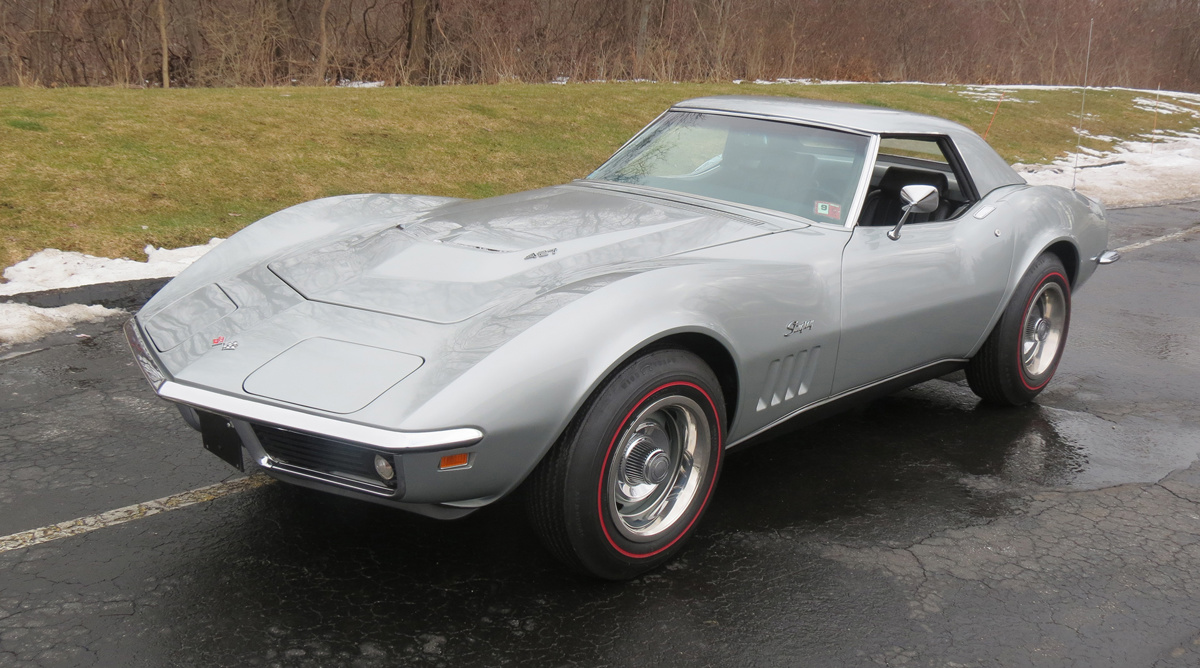 1969 Chevrolet Corvette Stingray L89 Convertible
Estimate: $150,000 - $175,000 USD
For many, the second-generation Chevrolet Corvette, with its sharp "Stingray" body styling and potent engine offerings, represents the peak of mid-century American sports car manufacturing. One of a mere 390 produced with a "Big Block" 427 cc V-8 engine, featuring futuristic aluminum heads and an aluminum "tri-power" intake manifold, this Corvette provides the perfect blend of power and handling.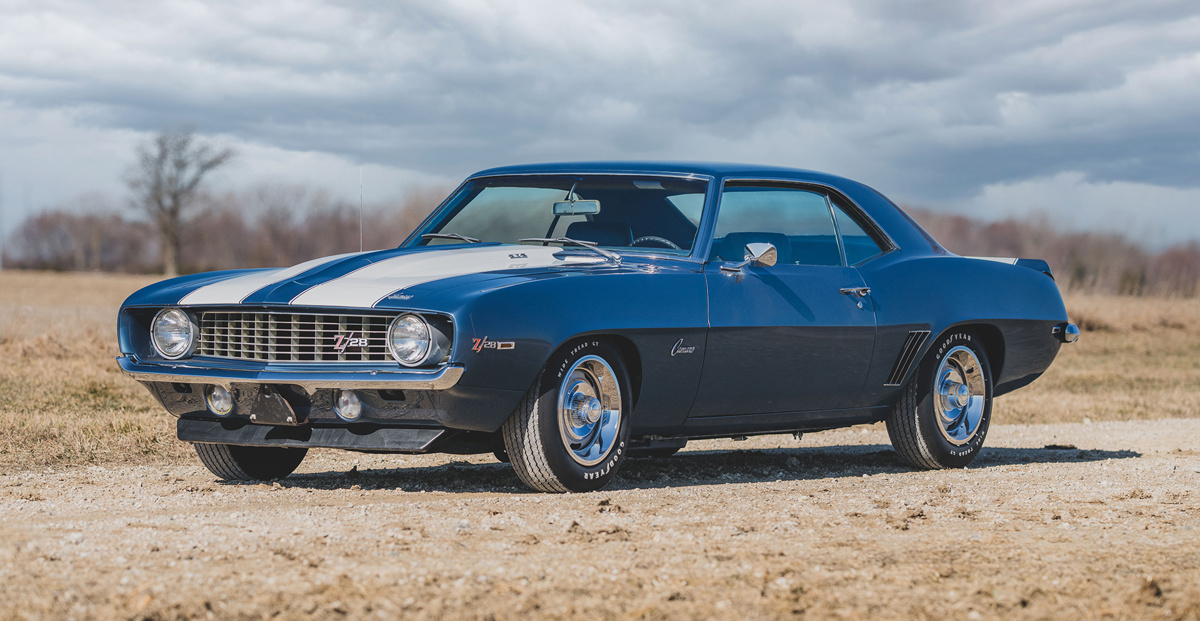 1969 Chevrolet Camaro Z28
Estimate: $70,000 - $85,000 USD
Our cover car is another high-tier variant of an instantly recognizable American car. Though some period critics called the first-generation Camaro merely a copy of Ford's popular Mustang, to modern eyes, top-of-the-line Z28 examples today are considered one of the all-time greatest muscle cars among faithful Camaro fans and fine lifestyle publications alike. This example sports some hard-to-find original accessories like the Four-speed Muncie "Rock Crusher" transmission with Hurst shifter and the rare, Trans-Am-derived Cross-Ram intake manifold, and has been recently treated to a full restoration, including a full exterior repaint completed as recently as August 2020. Muscle, rebuilt.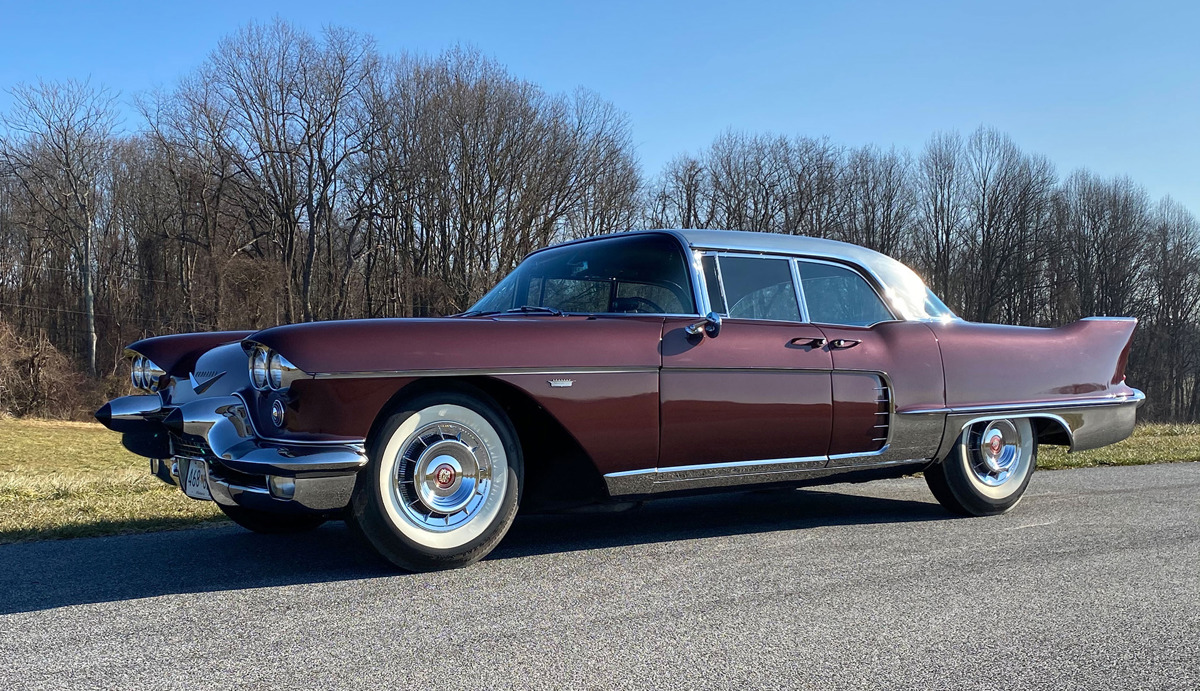 1957 Cadillac Eldorado Brougham
Estimate: $120,000 - $160,000 USD
Though the idea of a luxury vehicle as a lifestyle accessory can seem to be a modern invention, one look through the list of included features and fittings on mid-century Cadillacs will dissuade you of that notion. Cars like this top-of-the-line Brougham, with its rear-hinged "suicide doors" and brushed stainless steel roof, were advertised as living rooms on wheels, complete with adult libations, designer perfumes, magnetic cups, and even grooming accessories. A time capsule straight out of the late 1950s.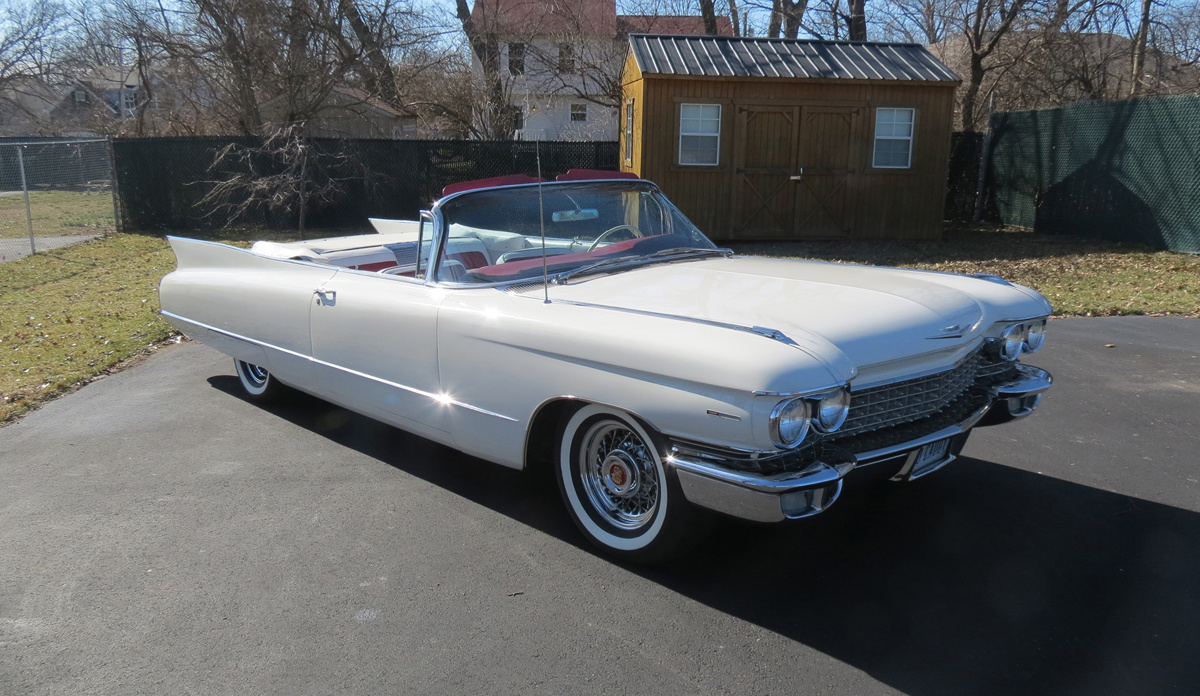 1960 Cadillac Series 62 Convertible
Estimate: $60,000 - $70,000 USD
The debate between Cadillac aficionados over the relative superiority of the tailfins on the 1959 or 1960 model year is a friendly one, but nonetheless fierce, and will likely last forever. The tailfin's dramatic evolution was touted in period Cadillac ads and even referenced by non-rival Volkswagen. Though it is a personal choice, this author will always be a fan of the sleek styling of the 1960 model; its jet-like proportions making for one of the all-time greatest Cadillac convertibles, like this well-appointed example.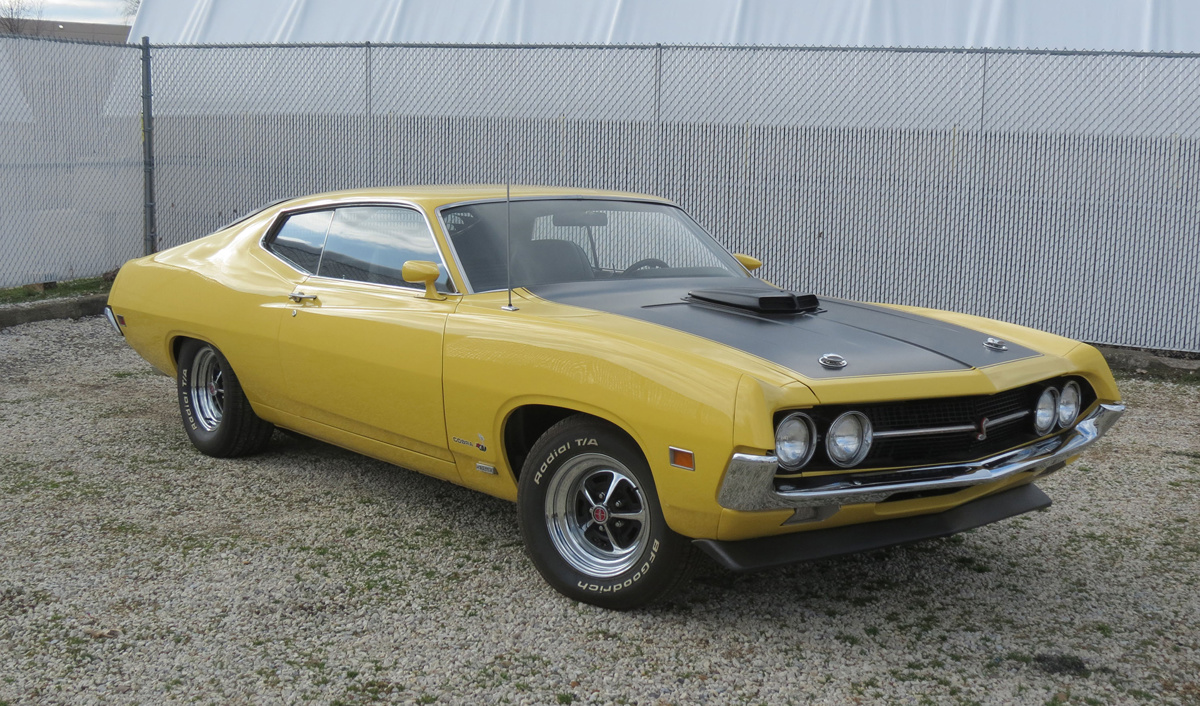 1970 Ford Torino Cobra
Estimate: $45,000 - $55,000 USD
A sporting evolution of the mid-sized Ford Fairlane, the Torino has come into its own recently as an underrated muscle car, especially in Cobra form. Featuring a potent 429 Super Cobra Jet Ram Air V-8 engine underneath its generous "shaker" hood, this example was built in the most attractive two-door "SportRoof" style. It is one of a mere 265 painted in Bright Yellow for 1970. Uncommon muscle.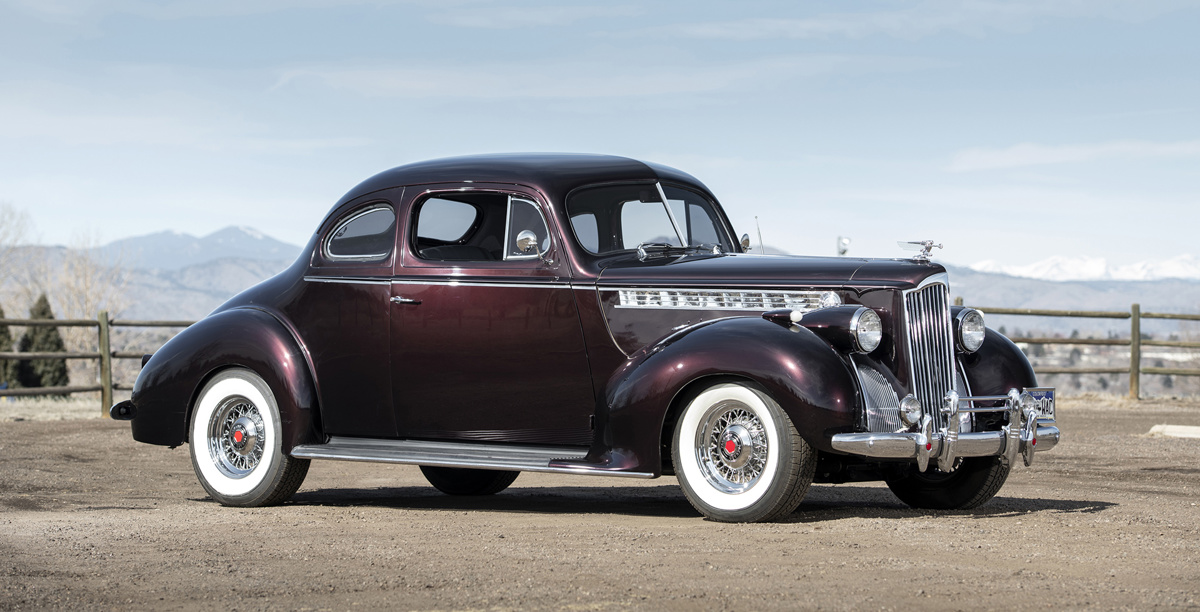 1940 Packard 110 Club Coupe Custom
Estimate: $35,000 - $45,000 USD
One of the most fascinating and beguiling lots in the entire auction, at least to this author, is the custom Club Coupe above. Modifying pre-war cars with post-war powerplants is a practice as American as baseball or apple pie, but it is rare to see such customization efforts on a brand as prestigious as Packard. Starting with its original Packard chassis, the made-in-Detroit theme continues with a modern 350 cu. in. Chevrolet V-8; Turbo Hydra-Matic 700 R4 engine paired with a four-speed automatic transmission for easy cruising. Classic looks paired with modern performance.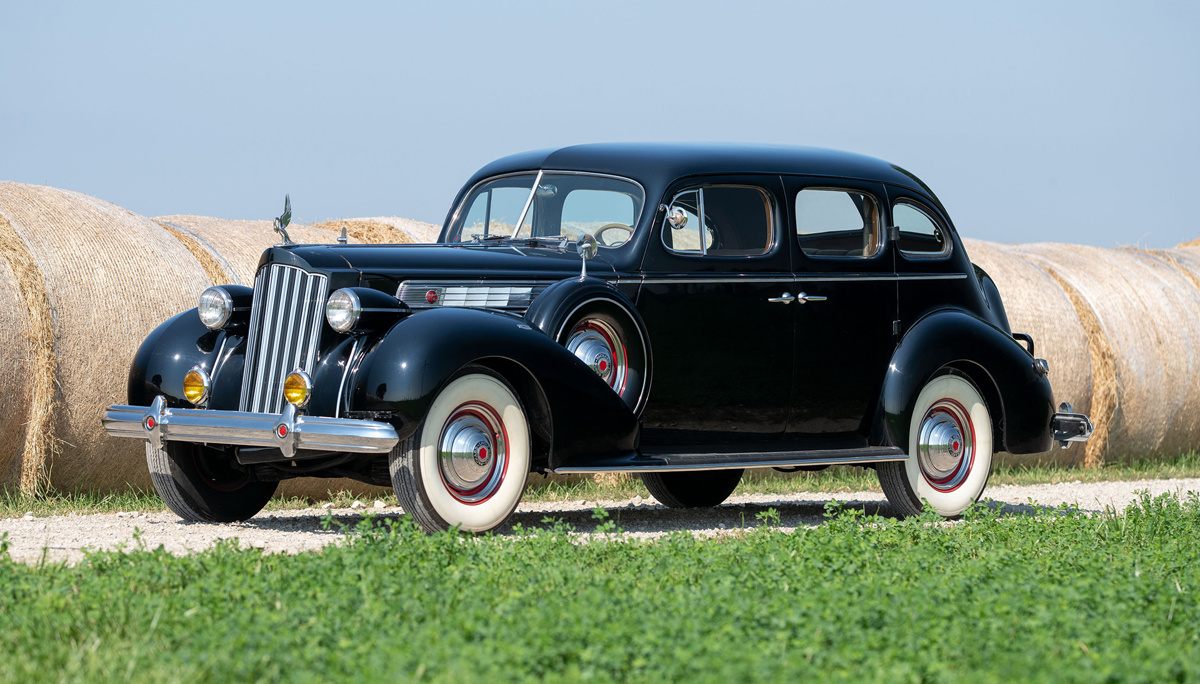 1939 Packard Super Eight Touring Sedan
Estimate: $30,000 - $40,000 USD
Of course, to true classic aficionados, modifying a pre-war Packard would be a course taken only when necessary. For Packard purists, it is far better to have a car as original as possible. The Touring Sedan was the body style of choice for pre-war diplomats and dignitaries of the time. Though values of the twelve-cylinder variants are strong for a reason, the inline eight-cylinder powerplant featured on this example delivered strong performance for its time and sported the same quality interior appointments as all of Packard's period offerings.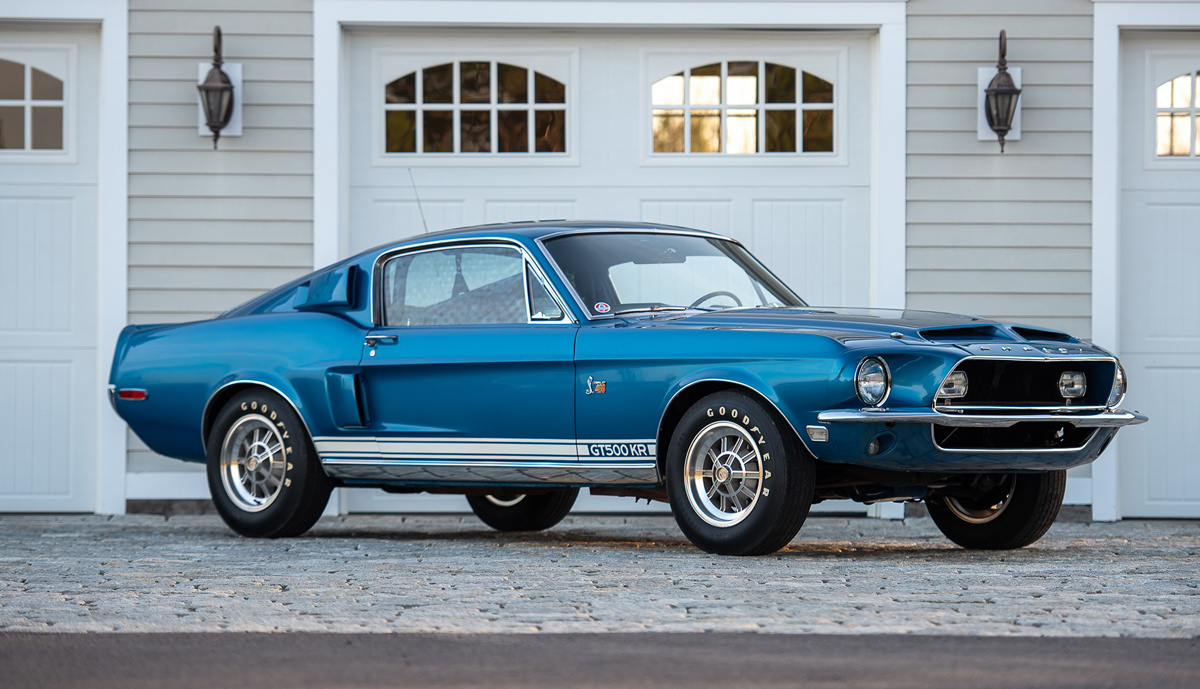 1968 Shelby GT500 KR Fastback
Estimate: $160,000 - $180,000 USD
We have covered Carroll Shelby several times in this space before, but never this particular period of peak performance that his Los Angeles-based firm achieved in the late 1960s. By 1968, Shelby offered a "King of the Road" ("KR" for short) version of his signature modified Mustang, powered by a 428-cubic-inch Cobra Jet engine. A recent Car & Driver comparison revealed that Shelby's KR performed well not just against its rival Camaro, but the period Corvette as well. According to the accompanying Marti report, this example was completed eleven days ahead of schedule, on June 6, 1968. Wearing its original striking color scheme of Acapulco Blue Metallic Paint over an interior with Black Knitted Décor bucket seats (one of a mere 432 produced in 1968 with this color and trim), this Shelby GT500 KR Fastback was also optioned with the Sport Deck fold-down rear seats, so backseat passengers can also feel like "Kings of the Road," too.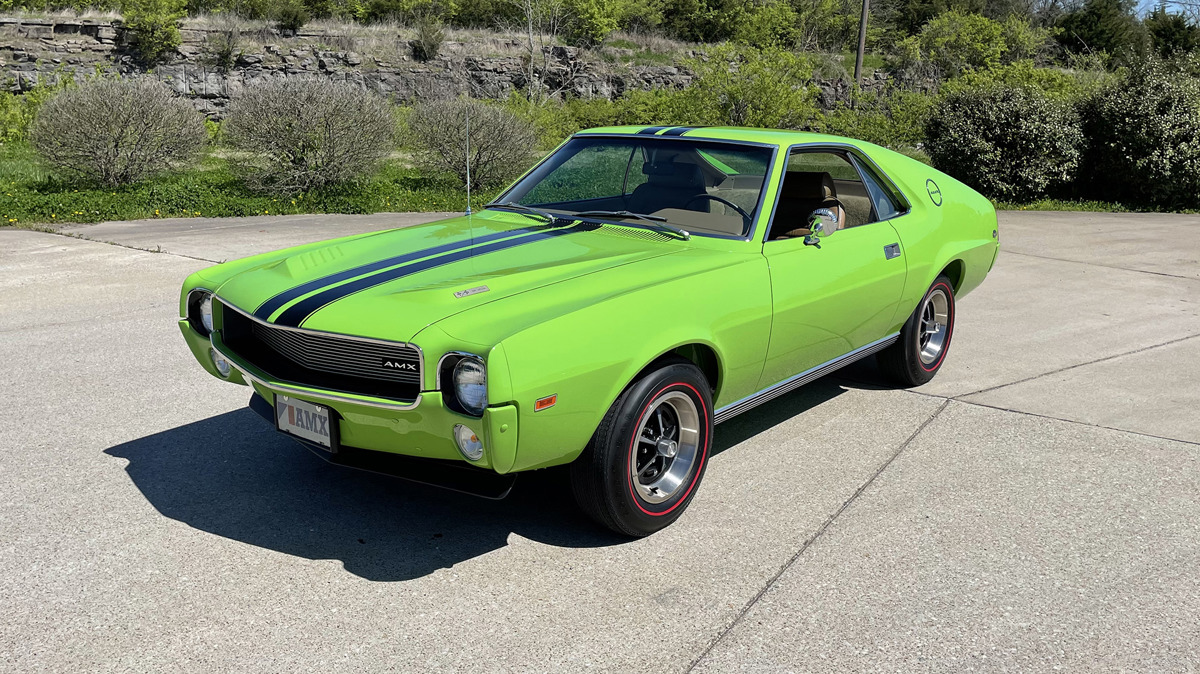 1969 AMC AMX California 500 Special
Estimate: $100,000 - $120,000 USD
The next three cars are all muscle cars of a different breed. These examples are from American Motors Corporation, a brand with an honest legacy in Detroit that can be traced back to 1916, to its roots in the Kelvinator company. By the late 1960s, the company was making great moves, proving to be a serious contender to the "Big Three" in the domestic auto market. AMC's first foray into true performance was this AMX (for "American Motors eXperimental"). This example is one of a mere 283 wearing an iconic shade of "Big Bad Green" produced that year. An uncommon classic.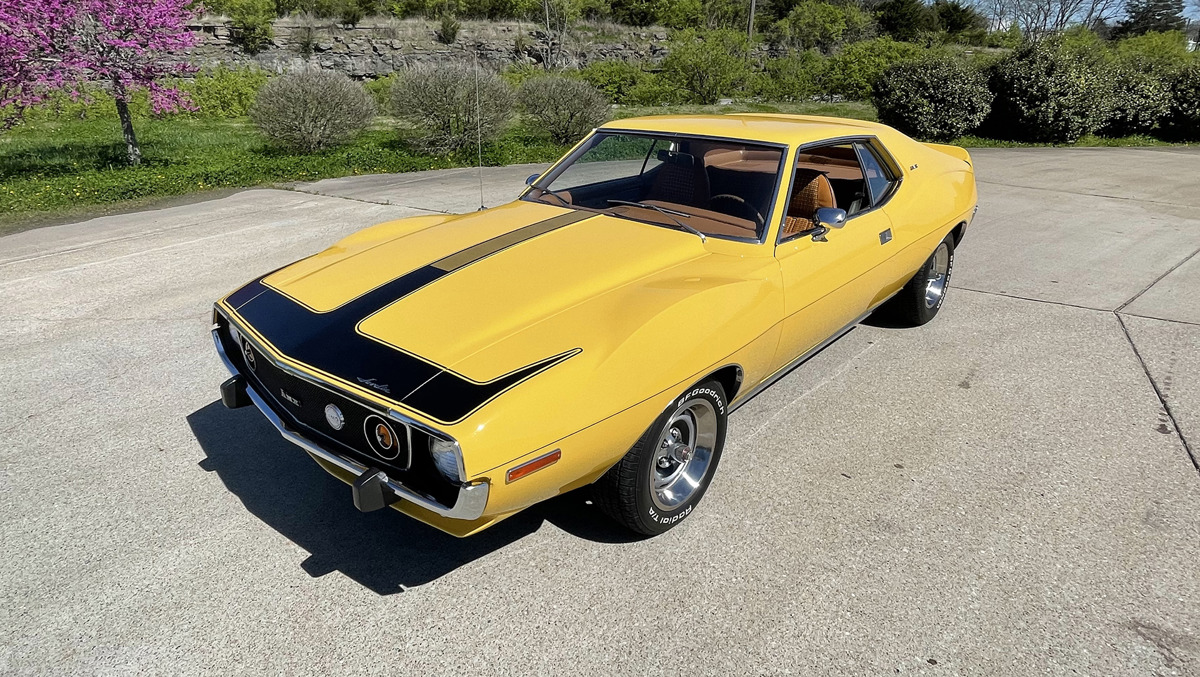 1974 AMC Javelin AMX
Estimate: $50,000 - $60,000 USD
By the mid-1970s, American Motor had expanded upon their experimental line, bringing a high-performance variant to their rear-wheel-drive Javelin coupe. Featuring styling by noted designer Dick Teague and years of earnest participation in motorsport (even winning the Trans-Am series in the "over 2.5-liter" class in 1971 and 1972), the AMX Javelin is a serious muscle car. With its odometer showing under 43,000 miles, this well-cared-for example is mid-1970s American motoring at its finest.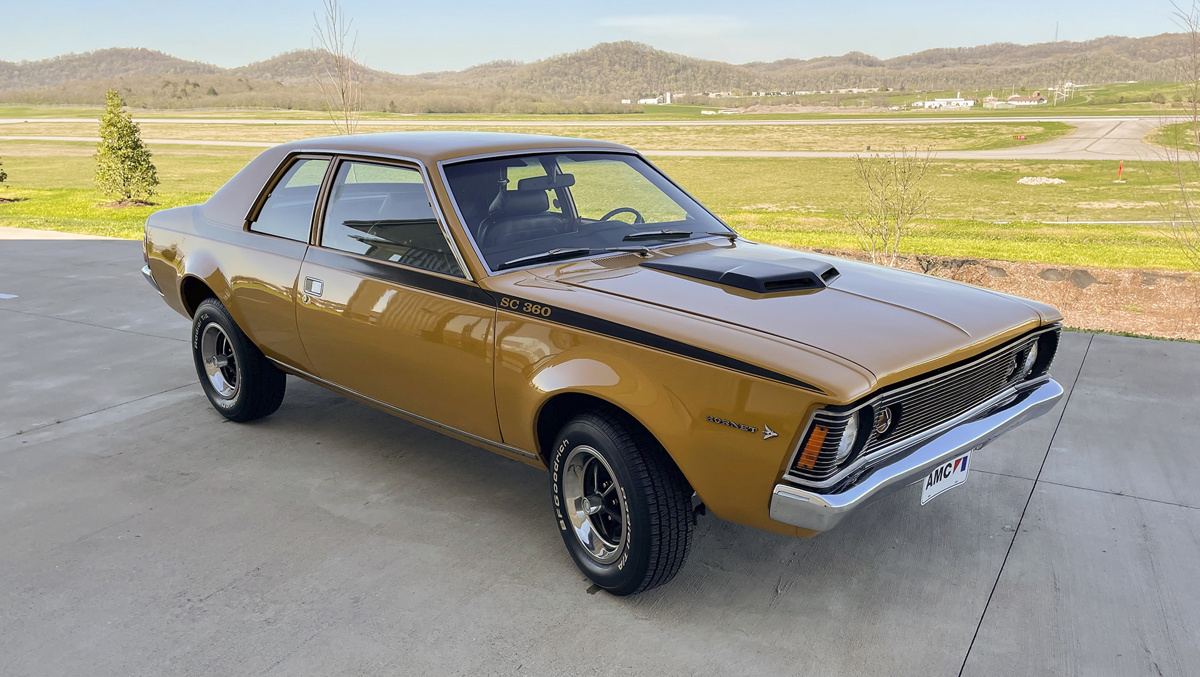 1971 AMC Hornet SC/360
Estimate: $40,000 - $50,000 USD

 

|

 

Offered Without Reserve

 

Advertised by AMC as an alternative to the high-displacement muscle cars amidst the gas crisis of the early 1970s, the Hornet SC/360 was a genuinely potent machine, with a naturally aspirated 360-cubic-inch V-8 providing plenty of power for its size. Weight-to-power figures have been estimated at fewer than 12 pounds per horsepower, which explains the outsized feeling of performance delivered by this uncommon American machine. This example features the most desirable engine variant, with a factory-equipped four-barrel Motorcraft 4300 carburetor.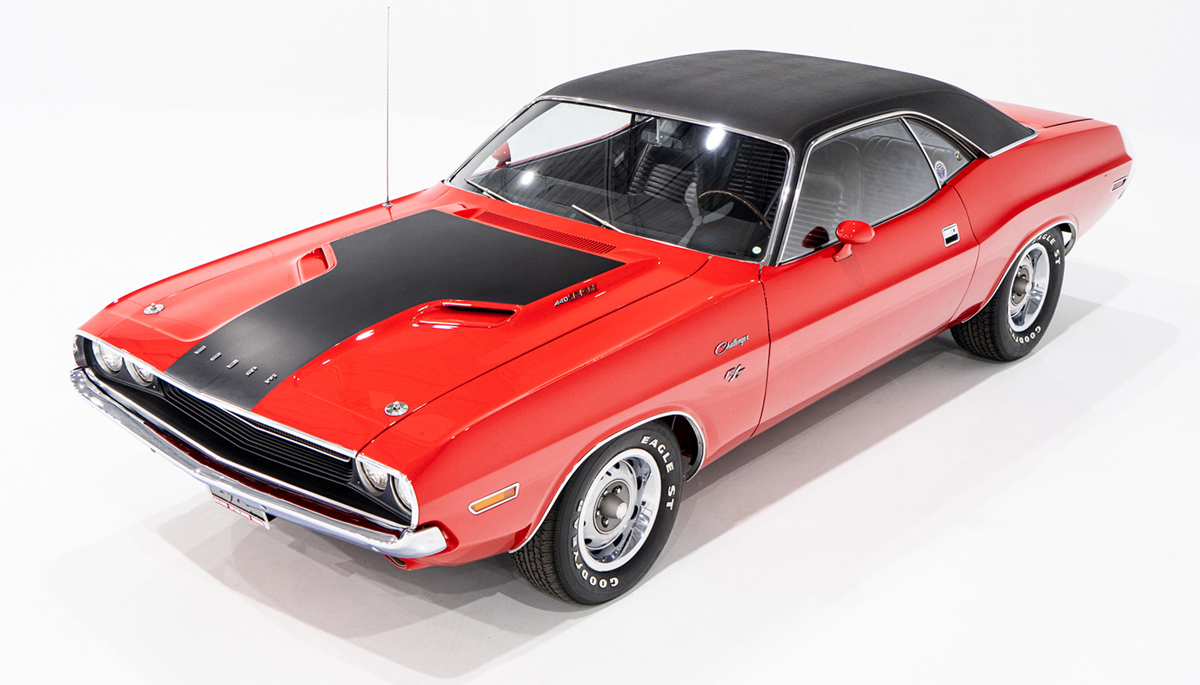 1970 Dodge Challenger R/T
Estimate: $140,000 - $160,000 USD
The last three lots are perfect for our all-American list, right down to their striking color schemes. Delivered new to Grand Spaulding Auto Sales of Chicago, Illinois, this Dodge Challenger R/T was optioned with both the "Bumble Bee" stripe on its side and the "Performance Tape" treatment on its hood, which was also ordered new with the desirable tie-down pins. This example's black vinyl roof completes the muscular look, which today many tuners and restorers try to emulate. Nothing beats an original.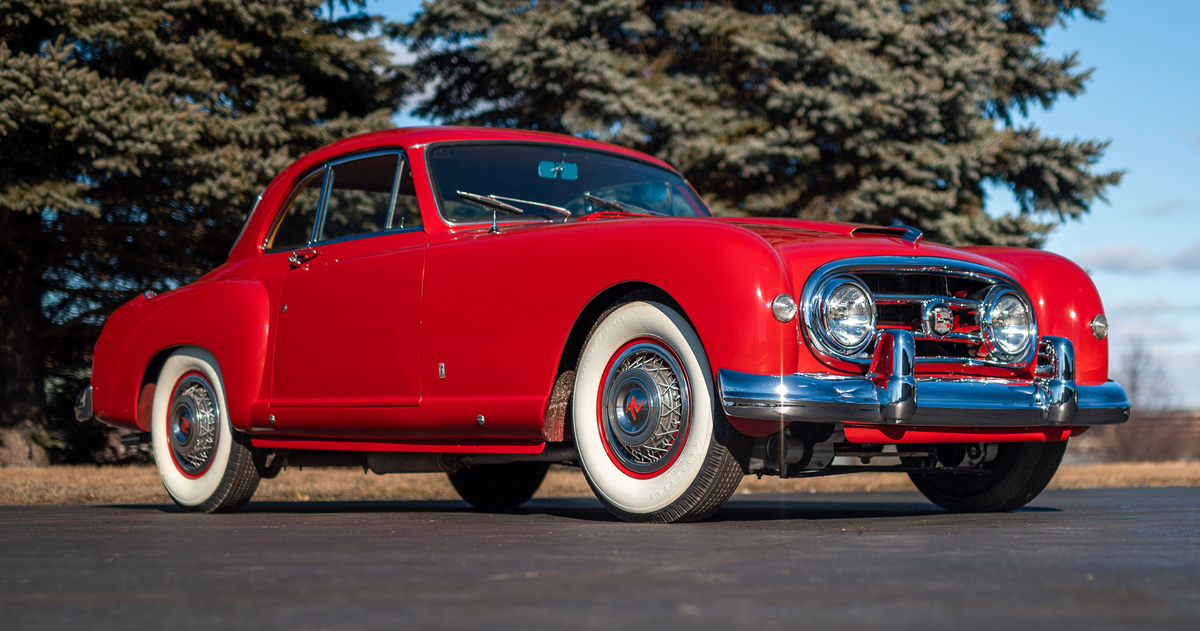 1953 Nash-Healey Le Mans Coupe by Pinin Farina
Estimate: $75,000 - $90,000 USD
Speaking of originals, this handsome Nash-Healey Le Mans is from a time when American automakers were just waking up to the possibilities of performance. A post-war icon of international engineering, the Nash-Healey was powered by an American Nash engine, was built on a British Healey chassis, and featured Italian styling courtesy of Pinin Farina. The combination produced an inarguably gorgeous car, but the shipping costs ultimately proved the downfall of the Nash-Healey, as the original purchase price was nearly three times the total of a comparable Chevrolet Corvette.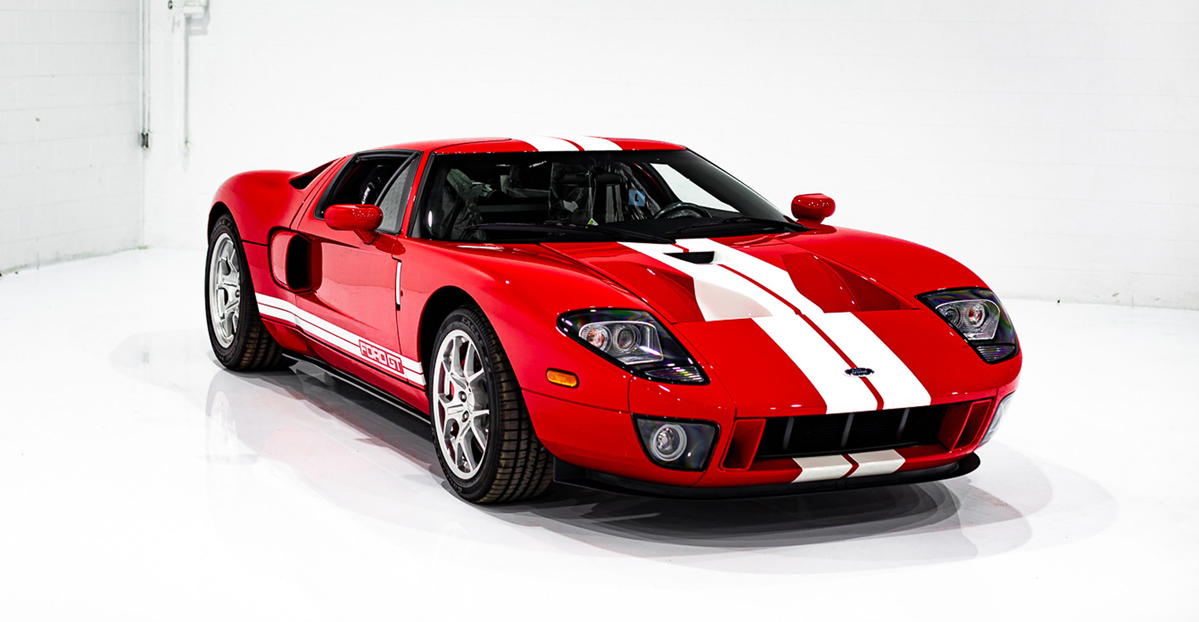 2006 Ford GT
Estimate: $375,000 - $425,000 USD
The final car on our list is an instant American icon. Developed in part by Carroll Shelby, with assembly help from Saleen Special Vehicles, the first-generation Ford GT was developed for greatness, full stop. With its Camilo Pardo design only looking better with age, the Ford GT has become a class of collector cars on its own. This example is nearly as fresh-to-market as possible, with its odometer reading a mere 3.7 miles, and the original steering wheel and seat protectors still installed. Proudly wearing red under the signature GT double stipe, this all-American example is close to a brand-new Ford GT as one can get.