Powerful and elegant, possessing an unmistakable style while still presenting an exceptional value against their European counterparts, it is impossible to argue that the American examples on this list did not stand out from the crowd. Carving a new path through the automotive industry through advanced engineering and design, the examples on this list have inspired lifelong followings among classic car aficionados, and even sometimes influenced European automakers as well. Built for a country which can seem boundless and varied in terms of both topography and population, American automobiles deserve their reputations for strength and durability. Put simply, they are worthy of serious consideration.
Offered along the path of one of the most evocative roads in American history, Route 66, these American examples will shine under the lights of the Biltmore Hotel's ballroom when they appear at RM Sotheby's Arizona 2022 auction later this month on 27 January. In the past few years, a renaissance has come to Route 66, with preservation-minded individuals working to maintain the various main streets that make up the historic highway. This attitude continues to today's late-model Mustang cover car, a charity listing which is being auctioned with proceeds to benefit a brand-new automotive museum in Salina, Kansas. With our offerings including noteworthy brands spanning from Cadillac to Cord, from Duesenberg to DeLorean, there surely is enough Americana on this list to impress any aficionado: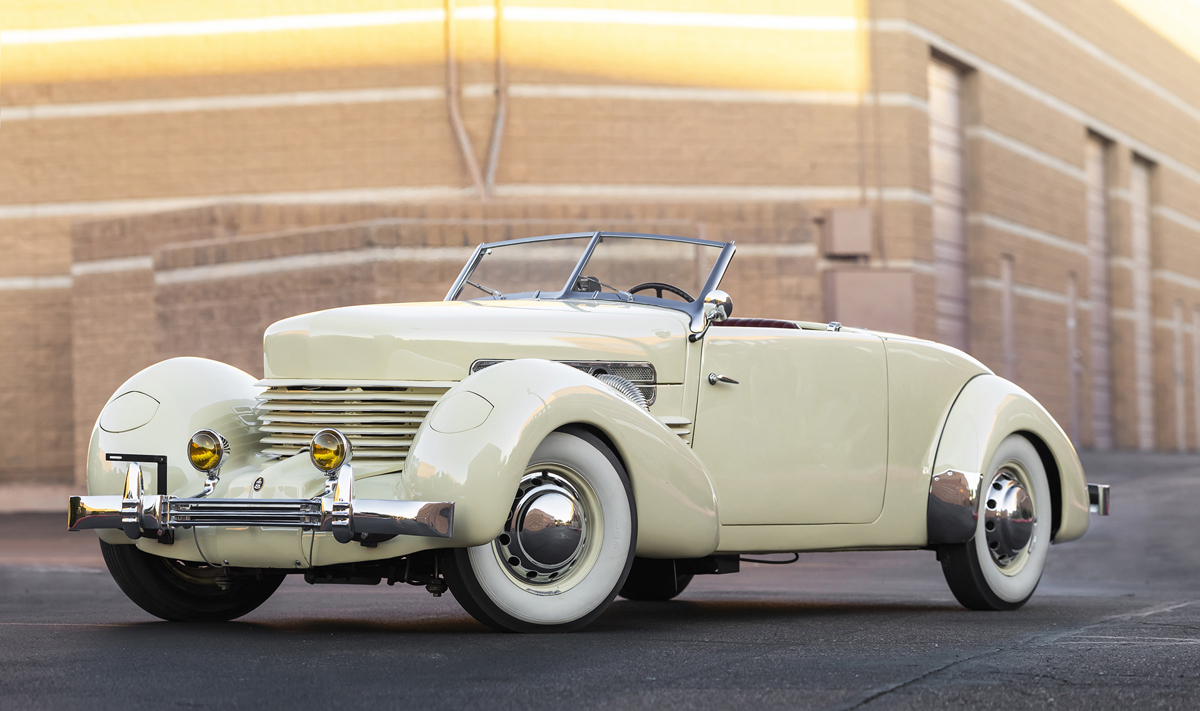 1937 Cord 812 Supercharged Cabriolet
Estimate: $200,000 - $250,000 USD
It is difficult to overstate the importance of the launch of Cord's highly advanced, aerodynamically styled 812 model. Debuting well before the start of World War II, the front-end treatment of this so-called "coffin-nose" Cord inspired such lofty imitators as the one-off 1938 Hispano-Suiza Dubonnet Xenia. Other innovations, like the pop-up headlights and front-wheel-drive configuration, became popularized long after the 812's debut. With a supercharged engine, the "Sportsman" was the premier variant at the top of the Cord lineup; this example is made even more special for being rebuilt in the early 1960s by the ACD Company of Broken Arrow, OK, which provided factory-quality repairs and restorations after the Auburn Cord Duesenberg company filed for bankruptcy in 1937. Wearing a period-correct coat of Cigarette Cream over a dark red interior, this supercharged example showcases pre-war American automaking at its peak.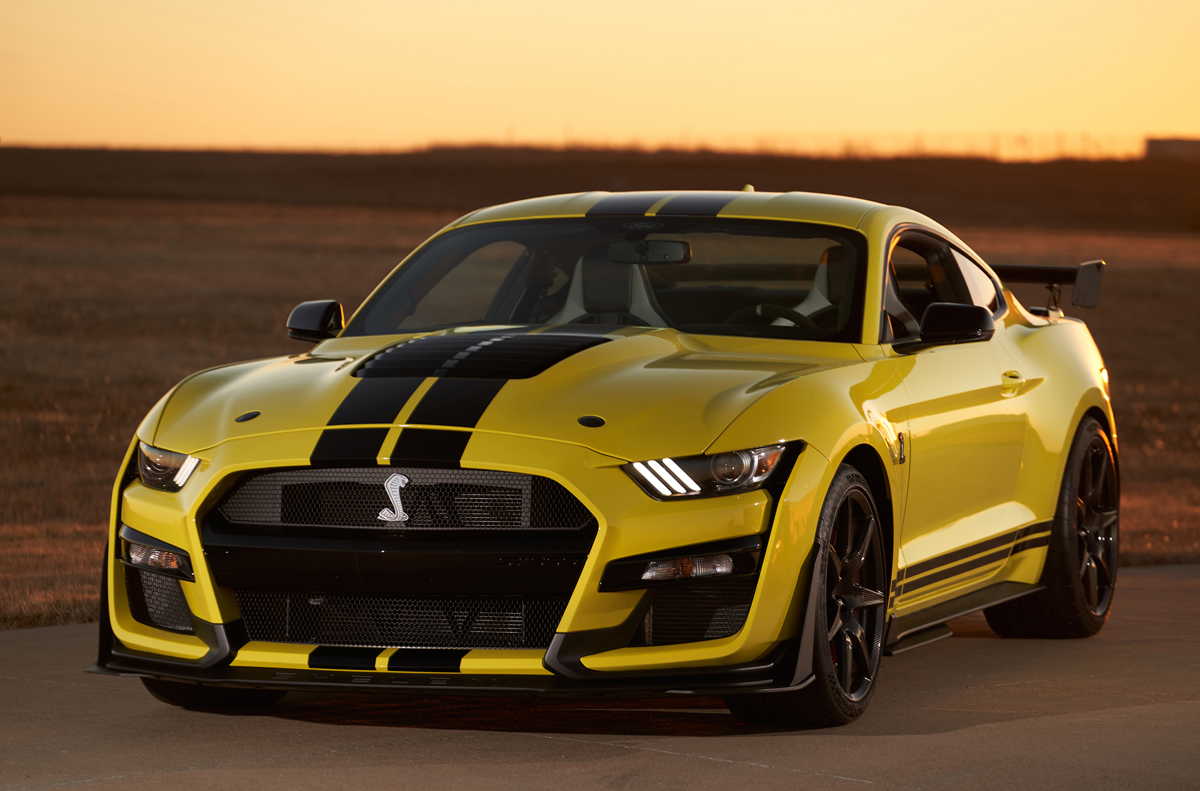 2021 Ford Shelby GT500
Estimate: $125,000 - $175,000 USD | Offered Without Reserve
In many ways, the vision of Carroll Shelby represents a quintessentially American vision: Both accepting the framework of what was already existing (in this case, a relatively pedestrian two-door from Ford), while simultaneously upgrading it in every conceivable way. Today, the products that bear the Shelby name and coiled snake emblem still embody this spirit of reinvention and zero-compromise performance. Powered by a 760 hp, 5.2-liter Supercharged V-8, the new owner of this Shelby will enjoy a Tremec seven-speed dual-clutch transmission, the first of its kind in a muscle car, which can execute shifts in a mere 80 milliseconds. The new owner will also get the opportunity to exercise their skills on track, with a registration to a GT500 Track Attack performance driving experience hosted by Ford Performance Racing School at the Charlotte Motor Speedway included in the sale. Coupled with the charity aspect of the sale of this Shelby, with proceeds donated by Long McArthur Ford to benefit a groundbreaking museum called The Garage in downtown Salina, KS, this Grabber Yellow example shows that modern muscle cars can truly have a heart.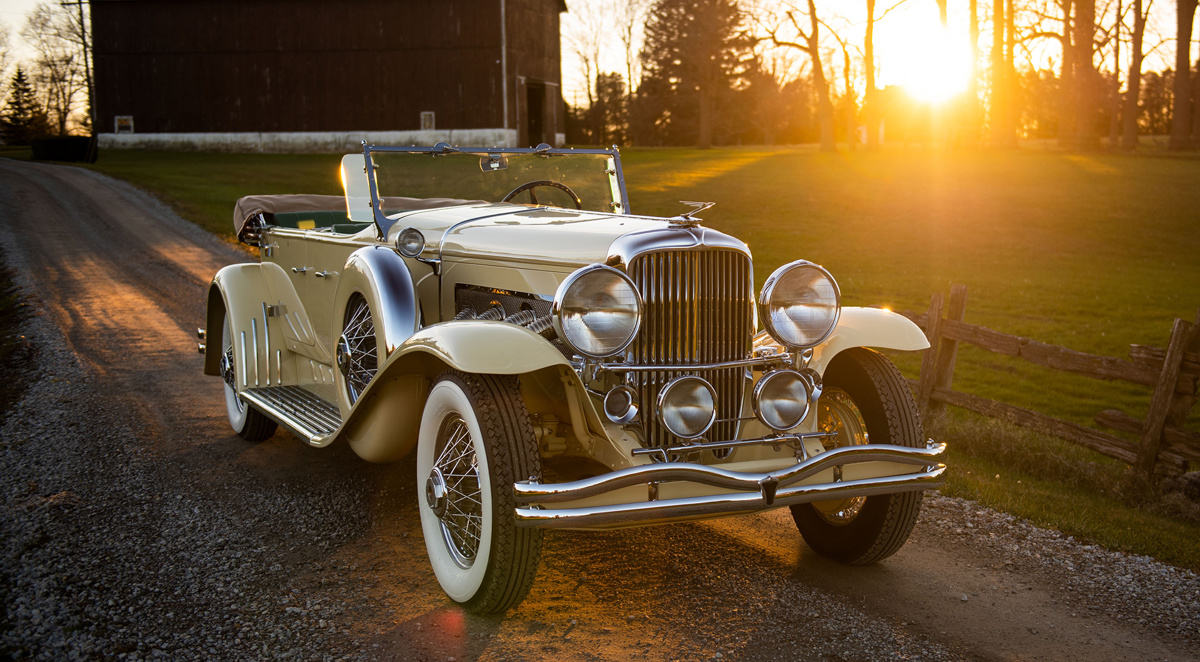 1931 Duesenberg Model J Tourster by Derham
Estimate: $2,750,000 - $3,250,000 USD
Our theme of American automobiles with outstanding performance continues with this spectacularly rare Duesenberg Tourster. While any Model J, with its "standard" eight-cylinder engine producing an astonishing 265-horsepower, deserves the attention of pre-war enthusiasts, this coachbuilt example, which features a one-of-eight handbuilt body by Pennsylvania-based Derham, has enough stature to make it the centerpiece of any classic owner's collection. Considered as part of the upper echelon of pre-war examples, Category 1 from the Auburn Cord Duesenberg Club, as well as a CCCA Full Classic, this exquisite example has enjoyed an award-winning restoration by RM Auto Restorations and was a treasured part of several prestigious collections, including that of STP founder Andy Granatelli.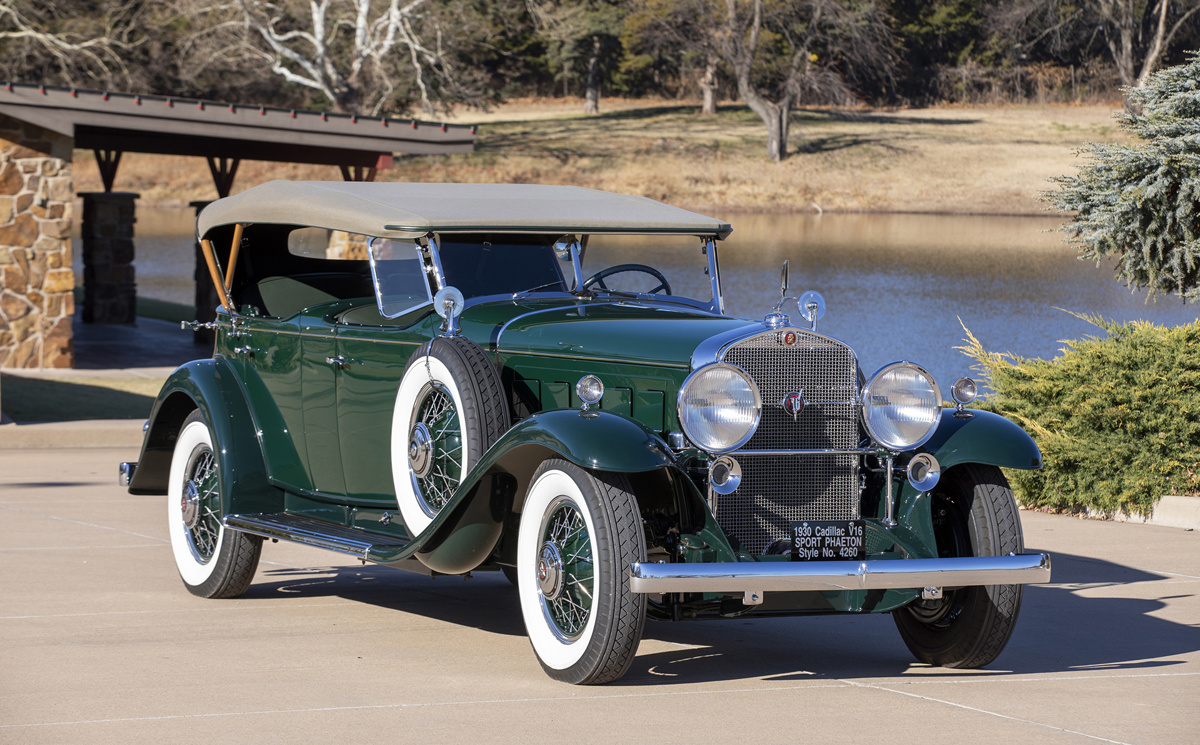 1930 Cadillac V-16 Sport Phaeton by Fleetwood
Estimate: $900,000 - $1,100,000 USD
Another example of American-made superiority, the 16-cylinder powerplant of this pre-war classic puts it in another league of automaking, even today. Surprisingly, it is not the only American-built 16-cylinder example on our list. Originally advertised as the first "super-car," General Motors used this top-of-the-line Cadillac as a showpiece for both their art and engineering departments. The V-16 was the first car to receive styling inside its engine bay, courtesy of GM's industry-leading designer Harley J. Earl, who also designed its unique Sport Phaeton body style with a hand-crank operated windshield similar in function to the Duesenberg Tourster we covered previously. With its handsome body hand-assembled by GM's longtime collaborator, Fleetwood, one year prior to their incorporation into the company, this Cadillac shows off American art deco design and engineering at its finest. No wonder it has been owned by noted collectors Otis Chandler, Joe Runyan, and Keith Crain.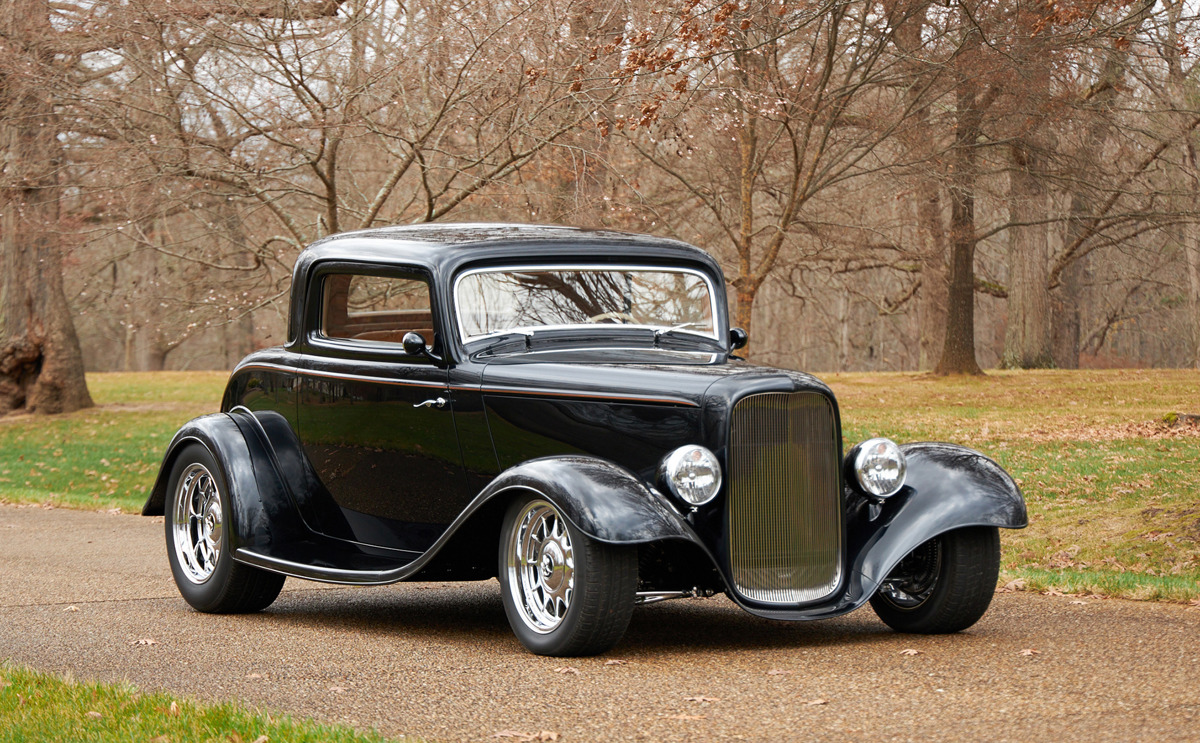 1932 Ford Three-Window Coupe Custom
Estimate: $150,000 - $200,000 USD
Sufficiently subtle that even the most sharp-eyed car spotters could be fooled, the modifications on this 1932 Ford Three-Window Coupe Custom were sufficient for it to earn a nod as one of the "Great 8" finalists for the prestigious Ridler award from the rigorous judges at the Detroit Autorama in 2012. With elegant bodywork executed by Craig Naff, the hot rod icon who did most of the heavy lifting for Billy Gibbons' iconic 'CadZZilla' custom, this Ford Coupe features a custom apron linking its two flowing fenders, as well as shaved door hinges, badges, and trunk handle. With a pinstriped, dark blue finish so dark it appears nearly black, and subtle touches throughout, this Custom earned its respectful nickname of 'Retrospect'. The plush, cognac leather-lined interior of this example deserves closer inspection as well. In a final flourish, this "Deuce Coupe" deserved a powerplant upgrade to match its overhauled aesthetics, so it was fitted with a Chevrolet LT1 V-8 engine. Perhaps a different vision than Henry and Edsel Ford envisioned, but still undeniably beautiful.
1932 Ford Model B Pickup
Estimate: $45,000 - $55,000 USD | Offered Without Reserve
While some collectors dream of customization, others prefer to keep things as standard as possible. Paired with the black Three-Window Coupe Custom we covered above, this Ford Model B Pickup presents both sides of the collecting universe. Painted in Henry Ford's preferred color scheme of black-on-black, this Ford Model B is a practical, unmolested example of Ford's extremely successful, classic pickup. While literally millions of Model B Fords were built over the course of its lifespan, most of the variants built as pickups were put into service immediately and as a result cannot equal the condition of this recently restored example. Though there is undeniably a high degree of art involved in customized Fords, sometimes stock can be extraordinary.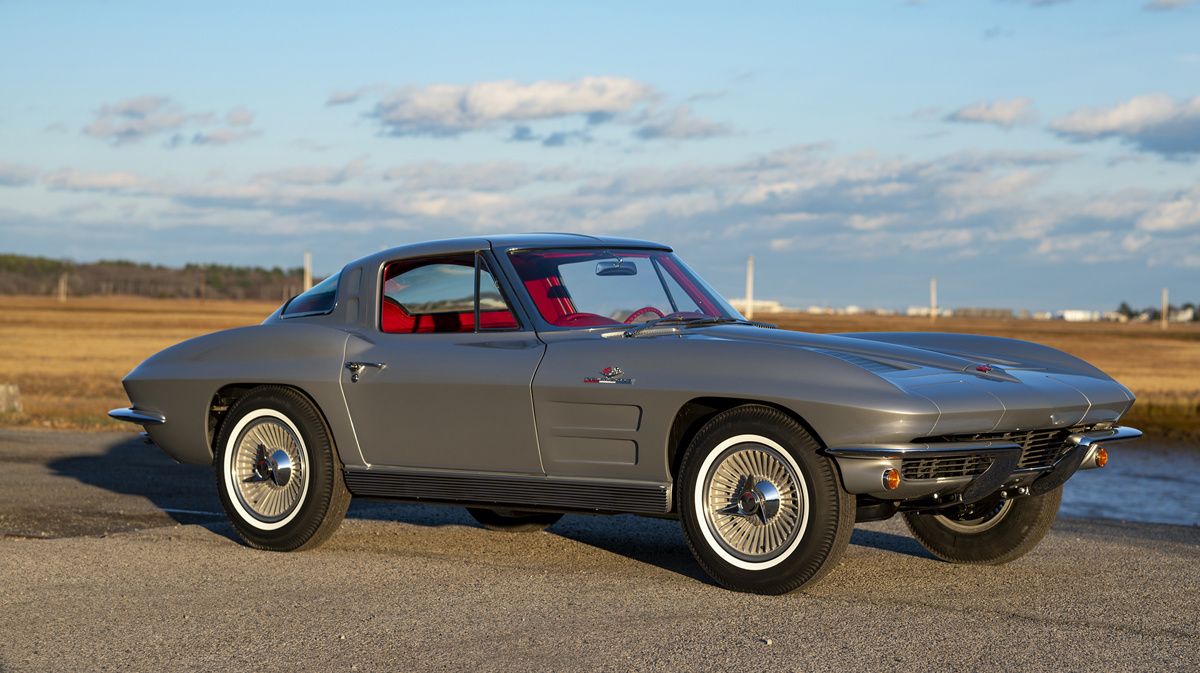 1963 Chevrolet Corvette Sting Ray 'Fuel-Injected' Coupe
Estimate: $175,000 - $225,000 USD
In terms of high-profile Americana, there is a huge amount of cultural cache between 1932 Fords we just covered and this 'split-window' Chevrolet Corvette. Offered for only one year with its now-iconic two-piece rear window configuration, any 1963 Corvette is a collector's item by default. This example, with its Rochester fuel-injected 327-cubic-inch V-8, was extremely advanced for its era. Originally priced at $430.40, this powerful upgrade proved to be financially prohibitive for many buyers. Only about ten percent of total Sting Ray production in 1963 were equipped with this engine; amounting to 2,610 in total. Paired with a four-speed manual transmission, this Sebring Silver-over-Red vinyl 'Vette is a tasteful tribute to American sports car sensibilities. Recently the beneficiary of a cost-no-object restoration from classic Corvette experts Bayberry Vintage Autos of Hampton, New Hampshire in 2020, this fuel-injected artifact of mid-century muscle is ready to hit the road.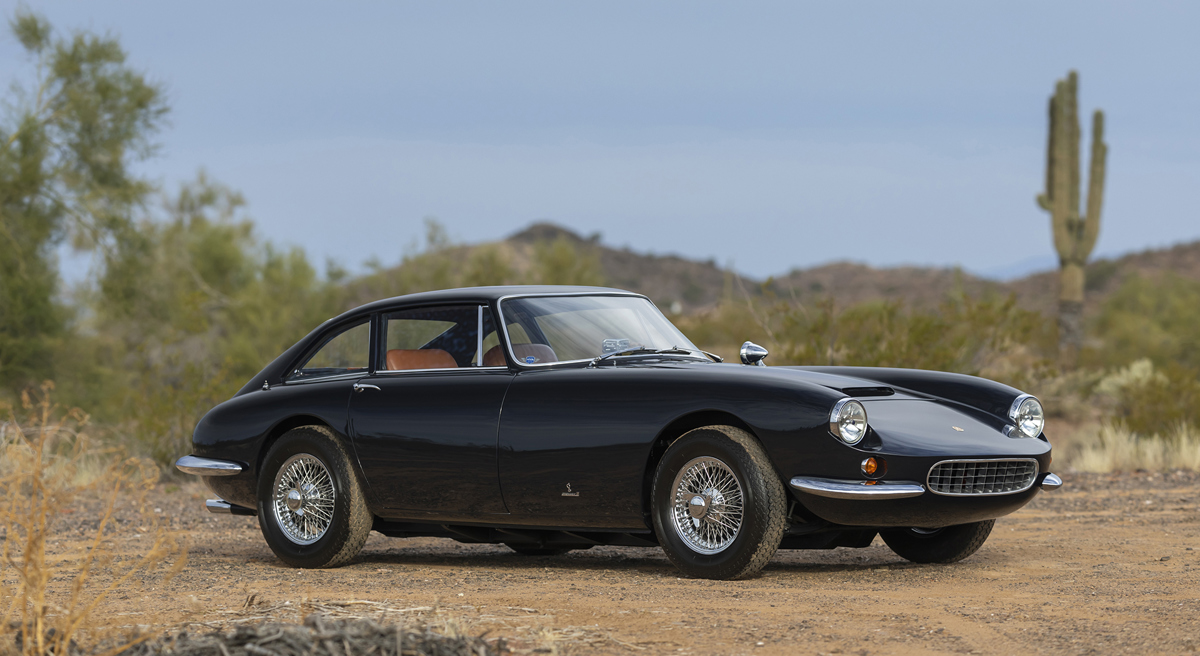 1963 Apollo 3500 GT
Estimate: $125,000 - $165,000 USD | Offered Without Reserve
Though American automotive culture can appear monolithic, that is not always the case. With every cultural wave, there is an equally present counterwave; thus, the tide of American optimism that produced the 'split-window' Corvette in 1963 also saw U.S.A.-based sports car enthusiasts look towards Europe for not just engineering inspiration, but for full-fledged collaboration. The aptly named outfit which called itself International Motor Cars (later switching their name to the more evocative Apollo manufacturing concern) served to deliver just that, with a gorgeous grand tourismo body co-styled by a graduate of Pasadena, California's prestigious Art Center College of Design, Ron Plescia, as well as the undisputed Italian master Franco Scaglione. The Apollo 3500 GT's powerplant had American origins as well, with its lightweight aluminum 215-cubic-inch V-8 sourced from a Buick Special. This example, which has been featured in several automotive periodicals and has been honored with awards at various concours d'elegance, was the fifth of a mere 41 examples made. Not many cars can credibly compete at both Italian and American car gatherings.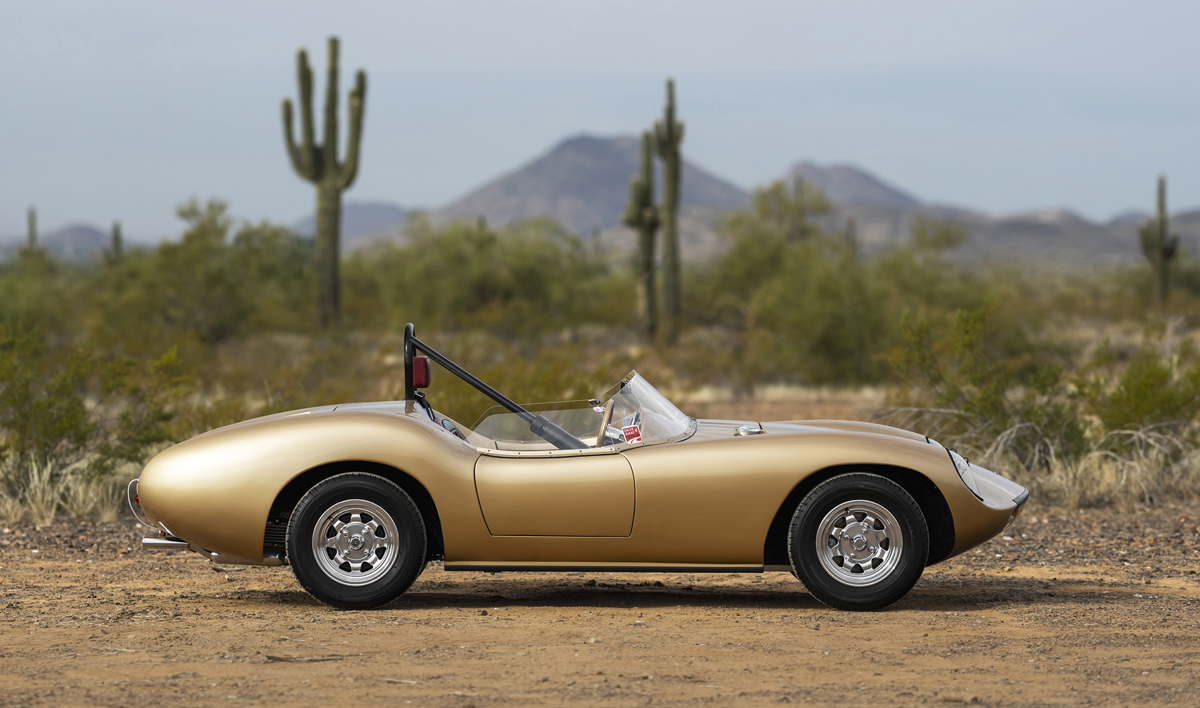 1959 Devin C
Estimate: $70,000 - $90,000 USD | Offered Without Reserve
Another example of mid-century American industriousness, the cars built by Bill Devin in his Los Angeles-area facilities have taken on an aura of Southern California mystique. Blending the swooping shapes typically seen in the output of European coachbuilders with American powerplants, the factory-made Devin sports cars could go head-to-head with the output of much larger manufacturers. This example, the very first 1959 Devin C built of 21 total, established sports-car records at California drag strips in late 1961 at the hands of Vince and Andy Granatelli, who used this example for supercharger testing. Used to compete at the 1961 Los Angeles Times-Mirror Grand Prix at Riverside against legendary drivers like Stirling Moss, Dan Gurney, and Bruce McLaren, this recently restored example is an artifact of mid-century fiberglass sports car design. With subtle modifications including the addition of four-wheel disc brakes, this Devin C would be a formidable foe either on the track during vintage revival racing, or on the show field during concours d'elegance competition.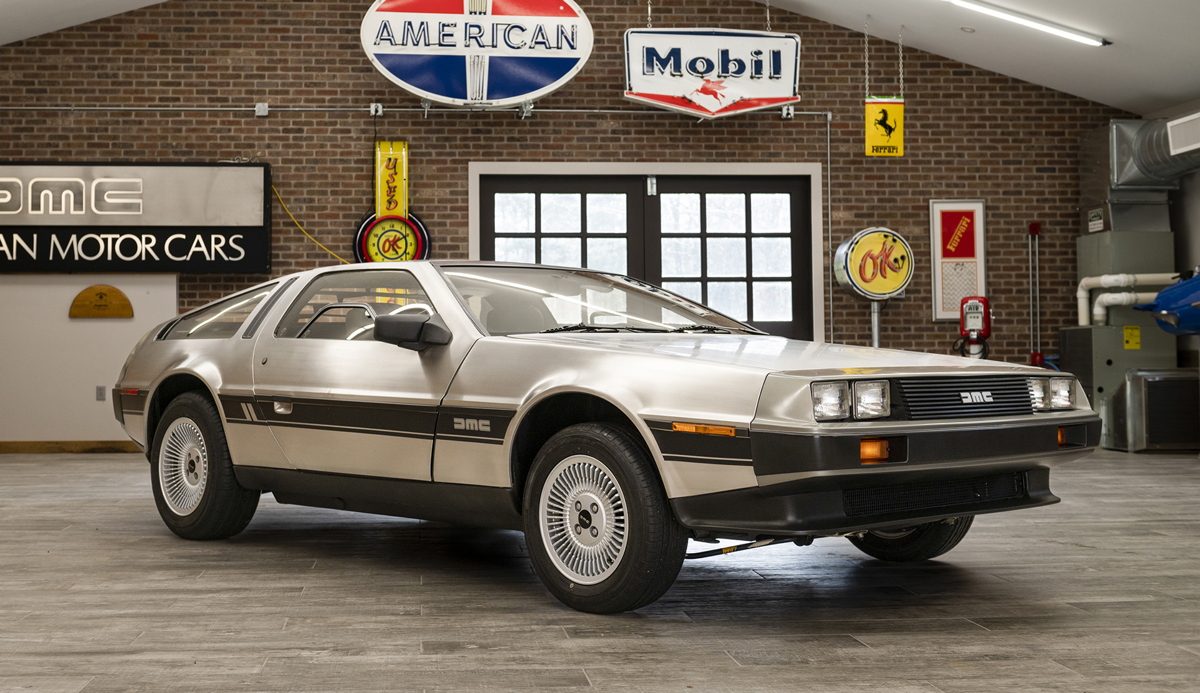 1981 DeLorean DMC-12
Estimate: $90,000 - $120,000 USD | Offered Without Reserve
Though John Z. DeLorean's family background was in Romania, and his eponymous car was constructed in Ireland, there is something truly American about the production of this eco-conscious, stainless steel DMC-12. Perhaps it was DeLorean's background in General Motors, launching a string of hits including the Pontiac GTO, or the unforgettable inclusion of his gullwing door sports car in Back to the Future, but the DMC-12 has earned a place in American history. This example has been stunningly preserved, with only 174 miles recorded on its odometer at the time of cataloguing. With a time-capsule-style assortment of accessories accompanying the sale, including an original DeLorean roof rack still sealed in its factory box, and ultra-desirable five-speed transmission, this DMC-12 can be said to represent the vision of John Z. DeLorean in its purest form.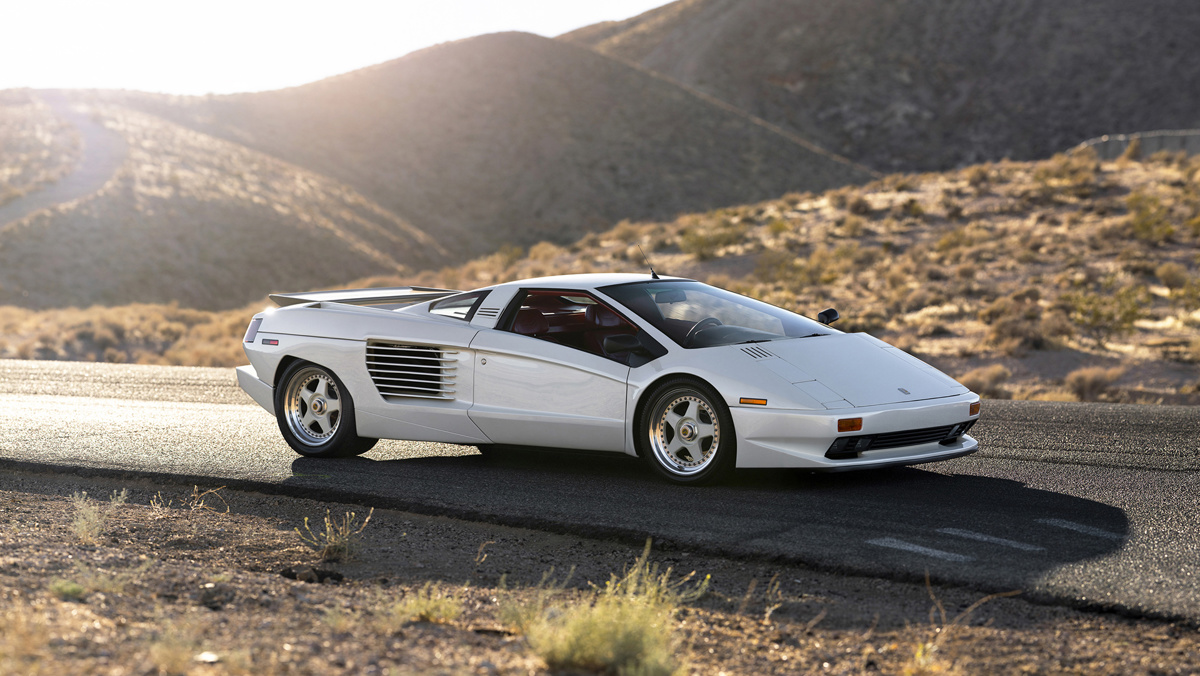 1988 Cizeta-Moroder V16T
Estimate: $900,000 - $1,200,000 USD
The final lot on our list also represents a singular vision, built in America. The dream started as a collaborative effort between electronic music pioneer Giorgio Moroder, soon after his Academy Award win for the theme from Top Gun, and Los Angeles-based empresario Claudio Zampolli, who intended to outdo Italian supercar manufacturers Ferrari and Lamborghini with a sixteen-cylinder engine and evocative styling. Zampolli employed a genuine legend of the field, Marcelo Gandini, to execute the over-the-top styling, and the team settled on Sherman Oaks, CA as the location of their new factory. Though only ten Cizeta-Moroder examples were ever built, this example was the first and served as the prototype for their ambitious venture. Retained from new by none other than Giorgio Moroder himself, this supercar represents the opportunity to own a piece of automotive history, as well as its future: Moroder has composed a new EP of music to accompany the car and scored a newly minted NFT to accompany the sale. A piece of avant-garde artwork, made in America.
For more information about the auction where these fabulous American offerings will be sold on 27 January, and to register interest for bidding, please click here, and good luck!