Though it might be difficult to imagine now, there was a time when importing high-end sports and supercars from Europe was considered an intelligent way to experience peak motoring. In part, the production numbers detailed why: Of the 3,083 Ferrari 550 Maranello sports cars built in total, fewer than 1,000 of them were destined for the US market. With ex-Ferrari chief Luca di Montezemolo's reign seeing its peak in the late 1990s, the talented executive held a tight rein on total production. Reportedly, an average of only 28% of Ferrari production during that time was destined for North America. In 1997, the first year of 550 Maranello production, reportedly less than 100 examples were officially earmarked for US buyers. Clearly there was demand for more prancing horses in the USA.
Enter Dick Fritz and Amerispec Corporation. One of a handful of importers, the Danbury, CT-based company claimed to be the first firm to specialize in taking the finest Ferrari models, originally delivered in Europe, and federalizing them for American roads. Though heavy demand in the United States allowed for several of these importers to carve out a niche for themselves, Amerispec was considered to be one of the most meticulous of the bunch. Offered now, as part of RM Sotheby's Open Roads, February auction, this Ferrari 550 Maranello was imported in 2000 and has now been an official American car for over two decades: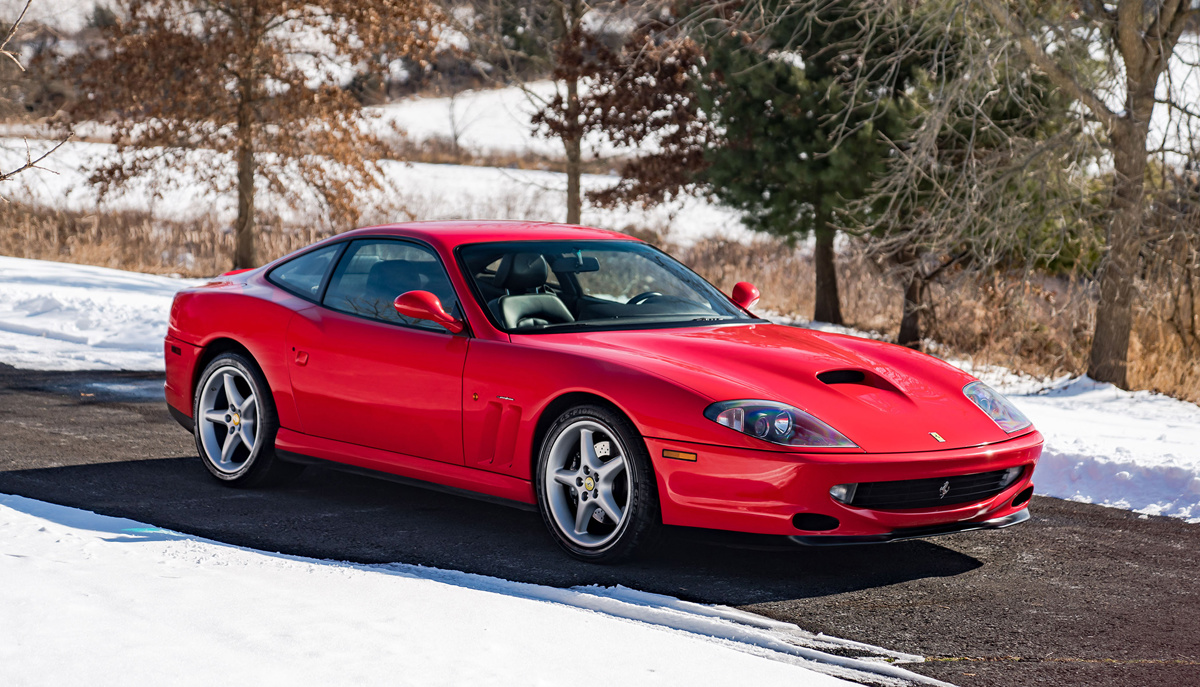 1999 Ferrari 550 Maranello
Estimate: $175,000 - $200,000 USD
Why is the connection with Amerispec so important? For one, it's important that the conversion was carried out properly. Passing the emissions tests from the US Environmental Protection Agency was an extensive process, even if the cars were made to be efficient from the factory. Fritz, for his part, was quoted as saying that modern-era Ferrari cars were intended to be built for the world, and thus were relatively easy to convert. If anyone could claim to be a prancing horse expert, it would be Fritz, as he was an original member and team manager of the N.A.R.T. racing outfit. A close collaborator of legendary empresario Luigi Chinetti Jr., Fritz was on-hand when the motorsport team was converting road cars into competition-grade racers for racing at Daytona. A true Ferrari expert, in other words.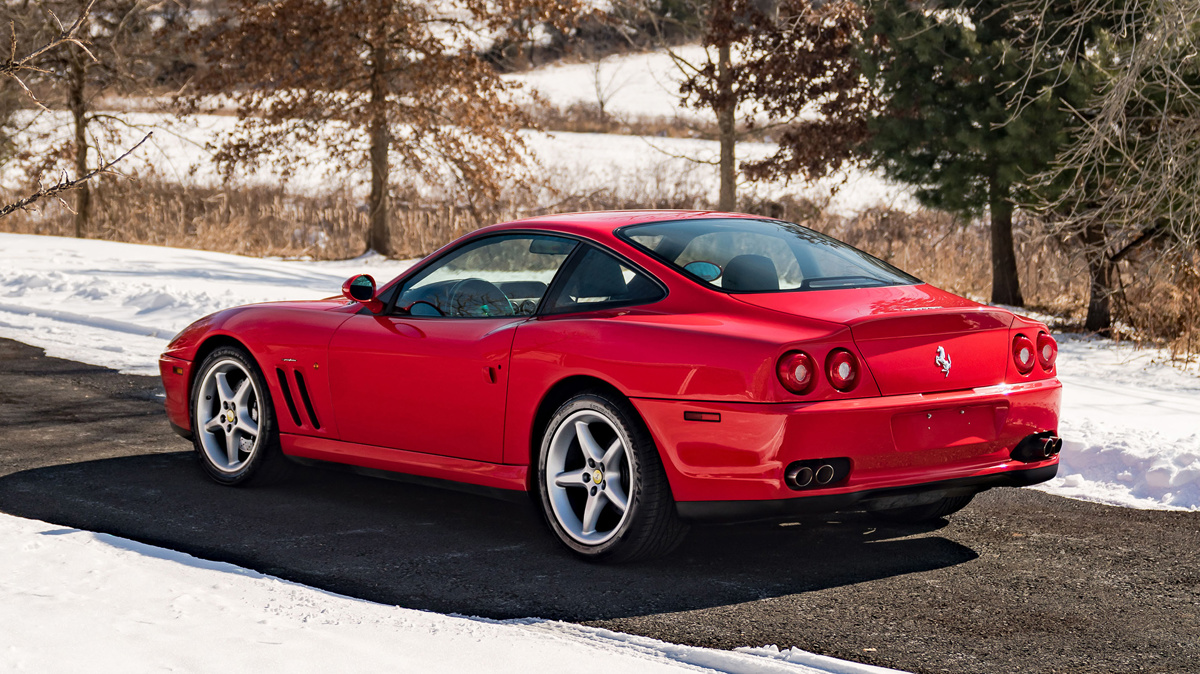 In 2001, soon after this example was officially legally imported to the U.S., Ferrari petitioned the US Department of Transport to legally block the importation of 550 Maranello and 360 Modena models. Today, with the passage of "Show and Display" laws and the 25-year import exemption, the debate has been at least partially settled. Some enthusiasts have even concentrated specifically on pursuing so-called "grey market imports," as any cars not originally sold in any given country inherently carry a high degree of desirability among collectors there.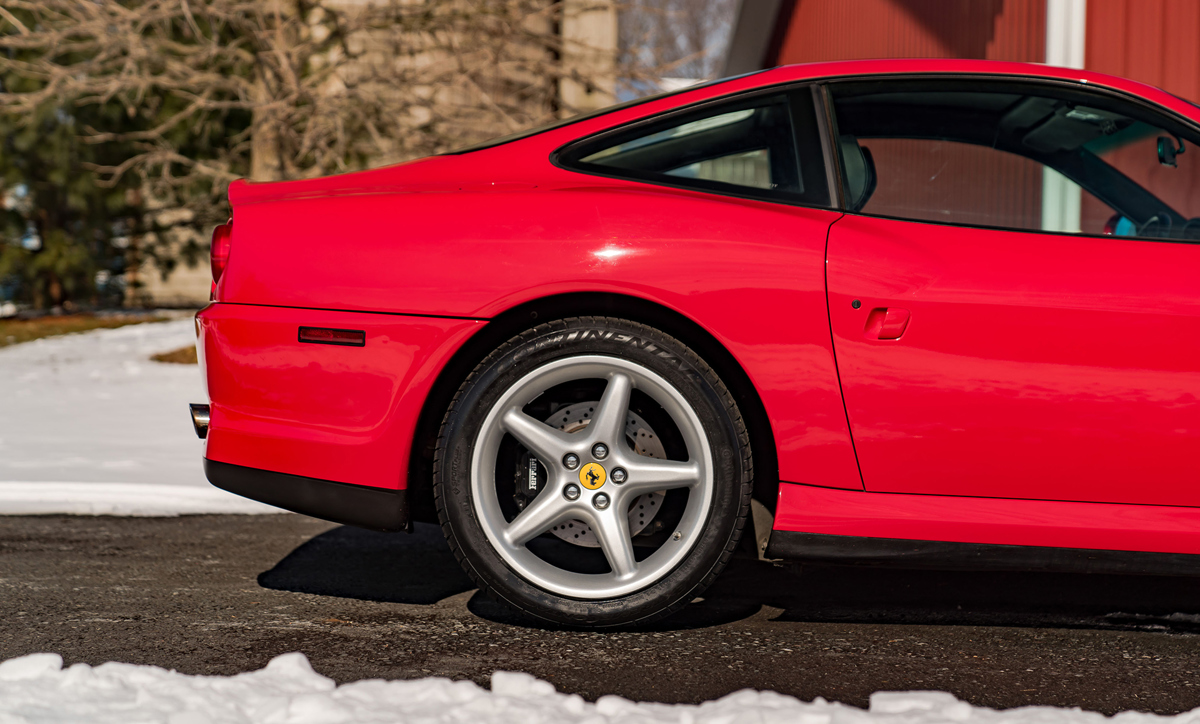 As the commonly used phrase goes, the grass is always greener. In the US, collectors have long sought to acquire European-spec vehicles because of their motors, which sometimes sport an increase in horsepower output, and their overall aesthetics, especially when it comes to the U.S. DOT-mandated front-and-rear side reflectors. For cars originally designed in Europe, these indicators can appear to be an afterthought when considering the overall aesthetic of the finished product. Contrast the slim side reflectors on the example above against the "official" US import edition of the 550 Maranello. The Amerispec indicators are far more subtle of an addition to the tasteful Ferrari aesthetic.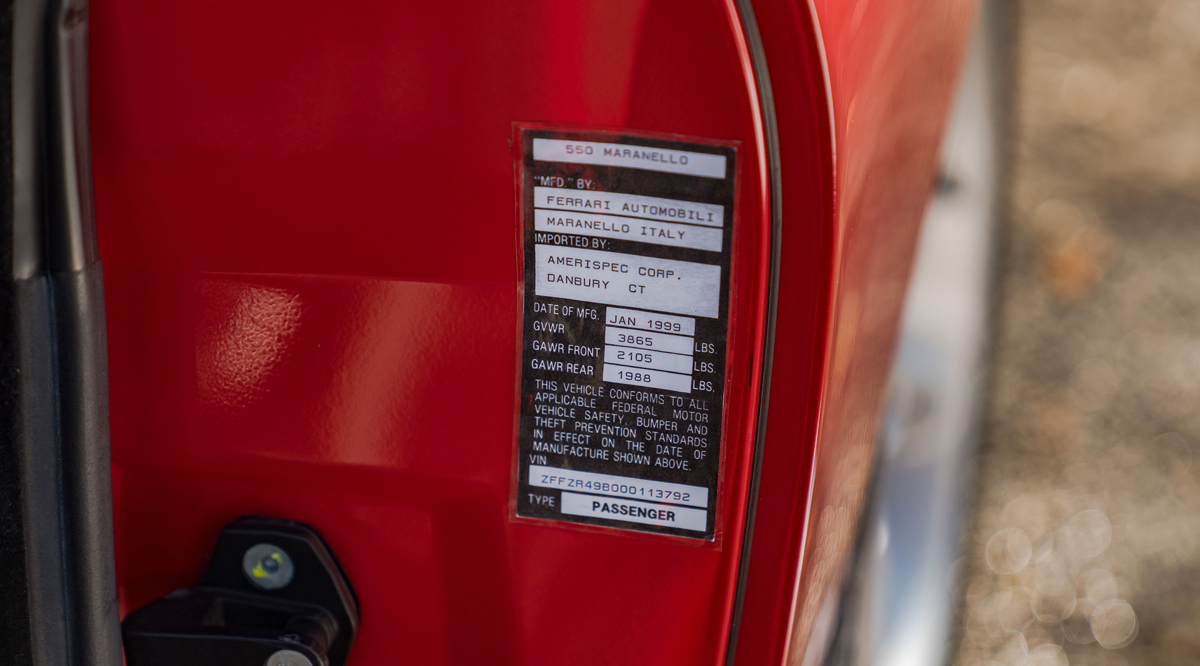 With an official sticker from Amerispec Corp. replacing the original Ferrari-printed doorjamb indicator, this example can be said to be thoroughly American. Of course, extensive documentation from the U.S. National Highway Transport Safety Administration, U.S. Environmental Protection Agency, and U.S. Customs Service also accompany the sale. When this example was imported in the year 2000, the total cost of the importing, shipping, and federalization was not insignificant, amounting to more than $20,000. With a fee so substantial, it is no wonder that the current consignor, who originally imported this example, decided to retain it for the past two decades.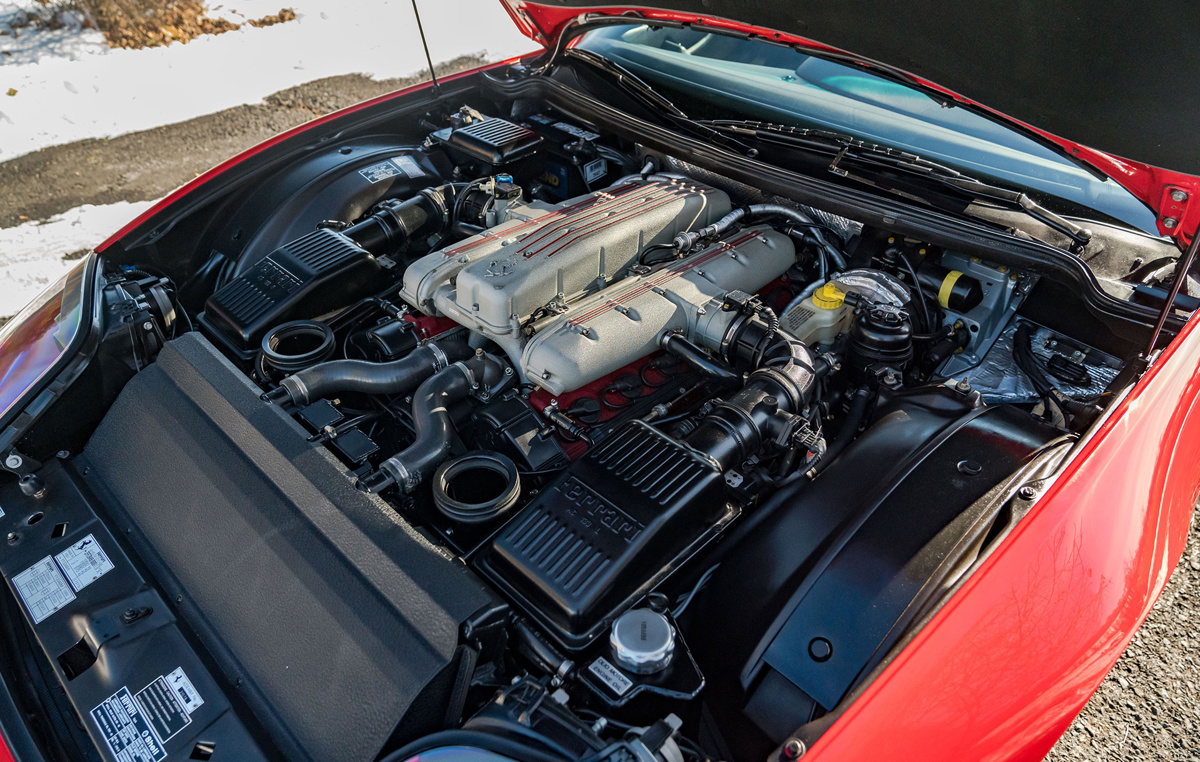 Certainly, with its front-engine V-12 configuration, Ferrari collectors have been eyeing the 550 Maranello model with great interest lately. Especially when paired with its open-gated manual transmission, examples like this one have become all but extinct in the modern era of production cars. This Rosso Corsa-over-Nero leather interior example has been especially cared-for, with under 21,000 km showing on its odometer at the time of cataloguing.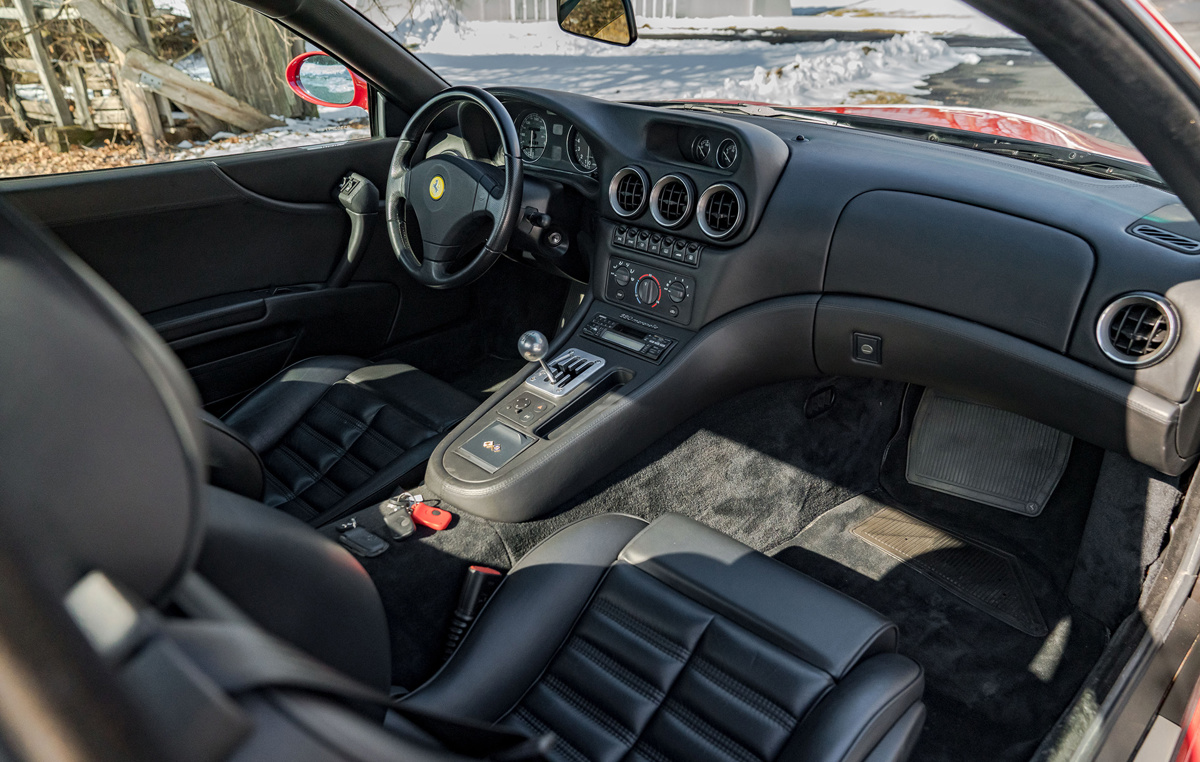 The current consignor has not skimped on maintenance. Receipts accompanying the sale indicate a refurbishing of the fueling system by replacing the fuel tank and fuel filters, rebuilding both fuel pumps, and professionally cleaning the fuel injectors. The cam belts, with their respective tensioners and bearings, and accessory belts were replaced as well, along with the engine oil and filter. A brake system overhaul is said to have included flushing the fluid and replacing the hoses, while the hydraulic clutch system fluid and engine coolant were reportedly flushed and replaced. On the interior, sticky switchgear—a common issue with Ferraris of this era—was cleaned and refurbished.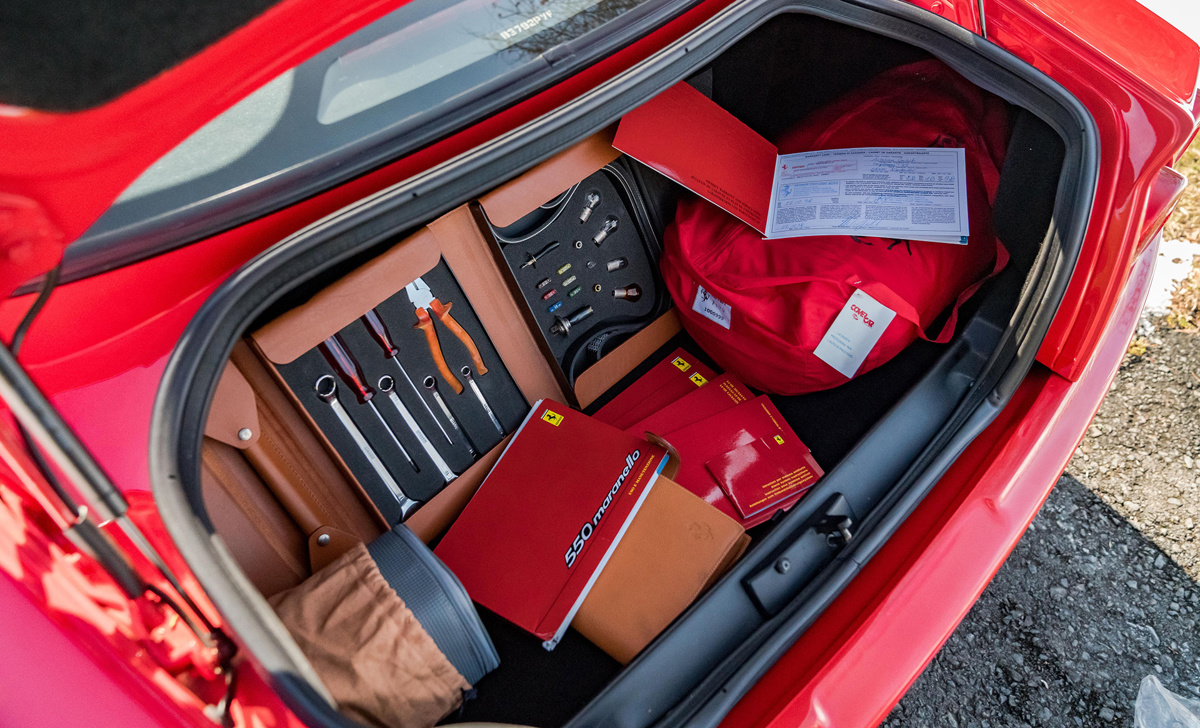 The extensive package accompanying the sale encompasses the full Schedoni leather tool case, car cover, owner's manuals, and three keys (including the master red key fob with digital security PIN). For Ferrari aficionados, this example benefits from a history of considerate ownership. With its recent service, this front-engine 550 Maranello is an intriguing prospect for any Ferrari collector who wishes to capture the brand's twelve-cylinder heritage. One of the highlight lots of RM Sotheby's Open Roads, February auction, this 550 is worthy of your careful consideration.