As a concours d'elegance, Amelia Island has always been a home for both over-the-top professional race cars and pre-war classics with unparalleled provenance. Kicking off race-car sales at the RM Sotheby's auction at the Ritz-Carlton resort on Friday, 6 March, was a whale of a Tiga—a 1984 Tiga SC84 Sports 2000 driven onstage by none other than John Oates.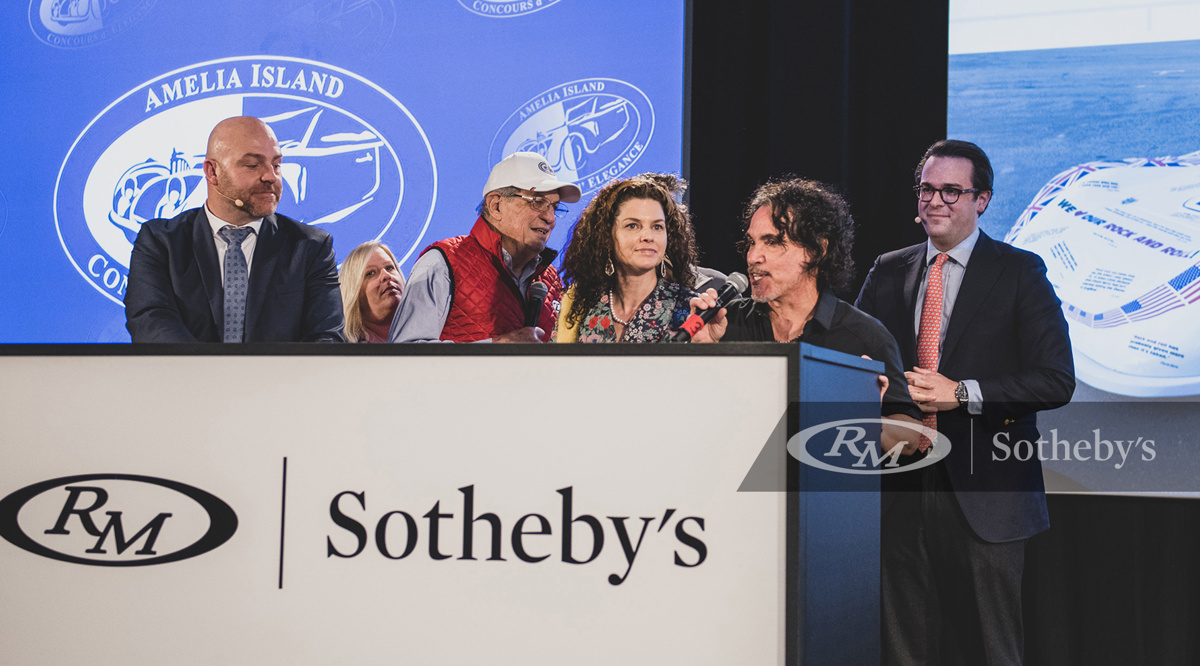 John Oates (with microphone) announces the sale of his 1984 Tiga race car at RM Sotheby's Amelia Island 2020 auction.
The Rock & Roll Hall of Famer and noted car collector was celebrating his 25th wedding anniversary with his wife, Aimee, by auctioning off their mid-1980s endurance racer for the Amelia Island Concours d'Elegance Foundation, which was coincidentally also celebrating its 25-year anniversary raising money to combat Spina Bifida, among other worthy efforts. Concours founder Bill Warner was on hand to introduce Oates before the Tiga was hammered down at its high estimate, all going to a good cause.
After that, sales were truly off to the races, with Friday night's offerings mainly focusing on modern, drivable supercars by Porsche, Ferrari, and Aston Martin. Nineteen lots after the Tiga, a 2000 Aston Martin Vantage Le Mans V600 sold for $379,000, showing that production cars can exhibit race pedigree, too, and are good enough to get into the top ten sales results for Friday night. The California-legal status of the 1987 Porsche 959 Komfort pushed its sale price of $1,050,000 into the top ten, not just for Friday, but for the whole weekend. Joining the 959 was its mid-2000s, mid-engined equivalent, the 2004 Carrera GT. Offered without reserve, the Carrera GT sold for a solid $786,000.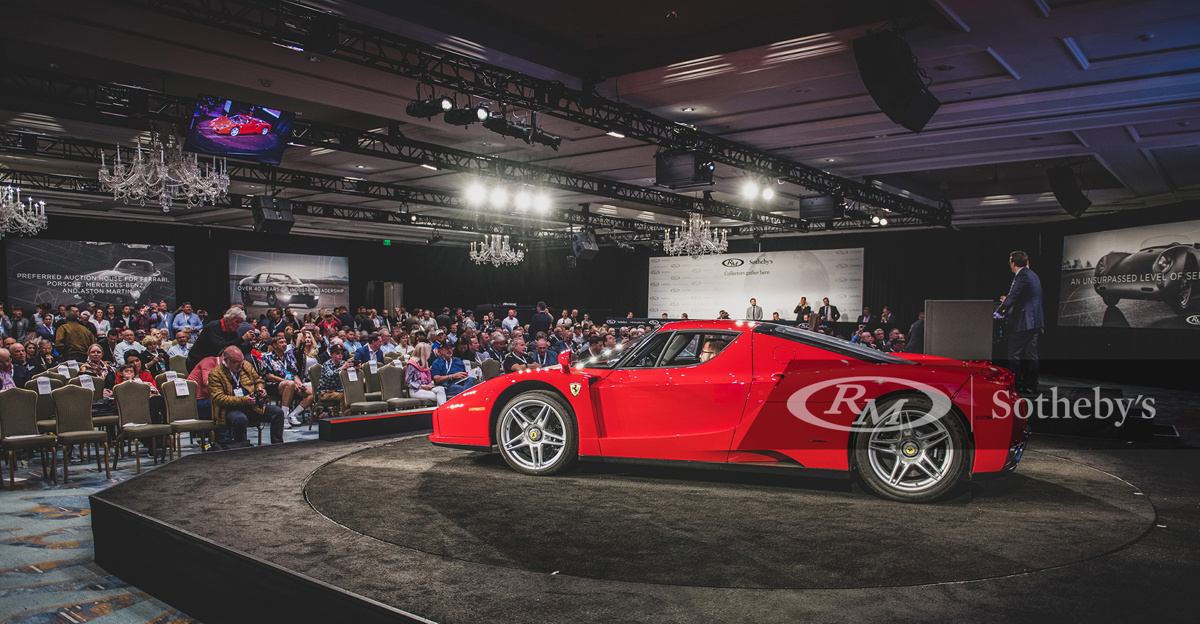 Lot 146, a 2003 Ferrari Enzo offered from the Lingenfelter Collection, crosses the block at RM Sotheby's 2020 Amelia Island auction.
But the star car of Friday night was yet to come: lot 146, the 2003 Ferrari Enzo offered from the Lingenfelter Collection. Presented in exceptional condition, with less than 1,700 miles and a desirable Tubi exhaust upgrade, the Enzo showed itself to be a hypercar among supercars, hammering down at a total of $2,782,500.
Notable late-model Porsche GT2 RS examples followed, with a particularly exciting "Wide-Body" 1990 Mercedes-Benz 560 SEC AMG 6.0 commanding a healthy back-and-forth between two enthusiastic bidders and selling well over estimate. When bidding finally closed on Friday, RM's COO Alain Squindo led the room in a much-deserved round of applause for Shackleton, who had performed yeoman's work keeping pace with the furious bidding.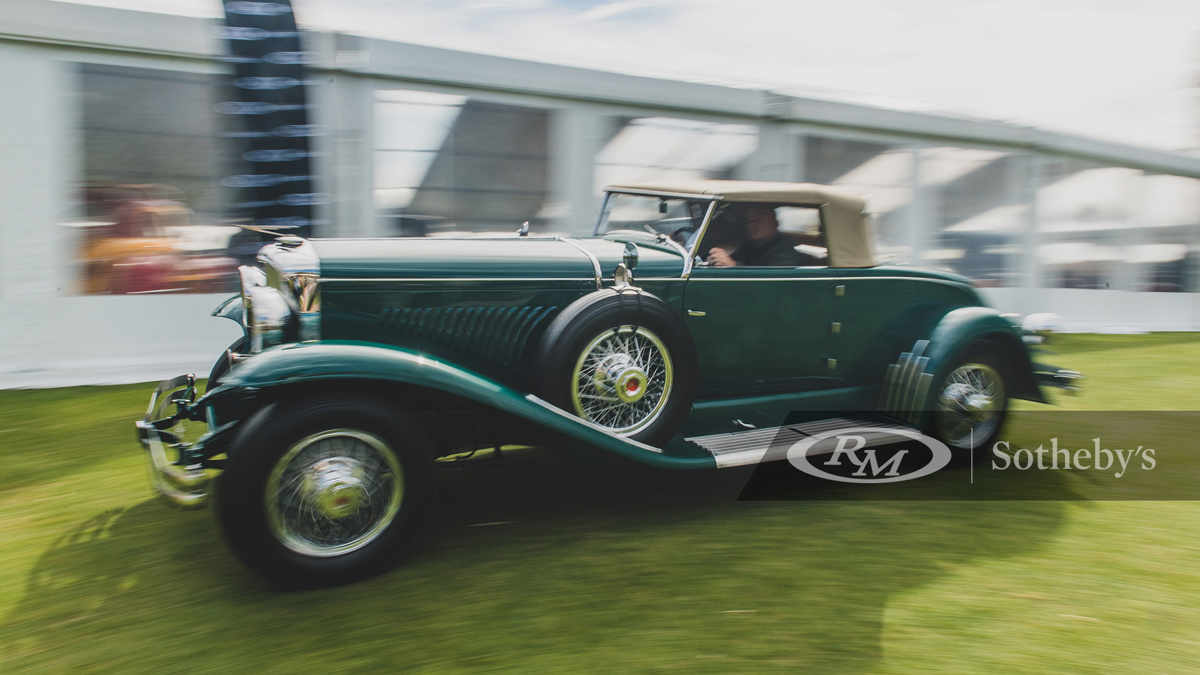 A 1930 Duesenberg Model J Convertible Coupe from the Keith Crain Collection moves to the auction block.
Saturday's sales were more aimed towards the classics, with the fabulous Keith Crain Collection as only one example of several stunning, single-owner collections highlighted by RM Sotheby's. With a diverse display running from pre-war Cadillacs, Duesenbergs, and Packards to modern supercars like the Ford GT and Mercedes-Benz SLR McLaren, Crain's collection sold out. In terms of value, the most notable car in the Crain collection was a 1930 Duesenberg Model J Convertible Coupe by Murphy, a striking car and past concours award winner. Crain's Model J sold for a total of $1,132,500, good enough for sixth place on the overall sales sheet and almost the same amount as a second spectacular 1932 Duesenberg Model J with Rollston coachwork from the collection of John D. Groendyke, which sold for $1,325,000—proving that classics still rule at Amelia.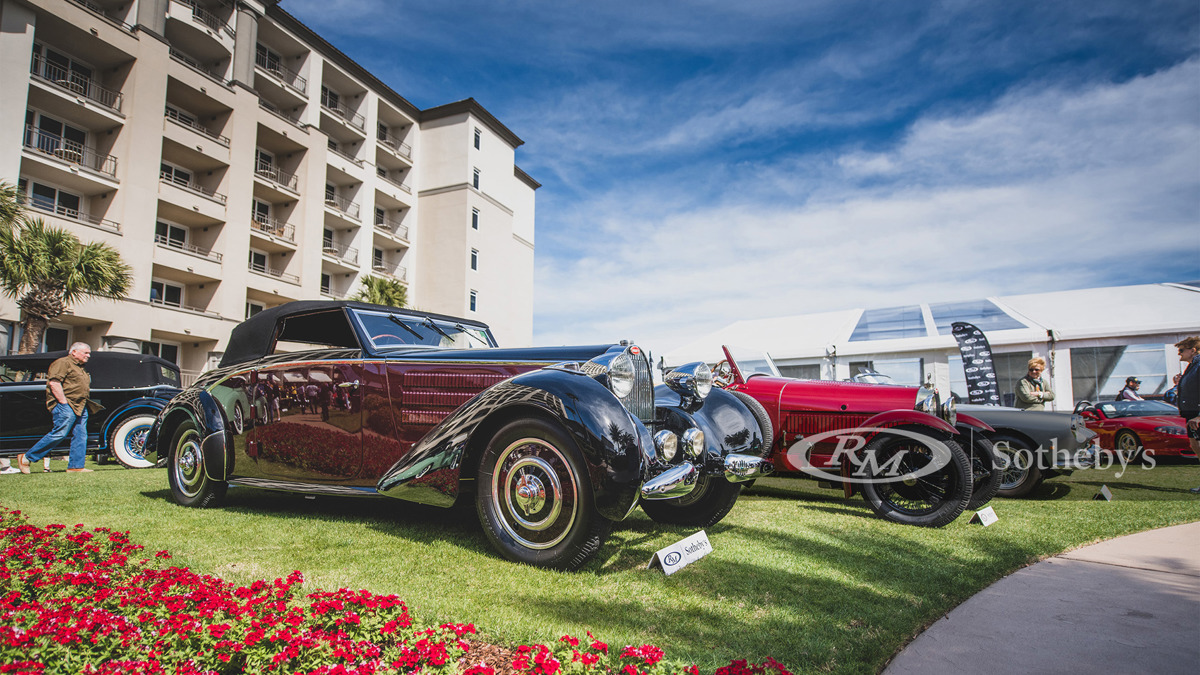 The 1938 Bugatti Type 57 Cabriolet by D'leteren parked at RM Sotheby's Amelia Island auction preview.
Lot 241, the car that many traveled to Amelia to see and the cover car for RM Sotheby's auction, did not disappoint: a 1938 Bugatti Type 57 Cabriolet with unrepeatable coachwork by D'leteren. The combination of provenance and rarity of the Type 57 added up to the second-highest value of the sale, a total of $1,655,000.
When auctioneer Shackelton's gavel fell for the final time on Saturday, RM Sotheby's sales showed strong results, with the two-day sale totaling $35.8 million at an astounding 94 percent sell-through rate. With another year of best-of-category cars delivering best-in-the-industry results, RM Sotheby's is proud to once again claim the title of Strongest Auction House at the Amelia Island Concours. Until next year!