Winter is not the only reason to travel to Switzerland. In the sun-drenched ski village of St. Moritz, summertime means the town's famous lake of the same name provides a scenic space for pedaling Pedalò boats and scenic vistas. Once the Maloja wind kicks in, typically a regular mid-day occurrence, the lake becomes filled with sailing boats and kite surfers, cruising along naturally. The only thing missing from such a picturesque scene is perhaps a classic open-air roadster, parked on the shoreline, preparing a picnic for two.
Next month also marks the opening of the Bernina Gran Turismo, essentially a week devoted to celebrating the automobile, with vintage racing events across the scenic mountain passes encircling St Moritz. Capitalizing on this car-centric week, RM Sotheby's has announced the opening of our newest office, based in Geneva, offering personalized service to our valuable Swiss-based clients. With a truly remarkable selection of desirable European sporting icons coming up for auction next month in St. Moritz, the timing has never been better for discerning collectors to snap up a choice classic and enjoy the later days of summertime. Conveniently, RM Sotheby's newest auction event has selected the Grand Hotel des Bains Kempinski as our base of operations, a resort atmosphere providing gorgeous accommodations since 1864. Join us as we cover some early highlights, all coming to auction on the afternoon of 17 September 2021: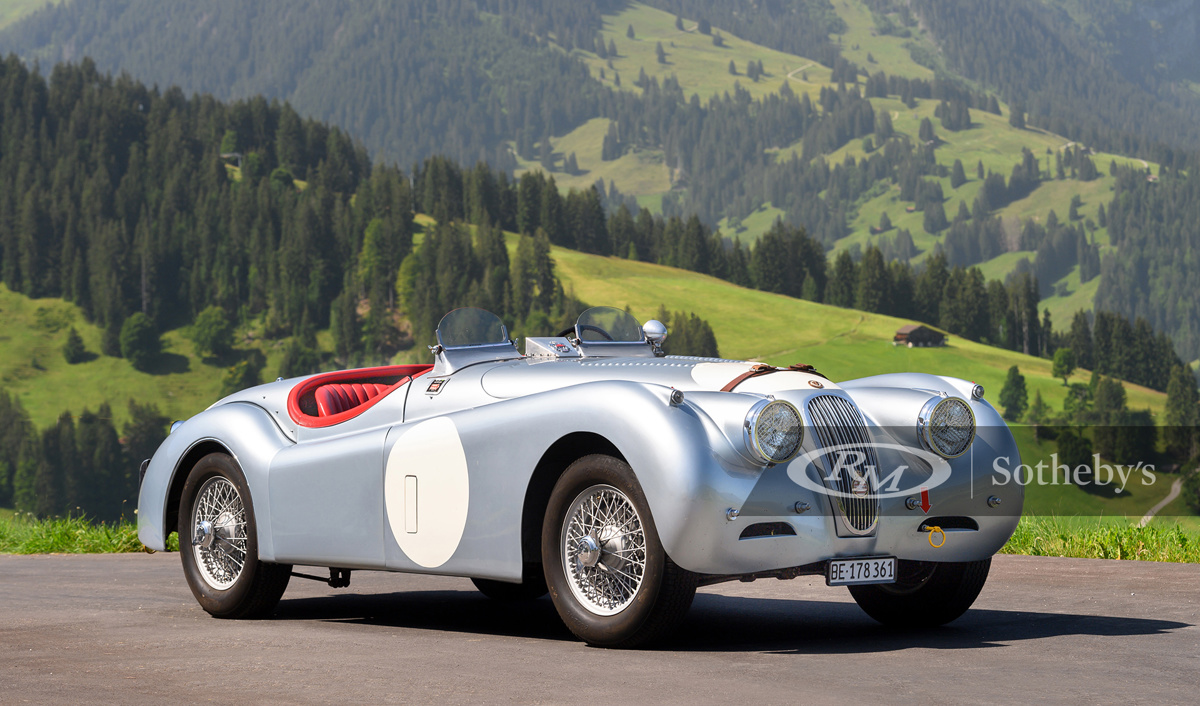 1953 Jaguar XK 120 SE Roadster
Estimate: CHF170,000 - CHF190,000
Though some collectors are interested mostly in static objects, the cars on our list today are all made to move. This recently restored XK 120 SE Roadster has been set up for vintage rallying, with receipts adding up to more than £64,000, at noted vintage Jaguar specialists CKL Developments Ltd and M&C Wilkinson. With a Moss JL gearbox with model JH internals added in 2012, and its numbers-matching engine rebuilt in 2013, this silver-over-red example was campaigned by its current consigner in some of the greatest events in modern vintage racing, including the Mille Miglia Storica, Tour Auto, Targa Florio, Gstaad Classic, and the 2014 Le Mans Classic. The final detail this sporting Jaguar needs for its next outing is for its new owner to add their preferred racing number to its roundels, which have been intentionally left blank throughout this example.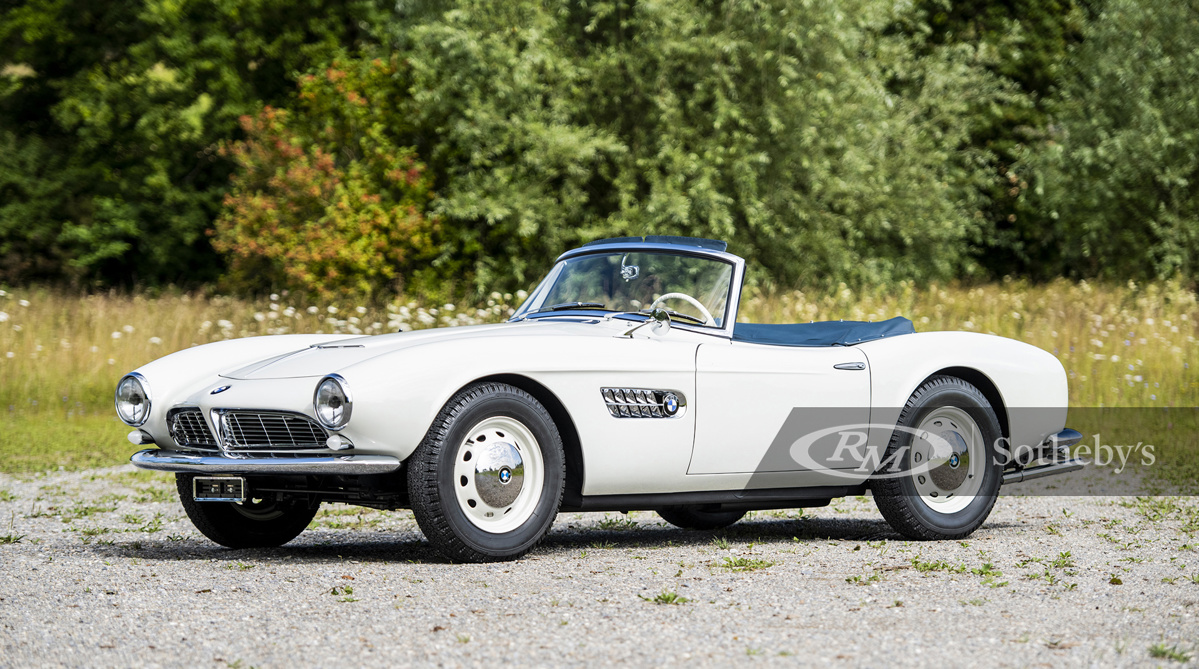 1958 BMW 507 Roadster Series II
Estimate: CHF2,000,000 - CHF2,200,000
One of the greatest thrills of classic motoring is being able to experience in a modern era what a comparatively tiny group of lucky clients got to feel firsthand when these examples were new. With total production over two series of cars only amounting to 252 examples built, the BMW 507 Roadster is the rare car that everyone agrees is a classic even though few have gotten the privilege of experiencing the driving experience delivered from the Type M507/1, 3.2-litre, V-8 powerplant themselves. This example, one of several on our list that was originally delivered to Switzerland, benefits from a long line of careful Swiss-based owners including BMW 507 authority Hans Theil of Winterthur, near Zurich. With its current owner refining the ignition system and re-tuning the twin Solex 32 NDIX carburetors, the owner of this original Papyros-painted example will be able to enjoy the ultimate mid-century BMW driving experience.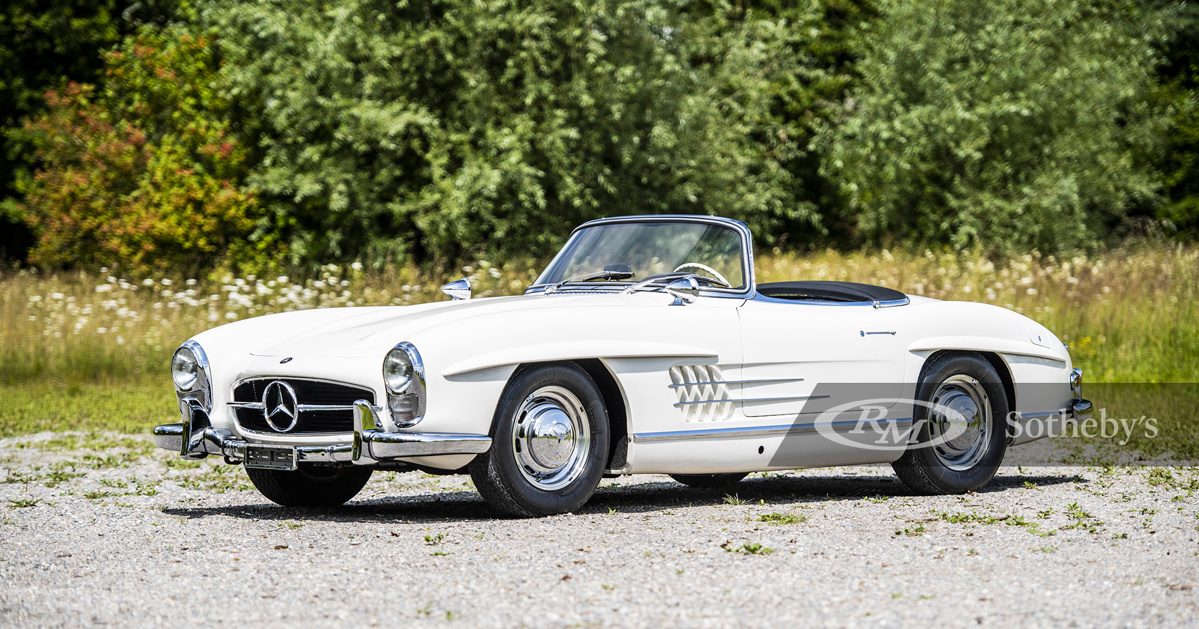 1961 Mercedes-Benz 300 SL Roadster
Estimate: CHF1,000,000 - CHF1,200,000
While comparatively much more common than the BMW 507 roadster rival we just covered, the Mercedes-Benz 300 SL still commands attention from the world's collectors for its timeless aesthetics and modern usability. 300 SL Roadsters from 1961 are made even more desirable by their standard fitment of four-wheel Dunlop disc brakes, a significant upgrade, shared by only 250 examples made that year. Especially when accompanied by its factory-delivered hardtop, like this example, the 300 SL Roadster presents a perfect balance of open-air touring capability as well as the capacity to accomplish long-distance journeys with relative ease with the top attached. This American-delivered example has been enjoyed by a long line of Mercedes-Benz enthusiasts, including a former employee of Max Hoffman's legendary New York City dealership, Harry Woodnorth, a former Le Mans and IMSA driver based in Switzerland, Rene Herzog, and one of the co-founders of the Hugo Boss fashion house, Uwe Holy. Herr Holy having converted this example to European specification, this 300 SL is ready for a grand tour.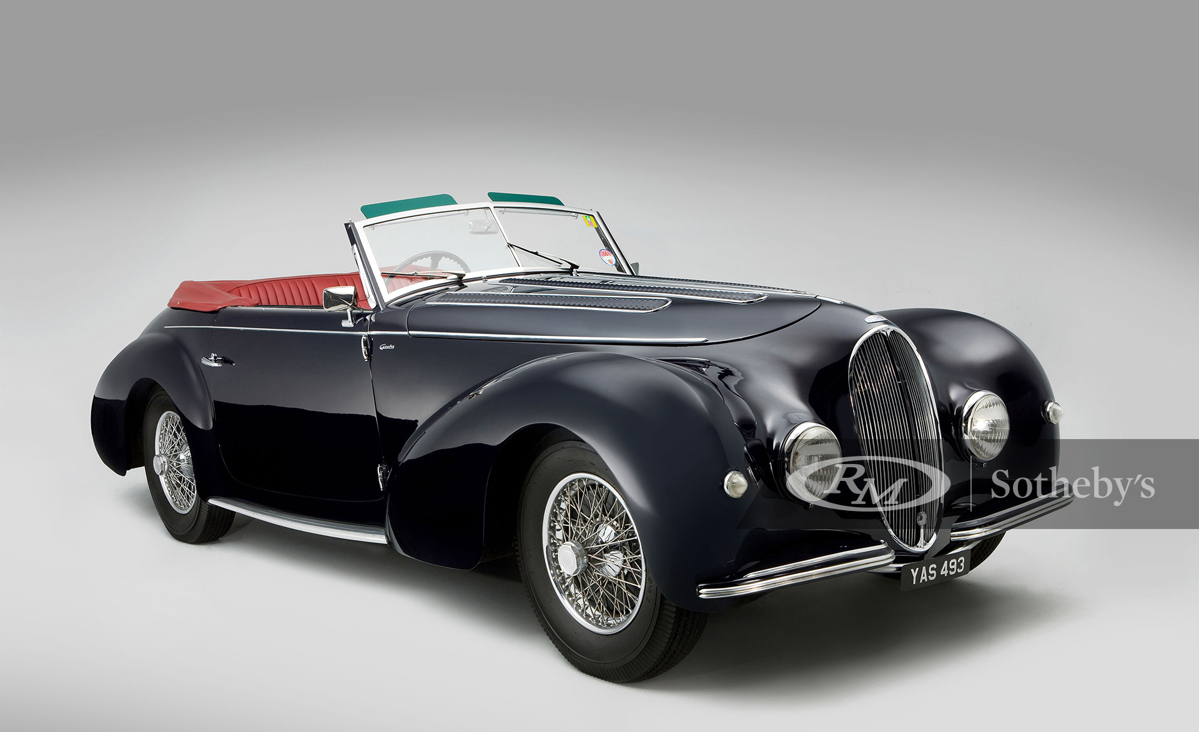 1946 Delahaye 135M Cabriolet by Graber
Estimate: CHF275,000 - CHF325,000
The Switzerland connection that runs through these spectacular examples is not merely skin deep. One of the firms dedicated to keeping alive the tradition of pre-war coachbuilding in the post-war era was the consummate French sports car manufacturer Delahaye. Though the collaboration between Delahaye and Swiss-based coachbuilder Hermann Graber did not produce more than a scant number of examples—this tasteful 135M Cabriolet is believed to be one of only two ever made—but those lucky examples that survive benefit from Graber's tasteful styling and the exceptional craftsmanship his workshop produced. Though few coachbuilders survived the transition to post-war construction, the Graber name is still in business; fittingly, a Delahaye Cabriolet adorns their history page. Delivered new to a Swiss banker, this example represents the pinnacle of post-war, open-air motoring, as filtered through a French-Swiss lens.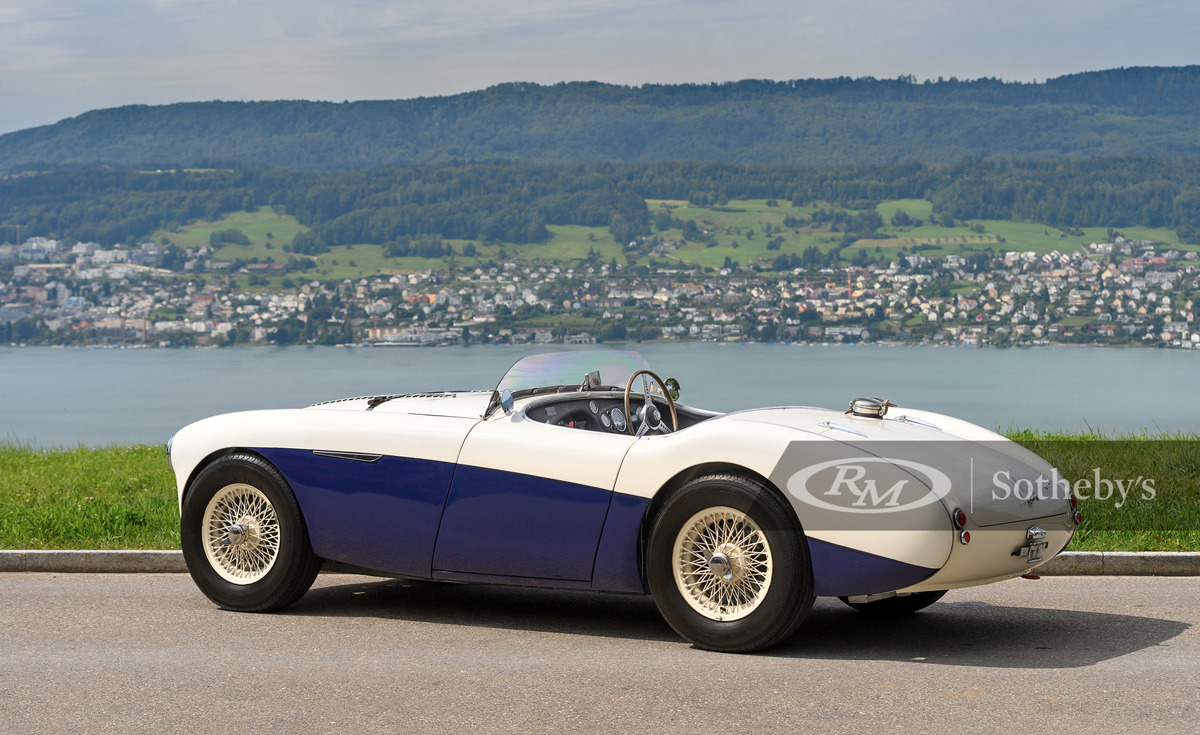 1955 Austin-Healey 100S
Estimate: CHF650,000 - CHF900,000
Our handsome Austin-Healey cover car also possesses a connection to Switzerland. Built in a batch of only 50 total examples worldwide, the 100S was made to be the ultimate racing variant of Austin-Healey's vaunted roadster. Built with aluminum alloy body panels and a plastic windscreen, among other lightening methods, the production 100S could boast a curb weight 200 lbs. fewer than its regular production Austin-Healey sibling. Power was upgraded to an advertised 132 brake horsepower thanks to the fitment of a performance Weslake aluminum head. The race-focused factory modifications were sufficient to entice Swiss racing driver Giorgio Juhn to acquire this example, which is believed to be the only Austin-Healey 100S originally imported to the country. Having campaigned this example for three years at local hillclimbs from Mitholz-Kandersteg to Ollon-Villars, Juhn put this car in storage, where it would remain for decades. In 2002, the present owner discovered this rare British roadster and proceeded to embark on a comprehensive restoration in advance of Austin-Healey's 50th anniversary. Having completed a portfolio of some of the most prestigious vintage rally races in the world, including the Mille Miglia in 2003, Rally Maroc in 2008, and even the Goodwood Revival in 2009, this classic roadster is fully capable of providing thrills in the modern era and is ready for a blast through the Alpine scenery.