"Bringing up the rear," is a phrase that doesn't deserve a negative connotation. Oftentimes, the best things in life arrive at the end. Retirement, for one. Or a turbocharged, horizontally opposed, flat-six engine, like the one you would find at the rear end of the 1977 Porsche 911 Turbo, today's featured car.
Some Porschephiles maintain that the Turbo versions even look better from the back. So we're going to do an interesting comparison today with all the most recent additions to RM Sotheby's Open Roads, Fall auction, which is open for online bidding beginning on 11 November, with lots closing 20 November.
1977 Porsche 911 Turbo
Estimate: $130,000 - $160,000
The leadoff batter in our game regarding rear ends of classic cars, this 1977 Porsche 911 Turbo is instantly recognizable by its large, factory-supplied rear spoiler. The spoiler was designed to funnel passing air into the engine, allowing this air-cooled Porsche to run without an intercooler. Looking from the rear is not only the way to tell if this Porsche is a Turbo or not, but also roughly what year it is. Early examples like this one from 1977 sport a more subtle spoiler than the "whale tail" or "tea tray" examples seen on 1978 models. Bringing up the rear, indeed!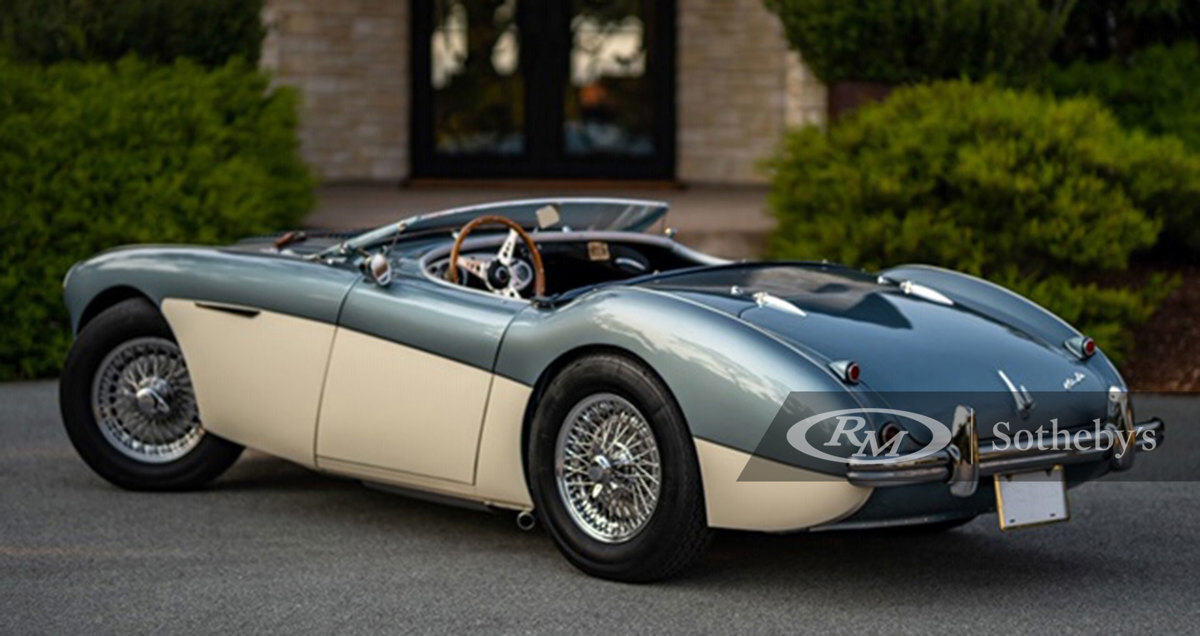 1956 Austin-Healey 100 M 'Le Mans'
Estimate: $140,000 - $160,000
The shapely haunches that run up and over the rear wheels make this Austin-Healey 100 M 'Le Mans' an enduring design icon. Lesser convertibles (like the facelifted BMW Z3) have tried to emulate the shape of classic British roadsters like this Austin-Healey, but imitators have never equaled the original. The steeply-raked windshield is another indicator this is no ordinary Austin, but instead the ultra-uncommon, factory-built 100 M. With power output increased by 20 horsepower (110 hp vs 90 hp) courtesy of an engine setup with larger carburetors and high-compression pistons, among other upgrades, the 100 M stands head and shoulders above all the other so-called  "Big Healeys."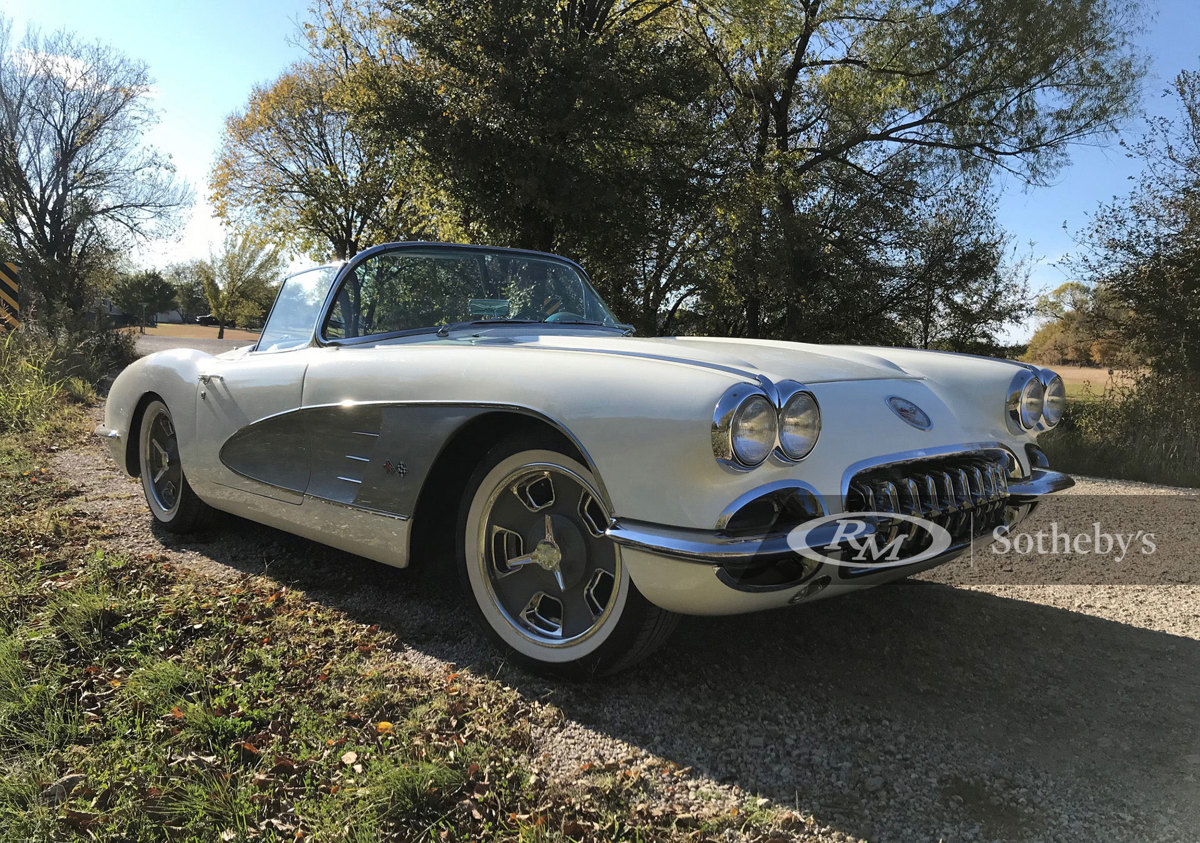 1959 Chevrolet Corvette Restomod
Estimate: $85,000 - $95,000
We may be breaking briefly with our theme of showing cars from the rear, but this is no ordinary Corvette. By 1959, the Corvette had found its footing, benefitting from a restyling in 1956 and, in 1957, a power boost courtesy of Zora Arkus-Duntov's legendary "small block" V-8. However, for some, the C1 Corvette could still handle a more significant overhaul. This 1959 Chevrolet Corvette has been re-imagined on the back of an Art Morrison chassis and fully independent, coil-over suspension on all four wheels. Disc brakes all-around add to the capability of this Corvette, and a more modern V-8 with 3.5L of displacement and a five-speed manual to control it with. The perfect blend of modern and classic.
1988 Aston Martin V8 Volante
Estimate: $210,000 - $230,000
Ideally, this rearward view of this Aston Martin would be just a touch higher, all the better to see its polychromatic, blue-on-blue interior. The Dover White exterior provides a perfect, subtle contrast for what amounts to Aston's open-top muscle car. Driven by a 5.4L V-8 engine, its numbers matching the gearbox and chassis, this shapely Volante also looks better from behind due to its "blade"-style bumpers, not available in North American-delivered examples.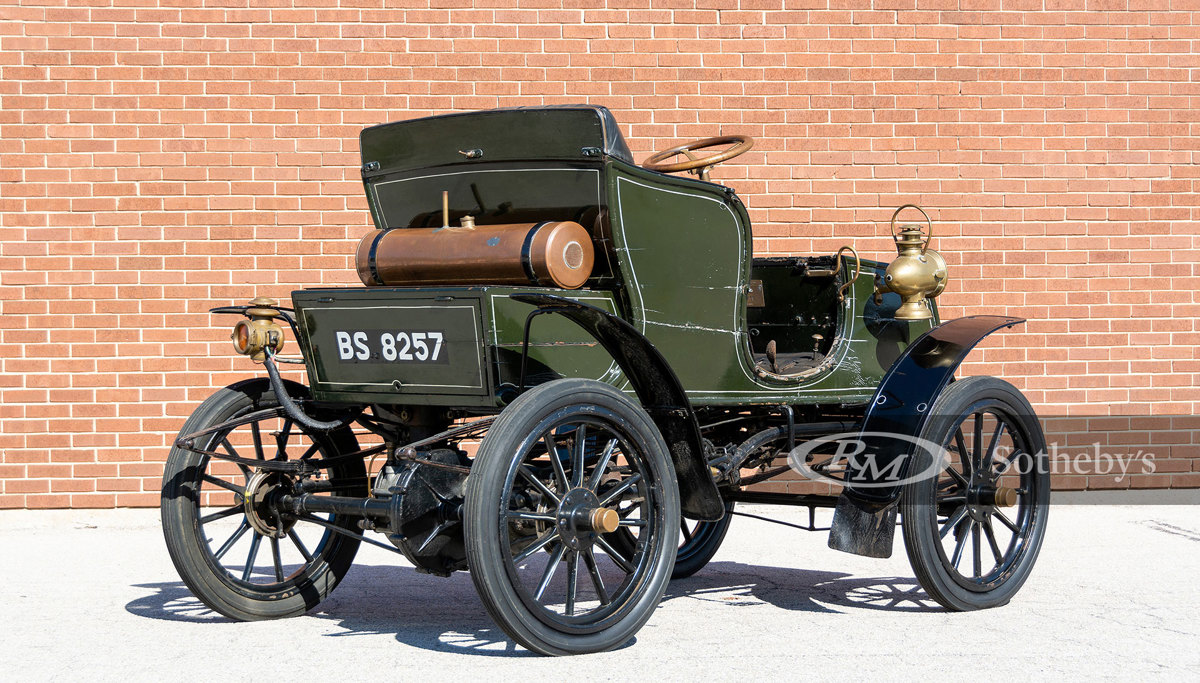 1904 Pierce Stanhope
Estimate: $80,000 - $100,000
From the front, many turn-of-the-century runabouts look rather similar—with an angled radiator underneath a sloping box and (typically) a tiller for a steering wheel. The back is where the action is, where you can observe the chain-driven rear axle and leaf-sprung suspension, and access the single-cylinder engine compartment, which generated a mighty 8 horsepower. One can also observe that this example is not a rear-entry tonneau model, making it the lightweight choice for vintage car rallies like the London to Brighton Veteran Car Run, sponsored by RM Sotheby's. This example is itself a veteran of this race, having completed the endurance race seven times. A hidden electric starter is perhaps this Pierce's secret weapon.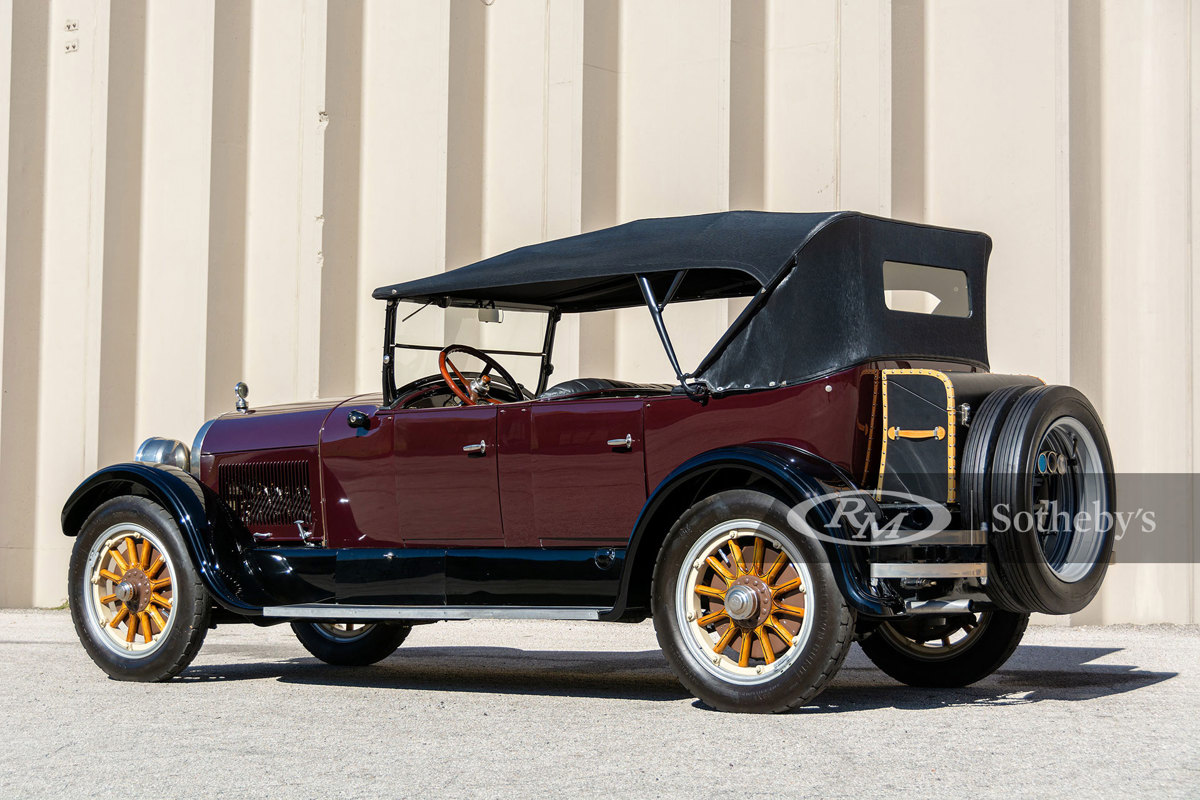 1925 Cadillac V63
Estimate: $50,000 - $60,000
From the rear, not only can one observe the twin spare tires or the gorgeous, removable trunk on this classic Cadillac, but thanks to the rear-cut louvers in the hood, one can just see the spark plug wires in the engine. For this example, the engine in question was Cadillac's venerable "L-head" V-8 motor, which was vastly improved for the V63 series. The patented innovation was a cross-plane crankshaft, an engineering marvel for the time, and the reason Cadillacs of the period are reportedly so much smoother to drive than their major competitors. Front-wheel brakes are not an innovation many consider today, but their addition to this luxurious Cadillac must have been most welcome in-period.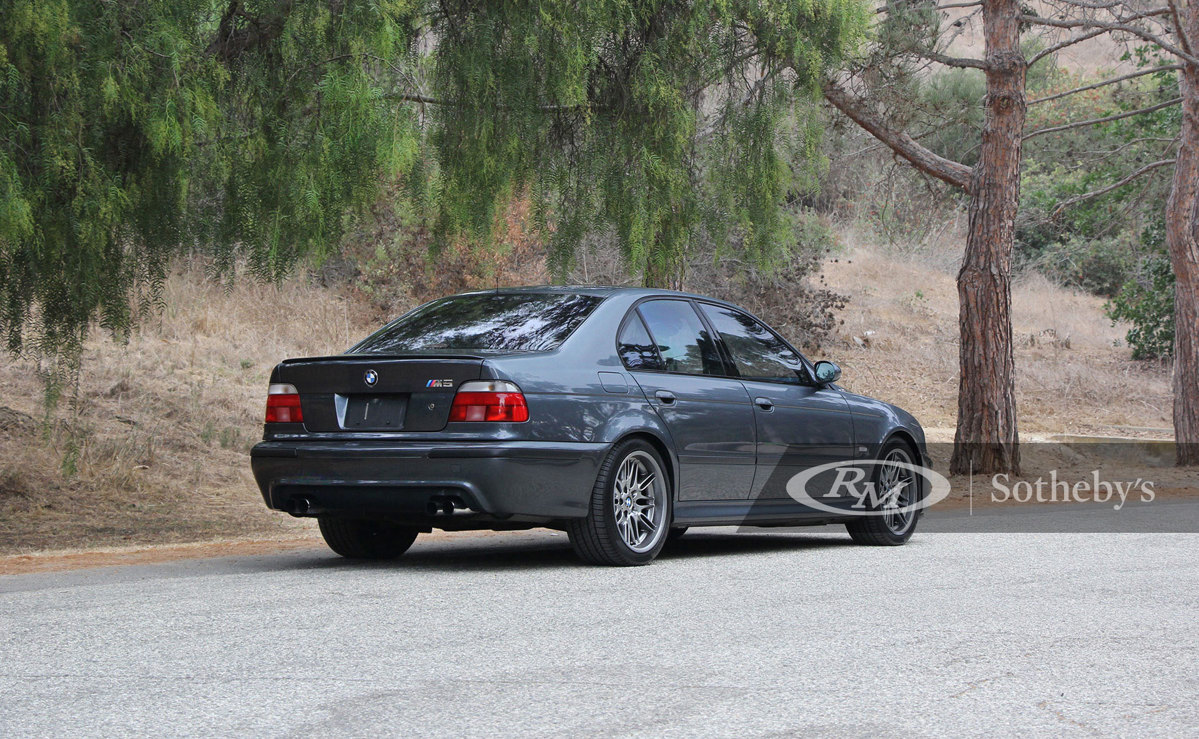 2000 BMW M5
Estimate: $25,000 - $35,000. Offered Without Reserve.
Now we get to another real reason why today's rear-facing theme makes sense. The E39 M5 was universally celebrated upon its debut for delivering a pure sports car experience clothed in the subtle suit of a sedan body style. A major part of this subtlety was that the E39 M5 didn't feature widened wheel arches or an outrageous hood bulge. Seeing a fast 5-Series sedan pass on the roadway, one way to tell for sure if it was a real "Motorsport" model was by looking at its back-end: Quad tailpipes and a redesigned rear bumper cover was the dead giveaway. This is the genuine article, no fake "M" badges here.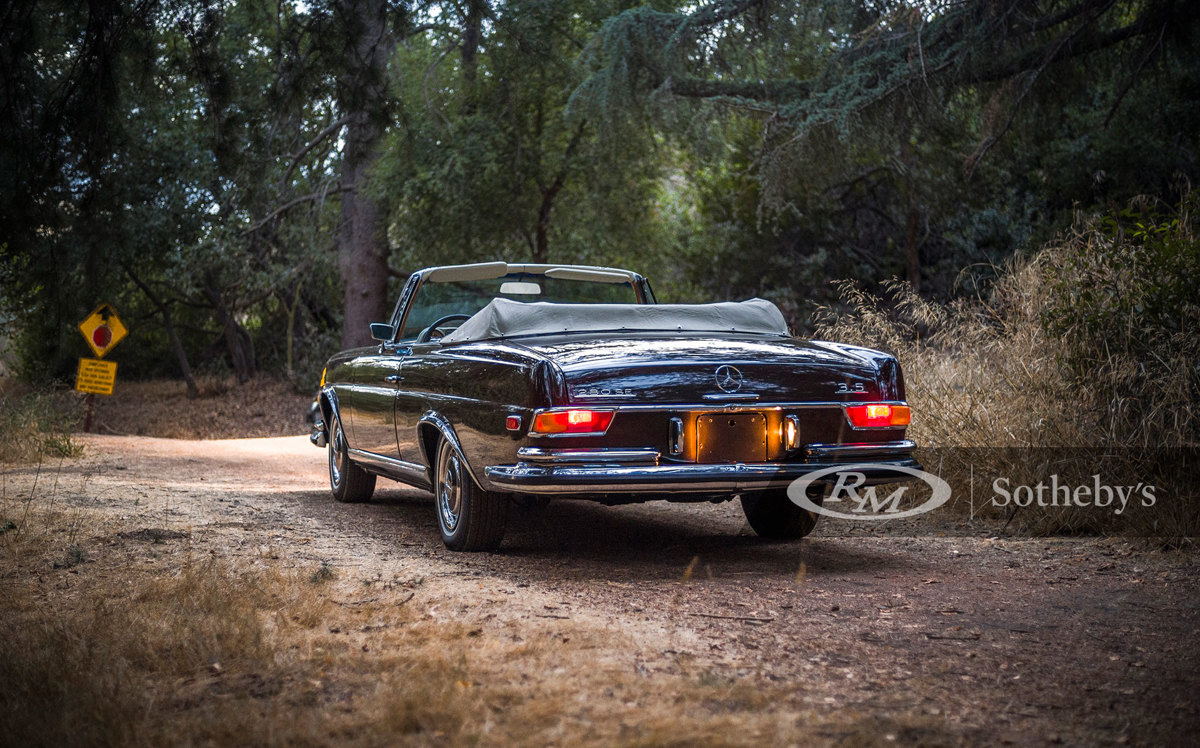 1971 Mercedes-Benz 280 SE 3.5 Cabriolet
Estimate: $270,000 - $300,000
Saving perhaps the best for last, the final entry on our rear-facing list, this Mercedes-Benz 280 SE 3.5 absolutely provides the grand finale for our Open Roads auction. With a high-quality interior and sublime handling, the 280 SE always existed in the upper echelons of Mercedes-Benz's lineup. Powered by the then-new 3.5L M116 V-8 engine, which featured Bosch D-Jetronic electronic fuel injection, this Mercedes-Benz has more than enough power to keep up with modern traffic. Gorgeous, even when driving away.