Automobilia can come in all shapes and sizes. It can reflect retro culture, a desire to look backwards and recall the times of drive-in movie theatres and diners open for 24 hours. Composing a massive cache of nostalgic items, even including the so-called "Holy Grail" of memorabilia collecting, a fully functioning Mold-A-Rama machine, which produces a scale model of the New York World's Fair Unisphere on command, RM Sotheby's latest Handle With Fun auction is chock-full of colorful examples, sure to put a smile on your face.
Until now, we have yet to explore the most-auto-related elements of our most lighthearted auction in years: Automobiles themselves. Like the extraordinary memorabilia items, however, these selections are far from your ordinary fare. Especially when you see some of the extraordinary accessories and additional equipment added to some of these lots. From prized Ghia-built Jolly beach cars to tricked-out VW camper vans, join us as we touch on some downright delightful examples: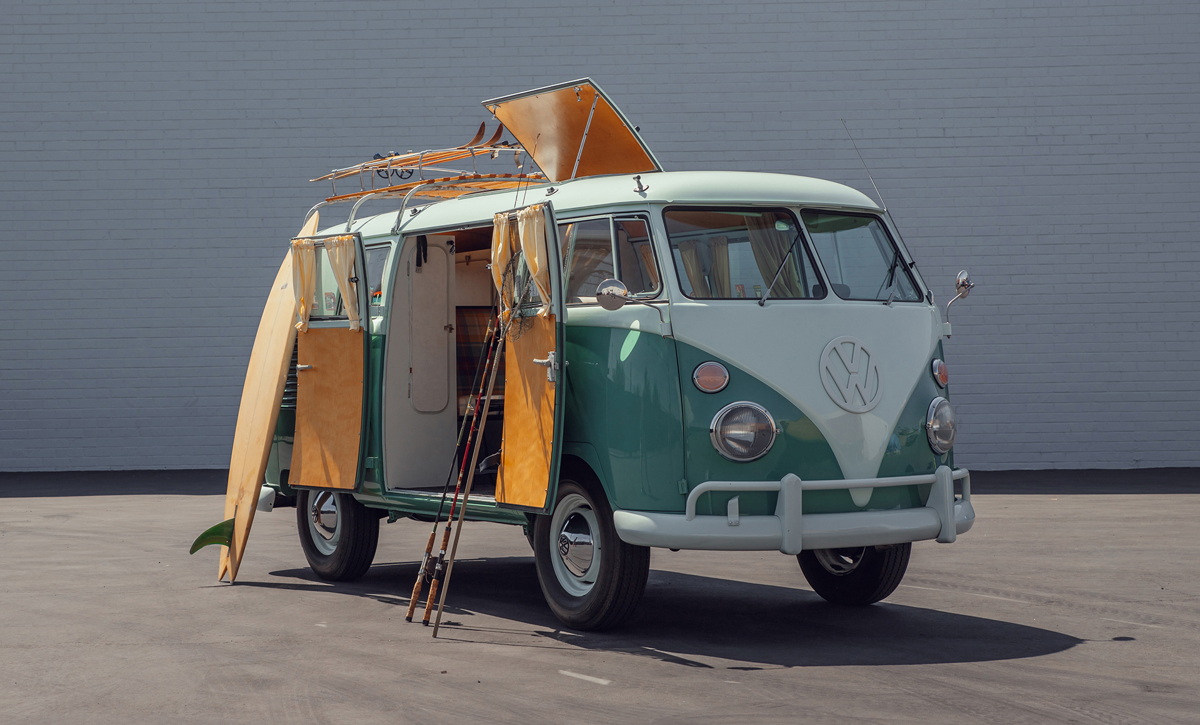 1962 Volkswagen Type 2 Westfalia Camper
Estimate: $85,000 - $100,000 USD 

|

 

Offered Without Reserve

 

Volkswagen's almost-as-famous follow-up to their groundbreaking Type 1 people's car, the Type 2 was also a rear-engine, air-cooled machine, but thanks to some ingenious engineering, that same formula could transport a whole family to the campground of their choice in comfort. 'Westfalia' is a reference to the German coachbuilder, Westfalia-Werke, who converted and constructed these ingenious camper vans. This period-correct example sports plaid curtains, a full kitchen-style cabinet setup, and numerous accessories with which to enjoy the great outdoors.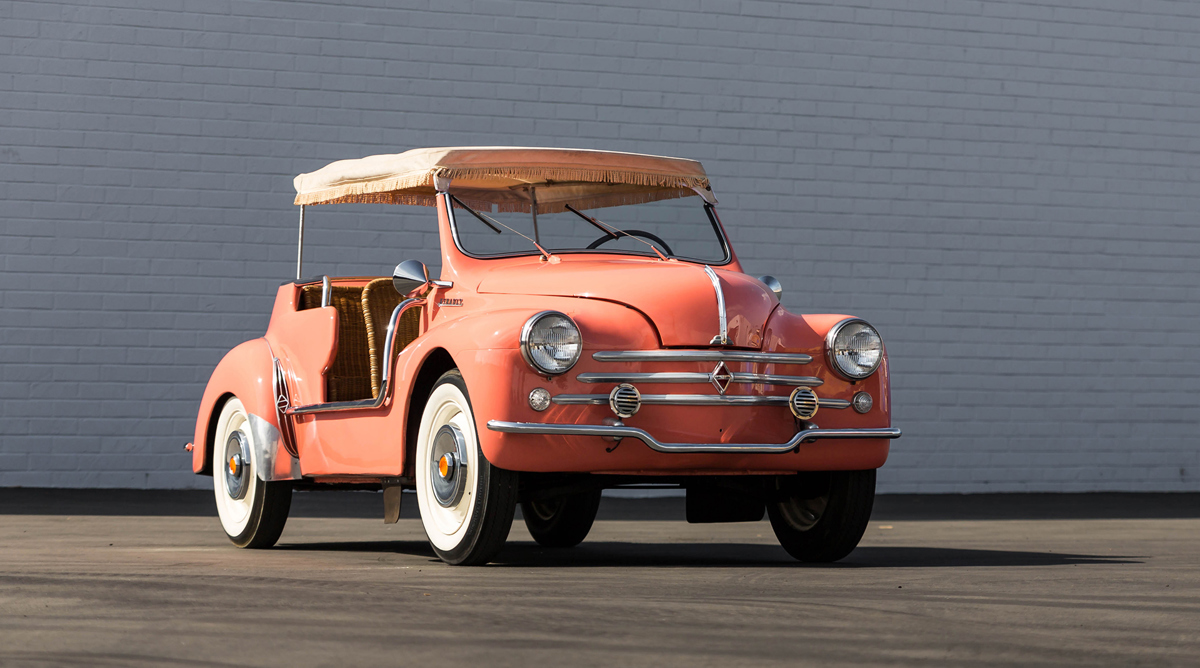 1961 Renault 4CV Jolly by Ghia
Estimate: $80,000 - $100,000 USD
 

|

 

Offered Without Reserve

 

Right down to its name, the beach-friendly Jolly is perhaps the ultimate expression of automotive happiness. Perhaps it is down to the "Jolly" moniker, or the carefree nature of any car designed for ocean-adjacent excursions, but the Fiat and Renault chassis transformed by Italian coachbuilder Ghia into family-friendly beach vehicles have come to embody the ethos of the fun car. Wicker seats and a fixed, frilled top undoubtedly add to the appeal.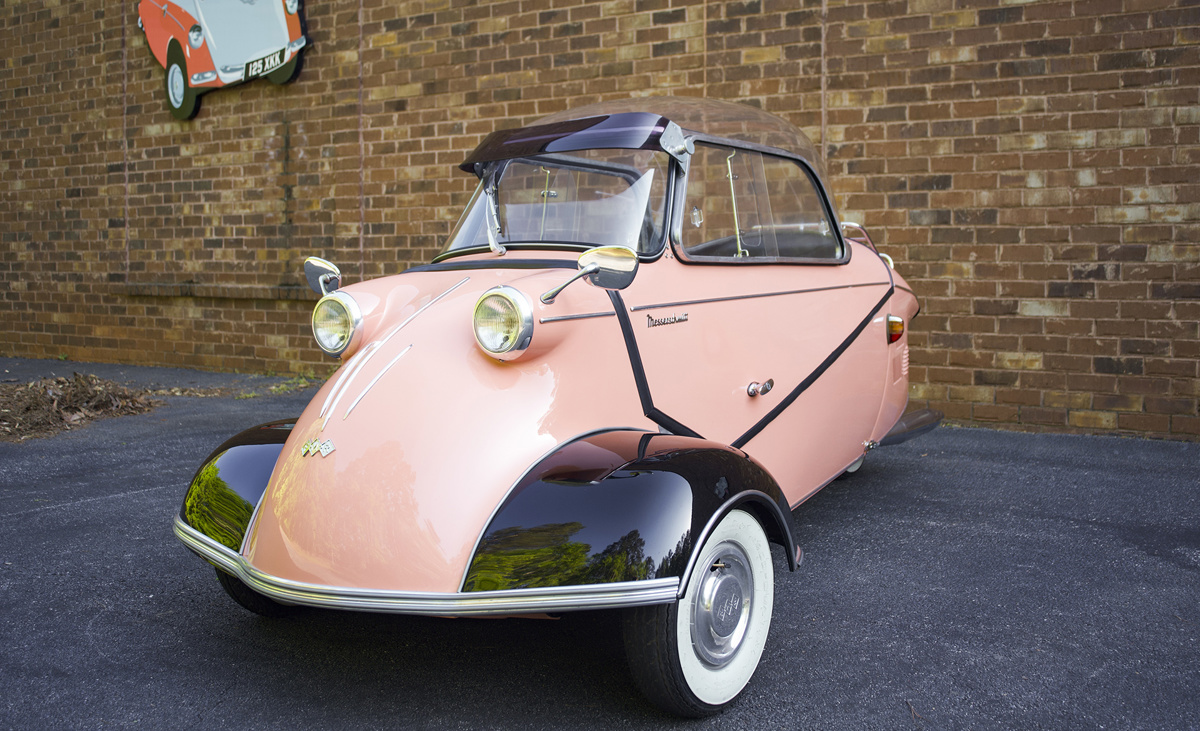 1956 Messerschmitt KR 200
Estimate: $60,000 - $70,000 USD

 

|

 

Offered Without Reserve

 

The "KR" in Messerschmitt's KR 200 stood for Kabinenroller, roughly translated from German as "Cabin Scooter." And indeed, viewing the extensive gallery of images of this uncommon microcar, one unavoidably encounters the light and airy nature of this three-wheeler's interior cockpit. Ingress and egress are also handled thanks to these central, canopy cabin doors. The bubble car that started it all.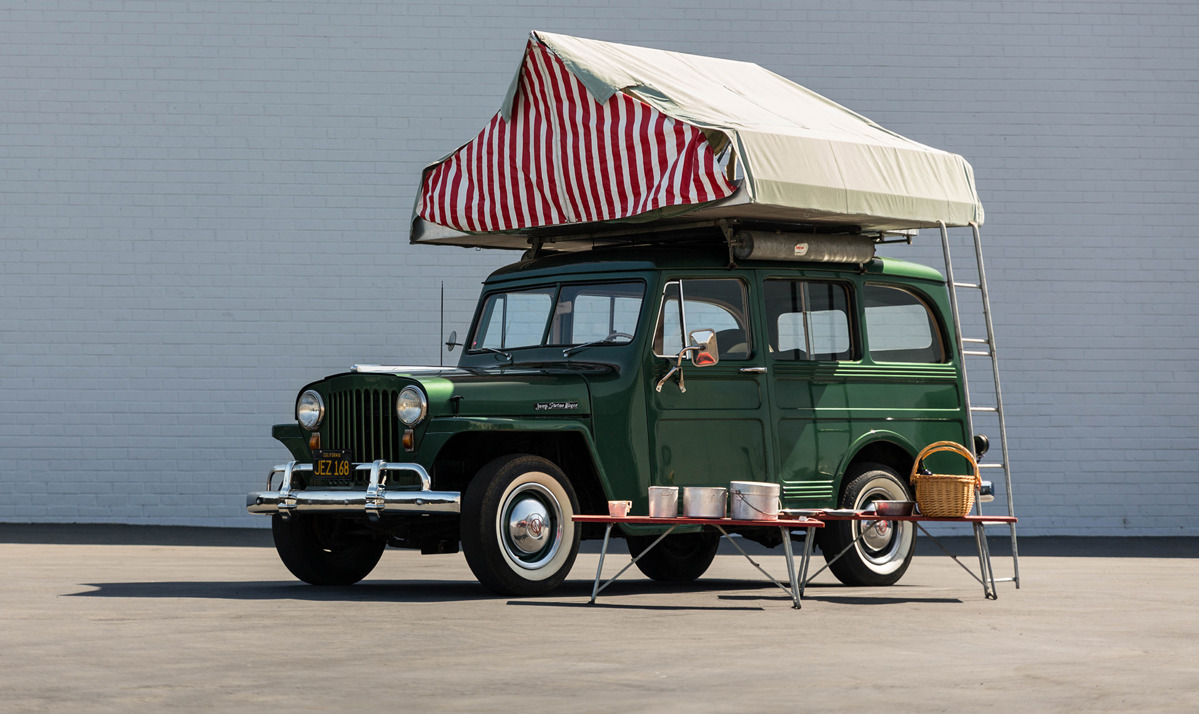 1949 Willys 'Jeep' Station Wagon Camper
Estimate: $40,000 - $50,000 USD

 

|

 

Offered Without Reserve

 

Another take on the camper van, this wartime Willys is a decidedly American one. This example sports a handsome older restoration in metallic green with a green vinyl interior. Much like the Type 2 Camper we discussed earlier, the photo gallery on this civilian-style 'Jeep' is worth digging into, especially considering the period camping accessories including a collapsible roof mounted tent, roof, mounted water tanks, and storage. An icon of practicality, this example proves that exciting camping vehicles came from American factories, too.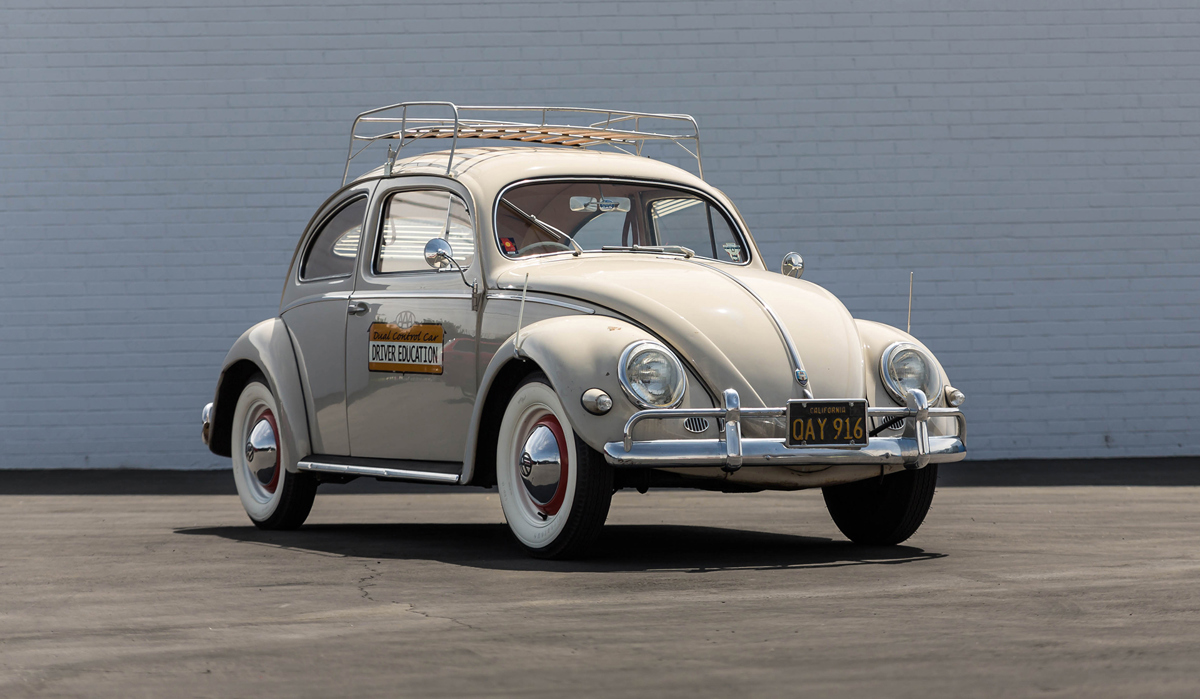 1955 Volkswagen 'Driver Education' Beetle
Estimate: $30,000 - $40,000 USD

 

|

 

Offered Without Reserve

 

From the exterior, this appears to be a standard (if well-appointed) 1955 Volkswagen Beetle, with a smart metal-and-wood roof rack and the rear windshield blinds that signify an early example. But a closer look at this example's interior reveals some truly exceptional added equipment: In the passenger's seat, a second fully functioning set of controls, including a steering wheel, gas, and brake pedals. All of which were installed so that, in the event of a roadgoing incident, an experienced driving instructor could take over from a less-than-stellar student. An incredible artifact—certain to turn heads at any classic car show—for the twin steering wheels alone.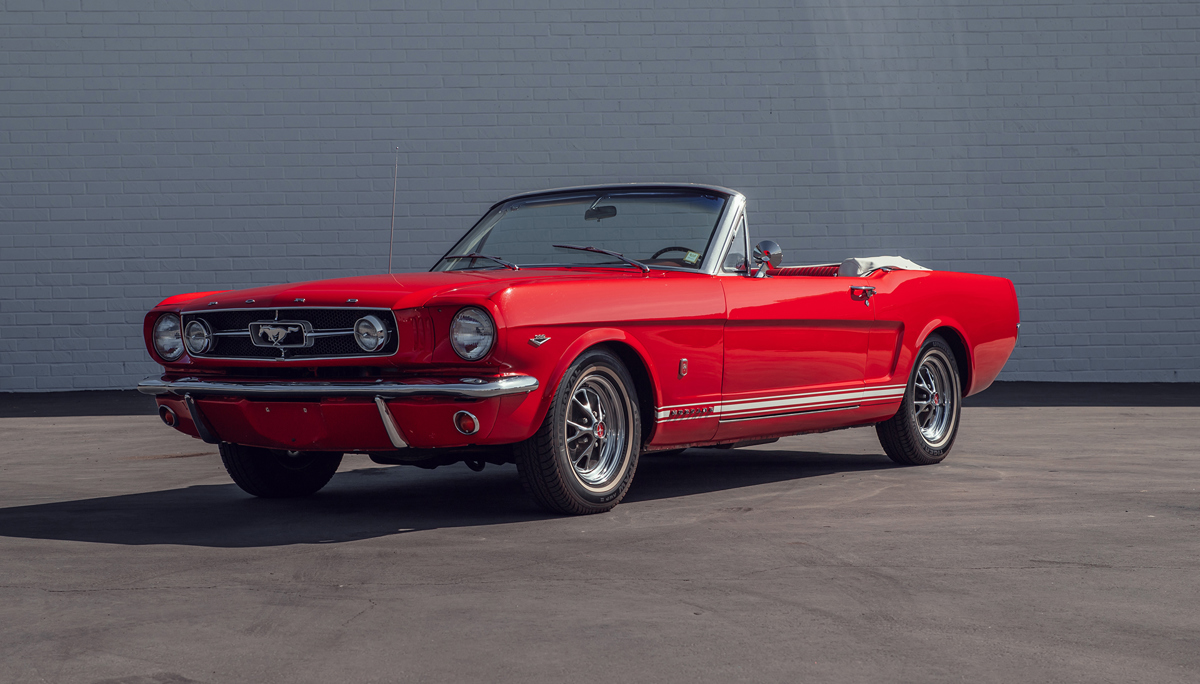 1965 Ford Mustang GT Convertible
Estimate: $30,000 - $40,000 USD

 

|

 

Offered Without Reserve

 

Perhaps the most traditional entry on our list, the first full year of production for the Ford Mustang introduced the American market to a vehicle type that is all-too-rare today among domestic OEMs: A lightweight, nimble, fun-to-drive sports car with a small block V-8 engine. With motive force provided by Ford's long-running Windsor eight-cylinder engine, paired with a Pony interior, power top, and automatic transmission, this convertible Mustang can offer smiles to a wide audience.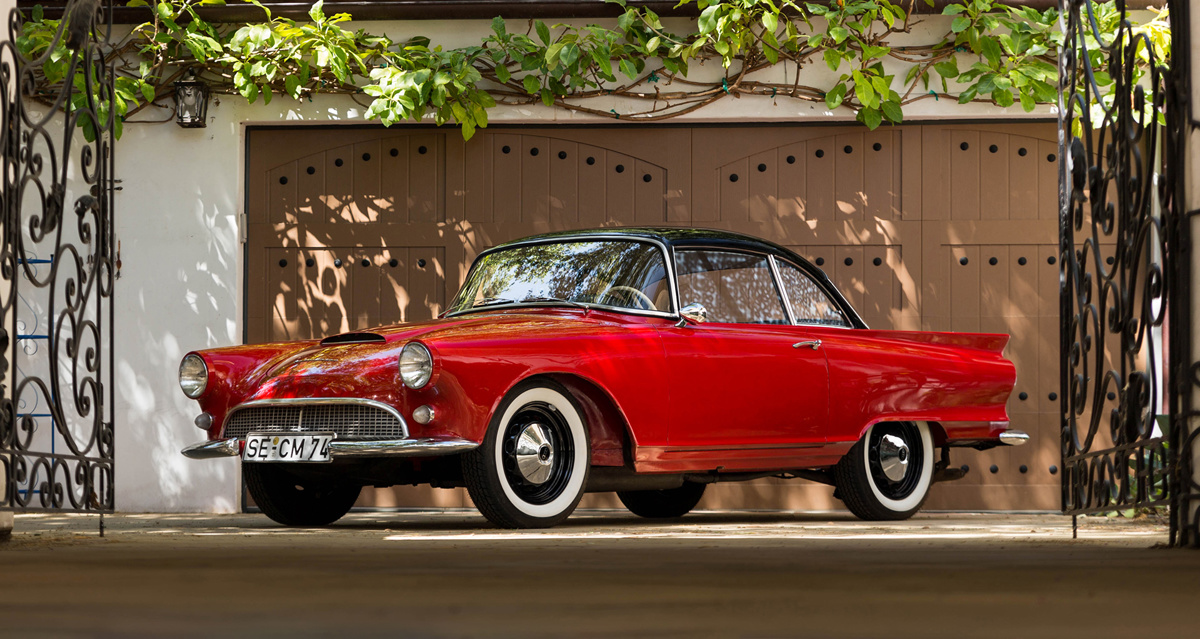 1959 Auto Union 1000 SP Coupe
Estimate: $20,000 - $30,000 USD

 

|

 

Offered Without Reserve

 

Scroll through our list too quickly and you might mistake this 1959 Auto Union 1000 SP Coupe for another Ford. While the Thunderbird and the 1000 SP Coupe both sport an egg crate grille, twin headlights, a hood scoop, and subtle tail fins, by 1959, the styling cues on American automobiles were over-the-top by design, with outsized fins and plenty of chrome. In contrast, this German-built, pre-Audi coupe is an exercise in subtlety, with its handsome two-tone, black-over-red color scheme extending to the Jet Age interior.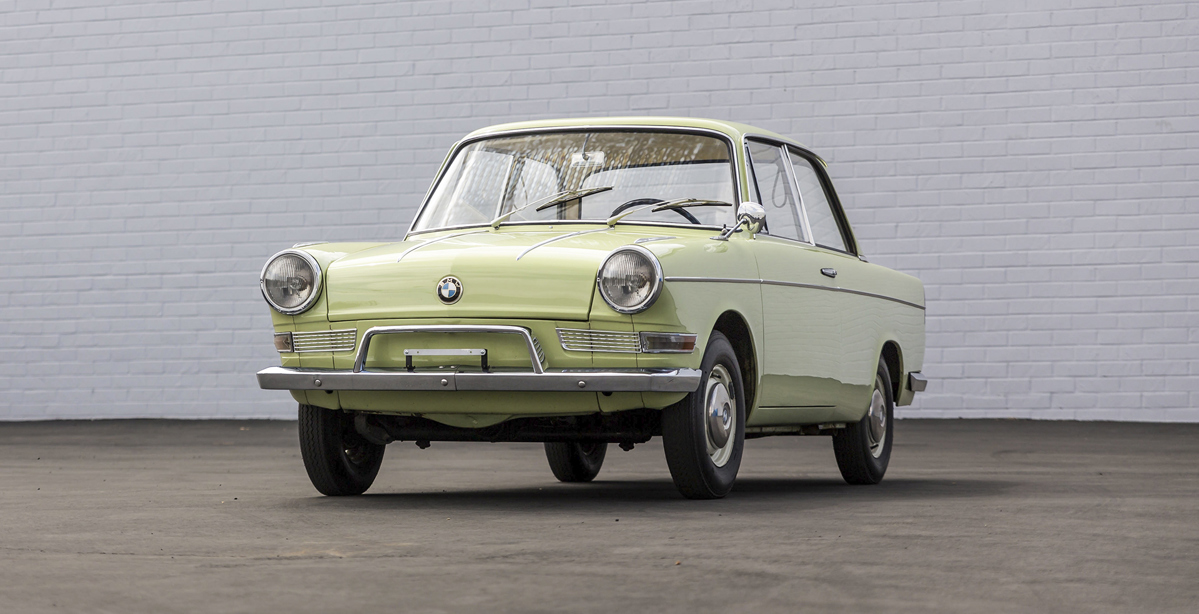 1964 BMW 700 Luxus LS
Estimate: $25,000 - $30,000 USD

 

|

 

Offered Without Reserve

 

Another uncommon example from a storied European brand, this mid-century coupe was positioned by BMW as a well-appointed alternative to the typical commuter car. More than mere badge engineering, the 700 Luxus LS was in fact the first BMW to be built on a monocoque structure; the accompanying image gallery on the lot listing is definitely worth viewing for its images of this advanced BMW's undercarriage. With a tastefully restored color scheme of light green, which carries over into the mid-century interior, this rarely seen BMW is sure to delight even the most ardent enthusiast.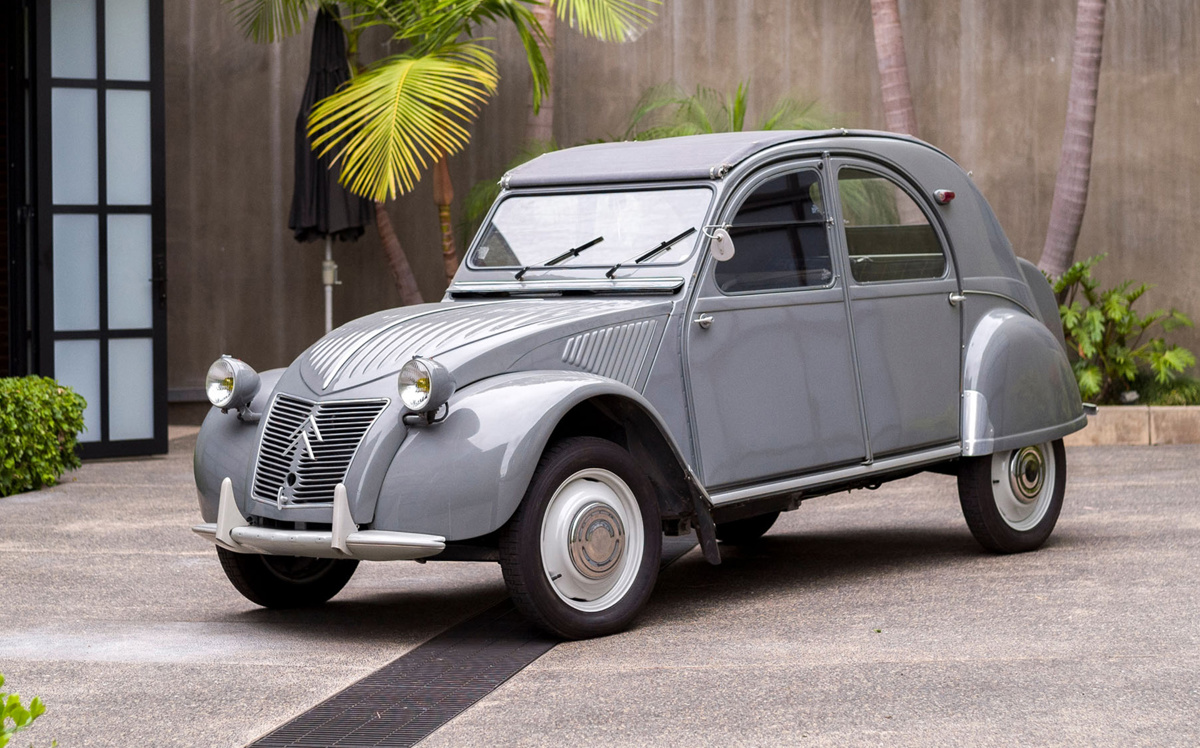 1957 Citroën 2CV
Estimate: $20,000 - $25,000 USD

 

|

 

Offered Without Reserve

 

Perhaps the poster car for carefree motoring, the Citroën 2CV has recently been celebrated by no less a serious motoring journalist than Top Gear's Chris Harris, who filmed an extended segment about a 2CV of similar vintage. This example sports all the same delightful quirks as Harris's 2CV, including a backseat that can be removed on the occasion of an outdoor picnic, but is presented in a far more refined form, with a generous assortment of period-correct accessories. Both have the early 2CV's desirable ribbed (or corrugated) bonnet.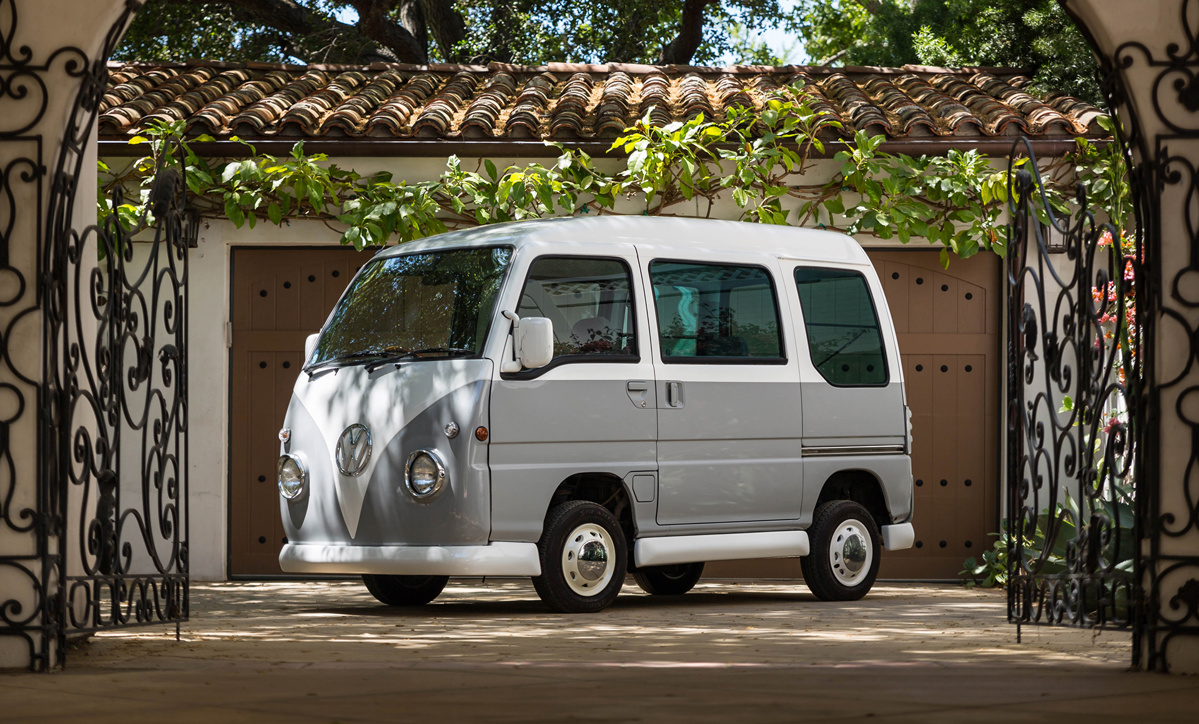 1994 Subaru Sambar 'VW Microbus'
Estimate: $15,000 - $20,000 USD

 

|

 

Offered Without Reserve

 

Double-takes will undoubtedly be a common sight from the driver's seat of this customized 1994 Subaru Sambar 'VW Microbus'. With devoted Type 2 fans frequently requesting a modernized version for years, VW has yet to release a production version of their retro-inspired ID.Buzz Microbus concept, essentially creating a market for customizers to satisfy. This example is a particularly well-executed customization, with the Type 2's familiar face and two-tone color scheme applied on the venerable Subaru Sambar platform. Merging classic cab-over style design with Kei-car practicality, this Sambar seems designed to delight passengers, passers-by, and the lucky driver all at once.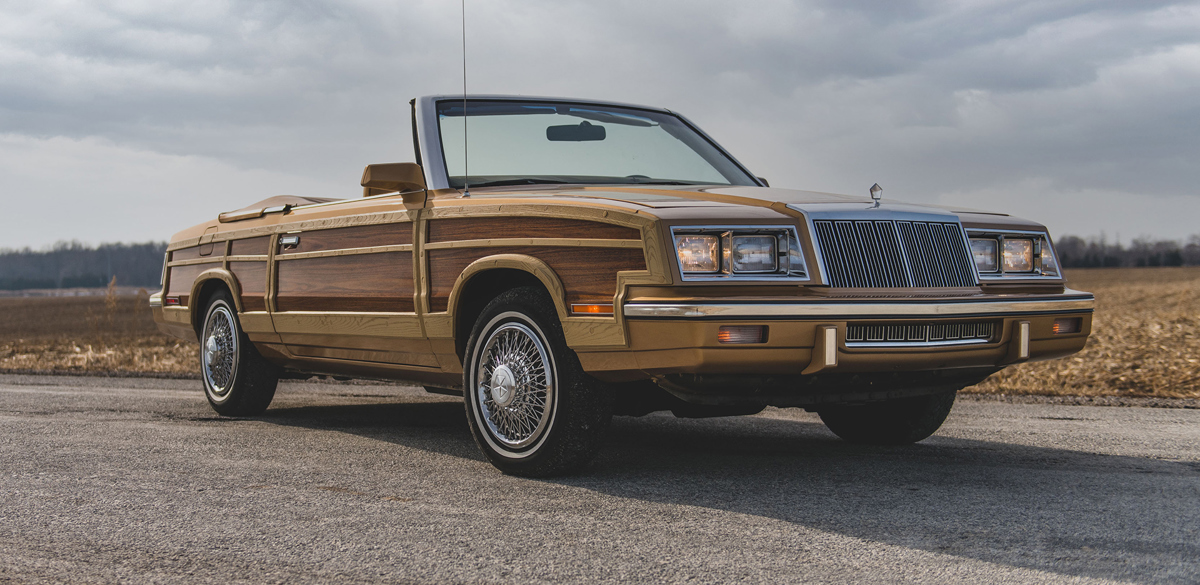 1985 Chrysler LeBaron Town and Country Convertible
Estimate: $15,000 - $20,000 USD

 

|

 

Offered Without Reserve

 

This well-preserved American masterpiece was one of the first lots on the "must-have" list of delightful automobiles for our Handle With Fun auction. From its wood-grained exterior to its royal-derived name, this LeBaron is indeed the perfect car for both town and country. Whether you decide to pronounce it "LeBaron" or "Le Baron," the choice can be yours with this numbers-matching example. With a mere 12,345 miles showing on the odometer at the time of cataloguing, this Chrysler could be yours for many miles (and smiles) to come.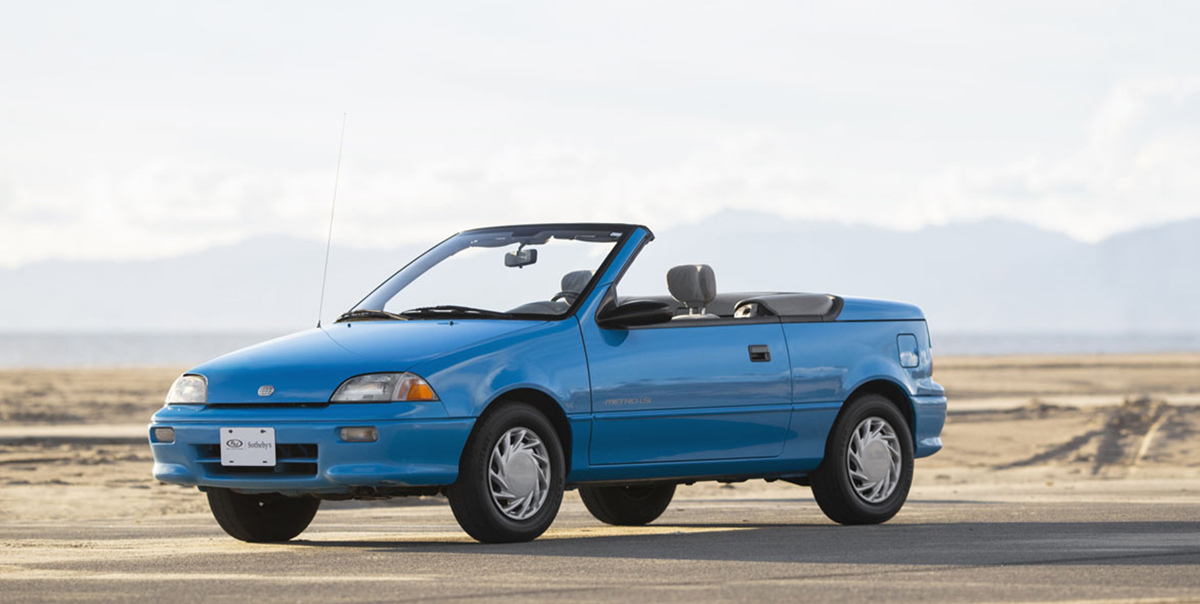 1992 Geo Metro Convertible
Estimate: $10,000 - $15,000 USD

 

|

 

Offered Without Reserve

 

Our cover car is none other than the venerable Geo Metro Convertible. To paraphrase the longtime curator of the Petersen Automotive Museum, Leslie Kendall, if every collector focuses only on the fastest, most powerful examples, subsequent generations will never get to appreciate the fuller texture of what makes everyday cars so enjoyable. As such, well-preserved examples like this 1992 Geo Metro Convertible provide proof that automobiles do not need high-revving V-12 power to make you smile. Showing just 39,069 miles at the time of cataloguing, this uncommon Convertible would be equally celebrated at the Concours d'Lemons during Monterey Car Week or the recently announced RADwood NorCal reunion. Altogether prestigious, in other words.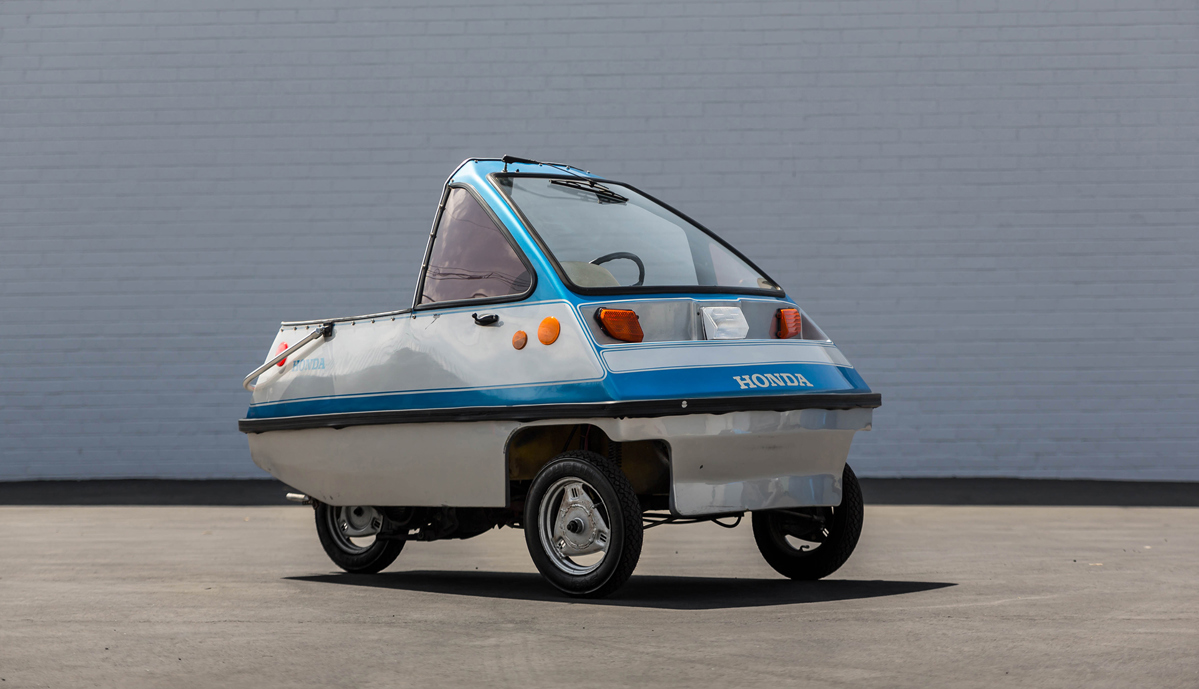 1984 Zoe Zipper
Estimate: $10,000 - $15,000 USD

 

|

 

Offered Without Reserve

 

As they say, "But wait, there's more!" We could not end this near-alphabetic list of extraordinary automobiles with anything other than the Zoe Zipper. Powered by a 50-cc two-stroke Honda motorcycle engine, this innovative, mid-1980s three-wheeler was believed to be given away as a prize on The Price is Right. Featuring a center-seat driver's setup (much like the mighty McLaren F1), this lightweight, fiberglass-bodied Zipper is true to its name. Fun can come on three wheels, too.