For many true-blooded fans of American muscle, three main choices existed. The "Detroit Three" were sufficiently large conglomerates to have earned their "Big" nickname as a trio; every other American automaker was made small by implication. But for those true connoisseurs, there was an alternative option for attractively styled, boldly engineered, made-in-America motorcars: AMC.
From the four-wheel-drive systems undergirding their later Eagle brand right down to the font choices used on sales brochures and owner's manuals, the American Motors Corporation delighted in differentiating themselves from the legacy Detroit automakers. Built in Wisconsin, buoyed in part by government contracts from owning the perennial favorite Jeep brand, by the 1970s, AMC was ready to compete on the home turf of the Big Three, putting their name atop a brand-new skyscraper in the suburb of Southfield, and parking their cars on the 9th fairway of Oakland Hills Country Club, the area's most prestigious private golf course.
During a lost decade for most domestic automakers, unfairly marked by malaise and increasing governmental regulations, the experimentation and ingenuity of the American Motors Company produced arguably some of the most innovative cars made in the U.S.A. during that time. The following single-owner collection of spectacular AMC cars prove that American automobiles were not all built-in lock-step with one another during the 1970s. This off-beat spirit has inspired a passionate group of collectors to embrace AMC—from faithful fans who never stopped loving the brand, to builders of well-regarded resto-mods, and even (no kidding) millennial influencers with millions of subscribers.
For those who love rooting for the underdog, RM Sotheby's is proud to present this most excellent collection of American Motor Cars during this month's edition of our Online Only: Open Roads auction series, with bidding accepted from 21-29 April 2021.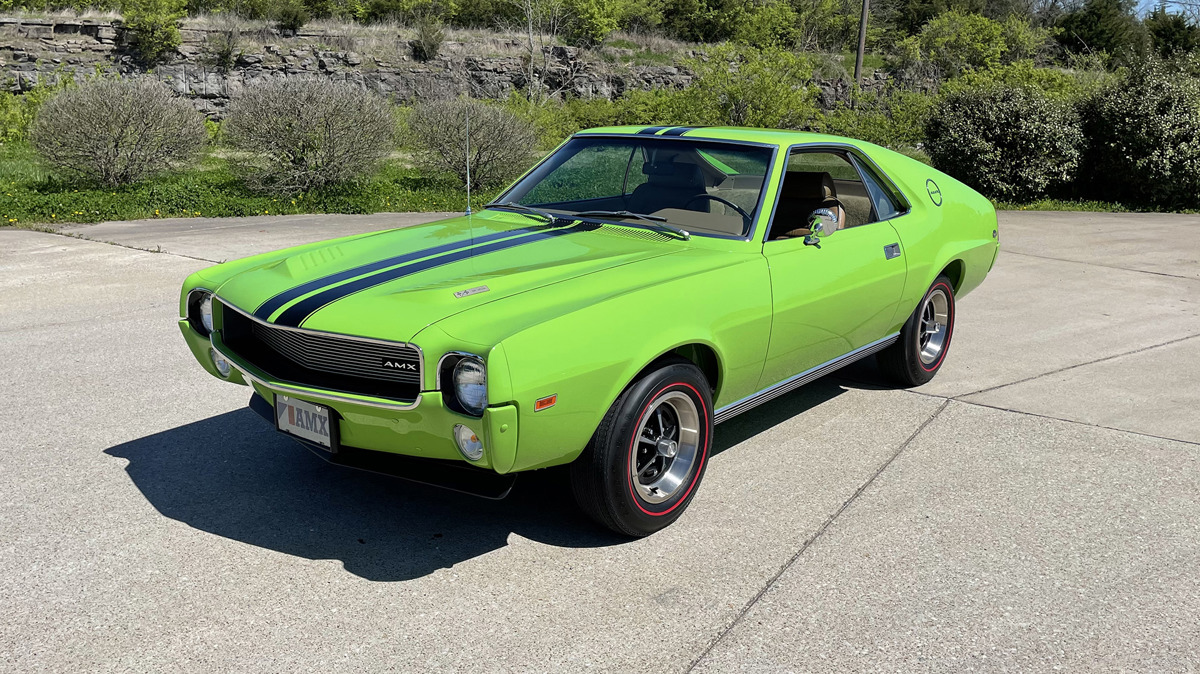 1969 AMC AMX California 500 Special
Estimate: $100,000 - $120,000 USD
By the late 1960s, AMC was already making great moves, proving to be a serious contender to the "Big Three" in the domestic auto market. AMC's first foray into true performance was this AMX (for "American Motors eXperimental"). Period advertisements for the AMX were like a direct cannon shot to the incumbent automakers. One asked: "Why buy a souped-up Mustang or Camaro, when for $3,395 you can buy a real sports car?" A blistering critique—and certainly a worthy challenge. Previously owned by wrestling icon John Cena (who knows a thing or two about American muscle cars) this example is one of a mere 283 wearing this iconic shade of "Big Bad Green" produced that year.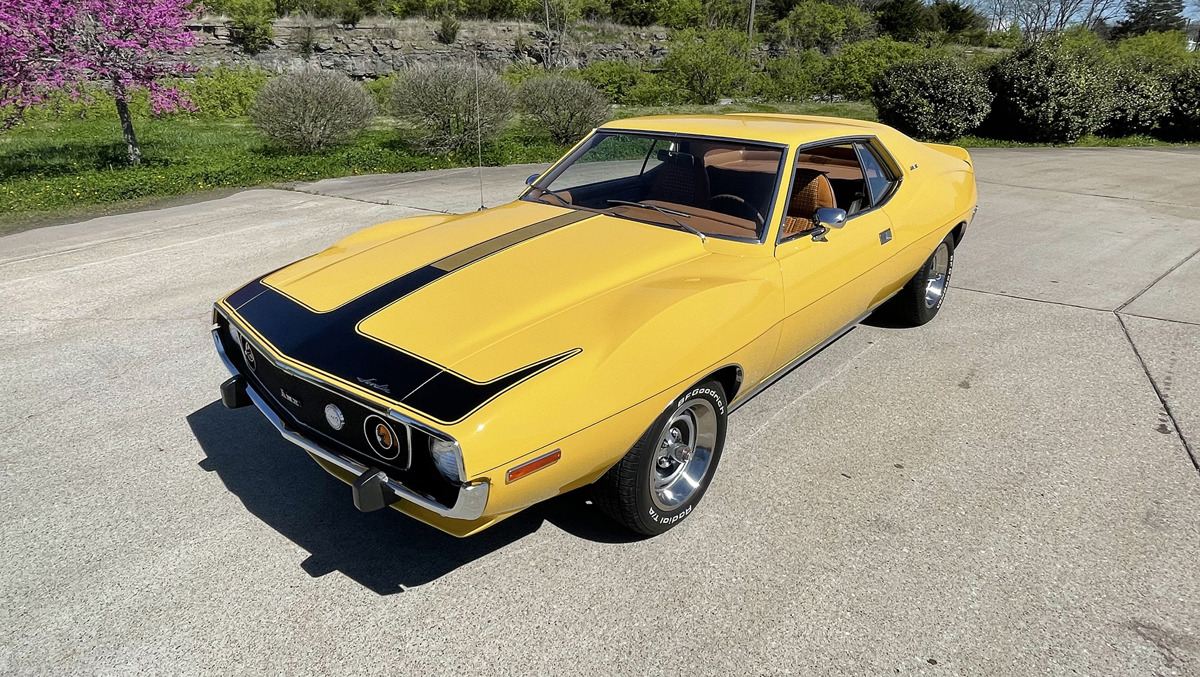 1974 AMC Javelin AMX
Estimate: $50,000 - $60,000 USD
Featuring styling by noted designer Dick Teague and years of earnest participation in motorsport, the AMX Javelin is a serious muscle car. The Javelin publicly proved its performance credentials against the "Big Three" beginning in 1969, at that year's running of the Trans-Am competition; a feat which they filmed (absolutely essential watching for those who have not yet seen it). By the mid-1970s, American Motor had expanded upon their experimental line, bringing a top-tier high-performance variant to their rear-wheel-drive Javelin coupe. With its odometer showing under 43,000 miles, this well-cared-for example is mid-1970s American motoring at its finest.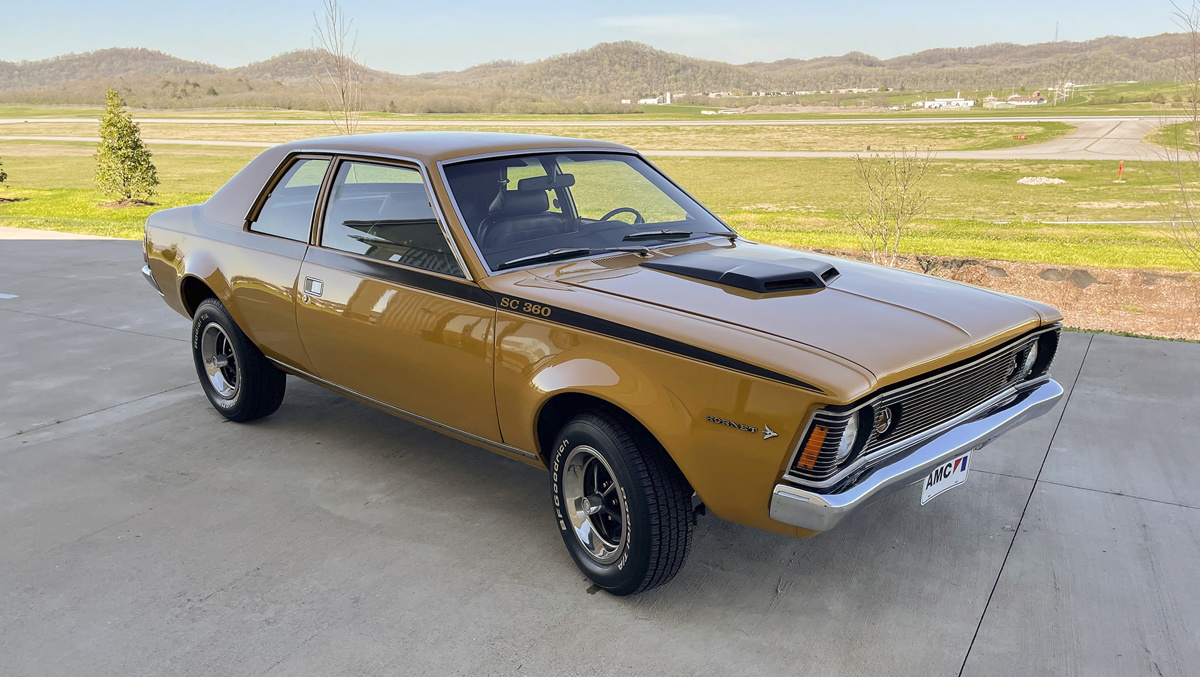 1971 AMC Hornet SC/360
Estimate: $40,000 - $50,000 USD 

|

 

Offered Without Reserve

 

A second AMC that can claim prior ownership by John Cena, the Hornet SC/360 was originally advertised by AMC as an alternative to the high-displacement muscle cars amidst the gas crisis of the early 1970s. The Hornet SC/360 was a genuinely potent machine, with a naturally aspirated 360-cubic-inch V-8 providing plenty of power for its size. Weight-to-power figures have been estimated at fewer than 12 pounds per horsepower, which explains the outsized feeling of performance delivered by this uncommon American machine, of which a mere 306 were equipped with the ultimate accessory to extract performance from the V-8: A four-speed manual transmission. This example features the most desirable engine variant, with a factory-equipped four-barrel Motorcraft 4300 carburetor, and earned the admiration of Cena, who praised this example in a MotorTrend article as his head-turning daily driver.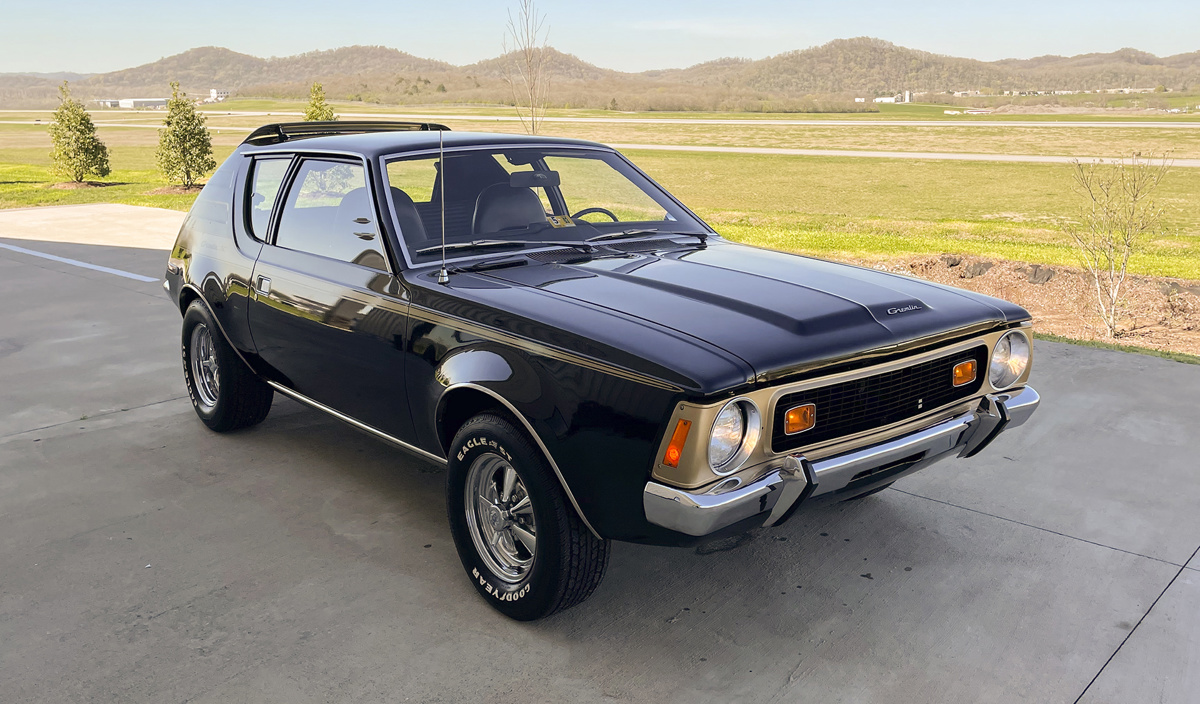 1972 AMC Gremlin X
Estimate: $40,000 - $50,000 USD
Even today, with the benefit of hindsight, it is easy to fall into stereotypes about the 1970s: American cars of the period were oversized and inefficient. But here again, AMC proved to be the exception, launching the Gremlin on April Fool's Day in 1970 with an ad campaign proclaiming it to be "the first American-built import," and the best average fuel economy of any domestic car. Despite any jokes, the Gremlin was a huge success, with 671,475 examples produced. Offered starting in 1972, this example is the most coveted variant, the Gremlin X, featuring a 5.0-litre V-8 paired with a three-speed transmission. A two-owner car, the first owner of this uncommon AMC kept thorough documentation from new, a history of careful ownership reflected in the low mileage (showing barely above 26,000 miles) and the interior, which retains its original dealer-delivered paraphernalia. A true time capsule.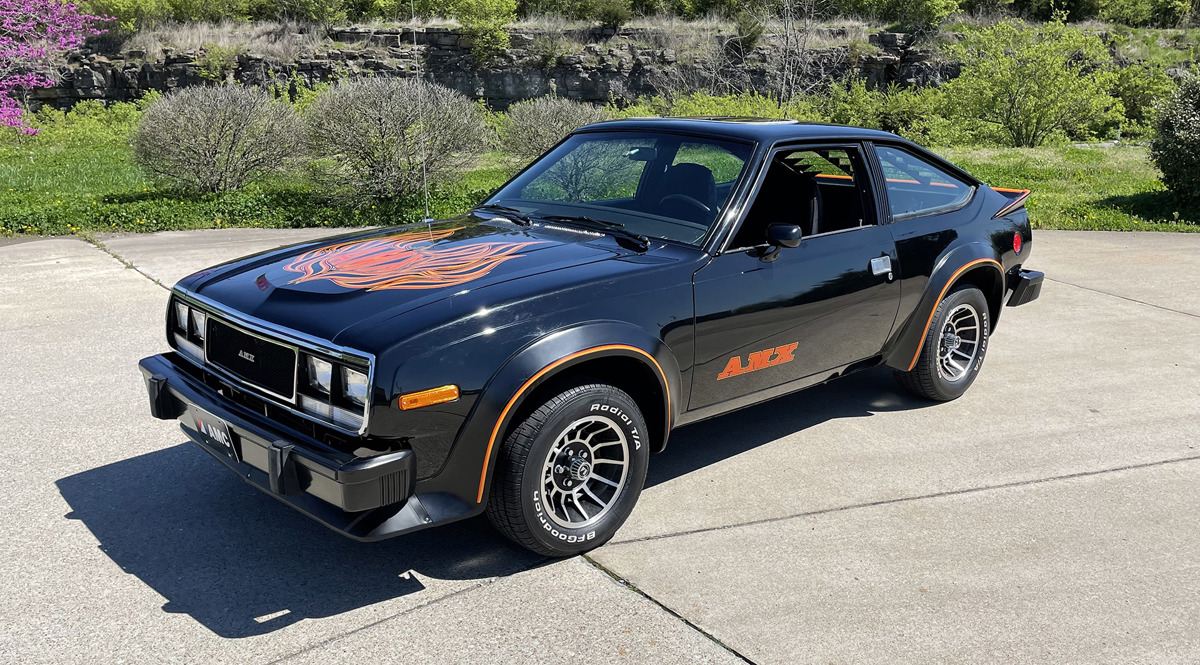 1979 AMC Spirit AMX
Estimate: $30,000 - $35,000 USD
This very AMX example was a bit of a canary in the coal mine for the appreciation of AMC values when it sold for more than double its high estimate at RM's Auburn Spring auction in June 2019. The appeal in this AMX comes from its originality (with under 8,400 total miles showing) preserved right down to the expressive hood decals (in this author's mind far superior to the so-called "Thunder Chicken" found on the competing Pontiac Trans Am) and "Turbocast II" aluminum wheels. Fashion-forward, featuring a louvered rear window treatment two years before Ford's "Fox Bodied" Mustang Cobra, this desirable AMX was part of the final model year to receive AMC's V-8 engine under the hood. Built by an AMC enthusiast and shown at AMO and AACA shows, earning AMO Senior Gold and AACA second junior awards, this AMX can truly claim to be an award-winning example. If "A" stands for "AMC," then examples like this low mileage AMX mark the end of an era. And yet, with the independent-minded passion of AMC fans burning ever brighter as time goes on, the future of rare models like this AMX looks very bright indeed.