The word "Aurelia" is so thoroughly Italian as to link to the Roman empire itself. Translating to "Golden," Aurelia is perhaps easiest to recognize as a surname, like in the case of the legendary Emperor of Rome, Marcus Aurelius, and his successor in the following century, the great military leader Aurelian. Though all Italian companies can claim to represent Italy in their own way, the innovative automotive firm started by ex-Fiat racing drivers Vincenzo Lancia and Claudio Fogolin drew on historic titles to nickname their cars. From their first effort, the Tipo 51 from 1907, which bore the nickname of "Alfa," to the Tipo 54, known as the "Beta," the Turin-based partners utilized the ancient Greek alphabet to symbolize their engineering progress.
By the time that the Aurelia was announced in 1950, Lancia had already debuted their own design for a V-12 engine (in 1919, very early for this style of powerplant) and also achieved patents for the world's first V-4 motor in 1922. Though the firm's founder Claudio Fogolin sold his shares to his partner as early as 1918, and Vincenzo Lancia, who suffered a heart attack in 1937 and passed control of the company to his son Gianni and his wife, were no longer in leadership positions, the post-war era would create even more new opportunities for innovation within Lancia. The firm's experience developing V-shaped motors would pay off with the Aurelia, like this noteworthy, late-production example, which is set to star at RM Sotheby's Arizona 2022 auction: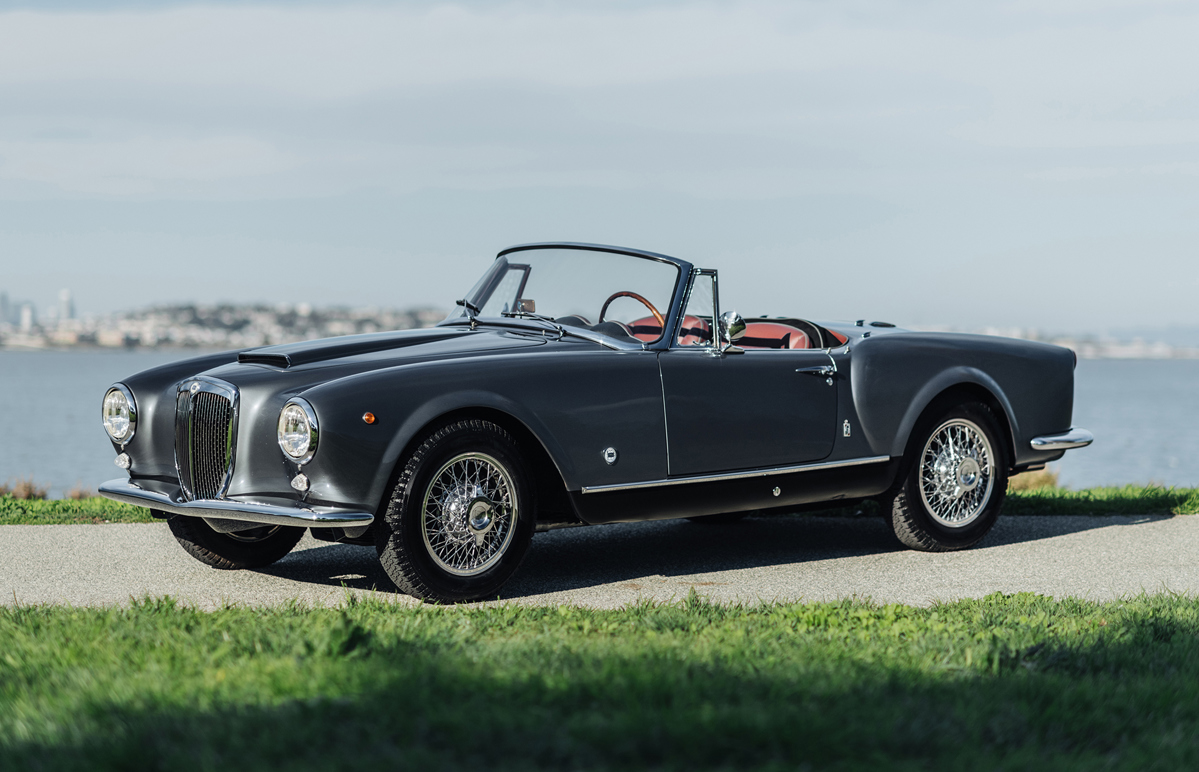 1958 Lancia Aurelia B24S Convertible
Estimate: $375,000 - $425,000 USD
If the pre-war Lancia models represented the establishment of an alphabet, in the post-war period, the now-established firm's naming convention moved to iconic roads within Italy. Evoking the aforementioned Emperor Aurelian's re-naming of an arterial road that linked Rome and Pisa along the Mediterranean in the 3rd century, the first Lancia model after World War II would similarly represent a revised vision, powered by a new engine.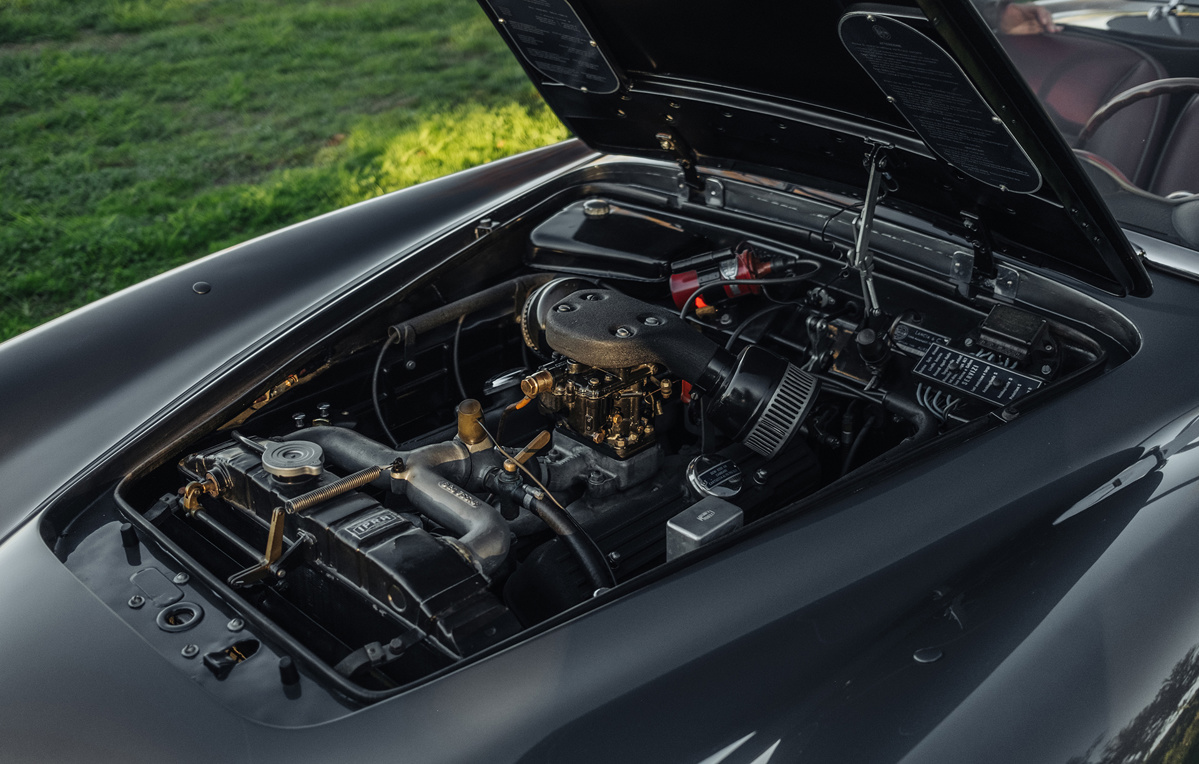 Though the Lancia Aurelia is sometimes credited as being powered by the first V-6 engine, the truth is slightly more complex. High-end American outfit Marmon Motor Car Company likely achieved the first experimental prototype V-6 in 1906. The German industrial firm Deutz Gasmotoren Fabrik had produced a stationary V-6 as a generator for railroad applications as early as 1908. Ten years later, a prototype V-6 engine was put into at least one car by Buick Motor Company but never advanced into series production. Equally innovative French firm Delahaye opted for a V-6 in their Type 44, which was designed by Amadee Varlet and produced between 1911 and 1914. But for reasons we will explore, the refinement of their 30-degree V-6 was lacking.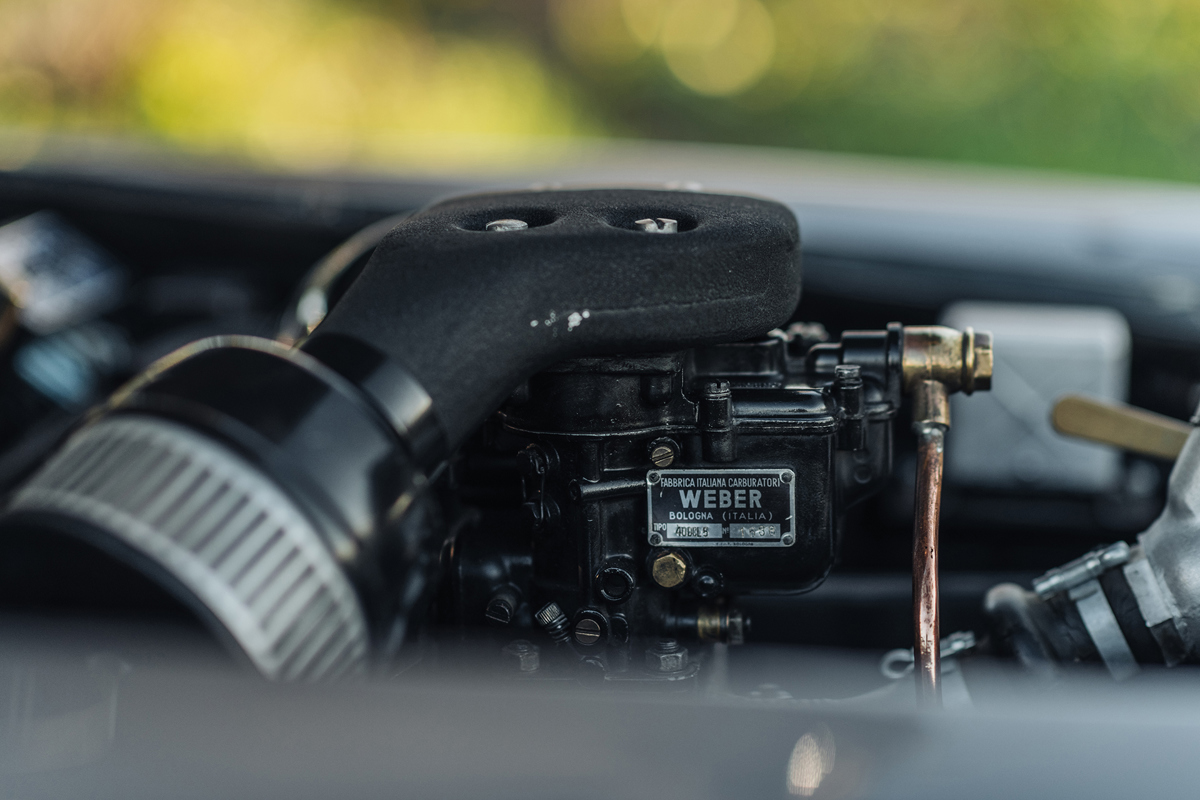 For the Aurelia's new engine, Lancia had a goal of ultimate refinement. With the knowledge gained from producing their V-4, which in the pre-war period had a staggered cylinder pattern and a tight 20-degree block angle, Lancia aimed to minimize vibration, finally landing on 60-degrees as the optimal angle for balance between cylinder banks. Sitting between the narrow banks was a single Weber carburetor with twin intakes. Achieving balance within the cylinder heads required a genuine leap forward in technology, which was accomplished with a counterweighted, six-throw crankshaft designed by an ambitious, young engineer named Francisco De Virgilio. Records from the De Virgilio family archive show that this advancement was not immediate; the first balancing tests on the new V-6 began as early as 1943 and went through 1947.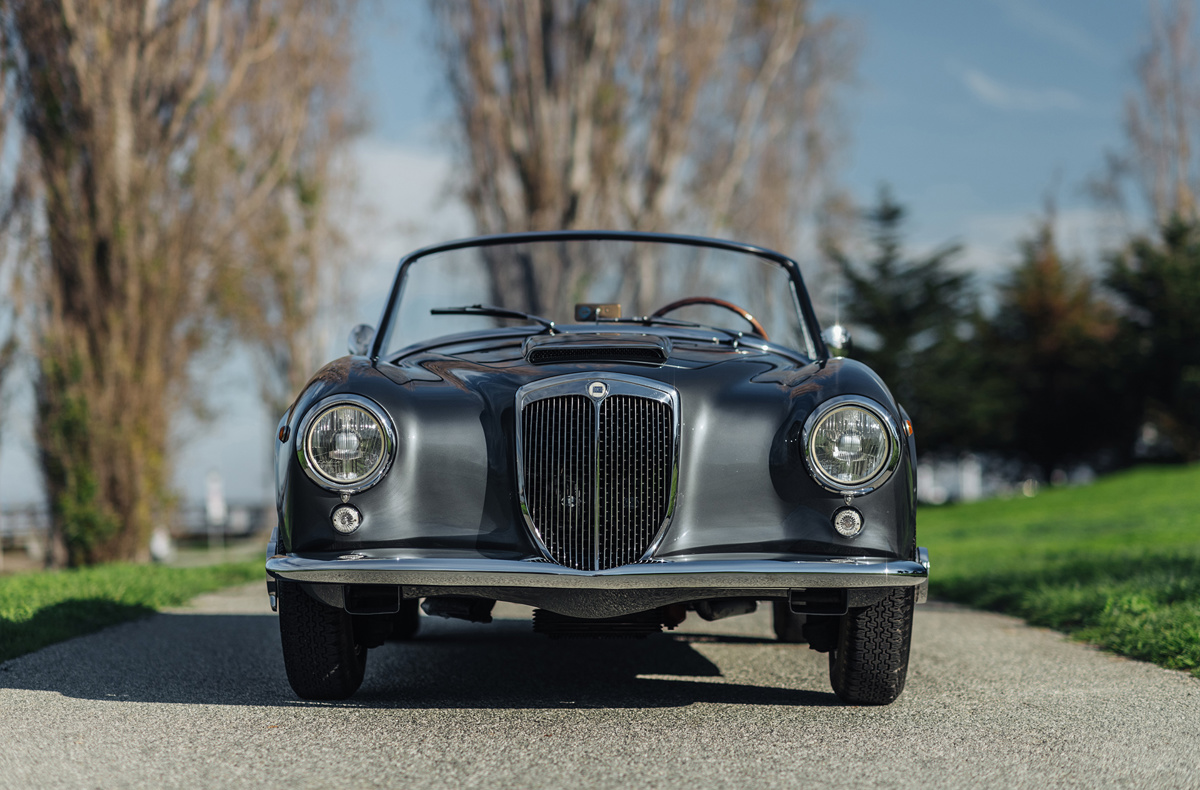 Four years after his first prototype V-6 engine was completed, a more personal milestone was passed for De Virgilio. With friends and family gathered in a church in Turin in time for an early August wedding, the niece of Giovanni Lancia, Rita, was married to De Virgilio, and the ambitious engineer was now an official member of the Lancia family. His commitment to the noble Italian organization would produce extraordinary results.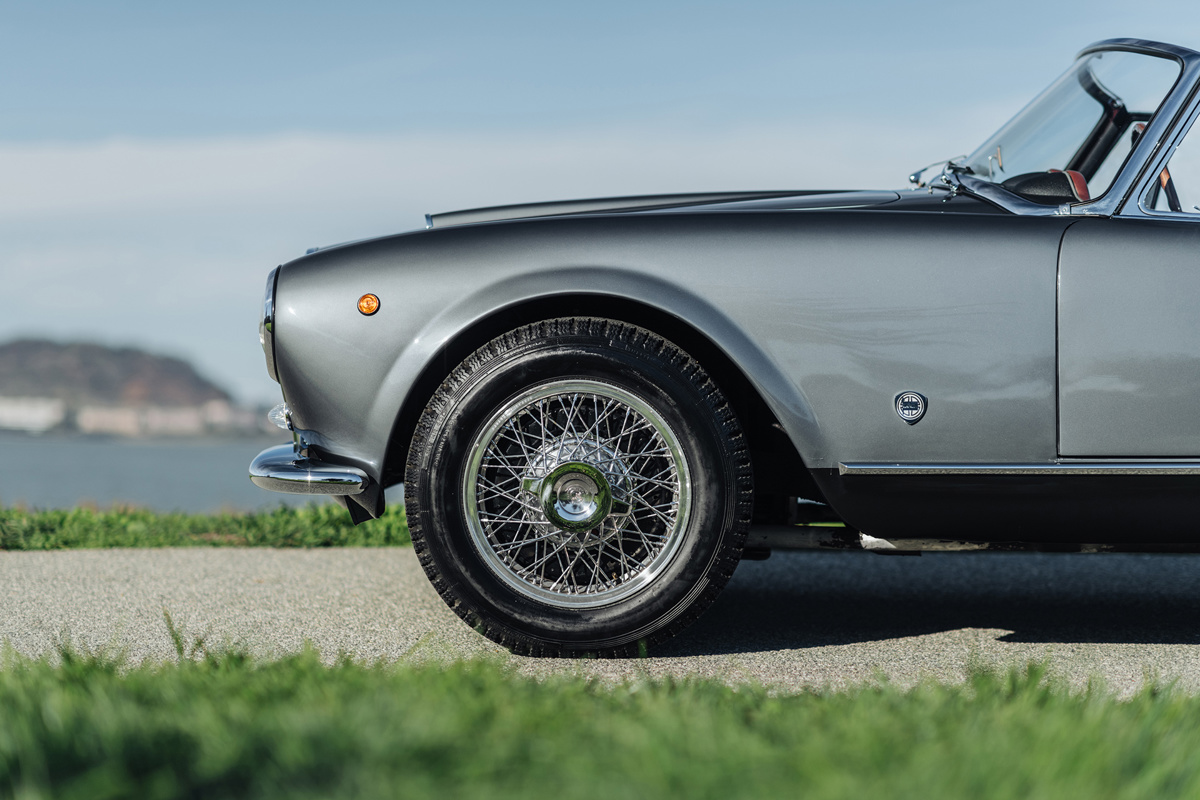 From 1942 to 1946, in the lead-up to the Aurelia's launch, De Virgilio would submit several theoretical drawings on how to produce an independent suspension with either offset trailing arms or coil springs, leading to the eventual setup developed by Lancia's suspension design division under chief engineer Vittorio Jano. The novel setup used offset rubber bushings, triangulated semi-trailing arms, and an inner pivot point that was located far from the outside universal joint to minimize wear. More than simply an aesthetic advancement over the outdated leaf springs commonly used at the time, the novel independent rear suspension paired with radial tires fitted as standard; another first for the Aurelia. This example is made even more exceptional with its chromed Borrani wire wheels made in Milan, as were commonly fitted to the exclusive Spider America models.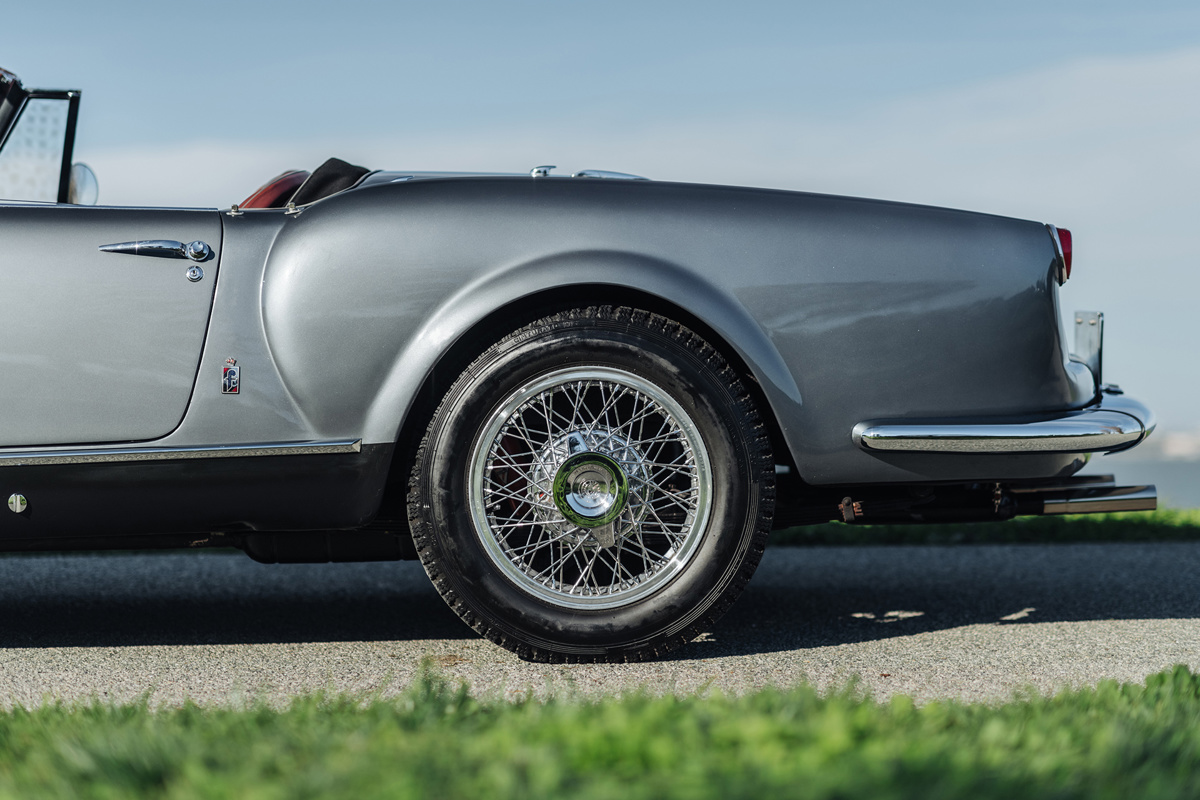 Later that year, a first-in-class victory for the Aurelia B20 followed at the 24 Hours of Le Mans. Competitive success only pushed the Lancia team to continue development, leading to six distinct series of models. As part of the B24 series, towards the very end of Aurelia production, this example is a sixth-series B24S, denoting its left-hand-drive format ("S" for "Sinistra" or "left-handed," another Italian language reference) designated for the American market. Both the Convertible and Spider sported distinctive handbuilt bodies courtesy of the Italian master, Pinin Farina. Itself a development from the concept car styling of its Spider sibling, some Lancia aficionados prefer the B24S Convertible for its practicality and superior level of comfort.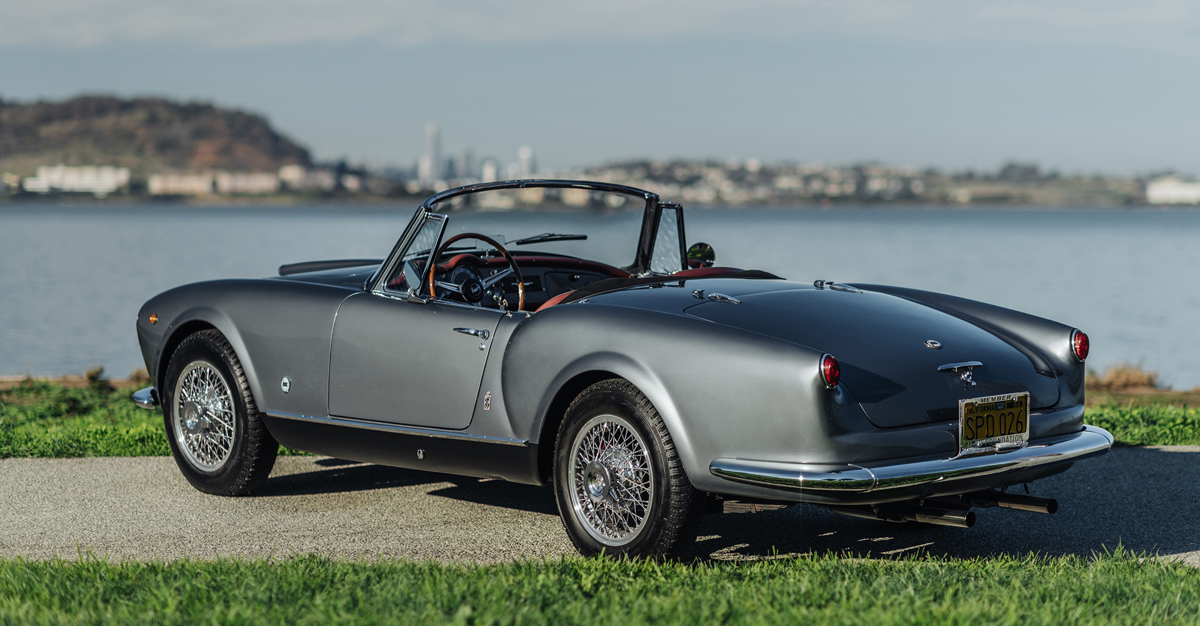 By the sixth series B24S Convertible, Aurelia's cabin with its deep and fully separated bucket seats had become a place where drivers would want to spend considerable time. And this specifically is the case for this example, which has been restored and mechanically sorted to a considerable degree for event use. Registering for the RM Sotheby's website will allow interested parties to explore the extensive list of invoices from 2002 to 2014 in order to prepare this example for the rigors of rallying and touring.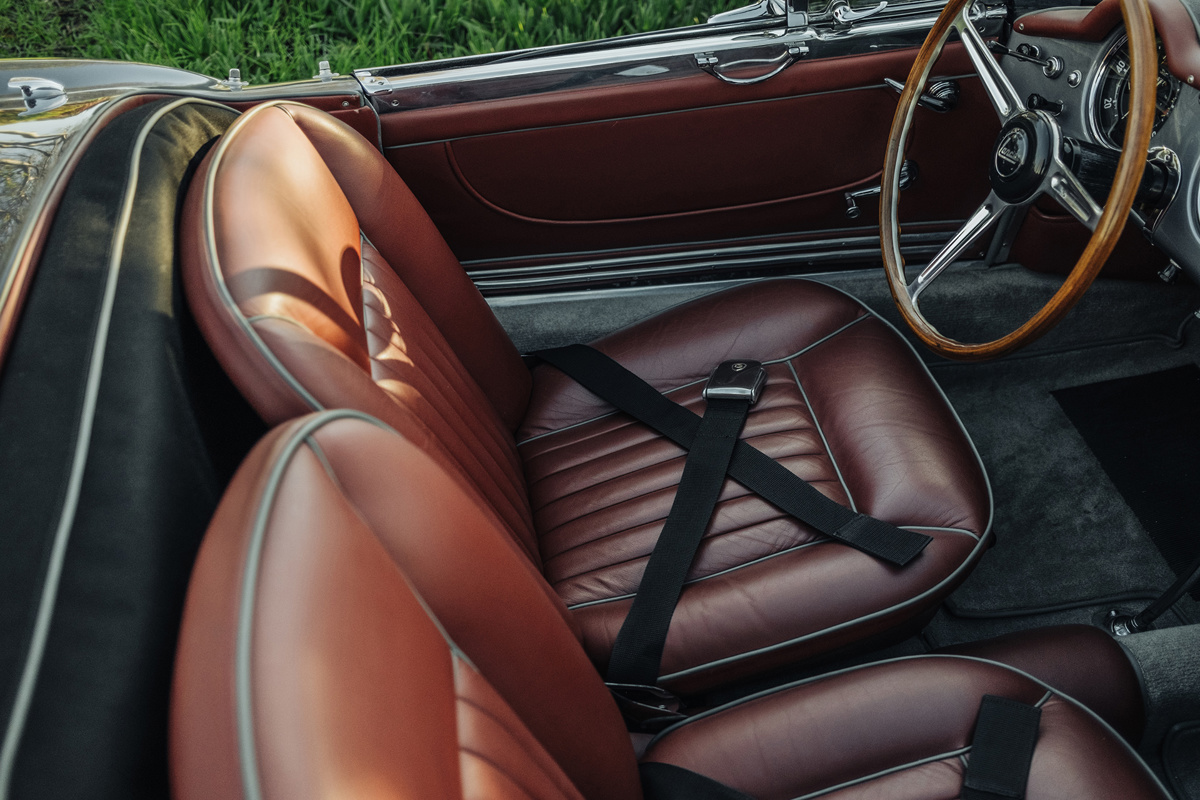 With a thorough servicing at Dew Motorcars Corporation in Sterling, VA, which included sorting this Aurelia's electrics, fuel system, cooling system, brakes, and clutch assembly, as well as finishing touches on the rear axles, hub bearings, and shock absorbers at The Pit Stop of Brisbane, CA, the consideration that went into prepping this example for long journeys is sufficiently extensive that it could provide a template for other Aurelia owners who are interested in exercising their Italian touring cars. In a finishing touch that crowns the handsome interior, all instrumentation was serviced by Palo Alto Speedometer of Palo Alto, CA.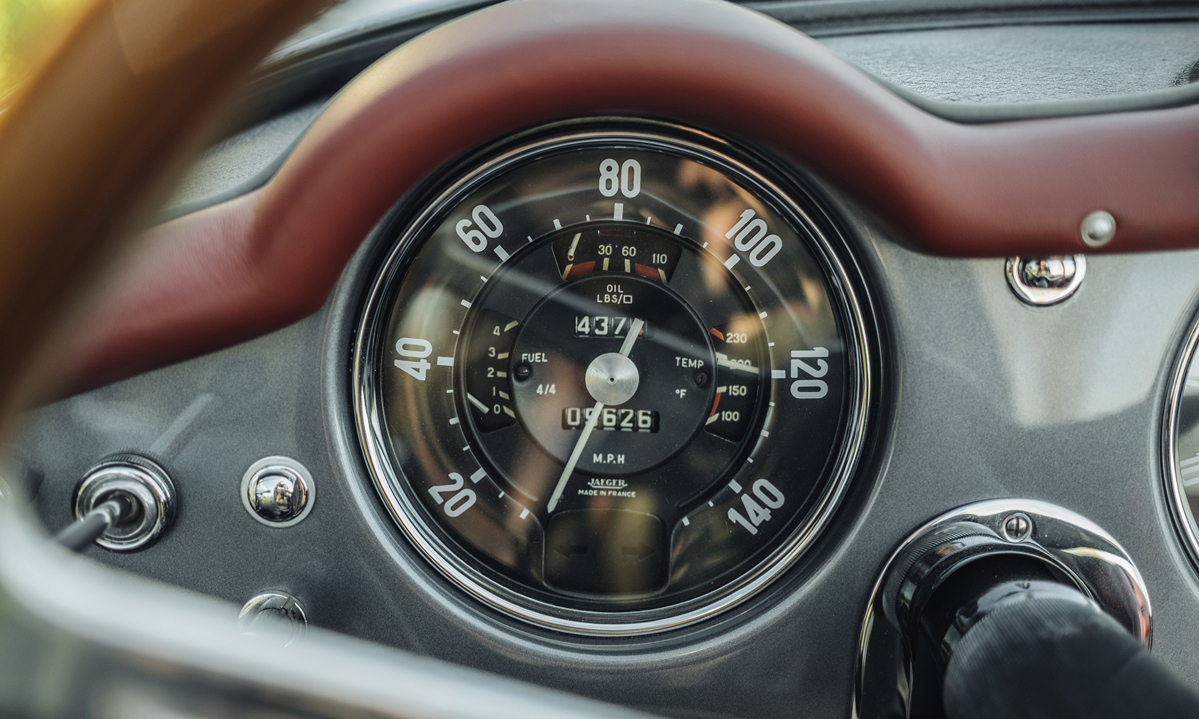 Hailing from both a brand and a model with noteworthy history, the Aurelia comes with a legacy of long journeys that befits its road-referencing name. Far from a name alone, the Aurelia proved itself worthy of measuring up against the greatest sports car companies at the time, with a first series B20 coupe placing second overall at the 1951 running of the Mille Miglia (the Ferrari 340 America which came in first sported an engine with twice the displacement of the Lancia). Later that year, an Aurelia finished first-in-class and 12th overall at the 24 Hours of Le Mans endurance race, pushing British motorsports magazine Autocourse to dub 1951 as "The year of the Aurelia." Victory did not cease there, with Felice Bonetto winning the Targa Florio outright the following year, and two competition-prepared B20 models finishing second and third.  As a model, then, this is a Lancia meant to beat the best. With all the detailed work that has been undertaken to get this example suitably prepared for touring, this B24S Convertible represents an example for which the difficult effort of pre-rally prepping has already been undertaken. A Lancia worthy of a road trip tracing the Via Aurelia.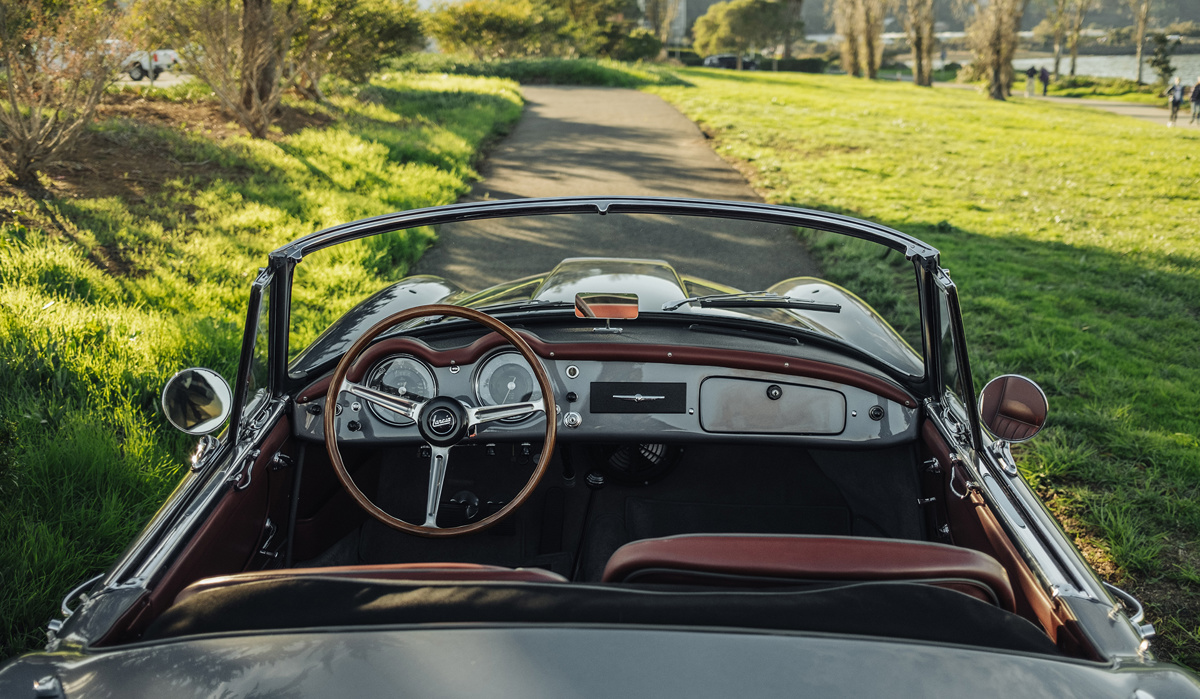 And what of the Ferrari connection? According to the fascinating work of automotive history, Lancia and De Virgilio: At the Centre by Geoffrey Goldberg, which has greatly influenced the creation of this piece, the inspired young engineer attracted the attention of none other than Enzo Ferrari himself, who repeatedly attempted to hire De Virgilio away from Lancia. In a series of personal correspondence coordinated by Enrico Nardi, Ferrari reached out to De Virgilio with hiring offers beginning in 1946, even before the founding of Ferrari itself. Enzo followed up in 1952, musing about a possible left-hand-drive version of the B20 Aurelia before it was released. Finally, in 1956, two years before our fully developed B24S example was realized, Enzo made his best possible offer: At Ferrari, De Virgilio would be Capo Ufficio Tecnico or head of the Technical Office. But the bonds of matrimony, passion, and innovation proved too strong to break. De Virgilio remained part of the Lancia family, and the world has him to thank for this gorgeous Aurelia B24S Convertible.
To view an extensive gallery of images on this example, as well as to see its full history file and register interest for bidding at RM Sotheby's Arizona 2022 auction on 27 January, please use this link, and best of luck!