What's in a badge? Sometimes a small logo on the side of a car can speak volumes about heritage, pedigree, and engineering excellence. The small, triangular, four-leaf clover is one such symbol to many, especially those of a certain generation who can recall when the cloverleaf held as strong an allure as a prancing horse. Legend has it that the 1923 Targa Florio driver for Alfa, Ugo Sivocci found a four-leaf clover by the roadside before starting the gruelling 1000-km Sicilian race, and then persuaded his team to paint it on his Alfa Romeo RL Targa Florio as good luck. Sivocci was victorious and led Alfa Romeo to its first major international victory. From there, the Quadrifoglio Verde stuck, and has appeared on Alfa race cars ever since. History tells us that the famous clover leaf never looked so good as it did on what is undeniably the marque's most famous post-war sports racing car, the Tipo 33/3. An opportunity to see this legend once again will occur next month at RM Sotheby's star-studded Monaco 2022 sale: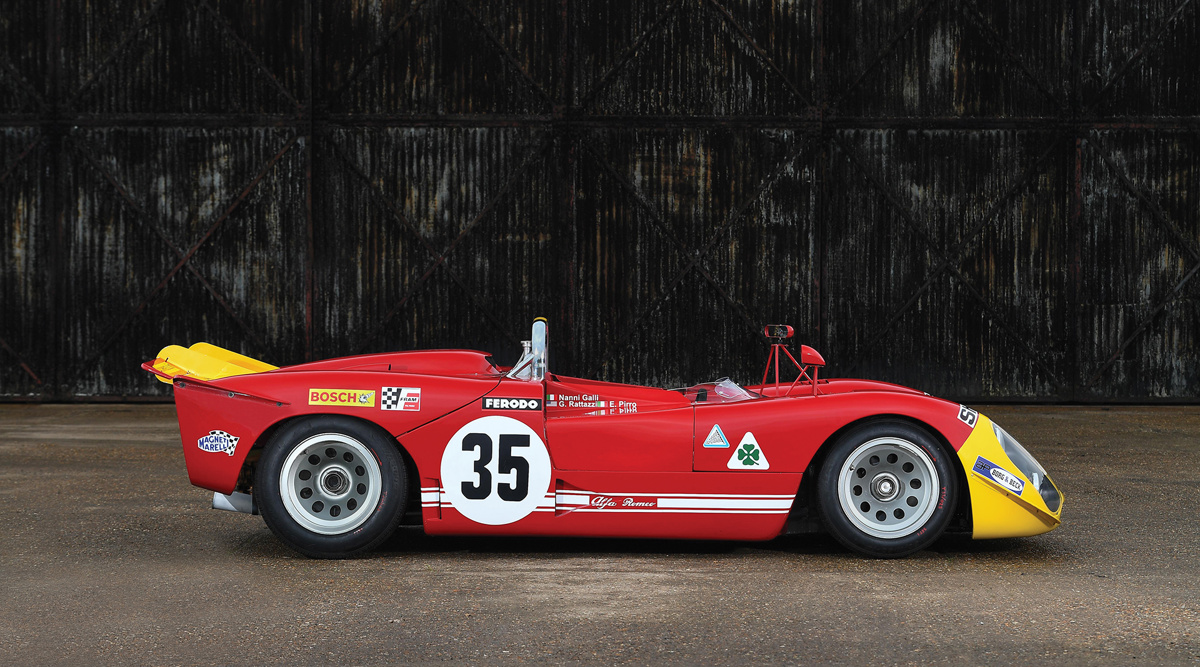 1969 Alfa Romeo Tipo 33/3 Sports Racer
Estimate: €1,700,000 - €2,100,000 EUR
Nanni Galli is perhaps not a name that resonates widely amongst motorsport fans, but it is one which should. Perhaps this was partly on purpose, as the name "Nanni" was a pseudonym, created to keep Galli's racing secret from his parents. An accomplished sports car endurance driver, Galli also competed in Formula 1, Italian saloon racing, and the Targa Florio. A driver worthy of the highest praise, especially when one considers that Grand Prix driving and races like the Targa Florio were not for the faint-hearted or those short of courage in the 1960s and '70s. So, to have an ex-Galli Alfa Romeo Tipo 33/3 on offer in Monaco is something very worthy of note. The car to be offered is the very machine that helped him compete in the most famous endurance race of them all: The 24 Hours of Le Mans. Sharing the car with another great of his era and a man worthy of equal recognition and praise, Rolf Stommelen, the pair contested the 1970 race, nearly winning in the number 35 car, having led for an impressive 220 laps, before being disqualified due to outside assistance for a push start. A sad conclusion to what could have been a remarkable victory.

As a footnote to the car's illustrious early history, it also found celluloid fame as one of the cars seen on track in the seminal motorsport movie, Le Mans. The 33/3 model was constructed by the legendary experts at Autodelta, who were Alfa Romeo's racing arm in the 1960s and '70s. Led by Carlo Chiti, a close friend of Enzo Ferrari and former chief engineer of the Modenese firm, the team constructed the Alfa Romeo 33/3 to be the ultimate sports racing car of their era, notwithstanding that this was a time of fierce competition with the likes of the Porsche 917 taking to the tracks. Utilising the best technology and construction techniques of the day, such as a full monocoque chassis which helped to keep weight to a minimum, the Italian racer was powered by a 3-litre V-8 that provided both motive force and produced one of the finest soundtracks of its era. Today, this example still captures the attention of driver and audience alike when powered up and fully firing, as when at the hands of skilled racing driver Emanuele Pirro at the 2018 Spa Classic.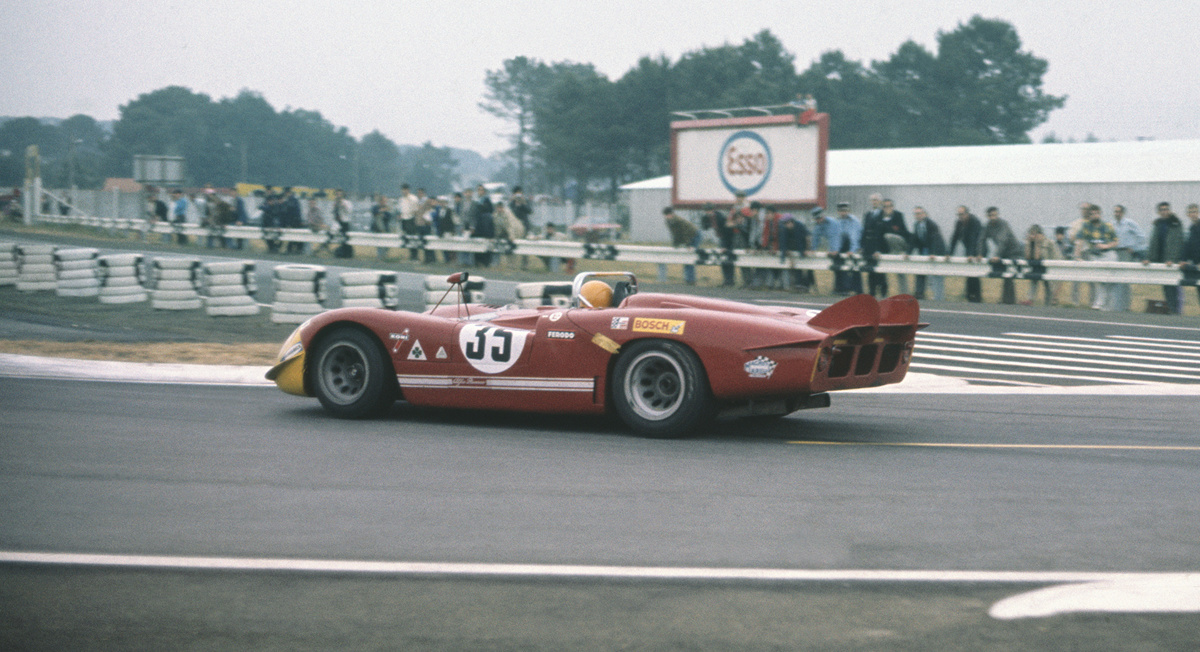 Photograph Courtesy of Motorsport Images
This example, chassis no. 105 800 23, is all that a collector of fine racing automobiles could hope for. One of the most instantly recognizable and iconic sports racing cars of its era, it is also a car that has been driven by some of the finest figures in the period and which contested the greatest endurance race in the world at a time that many consider to be "peak" Le Mans. It is also a machine which has been meticulously cared for and looked after, going through a 7-year 'rolling rebuild', which has resulted in a car that is both competitive but respectful to its history and originality. Between 2013 and 2020, a staggering sum was spent on overhauling, stripping-down, and preparing the car for vintage racing. And with this storied Alfa Romeo example comes entry to many great series and events thanks to its remarkable place in history.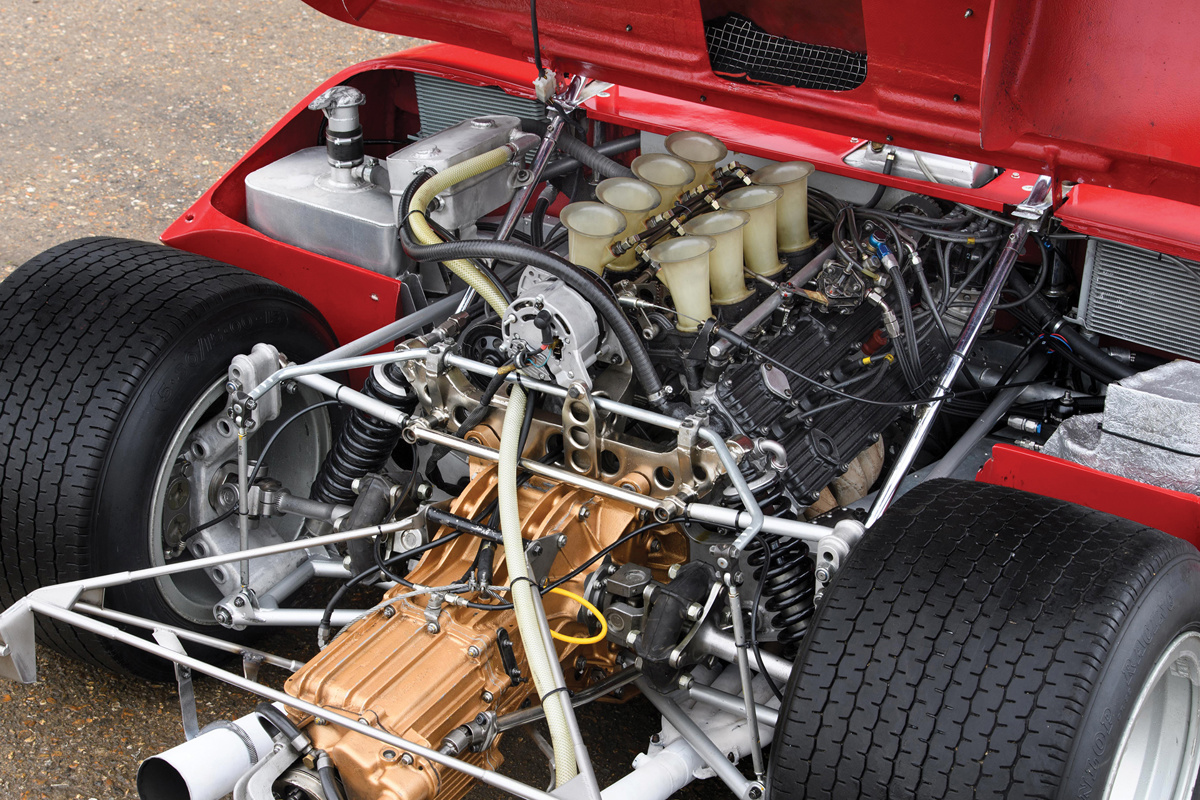 This machine is a guaranteed piece of competition history, driven by the noteworthy Nanni Galli, and with its accompanying race record, it would enhance any collection that it joined. With entry to the 2022 Le Mans Classic, the new owner will unlock the potential to achieve the win that Galli had so valiantly chased in 1970. European racing enthusiasts will certainly want to watch (and listen) as this historic racer crosses the block in RM Sotheby's Monaco 2022 auction. Don't miss it.