Every February, collectors and enthusiasts from every corner of the globe descend upon the heart of Paris for Rétromobile—a week-long event showcasing some of the world's most spectacular collectable automobiles and motorcycles from every marque and era. RM Sotheby's is proud to offer some of the finest sports, racing, and touring cars from both pre- and post-war periods, as well as a selection of automotive memorabilia, at the historic Place Vauban.
We have selected 15 of our favorite examples for their fascinating history, rarity, collectability, or combination of the three—each offered for under €200,000.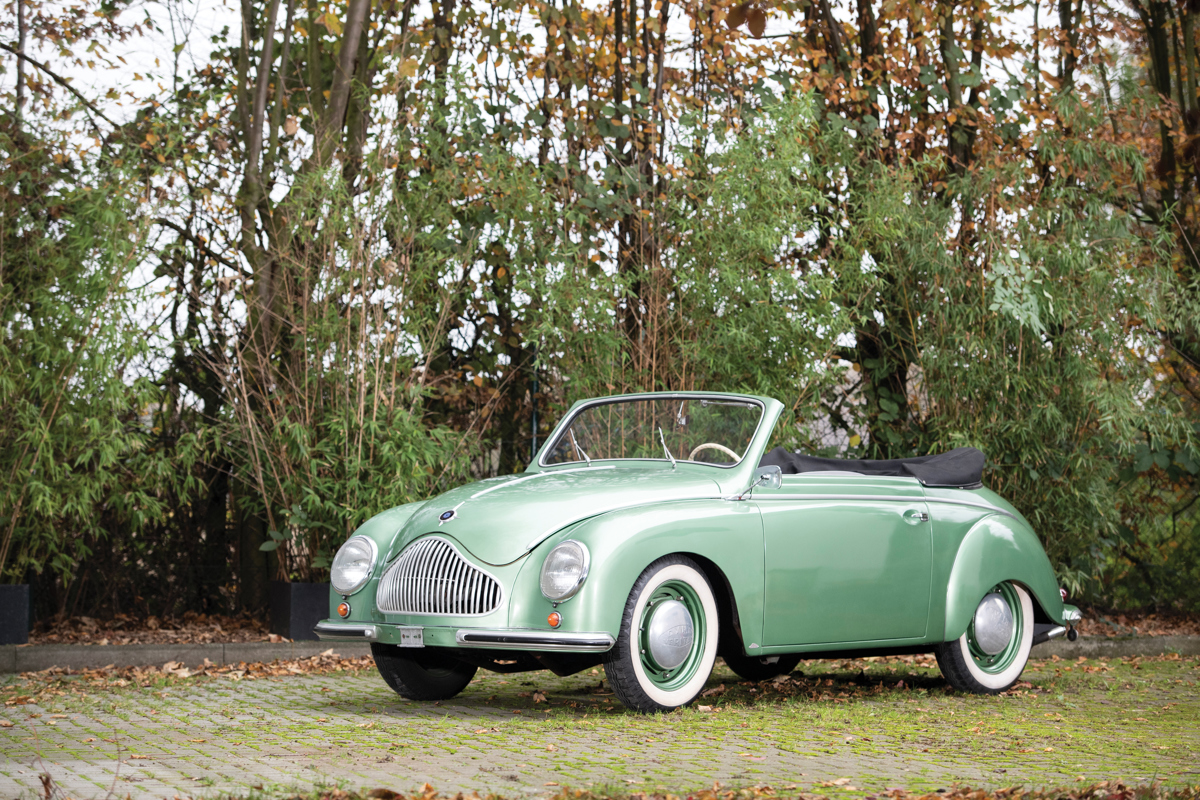 1952 Dyna-Veritas Cabriolet
Estimate: €40,000 - €60,000 EUR | Offered Without Reserve
Coming from a decade of display in the Prototype Museum in Hamburg, this charming example of the rare "Sprint" model comes with a 745 cc aluminum boxer engine from Panhard & Levassor and retains many of its original features following a sympathetic restoration. Of all the models, the "Sprint" is the rarest of the surviving models, and this is one of just 10 survivors. Its Baur coachwork is finished in metallic green and complemented by tan leather. It has been recently serviced and is an eligible entrant for the Mille Miglia.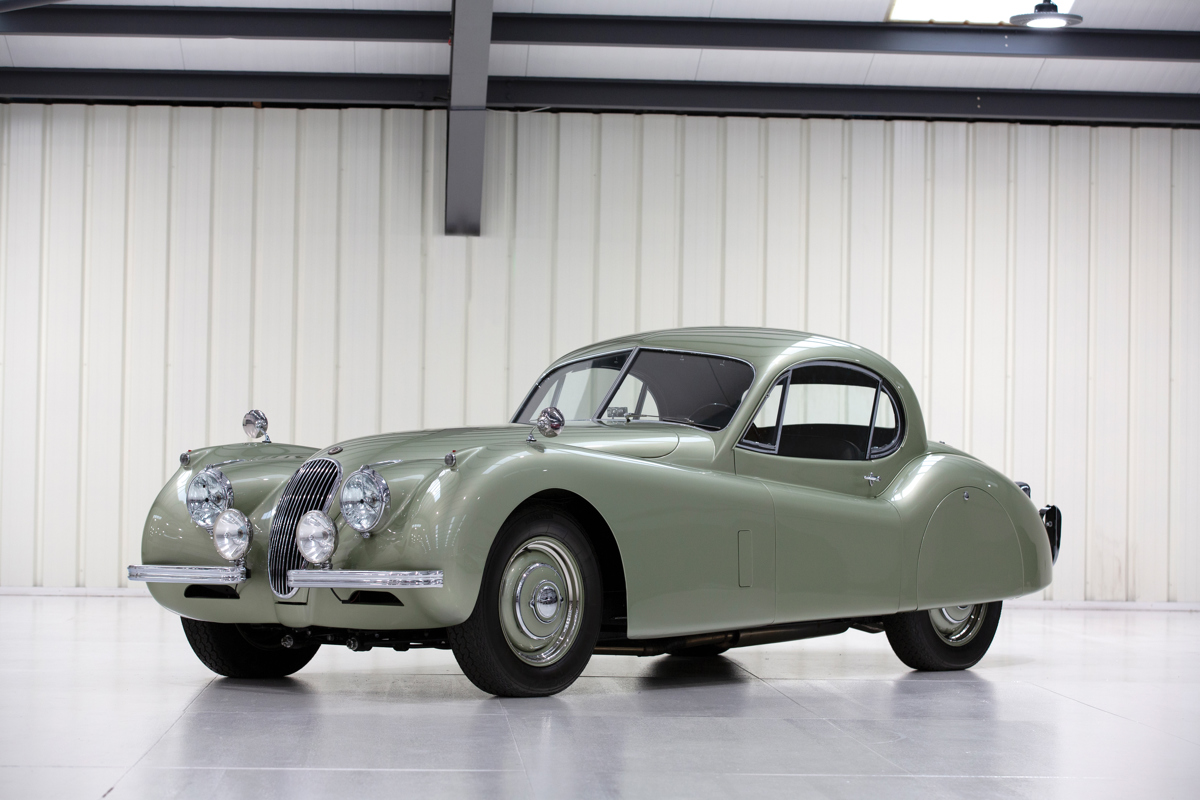 1952 Jaguar XK 120 Fixed Head Coupé
Estimate: €70,000 - €90,000 EUR | Offered Without Reserve
This spectacular XK 120 Fixed Head Coupé was subjected to a full body-off restoration in its original color scheme of Pastel Green with a Suede Green interior after emerging from over five decades in its original owner's care. Tasteful factory upgrades were added during the restoration, including a five-speed gearbox, front disc brakes, a lightened flywheel, and an aluminum radiator for greater performance and reliability. Following the restoration, it was awarded Best Jaguar at the Beverly Hills Concours d'Elegance.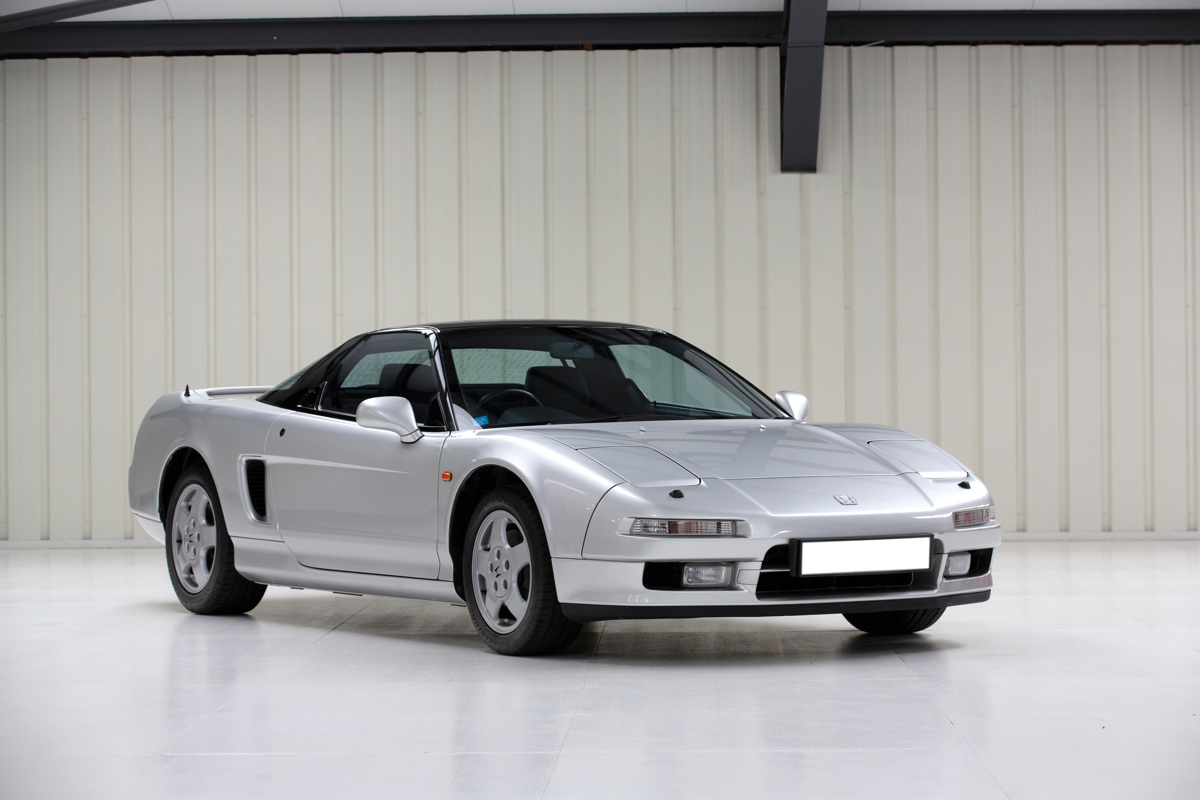 1991 Honda NSX
Estimate: €50,000 - €60,000 EUR | Offered Without Reserve
Perhaps the finest first-generation example of Honda's NSX, this example shows fewer than 5,700 miles on the odometer today. It was delivered new in RHD specifications to the Patrick Collection and the Patrick Motor Museum of Warwickshire. Invoices dating back to 1992 confirm that it had remained in the hands of the Patrick Collection until 2001 and was regularly serviced, with its most recent service performed in December 2014 before remaining largely in static storage since.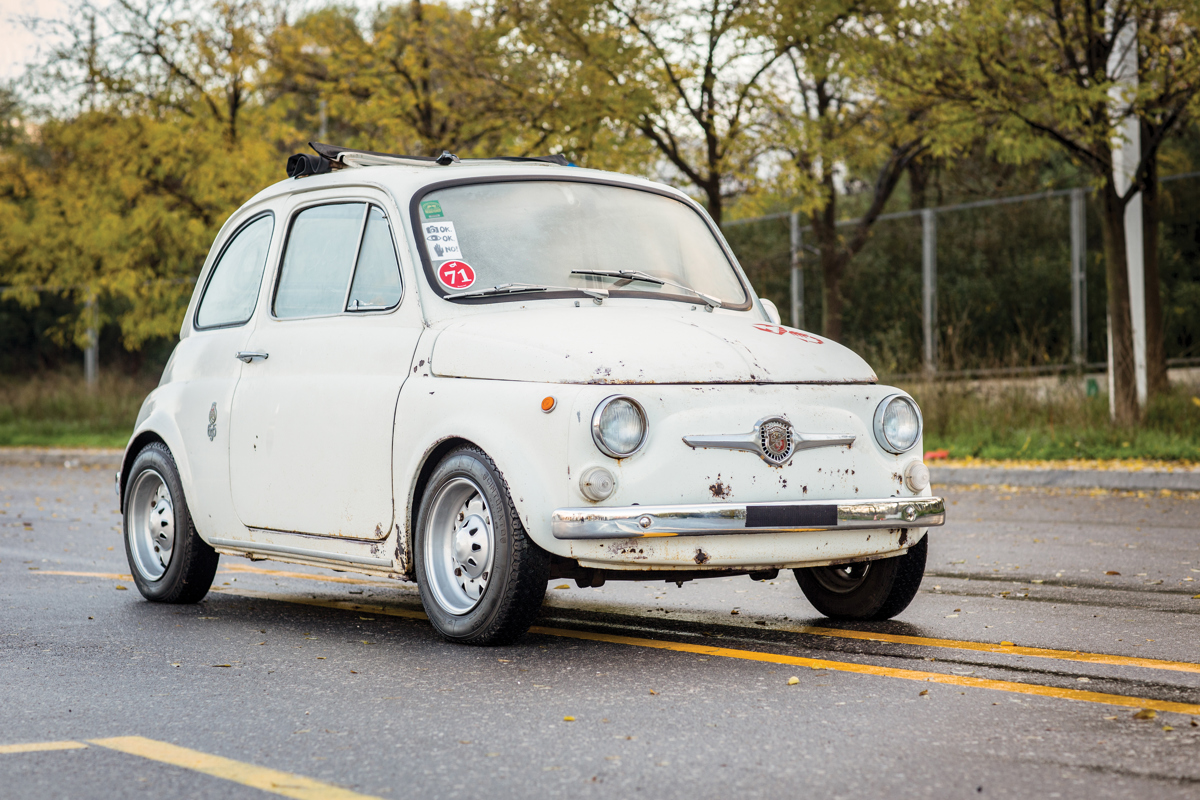 1966 Abarth 695 SS
Estimate: €50,000 - €60,000 EUR | Offered Without Reserve
Of approximately 1,000 Abarth 695 SS examples produced, this example may be the most original, most authentic, and most special of all. The accompanying documentation provides rock-solid provenance and confirms its authenticity. It presents today in overwhelmingly original condition, with the proper Abarth chassis stamp in the characteristic font, remnants of the almost impossible-to-find original factory Abarth sticker, and original paper Abarth sticker of the US importer on the edge of the door. It has recently undergone a comprehensive mechanical overhaul, including a freshly rebuilt engine with original Abarth parts and a rare "Group 2" cylinder head.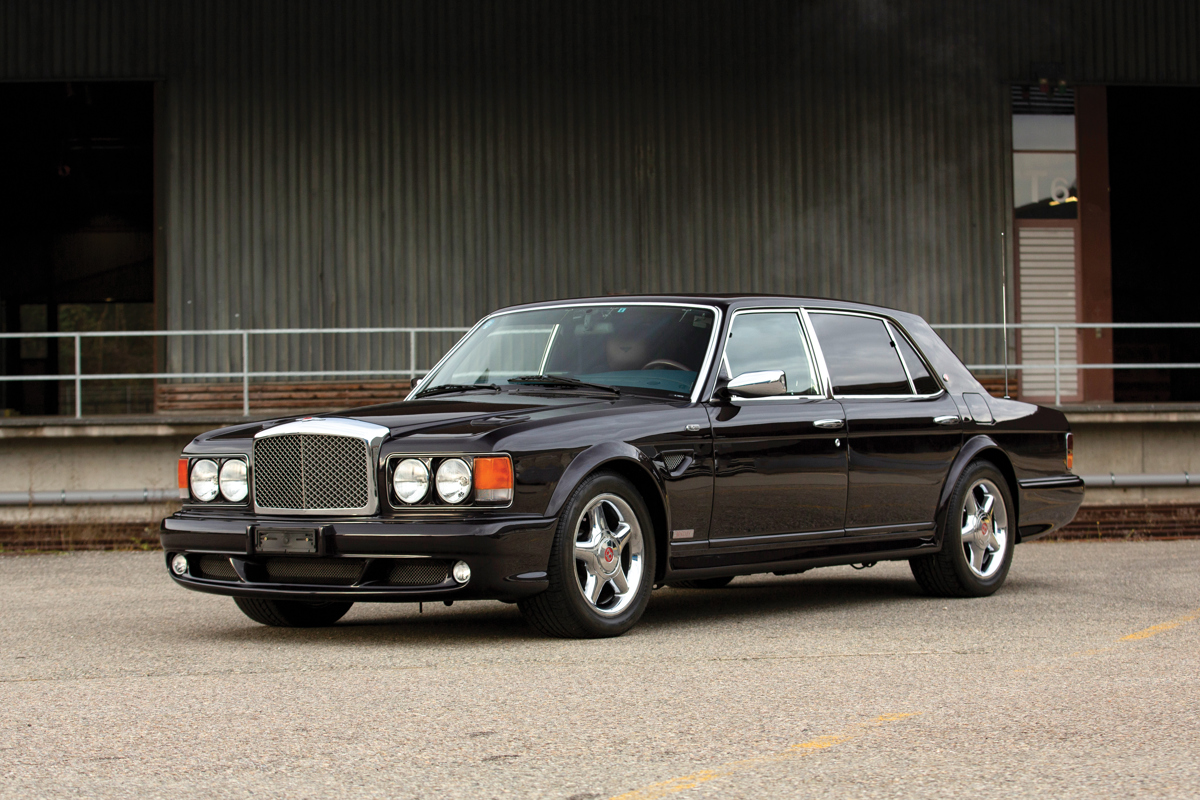 1997 Bentley Turbo RT Mulliner
Estimate: €90,000 - €110,000 EUR
This unique long-wheelbase example of the Turbo RT Mulliner features an array of special-order options taken from the special-order book. It is likely one of the lowest-mileage examples left today, showing fewer than 17,000 km and presenting in immaculate condition throughout. The RT Mulliner body kit was specified, along with aerodynamic bumpers, vented bodywork, flared wheel arches, and larger 18-inch wheels. It is finished in Black Garnet paintwork, with Royal Blue–and–Wildberry two-tone interior trim and light blue wood trim, and features stowable picnic tables, chromed wing mirrors with matching radiator cowling, and embroidered Flying Bs on the seat headrests.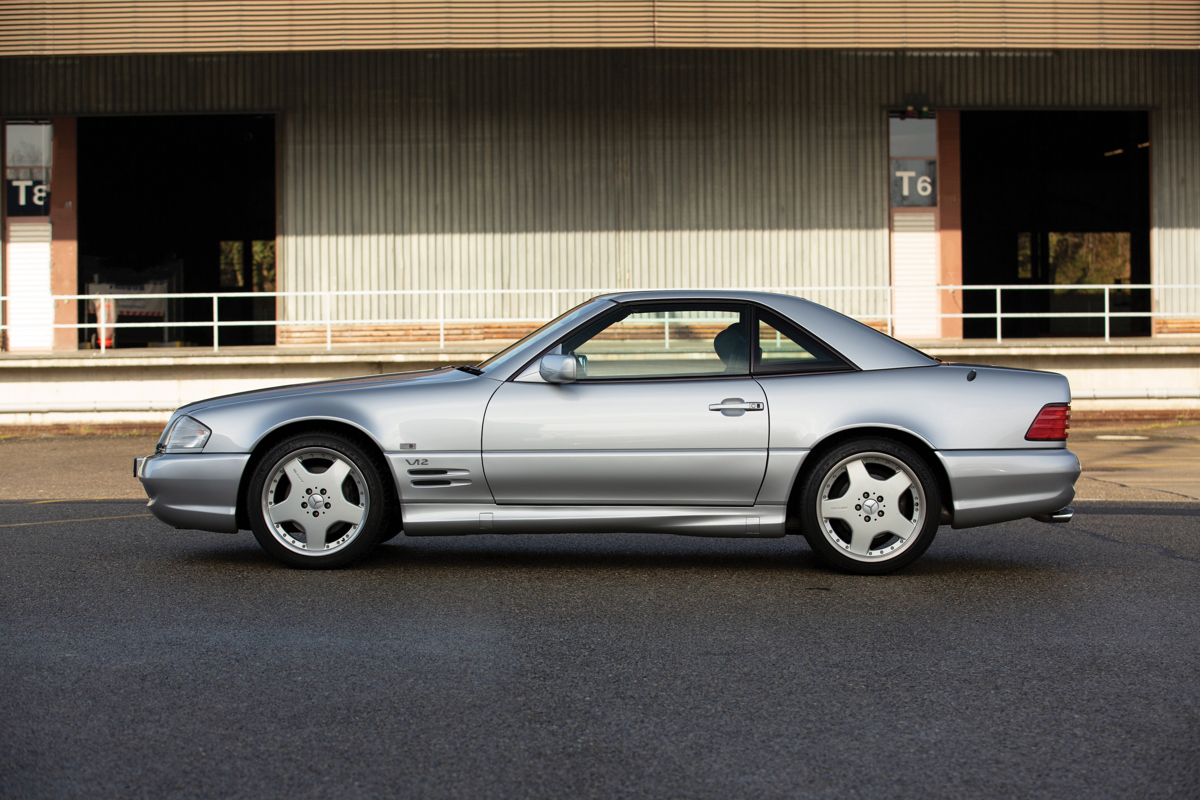 1998 Mercedes-Benz SL 70 AMG
Estimate: €150,000 - €200,000 EUR
The SL600 is no slouch by any means, until compared with the supercar-rivaling brute that AMG Japan created with the SL 70 AMG. The SL600's 389 bhp V-12 was enlarged to 7.0 liters to produce a staggering 500 bhp and was paired with a free-flowing exhaust system, while the hydraulic suspension was tuned to cope with the additional power. Inside, the cabin was outfitted with a bespoke carbon fiber trim package, AMG instrument cluster, and steering wheel. This example presents today in fantastic condition throughout, evidently having been pampered throughout its life and regularly serviced during its tenure in both Japan and Switzerland.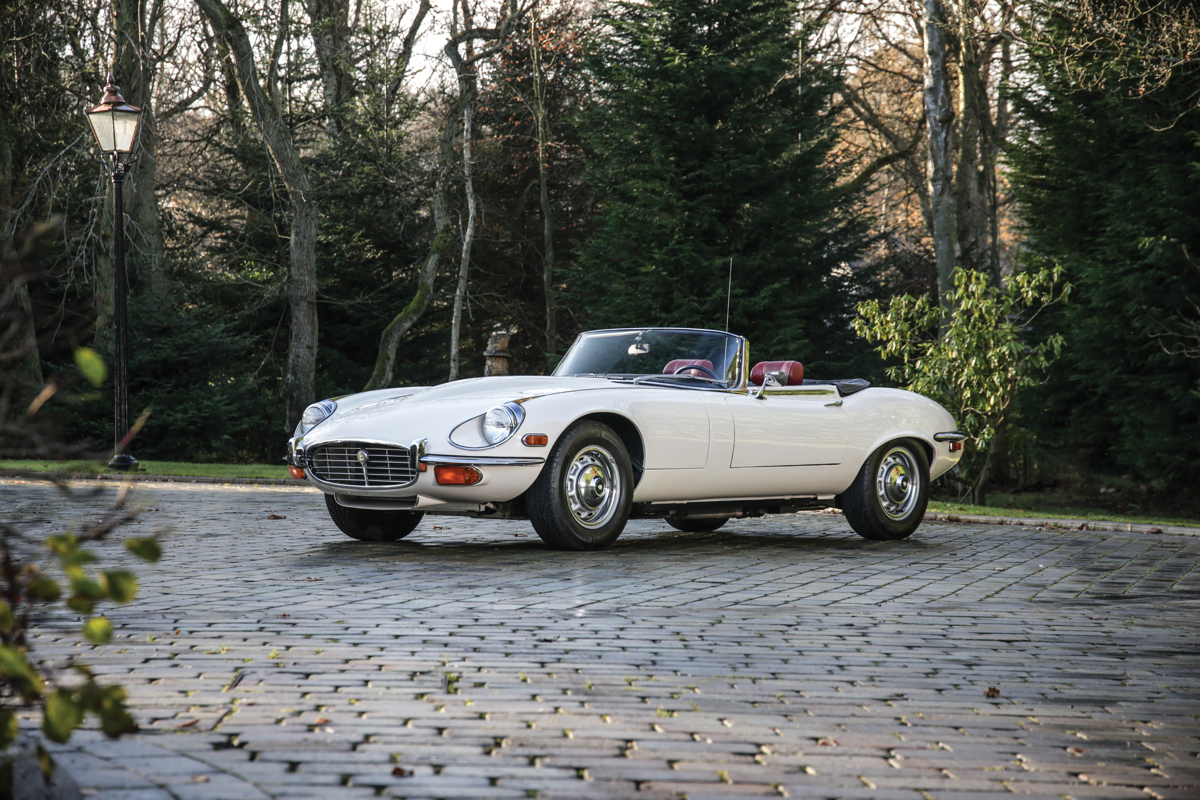 1971 Jaguar E-Type Series 3 V-12 Roadster
Estimate: €75,000 - €100,000 EUR
The original owner took delivery of this Series 3 V-12 roadster directly from Jaguar's Brown's Lane factory in 1972 and proceeded to drive it throughout Europe before sailing on the famous Ocean Liner SS France to New York. Aside from a repaint in the 1980s, this lovely E-type was never fully restored and presents today in highly original condition, retaining the original color scheme of white on red, its matching-numbers engine, and the original UK plate.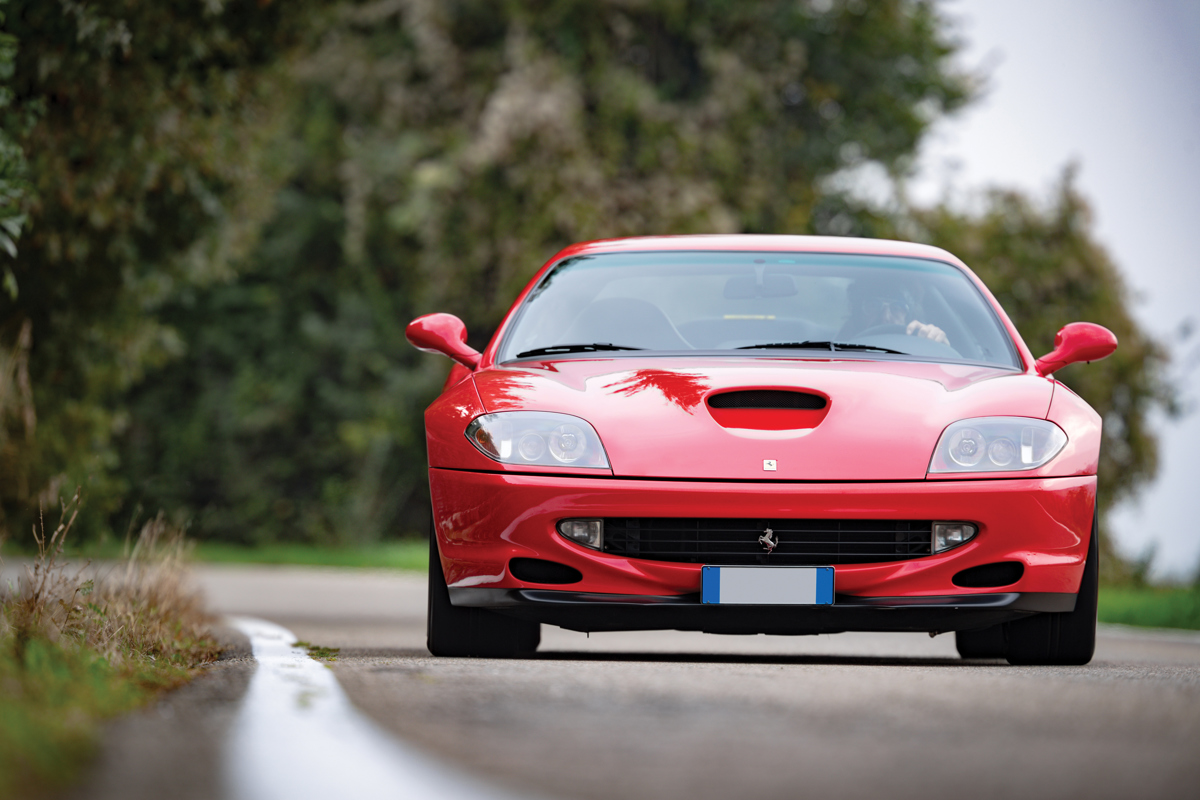 2000 Ferrari 550 Maranello WSR
Estimate: €150,000 - €200,000 EUR
In 1996 Ferrari's 550 Maranello rewrote the rule books for the grand tourer, capable of crossing continents with two occupants and luggage comfortably while also being able to leave contemporary supercars in its wake around any racetrack. Ferrari took a lightly modified 550 to the Transportation Research Center in Ohio and proceeded to break three records with it: 100 miles at an average speed of 190.2 mph, one hour at an average speed of 184 mph, and 100 kilometers at 188.9 mph. To commemorate the achievement, Ferrari produced just 33 World Speed Record editions, most in Grigio Silverstone over a Rosso interior, and a select few in other colors. This rare Rosso Corsa–over–Nero example is one of the latter and features the Fiorano handling pack, leather-trimmed roll cage, Alcantara-clad steering wheel, and carbon bucket seats with four-point race harnesses.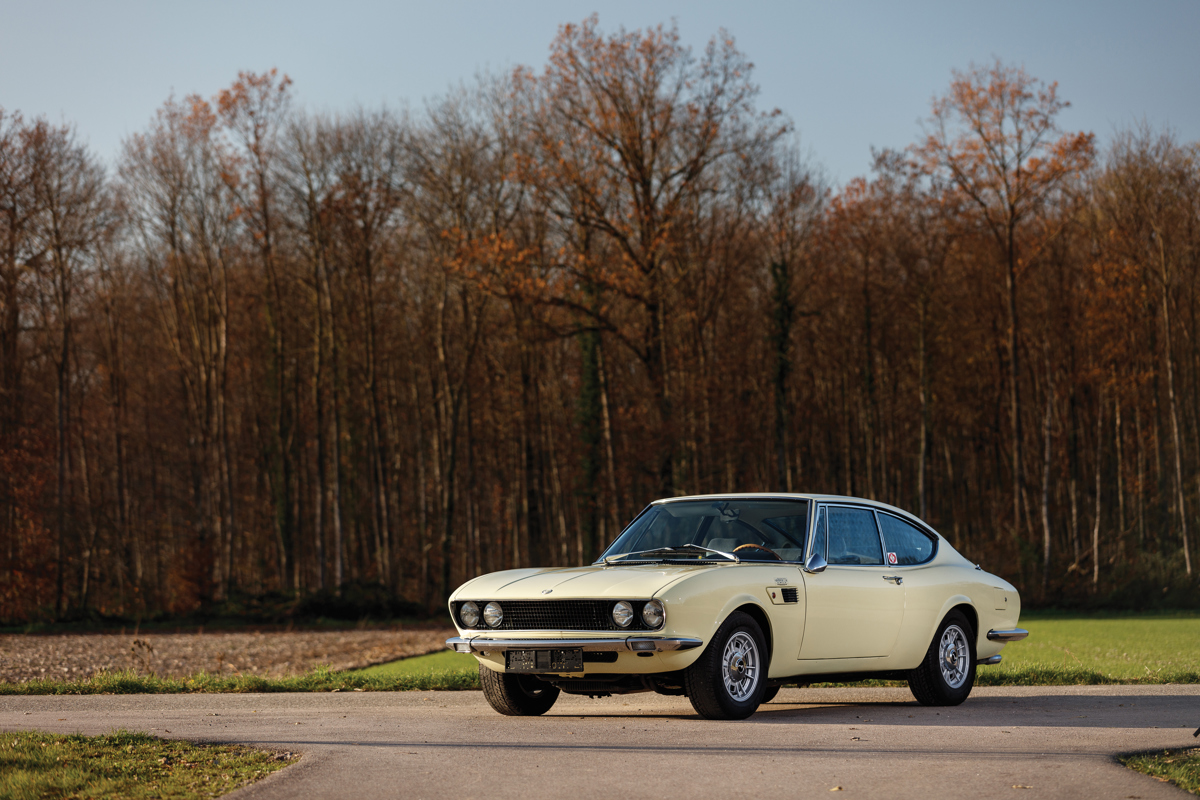 1970 Fiat Dino 2400 Coupé
Estimate: €60,000 - €80,000 EUR | Offered Without Reserve
This Bertone-designed Dino 2400 Coupé features the larger and more powerful 2.4-liter engine, which enabled Ferrari to qualify its twin-cam Dino V-6 for Formula II racing, and has been refreshed with a bare metal repaint in Giallo Dino. The brakes, clutch, tires, and battery were renewed, and modern seat belts were installed. While the majority of this example's history is unknown, the consignor states that it was once owned by world rally champion Armin Schwarz. It is presented today in good condition and is a joy to drive, whether for a spirited weekend cruise or for everyday use.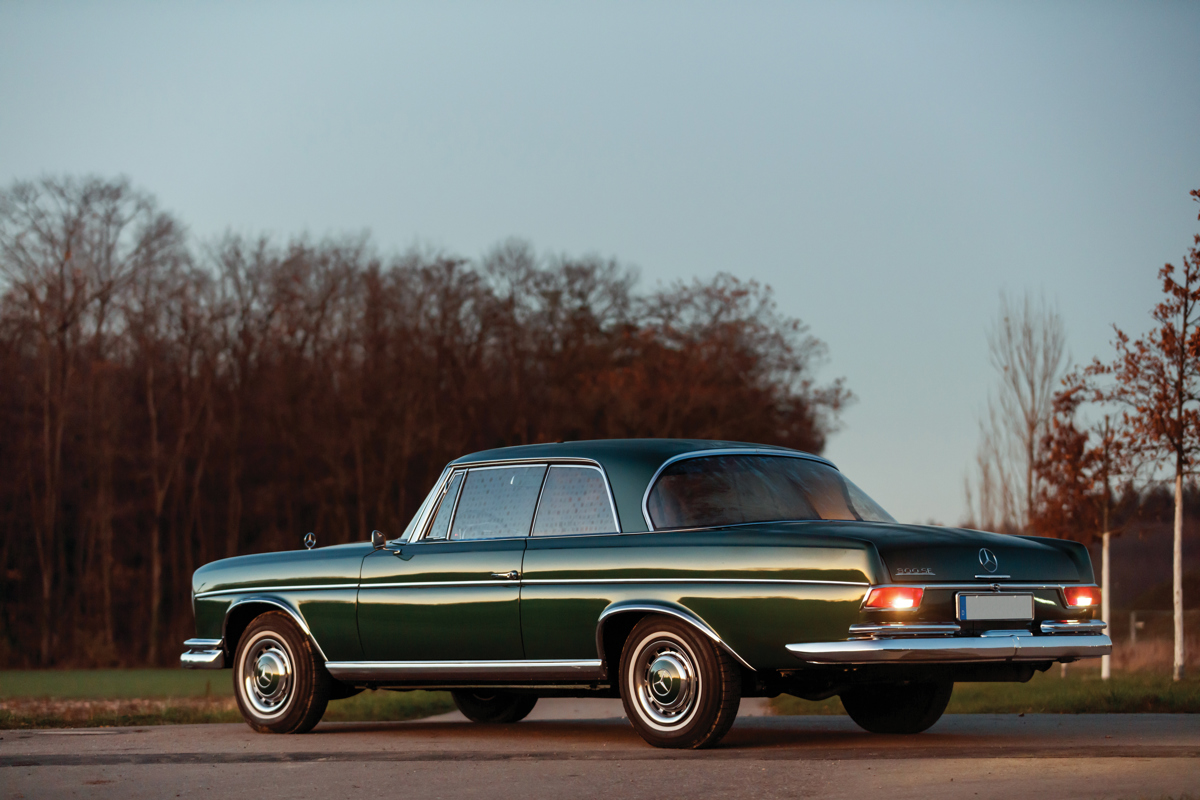 1963 Mercedes-Benz 300 SE Coupé
Estimate: €60,000 - €80,000 EUR | Offered Without Reserve
Between 1963 and 1967, just 3,127 W112-generation 300 SE coupés and cabriolets were produced, each largely built by hand, and approximately 13 were completed per week. This example is one of just 630 produced in 1963 and features a stunning Dark Green Metallic–over–Cognac color scheme, a factory sunroof, and the rare floor-shifted four-speed manual transmission. Since 2015, over €25,000 has been invested to keep it in excellent mechanical condition, including a new clutch, front and rear brakes, air suspension including bellows and valves, and a complete rebuild of both front and rear axles with original parts.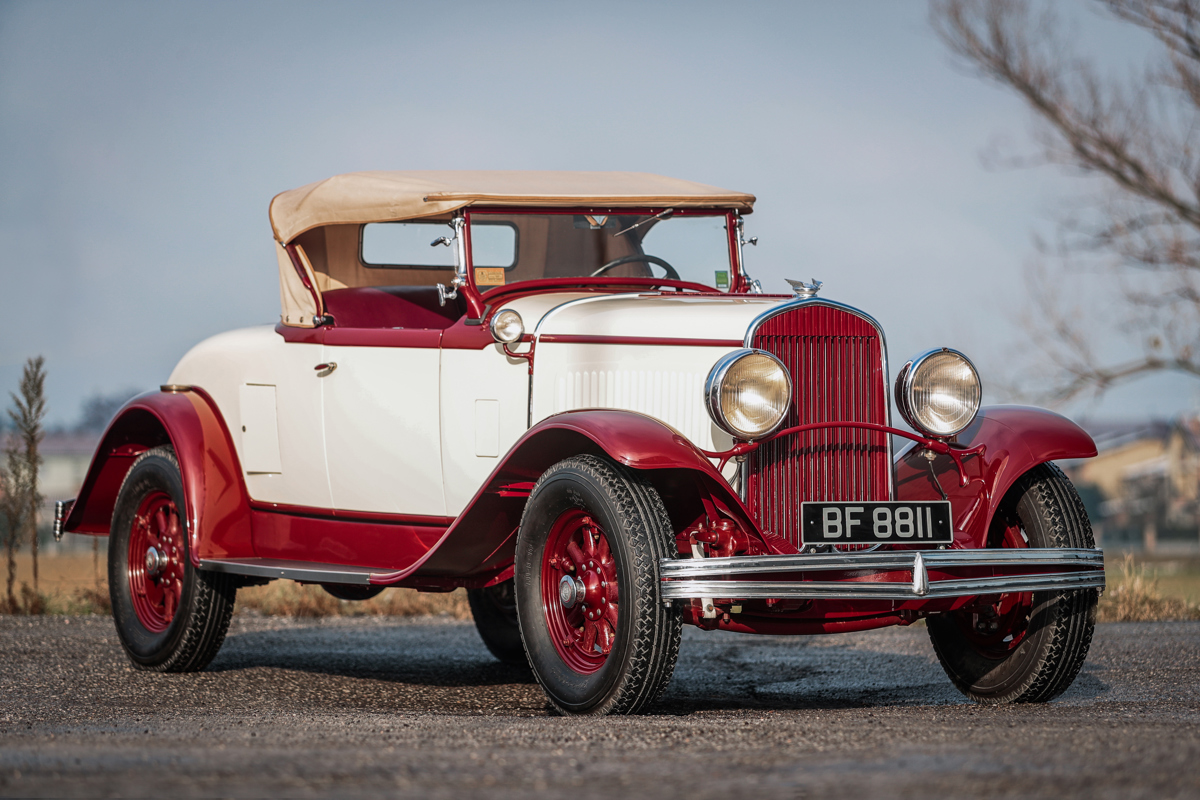 1929 Chrysler 75 Roadster
Estimate: €90,000 - €100,000 EUR | Offered Without Reserve
For 66 years this Chrysler Series 75 Roadster remained under the loving ownership of its second owner, Richard Roy, who purchased it as his first car at the age of seventeen. Roy grew to become a successful businessman and car collector, yet never sold his Chrysler, and it remained in his possession until his passing. In 2015 the Chrysler was shipped to Europe and fully restored at the reported cost of $100,000 with vintage rallies and touring in mind. With the 2016 Grand Premio Nuvolari already under its belt, this fantastic Chrysler remains highly eligible for similar events, including Le Mans Classic and the Mille Miglia.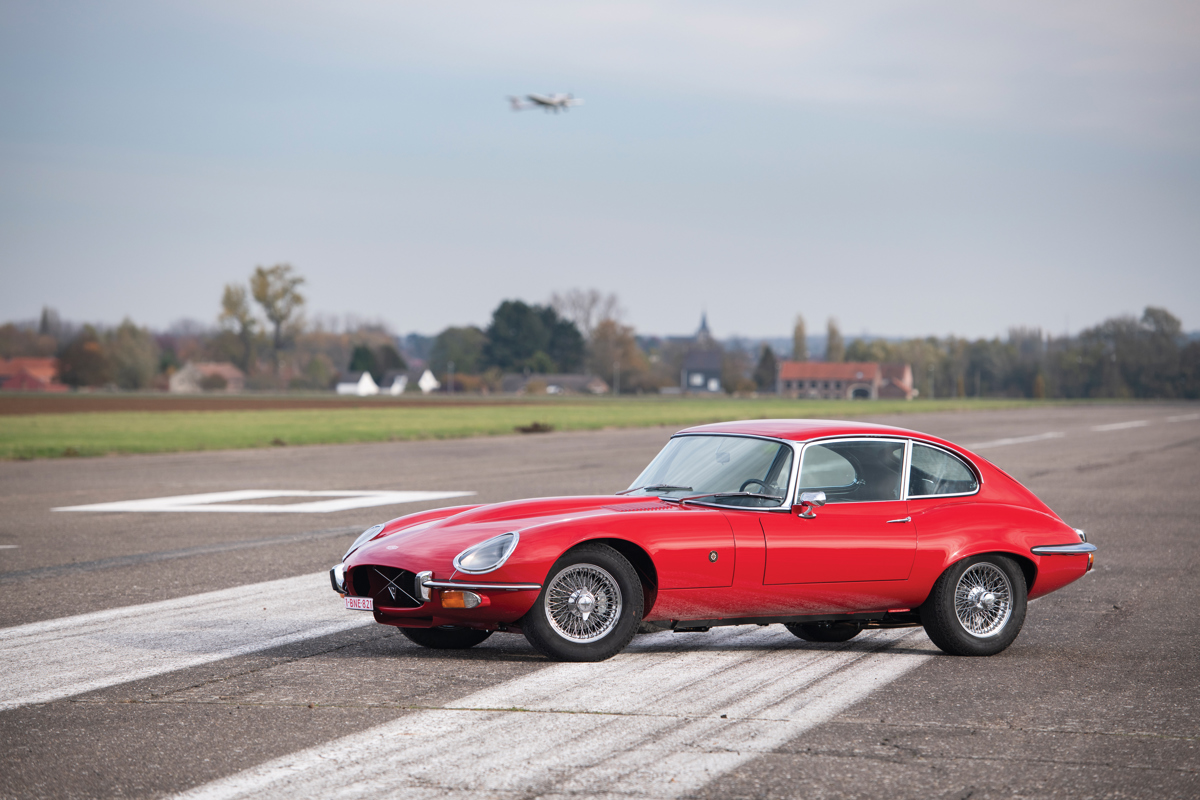 1972 Jaguar E-Type Series 3 V-12 Fixed Head Coupé
Estimate: €60,000 - €80,000 EUR | Offered Without Reserve
For devoted fans of the iconic E-Type, which of the model's three generations is the best can be a point of contention. Series 1 models are revered for their aesthetics, while Series 3 models are praised for their drivability. This example has been cosmetically "backdated" to resemble a Series I E-type by incorporating Series 1–style seats, dashboard, bonnet, and an early center console. Headlight covers and quad exhausts were also installed. Wider wheels and uprated brakes were fitted, and the original automatic gearbox was replaced with a four-speed manual transmission with overdrive. It was inspected and fine-tuned in 2019 by Jaguar Land Rover Classic Deutschland, where it impressed employees with its attention to detail, and is certain to resonate with fans of the E-Type of any generation.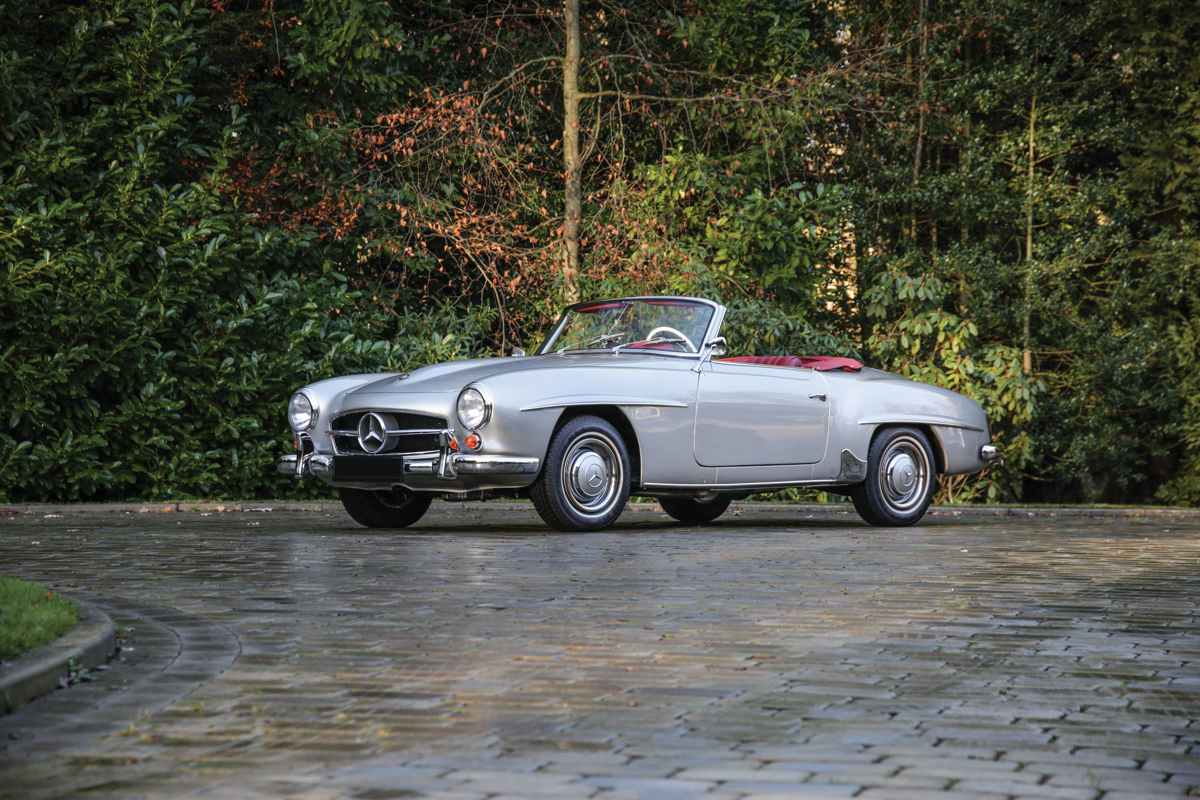 1961 Mercedes-Benz 190 SL
Estimate: €100,000 - €130,000 EUR
Stunning in its color scheme of silver-over-red with matching original hardtop, this 190 SL presents today in immaculate condition following a comprehensive restoration spanning 2017 and 2018. The original engine was retained and fitted with reliable Weber carburetors, while the original Solex carburetors accompany the vehicle. A detailed collection of invoices outlines the tremendous work undertaken to bring the vehicle to its outstanding present condition and total tens of thousands of euros. This stylish roadster is the ideal car to enjoy with the roof down in warm summer months and will offer a new owner many years of carefree enjoyment.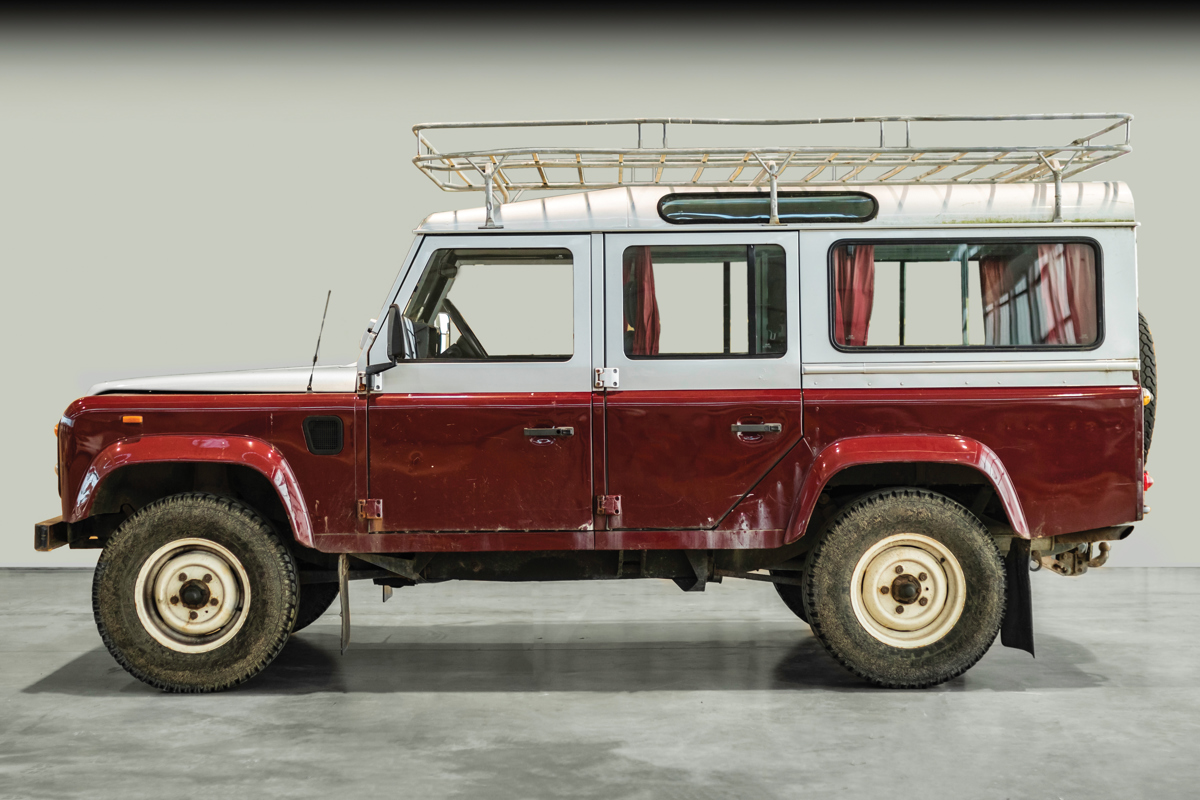 1993 Land Rover Defender
Estimate: €8,000 - €10,000 EUR | Offered Without Reserve
The Defender has earned a reputation of being among the most rugged and capable off-road vehicles, able to conquer even the most unforgiving terrain that the globe has to offer. This example comes from the Dayez Collection and has been painted to match the Delahaye 135 Cabriolet with which it shared the garage. It is the popular 110-inch-wheelbase model with the five-door station-wagon body and is equipped with the 2.5-liter, four-cylinder 200 Tdi Turbodiesel engine mated to a five-speed transmission.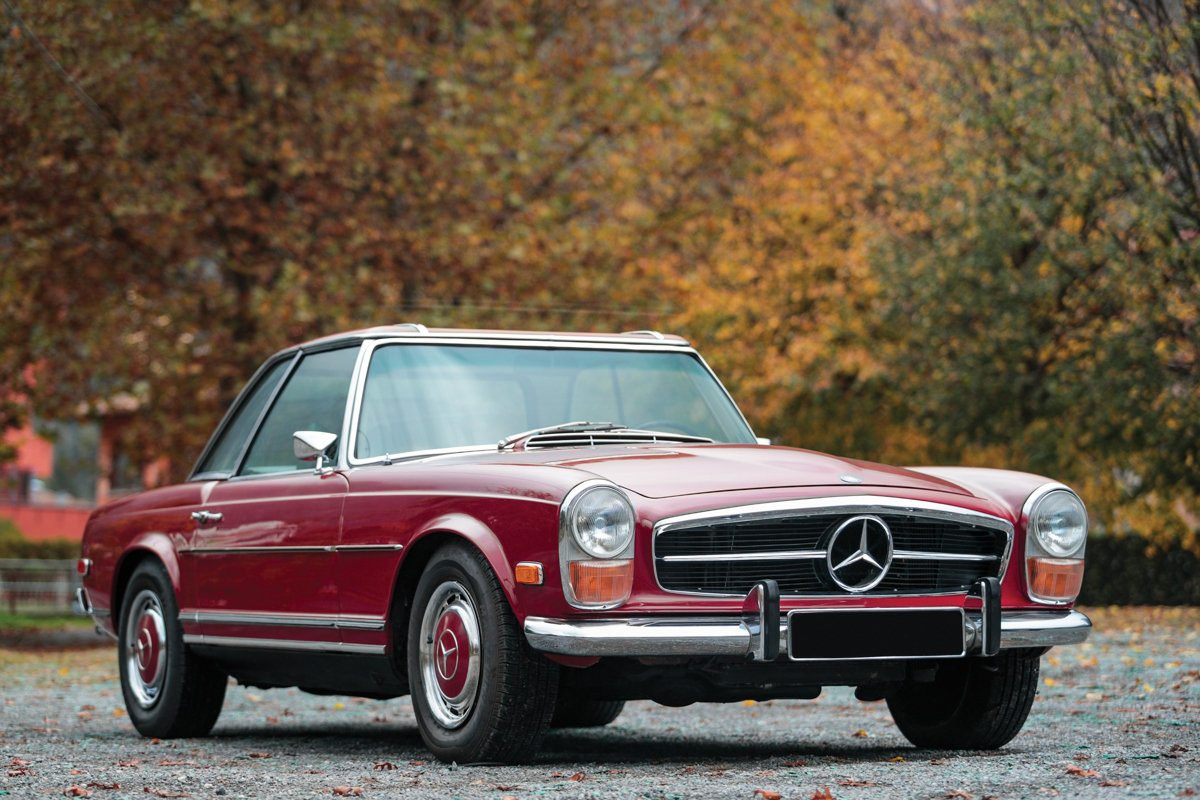 1970 Mercedes-Benz 280 SL 'Pagoda'
Estimate: €60,000 - €80,000 EUR | Offered Without Reserve
As fashionable today as upon its release fifty years ago, Paul Barcq's styling has created a vehicle that was sophisticated and timeless, becoming one of the most popular and recognizable Mercedes models to date. This example offered from the Poster Car Collection has passed through just two owners, with its second owner being its custodian for thirty years. It was repainted in its attractive shade of dark red in 2011, and its engine was rebuilt at 27,000 miles. It includes both its soft top and the iconic "Pagoda" hardtop and is equipped with an automatic transmission, air-conditioning, power windows, a modern Sony stereo, and color-coded seat belts. It is the perfect candidate for handling duties as a warm-weather daily driver and will endure as a popular model for decades to come.