By this point, whether the subject at hand is gasoline or groceries, we all accept that values are not what they used to be. With the increase in costs for nearly everything, amidst chip shortages and shipping difficulties, it is only natural that classic cars prices would also see an increase. And yet, there are still values to be had in the world of vintage vehicles.
With this year's Fort Lauderdale auction marking the nineteenth time that RM Sotheby's has offered our world-respected brand of premium-quality selections in South Florida, there is no better spring tradition than this one, at least where classic automobiles are concerned. Held in conjunction with the annual Ft Lauderdale Auto Show at the Greater Fort Lauderdale/Broward County Convention Center, RM Sotheby's auction has become a mecca for mechanical devices, both old and new. With lots encompassing everything from neon signs to a Ferrari-branded speedboat and even an Amphicar, surely there is a selection for everyone. With a lengthy list of lots with estimates under $30,000, here are some highlights: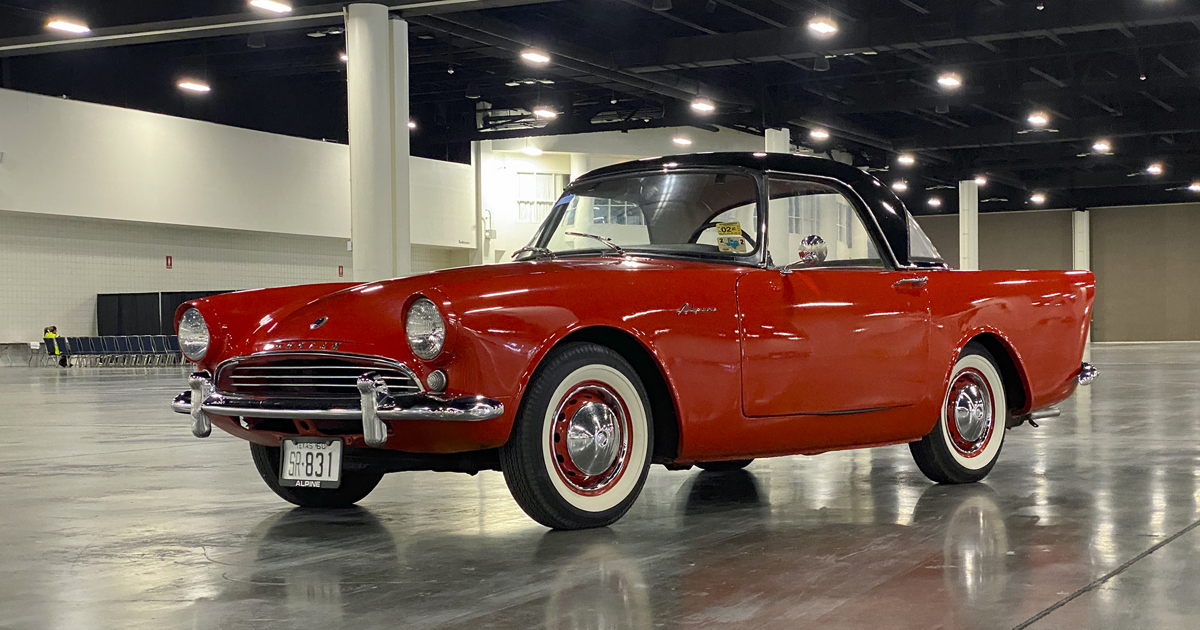 1960 Sunbeam Alpine Series I
Estimate: $10,000 - $15,000 USD | Offered Without Reserve
Starting our list is a respectable roadster which helped jump-start the sixties sports car revolution. Made in England and marketed to the rest of the world, the Sunbeam Alpine was designed to entice the American market in particular, with sharp tailfins reminiscent of the angle of the iconic 1957 Chevrolet Bel Air. Later versions were subsequently modified by Carroll Shelby with V-8 engines, which widened the appeal even further to worldwide sports car customers. This example was delivered new in 1960 to Mexico, in the capital region, or District Federal. With classic mid-century looks and genuine sporting pedigree, this Sunbeam would make a great choice for a first sports car.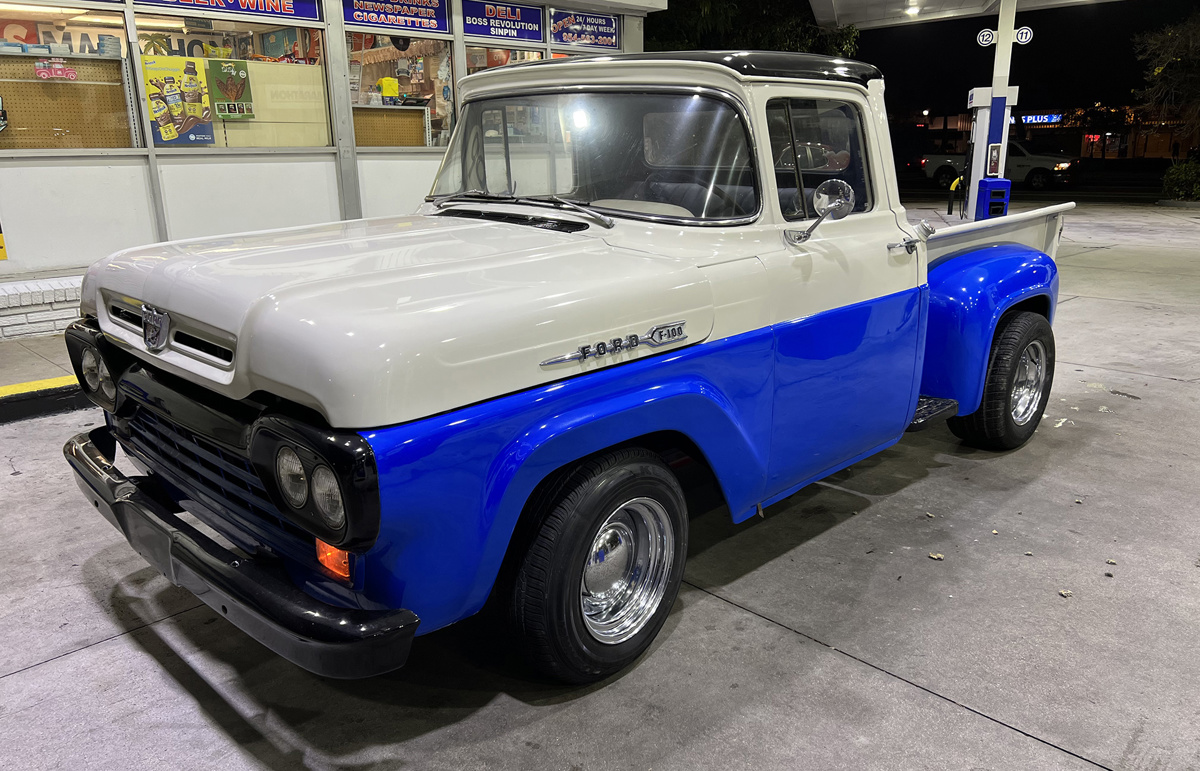 1960 Ford F-100 Stepside Pickup Custom
Estimate: $22,000 - $28,000 USD
With the sports car market booming, some savvy collectors have started eyeing classic trucks for their balance of style and performance. This example has been made even more desirable with a 292 cu. in. V-8 engine, controlled by a three-speed manual transmission with floor shift. The customization continues with a polychrome paintjob and black gloss brightwork. Moving to the rear, the wooden cargo bed with a natural finish completes the custom aesthetic. Looking at the undercarriage of this example reveals a dual Cherry Bomb exhaust treatment. V-8 power and plenty of storage space.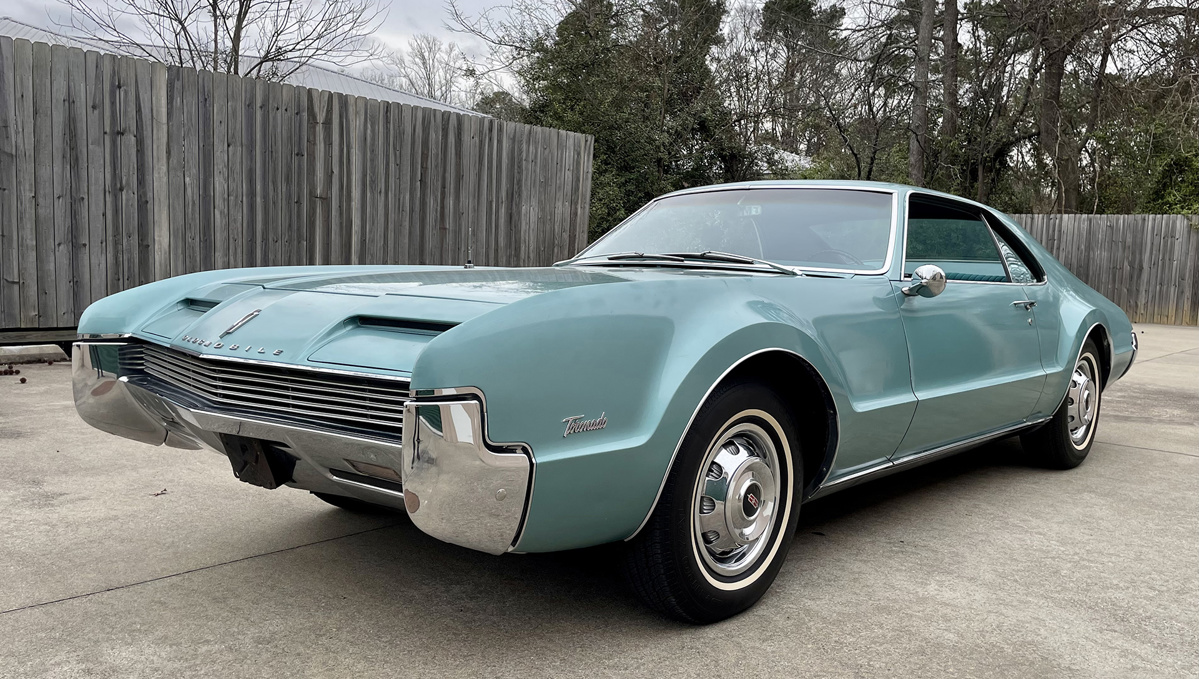 1966 Oldsmobile Toronado
Estimate: $18,000 - $24,000 USD | Offered Without Reserve
Some models are too classic to modify. Presenting innovation in multiple areas, the Toronado touted its status as the first American-made front-wheel-drive production car after the dissolution of Cord during the Great Depression. With pop-up headlights and decidedly cab-rearward styling, the Toronado presented American innovation paired with generously proportioned grand touring design. Reportedly one of the proudest points in GM Chief Stylist Bill Mitchell's career, and even made a custom version with only two-seats. This example generously seats at least four with its pillarless style and "Strato-bench" front seat, and looks positively period-correct with its Ocean Mist exterior over Turquoise cloth and vinyl interior color scheme.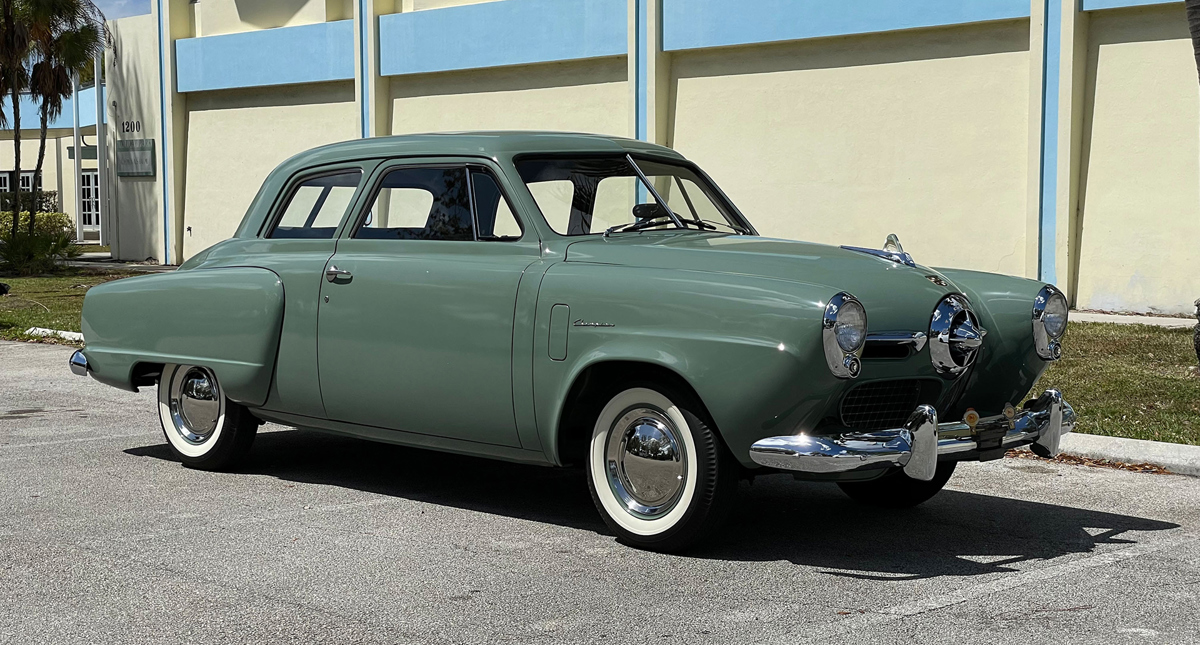 1950 Studebaker Champion
Estimate: $20,000 - $30,000 USD
As well-regarded as General Motors' internal styling department was, they by no means were the only American company which could claim to see the future. In terms of design, one of the biggest causes for a clean sheet remodel of any automaker's fleet was the cessation of production during World War II. With the onset of worldwide peace, consumers wanted their automobiles to reflect the newfound aerodynamic sensibilities that could be found in everything from jet engines to post-war toasters. The Champion has been regarded as one of the earliest heralds of this oncoming era, with its wraparound "greenhouse" rear windshield and bullet-style nose, both executed by talented chief stylist Raymond Loewy. This example is even more celebrated than most, with a thorough restoration completed in the year 2000 and a string of subsequent awards, including a AACA Senior National First prize won that year and a Senior Grand National award in 2004.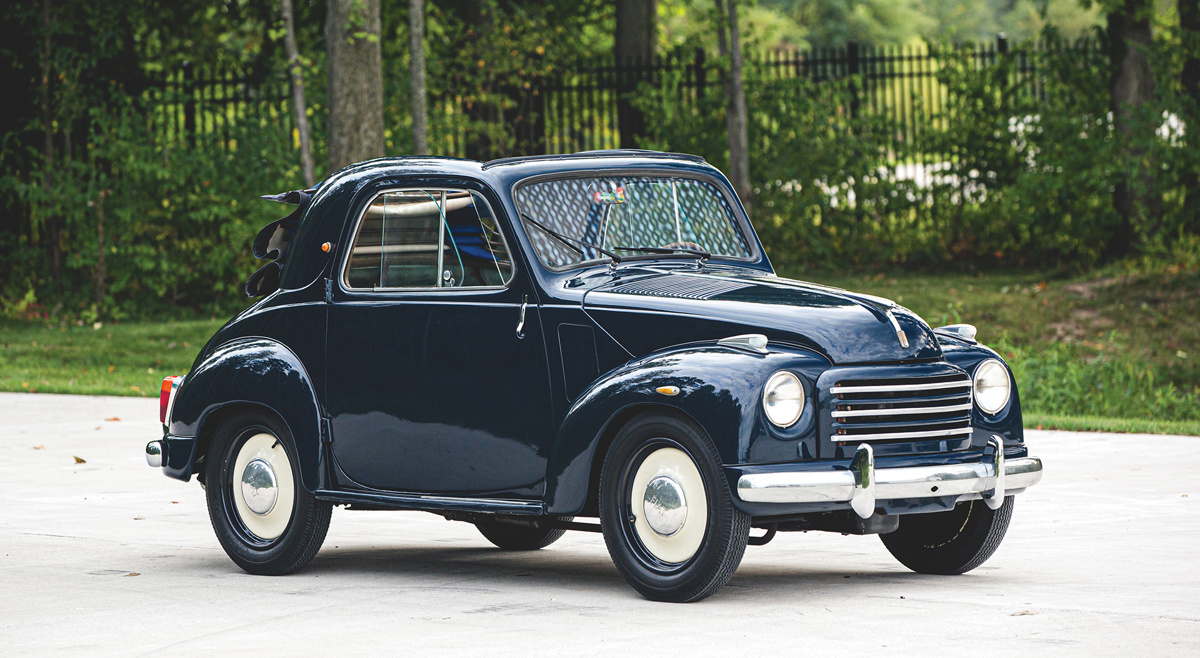 1951 Fiat 500 C Topolino
Estimate: $20,000 - $25,000 USD
The early 1950s were a time for innovation on both sides of the Atlantic, though the European automakers were decidedly less opulent in their production vehicles. That does not imply that post-war European vehicles were not of a high quality, but rather they brought classic old-world craftsmanship and fine materials to vehicles with a smaller footprint. The result can be observed in examples like this Fiat 500 C Topolino, which offered drivers an expansive, retractable "sunshine roof," a comfortable woven cloth interior, and an average fuel economy which could make the cars of today envious, especially in times of inflated gas prices. Making it even more of a practical choice for the European-minded motorist, this example is eligible to contend in one of the most prestigious endurance races for classic cars, the Mille Miglia.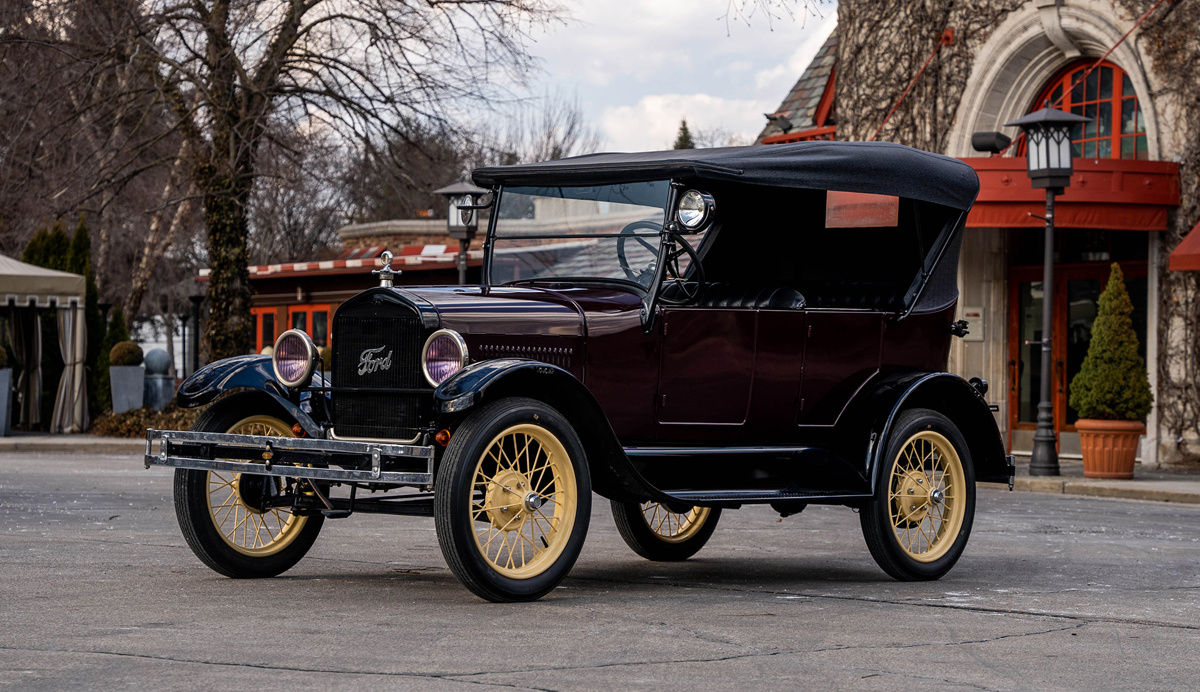 1926 Ford Model T Touring
Estimate: $20,000 - $30,000 USD
Another automobile built with touring in mind, the Model T is perhaps as associated with American motoring as the tiny Fiat Topolino is with its nation of origin. Though cross-country travel was certainly achieved before the Model T, the famous Ford's durability and wide network of dealers and parts suppliers made it the preferred model for interstate travel among notable figures, including naturalist John Burroughs and novelist John Steinbeck. This handsome, well-equipped example is from the penultimate year of Model T production, and comes well-equipped with a jack stand, tire pump, and an assortment of period literature. For automotive aficionados of all ages, no matter the allegiance, many argue that Model T ownership is a must-have experience.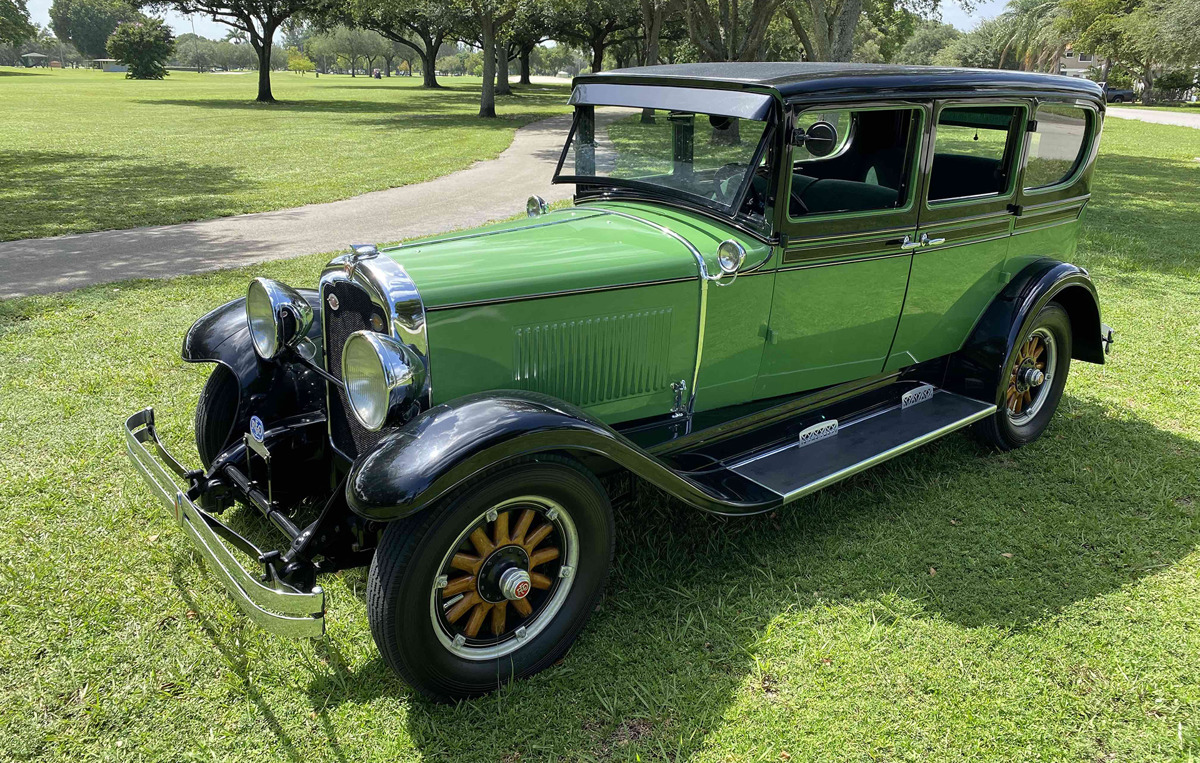 1929 REO Flying Cloud Sedan
Estimate: $22,000 - $28,000 USD
Meanwhile, around the same time that Ford was scurrying to replace the mega-hit of the Model T, a minor revolution was occurring elsewhere in Michigan. Though company founder R.E. Olds had briefly moved his factory to Detroit on the request of a major investor, an untimely fire allowed the opportunity for Olds to relocate the company back to the capital city, Lansing. There, Olds instituted progressive policies including the widescale employment of women in his workforce in the early 1920s and even the establishment of several clubhouses in the community. Olds' automobiles were equally innovative, and his REO Flying Cloud model was the first American production vehicle with hydraulic-assisted brakes, initially developed by Lockheed. Wearing a handsome older restoration which was completed to show standards, this example took home a First National prize in 1981 from the Antique Auto Club of America and a Grand National prize in 1982.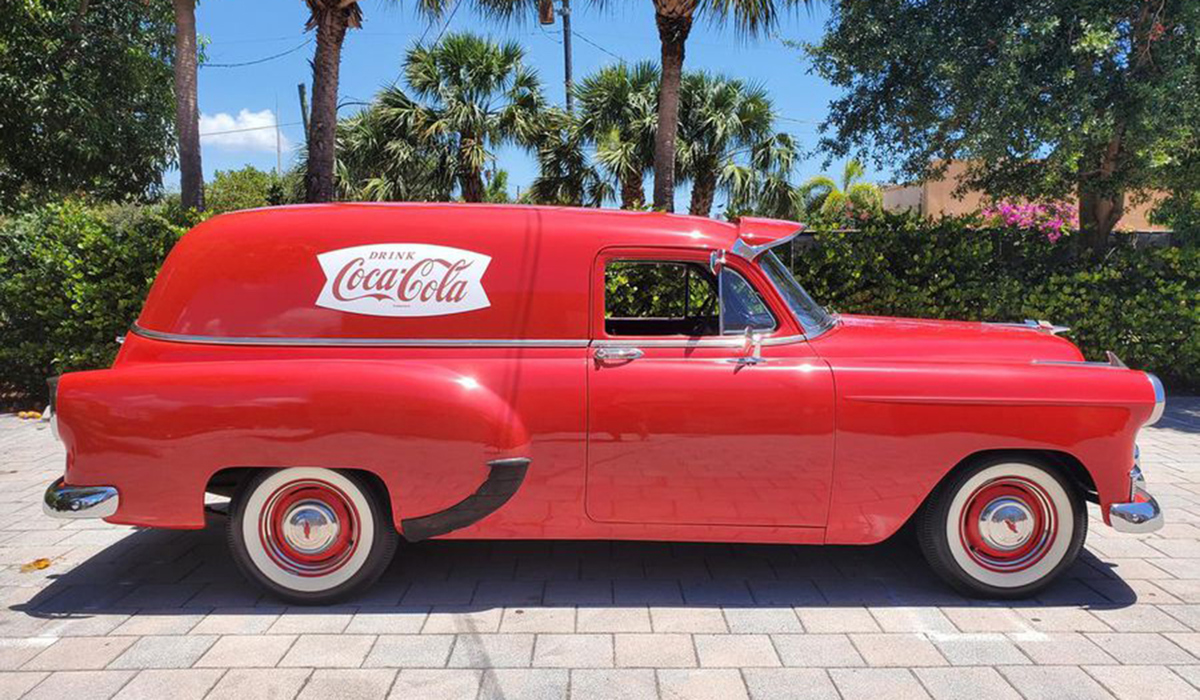 1953 Chevrolet Sedan Delivery
Estimate: $22,000 - $28,000 USD
In many ways, the current wave of crossover vehicles riding on non-truck chassis, offering a mix of cargo capacity and around-town manoeuvrability, is far from a new phenomenon. Chevrolet followed independent American manufacturer Crosley into the light utility market with their Sedan Delivery series, based on their smallest passenger model 150. For 1953, this combination of six-cylinder power and a commodious storage capacity proved to be successful with customers, and reportedly 15,523 total were made. Few today are in such a well-kept condition as this classic Coca-Cola-liveried example, which wears its previous restoration well, and would be equally suitable to light transport use as it would be as an eye-catching form of advertising.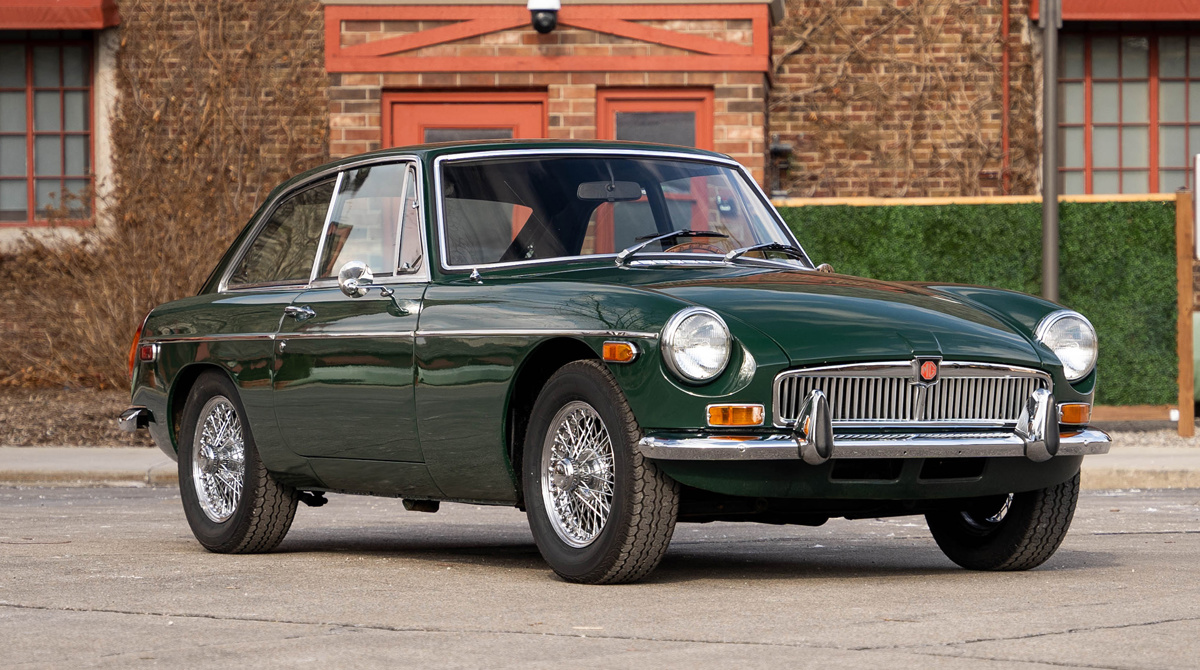 1973 MG MGB GT
Estimate: $20,000 - $25,000 USD
For those who wish for their car-based, cargo-carrying vehicles to carry a bit more speed through the corners, this MGB GT has long been a favorite model for anyone who wants a British sports car experience to come with a bit more carrying capacity. With the back seat bench folded down, nearly 9.5 cubic ft of storage space is possible, making this one of the most practical classic sports cars available. Wearing an older restoration which shows well, especially in this traditional color combination of Green Mallard over a tan interior, this example was reported to be a California car for much of its life. The clean engine bay and well-preserved interior are evidence of this, and surely would make a spirited first classic for any budding enthusiast.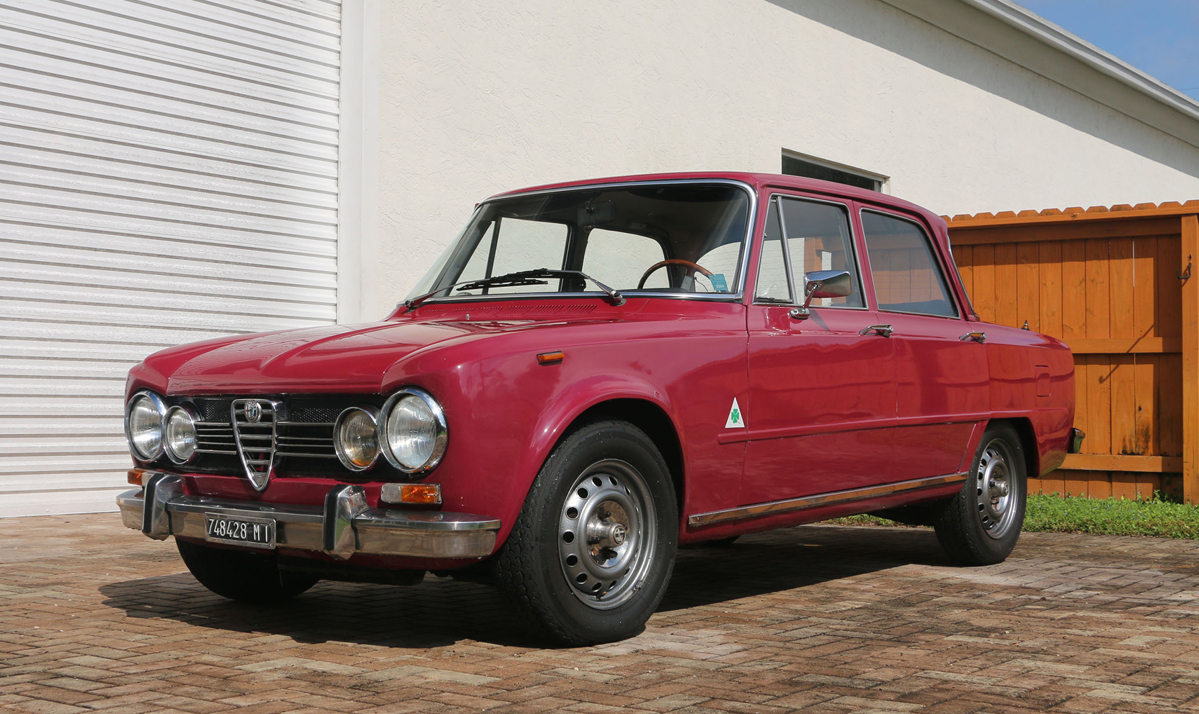 1973 Alfa Romeo Giulia Super 1.3
Estimate: $25,000 - $30,000 USD
From the same year as the sporting British example we just covered comes another practical European automobile infrequently seen in the United States. This Giulia Super provides 97 horsepower from its 1.3-litre engine, especially engaging when paired with with its five-speed manual transmission. Later left-hand-drive versions, like this example, sported top-hinged pedals for the first time, leading to a more modern driving experience. Packed with amenities such as a wooden dashboard and steering wheel, this lightweight, nimble sedan would make an ideal first model for any new enthusiast of classic sports cars. Featuring a fuchsia paint scheme over a grey and black interior, this example comes from a devoted Alfa Romeo collector, who claims it would be a superb entry into the Alfa community.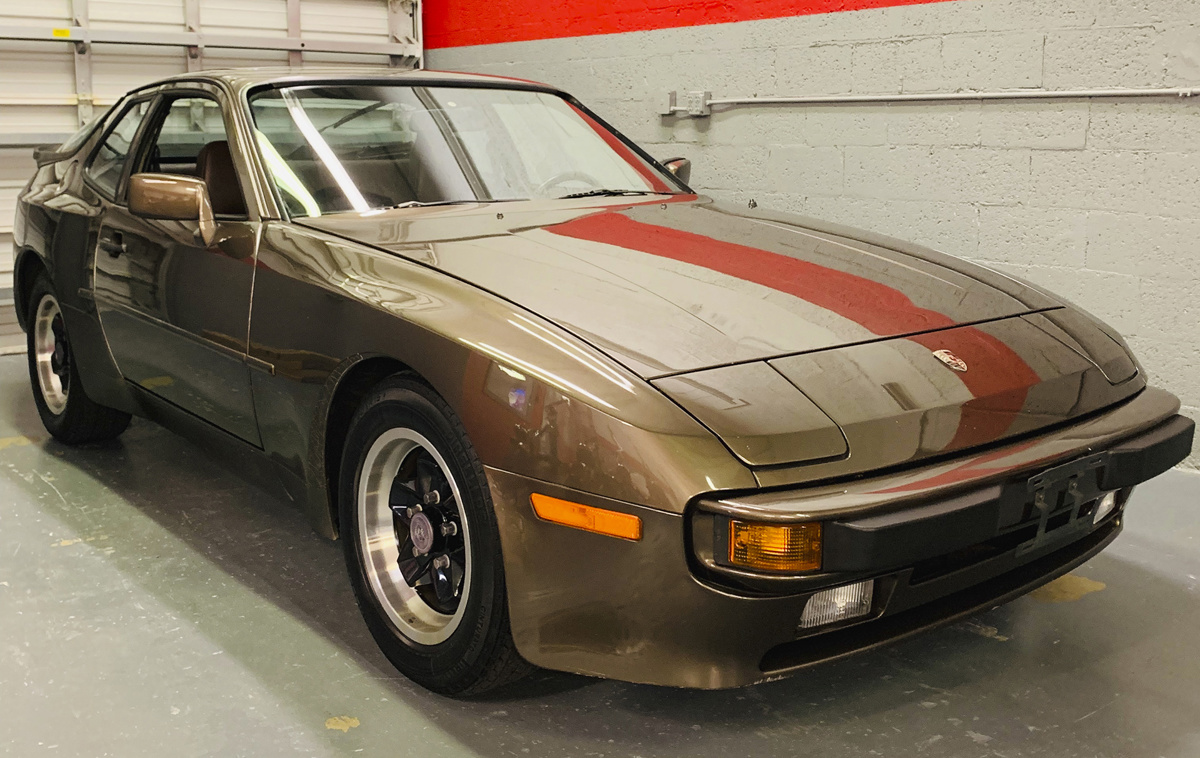 1983 Porsche 944
Estimate: $22,000 - $30,000 USD
Fast-forward ten years and the shape of the European sports car started to change. Especially for Porsche, which by the 1980s was producing more models with front-mounted engines than the signature rear-mounted configuration which made them famous. Today, with Porschephiles broadening their collecting strategies, values have been climbing for well-kept examples like this 944. Wearing a period-correct color combination of Sable Brown Metallic over brown leather with contrasting black wheels, this example showed only 28,913 miles at the time of cataloguing, and would make a strong statement for any fans of 1980s sports cars.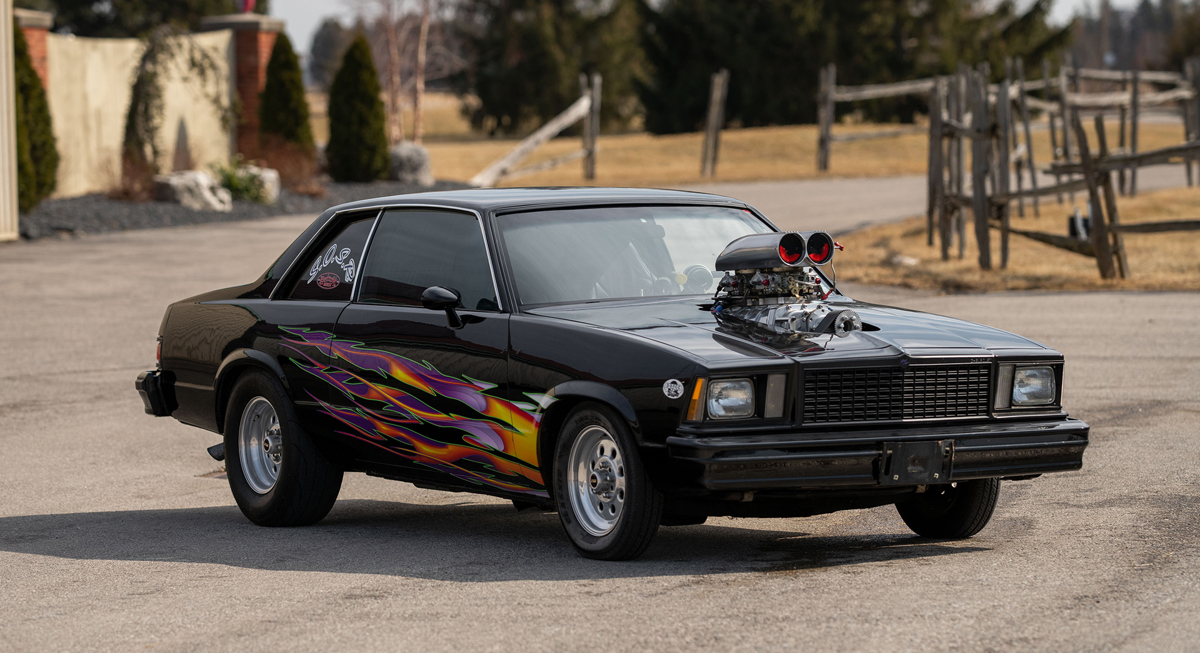 1981 Chevrolet Malibu Pro Street
Estimate: $20,000 - $30,000 USD | Offered Without Reserve
Unlocking a serious amount of performance from period automobiles can sometimes require an equally serious amount of modification. With the top portion of its 496 cu. in. V-8 engine protruding out of a hole cut in its hood, this Chevrolet Malibu means business even for those who are not savvy about performance cars. Those who do know about Pro Street-style modifications can quickly spot the 6-71 supercharger; one look inside the cockpit reveals the extent of the upgrades. With a full Sport-Comp dashboard and dash-mounted switches for everything from Nitrous Oxide to auxiliary fans, this flame-painted "Bad-Azz" Malibu is built for the drag strip.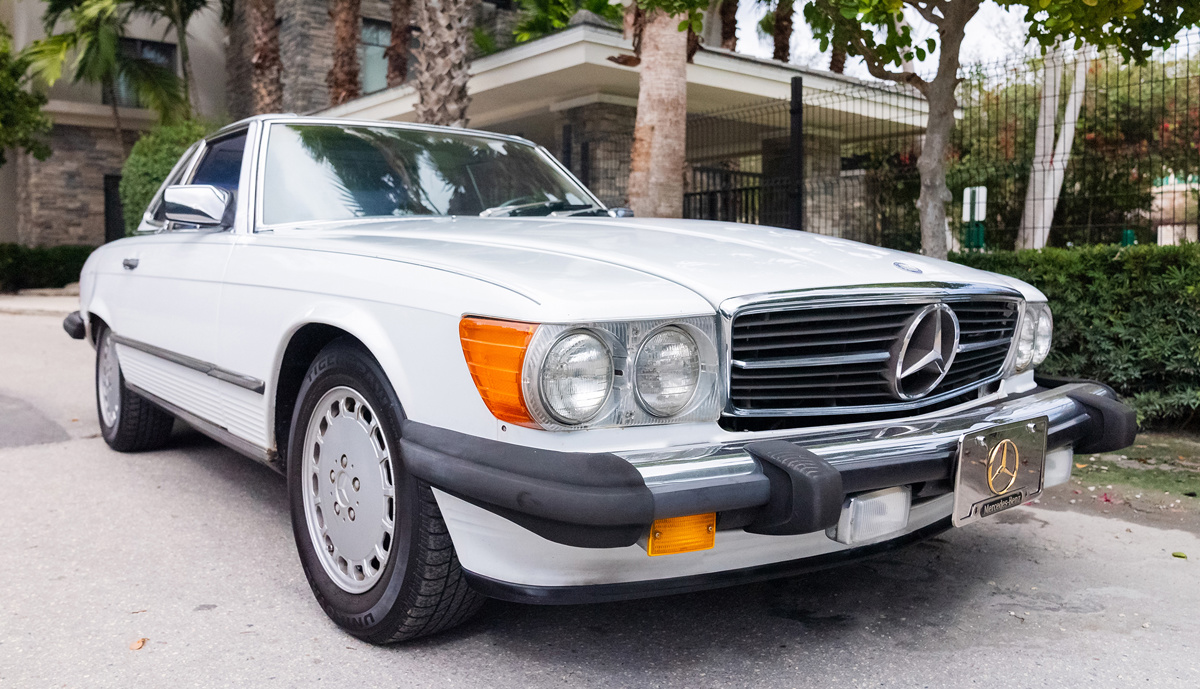 1987 Mercedes-Benz 560 SL
Estimate: $15,000 - $20,000 USD | Offered Without Reserve
Beloved among Mercedes-Benz fans for its fully developed engine as well as all the amenities gathered over its lengthy build cycle, the 560 SL models have been the bright point of the R107 generation. This example, with a tasteful color combination of a repainted white exterior over a grey MB-Tex interior and a matching hardtop, suits its top-of-the-line status with its generous wood appointments and powerful 5.6-liter V-8 motor. Also features modern options such as air conditioning, power brakes, and power steering. One of the finest Mercedes-Benz models of the 1980s, offered without reserve.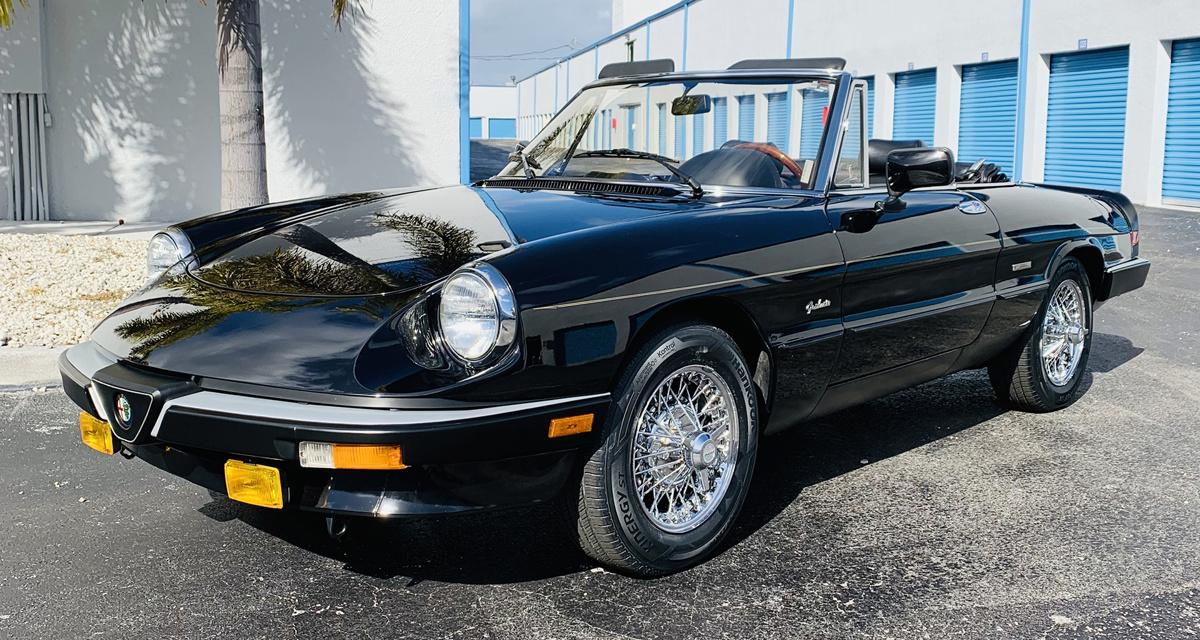 1989 Alfa Romeo Spider Graduate
Estimate: $25,000 - $30,000 USD
One more European sports car with a design that bridged decades, the Alfa Romeo Spider Graduate debuted in its first form in 1969 and was into its third series by the late 1980s. With the fourth series taking over in 1990, the 1989 model has been a favorite for Alfa aficionados for balancing modern amenities with the more delicate, fascia-free bumper design from the third series. This example is even more timeless with its triple-Nero color scheme and center-mount chrome wire wheels, perfectly complementing its Pininfarina styling. This well-equipped example is operated by a woodgrain Momo steering wheel with matching shift knob and showed less than 28,000 miles with only two recorded owners since new. A beloved Alfa model for good reason.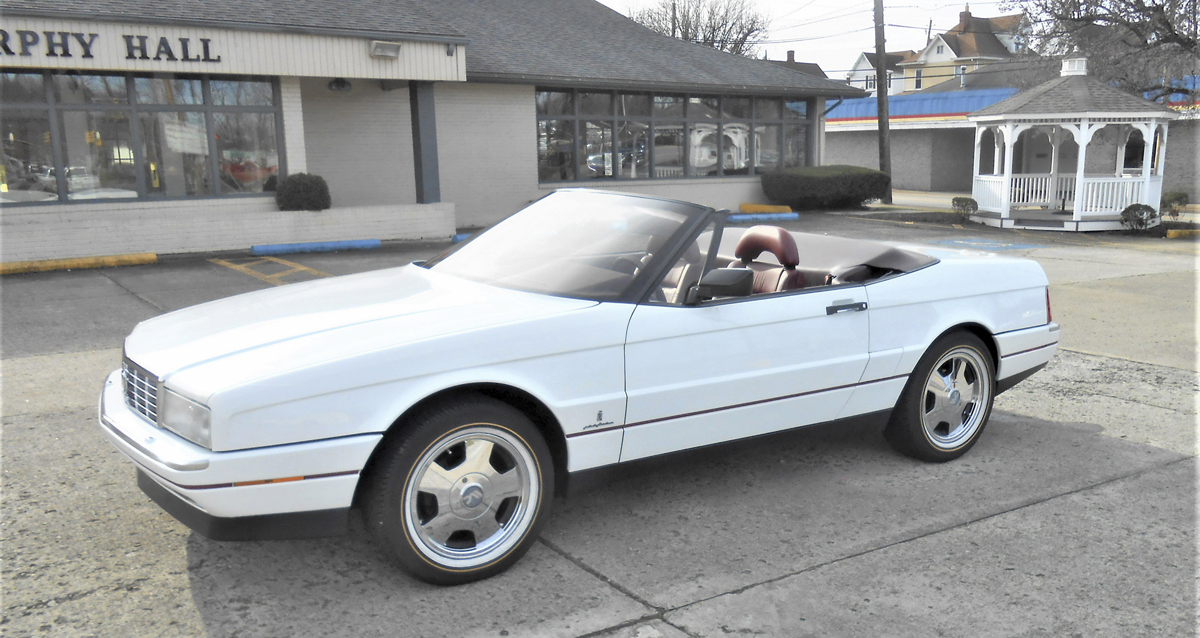 1991 Cadillac Allanté
Estimate: $24,000 - $28,000 USD
The final example on our list of fifteen different value-friendly examples from RM Sotheby's upcoming Fort Lauderdale 2022 sale is one which will no doubt experienced increased appeal now that people are reconsidering 1980s and 1990s automobiles. With its sights set on competing against the venerable Mercedes-Benz SL, Cadillac knew that they needed to join tasteful styling with modern features in order to best their rival. Employing Italy's Pininfarina to execute the styling was an inspired choice, and this example shows off its Opaque White exterior with a subtle minimalism that was not frequently seen among Cadillac's American competitors. The interior of Medium Maroon leather with Dark Maple Red trim provides a pleasant surprise upon opening the door, and the extensive digital display dashboard with keyless entry showed that General Motors engineers were doing their best to offer the Allanté with as many high-tech features as possible. An uncommon counterpoint to the typical European offerings, this Cadillac can boast Italian styling as well as rarity. With estimates for all these examples in relatively attainable reach to all collectors, which would you choose?