The image of open roads is a poignant one: A vision of endless possibilities and potential for adventure. RM Sotheby's latest auction has been designed with this spirit of freedom in mind, offering a diverse selection of automobiles, all of which have been selected with sheer pleasure in mind. So, sit back, put on your favorite road trip tunes, and cruise through these following selections, all available at RM Sotheby's Open Roads auction, with online bidding accepted from 12-19 November 2020: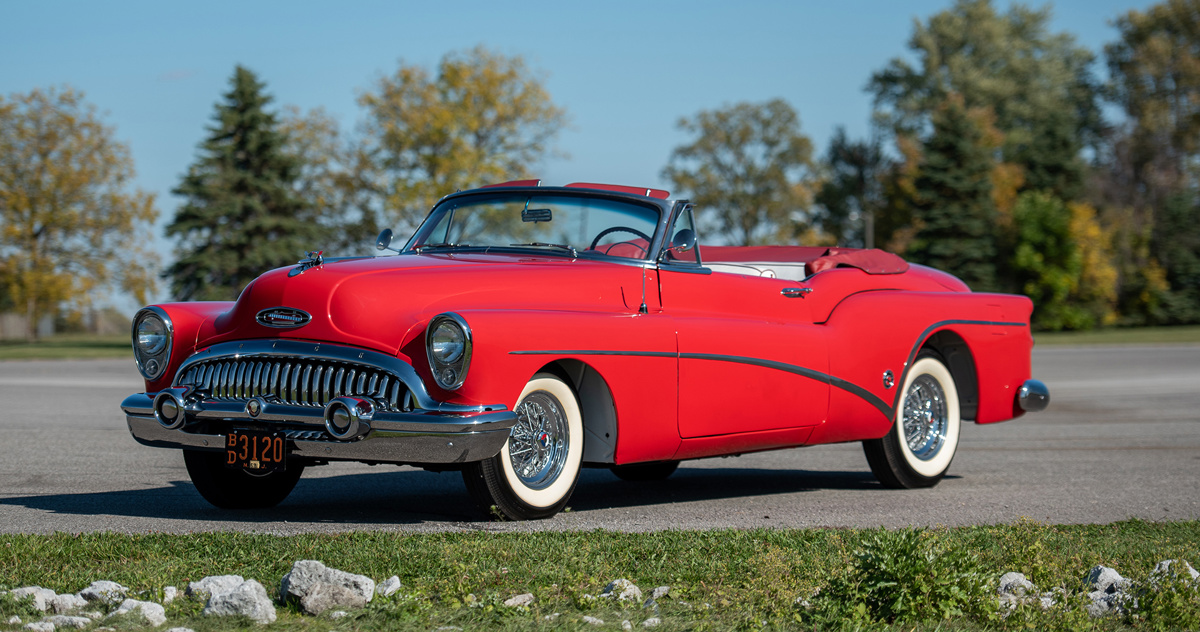 1953 Buick Skylark Convertible
Estimate: $90,000 - $110,000 

USD |

 

Offered Without Reserve

 

1953 proved to be a pivotal year for the Buick brand as well as parent company General Motors. That year marked the launch of the Chevrolet Corvette sports car, the Cadillac Eldorado flagship, and the 50th anniversary of the Buick brand itself. To celebrate, Buick launched this handsome convertible Skylark, with chrome accents throughout, powered by the brand's first modern V-8 engine. Wearing the correct 40-spoke Kelsey Hayes chrome wheels, this drop-top Skylark is one of only 1,648 examples built by Buick in 1953, making it an uncommon classic indeed.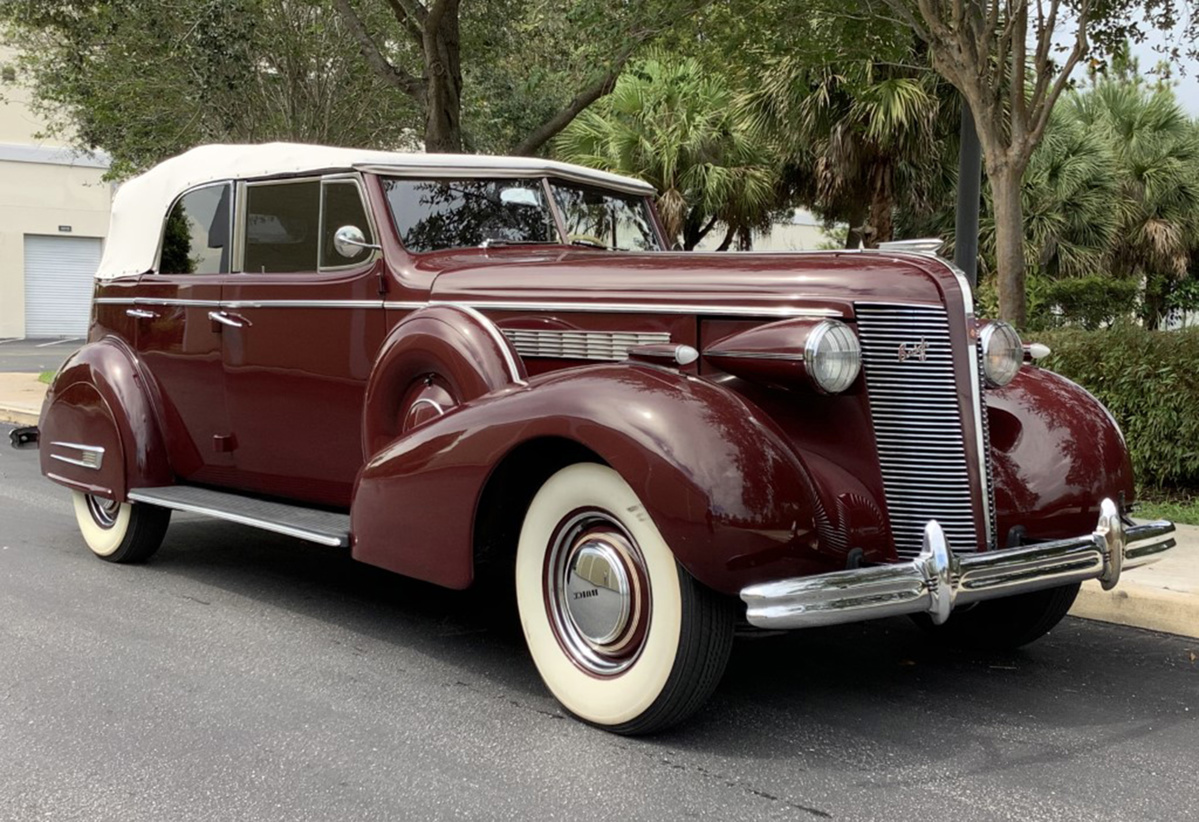 1937 Buick Roadmaster Phaeton
Estimate: $35,000 - $45,000 USD
The spiritual predecessor to the Skylark we discussed above, this Fisher-bodied Buick Roadmaster represents the reason why so many international collectors are interested in the Flint-based brand. Introduced the previous year, the Roadmaster sported a Harley Earl design and inline eight-cylinder power. According to period advertisements, the Roadmaster "literally named itself the first time a test model leveled out on the open highway." This example is perhaps the most open style of American automobile ever made, the 4-door convertible.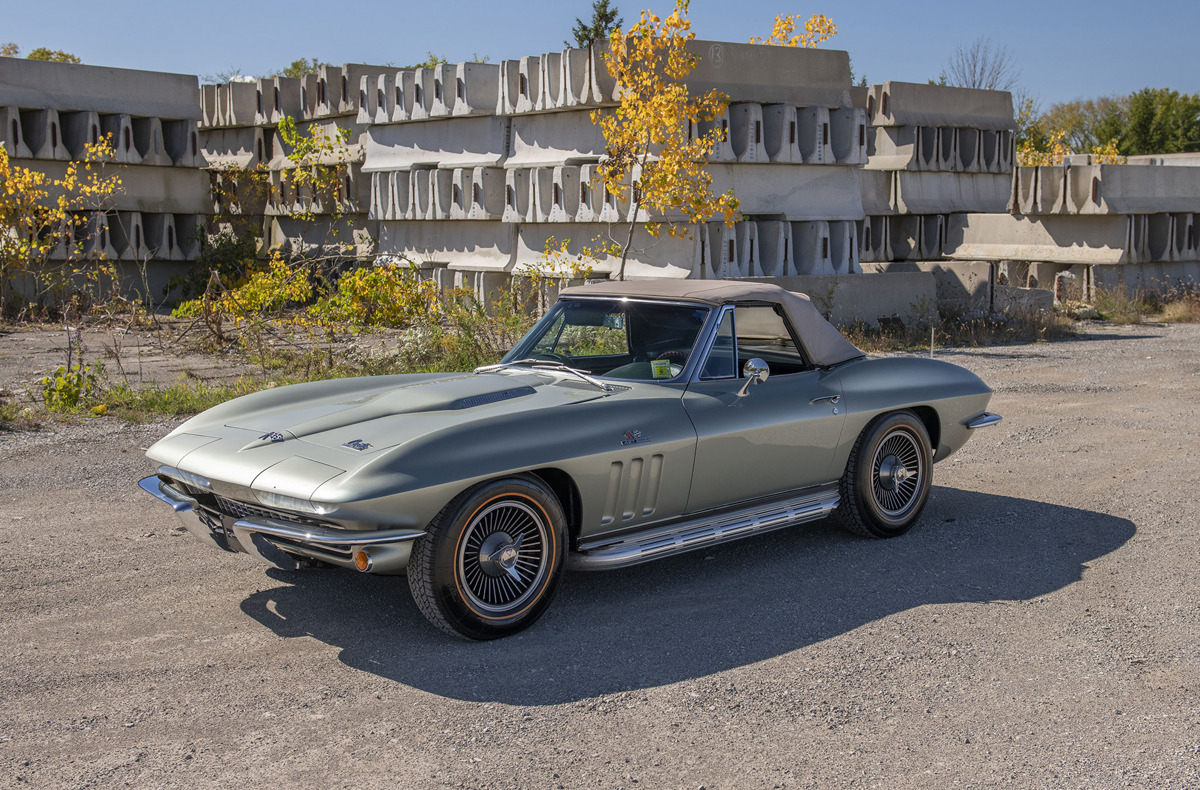 1966 Chevrolet Corvette Sting Ray 427/390 Convertible
Estimate: $100,000 - $120,000 USD
If the last two examples represented the best in open-top American luxury, this Chevrolet Corvette Sting Ray shows that the General also offered a rather potent sports car option as well. The classic formula was there from the beginning—a convertible top and an engine with eight-cylinders. For the 1966 model year, the powerplant in question was a 6997cc V-8 producing 390 horsepower. This handsome Corvette features not only this strong engine, but the signature side pipe exhaust system, which was only in its second year in 1966. Legendary American muscle.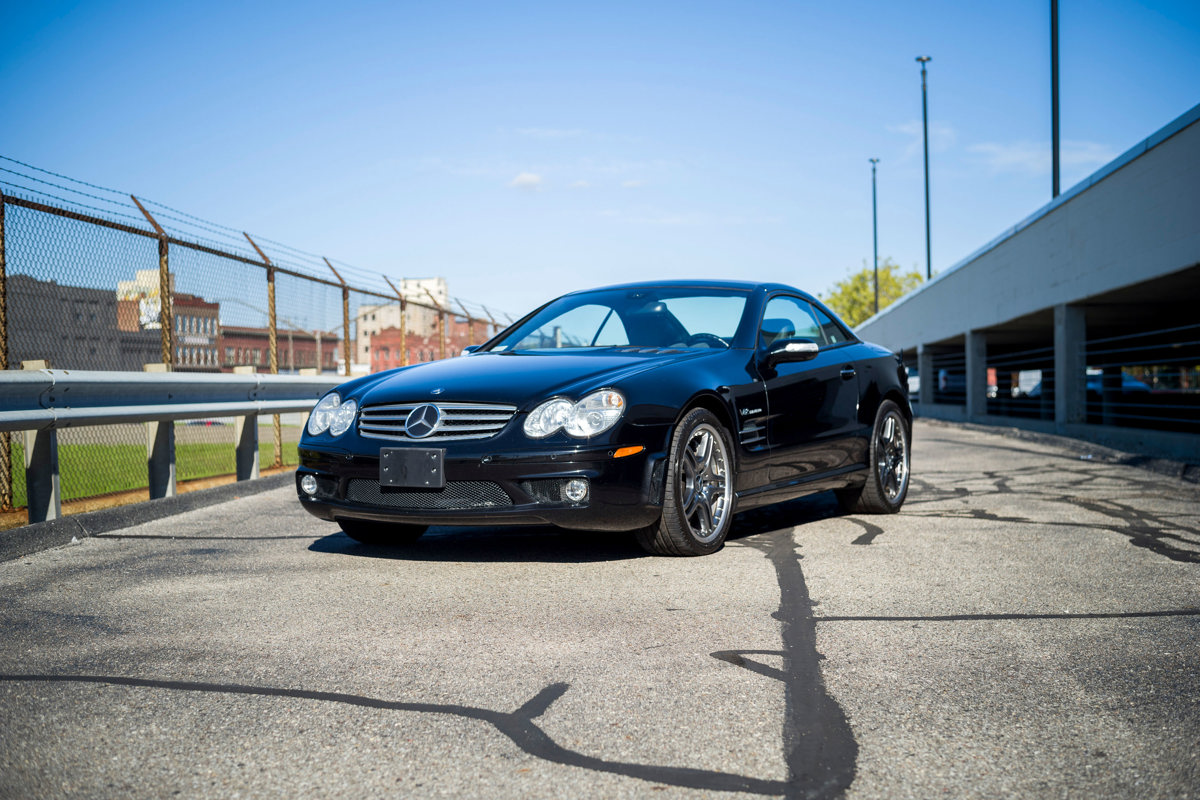 2006 Mercedes-Benz SL 65 AMG
Estimate: $38,000 - $43,000 USD
Jumping forty years, from 1966 to 2006, one can observe quite a bit of progress. Instead of a cloth top, this top-of-the-line Mercedes-Benz features a folding hardtop with an inset "Panorama" glass roof. In lieu of a naturally aspirated eight-cylinder, the motive force behind this Mercedes-Benz possesses twelve-cylinders and twin turbochargers. The handmade engine is certainly the centerpiece of this AMG-built monster, which was reported to accelerate 60 miles per hour from a standstill in a still-respectable 3.8 seconds. A technological tour-de-force.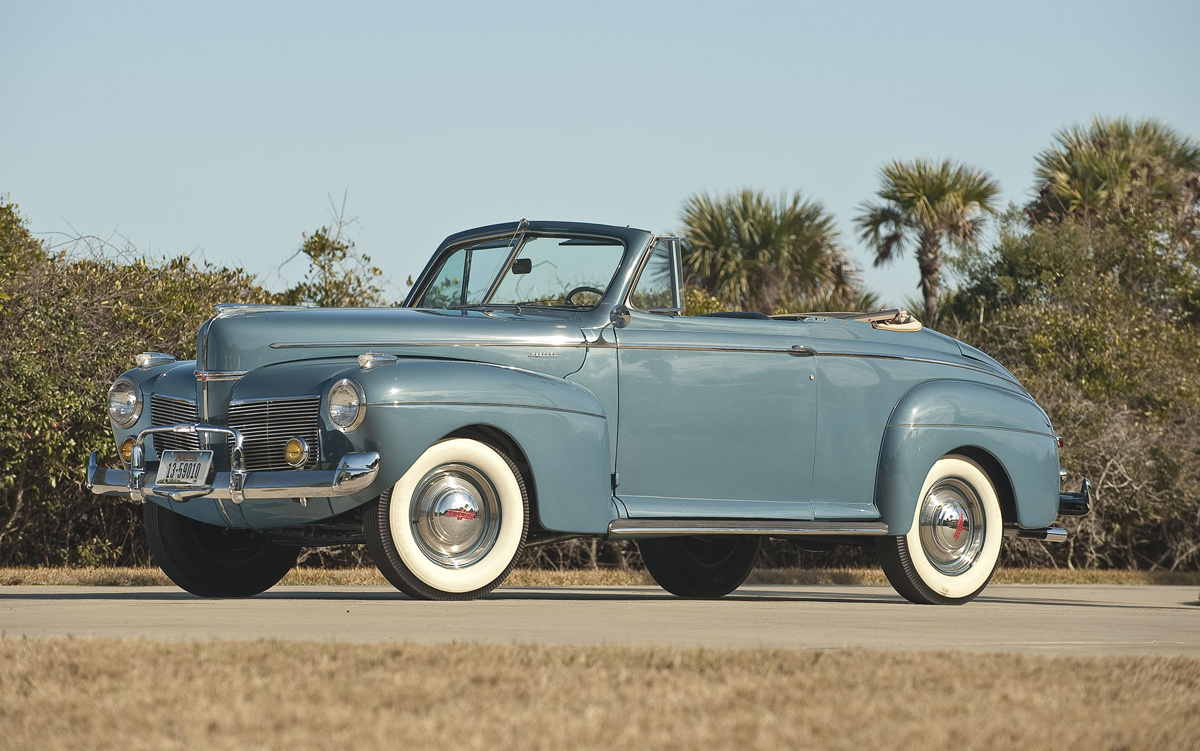 1941 Mercury Eight Club Convertible
Estimate: $35,000 - $42,000 USD
With its first generation debuting in 1939, the Mercury Eight was not only the standout sports car in the lineup, it was the first automobile to represent the Mercury brand itself. As planned, Mercury's offerings existed in-between value-priced Ford and luxurious Lincoln. With eight-cylinder power and interior appointments superior to the low-cost Ford, this second-generation Mercury Eight Club Convertible was not only an intelligent alternative to the other domestic options available in 1941, it was sufficient to establish the brand for decades to come. An uncommon way to enjoy the open road.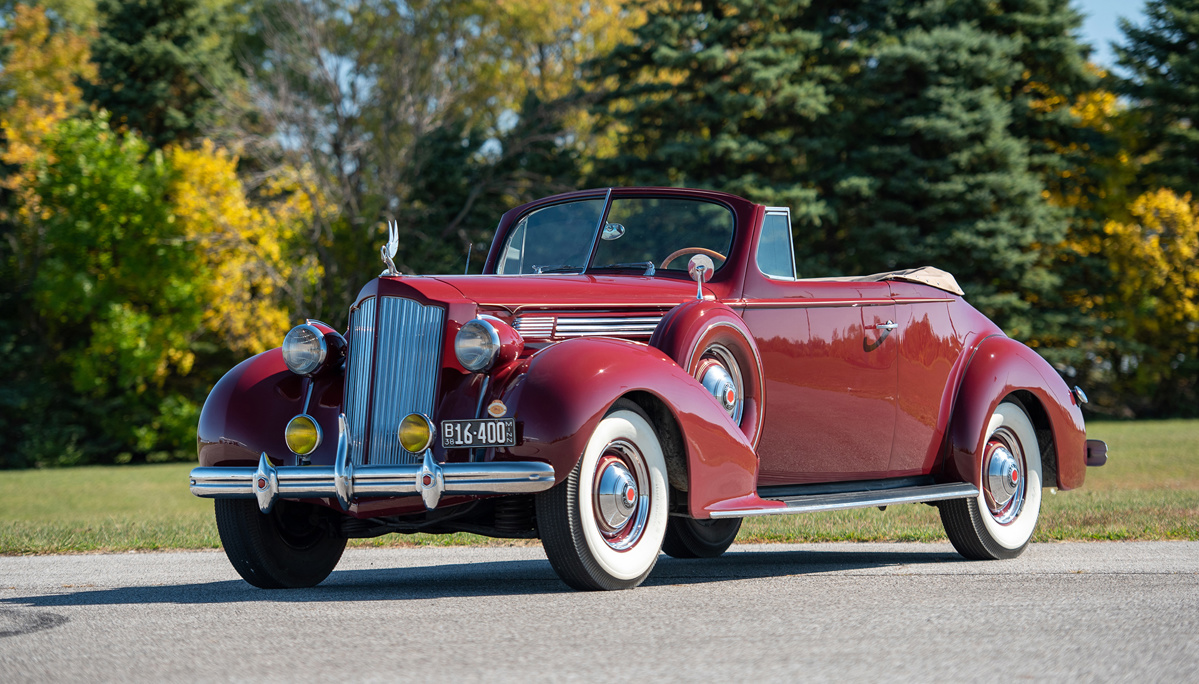 1938 Packard Eight Convertible Coupe
Estimate: $60,000 - $70,000 

USD |

 

Offered Without Reserve

 

Perhaps the most premium marque we've discussed so far, pre-war Packards were divided into two series: Senior and Junior. RM Sotheby's is pleased to offer no less than three pre-war Packards in our upcoming Open Roads auction. Because of its eight-cylinder engine, this Convertible Coupe was officially part of the Senior Series. Wearing the brand's signature "tombstone"-style divided grille, crowned by the subtle swan radiator mascot, this eight-cylinder Packard embodies all the qualities that made it a premiere manufacturer in the Motor City. And though it is not powered by the brand's legendary dual-six-cylinder setup, this Packard Eight has more than enough grunt to keep pace with modern traffic.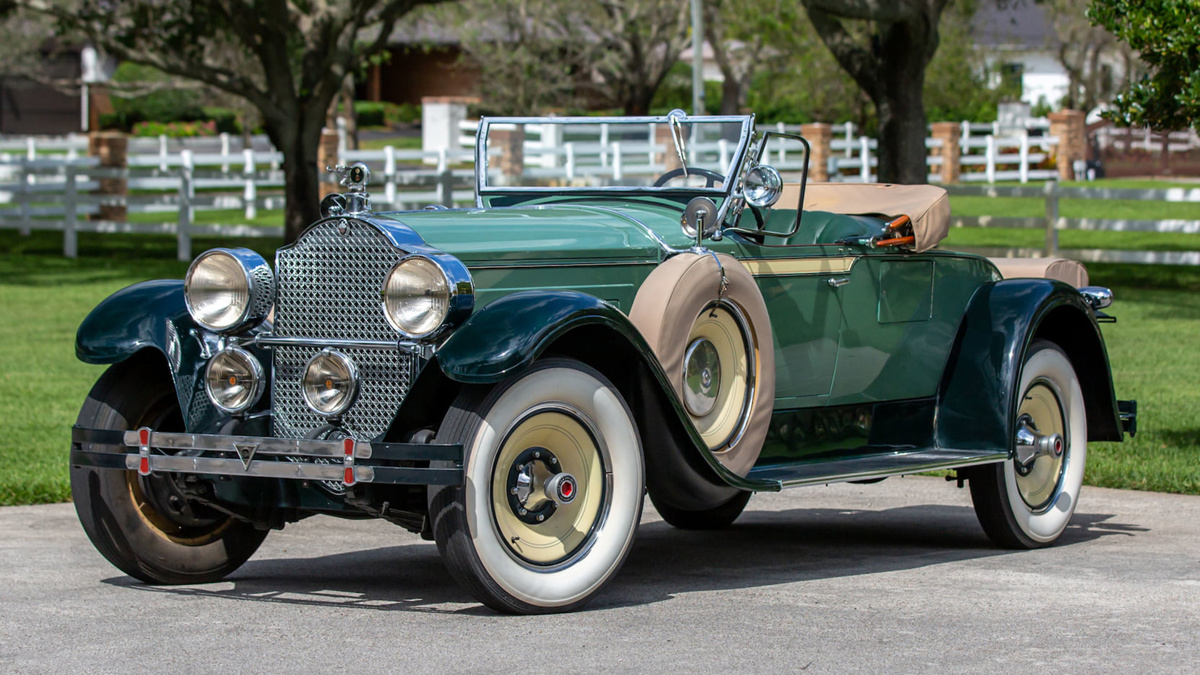 1928 Packard Eight Roadster
Estimate: $100,000 - $125,000 USD
Sporting all the period accessories that set premium brands like Packard apart from other domestic offerings, this late 1920s open-top roadster shows why the Detroit marque is still so sought-after. Powered by an inline eight-cylinder engine and fitted with not one, but two full-sized, side-mounted spare tires, this two-tone Roadster was the sportiest configuration offered by Packard at the time. But don't hold its era against it—like other Packards of its time, this Roadster featured such futuristic features as a synchromesh gearbox, a hydraulic suspension, and an engine riding on rubber mounts. When people say, "they don't build them like they used to," this is the kind of car they are talking about.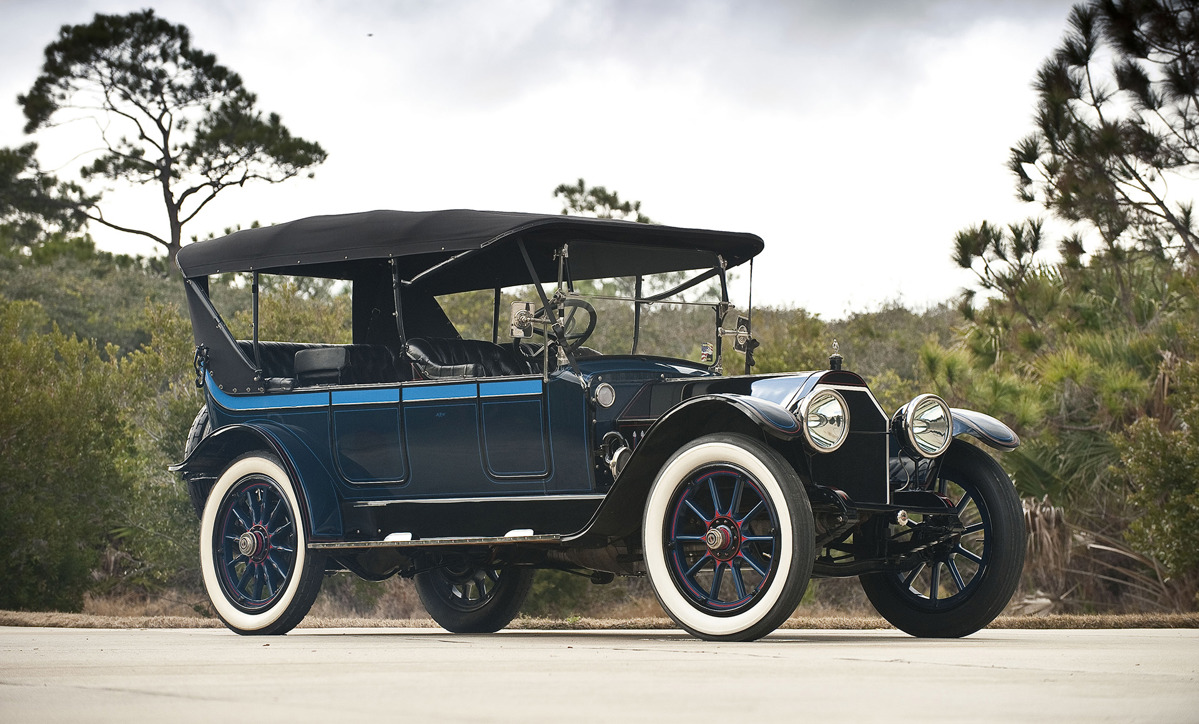 1913 Stearns-Knight Six Seven-Passenger Touring
Estimate: $125,000 - $150,000 USD
The sole surviving example of its kind, this museum piece was formerly the property of the storied Harrah's Automobile Collection. It was meticulously maintained and restored by marque expert Art Aseltine over an extraordinary period of 25 years. Not simply a piece of stationary history, this open-air Touring car recently completed the AACA's national Reliability Tour for Brass Era Automobiles.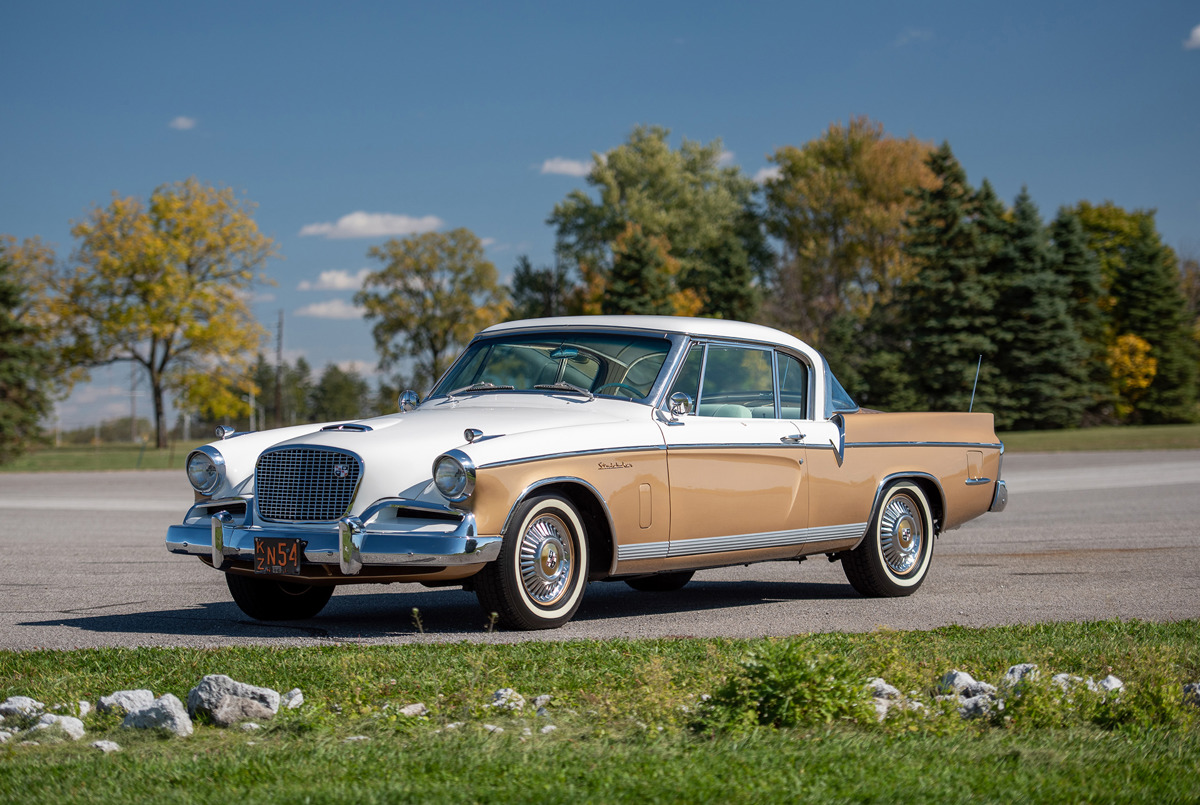 1956 Studebaker Golden Hawk
Estimate: $35,000 - $45,000 

USD |

 

Offered Without Reserve

 

Springing off the classic 1953 Starliner, which sported a shapely design overseen by Raymond Loewy, by 1956, Studebaker's most sports-oriented model had evolved into the Golden Hawk. With its classic silhouette punctuated by dual bumper-mounted radio antenna and front fender-mounted turn indicators, this Studebaker certainly has enough "surface entertainment" to stand up against the other domestic cars of its day. An underappreciated gem.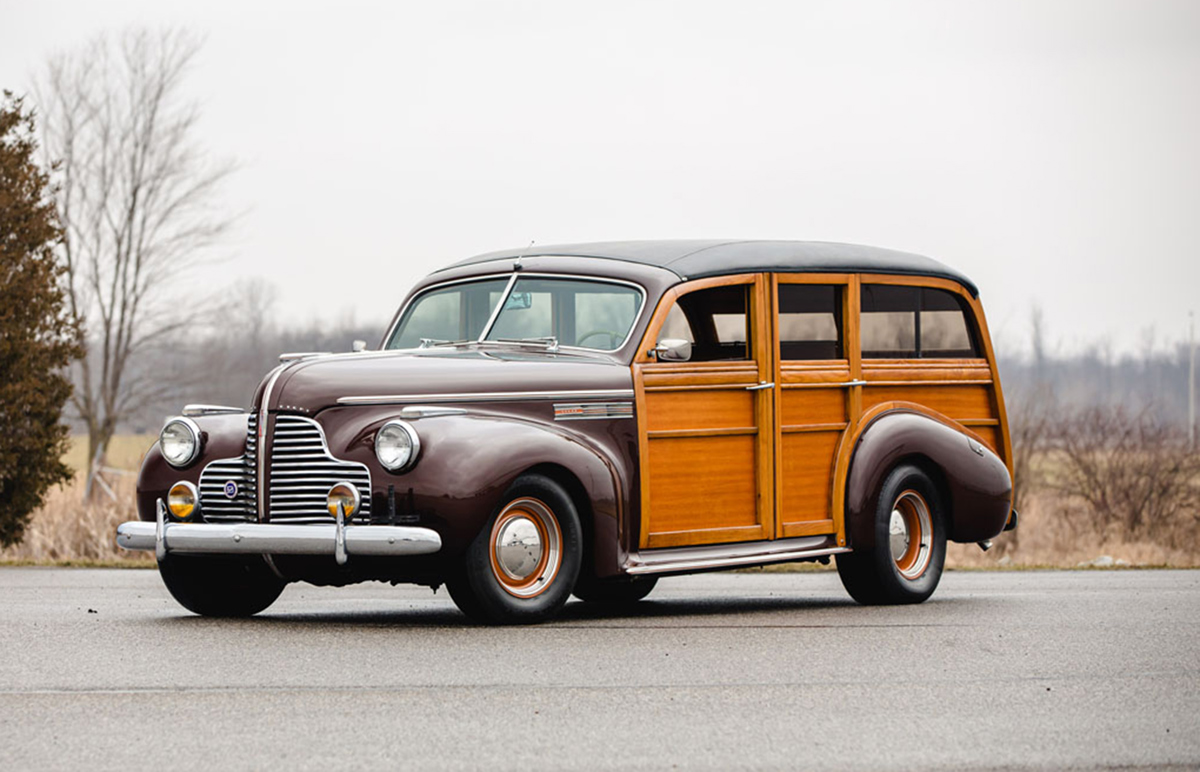 1940 Buick Super Estate Wagon
Estimate: $52,000 - $60,000 USD
With a truly classic Harley Earl design and a powerful stance courtesy of its lightweight body and inline eight-cylinder power, this Buick is a rare ride. While 495 were initially built by Buick, reports from marque experts indicate that this example is one of a mere handful to survive. All the more reason it deserves to be out on the road again.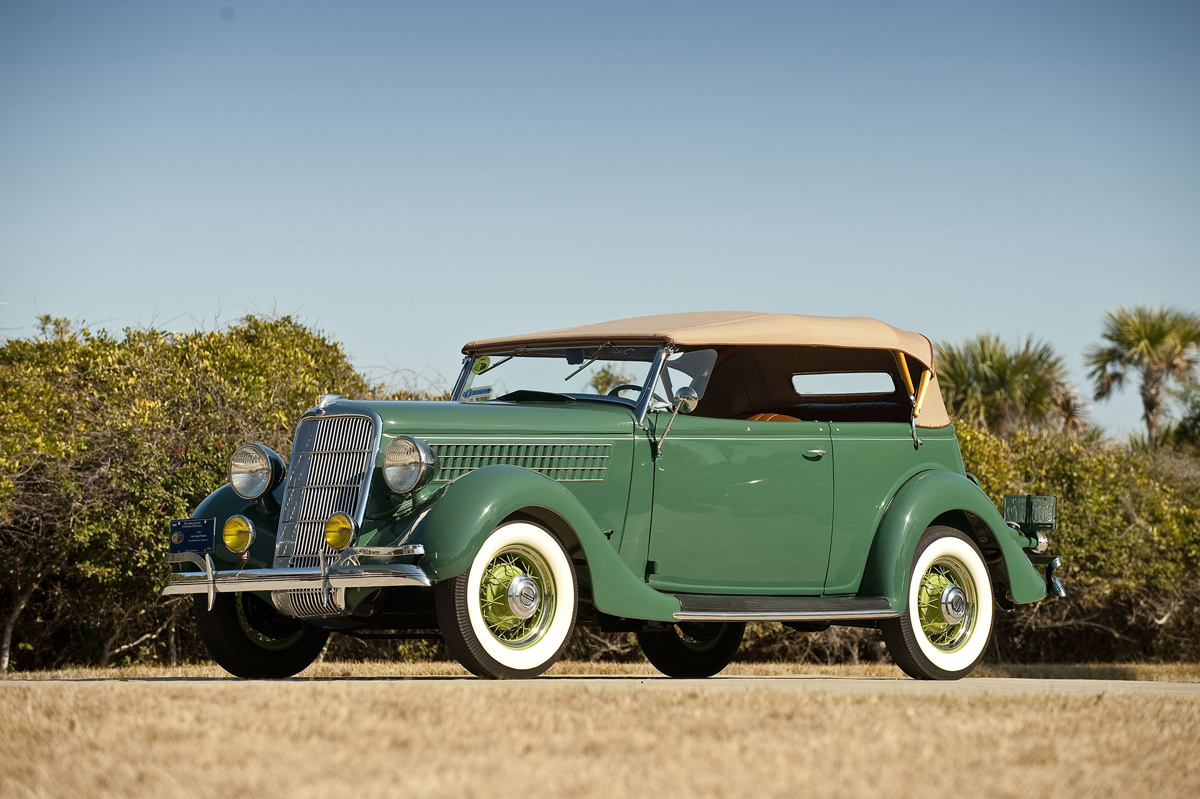 1935 Ford V-8 Two-Door DeLuxe Phaeton Custom
Estimate: $40,000 - $50,000 USD
Sometimes, the pull of the open road can lead one to obsession. Ford fans might note this body style and rightfully respond that, in fact, the company did not offer a DeLuxe Phaeton in 1935. And they would be right, but this is no ordinary Ford. Constructed over many years with no fewer than five donor Ford bodies, this unique example is the product of the Haines Body Shop and was built expressly for Ford collector Bill Sutton. A fascinating glimpse of a future path not taken.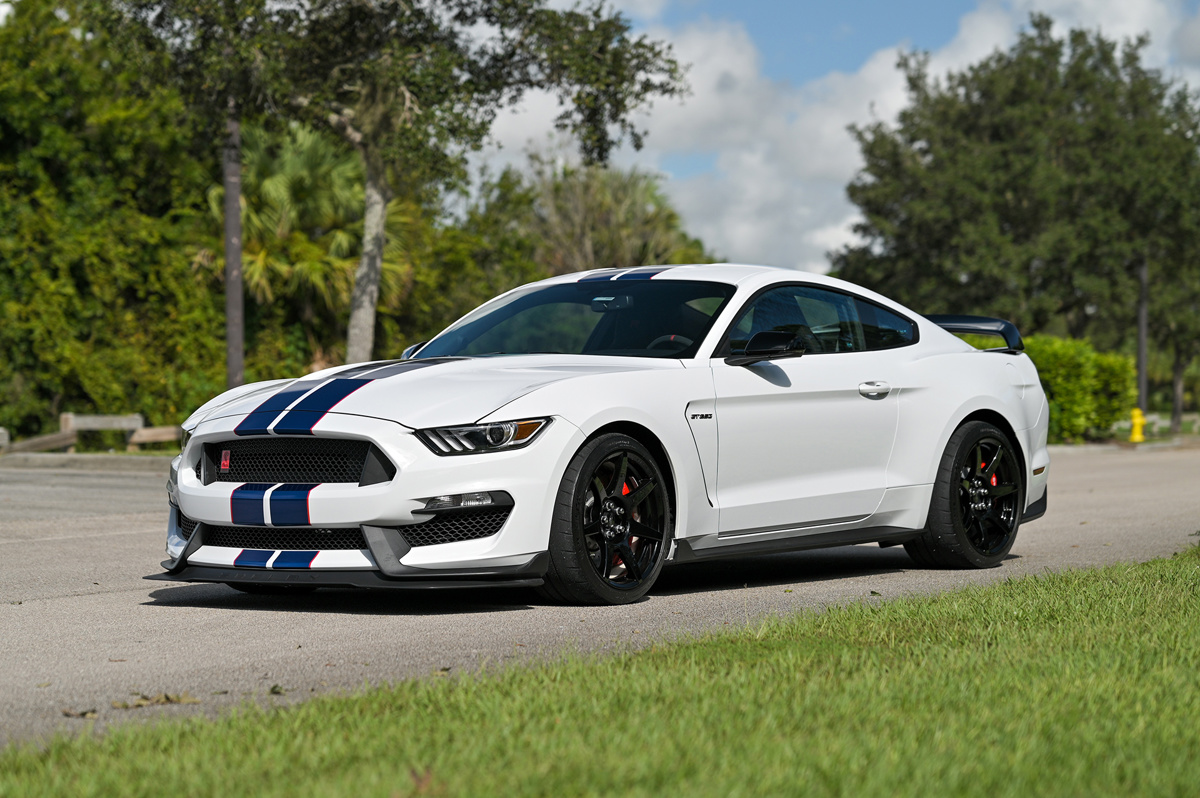 2017 Ford Shelby GT350 R
Estimate: $55,000 - $65,000 USD
Leaping from one Ford to another across two different centuries, this special Shelby-branded Mustang was part of a special trio of similarly liveried examples that we discussed previously on this blog. With notable features including model-specific aerodynamic upgrades and carbon fiber wheels, this handbuilt monster shows the evolution of twenty-first century motoring.
2014 Ford Shelby GT500 Super Snake Prototype
Estimate: $60,000 - $80,000 USD
Moving a bit back in time, but a significant step upwards in terms of exclusivity, this unique Ford example is a genuine prototype, and was the former property of Shelby America, Inc. Definitely a piece of history for any devoted Ford performance aficionado.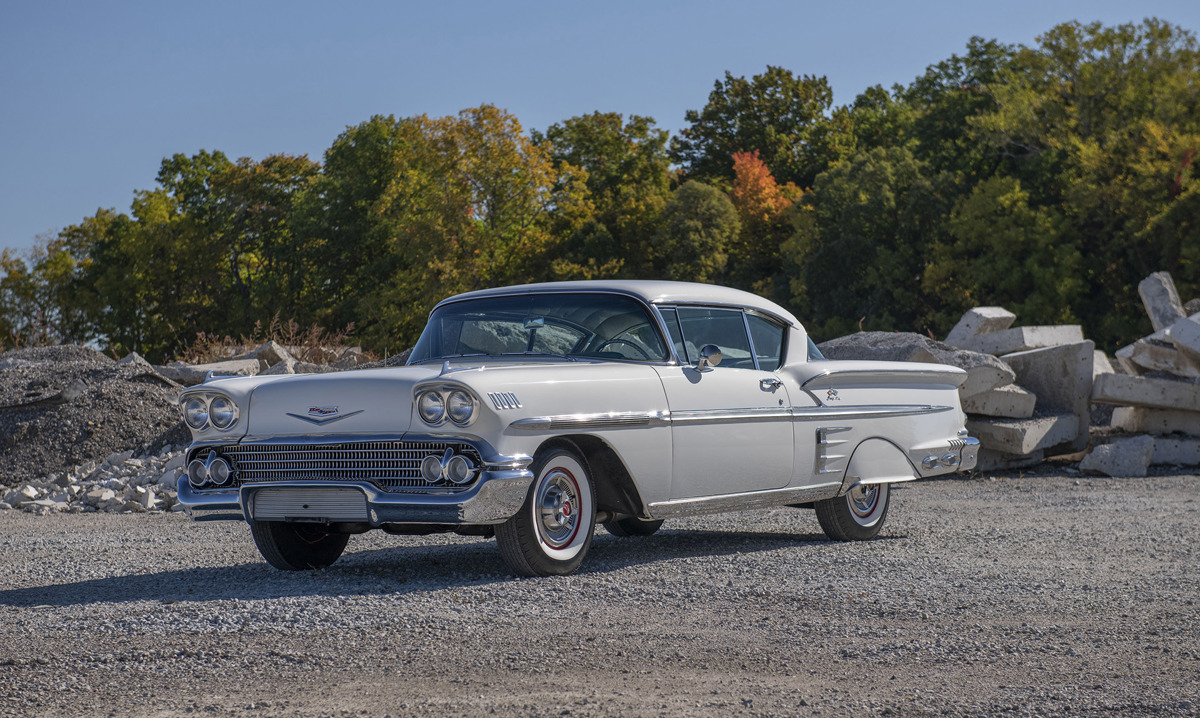 1958 Chevrolet Bel Air Impala Sport Coupe
Estimate: $50,000 - $60,000 USD
Bringing together two of the most iconic nameplates in Chevrolet history, this 1958 Bel Air Impala stood at the top of the domestic mid-century market. This example has been upgraded with period parts to a 'Tri-Power' V-8 engine, going along with our eight-cylinder theme. The striking tri-color interior provides the perfect balance for the subtle Snowcrest White exterior.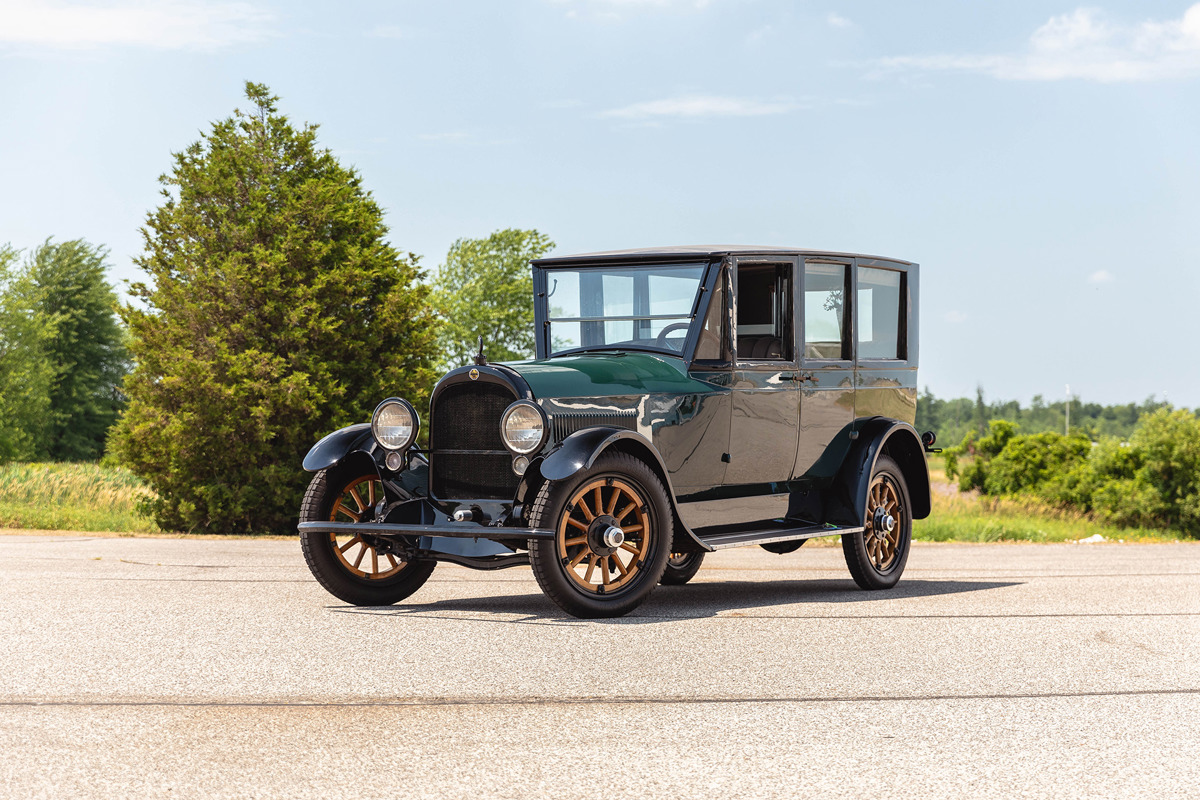 1920 Westcott Model C-48 Sedan
Estimate: $25,000 - $35,000 

USD |

 

Offered Without Reserve

 

Known as "The Car With The Longer Life," the final example on our list was the first year Springfield, Ohio-based Wescott produced Model C-48. Not only has this example lived up to its advertising, it was also featured on-screen in the HBO series Boardwalk Empire as the personal conveyance of Atlantic City, New Jersey, Mayor Edward Lawrence Bader. A car fit for a construction magnate, indeed.