The sporting life can take many forms. Our Irwin Manx dune buggy cover car illustrates that perfectly, as it was designed for carefree, oceanside travel in a time when fiberglass was the future. Today, period-correct sports cars of all varieties have become so collectible, the thought of using a collector car to traverse a dune or picnic beside the beach seems like an option only for the brave at heart.
And yet, with selections from RM Sotheby's latest Online Only: Open Roads, June auction spanning several nations across the northern hemisphere, one can be certain that, whatever your concept of sporting may be, there exists a car just for you. For racing enthusiasts, we have a genuine IMSA GT-grade Corvette. For fans of vintage vehicles from Italy, we have a selection of coachbuilt and classic examples from a variety of makes. With iconic brands, platforms, and powertrains all represented, this list of sporting selections also notably shares value in common, with auction estimates comfortably under the $150k threshold. The most important choice of which four-wheeled companion best suits your lifestyle is up to you: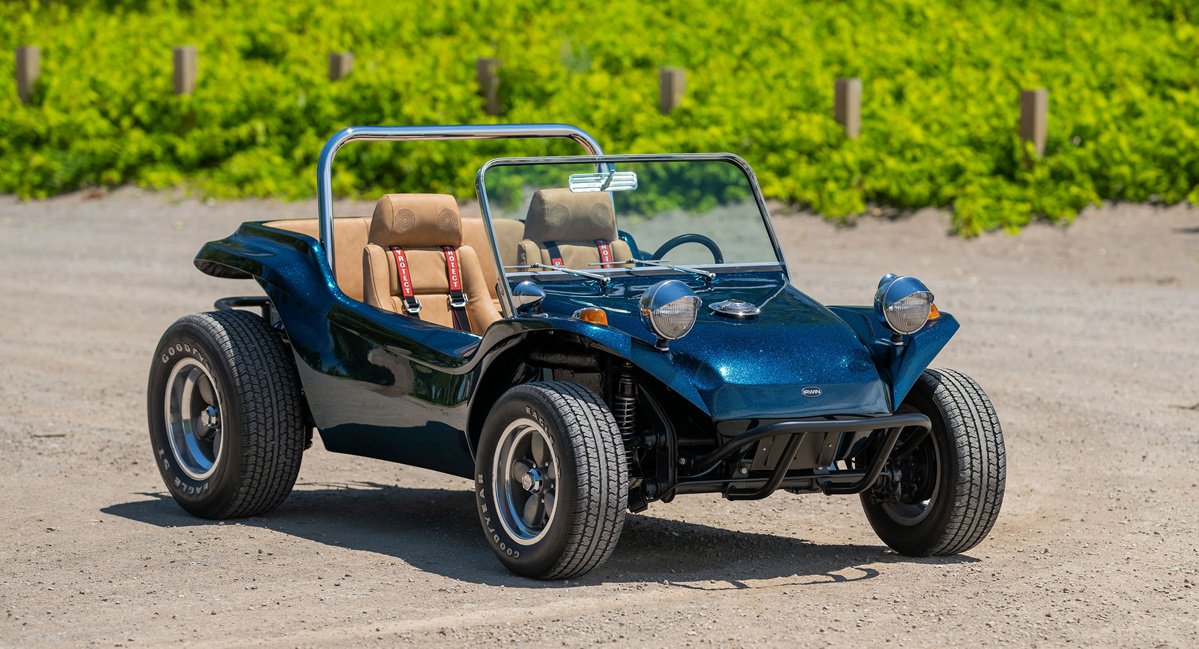 1968 Irwin Manx
Estimate: $30,000 - $40,000 USD
Some vehicles represent more than mere metal. In the mid-1960s, fiberglass-bodied dune buggies were a veritable cultural phenomenon, led by Steve McQueen, Elvis Presley, and Bruce Meyers. Soon, industrious builders from coastal cities around the world were following the path led by Meyers and his fiberglass-bodied dune buggies, with the R.B. Irwin Equipment company providing off-road solutions on both sides of the U.S.-Canada border, with branches in both Buffalo, New York, and Toronto, Ontario. Irwin's in-period advertisements evoke a bygone age, encouraging their eager customers ("the 'now' set who love life and know where it's at") to "Go happy in the swingingest, wildest, best looking buggy you can buy." This example features tasteful modernizations, including a Pioneer head unit paired with in-headrest speakers. With a classic design underneath a sharp-looking coat of metalflake paint, this mid-century buggy is ready to reignite the beach car trend.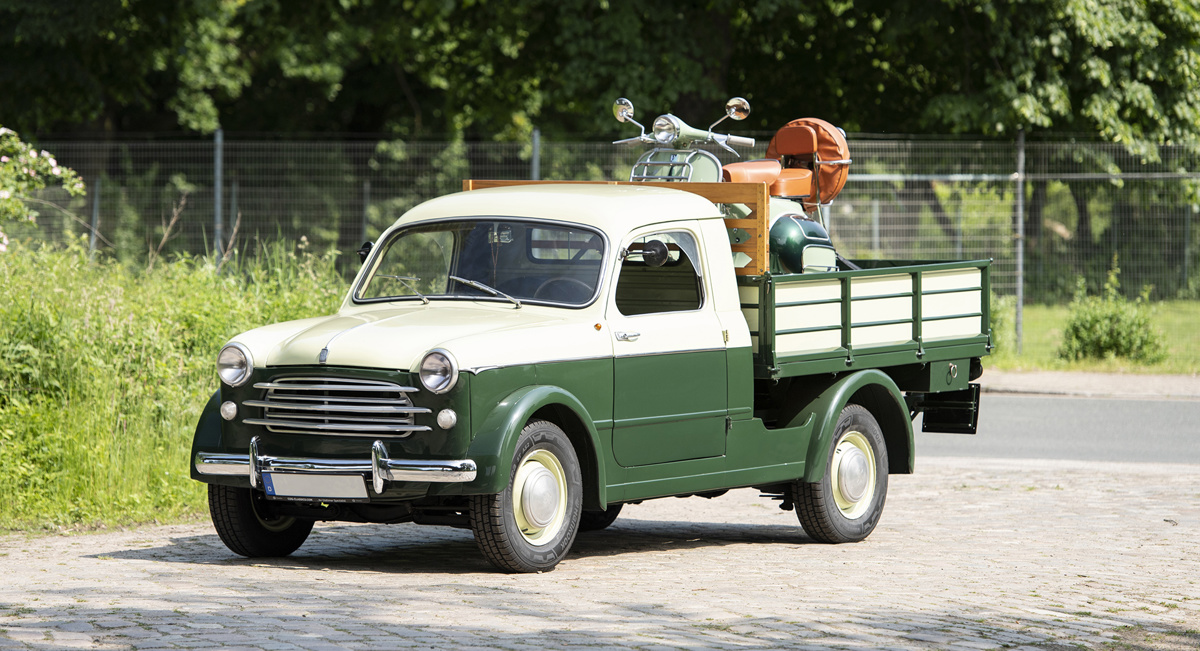 1955 Fiat 1100 Industriale
Estimate: €15,000 - €25,000 EUR | Offered Without Reserve
Our list of vehicles primed to enliven your lifestyle expands to include this Fiat 1100 Industriale, which carries with it a bonus 1960 Piaggio Vespa as a static display, is certainly sufficient for period-correct productivity. Originally delivered in left-hand-drive, this model from the Fiat Veicoli Industriali division is ready for action. Only in production for two years, this model was originally purchased by a farmer in Modena and kept in care by the same family for the following 36 years. Wearing a handsome and practical two-tone color combination, this example benefits from a history of careful ownership leading up to its last major service, as recently as 29 June, 2020, and the scant 39 km covered since then.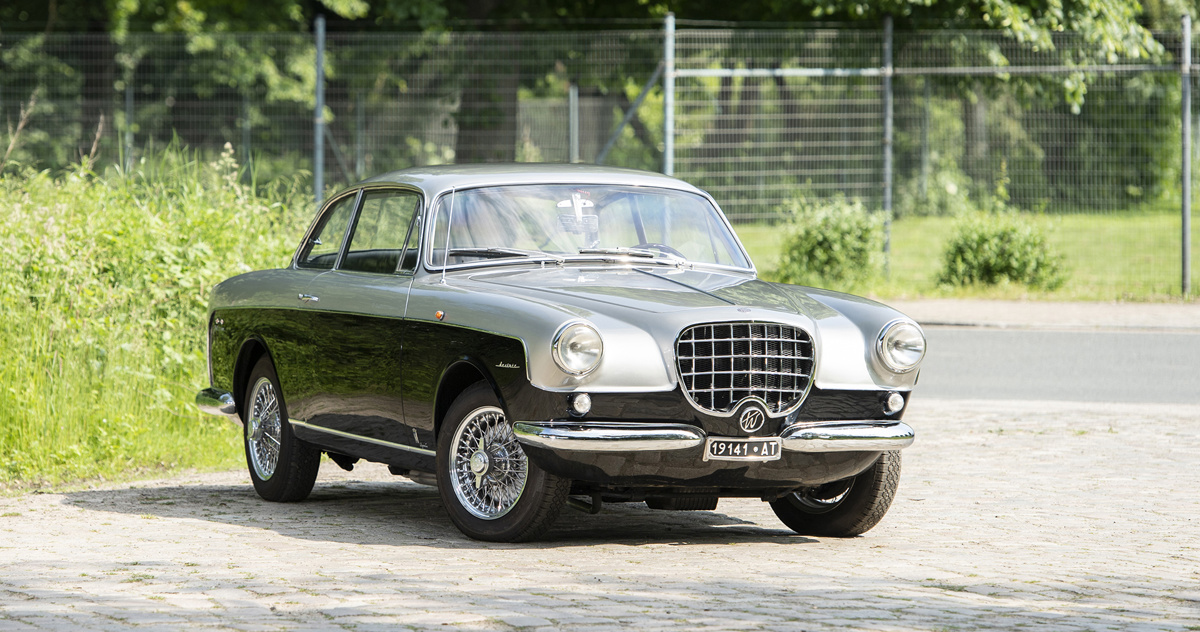 1956 Fiat 1100 TV Desirée by Vignale
Estimate: €60,000 - €80,000 EUR
A legitimate concept car, this one-of-three example was displayed by Vignale at the 1956 Turin Auto Show, purchased off the stand by its first owner, and kept in careful ownership for the following 58 years. A notable subsequent owner, vintage racing specialist and former president of the Auburn Cord Duesenberg Museum, Robert Pass, recognized the historical significance of this example, purchased it, and showed it at the 2018 Amelia Island Concours d'Elegance. With striking coachwork by Vignale and a healthy accompaniment of accessories, including a set of Borrani wire wheels plus an additional spare, this Italian concept car could make a desirable addition to nearly any existing collection; or a centerpiece for a new one.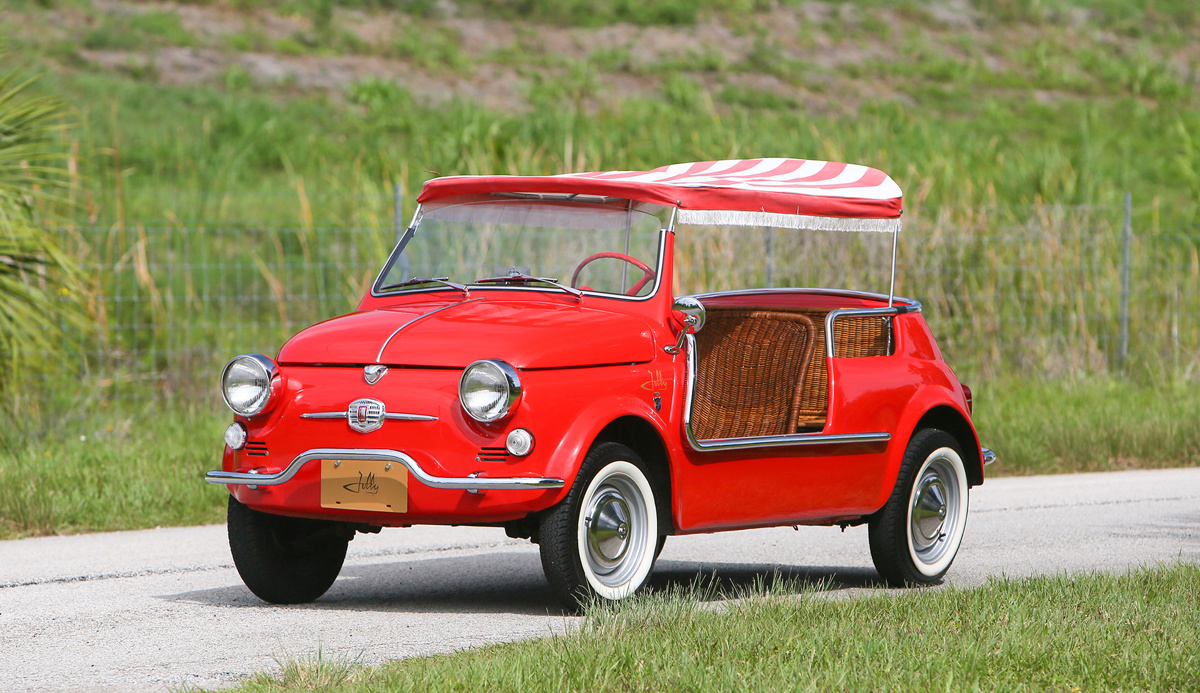 1959 Fiat 500 Jolly by Ghia
Estimate: $80,000 - $100,000 USD
Rounding out our trio of Fiat examples is another beach-friendly variant that has become nearly too collectible to drive on the beach. The signature wicker seats fitted by coachbuilder Ghia in both their Renault and Fiat-derived Jolly creations were originally intended to accommodate wet bathing suits. The compact size of the Ghia-built Jolly was intended to make it easier for well-heeled patrons to easily store examples like this on their yachts. While the comparative value of nearly every mid-century coachbuilt Italian car has grown exponentially, this example has been well-kept and not restored beyond recognition, leaving room for its next owner to decide how exactly to use this delightful beach cruiser.
1965 Alfa Romeo Giulia 1600 Sprint Speciale by Bertone
Estimate: $70,000 - $80,000 USD
Another long-held, highly desirable example of Italian coachbuilding, the 1600 Sprint Speciale variant of Alfa Romeo's venerable Giulia platform was given its aerodynamic shape during the same era that the three groundbreaking B.A.T. cars were conceived. Particularly resembling the third futuristic concept car, B.A.T. 9, in the world-famous automotive triptych, Bertone's efforts in shaping the Sprint Speciale delivered the most advanced aerodynamic understandings available at the time to the auto-eager public at large. While elegant Alfa Romeo sports cars like this Blue Chiaro Metallizato over grigio leather example were made in quantities far exceeding any concept car, total production was still limited when compared to many of its in-period competitors. This well-optioned example was kept faithfully by its first owner for forty-nine years, and is one of a mere 1,400 built in total.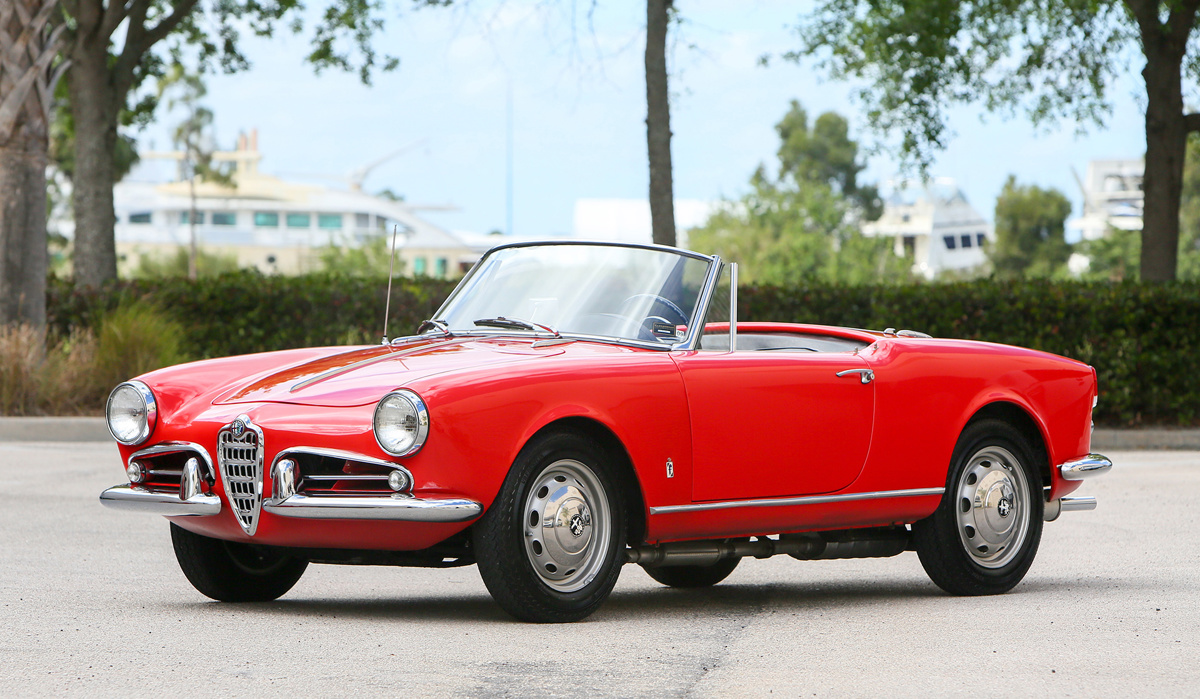 1960 Alfa Romeo Giulietta Spider Veloce by Pinin Farina
Estimate: $60,000 - $75,000 USD
We have journeyed this far into the world of Italian coachbuilding without discussing the unofficial patriarch of the industry, Battista "Pinin" Farina. With roots firmly established in the pre-war era, Farina's family business became so centered around the singular vision of the youngest member of the family that his nickname became incorporated into the official marque, eventually becoming known as Pininfarina, S.p.A.. Finding an example sporting the "Farina" badge, then, represents a distinct period in time; the year after this open-top example debuted, Farina petitioned the Italian government to officially change his family name to "Pininfarina;" a request which was granted in 1961. With coachbuilt creations as shapely and timeless as this Spider Veloce, one immediately understands the urge to alter life to better represent art.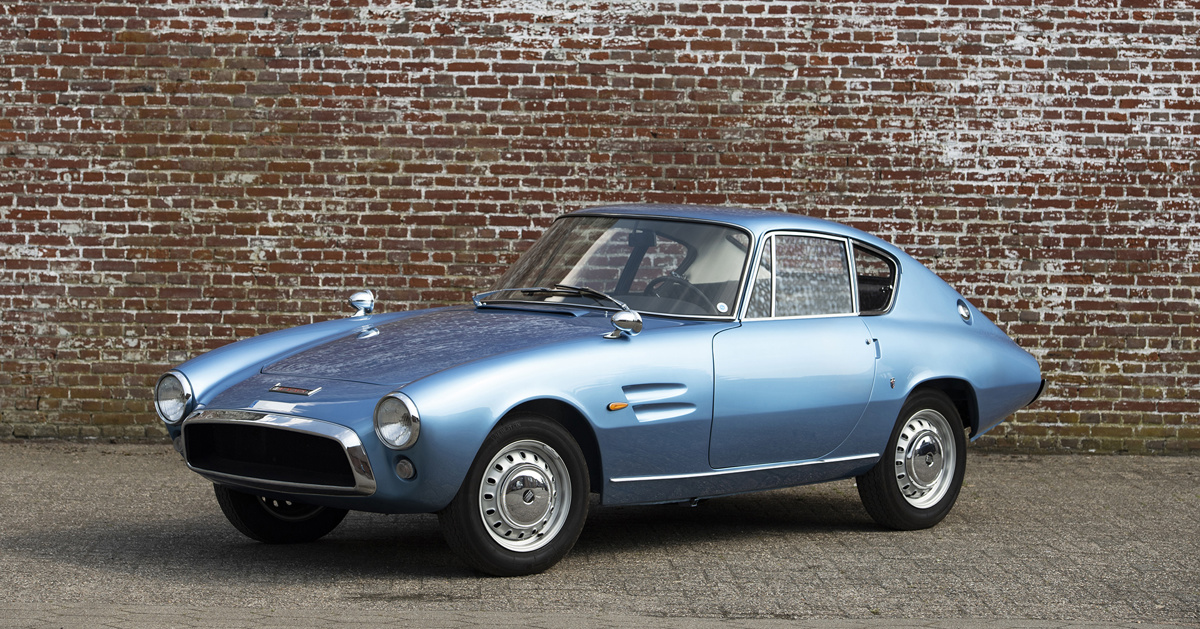 1964 Ghia 1500 GT
Estimate: €50,000 - €70,000 EUR
The final example in our jaunt through examples of Italian craftsmanship in the mid-1960s, this low-slung sports coupe shows that Ghia aspired to be more than a mere coachbuilder. Built on a solid foundation of Fiat's 1500 family car, Ghia added the star power of young designer Sergio Sartorelli working initially in collaboration with legendary names Giovanni Savonuzzi and Pietro Frua. By the time that Ghia director Luigi Serge gave the go-ahead to fashion the Fiat 1500 into a two-seat sports car, Sartorelli had already been given full control over the Ghia studio. With major structural engineering completed by another certifiable legend (and unofficial father of the first Ferrari), Gilberto Colombo, the 1500 GT made an enormous impact upon its debut at the Turin Auto Salon in 1962. This example is one of a mere 846 constructed; an underappreciated Italian icon.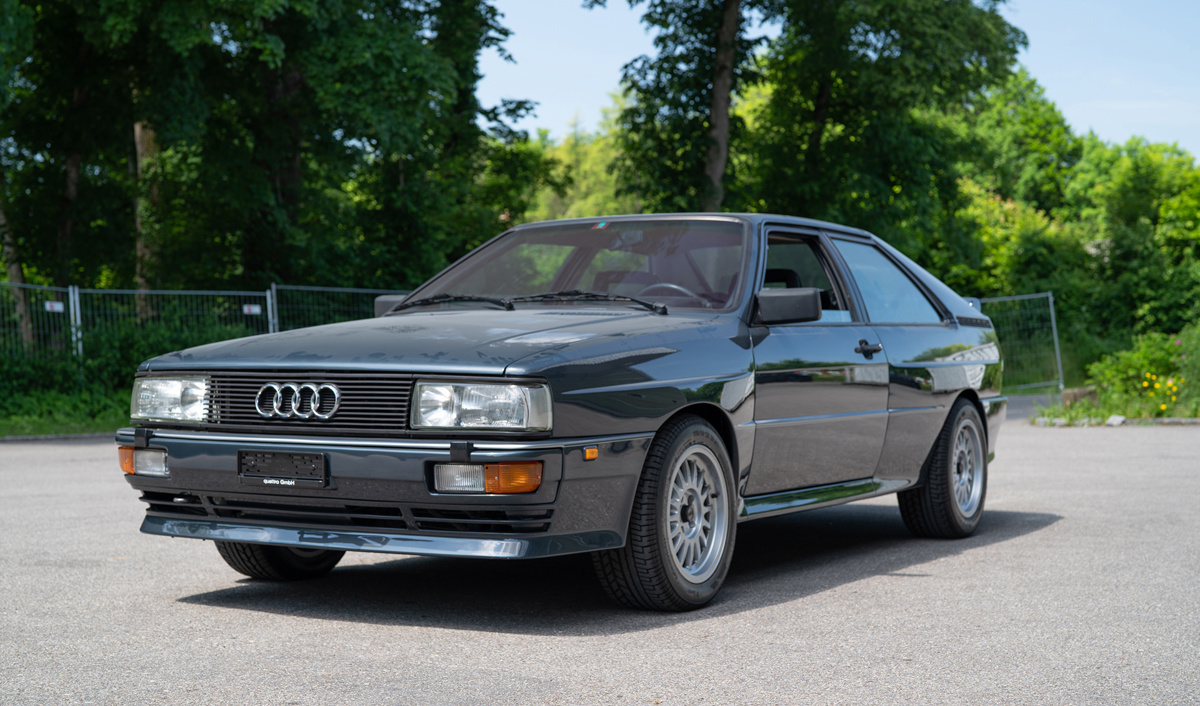 1986 Audi quattro
Estimate: CHF65,000 - CHF110,000 | Offered Without Reserve
While our previous examples tell a story of the delicacy of Italian design, by the 1980s many automakers worldwide evolved into tech-forward entities. When Audi officially unveiled their first quattro concept car at the Geneva Motor Show in 1980, Audi head of design Hartmut Warkuss admitted that the team emphasized "capability rather than elegance in the foreground" of the all-new model's overall styling. Any additional flair in the quattro could be visible in its performance at off-road motorsport, with its four-wheel-drive system boosting Audi's racing division to the top of the World Rally Championship leaderboard four times. Today, the quattro's conservative styling helps examples like this one from 1986 age with grace; subtle details like the gray houndstooth fabric inserts help the interior stand out with charm. A recent mechanical and aesthetic overhaul, finished in 2018, completes the package.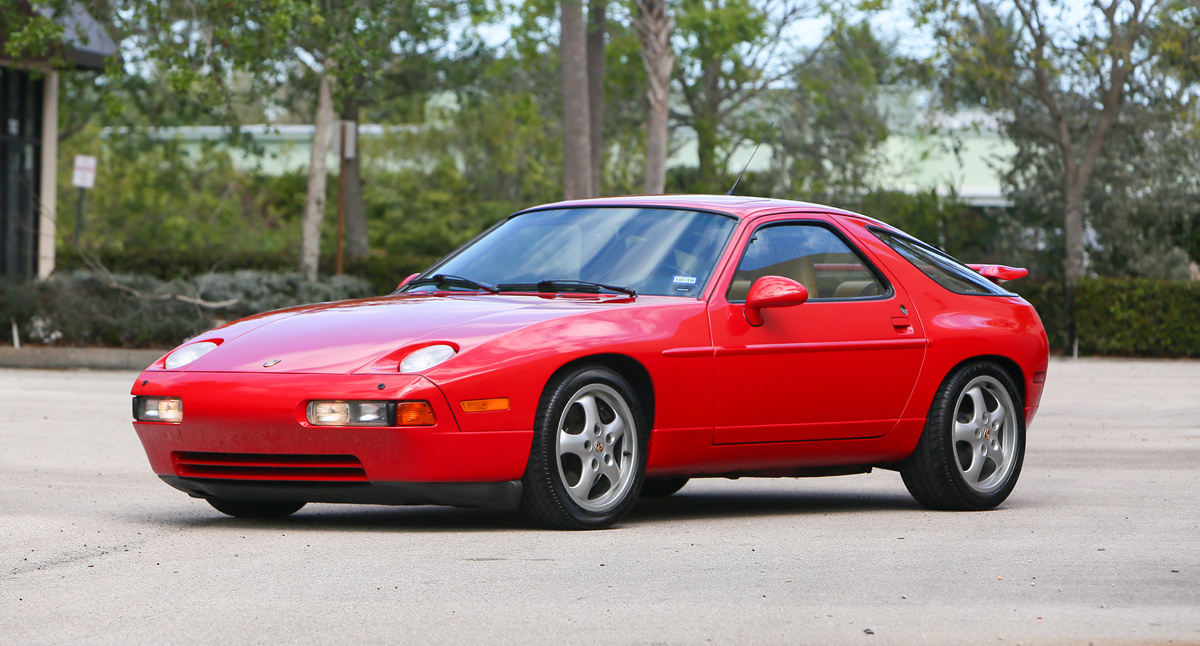 1994 Porsche 928 GTS
Estimate: $60,000 - $80,000 USD
Another icon of the mid-1980s, this top-of-the-line grand touring car showcased the final evolution of the premiere front-engine Porsche. In many ways, the 928 opened new avenues for the Stuttgart-based sports car company, with the new platform allowing for an in-cabin experience that was more befitting of a grand touring vehicle. This example, wearing Guards Red exterior over a two-tone, black-over-tan interior, showcases the accumulated knowledge of the Porsche design department. Finished with a body-colored spoiler, and featuring a 5.4-litre V-8 mounted as far aft of the pop-up headlamps as possible, this late-model, grand touring Porsche was at once ahead of its time and a path not taken.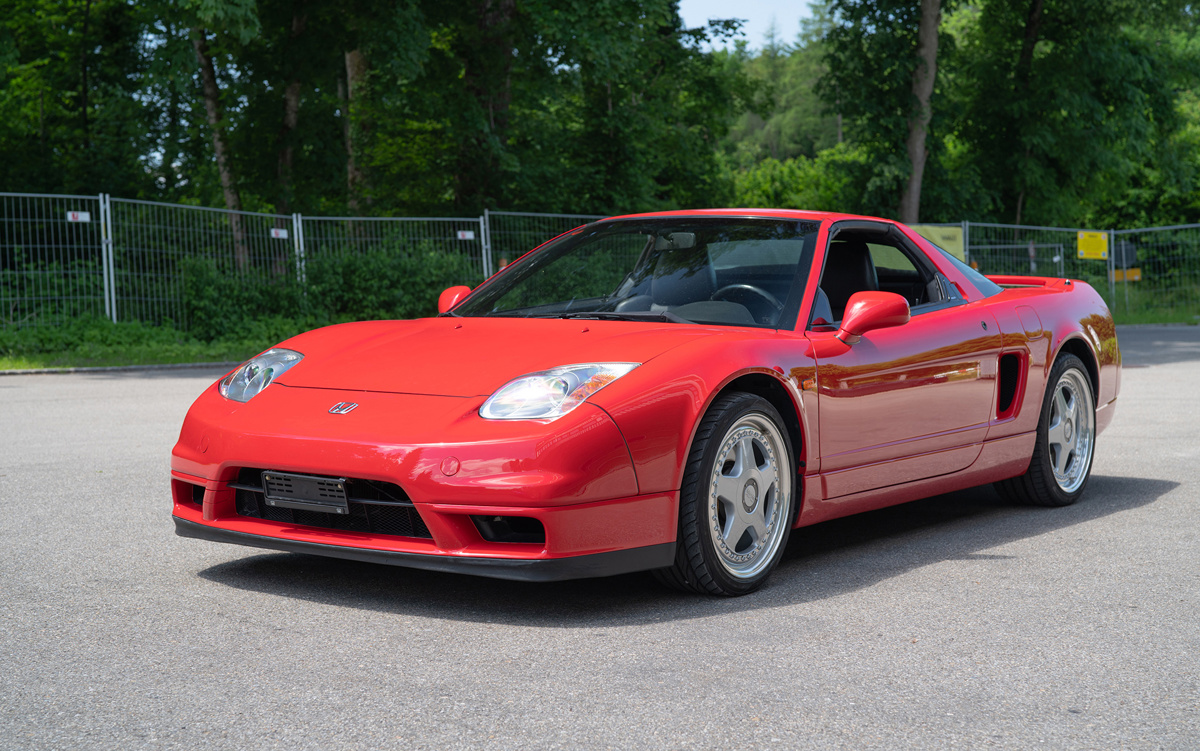 2005 Honda NSX T
Estimate: CHF85,000 - CHF130,000
Though the production of the first-generation of the Honda NSX extended into the 21st century, the first concept was unveiled at the Chicago Auto Show in 1989, making it an indirect competitor to the Porsche 928 we covered above. While Honda famously targeted the Ferrari 328 as their performance benchmark to beat, the interior of their so-called "New Sportscar Experimental" model is strikingly reminiscent of the grand touring Porsche above, right down to the door-mounted ventilation for the climate control system. As anyone lucky enough to experience the NSX can attest, this commitment to interior quality still stands out today, with generous visibility and premium-quality materials making both the Honda and Acura variants of this mid-engined supercar still usable today. This example was from the final year of NSX production and includes both the top-tune 3.2-liter V-6 and six-speed manual transmission that marked high points in the evolution of this iconic Japanese supercar.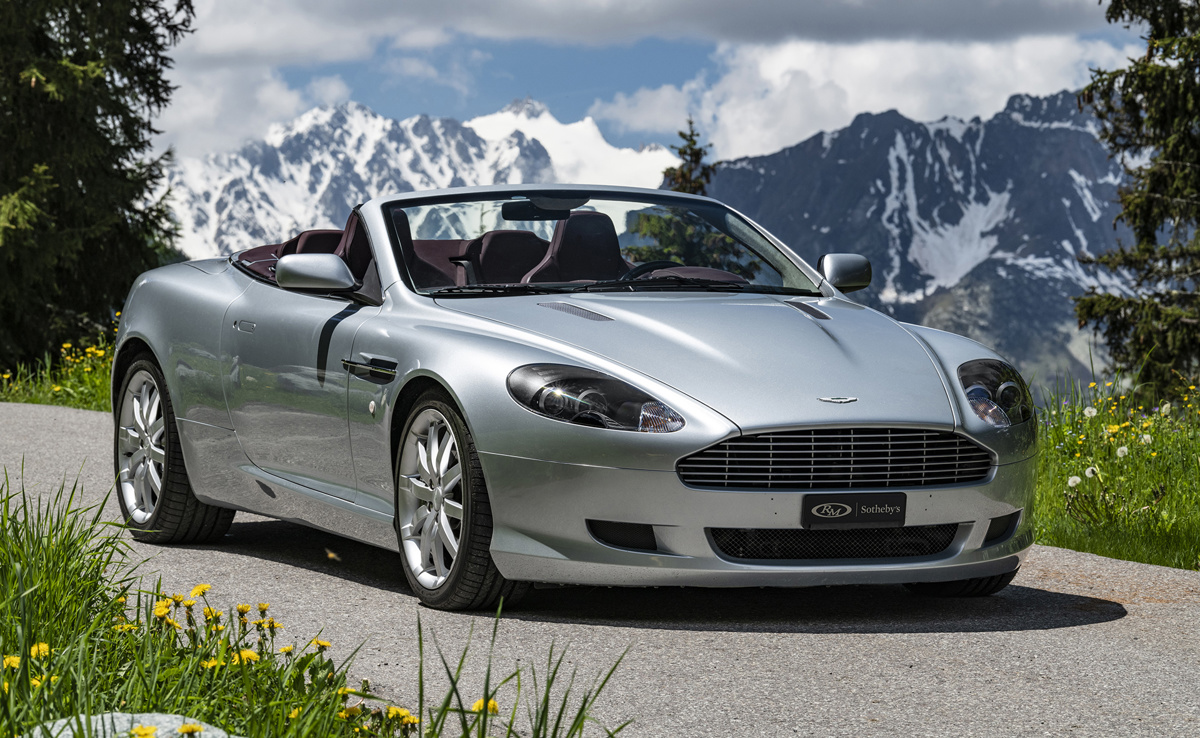 2005 Aston Martin DB9 Volante
Estimate: CHF60,000 - CHF70,000 | Offered Without Reserve
Sometimes, sporting examples so embody a sense of purpose that their mere appearance on the road suggests adventure. With its subtle design, this collaboration between equally iconic sports car stylists Ian Callum and Henrik Fisker only looks more sensuous with the passage of time. The Aston Martin DB9 was intended to best its previous standard grand tourer, the DB7, while also serving as a platform for the brand's return to GT racing with appearances in the FIA's GT1 and GT3 series. While this open-top Volante example is perhaps a bit more suited for non-competitive driving, its stout platform and 5.9-litre V-12 powerplant both offer plenty of performance to fit the refined lifestyle of the modern sportsman.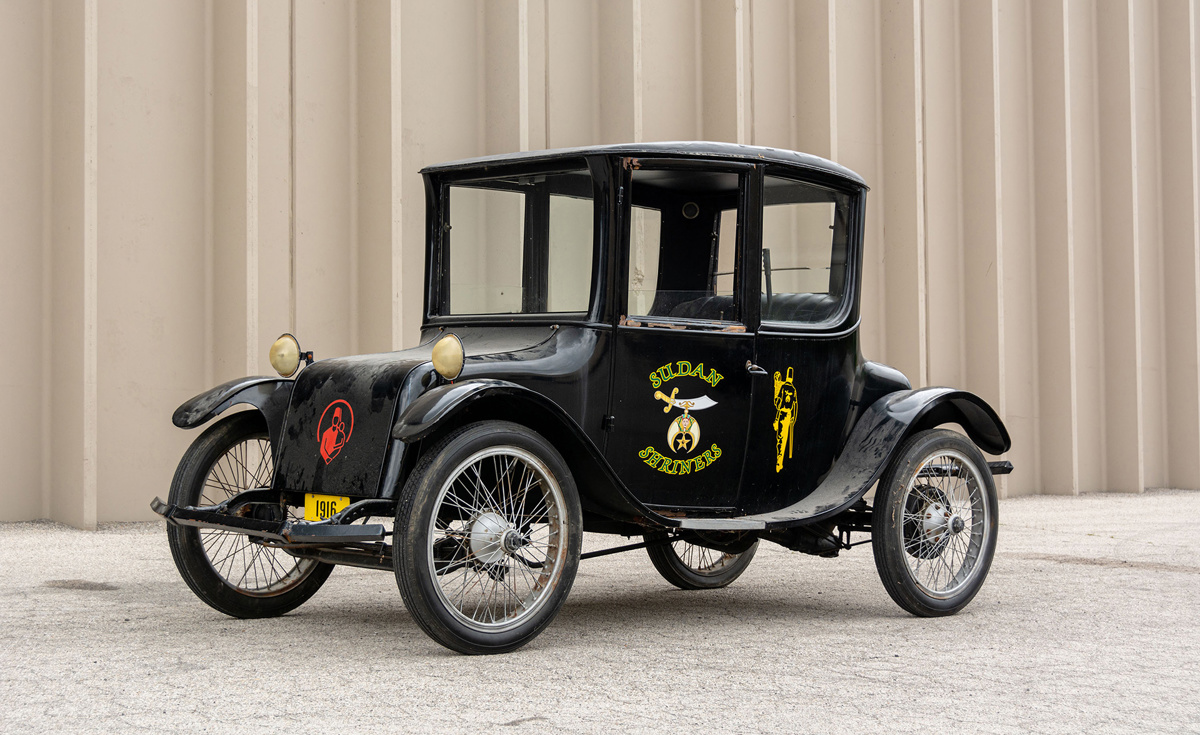 1921 Milburn Electric Model 27L Brougham
Estimate: $40,000 - $50,000 USD
Our next two lots both feature a technology that many say will supplant the internal combustion engine: Electric power. Unlike the now-ubiquitous Tesla models that today's consumers regularly associate with EV transportation, this 1920s-era Milburn showcases the roots of battery-powered transportation. Like Tesla stands for today, in-period EV models like this Milburn Electric offered a categorically different method of transportation: A fold-away tiller replaces a steering wheel, the interior of this example resembles a formal sitting parlor of the period. Instead of what we think of a traditional four-place seating arrangement, additional passengers in this Model 27L are intended to sit facing rearward, in fold-out jump seats. While the power output from this period Brougham may not compare to a Plaid-badged Model S, at least one vintage EV enthusiast has attempted the ultimate engine swap, as Jay Leno is currently in the process of putting a Tesla powerplant into his 1914 Detroit Electric; this example is equally worthy of modernization or preservation.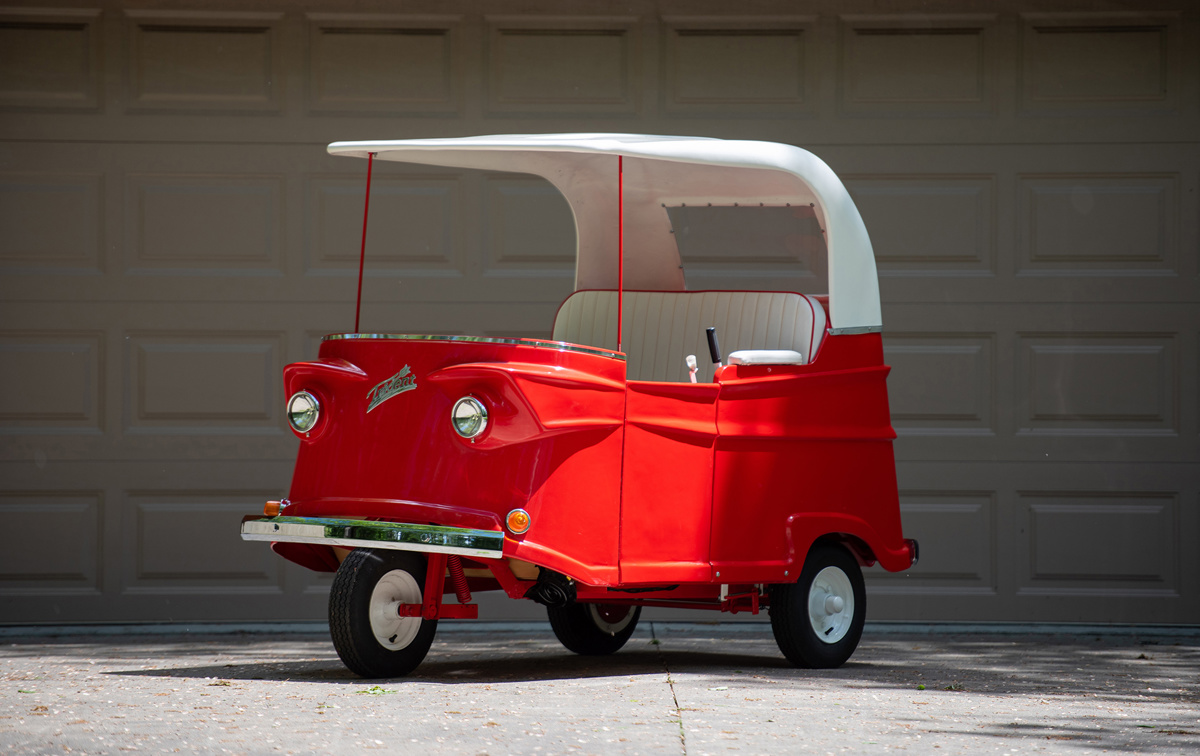 1960 Taylor-Dunn Trident Runabout
Estimate: $15,000 - $20,000 USD | Offered Without Reserve
While wondering who (if anyone) killed the electric car might be a provocative idea for a documentary, the fact is that electric cars have existed in various forms concurrent with nearly every stage of the petrol-powered automobile. Then and now, Southern California proved to be fertile ground for these futuristic vehicles, offering relatively pristine roadways and a pleasant atmosphere through which to travel. The Anaheim-based Taylor-Dunn corporation was one of several manufacturers that entered into the production of so-called "Neighborhood Electric Vehicles" (or NEVs), like this well-preserved Trident example from 1960. As evidence of their expertise at building these practical vehicles, Taylor-Dunn is still in operation today, providing electric transportation solutions to a variety of industrial applications, while uncommon examples like this one are typically found in collections as prestigious as the Petersen Automotive Museum.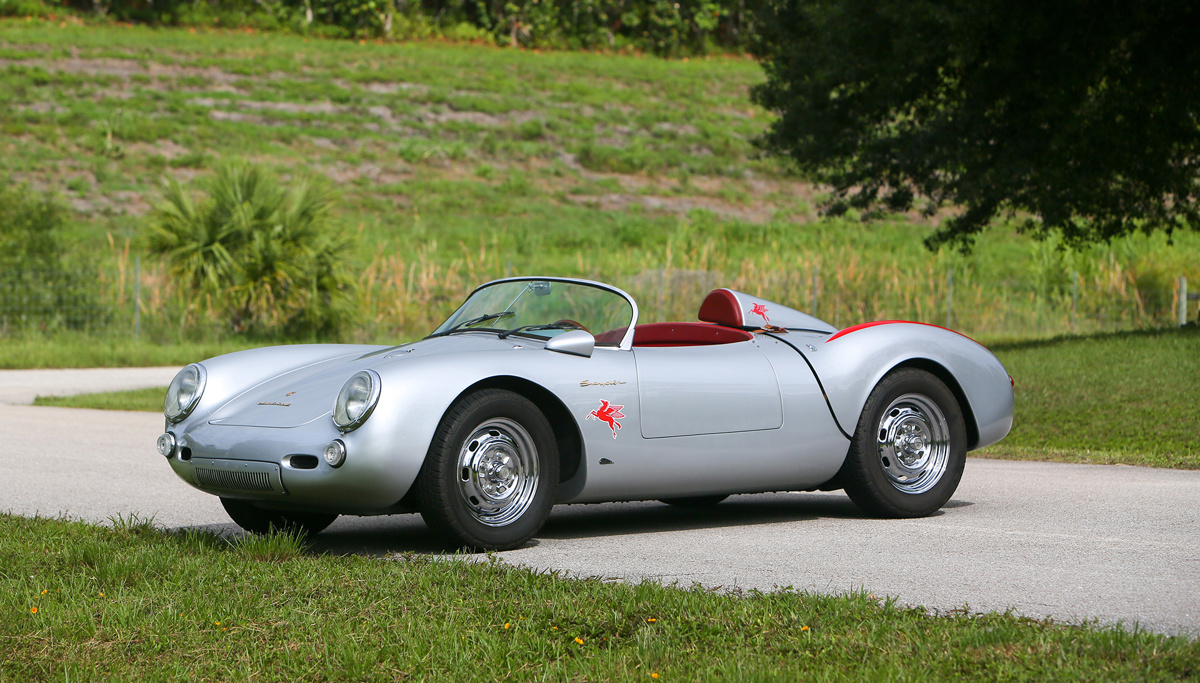 1955 Beck Porsche 550 Spyder Replica by Chamonix Karosserie
Estimate: $40,000 - $50,000 USD
Much like the charming dune buggy that began our list, some sports cars have grown in value so substantially that it might make spirited driving a stressful endeavor. To experience the edge of performance in a genuine Porsche Type 550 Spyder today carries with it a seven-figure price tag, which is part of the reason why Porsche enthusiasts are, now more than ever, turning to well-made replicas as a more practical alternative. Now in business for more than three decades, the Indiana-based firm formally titled Special Edition, Inc. has been turning out Beck Speedsters and Spyders and capturing the attention of serious automotive journalists. This example sports the ultimate specifications for any mid-century Porsche fan, with its Carrera-style tail stripes perfectly highlighting its silver-over-red color combination and winged Pegasus Mobil decals. A car built to deliver a genuine vintage sporting experience.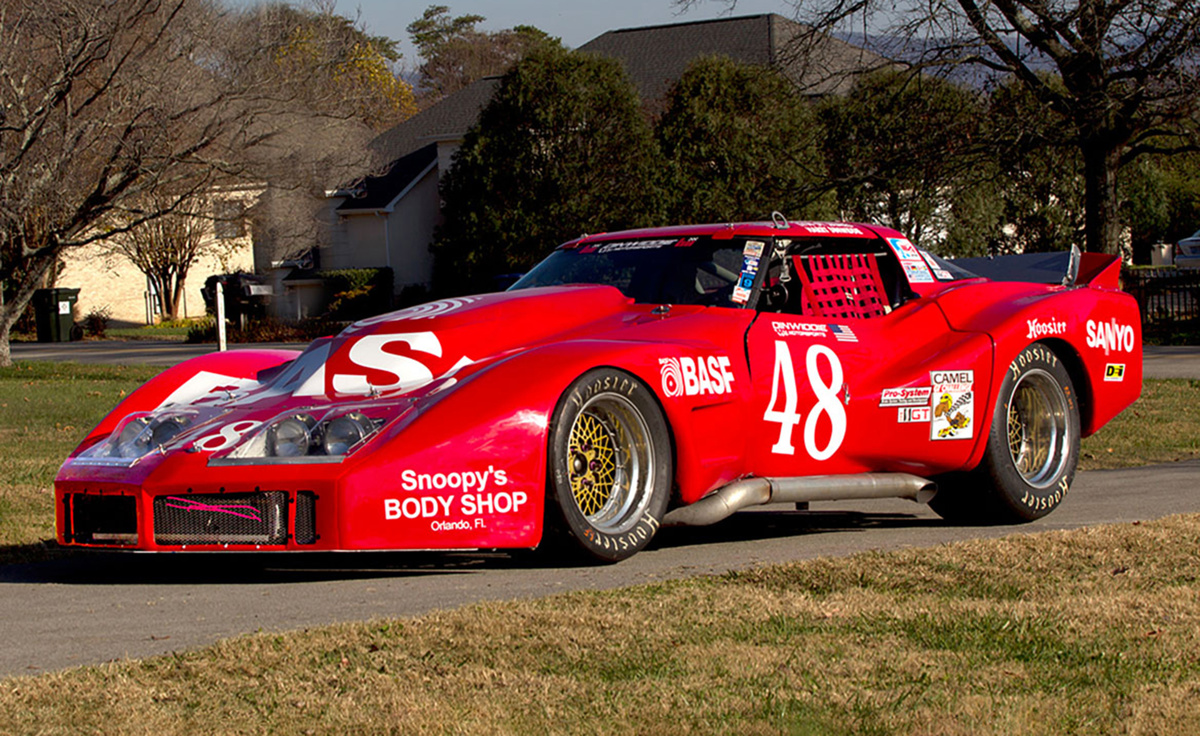 1969 Chevrolet Corvette IMSA GT
Estimate: $100,000 - $125,000 USD
The final lot on our extensive list of sporting examples is this IMSA-spec Chevrolet Corvette, which placed sixth overall at the 24 Hours of Daytona in 1977. With a roster of noteworthy drivers including Lyn St James, Phil Curran, and team owner John Carusso, this Corvette proved that American-made sports cars could hold their own as endurance vehicles. Accompanied by an extensive folder documenting the race history and authenticity of this chassis, perhaps the most significant evidence of the worthiness of this example is from its recent appearances at vintage racing events including its return to Daytona in 2014, where the period-correct Greenwood wide-body and bored-and-stroked 468 cu-in. Chevrolet V-8 powerplant once again set it apart from its competition. The grand return of an American sporting icon.