RM Sotheby's Arizona collector car auction kicks off the auction season at the Frank Lloyd Wright–influenced Arizona Biltmore Resort and Spa, drawing automotive enthusiasts from around the world as part of Arizona Car Week. On offer are nearly 150 collector automobiles spanning the gamut from world-class concours show cars to sub-$100,000 collectable automobiles and future classics. The following 15 cars represent a wonderful opportunity to own some of the most adored automobiles from various decades and classes for collectors of all tastes and budgets.
Scroll down to explore 15 automobiles under $200,000 offered at the upcoming RM Sotheby's Arizona sale, held 16-17 January 2020.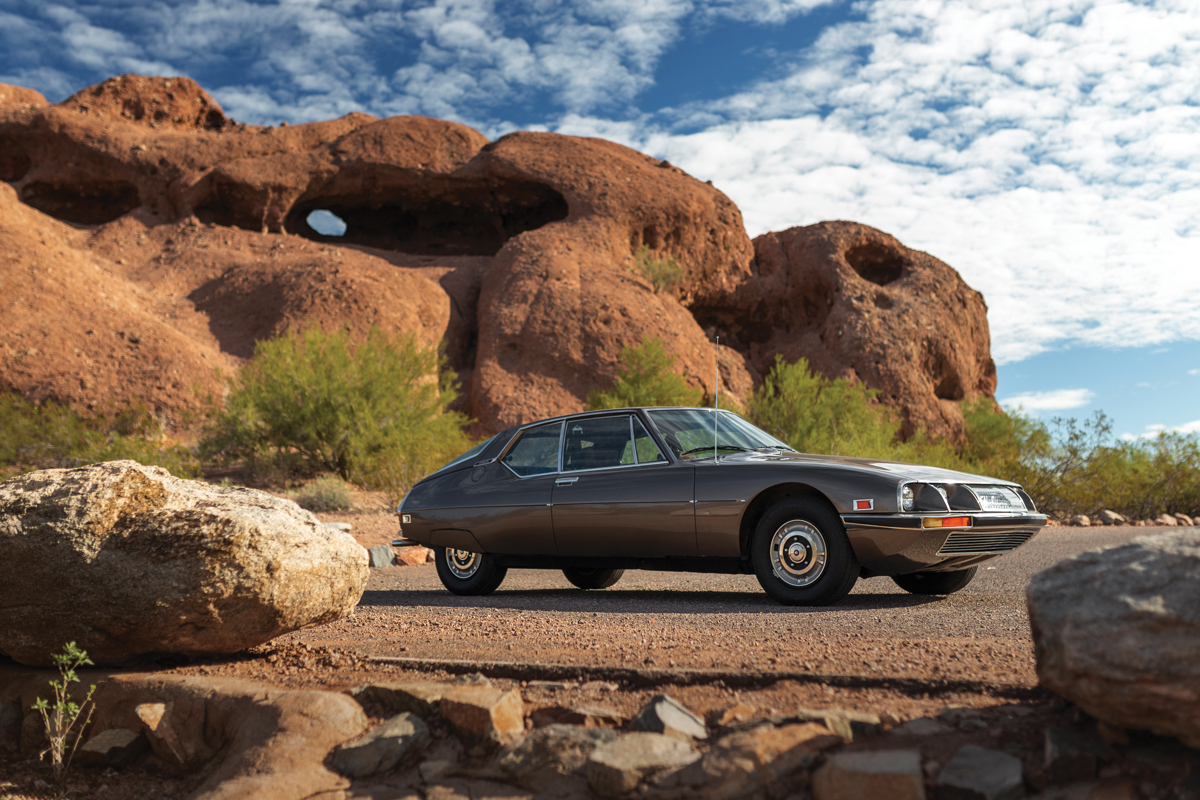 1973 Citroën SM
Estimate: $50,000 - $70,000 USD | Offered Without Reserve
After Citroën acquired Maserati in 1968, they planned to create a GT which paired the strong suits of both companies. The resulting SM was their flagship model, offering amazing technology, performance, and signature Citroën style. With a 3.0-liter Maserati V-6 beneath the hood, it became the fastest front-wheel-drive car with a top speed of 140 miles per hour, as well as the first non-American car to be named Car of the Year by Motor Trend magazine. This example has been well cared for since new, having remained under single-family ownership until four years ago, and has been serviced by Citroën specialists, including a full engine rebuild by SM specialist David Hume. It is one of only 600 with the desirable 3.0-liter engine paired with a five-speed manual transmission and has the sought-after Euro headers which were fitted during the engine rebuild.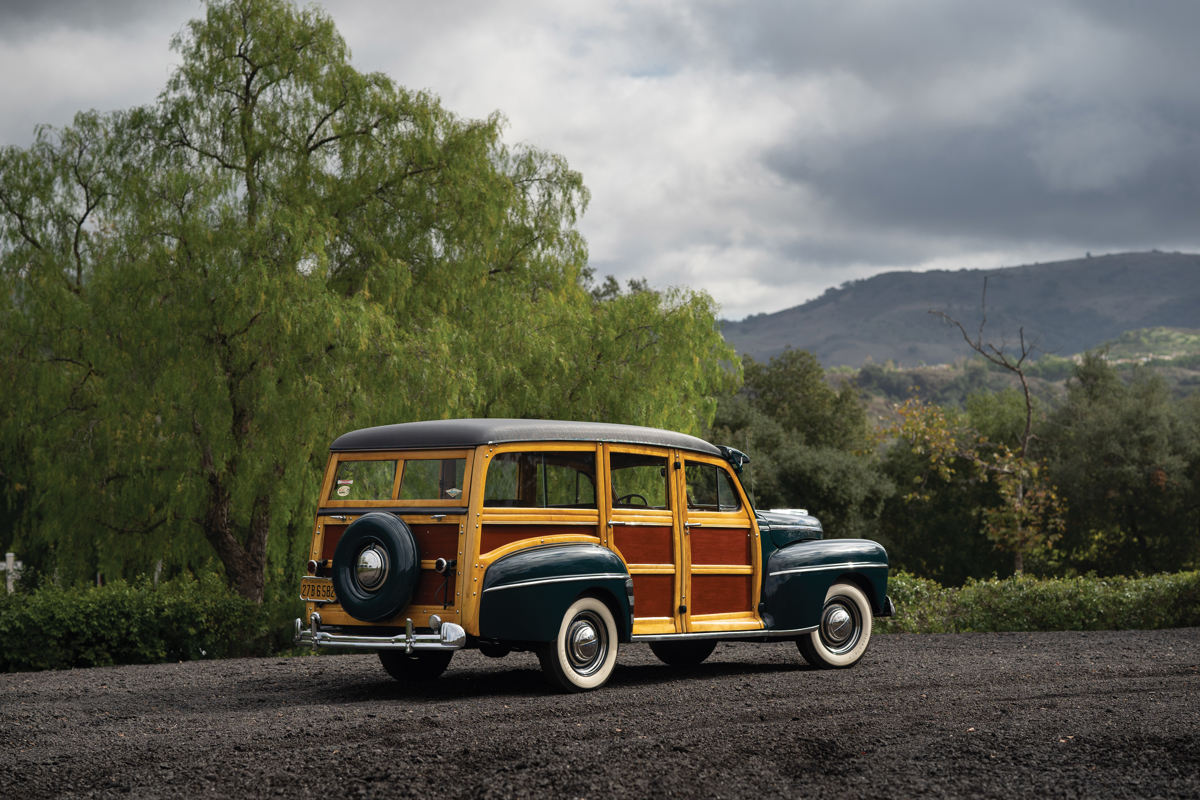 1947 Ford Super DeLuxe Station Wagon
Estimate: $70,000 - $90,000 USD | Offered Without Reserve
The Super DeLuxe was the top trim model for Ford's popular station wagon, featuring chrome moldings around all windows, a horn ring, two sun visors, armrests on all doors, passenger assist straps, and horizontal chrome trim on the body. The woody model received white ash ribbing and birch over mahogany-look paneling which was crafted by some 300 craftsmen at Ford's Iron Mountain facility. This example was reportedly a part of the Nethercutt Collection in its earlier history and was thoroughly refreshed between 2014–2016. During this time the body was repainted Glade Green, while the original wood was refinished and retained, with the exception of some replacement work on the roof. It is equipped with the optional Wonderbar radio, heater, and both fog lights and backup lights, and retains the original 1947 Year of Manufacture license plates.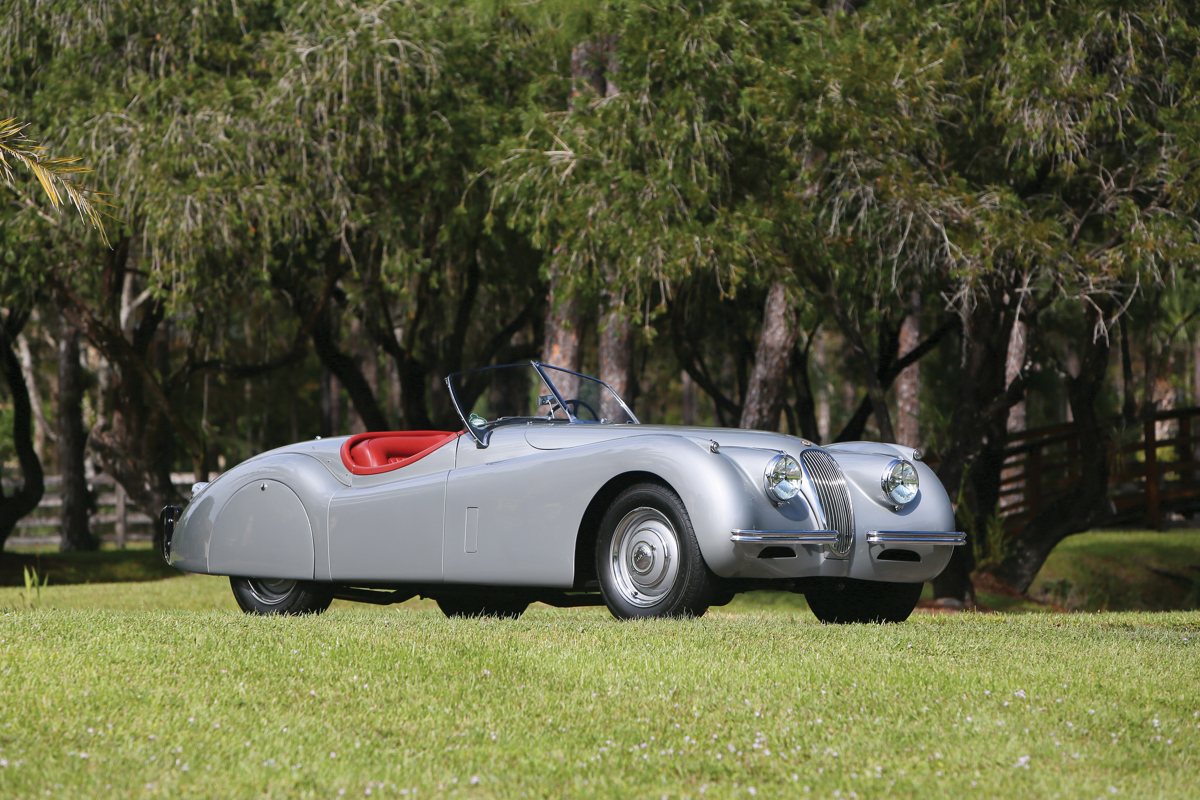 1953 Jaguar XK 120 Roadster
Estimate: $100,000 - $125,000 USD | Offered Without Reserve
Arguably one of the most influential post-war sports cars and one of the most beautiful designs of all time, this stunning XK 120 underwent a comprehensive and well-documented restoration over the course of a four-year period. In 2011 it was acquired by a well-known collector and enthusiast who exercised the elegant XK 120 on spirited drives throughout the US and participated in three 1,000-mile rallies including the 2017 Copperstate rally. A testament to its outstanding cosmetic condition, it was exhibited at the Quail Motorsports Gathering in 2017 and last year's Boca Raton concours, where it was awarded Excellence in Class.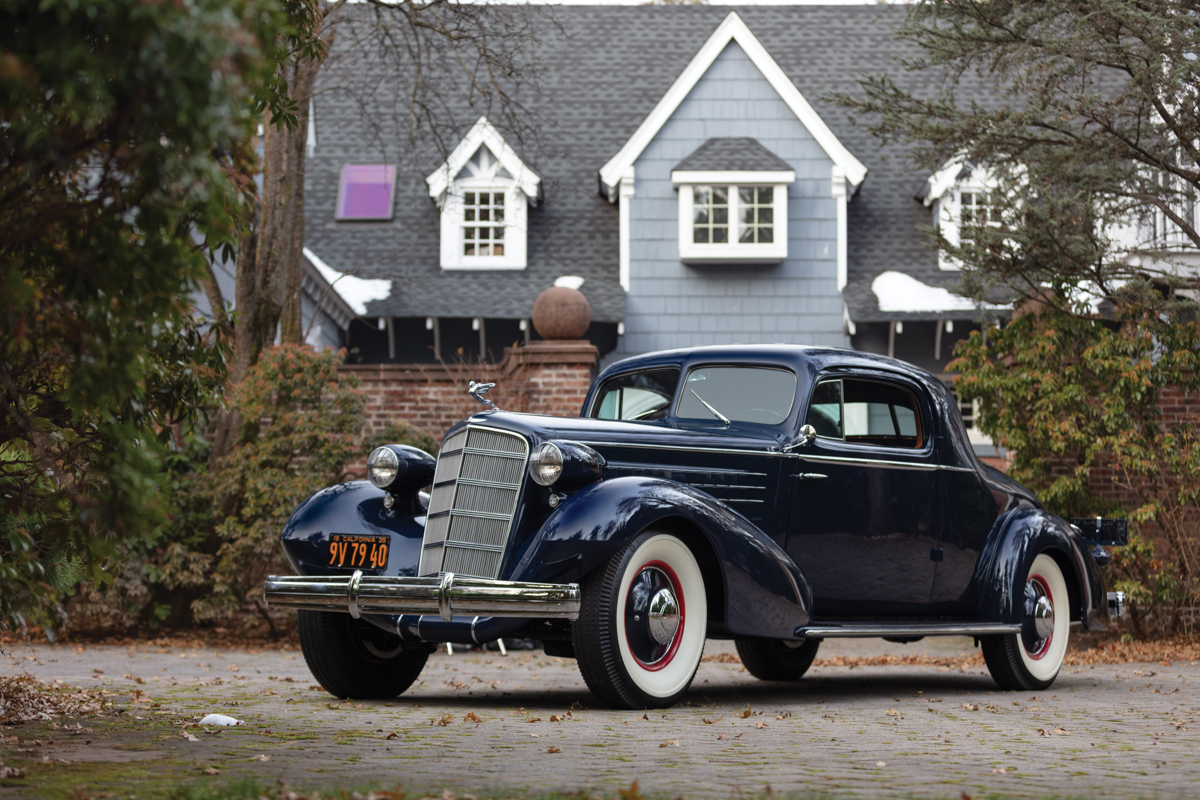 1935 Cadillac V-12 Two-Passenger Coupe by Fleetwood
Estimate: $175,000 - $225,000 USD
This gorgeous V-12 two-passenger coupe is one of only two known survivors of this design, style number 5776, constructed on Cadillac's 146-inch-wheelbase 370A Twelve chassis. Despite its impressive size, it was designed strictly to be a two-passenger car with sporting proportions and graceful, flowing curves. It was tagged for a VIP delivery directly to a "Mr. Prentis" and finished entirely in black, including the chassis, wheel discs, and even the tires. It was cared for in the revered Thomas Cadillac Collection for many years until 1993, when the collection was dispersed. It was acquired by well-known enthusiast David Kane, who completed the restoration to its current state, including the paintwork and extensive mechanical rebuilding. It presents today in superb condition and was recently the recipient of the 2019 Greenwich Concours d'Elegance Chairman's Choice award.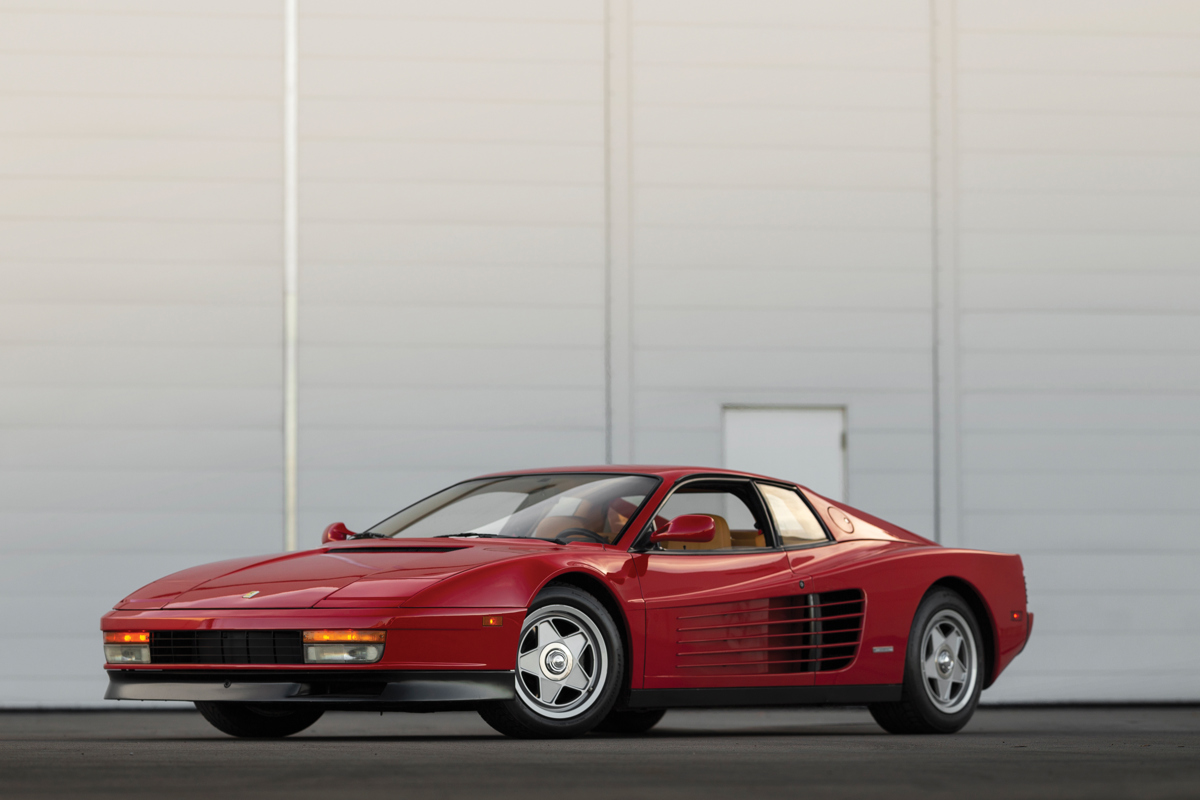 1987 Ferrari Testarossa
Estimate: $95,000 - $115,000 USD | Offered Without Reserve
Ferrari unveiled the Testarossa at the flamboyant Lido nightclub on the night before the 1984 Paris Motor Show. It was a bold move but proved to be the perfect location to debut their newest supercar to a select group of media and clientele. This example is one of only 315 US examples produced for 1987 and currently shows less than 28,400 miles. As a pre-1988 example, it is fitted with the attractive single center-lug wheels, as opposed to the five-lug wheels found on later models. Both inside and out, it presents today in excellent condition, complete with the owner's manuals in their Schedoni leather folio, jack kit, and binder of service documentation.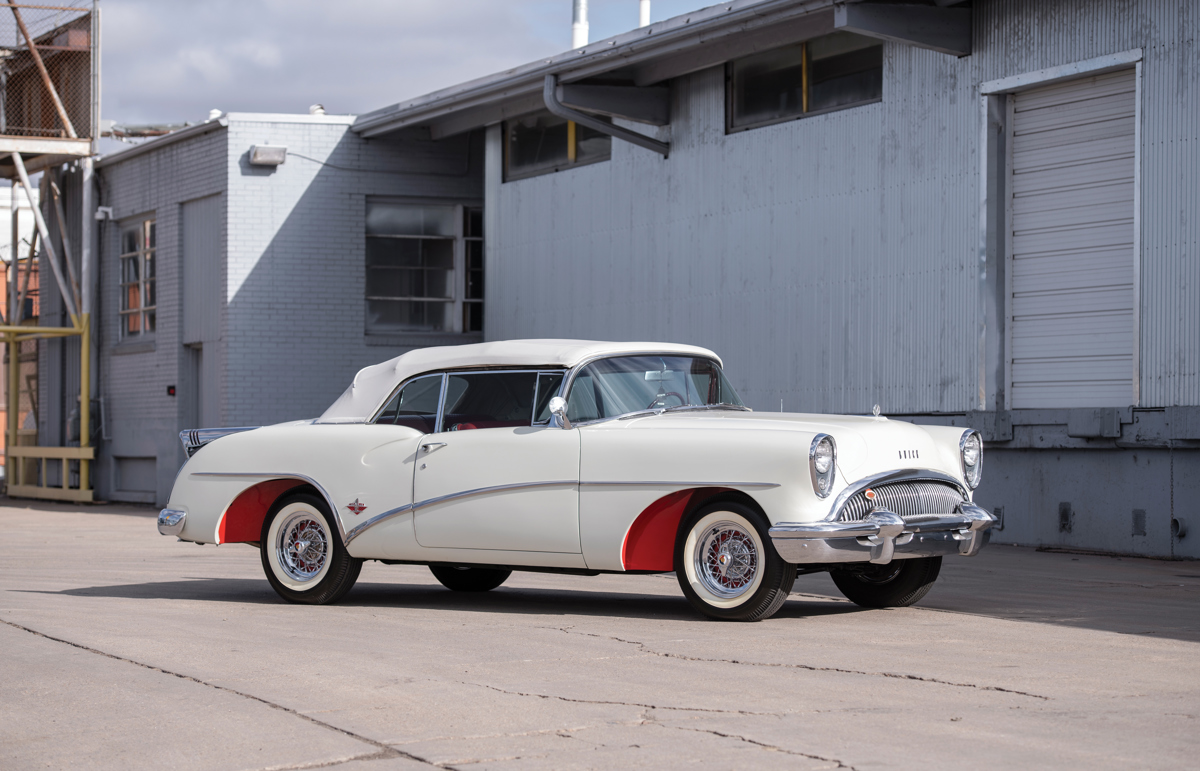 1954 Buick Skylark
Estimate: $100,000 - $130,000 USD | Offered Without Reserve
For 1954 the Skylark incorporated aggressive styling attributes from the Wildcat II concept car, and the 200-horsepower V-8 engine was placed in a Century chassis that was shorter and lighter than the Roadmaster version. Its dramatic styling has led many to consider the 1954 Skylark one of Harley Earl's finest production convertible designs and is still stunning by today's standards. This example is one of only 836 examples produced for 1954 and has been finished in Arctic White with Matador Red wheel wells; it features Kelsey-Hayes 40-spoke wire wheels. It received the AACA National First Senior award in 2011 and remains a highly desirable and collectable automobile in the world of mid-century American automobiles.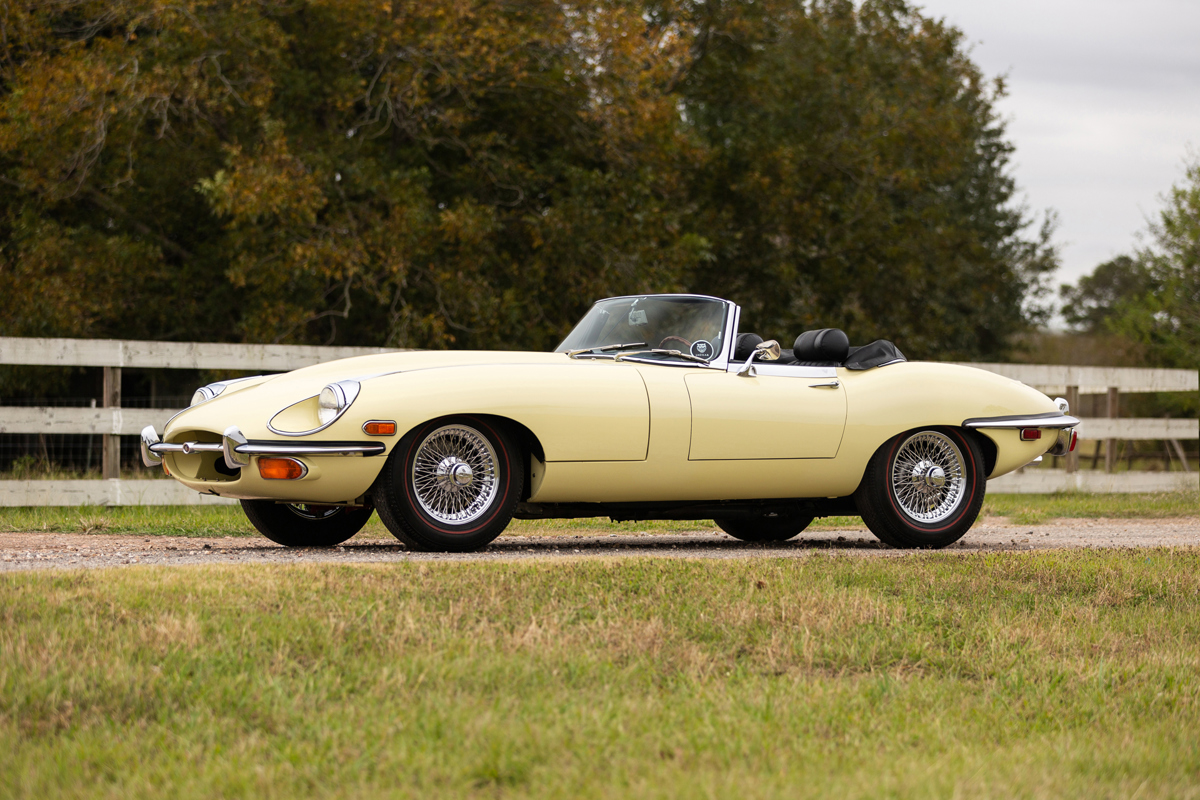 1970 Jaguar E-Type Series 2 4.2-Litre Roadster
Estimate: $110,000 - $140,000 USD | Offered Without Reserve
Upon its release in 1961, Enzo Ferrari declared that the Jaguar E-Type was "the most beautiful car ever made." This second-series example left the factory in May of 1970 as it appears today in Primrose Yellow with a black interior and convertible top, courtesy of an extensive frame-off restoration in 1989. Only 29,500 miles are displayed on the odometer, all of which are believed to be original. It was the recipient of the AACA Senior National Award in 1995, a testament to the high standard of restoration it received. Accompanying the E-Type is the original Manufacturer's Statement of Origin (MSO), original Jaguar Export Sales form, Jaguar Heritage Trust certificate, which confirms it to be a numbers-matching engine, a knock-off hub tool and hammer, jack with bag, and a matching full spare.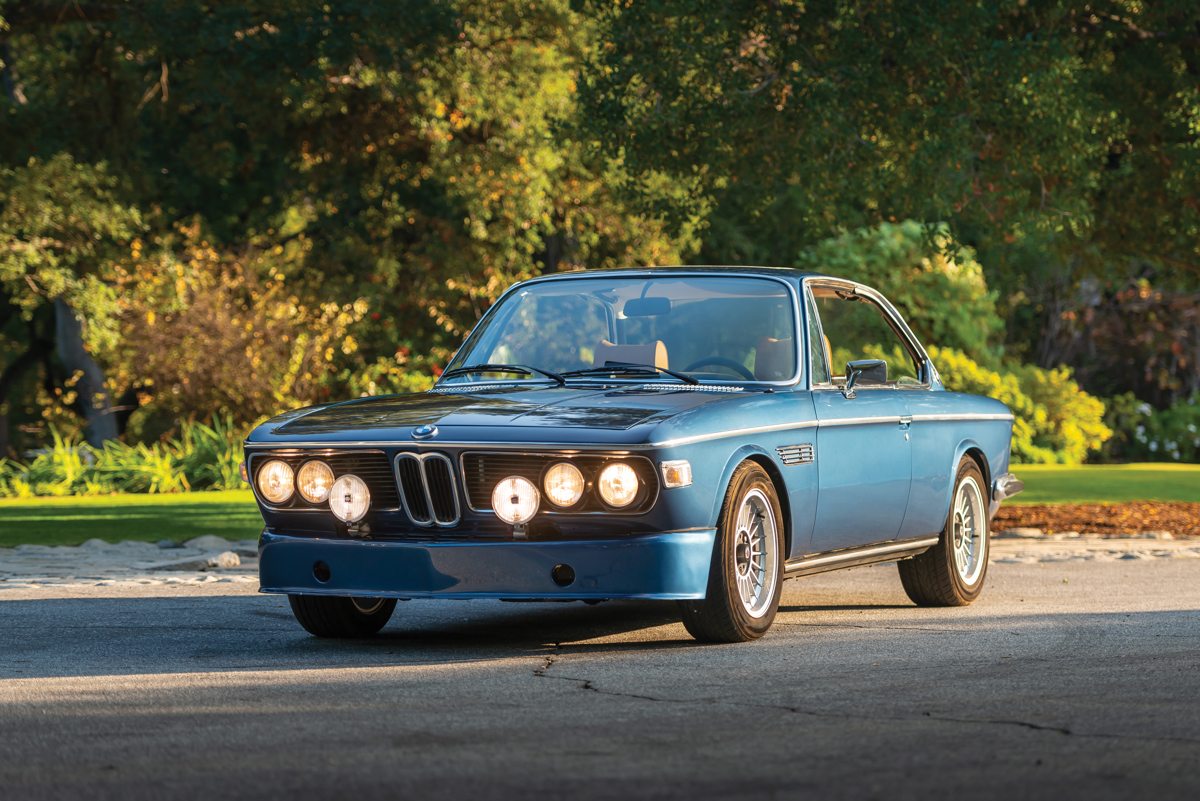 1974 BMW 3.0 CS
Estimate: $80,000 - $100,000 USD | Offered Without Reserve
The successor to the wildly successful 2800 CS coupe, the 3.0 CS featured four-wheel disc brakes and a 3-liter inline six-cylinder engine capable of propelling the sleek coupe to 130 mph. It became the basis of the homologation special 3.0 CSL, as well as becoming the favored platform for privateer racers and tuning partners such as Alpina and Schnitzer. This example features numerous ultra-rare Alpina components, such as three twin-choke Weber carburetors, Alpina-style wheels, and front air dam. Since being acquired by its current owner, the interior has been retrimmed in fresh tan leather, and a major mechanical refurbishment has been recently performed with new pistons and bearings for the engine, a new fuel tank, and new shock absorbers.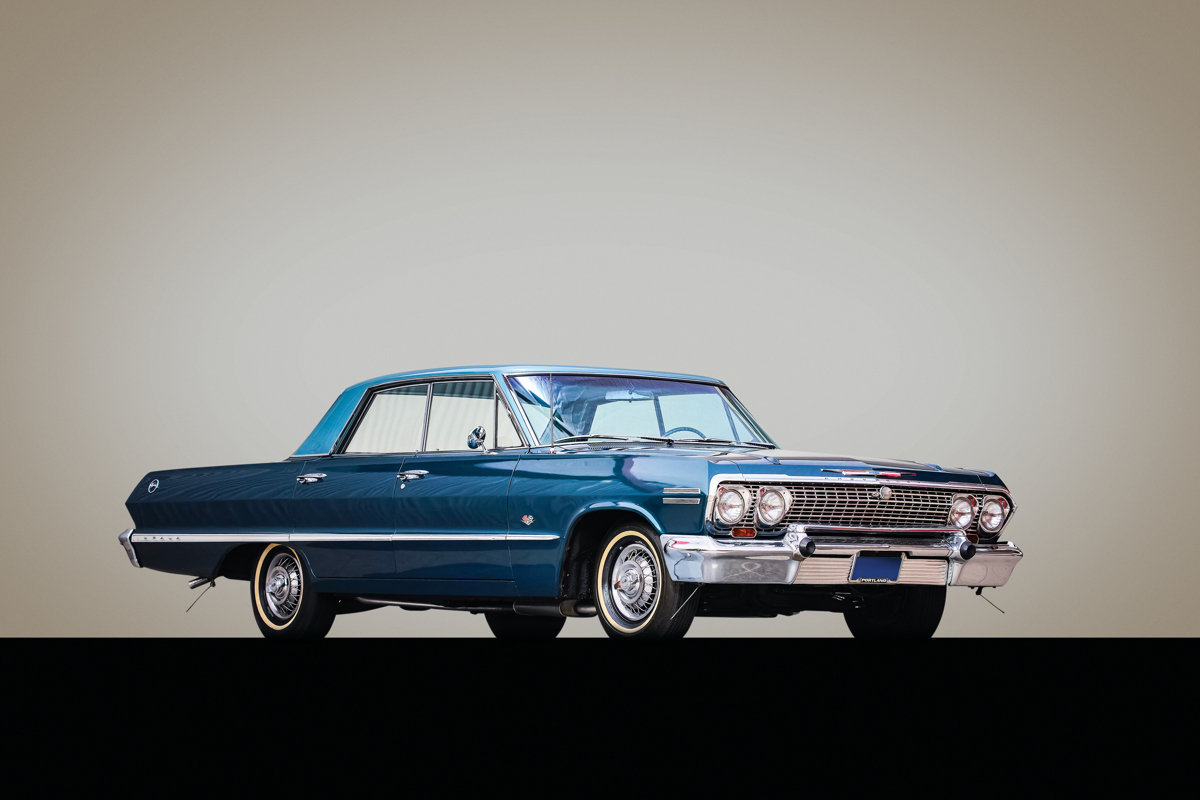 1963 Chevrolet Impala Sport Sedan
Estimate: $30,000 - $40,000 USD | Offered Without Reserve
Perched at the top of the 1963 Chevrolet model range was the top-of-the-line Impala. It was offered in six different body styles and power-train options, allowing customers a nearly endless array of configurations to make their purchase unique. This sport sedan is finished in its original color scheme of Azure Aqua over Marine Aqua, with the powerful 327 cu. in. V-8 engine paired to the Powerglide automatic transmission. Factory options include power steering and brakes, clock, radio, and under-dash tissue dispenser.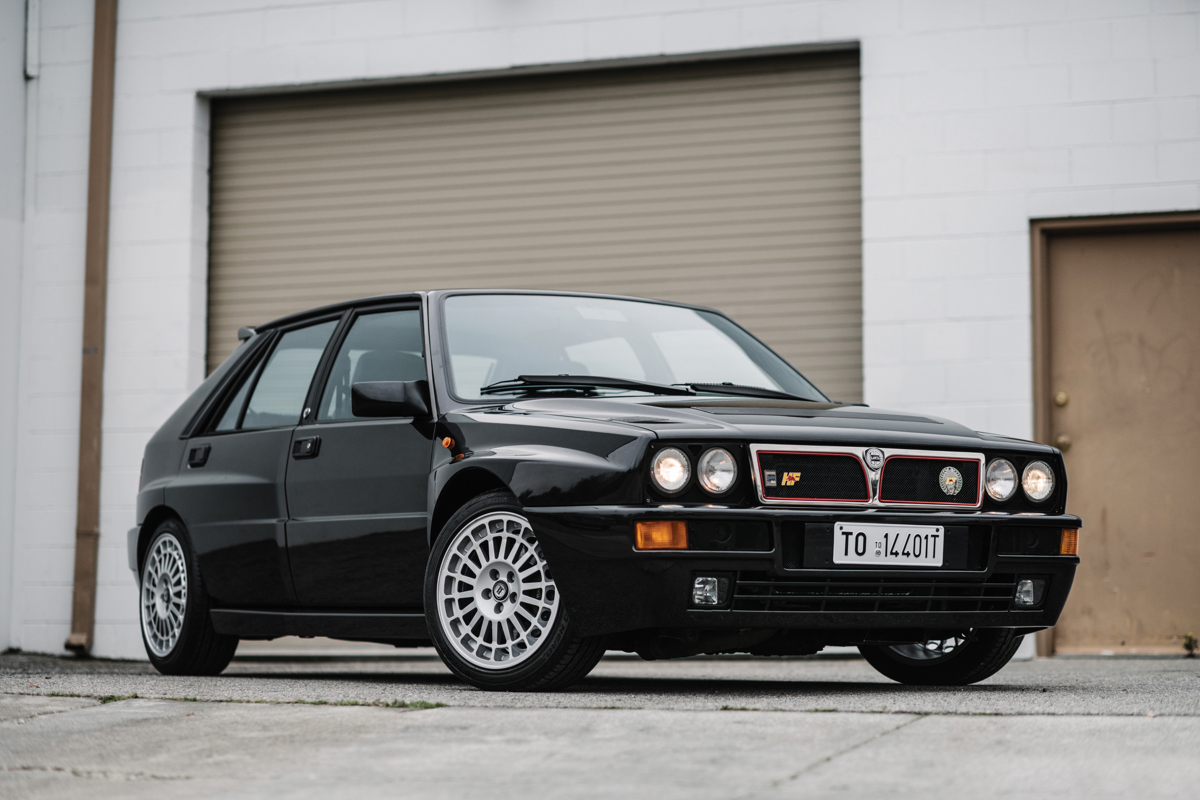 1992 Lancia Delta HF Integrale Evoluzione
Estimate: $150,000 - $180,000 USD | Offered Without Reserve
Drawing upon Lancia's rally success with the legendary Stratos HF, 037, and Delta S4, the Delta HF Integrale Evoluzione was the ultimate road-going example of the Delta model. The turbocharged 16-valve inline-four topped 100 hp/liter for the first time, now capable of 210 hp. The potent four-cylinder engine was paired to a five-speed manual transmission, a permanent all-wheel-drive system that split power 56/44 between the front and rear axles. Larger brakes and more robust suspension components were incorporated from the competition car, and large fender flares allowed for the track to be widened for added agility across a wide variety of terrain. This example was gifted by the Agnelli family to the Italian Olympic alpine skiing gold medalist Alberto Tomba and features several factory Evo II upgrades from the factory such as the seats and red-painted cylinder head.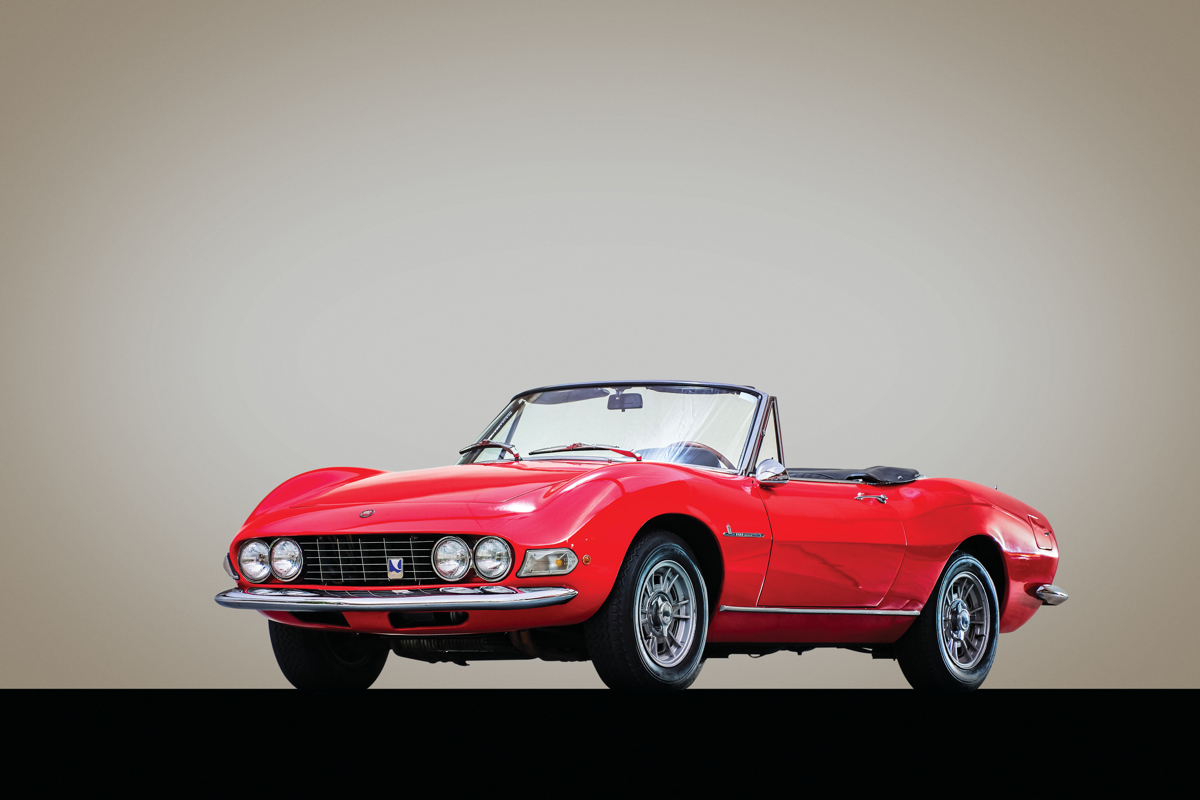 1968 Fiat Dino Spider by Pininfarina
Estimate: $100,000 - $150,000 USD | Offered Without Reserve
The Pininfarina-designed Dino Spider was created as part of an agreement between Fiat and Ferrari to homologate a six-cylinder engine for Formula 2. This example is among the final run of the 2.0-liter variant of the aforementioned engine and is capable of sprinting to 60 mph in only seven seconds, with a top speed of 130 mph—exceptional for a two-liter car. This example is finished in a lovely red-and-black color scheme and features a Sebring driver's side mirror. Very few examples were imported to the United States, making them considerably rare and sought after to driving-minded collectors.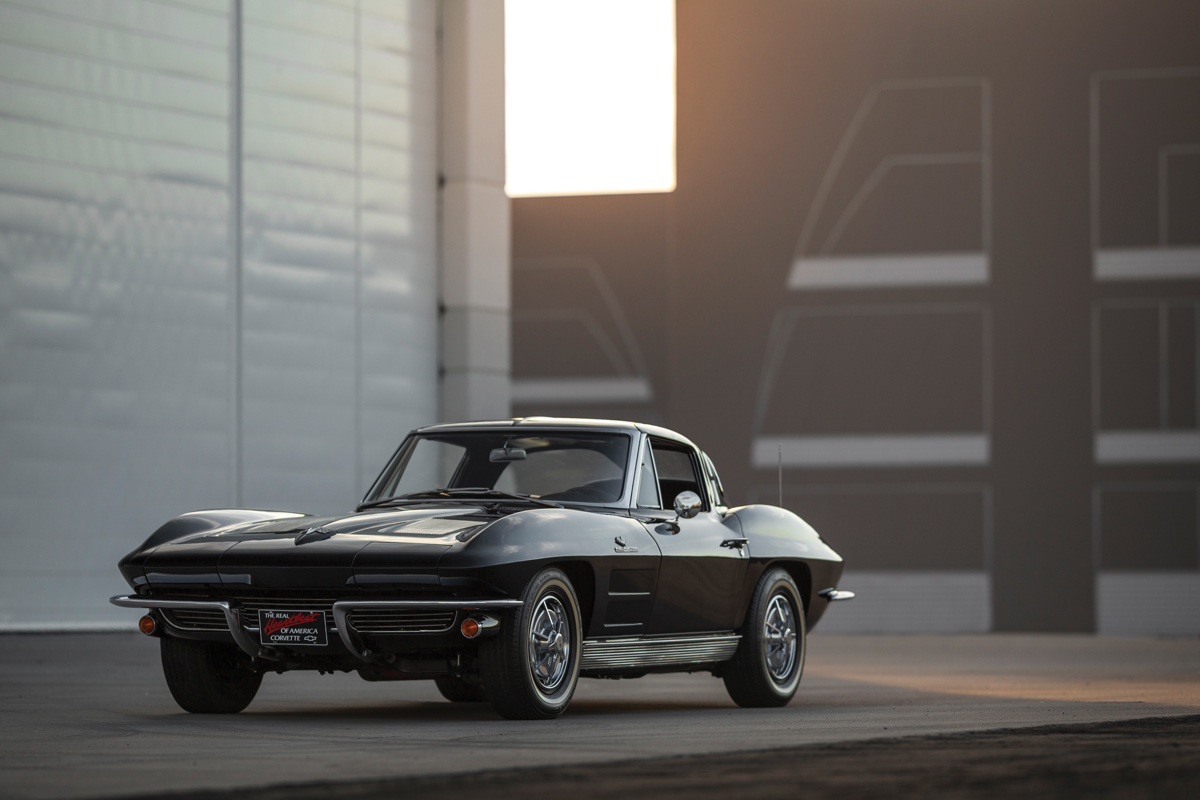 1963 Chevrolet Corvette Sting Ray 'Fuel-Injected' Split-Window Coupe
Estimate: $140,000 - $180,000 USD | Offered Without Reserve
1963 marked the beginning of the C2 generation of the Corvette, featuring all-new aerodynamic styling and superb mechanical engineering. The stiff fiberglass body was tuned in the wind tunnel for optimal aerodynamics and was mounted on a four-inch-shorter wheelbase than previous offerings. A ladder-type frame replaced the X-type frame, which allowed for a lower center of gravity and contributed to overall stiffness for improved handling. The rear windshield featured a distinctive split design, distinguishing the 1963 models from all other coupes that would follow. This example is finished in Tuxedo Black over black and is equipped with the fuel-injected 327 cu. in. V-8 paired to a four-speed manual transmission.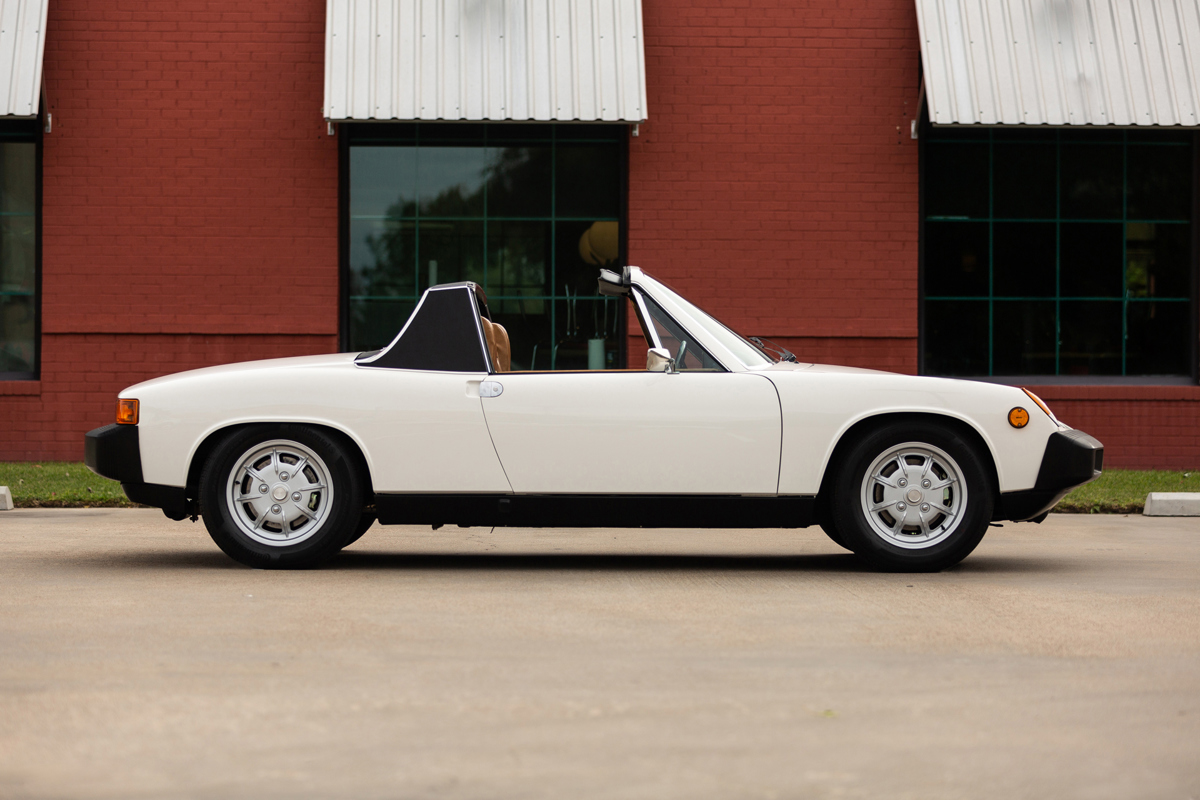 1976 Porsche 914 2.0
Estimate: $60,000 - $70,000 USD | Offered Without Reserve
A collaboration between Volkswagen and Porsche produced the lightweight, mid-engined Porsche 914. Purchased new by Karen Massena in April of 1976, this 914 has remained in her possession for four decades, being enjoyed to its fullest and regularly driven from her home in Wyoming to Rushmore Volkswagen in South Dakota for servicing. In 2016, the 914 was acquired by a vendor in Florida with an appreciation for early, original Porsches. The well-preserved 914 was treated to a no-expense-spared rotisserie restoration completed in 2017. This 2.0-liter example features the desirable five-speed transaxle and appears very much the way it left the factory in 1976, finished in the correct Light Ivory paintwork with black targa top. Accompanying the 914 is its original factory window sticker, dealer accessory card, original invoice, extensive service records and invoices, and a Porsche Production Specifications certificate which confirms that the 914 retains its original engine.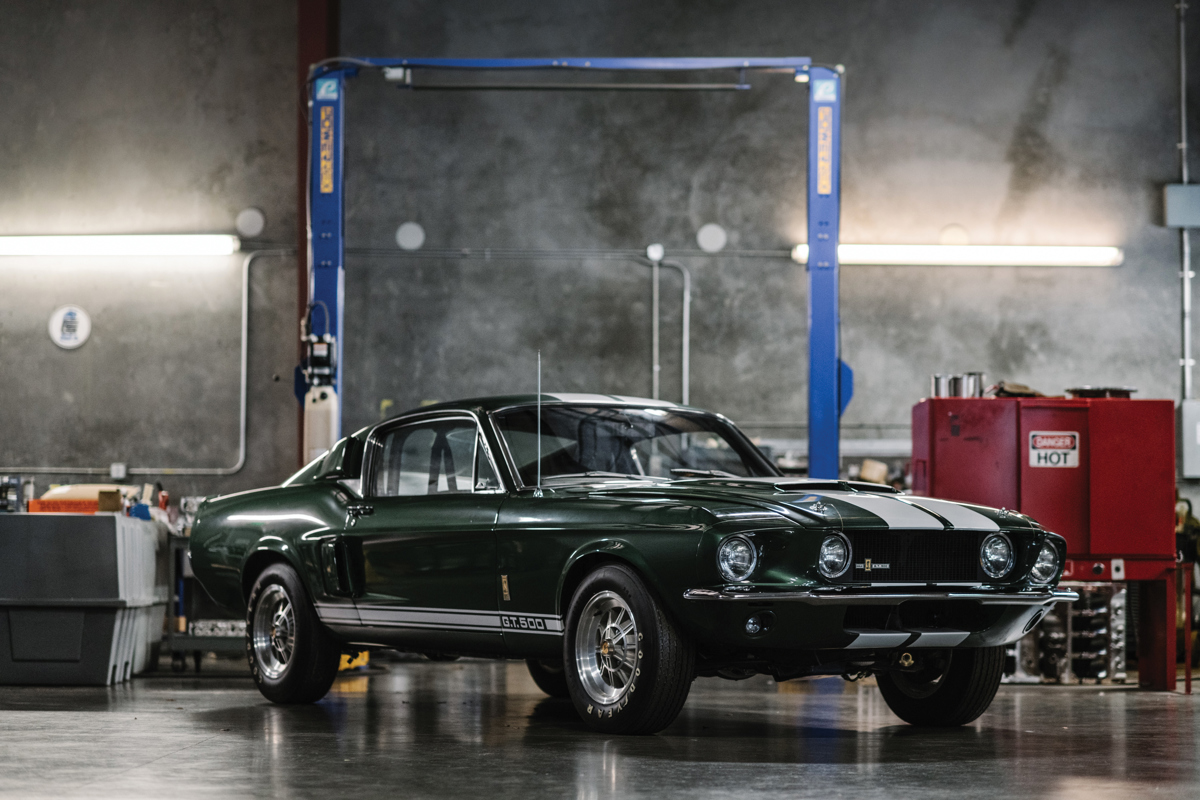 1967 Shelby GT500
Estimate: $150,000 - $200,000 USD | Offered Without Reserve
To redefine the Ford Mustang's image, Carroll Shelby was enlisted to apply his knowledge and skill set to produce a high-performance version of the Mustang. The year 1967 brought a mildly recontoured body which was designed to accept Ford's 390-cubic-inch big-block engine. Shelby took advantage of this by installing the Interceptor 428 engine and adding a dual-carb intake. It was rated conservatively at 355 horsepower, but its actual output was closer to 400 horsepower with an impressive 420 foot-pounds of torque. To further bolster the GT500's intentions, the exterior received an aggressive front end with unique hood scoop and grille-mounted driving lights, while the rear received rectangular taillights, sequential turn signals, and side air scoops ahead of the rear wheels. This example benefits from an exacting rotisserie restoration at the hands of noted Shelby expert and restoration specialist Tony Conover over a period of two years. Since its completion, it has not been driven and has resided in a private collection of rare and exceptional Shelby cars.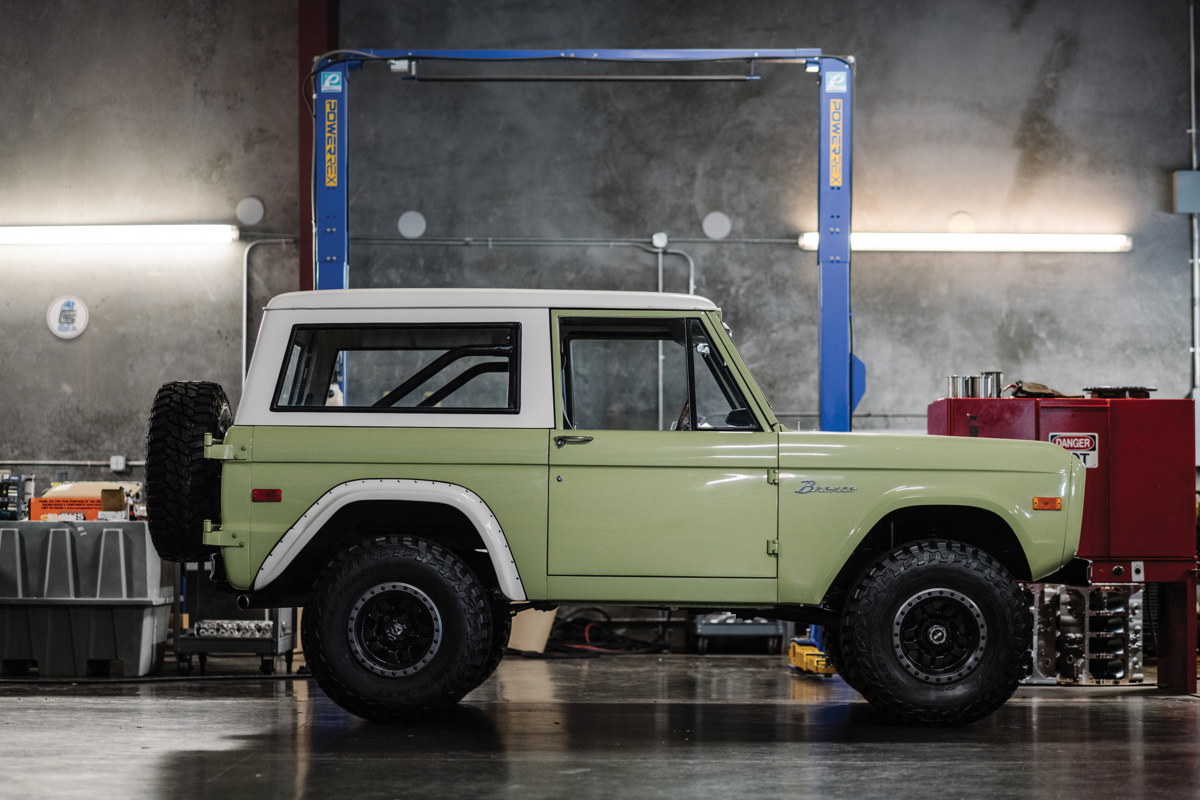 1971 Ford Bronco Custom
Estimate: $70,000 - $90,000 USD | Offered Without Reserve
The Ford Bronco is revered for its practicality and simplicity, as well as for having earned a reputation for being tough as nails. It quickly became a favorite after its release in 1965 and developed a loyal following, remaining in production up until the 1977 model year and deviating very little from its original design. This example was custom-built for a collector of Shelby models who wanted a special utility vehicle to accompany his collection. A 1971 Bronco was selected and fitted with a high-performance 331 cu. in. engine with a Holley four-barrel carburetor built by the Carroll Shelby Engine Company. The 421-horsepower engine is paired to a three-speed manual transmission and a four-wheel-drive transfer case. A subtle three-inch lift kit and larger tires with Fuelie wheels give the Bronco an aggressive stance. Since completion, it has only been driven ten miles, and it is ready for off-road adventures or stylish cruising.