Monterey is a city on the edge of California's rugged central coast. Every year enthusiasts from every corner of the globe descend upon the scenic seaside town to indulge in the most anticipated series of classic-car-focused events of the year. Monterey Car Week brings together the foremost collection of rare and significant automobiles in the world for enthusiasts of all walks of life to enjoy.
One of the greatest stretches of highway passes through the center of Monterey—the legendary Pacific Coastal Highway. It is the longest state road in California, stretching 659 winding miles alongside the Pacific Ocean and bringing travelers along incredible beachfront cliffs, such as Big Sur, on its way north to the Golden Gate Bridge. The roadway is an utter joy to drive in any automobile, but perhaps the greatest way to explore each and every curve of the PCH is behind the wheel of a sports car engineered to make the most of each mile of this intoxicating roadway.
Scroll down to explore 15 sports cars offered from RM Sotheby's upcoming Monterey auction that would be certain to thrill its occupants while carving through the scenic roadways of California's coastline.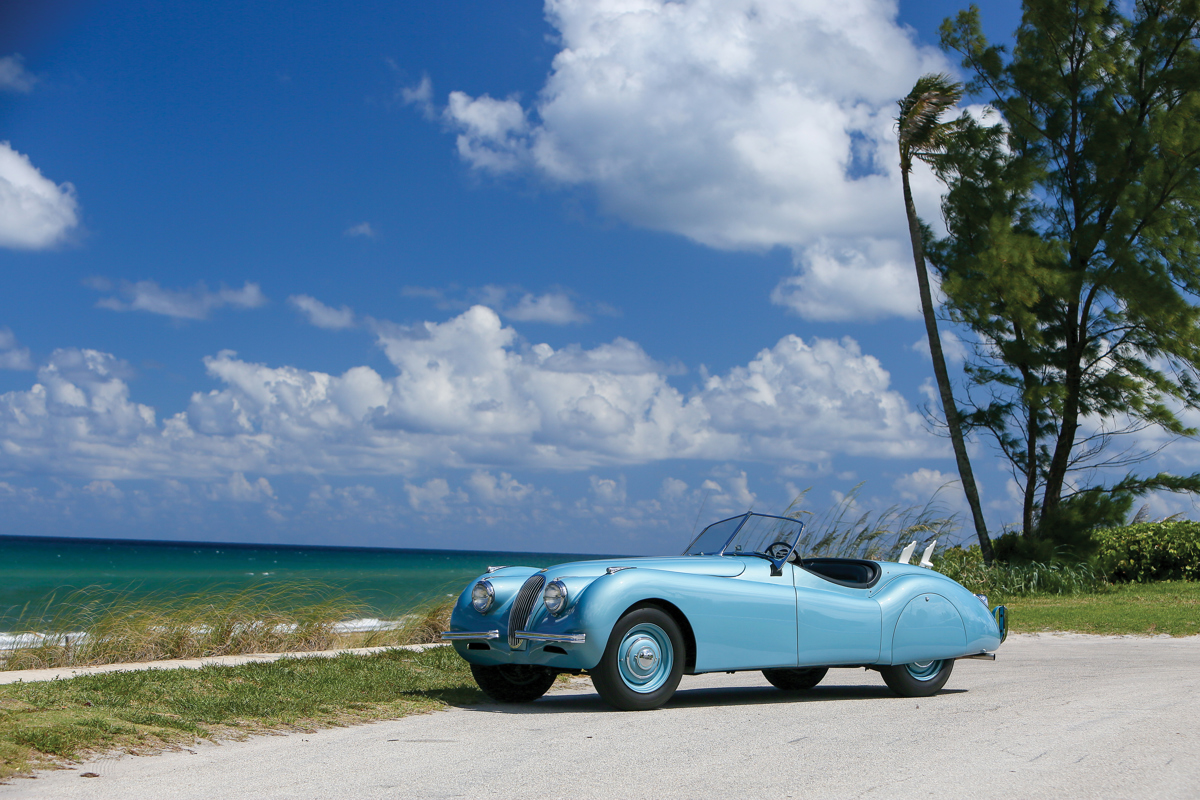 1949 Jaguar XK 120 Alloy Roadster
Estimate: $350,000 - $400,000 USD
This special XK 120 was the first left-hand-drive example ever imported into the US, and by none other than the famous New York–based importer Max Hoffman. It is the fifth of only 240 hand-built, alloy-bodied roadsters ever produced and the only to be finished in the gorgeous non-standard color of Blue Sheen. It was treated to a no-expense-spared restoration between 2005 and 2008 and today remains in outstanding overall condition.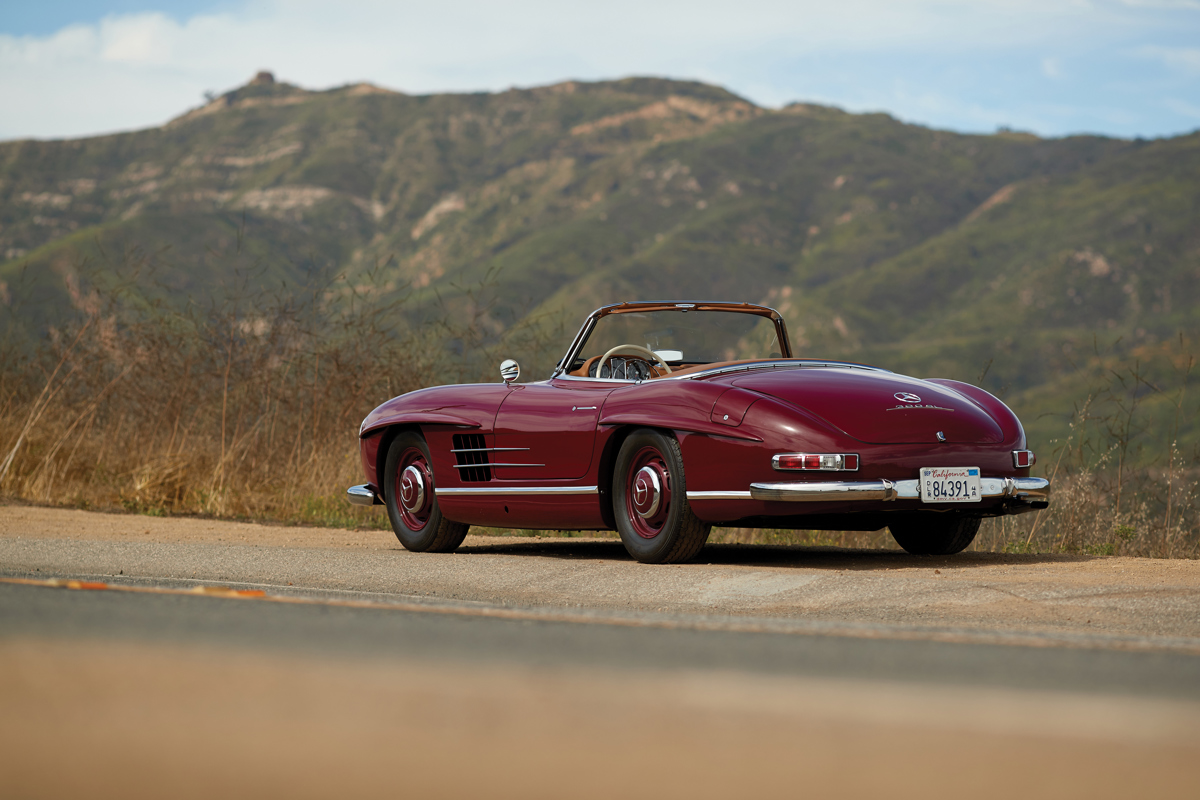 1957 Mercedes-Benz 300 SL Roadster
Estimate: $1,200,000 - $1,400,000 USD
After the release of the iconic 300 SL Gullwing coupe, noted importer Max Hoffman urged Mercedes-Benz that the demand for a roadster version would garner significant interest stateside and be equally successful. Mercedes obliged and released the 300 SL Roadster after redesigning the doors and suspension and refining the engine and driveline for additional power and drivability. Following a recent no-expense-spared service and mechanical freshening, this example is ideal to be enjoyed at high-speed touring and driving events.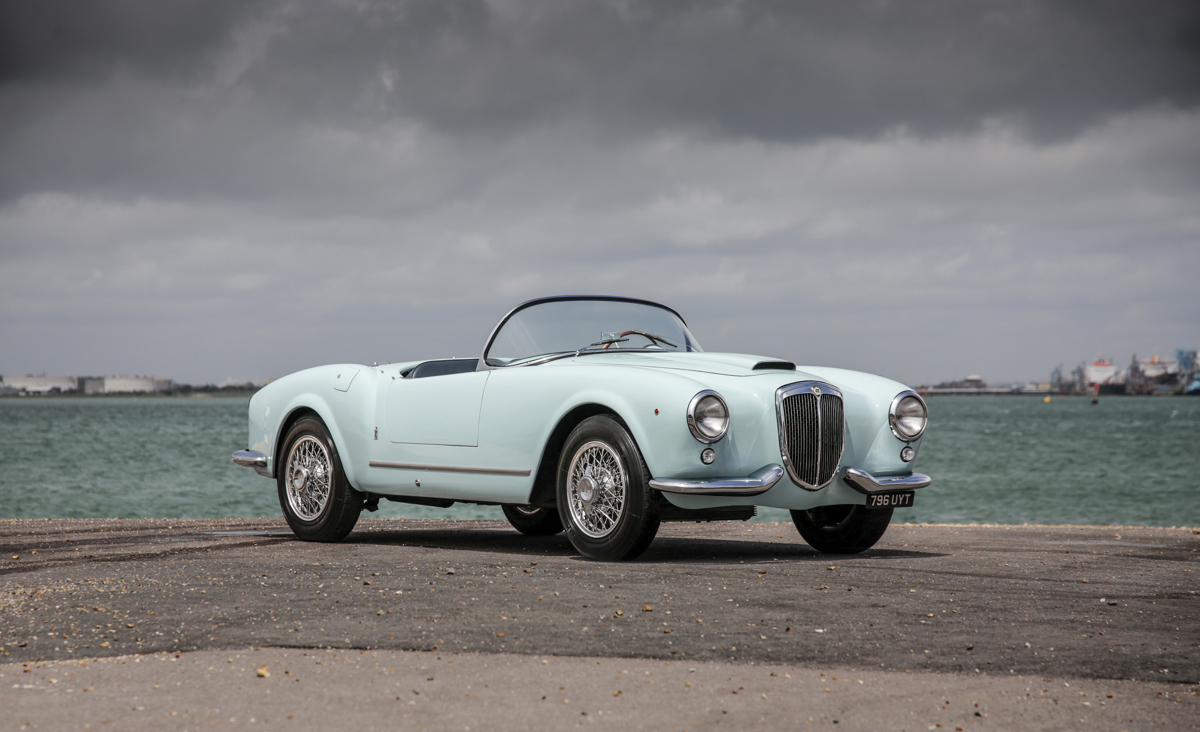 1955 Lancia Aurelia B24S Spider America by Pinin Farina
Estimate: $1,250,000 - $1,500,000 USD
Among the most beloved open sports cars of the 1950s, the curvaceous Lancia Aurelia B24 Spider America was built on a chassis 200 mm shorter than the standard fourth-series B20 GT and received the most advanced mechanical componentry in Lancia's arsenal, including independent front suspension, inboard rear brakes, and a highly detailed aluminum engine generally regarded as being the world's first production V-6. This example was completely restored in the late 1990s and was refreshed to the sum of $108,000 by the consigner, who enlisted the services of marque experts Tony Nicosia, Jan Voboril, and Gilberto Clerici to address and ensure the utmost correctness throughout.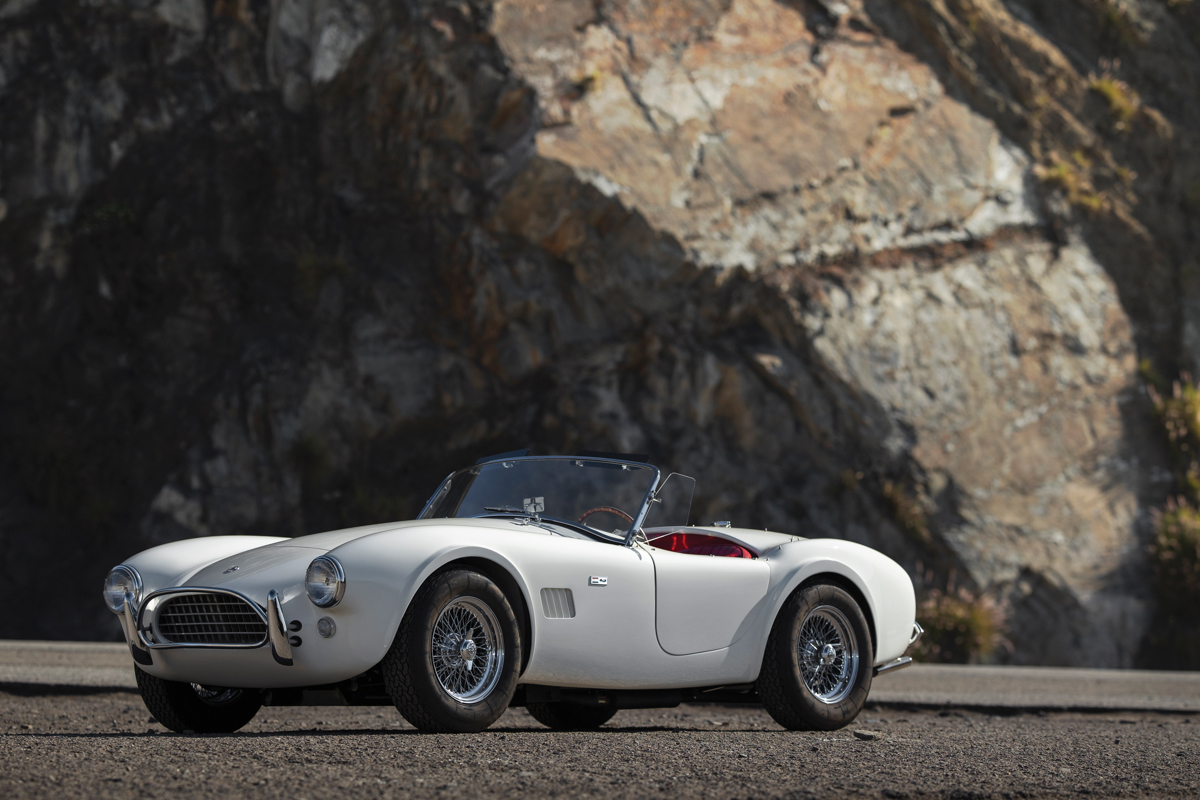 1964 Shelby 289 Cobra
Estimate: $825,000 - $900,000 USD
Carroll Shelby's 289 Cobra represents a turning point in the American sports car. A 289-cubic-inch Ford V-8 was mounted in a tube-frame chassis and cloaked in a lightweight aluminum roadster body—a combination that afforded it great success both on the track and on the road. This example was restored back to its original condition when it was dispatched from the Shelby American facility, making it an excellent opportunity to experience the thrill of a Cobra as Carroll Shelby had intended.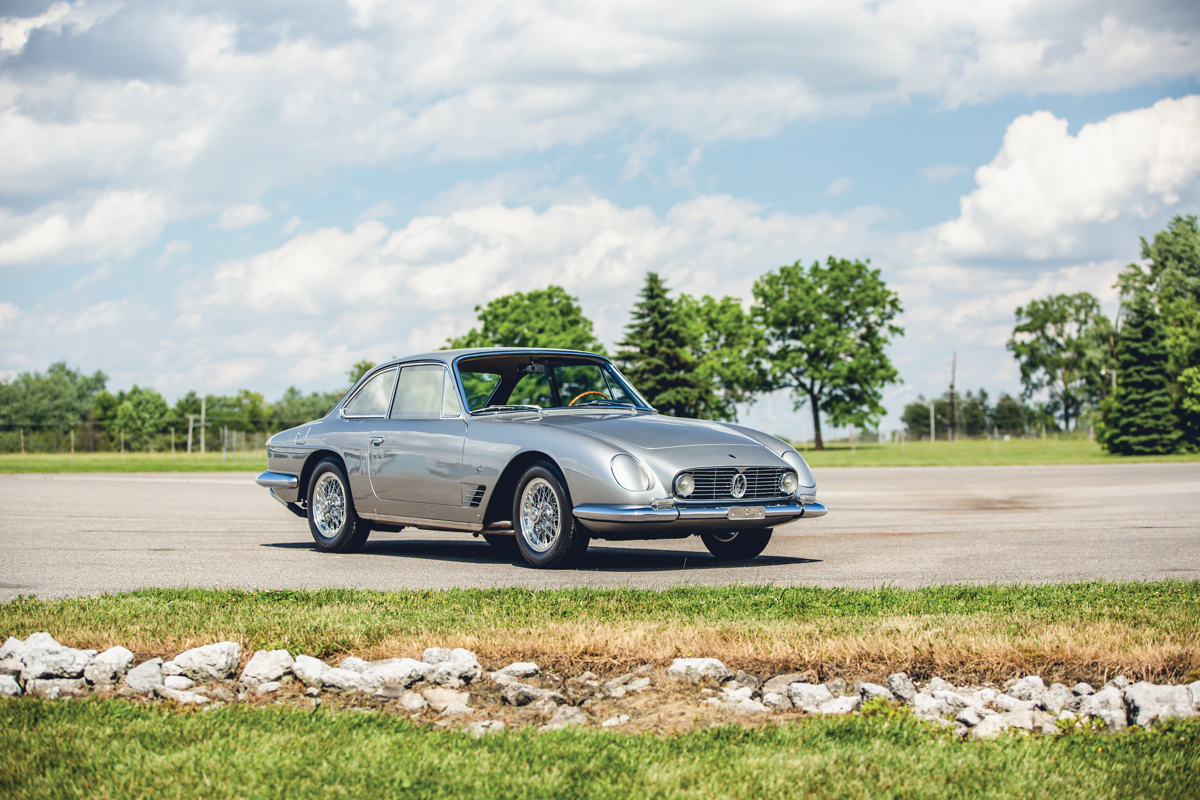 1964 Maserati 5000 GT Coupe by Michelotti
Estimate: $700,000 - $850,000 USD
The Shah of Iran approached Maserati with a request to create something special—specifically, a 3500 GT with one of their massive 450 S racing engines. Maserati decided to make use of the spare engines taken from their team of spare or damaged racing cars and set about creating three road cars in this configuration for very special clients. The production run was later expanded to 34 cars in total, this example being the personal 5000 GT of elite racing driver Briggs Cunningham. Notably, he requested that his would bear resemblance to the 450 S as much as possible, resulting in the unique coachwork by Michelotti.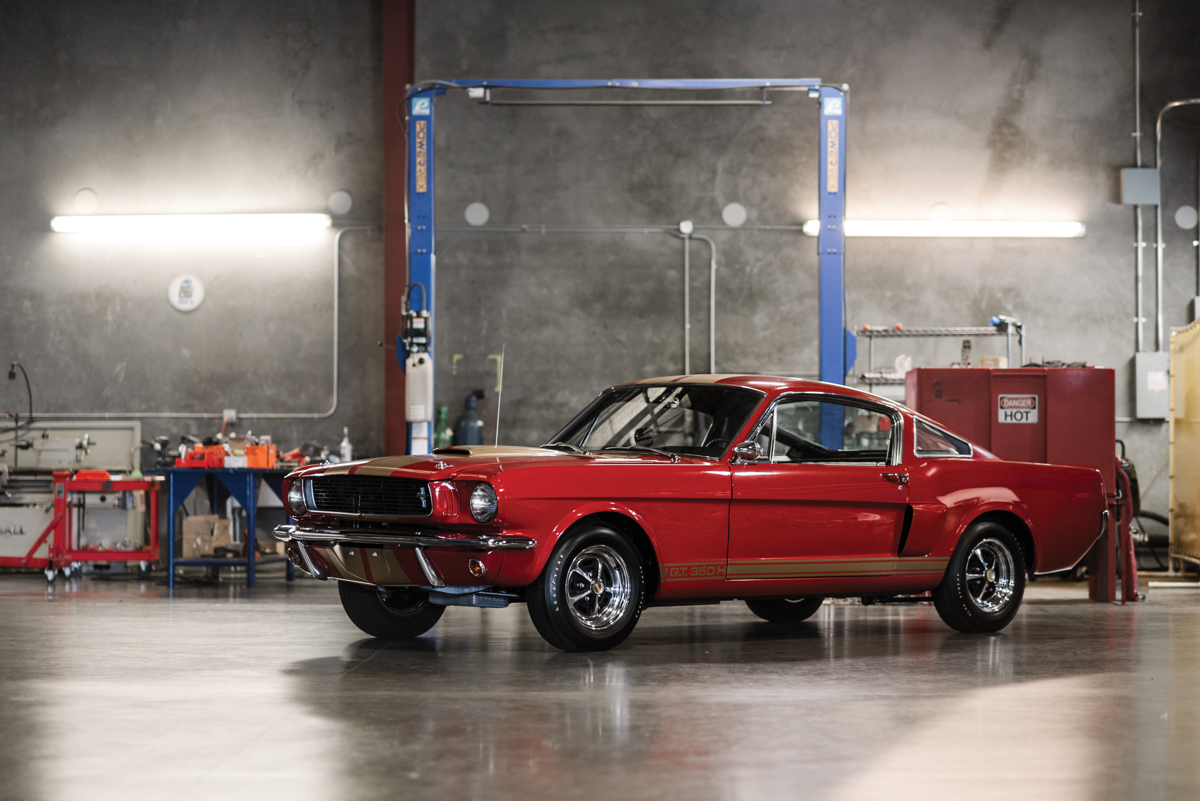 1966 Shelby GT350 H
Estimate: $140,000 - $180,000 USD | Offered Without Reserve
The Shelby GT350 H is a unique variation of the GT350, as the H stood for Hertz, the rental car company. Labeled the "Rent-A-Racer" program, 1,001 350H models were produced and sent to Hertz locations around the country. They were identical to the GT350, aside from their distinctive standard paint scheme of black with gold stripes. This example is one of 61 red Shelby Hertz cars produced and presents today in impeccable condition following a comprehensive restoration by noted marque specialist Tony Conover. It retains original Hertz magnum wheels, Cobra tachometer, competition seat belts, and, very importantly, its original engine block as verified by the SAAC.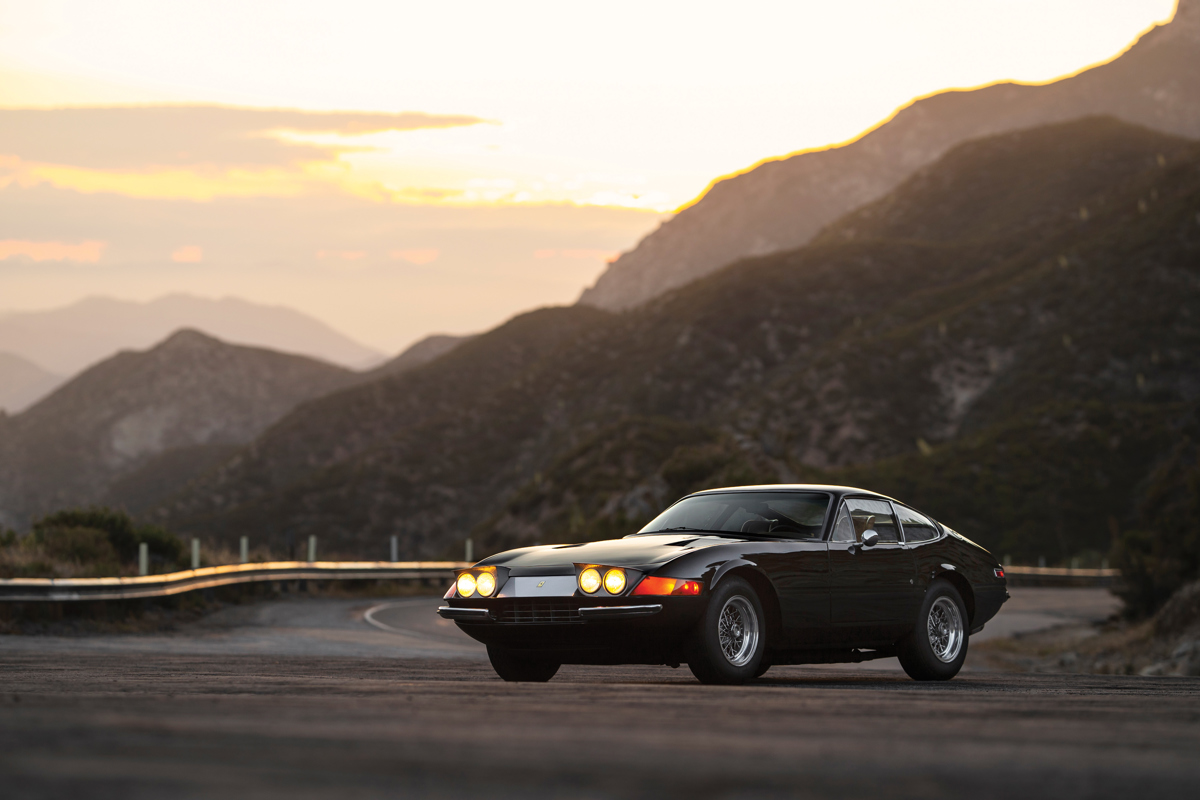 1971 Ferrari 365 GTB/4 Daytona Berlinetta by Scaglietti
Estimate: $675,000 - $750,000 USD
Pininfarina's Leonardo Fioravanti penned a radical new styling for the successor to the 275 GTB/4, replacing the smooth, curvaceous lines with aggressive, angular styling while retaining the familiar two-seater Berlinetta silhouette. A 4.4-liter dual-overhead-camshaft V-12 was fitted with six Weber carburetors, producing 352 brake horsepower and 315 foot-pounds of torque, allowing the Daytona to spring to 60 in just 5.4 seconds. This example presents today in highly original condition throughout and has been Ferrari Classiche–certified, all a testament to its outstanding overall condition.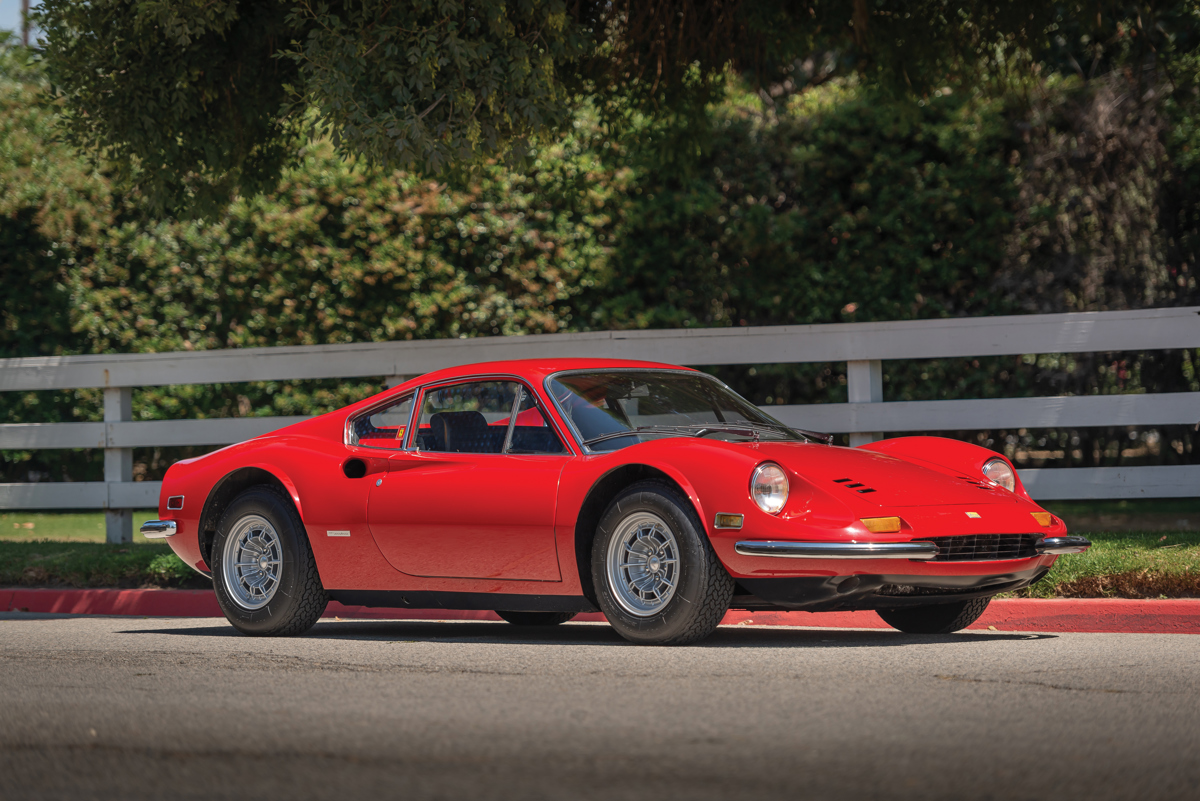 1972 Ferrari Dino 246 GT 'Chairs & Flares' by Scaglietti
Estimate: $475,000 - $550,000 USD
Less than 250 Dino 246 GT models were believed to be optioned with the desirable "Chairs & Flares" specification, sporting 7.5-inch Campagnolo wheels which necessitated flared wheel arches, as well as the sportier Daytona-style bucket seats. Most models were configured in the targa-top GTS style, with five of those examples known to have been delivered to the US when new. This example is one of those five and has been meticulously cared for by a single owner until recently changing hands for the first time in 2014.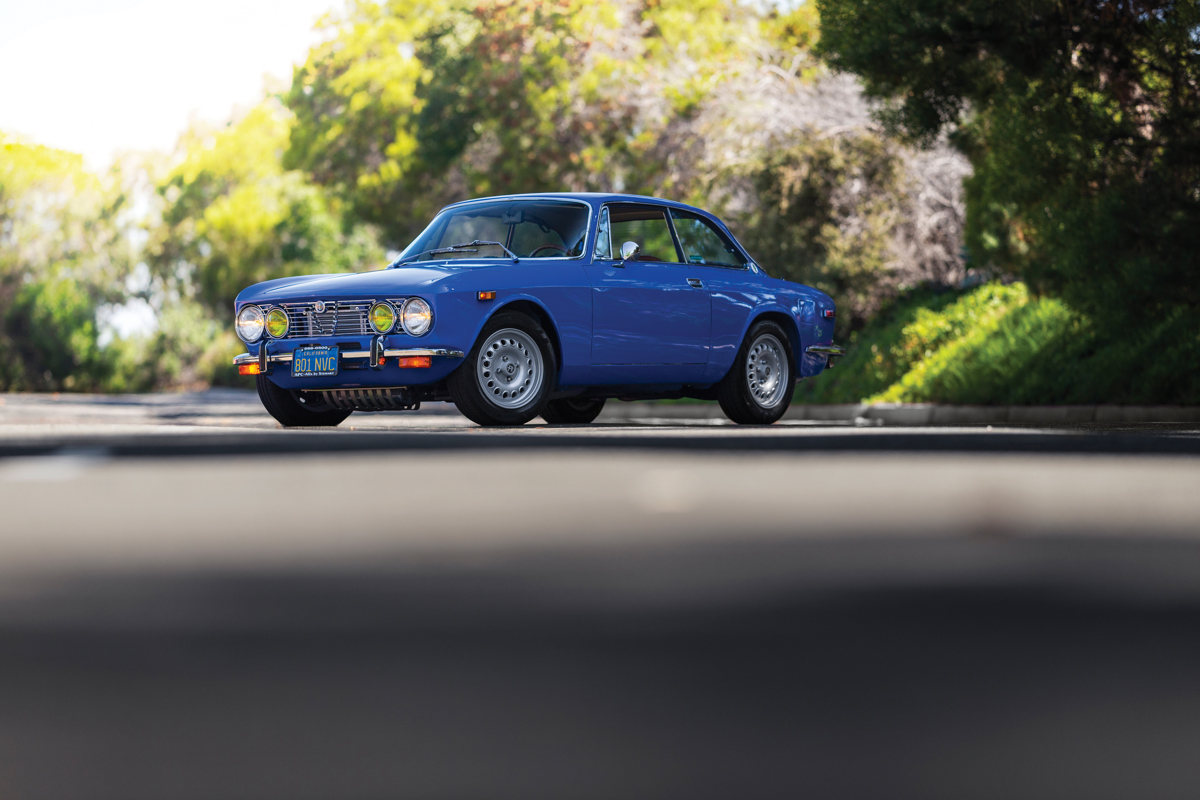 1974 Alfa Romeo 2000 GT Veloce by Bertone
Estimate: $90,000 - $120,000 USD | Offered Without Reserve
A young Giorgietto Giugiaro at Bertone penned the design for a coupe version of the Guilia in 1963, and instantly a star was born. It quickly gained a reputation of being both aesthetically pleasing and extremely capable as a competitor in touring car racing. The year 1974 was the final year that the 2000 GTV were sent stateside, this example being delivered to California new and remaining in the state its entire life. Equipped with the lively 131-horsepower, 2-litre twin-cam, four-cylinder engine which was recently rebuilt at 97,000 miles, this lovely example is complete with a full dossier on its restoration and history.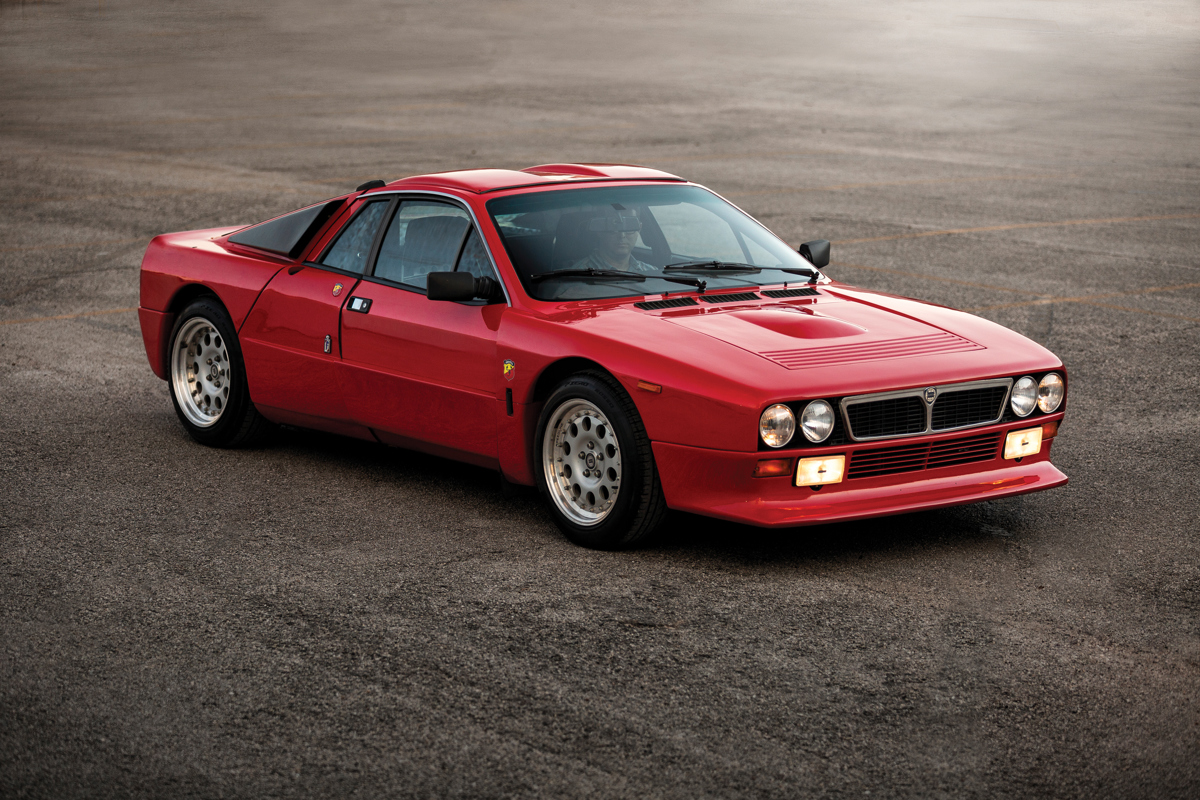 1984 Lancia Rally 037 Stradale
Estimate: $475,000 - $600,000 USD
The newly developed FIA Group B classification threw manufacturers a curveball, leaving little time to develop cars for competition under the new rules. Lancia enlisted the help of Pininfarina and Abarth to produce a mid-engined rally car with a longitudinally mounted engine and a Roots-style supercharger. Lancia produced 217 road-going models for homologation purposes—this example delivered new to Giancarlo Gianetti, one of the main contributors to the 037 program. Through his connection to the development program, this example received numerous upgrades to corsa specification though Abarth.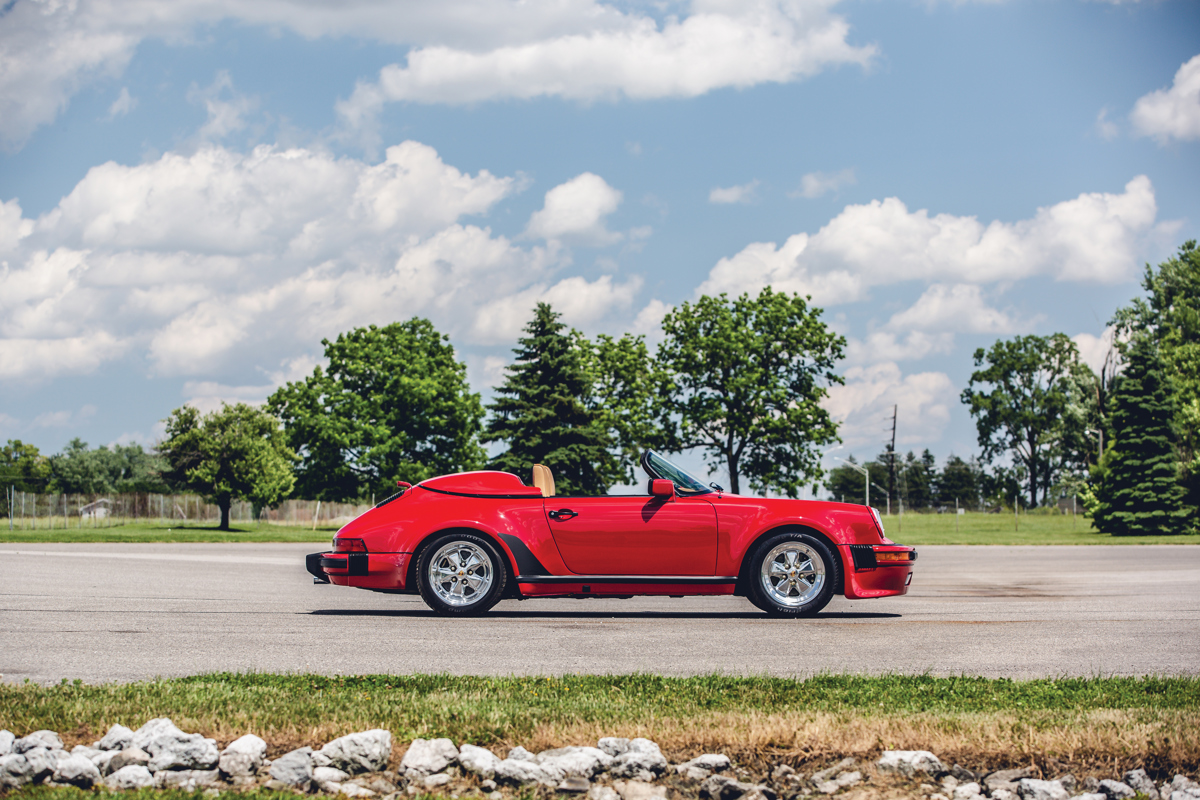 1989 Porsche 911 "Der Letzte Speedster"
Estimate: $200,000 - $275,000 USD
Decades after the initial offering of the iconic 356 Speedster, Porsche's president, Peter Schutz, gave the green light to reinvigorate the Speedster bloodline with a modern model for a very limited single-year production. In 1989, only 2,102 Speedsters were produced, and only 823 sold new in the US This one-off, special-order, wide-body Speedster was the very last example built. It is finished in paint-to-sample Cinnabar red over a Cashmere Beige interior, with a unique light brown suede dashboard and interior accents.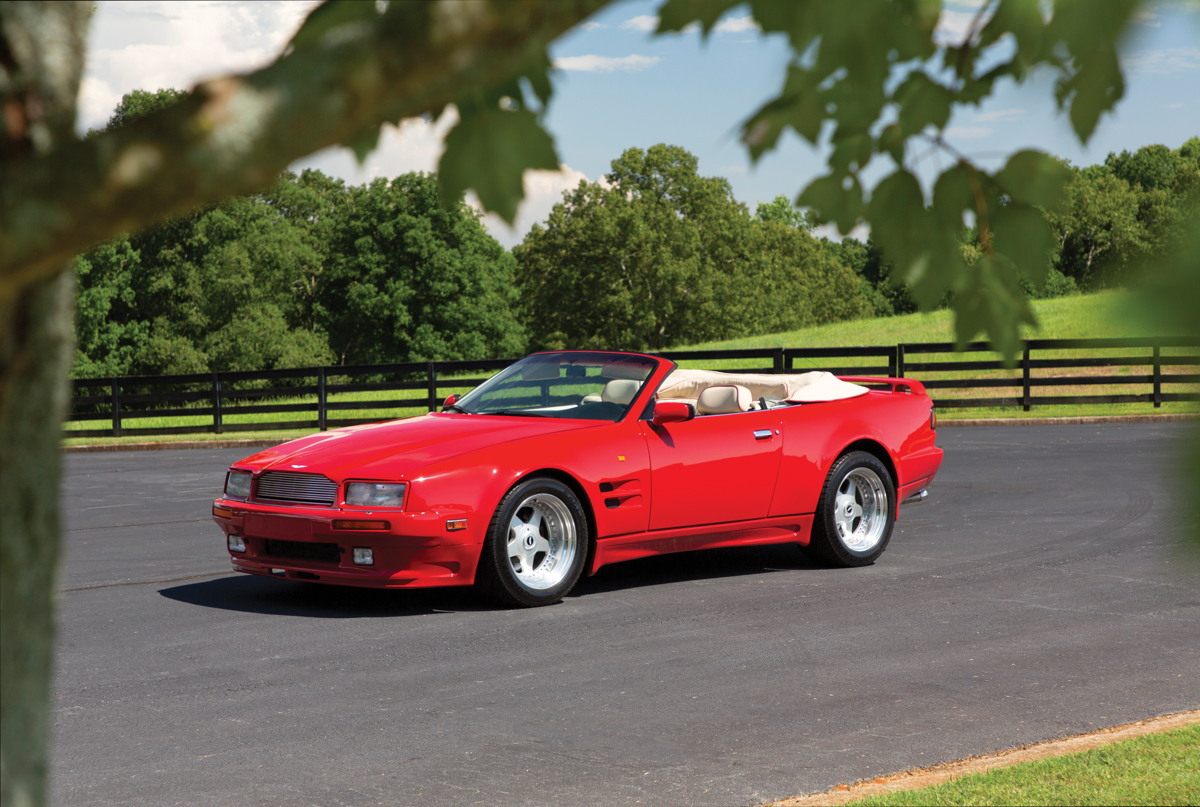 1993 Aston Martin Virage Volante 'Wide Body'
Estimate: $175,000 –$225,000 USD | Offered Without Reserve
The first Virage Volante had just rolled off the assembly line when Aston Martin announced the option of the 6.3-litre conversion. A number of the completed Virage Volantes would go directly from the plant in Newport Pagnell across the street to Works Service, where much of the bodywork would be replaced. A number of customers elected to retain the original 5.3-litre engine while upgrading to the widened bodywork. Georges Marciano, founder of Guess Jeans, ordered this example new in red over white interior with matching white convertible top. It is one of only 20 sold directly to North America and has been sparsely driven but carefully maintained, showing less than 4,700 miles from new.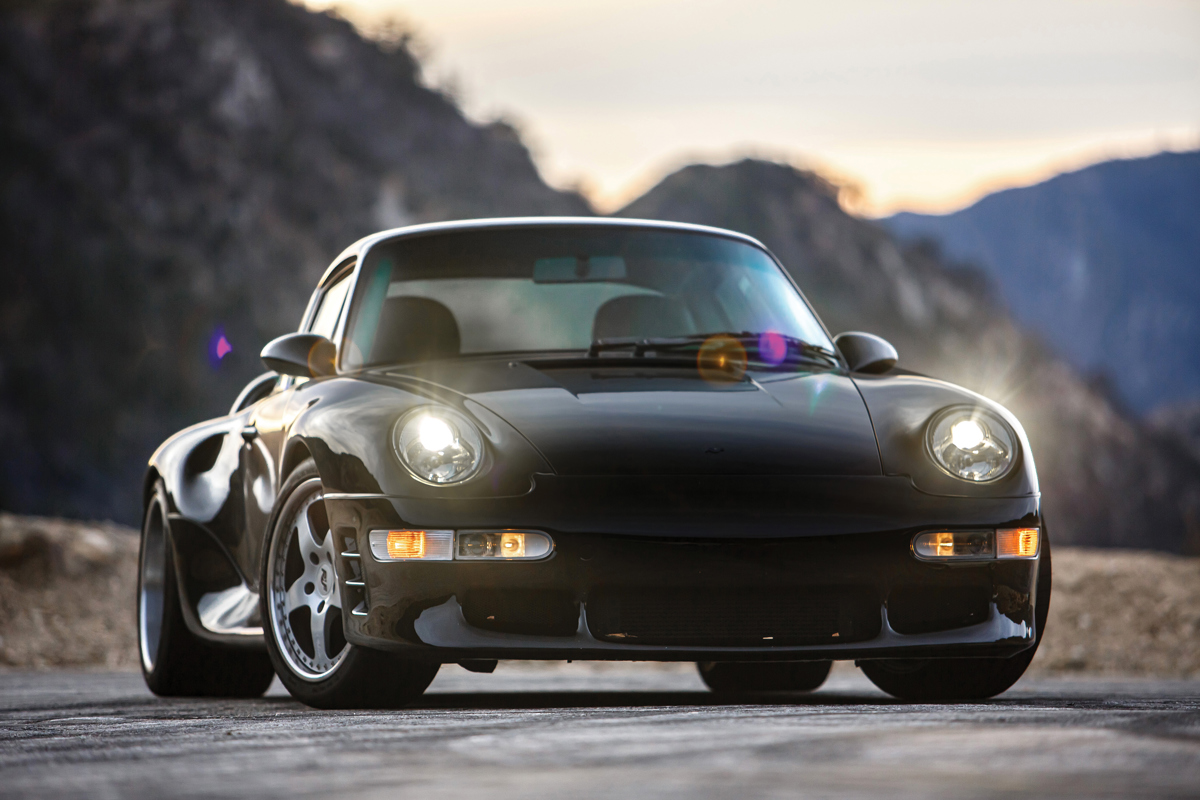 1998 RUF CTR2 Sport
Estimate: $700,000 - $900,000 USD
Pfaffhausen-based RUF had already achieved global notoriety for creating the ultimate embodiment of Porsche's finest models for nearly twenty years prior to the 993 models being released. With full manufacturer status and backing from Porsche, Alois Ruf and his team reinvented the 993 from nearly the ground up in the process replacing the majority of the steel body panels with wide-body panels fashioned from Kevlar, keeping the overall weight of the CTR2 down to roughly 3,000 lb and incorporating ductwork for brake and engine cooling. The twin-turbocharged 3.6-litre flat-six engine was tuned to 580 horsepower, enough to hurl the CTR2 from 0–60 in only 3.8 seconds and channeled through a six-speed manual transmission and four-wheel-drive system, with variable bias between the front and rear axles.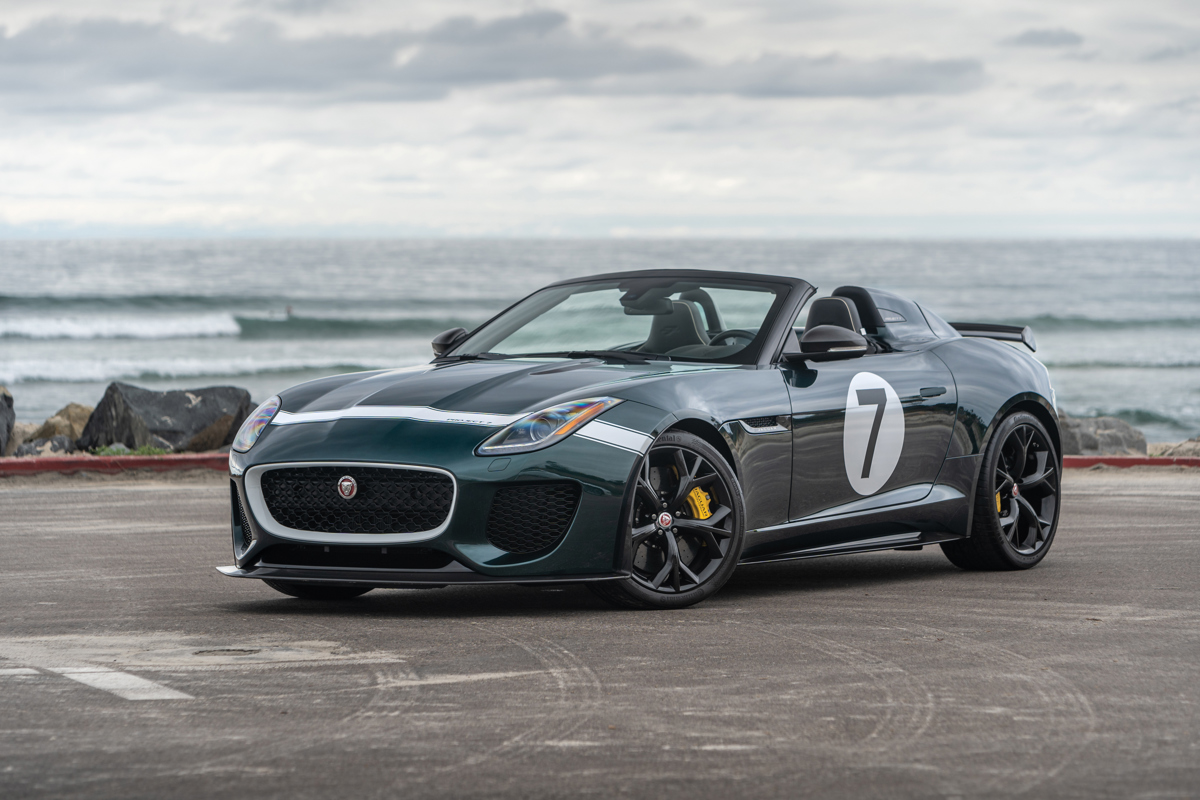 2016 Jaguar F-Type Project 7
Estimate: $175,000 - $225,000 USD | Offered Without Reserve
Inspired by the elegant and iconic E-type and the three-time Le Mans–winning D-type, the Project 7 shares the long hood, short-rear-deck roadster shape, and cockpit-like interior of Jaguar's most famed models of the late 1950s and early 1960s. The distinctive "aero hunch" harkens back to the D-type and aids in aerodynamics, and a fixed rear spoiler adds downforce at high speeds. Only 250 examples were slated for production, with a mere 50 of those earmarked for delivery to the United States. The F-Type's all-wheel-drive system was exchanged for a rear-wheel-drive configuration, and the 575-horsepower SVR engine was elected to be used in the lightweight roadster, making for an exhilarating, drift-happy driving experience.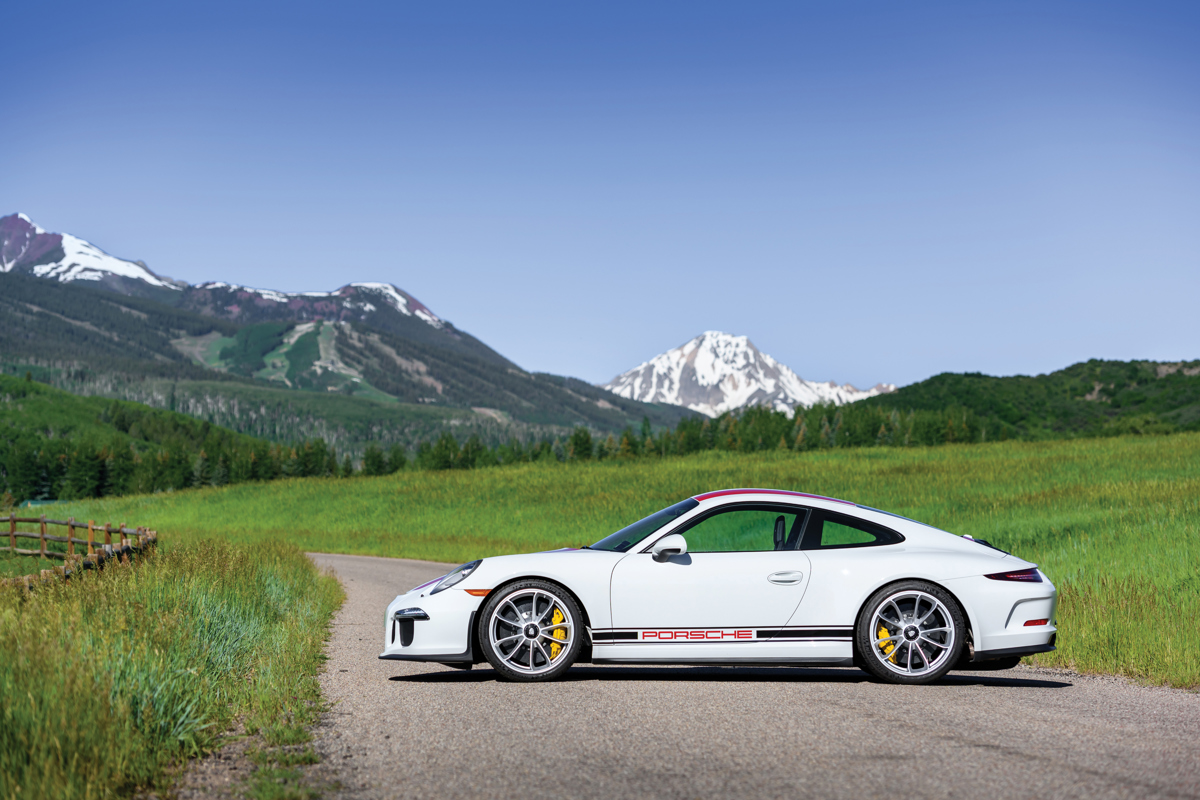 2016 Porsche 911 R
Estimate: $325,000 - $375,000 USD | Offered Without Reserve
The 911 R is a die-hard Porsche purist's dream, sharing the 911 GT3 RS engine paired to a custom-built six-speed manual transmission, but without the aggressive bodywork. The 911 R was designed for the most enjoyable driving experience possible, incorporating changes to the suspension and steering along with the manual transmission to create a direct and engaging driving experience while paying homage to the no-frills 911 R of 1967. This example features a number of desirable options, including the extended-range fuel tank, Bose surround sound system, front-axle lift system, air-conditioning, PCM with navigation, and auto-dimming mirrors.