There is no doubt the world is enamored with the supercar. They are the objects of daydreams for children and adults alike. The supercar is undeniably thrilling, whether at a standstill or in motion, and is certain to draw a crowd wherever it may be. Even the most jaded automotive enthusiast is helpless when faced with the allure of the supercar and will surely stop at the sight of one to examine its lines and features.
The world was introduced to the term "supercar" in mid-November 1920, when an advertisement in the London-based newspaper The Times used the phrase to describe the Ensign Six. A British 6 was a high-performance car similar to the Bentley Speed Six and featured a massively powerful 6.7-liter engine. Since then, the term has been used to describe cars which exemplify the highest levels of performance and technology capable of the automobile. The supercar is a rare opportunity for a manufacturer to create a tangible demonstration of their most complex engineering potential and most audacious styling while incorporating cutting-edge materials and processes. They often draw technology directly from motorsport—often from Formula 1 and Le Mans prototype racing cars, at times directly including components derived from them. Production supercars demonstrate awe-inspiring levels of power paired to lightweight chassis construction for maximal power-to-weight ratios, setting the precedent for the upper echelon of performance. Despite the extreme price tags that supercars carry, manufacturers rarely profit from the sales of supercars due to their own costs incurred from constructing these incredible machines. Production numbers are typically nominal, adding to the exclusivity of the segment and making them highly sought after by collectors.
RM Sotheby's is proud to offer a number of outstanding automobiles that define the supercar segment at our annual Monterey collector car auction held 15–17 August 2019 in beautiful Monterey, California. Scroll down to explore 10 examples of the supercar sure to excite collectors and enthusiasts alike.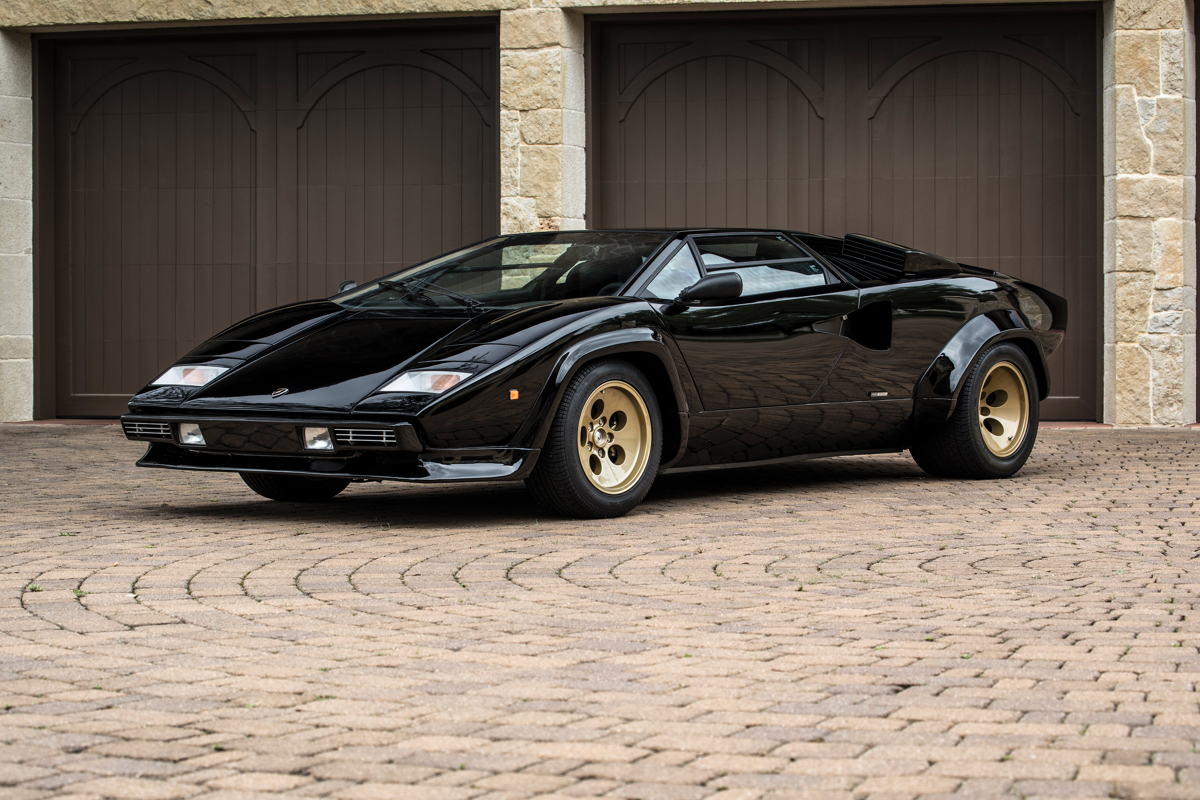 1984 Lamborghini Countach LP 500 S by Bertone
Estimate: $300,000 - $350,000 USD
Perhaps one of the most widely recognized supercars of all time, the low, flat, wedge-shaped styling language of the Gandini-designed Countach was an instant hit and perhaps defined the image of the contemporary supercar for decades to come. The LP 500 S was an update offered after 1982 that kept the popular bodywork of the LP 400 S but incorporated a larger and more powerful 4.8-liter mid-mounted V-12 engine producing 370 horsepower and 308 ft-lb of torque. Despite being a quarter of a century old this year, the Countach is still an icon and remains as exciting as ever before.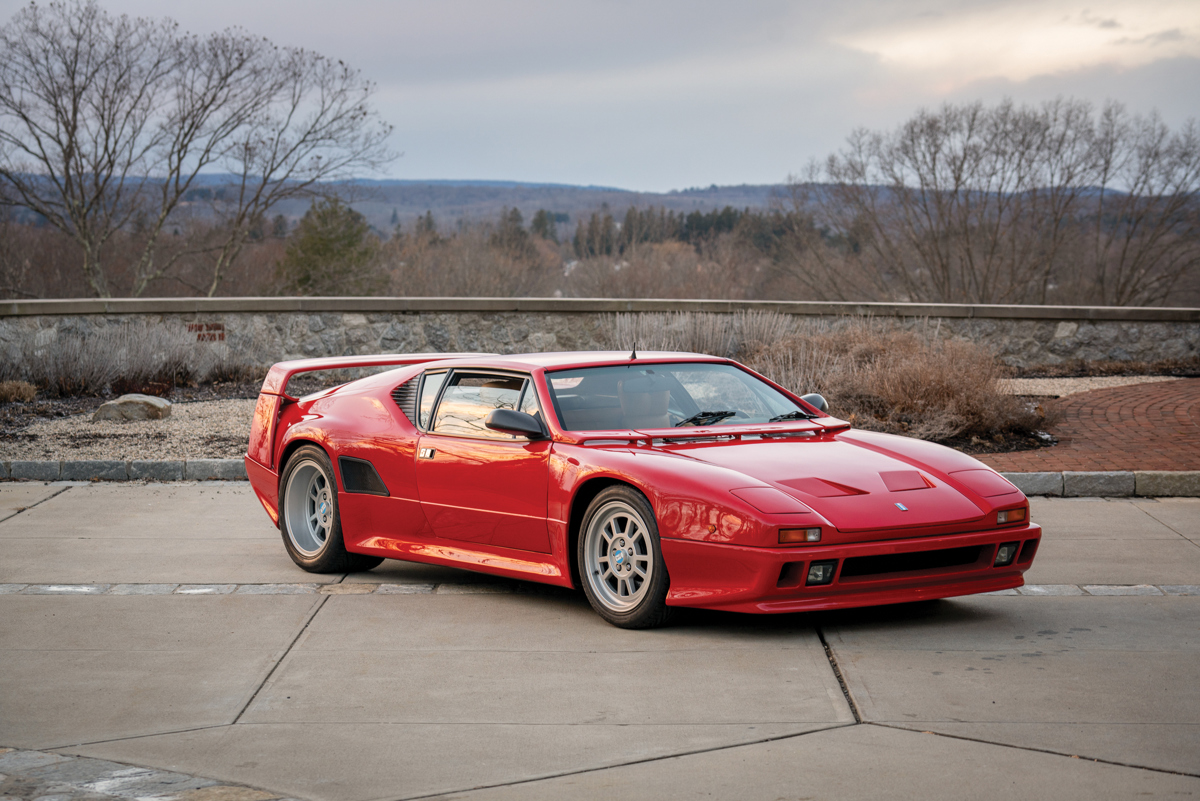 1990 De Tomaso Pantera Si
Estimate: $275,000 - $325,000 USD
The Pantera Si was the swan song for the Italian automaker's popular mid-engined supercar before being phased out for the radical new Guará model. The Pantera Si received a partial chassis redesign and a complete revision of the suspension, along with aggressive new styling penned by Marcello Gandini and a larger 4.95-liter Ford V-8 engine. Only 38 Pantera Si models were sold, making it among the rarest and most powerful production Pantera models offered.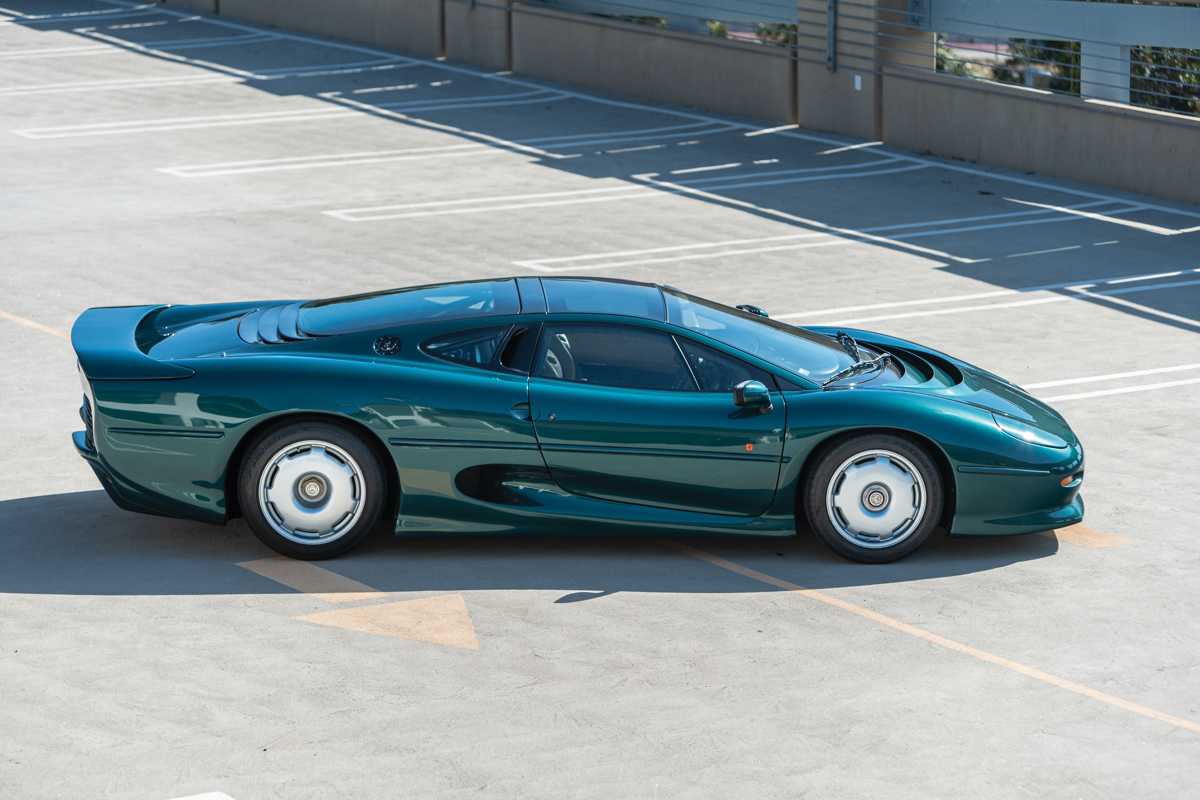 1993 Jaguar XJ220
Estimate: $400,000 - $450,000 USD
The XJ220 was the result of Jaguar's engineers' and designers' "after-hours project," as they felt the current offerings left too great a divide between what was being raced and what was actually on the road. The group began building the concept around Group B racing, ultimately landing on an all-wheel-drive, mid-engined V-12 supercar with an intended top speed of 220 mph, hence its name. The concept was unveiled at the 1988 Birmingham auto show and was an overnight success. Production models received a twin-turbo 3.5-liter V-6 engine due to emissions and weight reasons, but it was still capable of a 217 mph top speed, making it the fastest production road car until 1998.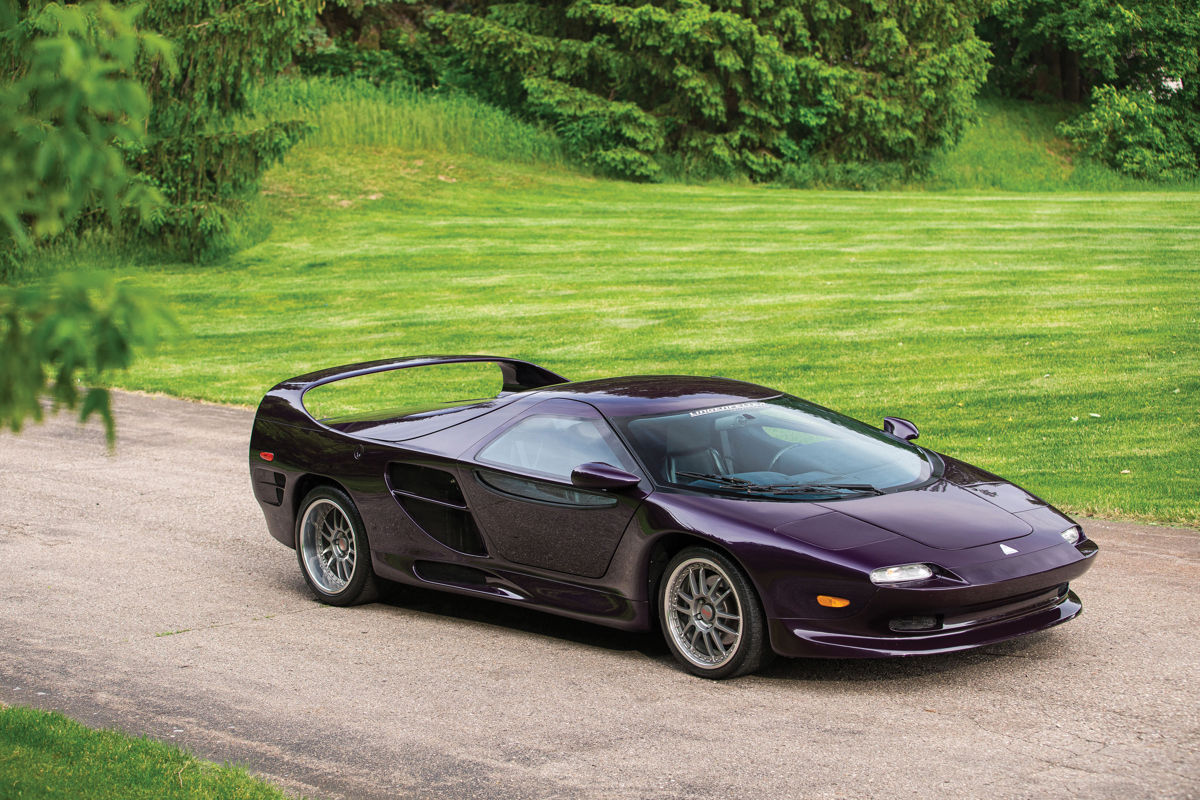 1996 Vector M12
Estimate: $250,000 - $300,000 USD
The M12 was intended to be a more road-friendly iteration of the Vector AWX-3 and borrowed a number of components from the Lamborghini Diablo, as parent company Megatech owned Lamborghini at the time. The mid-mounted 7.0-liter V-12 from the Diablo produced 492 horsepower and 425 ft-lb of torque. The M12 featured the gearbox mounted behind the engine, unlike the Lamborghini, which placed the engine behind the gearbox. This example is one of only 14 production models and the only of its kind featured in this attractive shade. With only 6,500 original miles, it is a rare opportunity to own a unique piece of supercar history.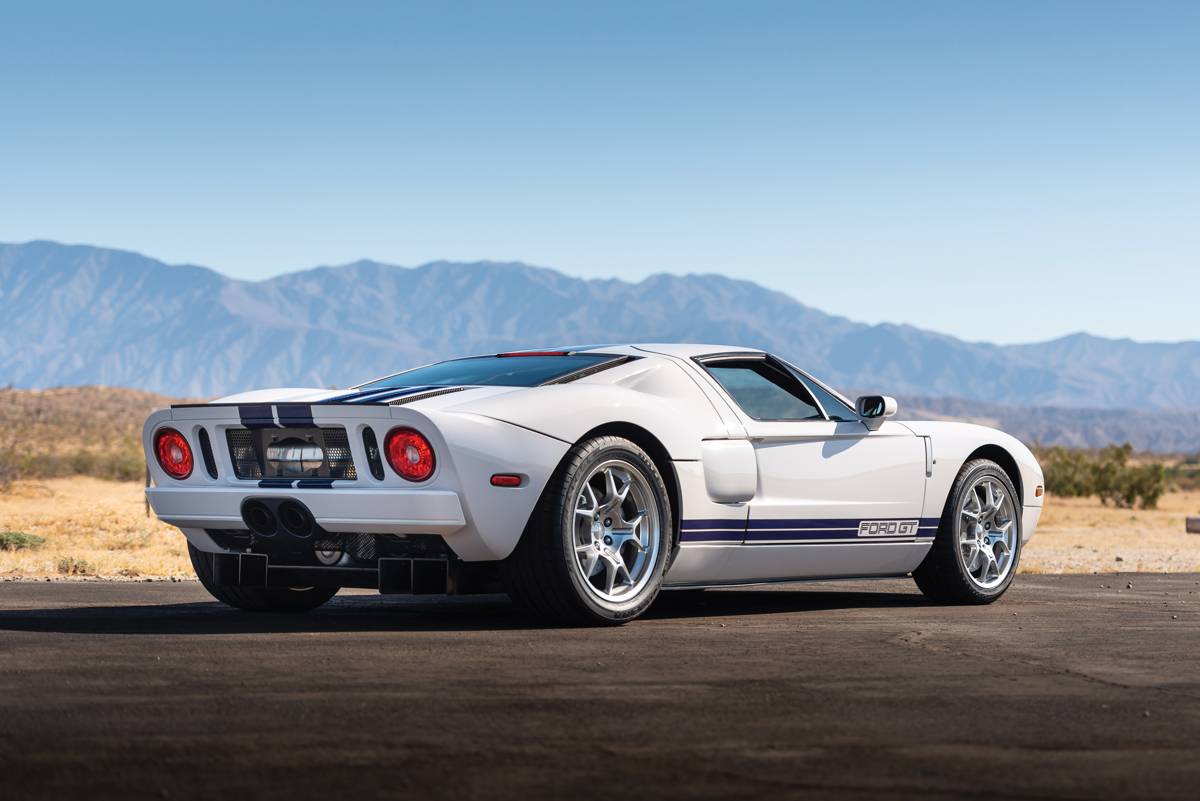 2005 Ford GT
Estimate: $275,000 - $325,000 USD
Ford's Le Mans–winning GT40s were a dominant force in the mid-1960s, knocking Ferrari off the podium and cementing Ford's image as a formidable force in motorsport. The contemporary GT was produced to pay homage to those GT40s that brought Ford to victory and does so with a lightweight space frame with aluminum body panels featuring retro-inspired styling. Beneath the clamshell is a robust 550 horsepower V-8 with a Lysholm twin-screw roots-style supercharger paired to a Ricardo six-speed transmission. This example is one of the sought-after "four-option" examples, featuring full racing stripes, an upgraded McIntosh sound system, lightweight BBS forged wheels, and painted brake calipers.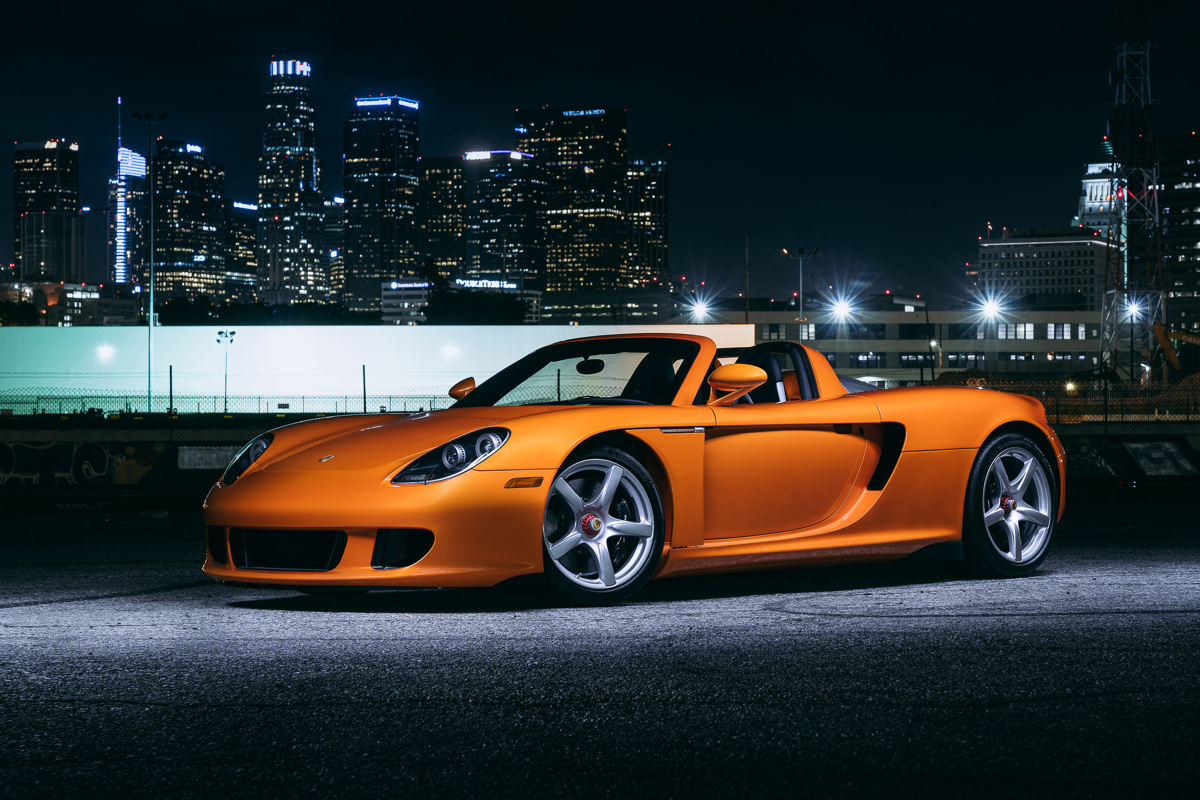 2005 Porsche Carrera GT
Estimate: $1,200,000 - $1,500,000 USD
Porsche's plans to return to competition with a new Le Mans prototype were abruptly cut short due to FIA rule changes, but their efforts would eventually be repurposed in the form of the Carrera GT road car. The lightweight carbon fiber monocoque chassis was outfitted in sleek carbon fiber body panels with hydraulically actuated spoiler, inboard rocker suspension and wishbones, massive carbon-ceramic rotors with tremendous eight-piston calipers behind magnesium-alloy center-lock wheels, all to make use of the 605 horsepower, 5.7-liter V-10. This example is the only one to be finished in paint-to-sample Arancia Boralias Metallic, a $23,500 option, and features special-ordered black brake calipers (an $8,460 option) and dark grey leather interior with matching luggage, as well as special-ordered carbon fiber interior trim. With only 265 original miles, this is an extremely rare opportunity to own Porsche's last analog supercar in a unique configuration and in as-new condition.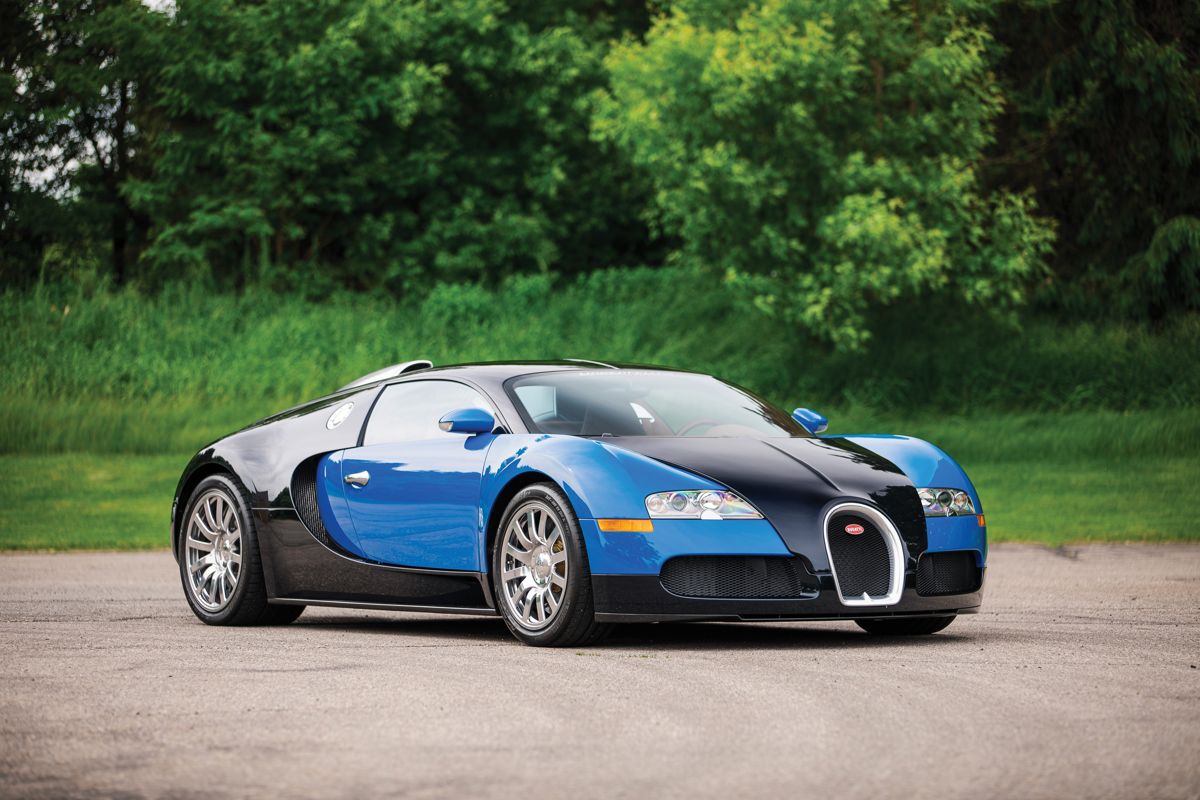 2008 Bugatti Veyron 16.4
Estimate: $1,100,000 - $1,300,000 USD
The Veyron is an engineering masterpiece designed and developed in Germany and manufactured in Molsheim, France. Two narrow-angle V-8 engines were merged to create the four-bank W-16 engine, with four camshafts, four turbochargers, and an astounding ten radiators to keep the massive power plant from overheating at maximum output. The massive engine produces 1,001 horsepower fed to all four wheels through a seven-speed dual-clutch direct-shift gearbox. The 4,200 lb automobile is capable of a top speed of 249 mph in just 10 seconds. Despite its impressive athleticism, no luxuries were compromised in favor of performance. This example is finished in Black Blue metallic and Dark Bugatti Blue with Havana leather interior and engine-turned aluminum trim. This chassis has been in the care of the renowned Lingenfelter Collection since new. Here is an opportunity to own one of 76 US-delivery examples of Molsheim's finest.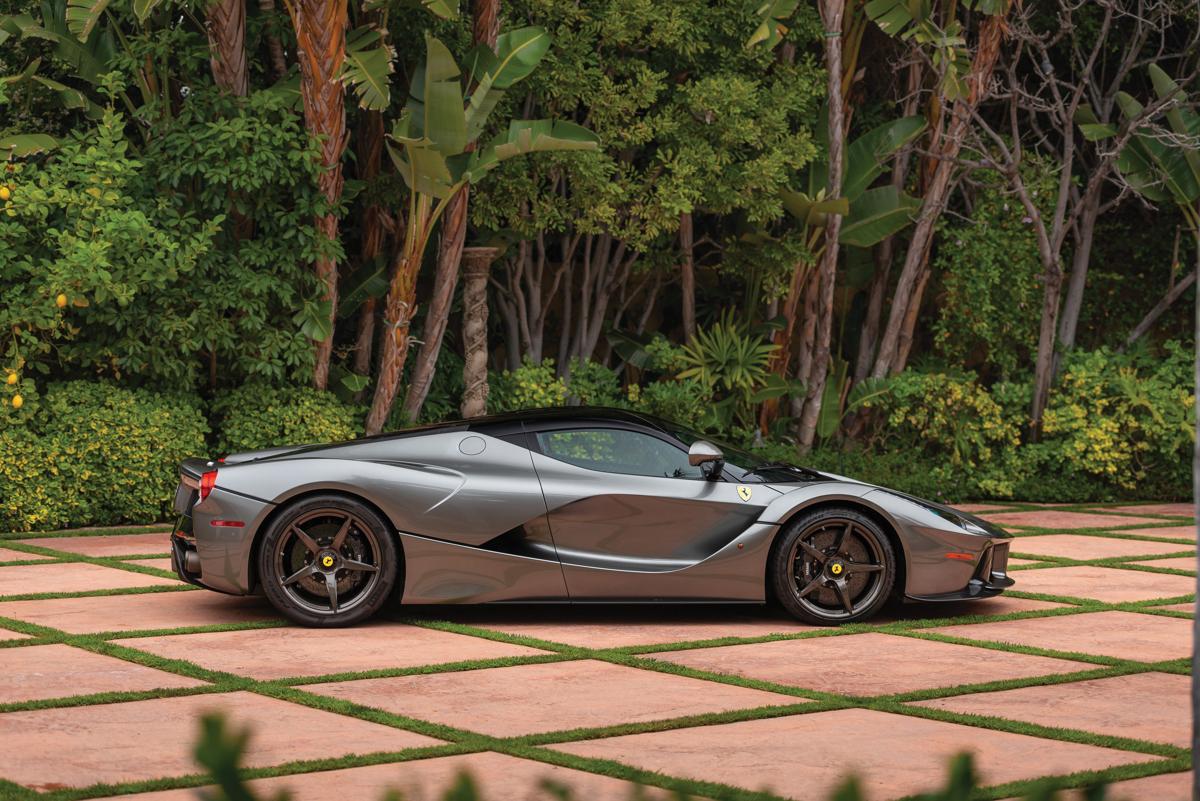 2014 Ferrari LaFerrari
Estimate: $2,900,000 - $3,400,000 USD
The LaFerrari's low, curvaceous, wedge-shaped body is reminiscent of what would be imagined in mid-'90s concept car design studios. The lines of the body cleverly disguise active aerodynamic elements, such as active diffusers at the front and rear, an active rear spoiler which provides downforce when necessary without any additional drag when not in use, and guide vanes beneath the body to control airflow. It is powered by a 6.3-liter V-12 making 789 horsepower at 9,000 rpm, with an electric motor that contributes an additional 161 horsepower for a combined output of 950 hp. This example presents in nearly new condition with only 442 miles and is finished in attractive Grigio Ferro over red leather. It is a superb example of Ferrari's hybrid supercar.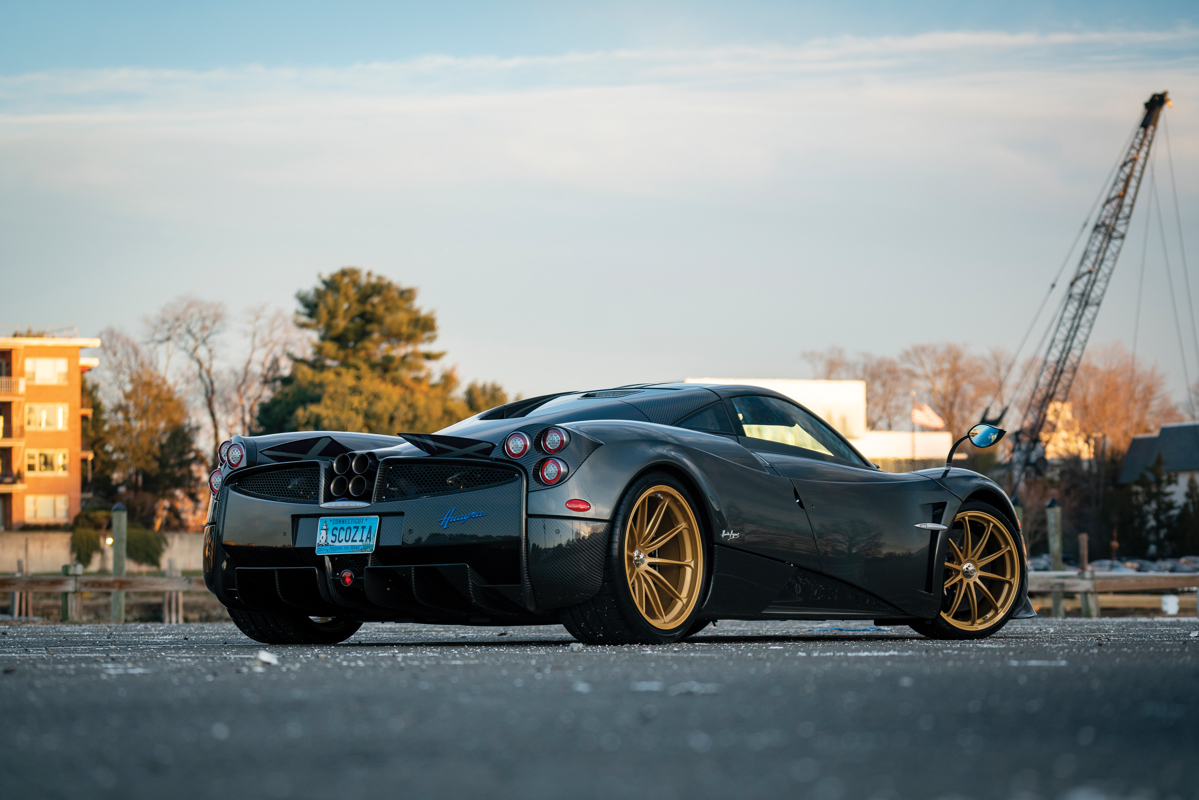 2014 Pagani Huayra Tempesta Scozia
Estimate: $2,000,000 - $2,400,000 USD
Argentinian Horacio Pagani's engineering talent led him to rise from performing menial tasks at Lamborghini in his youth to becoming chief engineer by his early twenties. In 1992, he formed Pagani Automobili Modena, and to this day he is responsible for producing extremely low-production carbon fiber automotive masterpieces. The Huayra roadster is the second of Horacio's creations, featuring a Mercedes-Benz 6.0-liter twin-turbocharged V-12 engine producing 730 horsepower and 737 ft-lb of torque. This example was ordered to celebrate the first and only owner's Scottish family heritage, with Scottish flags painted beneath each of the aerodynamic flaps at the rear and his family's tartan pattern upholstering the seat inserts. In addition to the custom touches, it features the Tempesta package, which sheds weight and improves handling through lightweight wheels, titanium exhaust, Ohlins four-way adjustable suspension, and upgraded aerodynamic package.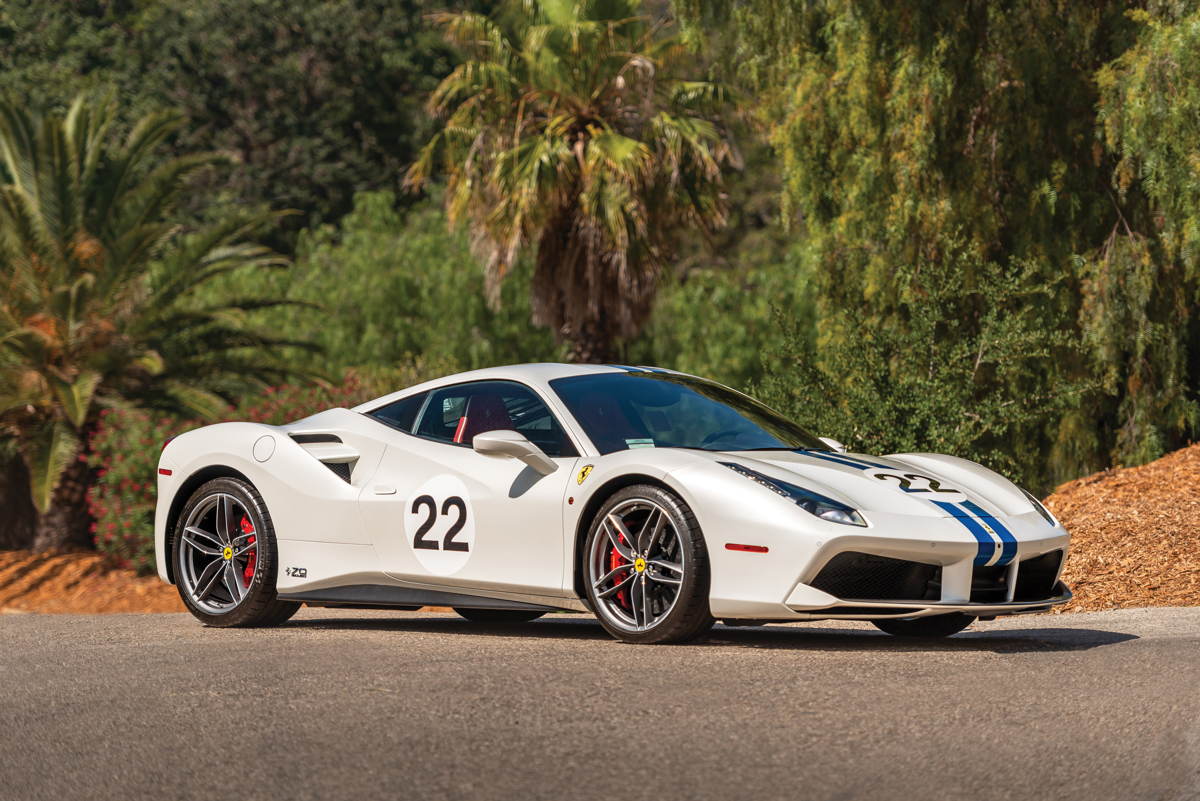 2018 Ferrari GTB 70th Anniversary
Estimate: $375,000 - $450,000 USD
In celebration of the marque's 70th anniversary, Ferrari produced a limited run of 70 unique liveries, each representing an iconic car from their motorsport history. This example was finished in celebration of American privateer racer Ed Hugus's 250 Testa Rossa nicknamed "Lucybelle," which brought a 7th-place overall victory in the 24 Hours of Le Mans in 1958. This nearly as-new 488 GTB features triple-layer metallic Bianco Italia paint with double Blu Laguna stripes and the iconic #22 on the doors and bonnet. The interior is finished in black leather with the Goldrake racing bucket seats finished in contrasting Rosso Ferrari Jeans Aunde fabric, hearkening back to Hugus's Testa Rossa. The 488 GTB's 660 horsepower V-8 received a titanium exhaust for weight savings and to further enhance the distinct exhaust note that Ferrari's high-revving eight cylinders have become famous for.