RM Auctions' Auburn Fall has been a Labor Day weekend tradition for 49 years, bringing together thousands of participants in the collector car hobby from around the globe. Among the selection of approximately 700 collector cars offered, the sports car segment offers an exciting cross section of performance vehicles from renowned marques. Offering the best in performance and innovation, sports cars afford manufacturers the chance to showcase their best in technological development and advanced materials, often adding a touch of refinement and luxury to balance their motorsport underpinnings.
Scroll down to explore 10 sports cars from around the world offered during RM Auctions' 2019 Auburn Fall sale.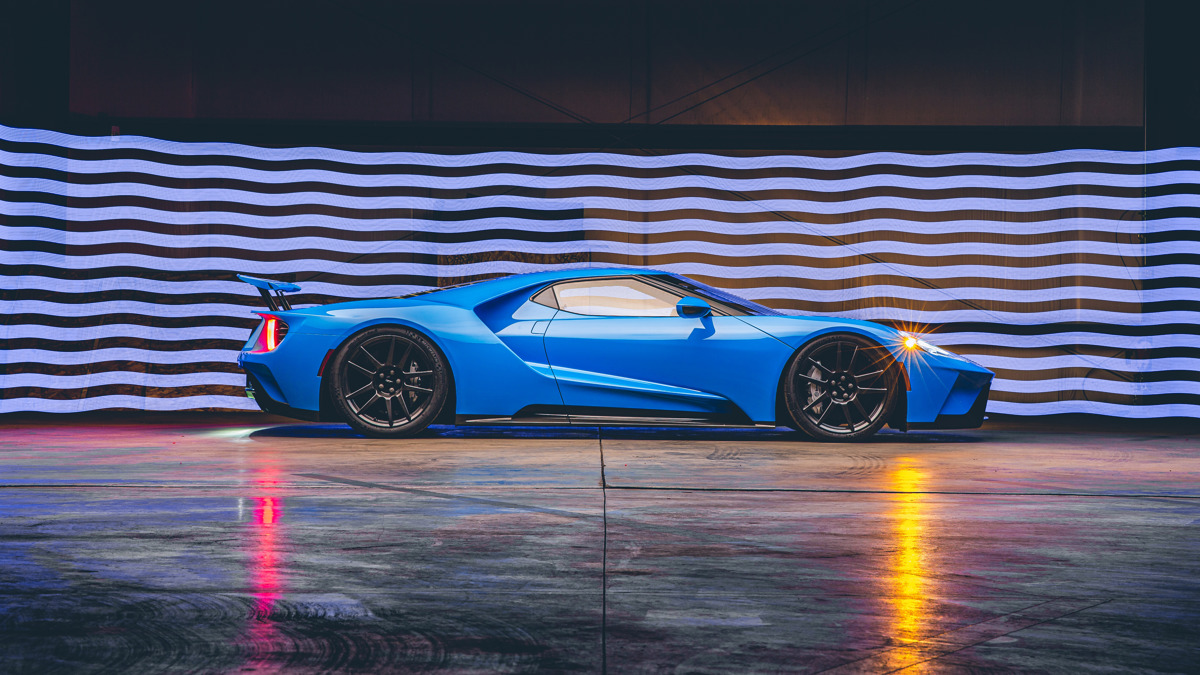 2017 Ford GT
Estimate: $1,200,000 - $1,500,000 USD
In celebration of Ford Motor Company's 100th anniversary, designer Camilo Pardo was given the task of recreating the magic of the iconic GT40. The result was the stunning twin-turbocharged, mid-engined carbon fiber monocoque masterpiece shown here. This example is the only known example produced in 2017 to be finished in Riviera Blue from Ford's Extended Color Palette 2, and the only road car to be released by Ford without the rear NVH panel which exposes the carbon fiber tub. The carbon fiber extends to the exterior, with the gloss carbon fiber package and optional 20-inch gloss exposed carbon fiber wheels, secured by optional titanium lug nuts and highlighted by the Silver brake calipers. This unique GT offers the desirable serial number of H040, paying homage to its GT40 roots.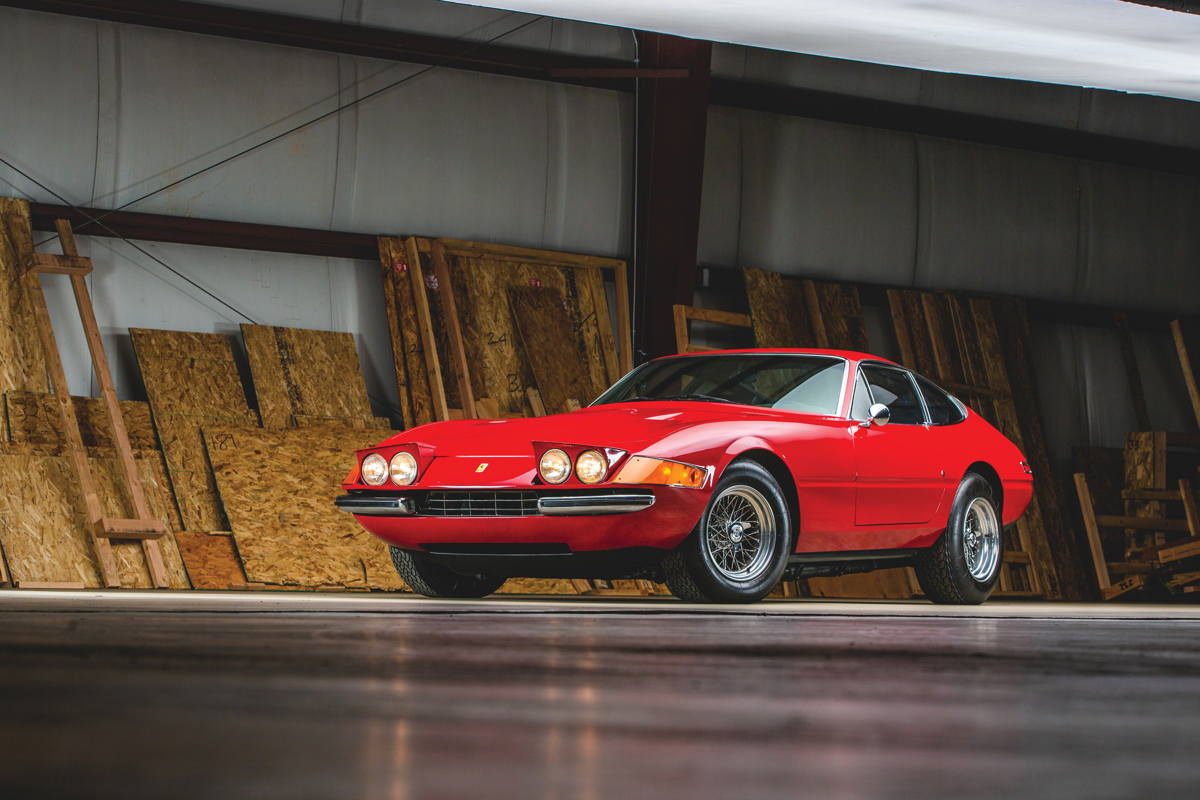 1971 Ferrari 365 GTB/4 Daytona Berlinetta by Scaglietti
Estimate: $525,000 - $625,000 USD
The angular design of the 365 GTB/4 is a drastic departure from the shapely 275 GTB that preceded it, but no less beautiful, and would become the quintessential Italian design for long-distance grand touring cars to come. This example was delivered in Bianco Polo over a Nero leather interior to US specifications, with left-hand-drive and fitted with air-conditioning in 1971. In 1996 it was repainted to its current shade of red before becoming a part of two separate distinguished collections and presents beautifully today, both inside and out. As one of the most iconic road-going Ferraris built, this particular example is perfectly suited for the true enthusiast driver.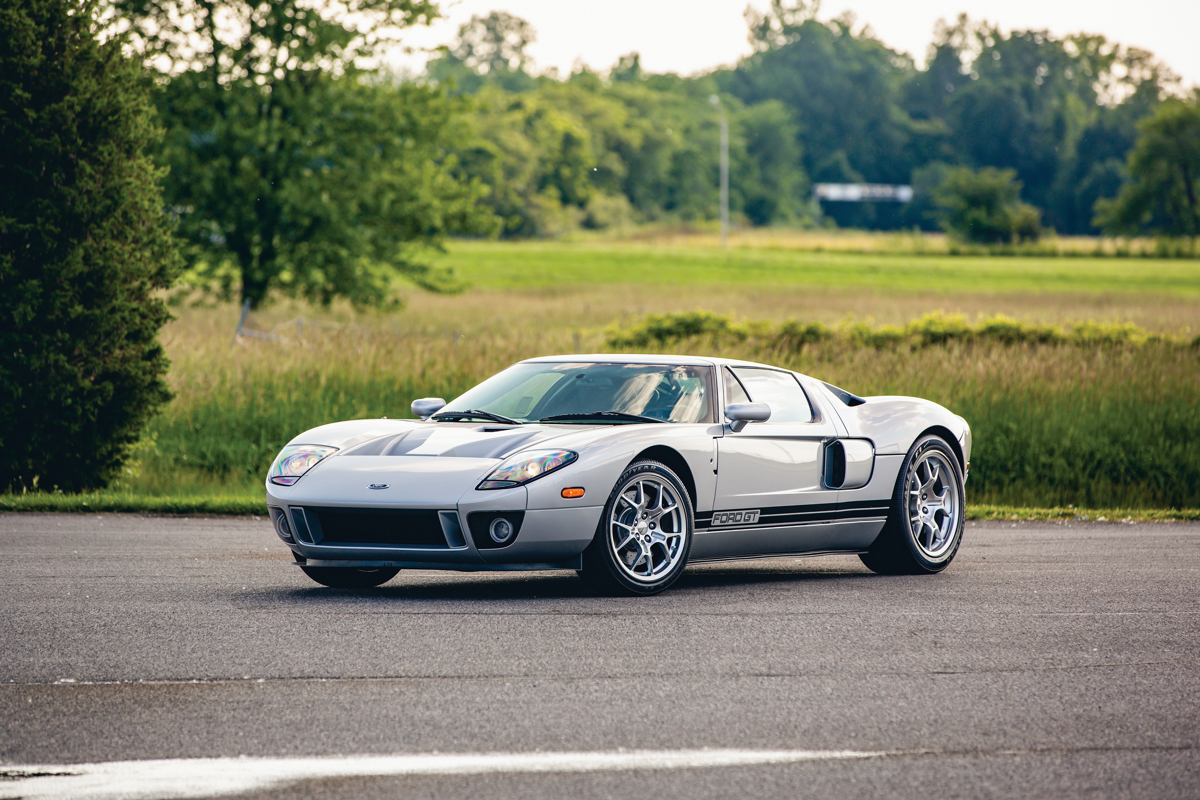 2005 Ford GT
Estimate: $300,000 - $350,000 USD
The silhouette of the Ford GT hearkens back to the Le Mans–winning GT40 of the latter half of the 1960s and is instantly recognizable to motorsport fans across the globe as an icon of American performance. Beneath the retro-inspired bodywork, a 5.4-liter V-8 with a Lysholm twin-screw supercharger produces 550 hp and 500 foot-pounds of torque, capable of propelling the mid-engined supercar to 60 miles per hour in only 3.3 seconds. This two-option example shows only 313 miles on the odometer and is one of only 26 examples for 2005 to be finished in Quick Silver with side stripes only. Along with the optional lightweight forged BBS wheels and upgraded McIntosh radio, this example was specified with a rare stripe delete that omits the dual stripes which typically extend over the hood and roof.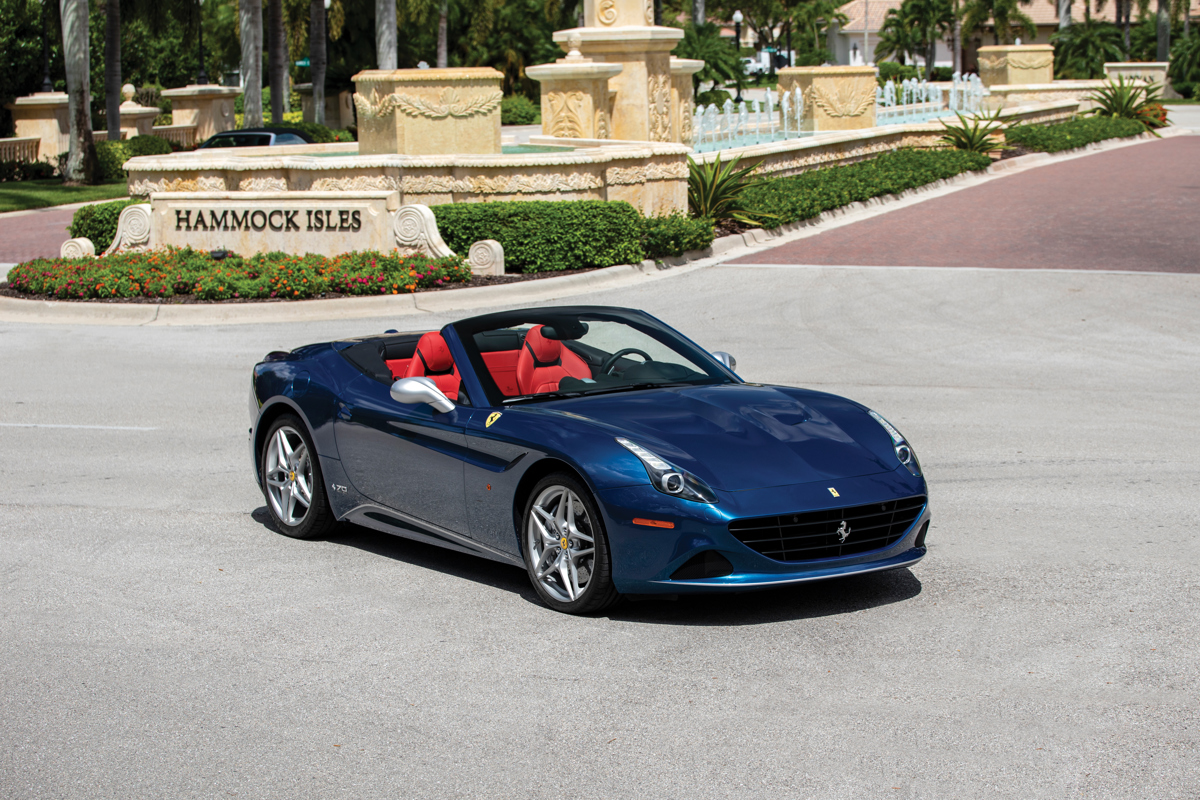 2018 Ferrari California T 70th Anniversary
Estimate: $275,000 - $325,000 USD
To showcase the capabilities of its Tailor Made department, Ferrari chose to design 70 individual liveries to represent the model or individual car central to its history while using the F12, GTC/4 Lusso, California T, 488 GTB, and 488 Spider as their canvases. This example celebrates the 1970 Ferrari 365 GTB/4, finished in Blu NART with matching hardtop, with its wing mirrors and front and rear skirting finished in contrasting Argento Nürburgring. The dashboard and steering wheel are covered in black leather, while the seats and lower dashboard are trimmed in supple Connolly Rosso leather with black Daytona inserts. With less than 850 miles on the odometer and presenting in as-new condition, this one-off California would make an excellent addition to any devout Ferrari enthusiast's collection.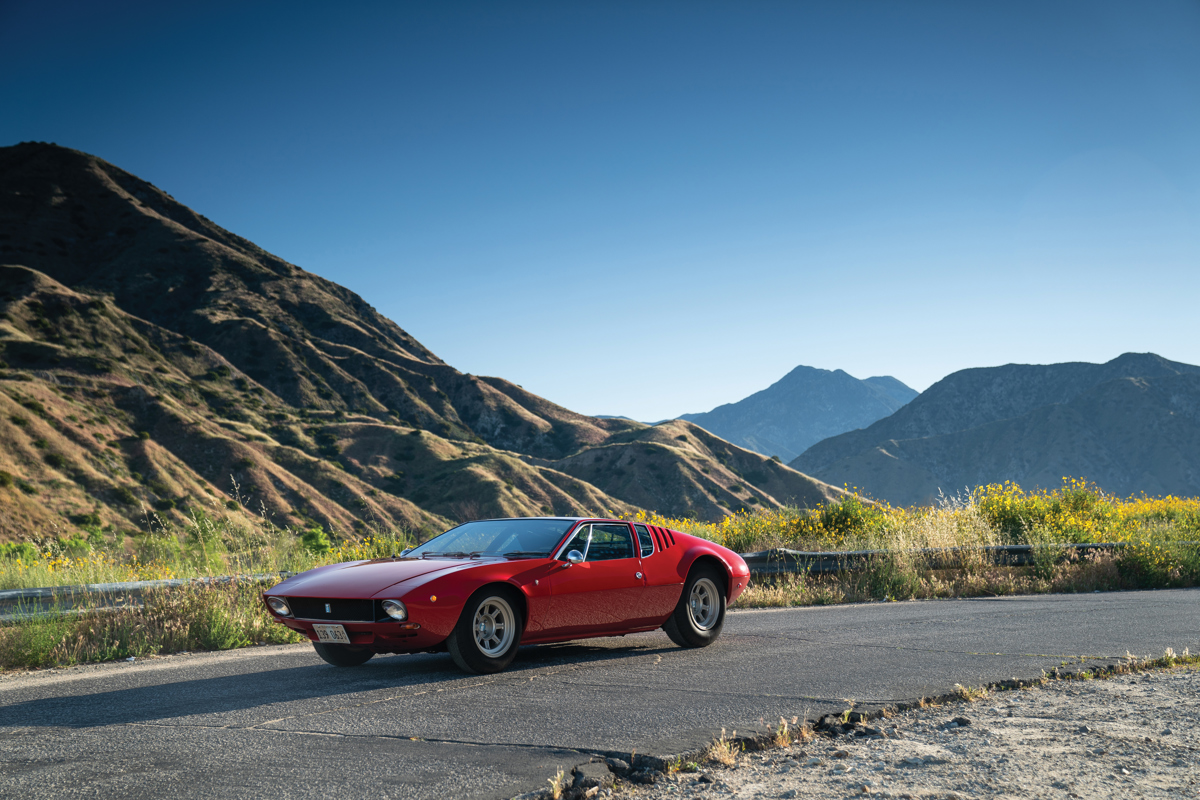 1970 De Tomaso Mangusta by Ghia
Estimate: $200,000 - $250,000 USD | Offered Without Reserve
Former O.S.C.A. racing driver Alejandro de Tomaso believed he held the formula for success by combining racing-style chassis, a robust Ford engine, and Italian design. The Mangusta was born from this ideology, featuring elegant and streamlined Giorgetto Giugiaro–designed bodywork built by Ghia of Turin, and a potent mid-mounted 302 cu. in. Ford V-8 mated to a ZF five-speed transaxle. This low-mileage, two-owner example has benefitted from a repaint in the mid-1990s and recent servicing under its current owner, who acquired the vehicle in 2016, following 46 years of ownership by its original owner. Of the 401 Mangustas built, this example is one of an estimated 250 still in existence, and one of only 50 built with the desirable retractable headlights.
1977 Aston Martin V8 Vantage 'Bolt-On Fliptail'
Estimate: $175,000 - $250,000 USD
Dubbed Britain's first supercar, the V8 Vantage was unveiled in 1977 as its own distinct model and boasted 390 horsepower from its V-8 engine and a mighty 0–60 mph time of just 5.2 seconds, ensuring its place as the fastest production car of its day. The V8 Vantage received the addition of distinctive aerodynamic elements, such as a molded front air dam, modified hood, and a "fliptail" rear end that was added to reduce lift and drag. The first 16 V8 Vantages produced received a spoiler, which was bolted on after production, whereas the flip tail spoiler was integrated into the body on the succeeding models. This example is one of those highly desirable first 16 models and retains its original matching-numbers engine and five-speed manual gearbox. During a 3.5-year-long restoration, it was professionally converted to LHD and repainted to a classic shade of Aston Martin Silver and received a new interior trimmed in brown leather.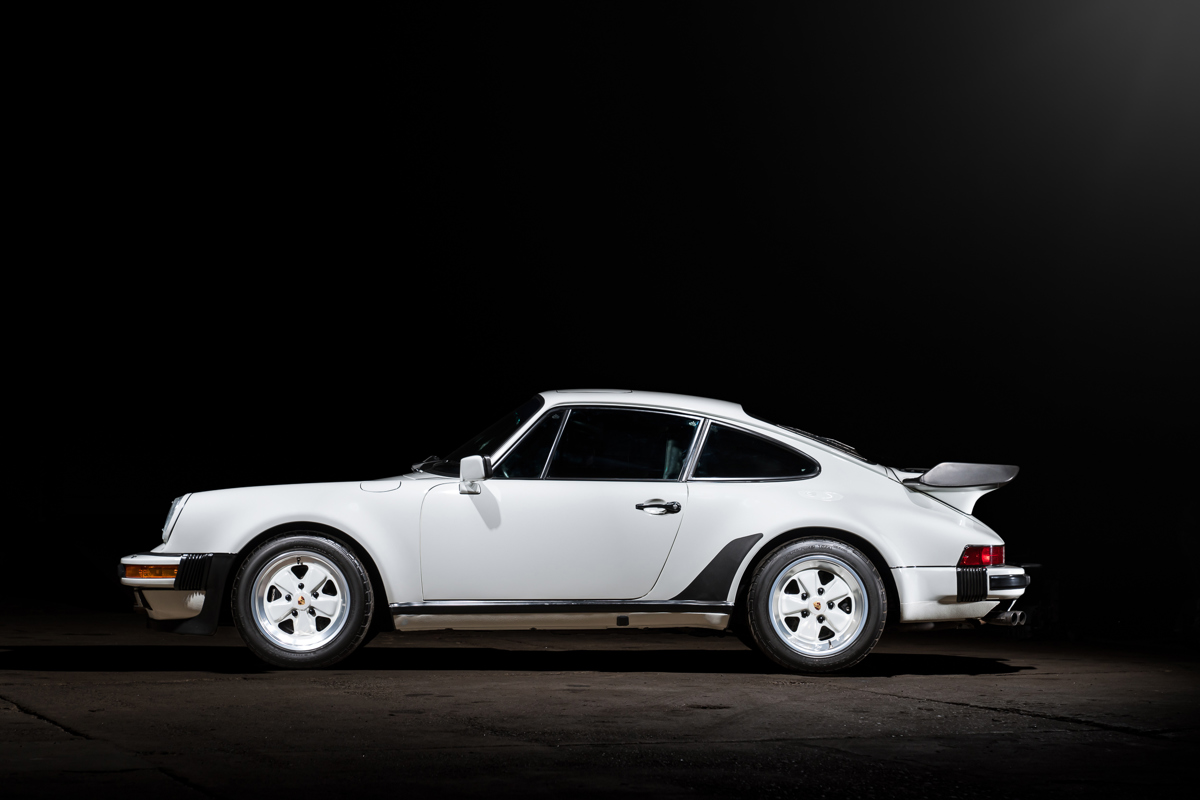 1989 Porsche 911 Turbo Coupe
Estimate: $150,000 - $175,000 USD
The 911 Turbo is an enduring icon in the world of air-cooled Porsches, revered for its power output and aggressive styling. This final-year example of the 930 Turbo features its original paint and interior in the rare color combination of white with color-matched Fuchs wheels over blue leather and shows less than 39,000 original miles. It is accompanied by its Certificate of Authenticity, original books, and tools.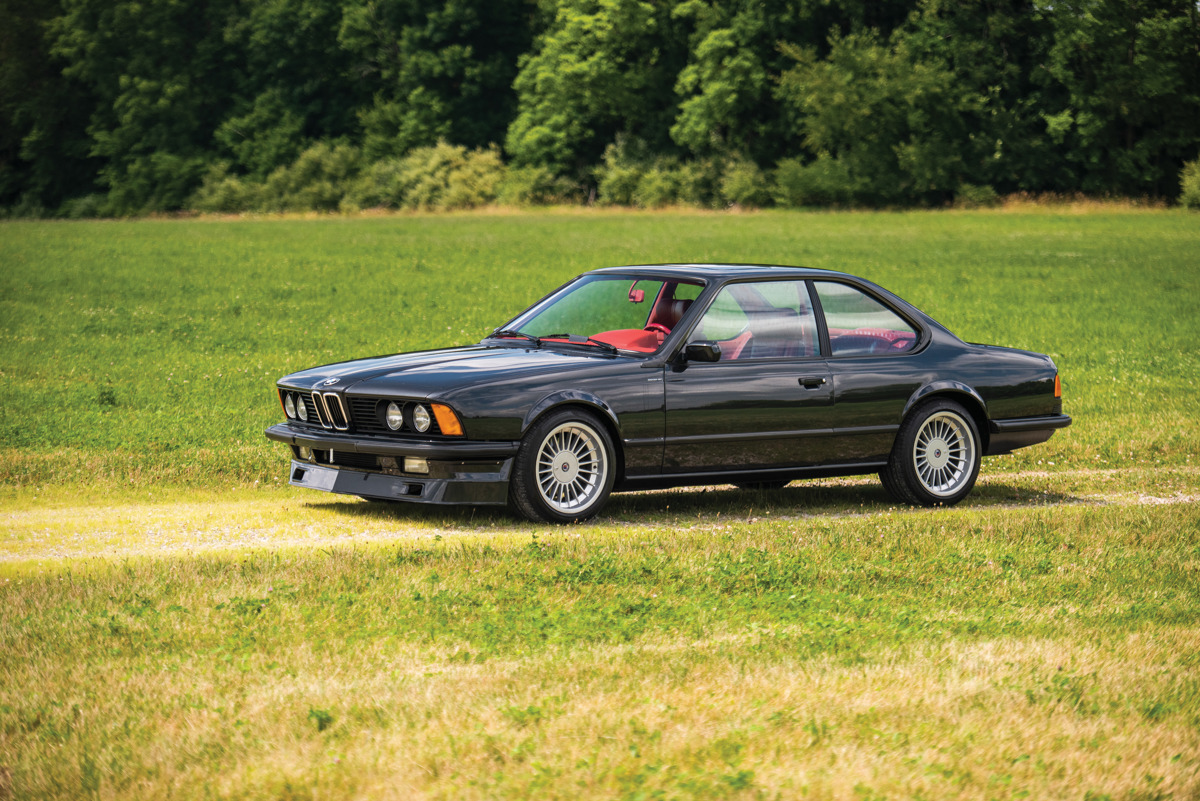 1987 BMW Alpina B7 Turbo Coupé/3
Estimate: $140,000 - $160,000 USD
Of the 130 B7 Turbos built by Alpine on BMW's E24 6 series' chassis and drivetrain, only 17 models were catalyst-equipped B7 Turbo Coupé/3. Despite producing 320 horsepower, 10 less than the non-catalyst B7 Turbo Coupé/1, they feature a more favorable lower compression ratio of 7.45:1 instead of 8.0:1 and produce more torque at a lower RPM. This example is finished in a timeless deep-black-over-red-leather color scheme and is highly sought after in Alpina circles due to their rarity and lower-end power delivery.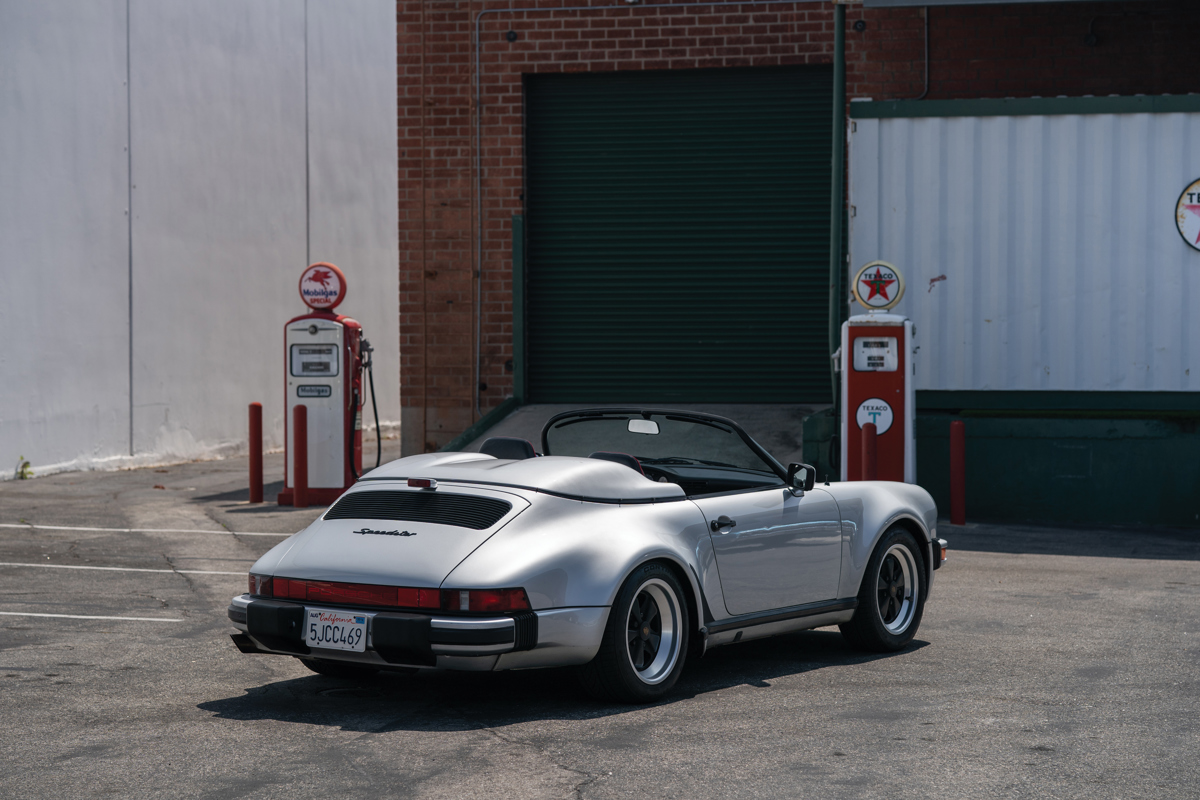 1989 Porsche 911 Speedster
Estimate: $110,000 - $130,000 USD
The single-year run of the 911 Speedster is instantly recognizable as such, with its raked windscreen and dual-hump tonneau cover in place of the rear seats. Only 2,104 examples were produced for 1989, including this silver-over-black-leather example with a mere 17,400 original miles. Aftermarket Recaro bucket seats were added to keep the driver and passenger securely in place when taking advantage of the superb cornering capabilities of the limited-production Speedster.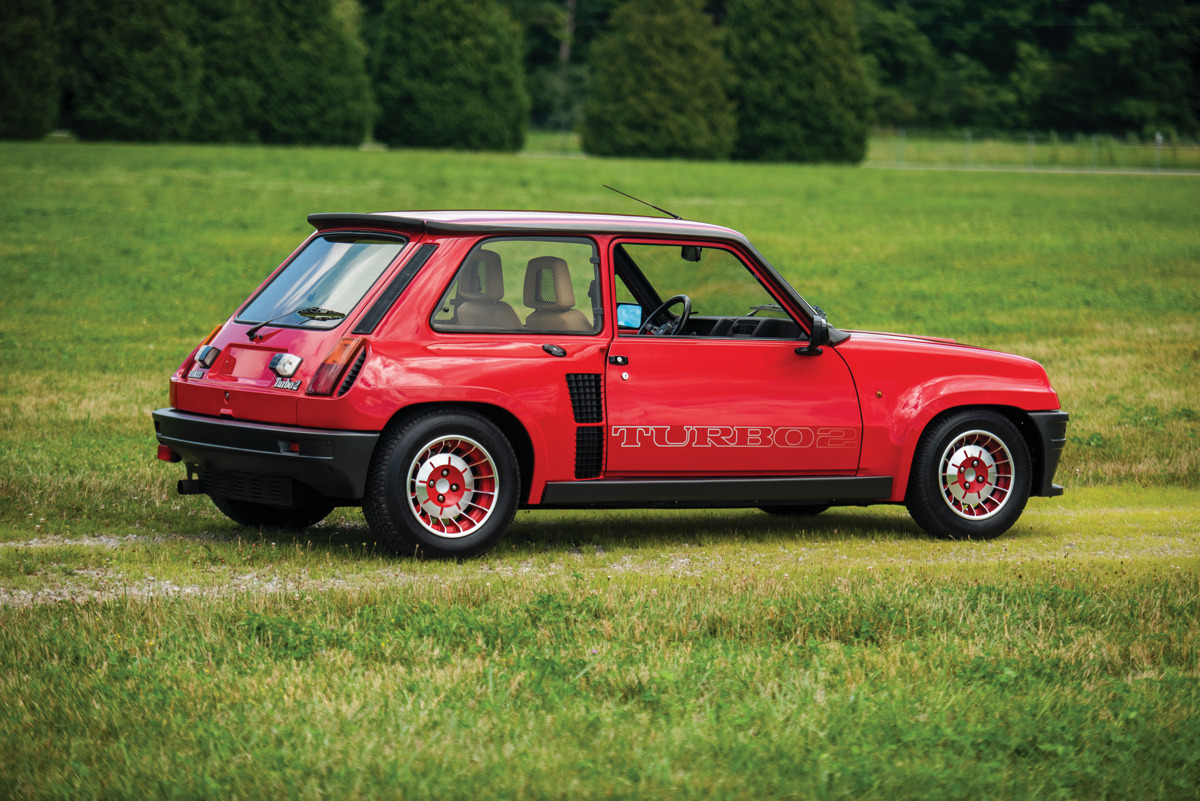 1985 Renault 5 Turbo 2
Estimate: $80,000 - $90,000 USD
Renault selected the humble front-wheel-drive production Renault 5 to transform into a ferocious rear-wheel-drive, rear-engined rally-dominating race car, and the Renault 5 Turbo and Turbo 2 came into existence as the homologation cars to meet FIA rules. The 1.4-liter, four-cylinder engine received stronger internal components, Bosch K-tronic fuel injection, and a single Garrett turbocharger with an air-to-air intercooler. The Renault 5 Turbo 2 has become among the most desirable homologation rally cars of the 1980s and will continue to be a Group B rally icon.