Much like any other human pursuit, the evolution of motorsport occasionally takes giant leaps forward. After the decade of the 1970s, with all-out race formats like Can-Am exploding in popularity and then fizzling out, there did not seem to be any more room for advancement in terms of performance. When it came to production-based sports car racing, the dawn of the 1980s meant that fundamentally American race series like IMSA had to expand their engine formats to include methods such as turbocharging and open their entry books to entrants from Europe and Japan. The increased challenge only seemed to inspire the American teams.
Perhaps recognizing the inherent appeal in allowing worldwide teams to compete head-to-head with as few restrictions governing the construction process as possible, a new format was introduced by IMSA in 1986, with the GTO designation given to participants with powerplants above 3,000 cc in capacity. Enter, this Chevrolet Camaro IMSA GTO from Bob Carson's Peerless Racing Enterprises. A mere two were constructed. For those who can appreciate the best of what no-holds-barred racing can produce, this unique Camaro will be auctioned next month at RM Sotheby's Amelia Island auction. As you will see, this was to be no ordinary Chevy.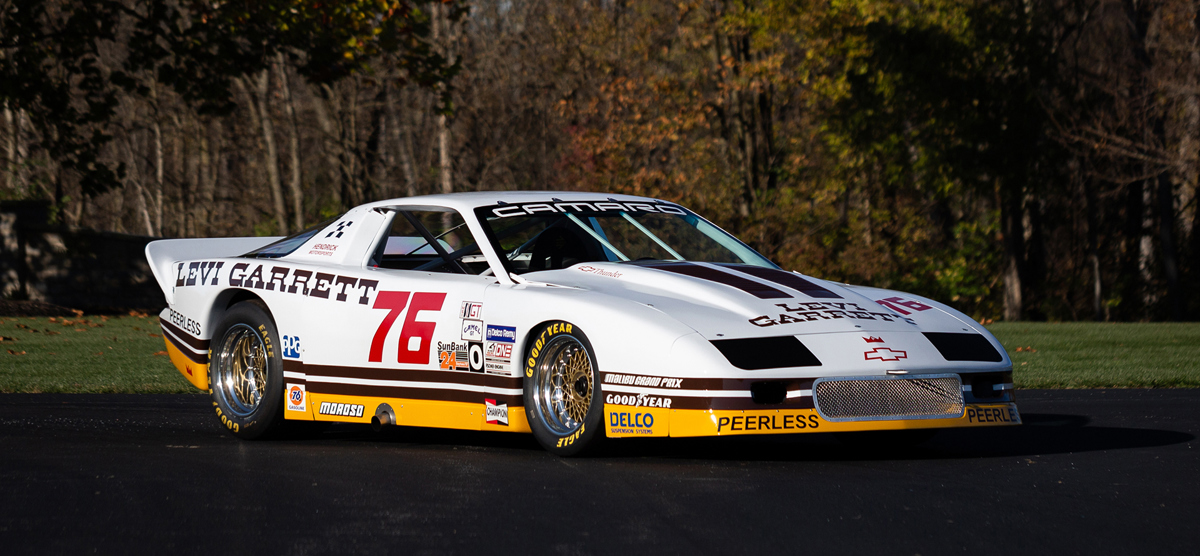 1985 Chevrolet Camaro IMSA GTO by Peerless Racing
Estimate: $250,000 - $350,000 USD
The third generation Chevrolet Camaro, sometimes nicknamed "F-Body" for its internal chassis designation, presented a relatively recognizable shape for this IMSA GTO entry. But beneath its stretched silhouette, this example (chassis no. PRC-851) was essentially a bespoke racer, built atop a purpose-built chassis. Some suspension components were adapted from a March 85G, a prototype endurance racer which one would be more likely to spot circling Sebring during a 12-hour competition rather than at a typical Chevrolet dealership (last year, RM Sotheby's offered a similar model, the March 83G, at Amelia Island). Perhaps most significantly, the construction of the Camaro IMSA GTO called for a carbon fiber monocoque underpinning the cabin.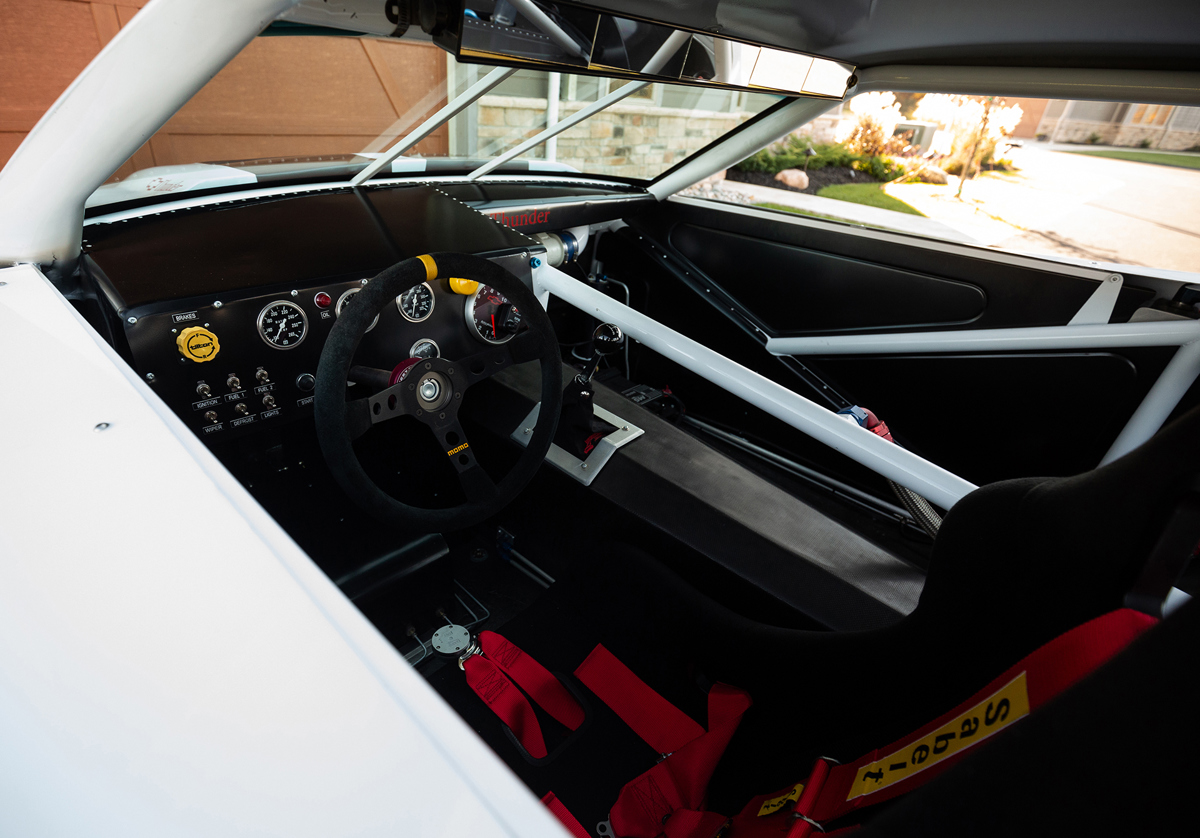 Even at the time, in the mid-1980s, building a race car around a carbon fiber tub was the realm of only the highest echelons of motorsport. Not even the March 83G or 85G featured advanced materials design like this example. Though it must be noted that the engine mounting on this example, which made its Chevrolet Small Block V-8 engine a partially stressed member of the chassis, was also borrowed from the U.K.-based March Engineering 85G, not exactly a demerit. The finished product, with Hilborn fuel injection and Holley EFI control (one of three engine configurations originally designed for this example), produces a healthy 660 horsepower and 525 pound-feet of torque. The result is a potent combination of American muscle and British engineering.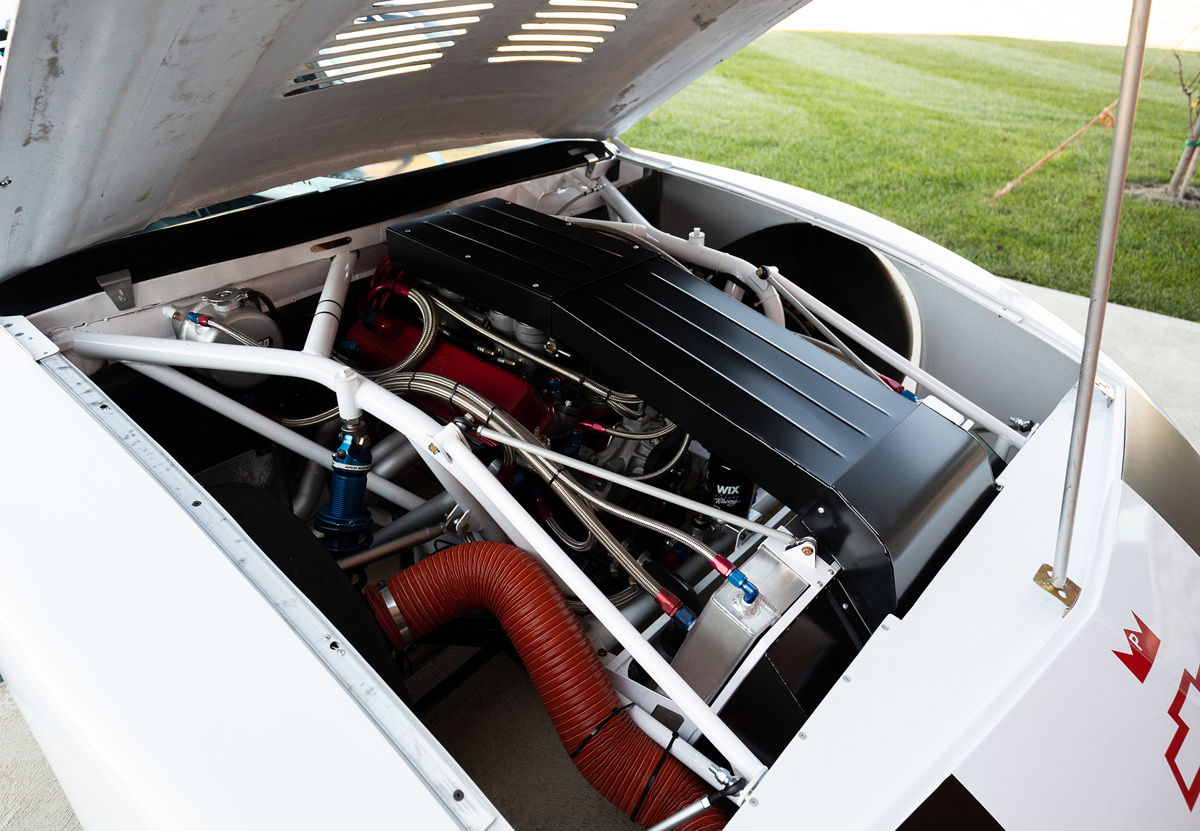 Ironically, the person who so effectively combined both of these international styles was Canadian. A contemporary of industry icon Jack Roush and 1995 inductee in the Canadian Motorsports Hall of Fame, Brad Francis had experience transforming General Motors pony cars into fearsome contenders back in the Trans-Am era. Francis, too, was a veteran of the all-out Can-Am format and knew how to siphon a bit of the innovation from racing formats like Indy and Formula One into sports car racing. The costs were considerable. For Francis and Performance Engineering Limited to deliver a finished car to Carson, it reportedly cost $150,000 a piece.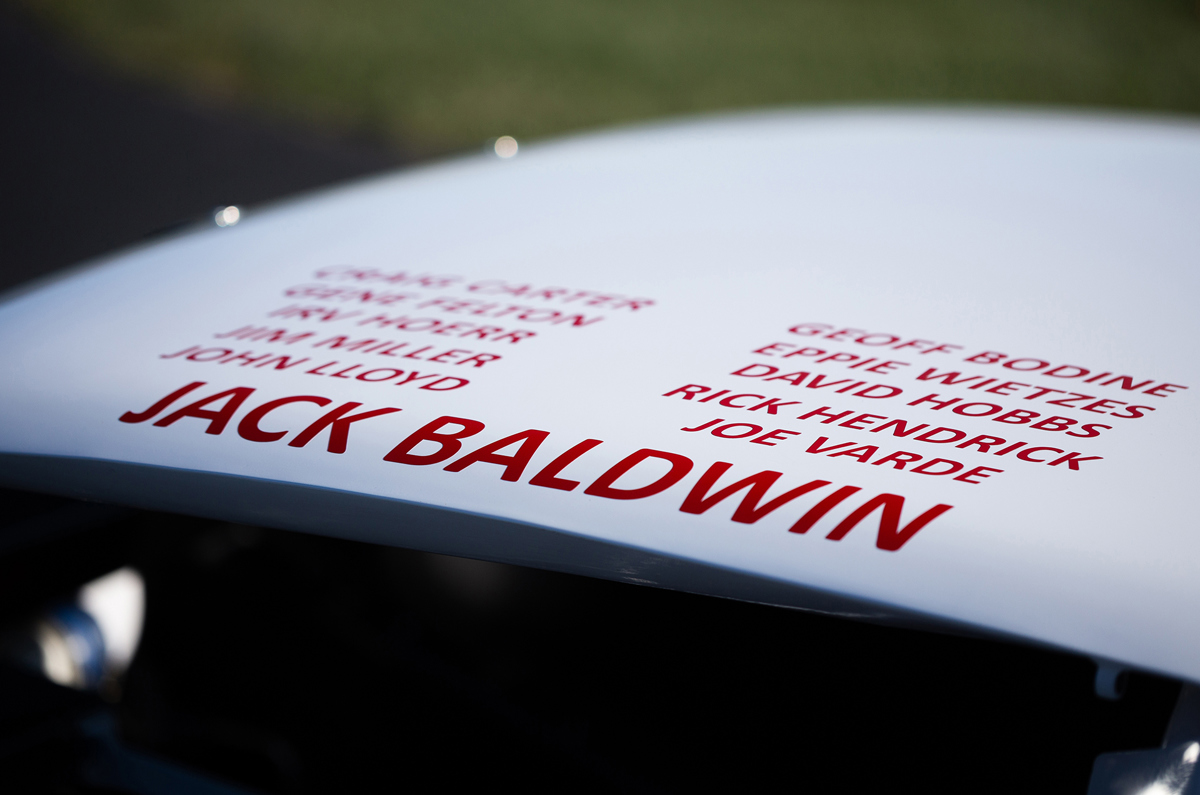 By 1986, with the right driver finally at the wheel, Camaro IMSA GTO no. PRC-851 earned its greatest on-track victories. Well-regarded Georgia-born racing driver Jack Baldwin, who started his career at the beginning of the previous decade racing Formula Ford in the SCCA and is still successfully racing today, proved to be the correct person for the job. Baldwin stood atop the podium three times in 1986, including an outright victory at the Grand Prix of Miami. Baldwin's three victories and a pair of third-place finishes earned him third in the driver's championship that year. This chassis went on to serve in 1987, but by then IMSA had evolved even further.
Today, with the benefit of hindsight, we can see this era of nearly "formula libre" racing as one of the genuine high points in the history of motorsport. The pairing of advanced materials like carbon fiber, with the presence of a manual gearbox and a recognizable silhouette, makes the IMSA GTO series one for the record books. With outsized box arches and exaggerated bodies, mid-1980s racers like this IMSA Camaro even helped inspire some examples of bosozoku style of customization in Japan. Surely this is one race format worth celebrating.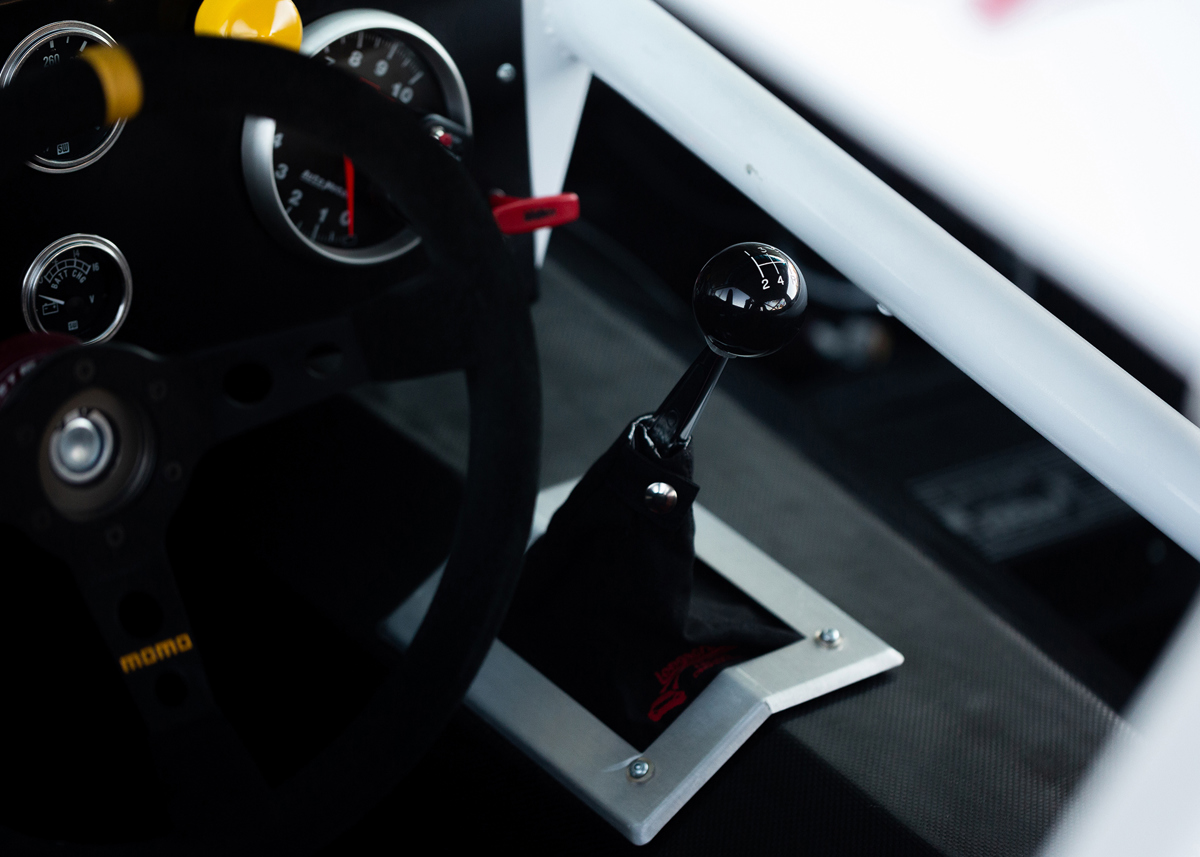 Acquired by the current consignor and then subjected to an extensive restoration, the goal was clear: Bringing this Canadian-engineered, American-powered race car back to the height of its glory. With the end goal as recreating the Levi Garrett-sponsorship era, with Jack Baldwin still as the driver, the current consignor needed to find an ideal project lead. Thankfully, Hall-of-Famer Brad Francis was available and willing to lend his still-considerable skills. After a total of three years, with Francis contributing innumerable insights into how these silhouette racers were set up originally, the Camaro IMSA GTO was finished. As all race cars experience constant evolution, some modernizations were determined to be appropriate, including an all-new G-Force 5-speed gearbox and a Frankland quick-change rear axel.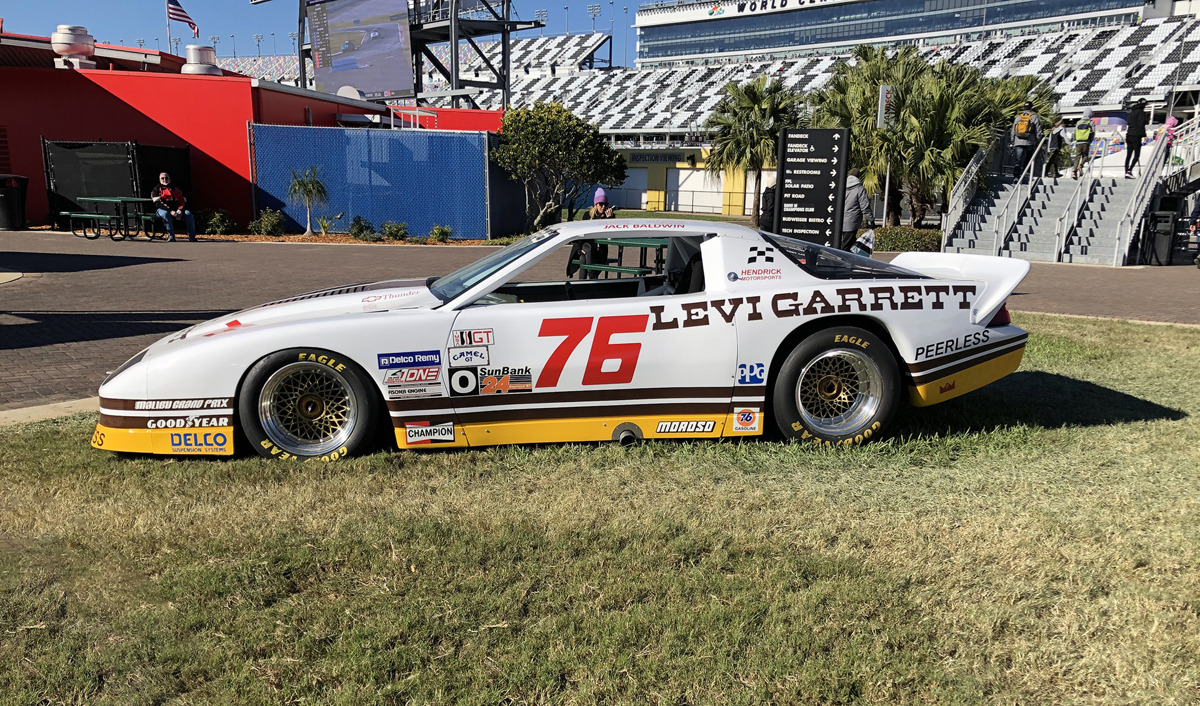 On display at the 2022 Rolex 24, photo courtesy of owner
Quickly joining the show circuit after its completion, this Camaro IMSA GTO appeared at prestigious events such as the 2019 Rolex Heritage Exhibition and the Amelia Island Concours d'Elegance, where it won a class award in 2021. This year, the Camaro IMSA GTO was invited to be displayed again in conjunction with the Rolex 24 sports car races in Daytona. Its owner dutifully complied, leading to the above photo. Perhaps the only tragic edge to this return to glory is that Brad Francis is not around to see it, as he passed away in 2020. Last spring, in a memorial to Francis, this example was invited to visit Jack Roush's hangar in Michigan. In front of a crowd of admirers and standing next to this Camaro IMSA GTO, Roush delivered a moving eulogy to his onetime competitor and longtime associate Francis, who was named Roush's Director of Safety in 2004. Roush admitted with a smile that this example was the only Chevrolet allowed to park in his building.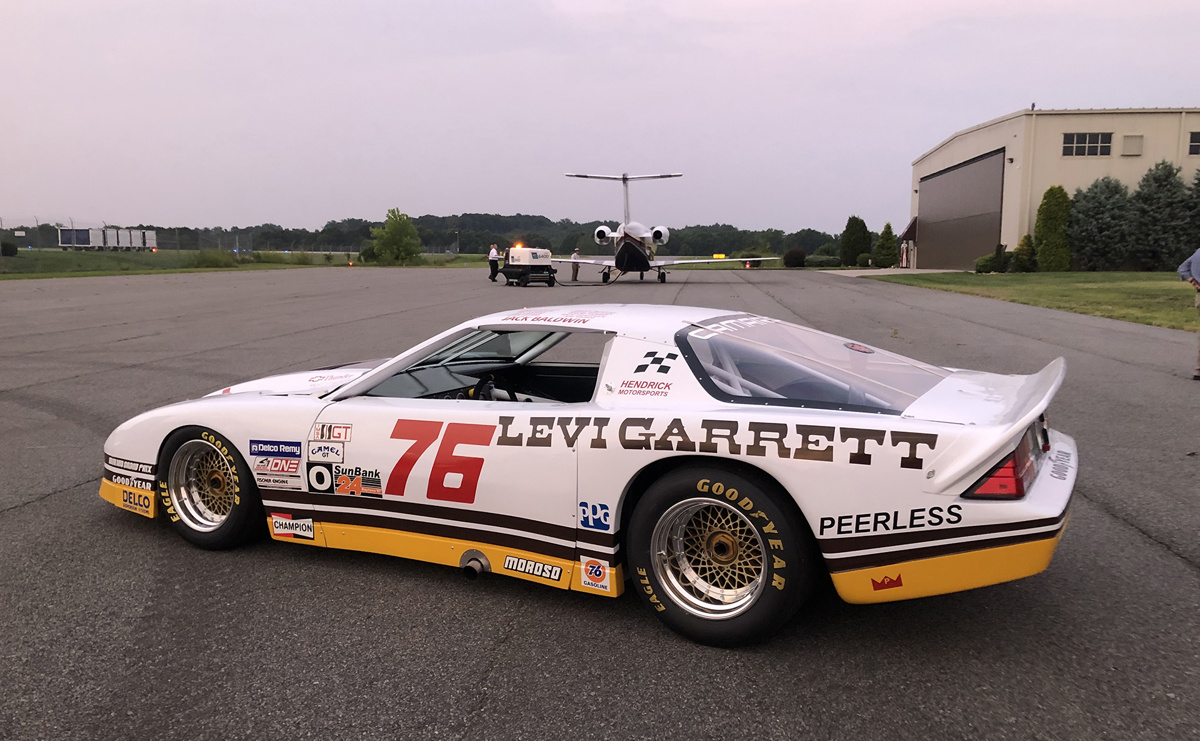 Outside the Roush Hangar, photo courtesy of owner
Surely, with this extensive restoration of one of his proudest creations, the legacy of innovation and competition established by Brad Francis lives on today. Returning to Amelia Island, this time as a featured lot at RM Sotheby's 2022 auction, there is no doubt that this iconic muscle car with a carbon fiber heart is bound to attract an enthusiastic crowd.